Rams vs. Seahawks Odds & Picks: Bet This Playoff Under & Underdog
Credit:
Getty Images. Pictured: Russell Wilson, Aaron Donald
Rams vs. Seahawks Odds
Rams Odds

+3

Seahawks Odds

-3

Total

42

Time

4:40 p.m. ET

Day

Saturday

Odds as of Friday night and via The Score, where you can win $100 by betting on Rams-Seahawks.
The 3-seeded Seattle Seahawks host the 6-seeded Los Angeles Rams on Saturday of Wild Card Weekend. Given the familiarity between these teams and the uncertainty around Jared Goff's availability, where's the betting value?
Find our comprehensive preview below, featuring the following (click a bullet point to skip ahead):
Rams vs. Seahawks Picks
Our staff details how they're betting Saturday's game. Click on a pick type above to skip ahead to that analysis.
Rams Spread
Stuckey: There's lingering uncertainty regarding the Rams' quarterback situation heading into this game.
Sean McVay won't say who will start until gameday — that means we could see either the undrafted John Wolford make his second career start or Jared Goff, if he's healthy enough. I make the Seahawks around  1-point favorites if Goff starts for the Rams, but closer to 5-point favorites if it's Wolford.
I do think Goff has a slightly better than 50-50 chance to play, so my adjusted line is a tad below three after weighting for both scenarios. Therefore, I did take a stab at Rams +4 when it was still available, but like it down to +3.5 if Wolford is the starter or +3 if it's Goff.
Under
Michael Arinze: There are no secrets between these two teams — this is a divisional matchup and the third time that they're playing one another this season. Since 2005, when NFC divisional teams have met for the third time, the total is 7-2-1 to the under (per our Action Labs data).
In their two previous meetings, the Rams and Seahawks combined to score 68 points, and each matchup stayed under the total. Additionally, in their last eight games, the Seahawks are 7-1 to the under while the Rams are on a four-game under streak and are 8-2 to the under over their last 10 games.
The total is 15-7 to the under the last 22 times these NFC West foes have met.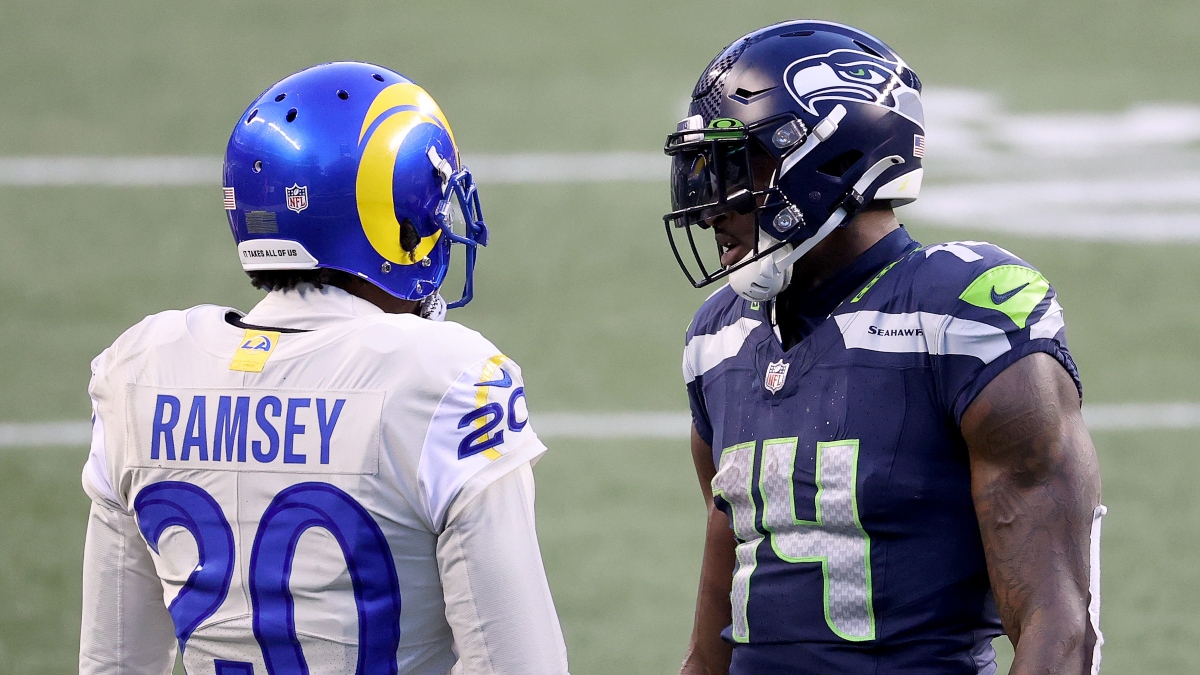 There are plenty of data points that support this under, especially given how stingy both defenses have been down the stretch, which I cover in further detail in my full game preview. And the Rams quarterbacks situation is significant, regardless whether Goff starts.

FanDuel still has this total listed at 42.5 as of Friday, and considering it's already as low as 41.5 at other sportsbooks (compare real-time odds here), there's a chance it dips further before kickoff. I'll look to lock this in at the current price, but I wouldn't go any lower than 41.5 points.
1H Under
Anderson: Love me a good divisional rematch in the playoffs.
You know these teams know each other inside and out. They know every player, every tendency, every little wrinkle and advantage. They've got that one specific play dialed up for that one very specific scenario, just waiting to spring a surprise on the opponent. All the better that we get Sean McVay's offensive genius up against Pete Carroll's defensive wizardry.
Divisional rematches tend to be close because these teams know each other so well. They know exactly how to set up and defend. Games like this can sometimes start out slowly and cagily as teams feel each other out and wait for just the right moment or look for that one key play they've got saved up.
On top of that, these teams are both trending heavily toward defense over the latter part of the season, and not offense.
The Rams head into the postseason with Football Outsiders' No. 1 weighted defensive DVOA in the NFL. Weighted DVOA, well, weight recent games more heavily into the equation. Basically that means that the Rams have the best defense in football right now, led by Aaron Donald wreaking havoc up front and Jalen Ramsey shutting things down in the secondary. Ramsey allowed only one catch to D.K. Metcalf in two games this season, and the Rams have allowed only 13 completed deep passes all season.
For the first half of the season, the Seahawks were devastating opponents with Russell Wilson's deep balls. That advantage has disappeared completely in the second half as they're now one of the worst at chucking it deep, and the Rams should take that away even further.
As Seattle's offense has faded, its defense has improved.
Remember the worst pass defense in league history? The Seahawks are up to 16th in defensive DVOA and 11th in weighted defensive DVOA. That's still below average in the playoffs with the bad teams gone, but their defense and run game have suddenly become strengths, while the passing game isn't as dangerous.
Seattle's run defense has been especially strong, and that helps negate the most effective strength of L.A.'s offense — the Rams ranked near the top of the NFL in rushing attack DVOA all season, but with their running backs dinged up and the Seahawks' tough run D, that'll put a lot more on Rams QBs.
What we have here are opponents who match up well and offset strength for strength. That leans toward a cagey, defensive game with both teams running the ball a lot and a fast-moving clock.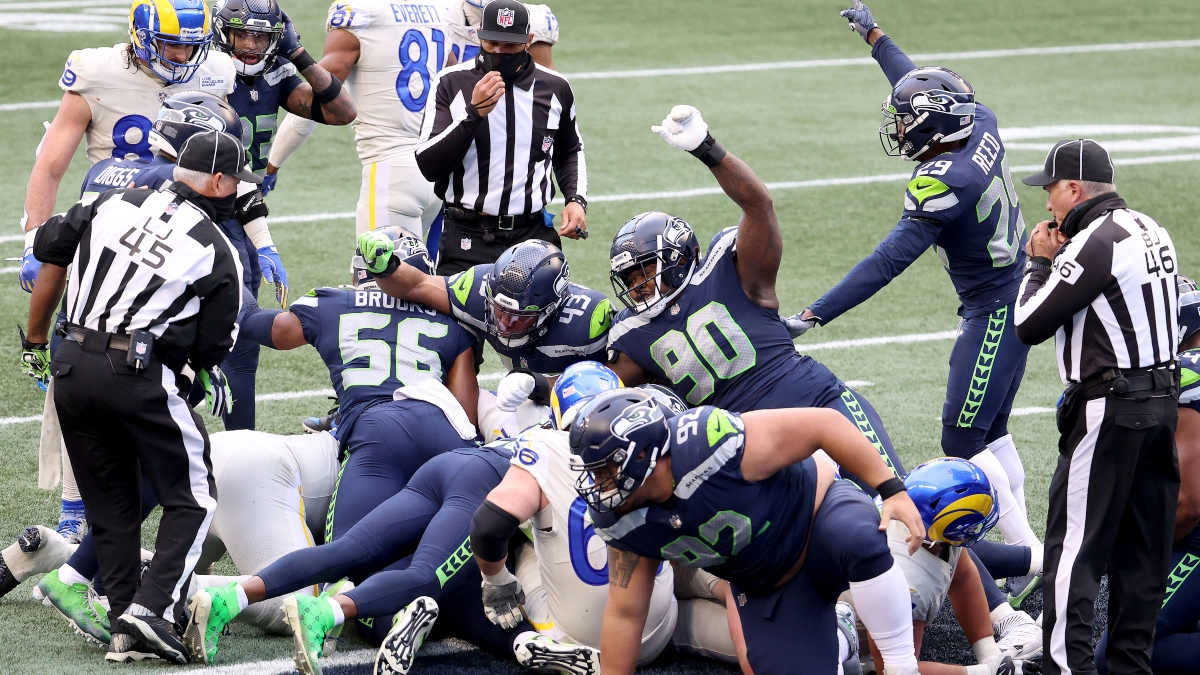 These teams played two weeks ago and it was 6-6 at halftime. The Seahawks were up 6-3 on the 49ers at the half a week ago, when the Rams were up 12-7 at the half against the Cardinals — and only because of a late pick-six. The Rams were also trailing the Jets, 13-3, at the half three weeks ago.
The Rams haven't scored an offensive touchdown in more than eight quarters.
This is basically a game under pick with the caveat that we could see a higher scoring fourth quarter once the coaches hold nothing back — and Russ beings to cook. I don't want a late cover on a low number, so I'll just play the first half over and get out.
I loved this at 21.5 earlier in the week, but will still play it down to 20 — you can lock it in at 20.5 at BetMGM as of Friday night. We don't hit 20 without a pair of touchdowns, and I don't see us getting there.

---
Notable Rams-Seahawks Injuries
Tommy Stokke: One week removed from thumb surgery, Jared Goff is pushing to play on Saturday. He missed Week 17 after injuring his thumb during a Week 16 loss to the Seahawks.
John Wolford made his NFL debut in Goff's place last week, doing enough to get the Rams a win over the Cardinals to clinch a playoff spot.
The decision is expected to go down to the wire: Head coach Sean McVay announced the team will not name a quarterback prior to kickoff.

Wolford has taken most snaps during practice this week to prepare as if he's the starter. Goff underwent surgery with the hope he could return for this specific game.
---
Most Valuable Rams-Seahawks Players
Our Director of Predictive Analytics, Sean Koerner, highlights the five most valuable players for both teams based on how many points they're worth to the spread.
| Seahawks Most Valuable Players | Worth |
| --- | --- |
| QB Russell Wilson | 5.51 |
| WR D.K. Metcalf | 0.73 |
| WR Tyler Lockett | 0.53 |
| LB Bobby Wagner | 0.49 |
| FS Jamal Adams | 0.46 |
Tre Flowers (-0.06) is set to return from IR, but D.J. Reed (+0.13) has played lights-out and will likely remain Seattle's starting cornerback.
D.K. Metcalf (+0.73) is already one of the most valuable wide receivers in the NFL. He enters Year 3 next season, which is typically when a wide out enters his prime. I expect him to be worth 1-1.5 points against the spread over the next few seasons.
Jamal Adams (+0.46) had a bit of a slow start as a Seahawk. He has the potential to be worth 0.5-1 point against the spread when he's playing at his peak, which he is right now.
| Rams Most Valuable Players | Worth |
| --- | --- |
| QB Jared Goff | 2.53 |
| DT Aaron Donald | 0.98 |
| FS John Johnson III | 0.61 |
| WR Robert Woods | 0.6 |
| WR Cooper Kupp | 0.58 |
Jared Goff (+2.53) is worth about 3.5-4 points over backup QB John Wolford (-0.74). Head coach Sean McVay is one of the reasons why the drop-off may not be as severe.
Aaron Donald (+0.98) is worth 1-1.5 points against the spread. He's the only defensive player who could be worth two full points depending on the matchup and what numbers it would cross.
Andrew Whitworth (+0.40) could return for the playoffs, sending Joseph Noteboom (-0.22) back to the bench. That would be a massive boost to the offense.
---
Rams-Seahawks WR/CB Matchups
Wide receiver vs. cornerback matchups might be the most important individual matchups in football. Read senior NFL analyst Matthew Freedman's breakdown of the expected matchups this Saturday.
| WR | CB | Designation |
| --- | --- | --- |
| D.K. Metcalf | Jalen Ramsey | Large downgrade |
| Tyler Lockett | Troy Hill | Moderate downgrade |
| David Moore | Darius Williams | Moderate downgrade |
| Robert Woods | Shaquill Griffin | No impact |
| Cooper Kupp | Ugo Amadi | Moderate upgrade |
| Josh Reynolds | D.J. Reed Jr. | Small downgrade |
How would you rate this article?