Steelers vs. Cowboys Odds & Picks: 4 Ways To Bet Sunday's Showdown
Credit:
Joe Sargent/Getty Images. Pictured: James Conner
Steelers vs. Cowboys Odds
Steelers Odds

+14 [BET NOW]

Cowboys Odds

-14 [BET NOW]

Over/Under

43.5 [BET NOW]

Kickoff

4:25 p.m. ET

TV

CBS

Odds as of Sunday afternoon and via BetMGM, where you can bet $1 on any game and win $100 if there's a touchdown.
Just how high would the Dallas line have to be for you to actually take the Cowboys to cover the spread? That's the question oddsmakers are asking bettors this week.
The Cowboys are 2-6 on the season but 0-8 against the spread. Dallas has gone an entire half a season without covering a single spread, and now they're facing the last undefeated team in the NFL, the Steelers. The Cowboys scored just 22 points their last three games combined and will start their fourth quarterback of the season this week against an elite Steelers defense.
So, exactly how high would the spread have to be to consider taking Dallas? That's the question we have to answer in this one.
Pittsburgh Steelers
The Steelers are undefeated and coming off their biggest win of the season after beating the division-rival Ravens, 28-24. Pittsburgh is 7-0 now, atop every league power rankings and flying high.
As usual, the Steelers are riding an outstanding defense that ranks second in Football Outsiders' defensive DVOA. They're especially stout against the run, though they were gashed by the Ravens last week with 265 rushing yards.
While the Steelers got the win last week, they were thoroughly outplayed by the Ravens. Baltimore more than doubled Pittsburgh in total yardage but lost the game on turnovers. The Steelers' tough defense didn't look quite as tough without linebacker Devin Bush and defensive tackle Tyson Alualu up the middle. But the Cowboys aren't exactly the Ravens, either.
On offense, Pittsburgh is far more average than great. The Steelers do not have the scoring ability of an undefeated team. Ben Roethlisberger has been more of a point guard than a quarterback, distributing the ball to his talented receivers without hurting defenses down the field. Luckily, Pittsburgh's weapons and defense are so good that it hasn't really mattered.
And again: this is Dallas we're talking about.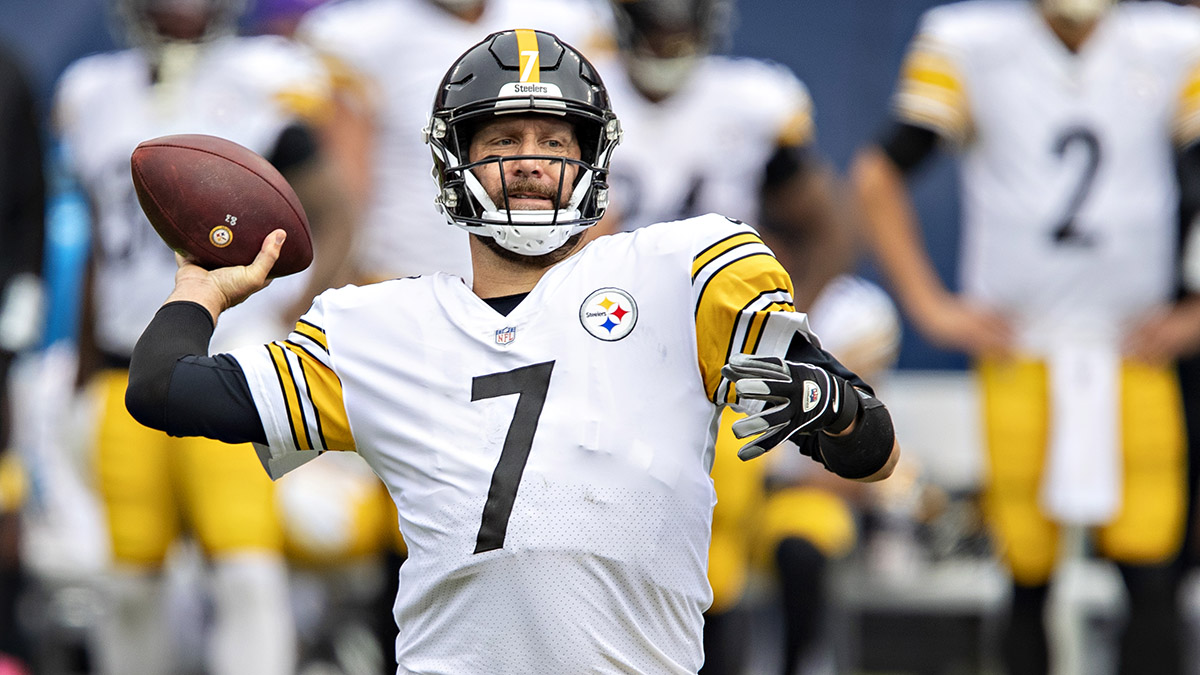 Dallas Cowboys
The Cowboys' season has been nothing short of a disaster. They have two wins and probably don't deserve either of them — they pulled off a miracle against the Falcons and beat the somehow-even-worse Giants.
Dak Prescott is out for the season. Andy Dalton was bad in Prescott's stead and is still out. Rookie Ben DiNucci was such a disaster that he's been benched for Garrett Gilbert, who is tasked with facing the 7-0 Steelers. Gilbert has appeared in six career games and attempted six career passes.
Dallas' defense has been better than it was early in the season, though it could hardly be any worse. The Cowboys had allowed at least 34 points in five straight games before allowing just 24 points per game over the last two, though it should be noted that both of those games were against fellow NFC East squads.
The Cowboys' pass defense is actually around league average. Their run defense remains in rough shape, though the unit has been a bit better as it has gotten healthier. The Cowboys' offense still isn't healthy. They're missing both offensive tackles and both functional quarterbacks, while running back Ezekiel Elliott is questionable with a hamstring injury.
The Cowboys have done very little right this season. Why would they start turning the tide against a 7-0 team?
4 Ways To Be Steelers-Cowboys

The Cowboys are really bad. The Steelers are pretty good. Dallas can't score and doesn't have an offensive line or a quarterback, or maybe its franchise running back. The Steel Curtain defense has been shutting it down.
This sure seems like an easy call — and that's why it's so shocking that I'm taking the Cowboys, based solely on the Steelers' history of playing way down to its worst opponents under Mike Tomlin.
Let's take a quick walk down memory lane.
The Steelers have been favored by double-digits six times since the start of the 2017 season. Here's how things played out, with the most recent first:
October 2019: Miami at Pittsburgh -14
Even without Big Ben, the Steelers are monster favorites on Monday night against the terrible 0-7 Dolphins. But Pittsburgh came out flat and trailed, 14-0, in the first quarter. The game was close into the fourth quarter until the Steelers pulled away and won, 27-14, but did not cover.
December 2018: Cincinnati at Pittsburgh -14
Jeff Driskel started for the Bengals in the season finale, and they actually led, 10-0 until the last play of the first half — the Steelers needed a field goal in the final two minutes to eke out a 16-13 win.
December 2018: Pittsburgh -10.5 at Oakland
The Raiders scored on the opening drive and led, 7-0, after one. The lead changed four times. Big Ben threw a touchdown with fewer than three minutes left to take the lead, but Derek Carr threw one of his own with 21 seconds left to upset the Steelers, 24-21.
November 2017: Green Bay at Pittsburgh -14
Brett Hundley starts for an injured Aaron Rodgers and throws two early touchdowns to give the Packers a surprise 14-7 lead through one. Hundley has the best game of his career by far, but Pittsburgh kicks a field goal on the final play to escape with a 31-28 win.
November 2017: Pittsburgh -10.5 at Indianapolis
Jacoby Brissett starts for the 3-7 Colts, and Indianapolis jumps out to a shocking 10-0 first-quarter lead. The Colts lead 17-3 early in the second half but Pittsburgh battles back and wins 20-17 with a field goal on the final play.
September 2017: Pittsburgh -10 at Cleveland
DeShone Kizer has two touchdowns for the Browns and the teams go back and forth all game. Cleveland cuts the lead to 21-18 with three and a half minutes left but can't seal the deal. The Browns lose the season opener and go 0-16.
Conclusion
Pittsburgh is 0-6 against the spread in their last six games as a double-digit favorite. They lost one outright and won four times by a field goal, three times in the final two minutes. No-name backup QBs repeatedly pushed the Steelers all the way, and Pittsburgh trailed after the first quarter in five of six.
For whatever reason, Tomlin and Roethlisberger just continue to come out flat against bad, overmatched opponents. So how do we play it?
A few angles make sense:
Dallas to cover: Especially at 15.5, you've got a lot of margin for error.
Pittsburgh under 14.5 first-half points: If the Steelers wait until the second quarter to get started, it'll be tough to score three times.
Dallas +370 to win the first quarter: It seems crazy, but at implied 21% and with the Steelers' history, this fits our angle best of all.
Do NOT tease Pittsburgh: At 15.5, your teaser is not getting you down to 7, and a late one-score Steelers win will not cut it.
Live bet the Steelers moneyline if they do trail: If our angle is right and Pittsburgh does start off slow, you might see them near even odds with an early deficit. History says they find a way late, so you might be able to double your pleasure.
The Steelers are the far better team. That is clear, but it's also the problem. Pittsburgh consistently comes out flat in these games.
You can play it "safe" and go for a Dallas cover, but there's not much profit to be made. I prefer playing one of those first quarter angles and then looking to double down on the angle by live-betting the trailing Steelers if the first bet pays off.
Take a deep breath and buckle up.
How would you rate this article?