NFL Betting Odds & Picks: Our Staff's 6 Favorite Week 5 Bets For Sunday (Oct. 11)
Credit:
Getty Images. Pictured: Russell Wilson
The Sunday NFL slate is jam-packed with games that ooze betting value.
Our NFL experts broke down their six favorite Week 5 bets heading into Sunday.
Check out each betting pick with analysis below.
This NFL Sunday will look a little different than expected.
Positive COVID-19 tests have postponed Broncos-Patriots to Monday night and Bills-Titans to Tuesday night, and based on Adam Schefter's reports of a positive test in Kansas City on Saturday, there's a non-zero chance that Raiders-Chiefs could also be rescheduled.
All that said, there will still be NFL games to bet on this Sunday, and our staff has you covered with their favorite Week 5 picks below!
Week 5 NFL Picks
Click on a pick to skip ahead to that analysis.
Sean Koerner: Panthers-Falcons Over 53.5
Kickoff: 1 p.m. ET | More Game Info
The Falcons defense has coughed up 30 or more points in every game this season.
A lot of the damage has come against the passing game, where they rank 31st in Football Outsiders' DVOA. Things should only worsen for their secondary, as Damontae Kazee and Darqueze Dennard have landed on IR while Grady Jarrett, Ricardo Allen, Keanu Neal, A.J. Terrell and Foye Oluokun are all questionable.
I expect Teddy Bridgewater and the Panthers to move the ball with ease against this banged-up defense.
Julio Jones is unlikely to suit up as his hamstring injury has slowed him down the past couple of weeks. The Falcons would be smart to let him get closer to 100% before playing him again to avoid any more setbacks, although it will put some pressure on Calvin Ridley to play through his numerous injuries (thigh/knee/calf/ankle) and rebound from his zero-catch performance on Monday night. My money is on Ridley to bounce back against a Panthers defense that will be without Eli Apple for at least one more game.
The Falcons have enough weapons on offense to attack a rebuilding Panthers defense that ranks near the bottom against the pass (26th) and run (25th) in DVOA. Both teams should be willing to play towards a high-scoring contest here, making the over the play.
I'm projecting a 55.5 total for this matchup and would bet it up to 54.5.
[Bet the Panthers-Falcons Over at BetMGM and get a $500 INSTANT deposit match]

Chris Raybon: Panthers +2.5 at Falcons
Kickoff: 1 p.m. ET | More Game Info
We're at the point in the season when we have enough data to effectively throw out preseason perceptions.
Entering the season, the consensus was that the Falcons were middling and the Panthers were one of the worst teams in football. Turns out, a lot closer to the reverse is true: The Panthers rank 19th in Football Outsiders' overall DVOA, while the Falcons are 27th. The Falcons are also the only team to rank bottom-20 in all three facets: 21st on offense, 25th on defense and 28th on special teams.
Usually a team that suffers two one-possession losses on blown leads of epic proportion isn't as bad as its record looks, but underlying metrics don't vindicate the Falcons. That's partly due to injury — their secondary is banged up and Julio Jones (hamstring) is laboring — and partly due to a coaching staff that has consistently led this team to underperforming expectations.
Under Dan Quinn, the Falcons are just 18-33 against the spread (ATS) as a favorite, including 9-26 before December, which is when the market finally catches on to the ineptitude.
Not only have they consistently failed to take care of business, but they've struggled to overcome adversity, going just 15-24 ATS the game after a straight-up loss.
Early returns on the Matt Rhule era have been positive: The Panthers are 2-2, and despite Rhule being a defensive minded-coach, his offense is playing efficiently even without Christian McCaffrey.
Teddy Bridgewater, who is now 30-9 ATS as a starter, is averaging 8.1 yards per attempt and is moving the offense efficiently enough to give the Panthers a chance every week despite a young defense that isn't there yet. Of the Panthers' two losses, one was by four points to the Raiders that could have been a win if not for an (ill-advised) fourth-and-1 carry by fullback Alex Armah getting stuffed, and the other was 31-17 defeat to the Bucs (who entered the week rank No. 1 in overall DVOA) that was closer than the final score implies, as Leonard Fournette broke a long TD run late with the Bucs attempting to run out the clock in a one-possession game.
The Panthers are the better team, and the Falcons' home-field advantage has dwindled essentially nothing since Kyle Shanahan left: Their ATS margin at home went from +4.7 in 2016 to -0.4 in 2017, -1.6 in 2018, and -5.3 since the start of last season.
I would bet the Panthers as long as they're a dog.
It's also been profitable to fade 0-4 teams at home in Week 5. Per our Bet Labs data, road teams are 16-4-1 ATS in Week 5 against winless home opponents since 2003:
[Bet the Panthers +2.5 at BetMGM and get a $500 INSTANT deposit match]
Kickoff: 1 p.m. ET | More Game Info
This game is a matchup of divisional leaders, and heading into the season, it looked like a good candidate for game of the week. But the Eagles have not lived up to billing thus far, even with their first win of the season in Week 4.
Philadelphia's offense has struggled mightily, and Carson Wentz has been the problem much more than the solution. Wentz has been one of the lowest-rated passers in the league, and he continues to be plagued by constant mistakes. Wentz has already thrown seven interceptions and is probably lucky the number is that low. He's also fumbled four times and has been sacked 14 times.
The Eagles rank near the bottom of the NFL in nearly every offensive metric, and now they have to fix things against one of the league's elite defenses.
But the real edge here is health and rest, and that edge is massive.
Philadelphia is one of the most injury-plagued teams in the NFL. The offensive line is an absolute disaster. Two starters are out for the season, another is on IR, and the other two are struggling through injury. Their top three receivers are out, along with tight end Dallas Goedert, and the defense has injuries throughout the secondary.
Pittsburgh, on the other hand, is more healthy and rested than any team in the league. The Steelers have no real injuries of note and are coming off an unexpected Week 4 bye after their scheduled game was postponed with the Titans' COVID-19 outbreak.
The Steelers were already better on both sides of the ball, but now they're healthy and rested against a Philadelphia MAS*H unit. The Eagles will have a difficult time scoring or moving the ball with any regularity against the Steelers.
Once the Steelers shake off the rust, they should roll. I'm grabbing at -7 while it's there or teasing if it gets above that key number.
[Bet $1 on Steelers -7 at BetMGM and win $100 if a touchdown is scored]


Raheem Palmer: Eagles-Steelers 1H Under 22.5
Kickoff: 1 p.m. ET | More Game Info
This Philadelphia Eagles offense isn't scaring anyone.
During a period in which we're seeing historically great scoring in the NFL, the Eagles are scoring just 21 points per game while gaining 4.5 yards per play. Injuries to pass-catchers Dallas Goedert, DeSean Jackson, Jalen Reagor and Alshon Jeffrey have left this offense depleted. The Eagles rank 29th in explosive play rate with only 8% of their plays going for 20 or more yards, 28th in total offense success rate (45%) and 31st in Football Outsiders' offensive DVOA.
Oddsmakers set Philadelphia's implied team total at 18.5, which tells us they're not expecting much success against a vaunted Pittsburgh defense that ranks second in points allowed (14.5), third in yards per play against (5.1), leads the league in pressure rate (46.5) and is second is sacks (15).
Pittsburgh's offense isn't anything to write home about, either.
The Steelers are scoring just 20 points per game (29th), gaining 5.6 yards per play (21st), and are 20th in explosive play rate (8%) and 26th in total offensive success rate (46%). Now they face an Eagles defense that ranks sixth in yards per play against (5.1),first in sacks (17) and ninth in pressure rate (25.6%).
All things considered, we have two anemic offenses playing two solid defenses. After Thursday night's matchup between the Buccaneers and Bears, unders are now 27-36 (42.9%), so we can expect to see some regression to the mean going forward with oddsmakers inflating these totals.
Given the nature of these two teams, I expect a slow start to this Sunday's matchup. I like the first half under 22.5 and would play it down to 21.5.
[Bet the Eagles-Steelers 1H Under at William Hill. NJ only.]
Kickoff: 4:25 p.m. ET | More Game Info
In Week 4, I backed the Colts to cover as short favorites against the Bears. This week, I'll be looking to go against the Colts when they visit the Cleveland Browns.
The Colts look overvalued as a favorite and they don't strike me as a team that should be laying points on the road in this spot. Their strength of schedule is ranked as the third-easiest in the league according to TeamRankings while the Browns are ranked 20th in the league.
Cleveland has seemed to find its identity over the last few weeks.
The Browns lead the league with the highest percentage of rushing plays (53.26%) in addition to a 5.9 yards per carry. This could be problematic for a Colts defense that will be without LB Darius Leonard due to a groin injury. The Browns will undoubtedly look to get their run blockers up the field to take on a weakened Colts linebacker group to expand on their league-leading 1.90 second-level yards per carry.
As for the Colts offense, they haven't been able to get much going running the ball. They're dead-last in the league with 3.5 yards per carry. This inefficiency makes them much more of a one-dimensional team. They'll find things a bit more difficult when they step up in class against a more worthy opponent like the Browns.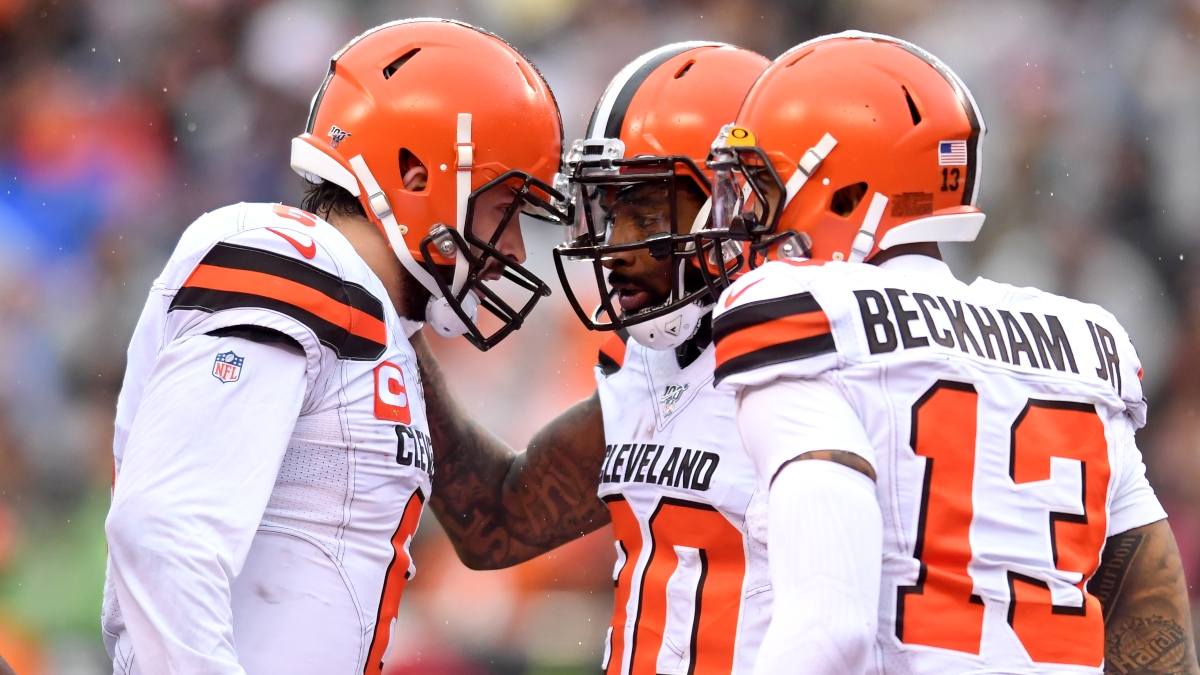 While the Colts have thrown for more yards (245 yards per game) than the Browns (182.5 yards per game), it's their red-zone touchdown efficiency that continues to be a problem. Indianapolis is ranked 28th (46.67%) in the league with its TD efficiency while Cleveland is ranked 2nd (80%) in the league.
Another thing to keep in mind is the weather as there could be 11 mph winds circling by kickoff.
Philip Rivers doesn't have as strong of an arm as he used to and the conditions might be more suitable for a rushing attack. My model actually has Cleveland winning this outright, so I'll look to back the Browns on the moneyline and avoid the additional 10 cent juice at -120.

[Bet the Browns ML at BetMGM and get a $500 INSTANT deposit match]
Stuckey: Vikings +7 at Seahawks
Kickoff: 8:20 p.m. ET | More Game Info
When these teams met the end of 2019, the line closed at Seahawks -2.5/-3. Now they're 7-point favorites against the Vikings (compare real-time odds for every Week 5 game here). But has that much really changed between these two teams?
Kirk Cousins and Russell Wilson finished that matchup with fairly similar stat lines in a 37-30 win for the Seahawks. It's worth noting that Dalvin Cook left that game early with an injury, Adam Thielen didn't play and the Vikings turned the ball over four times in their own territory if you include one turnover on downs.
Sure, Wilson is playing at an MVP level, tying Peyton Manning's single-season record of 16 passing touchdowns through a team's first four games. However, that's nothing new for Wilson.
This is pretty much the same Seahawks team as 2019. And yes, they seem to be letting Russ cook earlier than usual, but the defense has struggled mightily, partly due to injuries.
Three of Seattle's wins have come against the Falcons, Cowboys and Dolphins — a trio that features some of the worst NFL defenses and has combined for two wins: The Cowboys over the Falcons and the Dolphins over the Jaguars — Seattle's victories over Dallas and Atlanta look worse with each passing week. And the Seahawks' fourth win came against the now 2-2 Patriots, who fell one yard shy of pulling out the road victory.
The Seahawks still have plenty of flaws in the trenches on both sides of the ball and on the back end of the defense.
Meanwhile, the Vikings have lost to the Packers, Titans and Colts — three teams with one combined loss.
Statistically, the Vikings and Seahawks have fairly similar profiles. They each feature very good offenses that rank in the top five in yards per play and defenses that have struggled over the first month. Seattle has allowed 6.6 yards per play (bottom-five in NFL) while Minnesota has given up 6.3. From a net yards per play perspective, both clubs sit at +0.4.
The biggest difference between these two teams is public perception: The Vikings are not as bad as their 1-3 record indicates and they're trending in the right direction, while the Seahawks' perfect 4-0 record overall and ATS is misleading.
I'm sure Russ will cook up some explosive plays against the raw Minnesota corners, but remember this matchup was lined at Seattle -2.5 last December in primetime with fans. Now, it's +7?
Look, I've bumped Seattle and downgraded Minnesota since then, but I still only make this game Seattle -4.8.
Ultimately, I just need to avoid a Seahawks win by more than one possession — something they rarely do as, over the past three seasons, 16 of their past 18 wins came by a single possession.
I took +7.5 as soon as I saw it earlier in the week and still love anything at a touchdown or greater — let's just hope All Pro Eric Kendricks can give it a go after missing practice this week.
[Bet now at PointsBet and get $125 if the Vikings score a point]

How would you rate this article?