NFL Picks: Seahawks & Saints Among Week 4 Spreads We Already Bet
Credit:
Kevin C. Cox/Getty Images. Pictured: Russell Wilson
Three road favorites. One home underdog.
Our staff highlights the four spreads they've already bet for Week 4 below.
Early Week 4 NFL Picks
Click on a pick to skip ahead to that analysis.
Kickoff: 8:20 p.m. ET on Thursday | TV: NFL Network
I've always taken issue with the Jets clinging to the hope that Sam Darnold can be a franchise quarterback, because Sam Darnold is not very good. Pick any passing category, and of the 35 quarterbacks with at least 500 attempts since he came into the league, he's near the bottom.
But there is a reason players like Darnold are able to stick in the league as NFL starting quarterbacks, even if they're never able to live up to their top-five pick pedigree: Because the alternative is undrafted practice-square journeymen like Brett Rypien.
Think about this for a second: The only thing Rypien has going for him right is "not being Jeff Driskel," who is now 1-8 in his career as a starter. Rypien averages fewer career net yards per pass attempt (4.84) than a third of the league does running the football. Not only was Rypien behind the lowly Driskel, but Rypien would also be behind the newly-signed Blake Bortles if this weren't a short week.
Rypien completed 8-of-9 passes in relief of Driskel this past week, so you may think, "Ah, there's hope!" But they went for only 53 yards (5.9 YPA), and he added an interception, sack and fumble to his final ledger. So in 10 career dropbacks, Rypien is somehow on pace to have the highest negative play rate in the history of football without failing to complete a pass.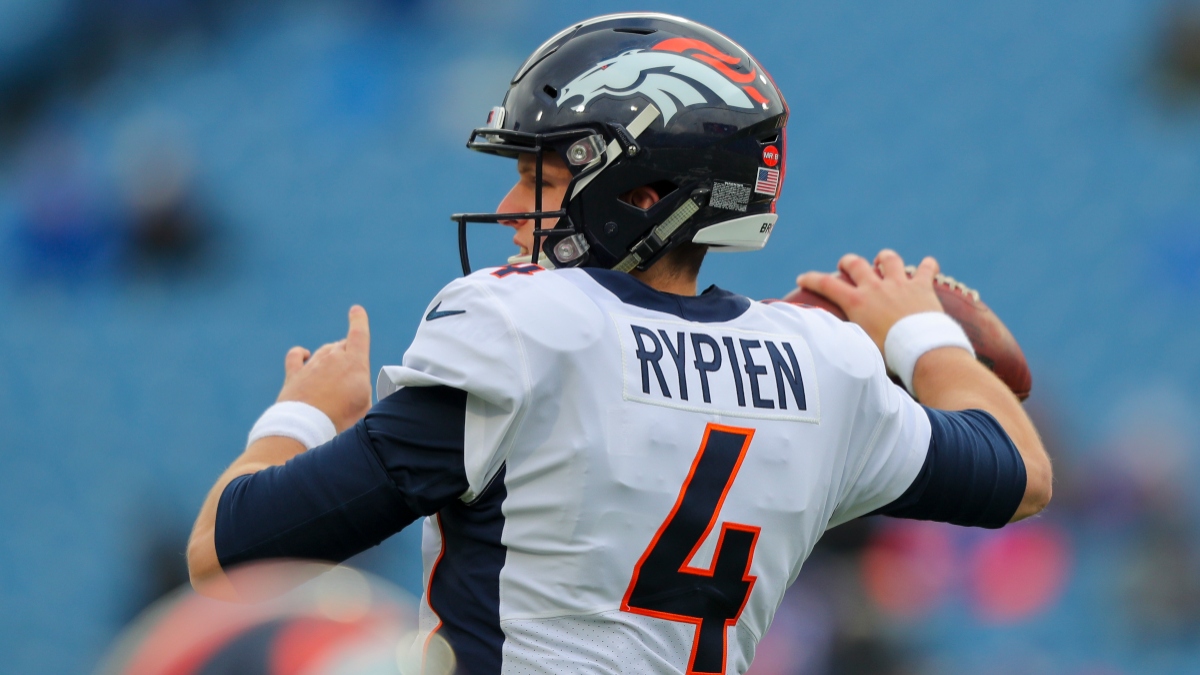 The Jets are expecting the return of top wide receiver Jamison Crowder (hamstring), right tackle George Fant (concussion) and cornerback Quincy Wilson, which should restore some level of competence to this team. Also key is that left tackle Mekhi Becton is on track to play after a shoulder scare.
Though both of these teams went 0-3 against tough competition to open the season, make no mistake, they are both bad — they were two of my favorite preseason win total under bets, in fact. But there's no way the Broncos are 2-4 points better than the Jets on a natural field when they're starting a fourth-string QB on a short week in primetime on the road.
The Jets are 31st in Football Outsiders' DVOA, so if you would rather pass on this angle, I totally get it. But guess who sits in 32nd, somehow managing to be 6% less efficient than the Jets after adjusting for strength of schedule? None other than the Broncos!
This game should be a pick at worst given the circumstances. And with 88% of the money coming in on the Jets despite 61% of tickets being on the Broncos as of Wednesday morning (find real-time public betting data here), I wouldn't be shocked to see the Jets close as a favorite.
I locked the Jets in at +3 earlier this week, but would bet them at anything above a pick 'em.

[Bet the Jets at FanDuel completely risk-free for $1,000]
Kickoff: 1 p.m. ET on Sunday | TV: CBS
No matter which side you land on here, chances are that you're overreacting to some degree.
The Colts and Bears are likely coming into this game feeling good about themselves after their Week 3 wins. How they got there won't matter much — each victory counts just the same in the standings. And while neither team can control which opponents are on their schedule, we would be remiss if we didn't mention that their previous opponents are a combined 2-16 on the season.
With that said, the only way to get a true assessment of this game is to dig into the stats, and I'd have to say the Colts are worth a look in this spot.
Playing with confidence goes a long way in this league, and after losing 27-20 to the Jaguars in Week 1, the Colts have held their opponents to 18 combined points since Yes, their last game was against the Jets, but seven points is still seven points. And in Week 2, the Colts limited a Vikings team that had just put up 34 points on the Packers to 11. That tells me that this Colts team is making the adjustments from the film room to the practice field to game day.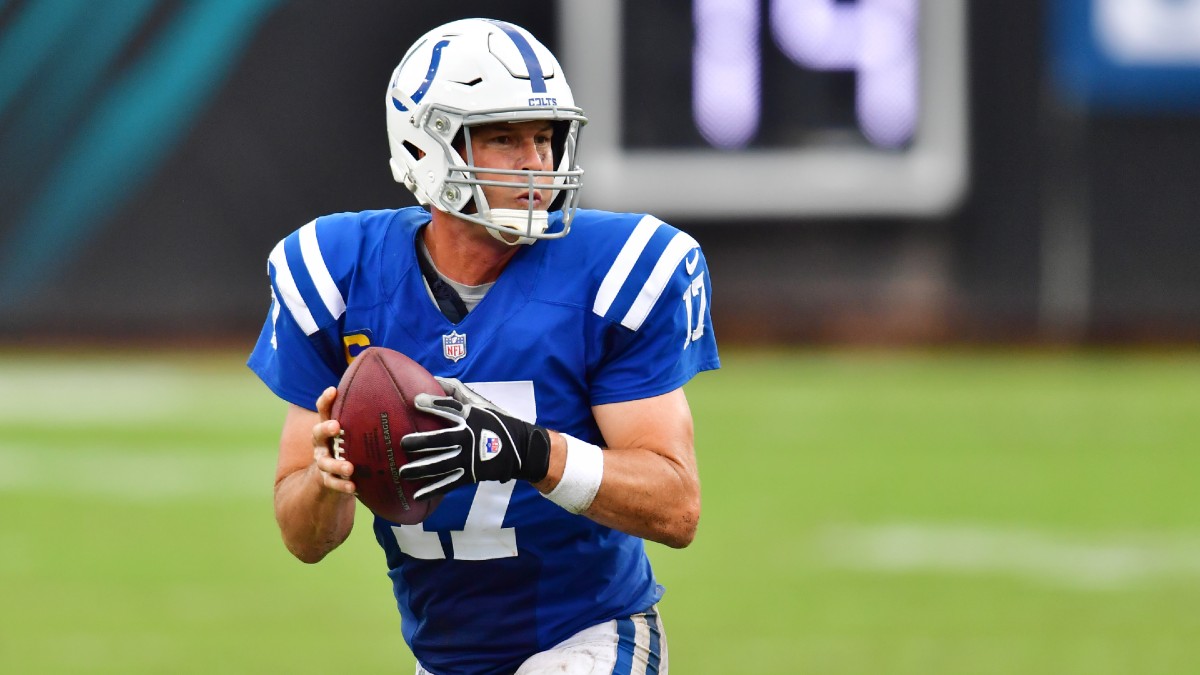 Offensively, the Colts are out-gaining the Bears 384 yards per game to 368 yards per game. And the Colts have out-gained their opponents with a 1.6 net yards per play compared to the Bears, who are -.2 in net yards per play. So, despite having a negative net yards per play, the Bears are somehow 3-0? One might assume that turnover luck has come into play for the Bears, but they're dead-even in turnover margin as well while the Colts are +1.
At some point, the luck factor will subside for the Bears and they'll go through some regression.
While it was a nice story last Sunday when Nick Foles led the Bears to victory from a 26-10 deficit, that may have had more to do with the Falcons' ineptitude than anything else.
Don't be a prisoner of the moment. Lay the short price with the Colts.
I would play this up to -3.

[Bet now at BetMGM and get a $500 INSTANT deposit match]
Kickoff: 1 p.m. ET on Sunday | TV: FOX
The Dolphins have been feisty. They hung around the Patriots in Week 1 before losing by 10, then lost to the Bills by a field goal before dominating the Jaguars 31-13 in front of a nonexistent Thursday night TV crowd.
Brian Flores has kept Miami competitive even at a serious talent disadvantage, and Ryan Fitzpatrick certainly knows how to light it up.
Miami comes into this one with extra rest and a confidence boost after a surprisingly easy win. Seattle is traveling from the West Coast after a torrid start and a huge win against Dallas, and this has all the makings of a letdown game.
I don't buy it.
Past versions of the Seahawks might have let their guard down in a game like this one, but the 2020 Seahawks are letting Russ cook, and it has been spectacular.
Russell Wilson leads the league with 14 passing touchdowns, an absurd 75-touchdowns pace. He's completed 77% of his passes for more than 300 yards a game with a 139 QB rating and is close to even odds to win MVP at most books.
Only three players have ever come close to a start like this through three games: 2007 Tom Brady, 2013 Peyton Manning and 2018 Patrick Mahomes. Those three all threw 50 touchdowns — the three greatest seasons ever — and there was no impending regression. I'm not sure there's one coming for Russ, either.
Miami's secondary is banged up and got lit up for 415 yards and four TDs last week by Josh Allen. What's Wilson going to do?
Early in the week, I'm looking to lock in a bet before action pushes the line past a key number I don't want to be on the wrong side of. This has all the makings of Seattle -7 or even higher, so I'm grabbing it at -6.5 while I can still win by a touchdown.

[Bet now at DraftKings and get a $1,000 bonus, including a $500 risk-free bet]
Kickoff: 1 p.m. ET on Sunday | TV: FOX
It's amazing how turnovers can drastically alter the perception of an NFL team.
The New Orleans Saints were a fourth-quarter Taysom Hill fumble away from driving down the field, scoring and potentially moving to 2-1. The Detroit Lions, on the other hand, won on a last-second field goal despite being the beneficiary of three Kyler Murray interceptions.
The stage is now set for the perfect buy-low spot on the Saints.
Drew Brees is declining, but none of this is new as we've been witnessing the decline of his deep ball for the past two seasons — it's simply been more recognizable recently as he's dead last in intended air yards (4.6) among all quarterbacks. Still, none of this matters as much as you would think and it's quite possible that the market may be undervaluing the Saints.
Even with the absence of Pro Bowl wide receiver Michael Thomas, New Orleans is scoring 29 points per game and is fourth in Football Outsiders' offensive DVOA.
This week the Saints face a Lions defense that struggles to generate a pass rush and is dead last in pressure rate (13.8%). Despite having a defensive-minded head coach in Matt Patricia, Detroit's defense is 27th in run success rate and 23rd in passing success rate. The Saints offense, meanwhile, is third in rushing success rate, so Alvin Kamara and Latavius Murray should have big games while Drew Brees should look like the Drew Brees of old, even if it's for one game.
With the expected return of Michael Thomas, this line is short. And as long as the Saints don't turn the ball over, they should win this game going away.
[Bet now at PointsBet and get $150 if the Saints score a point]
How would you rate this article?