NFL Picks Week 11: Expert Predictions for Every Game
Credit:
Cooper Neill/Getty Images. Pictured: Patrick Mahomes
Week 10 in the NFL saw six games decided on buzzer-beating field goals. The Cardinals, Seahawks, Browns, Lions, Texans and Broncos all won with the last-second kicks, and even the weak primetime slate (on paper at least) delivered three one-possession games that came down to the final two minutes.
As the NFL calendar shifts to Week 11, there could be considerably more blowouts with five spreads of at least 10 points on the board. Dallas, Miami, San Francisco, Detroit and Washington are all laying huge numbers on Sunday.
ESPN Bet is now live! Make sure you're ready for all the action with our exclusive ESPN BET promo code.
There are four teams on a bye this week: New England, Indianapolis, New Orleans and Atlanta.
Two elite primetime matchups bookend the Week 11 slate. The Bengals and Ravens meet on Thursday and the Chiefs and Eagles have a Super Bowl rematch in Kansas City on Monday Night Football.
Here are my thoughts on all 14 NFL games, starting with the key AFC North matchup on Thursday night and ending with my NFL picks and predictions for Week 11.
Thursday Night Football
It might be time to start a dialogue about the Bengals defense.
DC Lou Anarumo has an elite track record of slowing down top quarterbacks, but there are some holes in this unit he coordinates. The Bengals faced more snaps against backup quarterbacks than any other defense in the NFL last season, and while in 2023 they have been elite in the red zone and have had some good turnover luck in their favor, their play-to-play defense leaves a lot to be desired.
If you remove turnovers this season, the Bengals are 31st in success rate ahead of only the Broncos, who have improved on that side of the ball since a historically bad start. Cincinnati is 30th in EPA per play allowed and 20th in yards per drive but is somehow just 12th in points allowed per drive.
Only the Cardinals and Giants have allowed more trips to the red zone than this Cincinnati defense, which is now facing injury concerns for its top two pass rushers. Sam Hubbard (ankle) and Trey Hendrickson (knee) are trending toward not playing on Thursday night.
WR Tee Higgins is also a major question mark after missing Sunday's game with a hamstring injury. That will only boost Mike Macdonald's defense, which has consistently befuddled Joe Burrow in the teams' four meetings over the past two seasons.
The Texans tallied 7.4 yards per play and 544 total yards of offense on Sunday against Cincinnati. They were able to both run and pass the ball at will. The Ravens offense still managed to get to 24 points against Cleveland and the NFL's best defense last week, and I expect it will score again.
The spread and total opened Ravens -2.5 and 44 and it's been bet past the key numbers of 3 and 45 early in the week. At these numbers, I'll pass, but I like Baltimore at -3 or the over at 45.
Verdict: Lean Ravens and Over (Bet at -3 and 45)
---
Click here to return to the table of contents.
---
The Passes
No team in the NFL has gained more expected points from turnovers forced than the Steelers, and no team in the NFL has lost fewer expected points from turnovers given away than the Steelers.
If you're wondering how Pittsburgh is 6-3 despite a negative point differential and losing the yardage in every game, look no further than that stat. They beat Green Bay last week at home thanks to a blocked extra point and two red-zone stands on the Packers' final two drives.
The Steelers have played six of their nine games this season at home, so it could be significantly more difficult to take their anemic offense on the road. If you're looking for a silver lining, Pittsburgh's first-half offense has been considerably better over the past two weeks.
This line shows that the market is well aware that the Steelers are not nearly as good as their record. Cleveland is the better team, but the offense isn't nearly consistent enough week to week to lay four in this matchup against the Steelers defense. Deshaun Watson played his best half with the Browns in last week's comeback win against the Ravens, but it always feels like he's one weird hit or play from departing the game.
I'm not sure how Pittsburgh sustains offense in this game — it's the worst offense in the NFL by series success rate against the league's best defense — but these are the spots I'd rather pass than lay points against Mike Tomlin.
Verdict: Pass
Editor's note: Deshaun Watson has since been ruled out for the season since this post went live. I still consider this game a pass.
---
It's rare that a 17-point NFL favorite has an easy cover, but that was exactly the case on Sunday when Dallas beat the Giants by 32. New York was completely non-competitive, and there's probably no more than 10 people on Earth lining up to bet on Tommy DeVito and the Giants this week.
DeVito wasn't even the most concerning element of that game for me; it was the Giants defense, which gave up 640 yards, 8.1 yards per play and 32 first downs to the Cowboys.
As much as this line is absolutely inflated by a point or two, I am not one of those 10 people betting DeVito. He might be able to find some success against a bottom-5 Washington secondary, and I wish him luck. It would be really funny if the Giants won this game and hurt their obvious tanking operation.
Verdict: Pass
---
Antonio Pierce couldn't have drawn up a better two weeks to start his interim head-coaching career. The Raiders are 2-0 since firing Josh McDaniels, mostly because they got to face Tommy DeVito and Zach Wilson.
The Raiders defense is elite at taking away explosive plays, but the Dolphins had a week to get healthy off the bye. Miami should have De'Von Achane back at practice this week, and the Las Vegas defense is in for a real wake-up call after beating up on two terrible QBs.
It will be interesting to see what the Dolphins defense looks like coming off a bye. Jalen Ramsey, who will likely match up with Davante Adams, is getting back into form after returning from IR last week, and Miami's pass-rush numbers have taken a step forward as the season has progressed, too.
Tua Tagovailoa has carved up mediocre and below-average defenses this season, and I see no reason to expect anything different in this game. The Raiders had two fun wins and the vibes are high, but this is an extremely flawed roster.
Verdict: Pass
---
In a year where quarterback play is causing an existential crisis in the NFL, let's appreciate Kyler Murray and C.J. Stroud — a returning quality quarterback who led a game-winning drive in his first game back from an ACL tear against a rookie lighting the league on fire.
This game will have a screen for me on Sunday. There should be points scored at both ends in this one.
The main difference between these two teams is that you can run on Houston, but the Texans' secondary has graded out well this season. The Texans should get pressure on Murray, as their coverage unit ranks 12th, per Pro Football Focus. Unless Arizona finds a run game to expose Houston, it will be easier for Stroud to move the ball.
I expect the Texans to win this at home, but I wouldn't lay more than three points.
Verdict: Pass
---
Click here to return to the table of contents.
---
The Leans
The Panthers come into the game with some extra rest off a Thursday night loss, but the offense remains completely lifeless.
Carolina came out of its bye week with a new play-caller and faced Houston, Indianapolis and Chicago. There wasn't much to like in any of the games offensively. The Panthers scored 13 points on a mediocre Houston defense, 13 on an Indy defense that couldn't stop anyone for weeks, and then — wait for it — 13 against the Bears on Thursday night.
Frank Reich said he will not be taking back play-calling duties, but what's the fix for an offense that has no weapons, a porous offensive line and a limited quarterback because of his size and lack of experience? It certainly isn't a Cowboys defense that is one of the best front-runners in the league.
Dallas will play man-to-man the entire game and not be threatened by the Panthers' receivers. The Cowboys' pass rush is first in win rate and the Panthers' offensive line is ranked in the bottom 10 in every pass-block metric.
It's hard to understate just how good the Cowboys' pass offense is right now. Since their bye, they've increased pre-snap motion, Dak Prescott is running more and the offense is first or second in every relevant metric.
Dallas hasn't faced any elite secondaries of late (Rams, Eagles and Giants), but Prescott is humming right now. With a Thursday game lined up against the Commanders on Thanksgiving, it's risky to bet on the latter part of the game, but I think Dallas rolls early.
Verdict: Lean Dallas 1H -6.5
---
Sean McDermott has now fired an offensive and defensive coordinator within the last 12 months. If that doesn't scream panic scapegoating and attempted job-security enhancement, nothing will.
McDermott's Bills are 5-5 despite owning an elite offense by every underlying metric. There are real issues with the Buffalo offense — the lack of a secondary option outside of Stefon Diggs is the biggest one — but a lot of the struggles are driven by absurd turnover fortunes and general bad luck.
Josh Allen, who leads the NFL in interceptions, has been careless with the ball at times, but his turnover-worthy play rate is actually better than it has been in past seasons. His career average is 3.8%, and it's down to 2.4% this season.
The Bills offense is No. 1 in rushing success rate, No. 2 in passing success rate, No. 1 in overall success rate and No. 2 in EPA per play when you exclude turnovers.
I've written week after week about my concerns about the Bills defense, and those are legitimate. There's not much havoc or playmaking on that unit, which has played like a bottom-5 defense over the past month.
The Bills offense is still a top-five unit and would have beaten the Jets by multiple scores in Week 1 in New York without turnovers. If they're laying fewer than seven, I'm betting the Bills on Sunday. Even at 7, I lean toward them.
Verdict: Lean Bills -7; Bet Bills -6.5
---
We've never really seen Josh Dobbs in a functional offensive system with quality weapons and a good play-caller in his career. He was the makeshift fill-in guy in Pittsburgh and Tennessee, and he joined dysfunctional Arizona just before the regular season this year.
Now Dobbs has a quality offensive play-caller in Kevin O'Connell, well above-average receiving options and an above-average offensive line. The first half against a solid Saints defense was the best half Dobbs has played in his career.
I'm all in on Dobbsanity right now. The Broncos' season-long defensive metrics are irrelevant because of how bad they were in the first month, and that is not at all representative of the unit out there right now.
Despite this, are we sure Denver should be laying multiple points here? It's just a lean for me at 2.5, but Minnesota is once again an excellent teaser option, and I'll be hunting a +3 to bet all week.
Verdict: Lean Minnesota +2.5 & Bet +3; Use Minnesota in Teasers
---
Rams vs. Seahawks
Seattle blew two separate touchdown leads in the third and fourth quarters and ultimately kicked a field goal as time expired to beat the Commanders last week. The market has very little respect for the Seahawks with this line, so it's hard to go against them here even if you think they're generally overvalued by the public.
Seattle closed -5.5 in Week 1 against the Rams at home and lost by 17.
Flipping home field would get you to Seattle -1/-1.5. The line is mostly either Seahawks -1 or Rams -1, depending on the book, as of 5:15 p.m. ET on Tuesday.
Even with Matthew Stafford back for the Rams, it's hard to justify a world where the Rams have improved their power rating since Week 1. Los Angeles does have the advantage of coming off its bye week to factor in here, but the odds of Stafford recreating an elite third-down showing against this secondary again seem low.
With that said, there's reason to be skeptical of this Seattle defense. That dominant stretch of good defensive play for a month came against the Giants, the Browns with P.J. Walker, an injured Joe Burrow and the Cardinals with Josh Dobbs. They've given up a lot of points and yards against the better quarterbacks they've faced all year.
If you had any faith in Stafford's health, I'd look to the over here. The Seattle offense shouldn't face much resistance against this soft Rams secondary.
Verdict: Lean Over 46; Bet Over 45
---
Click here to return to the table of contents.
---
The Bets
There are too many holes in the Lions defense to warrant them laying double digits here. Consider some of the defensive performances this season: They gave up 24 to Andy Dalton, 20 to Jordan Love, 37 to Seattle, 38 to the Chargers and 38 to Baltimore.
The run defense has clearly improved year over year, but there are plenty of holes in the secondary that could hamper them as they face better offenses going forward.
The Lions defense is similar to the Eagles' in the NFC. Average-to-good passers are going to move the ball up and down the field on their secondary, and PFF corroborates as Philadelphia and Detroit are tied for 22nd in coverage grades this season.
ESPN Bet is now live! Make sure you're ready for all the action with our exclusive ESPN BET promo code.
One of the underrated parts of the Bears' season is that they've built a competent offensive line. Chicago is marginally below average in PFF grades for pass blocking, but the team's pass-block win rate is in the upper third of the league.
Matt Eberflus said he needs more time to evaluate whether or not Justin Fields is ready for a return to action on Sunday. The offense has been more consistent play to play with Tyson Bagent, but his turnovers and lack of explosiveness have his EPA per play much lower than Fields'.
As long as Chicago is +10 or more, I'm holding my nose and fading the Lions as they sit at peak market value following a last-second win against the Chargers.
What is QuickSlip?

QuickSlip is an Action Network feature that allows users to automatically pre-load their bet slip at FanDuel Sportsbook.
---
Jordan Love made some really impressive throws on Sunday in the loss to the Steelers. The play-to-play consistency needs work and he's too nonchalant in the pocket at times, but the Packers offense showed real signs of vertical life and explosiveness in their close loss to Pittsburgh on Sunday.
Now at home against a sieve-like Chargers defense, Green Bay should be able to have success once again.
The Packers' primary weakness defensively is the run game, which puts them in an unfavorable matchup against the Chargers this week. According to rbsdm.com, the Chargers pass more than expected in most offensive down-and-distance scenarios, as shown by the chart below.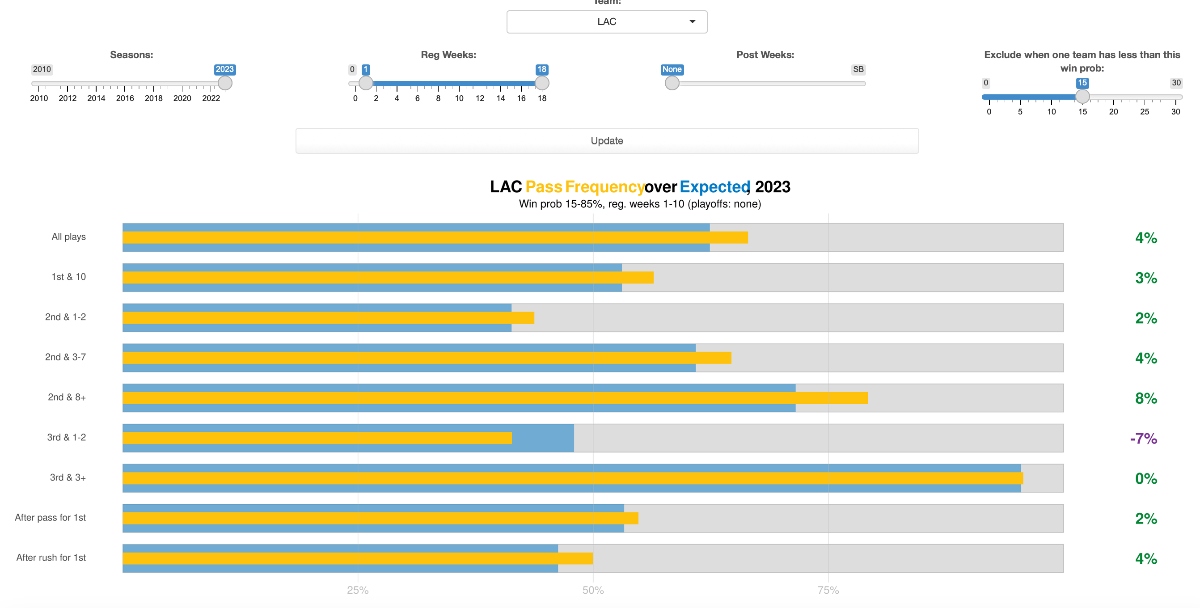 The Chargers are now down to 31st in rushing success rate offensively as well. They've broken some big plays to help the EPA numbers, but it's going to be on Justin Herbert to make this offense happen.
Given the defensive limitations, are the Chargers really 4.5 points better on a neutral field than the Packers? I don't think so. The Chargers defense is 31st in the NFL in yards allowed per drive and only opponent mistakes (fifth in turnovers per drive) are keeping this unit afloat.
I'd bet the Packers at +3 or better at home and would also look to bet their team total over. They've had a terrible first-half offense all year, but Matt LaFleur is too good of a coach to not solve his team's script woes.
Verdict: Packers +3 (-102, DraftKings)
---
It's time for the weekly Will Levis success-rate update. Of 41 quarterbacks with at least 60 plays this season, the Titans' rookie quarterback has the fourth-lowest success rate. He's ahead of only Tommy DeVito, Zach Wilson and P.J. Walker.
The Titans' offensive line issues have created problems for Levis. When the defensive secondary hasn't completely blown the coverage, he's taken a ton of sacks and has created next to nothing offensively. And Levis also ranks in the bottom three in completion percentage over expectation, per Next Gen Stats.
The Jaguars' secondary is top-five in coverage grades overall, per PFF. It's hard to draw up many paths to success for the Titans offense in this game, and I think we're going to see more struggles for Levis on the road on Sunday.
It's also difficult to run on the Jaguars, whose entire defensive scheme is built around taking away opponents' running backs.
This is an excellent matchup for Trevor Lawrence to carve up a very mediocre Titans secondary. However, the quarterback's efficiency and success rate numbers should be a lot better than they are.
The Jaguars are 15th in offensive yards per drive. Lawrence is 19th in adjusted EPA per play and just 10th in success rate. He hasn't taken a step into the top 10 as a passer. For that reason, I think points will be harder to come by than the market is suggesting with this total.
Verdict: Under 40 (BetMGM)
---
The bye week was an excellent reset spot for the 49ers. Not only did Brock Purdy get healthy from his concussion, but San Francisco got both Deebo Samuel and Trent Williams back from injury.
The result was an offensive explosion against a solid Jaguars defense. The Niners posted 7.3 yards per play, 437 total yards and 34 points. There was help from all of the turnovers forced by the defense, but every 49ers scoring drive was at least 40 yards. The Jags had a goal-line stop late in the fourth quarter to prevent the 49ers from getting to 40.
Before the injuries to Purdy, Williams and Samuel, it's important to note just how dominant the 49ers offense was. They scored 30+ points in each of their first five games of the season. The Buccaneers cannot generate pressure on quarterbacks without bringing extra pressure.
Blitzing Purdy, a plus processor, with the weapons that the 49ers feature, is a recipe to get smoked. The Buccaneers defense also has some regression coming from a luck perspective.
The Bucs have the league's No. 1 red-zone defense by touchdown percentage, they rank inside the top five in fumble-recovery luck, and they should get handled on Sunday.
If you are looking for a new sportsbook, be sure to check out our sportsbook reviews and choose the best one for you!
---
The Super Bowl rematch. The Swelce Bowl. A potential Super Bowl preview. The top team in each conference entering Week 11 facing off on Monday Night Football. I'd go as far as to say this is the most enticing matchup of the entire NFL regular season to date.
We also have clear tendencies that are worth betting on.
These two offenses have been two of the best on game script for the last two seasons. The Chiefs own the No. 1 offense by a wide margin in the first quarter over the last two seasons. Both teams are coming off a bye week, too, which could lead to a more innovative start from Andy Reid and Brian Johnson.
The Eagles are No. 5 in first-quarter offense because they've taken a step back under Johnson, a new offensive coordinator this season.
Regardless of which side leads this game at halftime, the second-half under will be worth a look. The Eagles secondary makes holding a lead precarious, but their offense's ability to play ball control and run the clock is one of the two best in the entire league.
The Chiefs offense is the only one comparable. They are 9-0 to the under in the second half this season. Part of that is the long, back-breaking, time-killing drives that Patrick Mahomes can engineer. Their pace slows considerably, too. The other part worth considering is that defensive coordinator Steve Spagnuolo is a very underrated in-game adjuster.
The Eagles closed as a favorite in the Super Bowl. I wouldn't lay more than 2.5 with Kansas City, but at -2.5 or less, I'd go to war with the league's best quarterback to win the game.
If the line stays at 3, I'd pass on the side here.
If these offenses start hot — like in the Super Bowl — the pace will slow regardless of who is in front. In that case, I like the first-half over and the second-half under.
Verdicts
Bet Chiefs -2.5 (-120, DraftKings)
---
Click here to return to the table of contents.
---
How would you rate this article?
This site contains commercial content. We may be compensated for the links provided on this page. The content on this page is for informational purposes only. Action Network makes no representation or warranty as to the accuracy of the information given or the outcome of any game or event.