Koerner's Week 14 NFL Power Ratings: Best Bets According to My Projected Spreads & Over/Unders
Credit:
USA Today Sports. Pictured: Chris Carson, Lamar Jackson, Michael Thomas
Sean Koerner uses his projected spreads and over/unders to find the best Week 14 NFL bets.
Find his power ratings (and picks) for 49ers-Saints, Ravens-Bills and much more below.
Is there any value on the Chiefs-Patriots showdown? Which double-digit underdog should you consider taking the points with? Is it time to sell high on the Ravens?
Like every week, I'll use my projected spreads and over/unders to identify the best NFL bets, so we'll identify my favorite picks for Week 14 below.
Note that I highlight differences in teams' actual record vs. their Pythagorean expectation (which you can learn more about here).
Now let's dig in.
---
Odds as of Wednesday evening and via DraftKings, where Action Network users get a risk-free bet up to $500.
---
Cowboys at Bears
Current odds: Cowboys -3; 43.5
My Projections: Cowboys -2.5; 43
Thursday Night Football
The public is clearly behind Dallas in this matchup with more than 75% of the tickets and money supporting the Cowboys (see live public betting data here), which isn't too surprising as they're traditionally a public team and are certainly better on paper than the Bears despite both teams being 6-6. In fact, their Pythagorean expected record is 7.9-4.1, which is +1.9 differential (third-highest in the NFL). Most people would argue that it's due to coaching and why Garrett is on the hot seat right now.
But it's likely the public is underestimating the Bears, who have won three of their last four with the Cowboys losing three of their last four. Public pressure is not letting books keep this line at -2.5, and sharp action is preventing them from moving it to the key number of -3. Therefore the line has been parked in between the two numbers all week. The sharp play would be to take the Bears +3 (-115).
Lean: Bears +3 (-115)
Ravens at Bills
Current odds: Ravens -6; 43
My Projections: Ravens -5.5; 43.5
Books will have to inflate Ravens lines for the foreseeable future due to the public backing they get week in and week out — they're receiving 76% of the tickets and 83% of the money as of writing.
The Ravens are currently No. 1 in my power ratings and I would set them as 1.5-point favorites against the Patriots on a neutral field. Having said that, if sports betting were as simple as betting on the better team each week, we would all be millionaires.
I can't emphasize how important it is to treat sports betting like a market and know when to buy low and sell high on teams. And right now would be the time to sell high on the Ravens. Sharps know this and have been keeping the line parked on 6 while some of the sharper books have moved toward 5.5.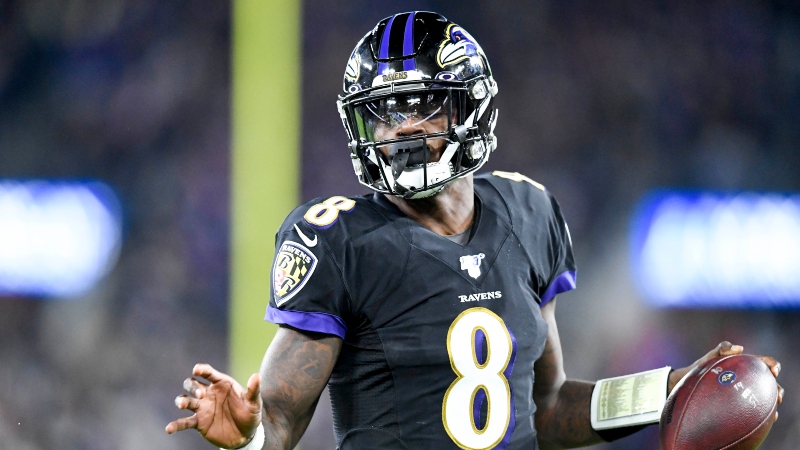 When considering making a play on a side, I typically want it to line up with my projected odds, market behavior and specific matchup strength/weaknesses. But the reason I can't pull the trigger on the Bills here is due to their heavy zone defense that invites chunk plays on the ground at the expense of shutting down big plays in the passing game. That can be demonstrated by their third-best rate in limiting explosive pass plays while allowing the second-most explosive run plays (per SharpFootballStats). And to no surprise, the Ravens rank first in explosive run plays and can easily exploit this matchup.
I'm going to hold off on fading the Ravens, instead looking ahead to next week against the Jets, who are ranked first in fewest explosive run plays allowed — an ideal time to sell high on the Ravens.
Redskins at Packers
Current odds: Packers -12.5; 41.5
My Projections: Packers -14; 42
The Redskins are coming off an upset road win over the Panthers, which ultimately led to the firing of Ron Rivera.
I had previously mentioned the Redskins would be a team to back in games that were expected to be close as their strengths are their run game and defense. This week against the Packers, however, it'll be tougher to keep it close, which will force Dwayne Haskins to drop back to pass more — a recipe for disaster. Therefore I'm staying away from this line as I don't see much value either way.
I have this marked as the slowest-projected paced game for Week 14 and am also in line with the total. However, there could be two different game flows for each half.
I anticipate the Packers will get out to an early lead against the Redskins' pass funnel defense while the Redskins offense should be able to run the ball on the Packers' run funnel defense. Therefore I'm leaning on the first-half over and will switch to the second-half under (depending on the score) as these offenses will then be playing into the strengths of the opposing defense.
Lean: 1H Over 21.5; 2H Under (if Packers lead by more than a touchdown)
[In New Jersey, Pennsylvania, Indiana or West Virginia? Bet now at DraftKings]
Broncos at Texans
Current odds: Texans -9.5; 42.5
My Projections: Texans -8.5; 42.5
This is a pass from me.
49ers at Saints
Current odds: Saints -2.5; 44
My Projections: Saints -2; 45
The Saints opened as 3.5-point favorites, which I felt was way too high, but anticipated a line like that would divide action evenly considering the 49ers have the second-highest Pythagorean win differential of the week (+2.6) over the Saints.
All that to say it's a bit odd to see the public all over the 49ers here with 68% of the action coming in on San Francisco, causing the line to crash all the way down to -2.5. That sort of drastic line move through the key number of -3 involved sharp action as well.
Any value that was on the 49ers has evaporated, so this is a no bet for me.
Bengals at Browns
Current odds: Browns -8.5; 41
My Projections: Browns -8.5; 42
The Bengals decided to bench rookie Ryan Finley for Andy Dalton last week, inspiring my largest bet of the year: Bengals +4. I had projected the switch back to Dalton should impact the line by 2.5-3 points, yet the line slowly moved down to the key number of +3 and parked there. I spotted a market inefficiency when the total ended up rising 2.5-3 points, but not the spread.
Either way, the Bengals ended up beating the Jets outright and it appears that the market has correctly adjusted for Dalton this week, so I'm not seeing any value on this spread. The total could have some hidden value, though.
Dalton certainly improves the Bengals offense, which should force the Browns to keep their foot on the gas for all four quarters. With Baker Mayfield dealing with a finger injury, I'm guessing we'll see a heavy run game with Nick Chubb and Kareem Hunt, which plays right into the Bengals' weakness on defense: The Browns have the fourth-highest explosive run rate while the Bengals have allowed the third-highest explosive run rate.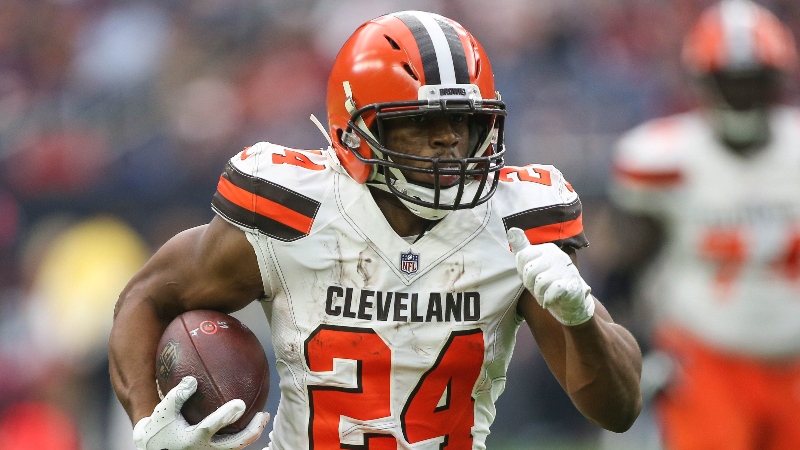 Let's wait for Mayfield's status to be confirmed, but over 41 is a lean here.
Lean: Over 41
Panthers at Falcons
Current odds: Falcons -3; 47
My Projections: Falcons -3; 47
I'm right in line with the market, so I see no value here.
Lions at Vikings
Current odds: Vikings -13; 43
My Projections: Vikings -12.5; 44
The total opened at 44 and has already been bet down to 43 with 60% of the tickets coming in on the under. But I think there's sneaky value on this being a matchup that favors the over.
David Blough is likely to draw the start again after proving he can at least get the ball to Kenny Golladay and Marvin Jones. Xavier Rhodes, meanwhile, once again demonstrated that he's prone to get burned a few times a game, so this isn't too imposing of a matchup for the Lions, who will likely be in a pass-heavy trailing game script.
On the other side of the ball, the Vikings will be able to drop points on a Lions defense that ranks 27th in explosive pass plays allowed. Dalvin Cook seems likely to play, but even if he's ruled out, Alexander Mattison is more than capable of filling in and maintaining the Vikings strong ground game.
Lean: Over 43
[In New Jersey, Pennsylvania, Indiana or West Virginia? Bet now at DraftKings]
Dolphins at Jets
Current odds: Jets -5; 45.5
My Projections: Jets -7; 45.5
I've been a bit hypocritical with the Jets as I made the case they were a buy-low team a few weeks ago then bet against them two of the past three weeks. However, I may pull the trigger on them here.
I also may break my rule of not betting on Dolphins spreads. Ryan Fitzpatrick is a high-variance quarterback on the worst roster in the NFL, making is nearly impossible to identify the value on their lines, but this week could be different.
The public seems to be backing the Dolphins after upsetting the Eagles and running what is arguably the play call of the year with a fourth-and-goal play in which the punter threw a 1-yard touchdown to the kicker. It just goes to show that Miami's coaching staff has done a tremendous job getting this team to three wins.
I'm willing to back the Jets here at -5 just to catch the Dolphins, who are due for a letdown game.
Sam Darnold is one of the worst quarterbacks in the league when facing pressure with a QB rating of 56.1 while under duress (per Pro Football Focus), which ranks 31st. But the Dolphins create the least amount of pressure at only 17.7%, so Darnold will be comfortable in the pocket and should be able to pick this defense apart as a result.
There's been some odd betting behavior with 64% of the tickets coming in on the Dolphins but 72% of the cash coming in on the Jets. I was able to find only one game with such extreme percentages both ways in our Bet Labs database (since 2005). In an effort to increase the sample size, I looked at games in which less than 42% of the tickets and more than 58% of the money was on a side, and found those teams have gone 11-8 against the spread.
I'm the last person to read too much into a 19-game sample size, but if anything, it just goes to show how rare this split is. Though I'm not letting it impact my view of this matchup as a result. Still, I'll want stud safety Jamal Adams to be declared active before making it an actual play.
Lean: Jets -5
[In New Jersey, Pennsylvania, Indiana or West Virginia? Bet now at DraftKings]
Colts at Buccaneers
Current odds: Buccaneers -3; 47
My Projections: Buccaneers -1.5; 49
This total opened at 49.5 and has dropped all the way down to 47. I can't really explain the drastic line move given 61% of the money has come in on the over and there doesn't appear to be any weather concerns this week.
The Bucs defense is arguably the most extreme pass funnel in the league,  and the Colts play a soft zone defense that can be attacked by the Bucs — especially with Chris Godwin and Mike Evans. So I actually think this matchup plays to the over. In fact this total has dropped two points below my projection.
Still, only two out of my three criteria have been met, so this is only a lean as of now.
Lean: Over 47
[In New Jersey, Pennsylvania, Indiana or West Virginia? Bet now at DraftKings]
Chargers at Jaguars
Current odds: Chargers -3; 43
My Projections: Chargers -2.5; 43
The Jaguars benched Nick Foles for Gardner Minshew mid-game last week. and considering they spent $88-million on the free-agent QB, that was likely not an easy decision to make, but it's likely the correct one as the sixth- round rookie has outplayed Foles.
On the other side of the ball, it's been reported that Phillip Rivers is also in danger of being benched. He's been a turnover machine of late due to poor decisions and poor throws. It doesn't help his cause that Tyrod Taylor is one of the better backups in the league.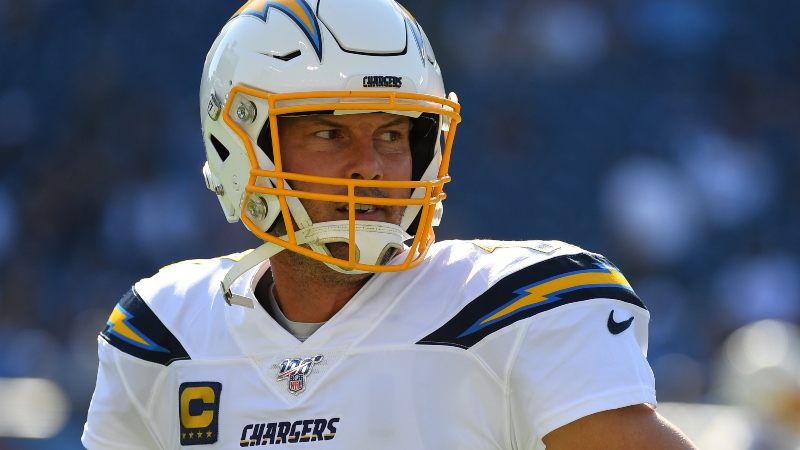 Either way, this is a spot in which the Jaguars are showing some value at home getting a key number of +3. Let's wait to see if this can hit +3.5, then the Jaguars will become a play for me.
Chiefs at Patriots
Current odds: Patriots -3; 48.5
My Projections: Patriots -3; 49
I'm right in line with the market here, so another pass from me.
Steelers at Cardinals
Current odds: Steelers -2.5; 43.5
My Projections: Steelers -1.5; 44
These two teams have been going in opposite directions with the Steelers winning six of their last seven and the Cardinals losing five straight. I'm actually surprised we aren't seeing more action — 58% of tickets and 71% of money — on the Steelers here, especially with how badly the Cardinals lost to the Rams last week.
Pittsburgh should be a slight favorite here, but reaching the key number of -3 on the road may be a bit too high. In fact, it appears sharper books have been meeting resistance anytime the line gets up to -3, effectively having to bring it back down to -2.5. While softer books seem much more comfortable offering Steelers -3 to attract at least some Arizona action, Cardinals +3 is only a lean until we get more clarity on JuJu Smith-Schuster's and James Conner's availability.
Lean: Cardinals +3
[In New Jersey, Pennsylvania, Indiana or West Virginia? Bet now at DraftKings]
Titans at Raiders
Current odds: Titans -2.5; 46.5
My Projections: Titans -3; 45
I have this pegged as the third-slowest game of Week 14, yet it has one of the four highest totals.
Both teams will attempt to control the clock with a run-heavy game plan, making this very much Derrick Henry vs. Josh Jacobs. And while both secondaries are vulnerable right now, I wouldn't expect either team to take too many shots downfield unless they get behind. Considering I project this to be a close one, I'm viewing that as all the more reason to like the under here.
The total has settled in at 46.5, but it's worth seeing if it goes back up to 47 — the second-most valuable number for a total — before pulling the trigger on the under.
Seahawks at Rams
Current odds: PK; 47
My Projections: PK; 47.5
Sunday Night Football
This matchup is giving me a bit of deja vu of the Week 12 matchup between the Ravens and Rams. I bit on the Rams +3.5 at home and could tell about two  minutes into the game that it was a loser.
There's no reason to @ me on Twitter that the Rams are overrated and their offensive line stinks — trust me, I'm well aware of that. But the Rams will win this game if they can give Jared Goff a clean pocket. The Seahawks have the fourth-worst pressure rate at 20.2%, so I think there's a chance Goff will have the time to operate.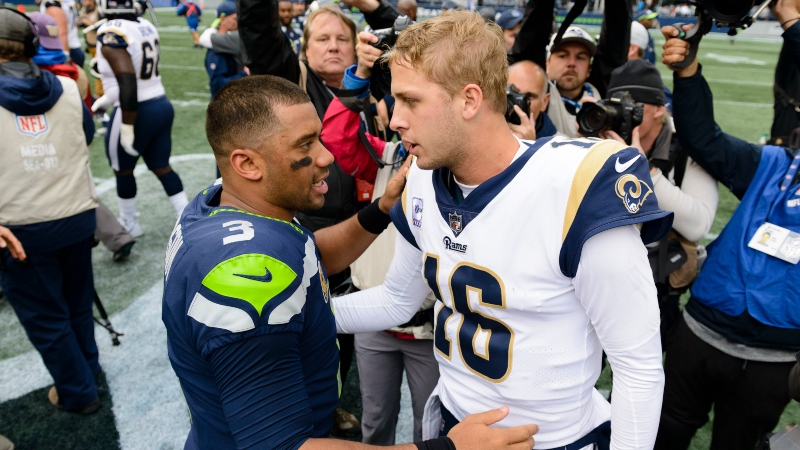 The Rams also have a +3.1 edge in Pythagorean expected record differential over the Seahawks. A lot of that has to do with the Seahawks being 8-1 in one-score games this season, and while you can certainly make a case that Russell Wilson playing at an MVP caliber is the reason for that, that type of record in close games involves quite a bit of luck. Pythagorean wins can really help expose scenarios in which our collective perception of a team can be skewed based solely on to-date results. I'll be betting on that here with the Rams +1.
Pick: Rams +1
[In New Jersey, Pennsylvania, Indiana or West Virginia? Bet now at DraftKings]
Giants at Eagles
Current odds: Eagles -10; 46
My Projections: Eagles -8.5; 46.5
Monday Night Football
Daniel Jones is out, which means we get to see Eli Manning this week. This is more of a lateral move as I don't really see either quarterback being worth more to the spread than the other right now.
However, with Evan Engram and Golden Tate likely due back, we could see the Giants field all of their skill players in the same game for the first time in what seems like years. This will add half to a full point to their rating, which makes me like the Giants getting 10 points here.
I know I said the very same "we could see all their skill players active" line last week and only one day later two of them were ruled out, so let's at least wait to see if they're active before pulling the trigger here.
The Giants should also be motivated with a potential "last start" narrative for Eli as a Giant.
Lean: Giants +10
[In New Jersey, Pennsylvania, Indiana or West Virginia? Bet now at DraftKings]
How would you rate this article?