NFL Preseason Week 1 Betting Guide: Picks for Broncos-Seahawks, Every Thursday Game
Credit:
Kirby Lee-USA TODAY Sports. Pictured: Joe Flacco
Ian Hartitz breaks down the betting odds for Thursday's 11 NFL Preseason Week 1 matchups, featuring picks and daily fantasy analysis.
We get an 11-game slate of preseason football on Thursday night. It's only Week 1, so don't expect to see many starters play for more than a quarter (if at all) in most cases. Either way, offenses and defenses will largely rely on simplified schemes.
You can jump to our Preseason Week 1 Injury Report and find more resources to inform your bets and daily fantasy lineups below, but let's start with a look at key storylines and actionable betting takeaways for all 22 teams playing on Thursday.
---
>> All odds as of early Thursday. Download The Action Network App to get real-time NFL odds and track your bets.
---
Spread: Colts -2.5
Over/Under: 34.5
Kickoff: 7 p.m. ET
Indianapolis Colts
Andrew Luck (calf) won't suit up on Thursday night, leaving the Colts with the following three options at quarterback:
Jacoby Brissett has completed 114-of-174 (66%) passes for 1,247 yards (7.2 yards per attempt) with six touchdowns and only one interception in his 12 preseason games.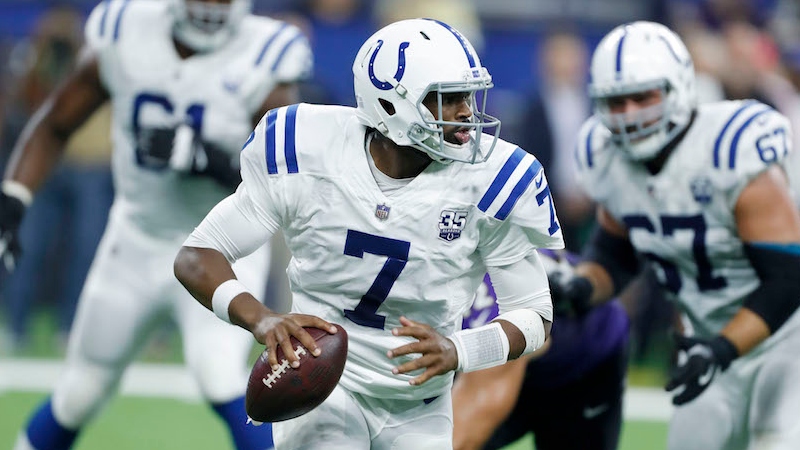 Phillip Walker hasn't been quite as consistent (53% completion rate), but he's still managed to post a five-to-three touchdown-to-interception ratio on an average of 6.7 yards per attempt.
Chad 'Swag' Kelly lit the preseason on fire in 2018, averaging a robust 7.8 yards per attempt thanks to his gunslinger mentality. The former Ole Miss signal caller is must-watch television and a top-tier DFS pick this week.
Head coach Frank Reich has confirmed that Brissett will play "around a quarter." Sleeper breakout candidate Deon Cain will suit up, while recently acquired D'Onta Foreman might play.
The Colts haven't made a point of relishing in their preseason success, but Reich does deserve credit for ripping off a 4-0 record against the spread during his head coaching debut in August 2018.
Buffalo Bills
The Bills are all sorts of banged up along the offensive line as tackle LaAdrian Waddle (quad), center Mitch Morse (concussion) along with guards Dorian Johnson (undisclosed, IR) and Quinton Spain (foot) are injured. Each of the offense's top-three tight ends are also dealing with various ailments.
The Josh Allen experience was a bit of a mixed bag in 2018, and there isn't much proven talent behind him in journeyman Matt Barkley and rookie undrafted free agent Tyree Jackson. The Bills boast a sneaky-great defense and added some juice to their receiving corps and backfield, but this is still a fairly pedestrian offense when it comes to depth across the board.
Ultimately, Buffalo's offensive line is so banged up that I'm inclined to back Indy.
PICK: Colts -2.5
---
Spread: Jets -1.5
Over/Under: 33
Kickoff: 7 p.m. ET
New York Jets
Sam Darnold found himself ranked among the league's top-12 signal callers in most categories over the final month of last season.
QB Rating: 99.1; 10th among 33 quarterbacks with at least 50 pass attempts in Weeks 14-17
Yards per attempt: 7.45; T-10th
Adjusted yards per attempt: 8.05; eighth
Touchdown rate: 4.8%; 10th
Completion rate: 64%; 17th
Fantasy points: 65; 13th
Pro Football Focus Grade: First
Per ESPN's Rich Cimini, 20% of Darnold's pass attempts were deemed to be made in tight windows for the third-highest mark in the league (per Next-Gen Stats). The Jets' offseason moves to increase the talent level around him could help alleviate some of the consistent tight-coverage burden he faced as a rookie. The addition of Trevor Siemian as Darnold's backup could also help raise the team's preseason floor.
New York Giants
Football fans will no longer have to suffer through Odell Beckham Jr. being overthrown in a Giants uniform.
Eli Manning and the Giants have averaged only 18.6 points per game in 20 games without Beckham compared to 22.6 PPG in 59 games with OBJ since 2014. Manning has posted a 64% completion rate while averaging 7.1 yards per attempt with a 4.6% touchdown rate with OBJ compared to a 61% completion rate with 6.4 yards per attempt and a 3.8% touchdown rate without.
More problematic for the Giants is their banged up receiving room featuring Sterling Shepard (fractured thumb), Darius Slayton (hamstring) and Brittan Golden (groin).
Imagine not taking the chance to bet against Manning and Daniel Jones the first time you can.
LEAN: Jets -1.5
Spread: Ravens -4
Over/Under: 31.5
Kickoff: 7:30 p.m. ET
Jacksonville Jaguars
Foles has had an up-and-down career, but things have been mostly positive as long as his coach wasn't Jeff Fisher.
Foles has posted a 63% completion rate and averaged 7.3 yards per attempt with a 61-to-23 touchdown-to-interception ratio in 43 career games without Fisher roaming the sideline. With Fisher? A 56% completion rate, an average of 6.1 yards per attempt and a 7-to-10 TD-to-INT ratio in 11 games. Sheesh.
The Jaguars' defense remains a force, and Foles might just have enough magic left to help the offense function as an average to above-average unit. The Jaguars could at least make themselves a difficult out most of the time in 2019 if they can get a bit better injury luck on the offensive line.
Baltimore Ravens
Lamar Jackson emerged as the NFL's best rushing quarterback in 2018 despite not starting until Week 11.
Rush attempts: 147 (first among all quarterbacks)
Rush yards: 695 (first)
Rush touchdowns: 5 (tied for third)
Jackson's 79 rushing yards per game over his seven starts trailed only Saquon Barkley, Chris Carson, Joe Mixon, Todd Gurley and Ezekiel Elliott.
The Ravens have hyped up Jackson's progression as a passer over the offseason while also adding dual-threat talent Trace McSorley. They're positioned to function as a unique run-first offense and don't lack explosive playmakers on the outside.
This creative scheme could help the Ravens continue to thrive in the typically-mundane preseason format. Head coach John Harbaugh has been the NFL's most-profitable preseason coach, notching a 29-15-1 record against the spread and profiting +12.8 units.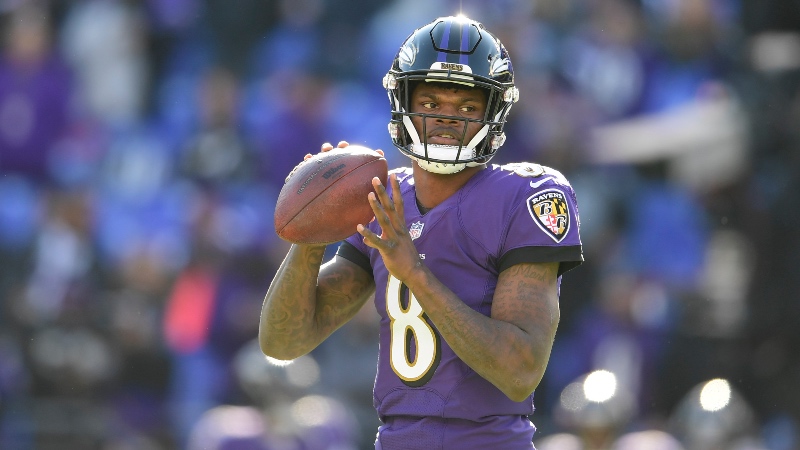 This total seems a bit low for two teams expected to make decent strides in their respective passing games this season.
PICK: Over 31.5
---
Spread: Redskins -1
Over/Under: 35
Kickoff: 7:30 p.m. ET
Washington Redskins
It's fair to wonder how much of head coach Jay Gruden's early success in Washington was due to the presence of now-Rams' head coach Sean McVay.
Washington Yards Per Play Ranks Under Gruden
2014: 10th
2015: 10th
2016: Second
Sean McVay leaves for L.A.
2017: 15th
2018: 28th
We'll see a mix of Dwayne Haskins, Case Keenum and Colt McCoy on Thursday, but each will be without the services of stud left tackle Trent Williams (holdout).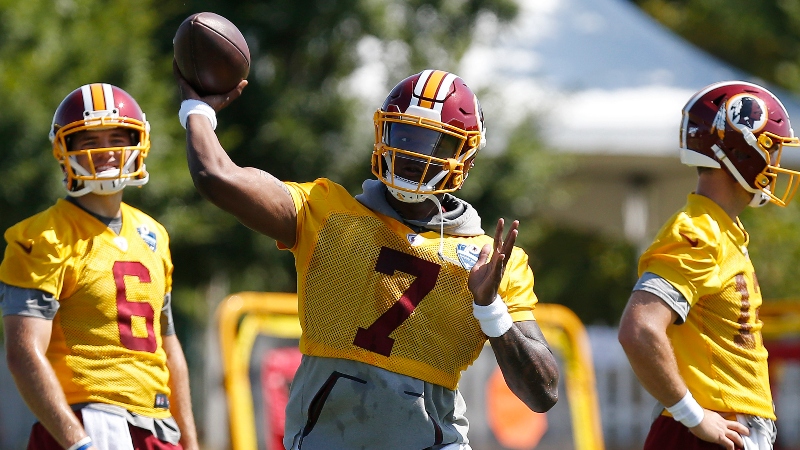 The Redskins also are expected to be without a number of linebackers just one season removed from losing the fewest amount of games on the defensive side of the ball (per Football Outsiders).
Cleveland Browns
Baker Mayfield put together about as good of a rookie season as we've seen for a quarterback over the better part of the past two decades.
Here's how he ranked among 50 quarterbacks with eight-plus starts since 2000:
Touchdowns: 27 (first among 50 rookie QBs with 8+ starts since 2000)
TD rate: 5.6% (third)
Yards per attempt: 7.7 (eighth)
Adjusted yards per attempt: 7.5 (seventh)
Yards per game: 284.6 (first)
Completion rate: 63.8% (eighth)
QB rating: 93.7 (fifth)
The Browns' decision to remove the interim title from head coach Freddie Kitchens was thanks in large part to his ability to turn around Mayfield's rookie season:
Weeks 1-8: 58% completion rate, 6.6 yards per attempt, 3.5% TD rate
Weeks 9-17: 68% completion rate, 8.6 yards per attempt, 7.2% TD rate
To reiterate: Mayfield is a BALLER.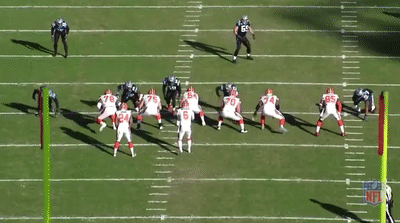 The Browns deserve their offseason hype, but don't expect to see many if any of those players who have helped drive up national interest due to both rest and injury.
Cleveland appears to be far more banged up than Washington at the moment.
PICK: Washington -1
---
Spread: Patriots -1
Over/Under: 35
Kickoff: 7:30 p.m. ET
New England Patriots
Kings stay kings, but Tom Brady has always been a bit more vulnerable without Rob Gronkowski on the field since the Patriots drafted him 42nd overall in 2010.
Brady with Gronk (112 games): 25.2 PPR | 2.2 TDs | 0.5 INTs | 8.01 Y/A | 66% cmp | 289 yards per game
Brady Without Gronk (28 games): 21.4 PPR | 1.8 TDs | 0.6 INTs | 6.89 Y/A | 60% cmp | 260 yards per game
The Patriots don't have the look of one of the league's most productive offenses, but we know better by this point than to underestimate Bill Belichick's evil empire.
Somehow, New England has fielded a top-10 scoring offense in each of the past 15 seasons. Things have been even more impressive in recent years, as Brady and Co. have snuck inside the league's top-five units in nine consecutive seasons.
Still, Belichick knows better than to overrate the preseason. His 25-31-4 record against the spread is the third-worst among active head coaches.
Detroit Lions
New offensive coordinator Darrell Bevell was out of football in 2018, but spent 2006 to 2010 as the Vikings offensive coordinator then 2011 to 2017 as the Seahawks offensive coordinator. Bevell led above-average scoring offenses, ranking inside the league's top-12 scoring units seven times over that span with an emphasis on running the football.
The biggest change to expect in the Lions' passing game could be an added emphasis on the deep ball. Overall, Russell Wilson posted four seasons with a top-10 deep-ball rate from 2012 to 2017 under Bevell while Matthew Stafford has ranked 17th, 23rd, 33rd, 35th, 25th, 13th and 30th over the past seven years.
The Lions don't boast the league's healthiest front-seven at the moment and allowed an average of 27.8 points per game during the 2018 preseason. I lean Patriots despite Belichick's not-so-great preseason reputation.
LEAN: Patriots -1.5
Spread: Dolphins -3.5
Over/Under: 35.5
Kickoff: 7:30 p.m. ET
Atlanta Falcons
Dirk Koetter served as offensive coordinator in Atlanta from 2012 to 2014 before spending the past four seasons as the head coach in Tampa Bay. The Falcons weren't quite as prolific with Koetter calling plays as they were with Kyle Shanahan, but they were still fairly dominant over that stretch.
2012: 26.2 points per game (seventh); 5.8 yards per play (sixth)
2013: 22.1 PPG (20th); 5.4 YPP (14th)
2014: 23.8 PPG (12th); 5.8 YPP (eighth)
There's reason to believe Koetter and Matt Ryan could surpass their previous bests if the Falcons' franchise quarterback continues to play some of the best football of his career.
Completion rate: 69.4% (No. 4 in 2018 among 32 QBs with at least 8 starts)
Yards: 4,924 (No. 3)
Touchdowns: 35 (Tied for No. 3)
QB Rating: 108 (No. 4)
Yards per attempt: 8.1 (No. 7)
Adjusted yards per attempt: 8.7 (No. 4)
Fantasy points per game: 22 (No. 2)
Alas, Dan Quinn continues to be one of the league's least profitable preseason coaches, notching a 4-13 record against the spread.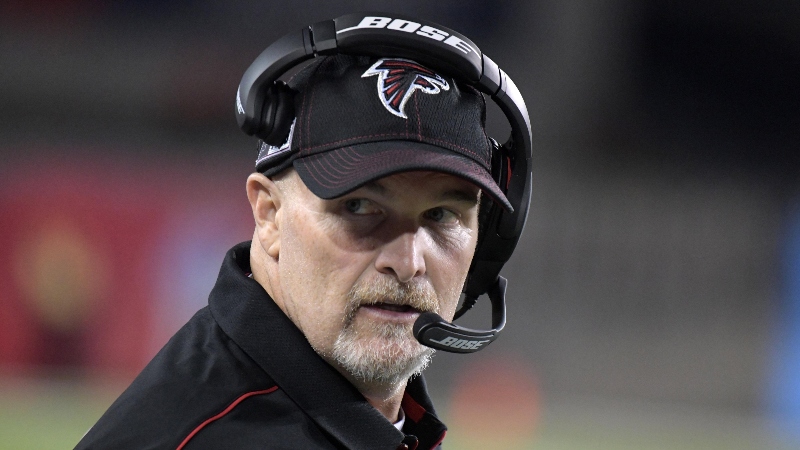 Miami Dolphins
The Adam Gase era in Miami produced 23 wins, 25 losses and essentially zero offensive explosions. Overall, only the Bengals (81 consecutive games) have a longer active streak without scoring at least 40 points than the Dolphins (58).
It's unlikely the Dolphins have the pieces in place to both reign in Ryan Fitzmagic's gunslinger mentality and fix what was far from the world's greatest offensive line in 2018:
Pro Football Focus' No. 28-ranked pass and run blocking unit
Football Outsiders' No. 14-ranked offensive line in adjusted line yards per rush
Football Outsiders' No. 31-ranked offensive line in adjusted sack rate
I'm not a fan of Quinn's preseason record, but these are a lot of points to lay in a glorified scrimmage.
LEAN: Falcons +3.5
---
Spread: Eagles -3
Over/Under: 36.5
Kickoff: 7:30 p.m. ET
Tennessee Titans
The Titans have ranked 27th, 19th and 14th over the past three seasons in scoring offense. They pass-game corps have upgraded with the presence of ace slot maven Adam Humphries, second-round pick A.J. Brown and the return of veteran tight end Delanie Walker, so 2019 is a make-or-break season as far as Marcus Mariota's progression is concerned.
Overall, Mariota has posted a 63.2% completion rate (No. 23 among 41 quarterbacks with 16 starts since 2015), averaged 7.2 adjusted yards per attempt (No. 20) and tallied a 89.4 quarterback rating (No. 23). He's been the definition of an average passer since entering the league.
Can a revamped offense improve head coach Mike Vrabel's historically porous preseason effort? He's 0-4 all-time against the spread.
Philadelphia Eagles
The Eagles addressed their need for a field-stretcher by signing the NFL's premier speedster. They're already all too familiar with the immediate impact D-Jax can have on any passing game.
D-Jax has increased the yards per attempt rate of every quarterback he's played with over his career.
Further increasing optimism around a resurgence for Carson Wentz in 2019 is the addition of second-round pick JJ Arcega-Whiteside and potential for improved health across the offensive line.
The Eagles boast one of the most talented rosters in the league from top-to-bottom, and I like them to start the season off with a win.
LEAN: Eagles -3
---
Spread: Bears -3
Over/Under: 35.5
Kickoff: 8 p.m. ET
Carolina Panthers
Cam Newton and Luke Kuechly won't suit up on Thursday night.
Hopefully we'll at least see the rest of what figures to be a sneaky-explosive Panthers offense. Keep an eye on Curtis Samuel, who possesses the type of tackle-breaking ability to make good use of limited opportunity.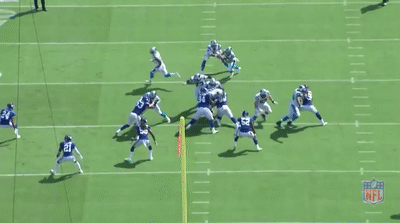 Last season's backup quarterback Kyle Allen will get the start in a tough road matchup in Chicago, although it remains to be seen how many blue-chippers the Bears will be suiting up on Thursday.
Chicago Bears
The Bears haven't really ever had consistent quarterback play, so Mitch Trubisky's progress in 2018 was mostly welcome with open arms. Still, he'll need to improve even more to cement his status as an above-average passer.
Yards per attempt: 7.4 (17th among 32 QBs with at least eight starts in 2018)
Adjusted yards per attempt: 7.3 (18th)
Completion rate: 66.6% (13th)
Touchdown rate: 5.5% (11th)
Interception rate: 2.8% (23rd)
QB rating: 95.4 (15th)
The defense will have to deal with life without longtime defensive coordinator Vic Fangio, but former Colts head coach Chuck Pagano should still be able to piece together a top-10 unit with all the talent the Bears possesses on that side of the ball.
Regardless, don't expect to have many actionable takeaways from either unit after Thursday night.
PICK: Panthers +3
---
Spread: Packers -2.5
Over/Under: 36
Kickoff: 8 p.m. ET
Houston Texans
Deshaun Watson, DeAndre Hopkins and Will Fuller have experienced resounding success during their 11 games together over the past two seasons.
Watson: 65% completion rate; 9.0 yards per attempt; 32 total touchdowns
Hopkins: 69 receptions; 1,113 yards; 12 touchdowns
Fuller: 45 receptions; 782 yards; 11 touchdowns
The Texans posted seven wins vs. four losses while averaging 30.8 points over these 11 games.
Further reason for optimism surrounding the 2019 version of this offense is due to Houston finally addressing its porous offensive line by spending a first-round pick on Alabama State tackle Tytus Howard and a second-round pick on Northern Illinois tackle Max Scharping.
The Texans' offensive line has ranked among the league's bottom-three units in Football Outsiders' adjusted sack rate in each of the past two seasons.
The only bad news for the Texans on Thursday night is the absence of both of their defensive difference-makers in Jadeveon Clowney (holdout) and J.J. Watt (groin/rest).
Green Bay Packers
There's been a noticeable drop off in Aaron Rodgers' efficiency over the past three seasons.
New head coach Matt LaFleur certainly didn't benefit from Marcus Mariota's persistent nerve injury last season that impacted his ability to throw the ball with appropriate velocity. Still, the Titans were pretty much worse in every available offensive metric compared to the Packers in 2018.
Titans points per game in 2018: 19.4 (27th)
Yards per play: 5.3 (26th)
Overall offensive DVOA ranking (Football Outsiders): 22nd
Pass DVOA ranking: 25th
Rush DVOA ranking: 11th
Rodgers tentatively isn't expected to play, and the Packers will also be without the services of several of their key defenders. I'm backing the Texans thanks to their combination of better depth and talent under center.
PICK: Texans +2.5
Spread: Cardinals -2.5
Over/Under: 36.5
Kickoff: 10 p.m. ET
Los Angeles Chargers
Melvin Gordon's absence isn't the end of the world for the Chargers, as former undrafted free agent Austin Ekeler has emerged as anyone's idea of an incredibly promising running back prospect.
The 5-foot-9, 199-pound running back has solid speed (4.48-second 40-yard dash) and receiving ability for the position, but he hadn't exactly faced a fearsome level of competition at Western Colorado University.
All Ekeler has done with his NFL opportunity is work as one of the league's most efficient overall backs.
Unfortunately, Ekeler and Co. will be competing without their fearless leader Philip Rivers under center. He's fully expected to rest.
Arizona Cardinals
New head coach Kliff Kingsbury will attempt to install the NFL's first fully-functioning Air Raid offense. His system was incredibly productive at Texas Tech, especially in 2015 and 2016 with Patrick Mahomes leading the way.
Texas Tech's Points Per Game with Kliff Kingsbury
2018: 37.3 (16th)
2017: 34.3 (23rd)
2016: 43.7 (fifth)
2015: 45.1 (second)
2014: 30.5 (54th)
2013: 35.8 (24th)
Kingsbury has handpicked Kyler Murray as the quarterback to lead the Air Raid revolution. The 2018 Heisman Trophy winner set the NCAA record for passing efficiency in a season by averaging 10.4 yards per attempt. He also demonstrated an incredibly fantasy-friendly ability to dice defenses up on the ground and down the field.
It remains to be seen if Kingsbury will be able to make a successful NFL transition, but the parallels between the 2019 Cardinals and 2017 Rams during Sean McVay's first season in Los Angeles are tough to ignore. Texas Tech led the FBS in snaps per game during Kingsbury's six years as head coach (per Evan Silva), which should help the chances of the team's still-growing offensive line to slow down opposing pass rushes.
I lean toward Cardinals -2.5 in the hopes that even a mundane version of their unique offense can prove to be problematic in an otherwise bland preseason setting.
LEAN: Cardinals -2.5
---
Spread: Broncos -2.5
Over/Under: 36
Kickoff: 10 p.m. ET
Denver Broncos
The Broncos managed to continue the trend of new head coaches experiencing preseason success thanks to their victory over the Falcons in last week's Hall of Fame Game. The 34 teams to replace head coaches over the past five offseasons have gone a combined 74-63 (54%) straight up and 72-61-4 (53%) against the spread during their ensuing preseasons.
Head coach Vic Fangio has confirmed that Joe Flacco will get some time under center this week. It's been a long time since he's resembled anything close to even an average quarterback, as his average of 6.04 adjusted yards per attempt ranks 43rd among 49 signal callers with at least 16 starts since 2013.
Von Miller will also be suiting up. Fangio waited a long time to become head coach, and he's not about to let kidney stones or "meaningless" preseason games get in the way of his quest to lead his team to victory.
Seattle Seahawks
Russell Wilson certainly benefited from the presence of Marshawn Lynch and the Legion of Boom early in his career, but he's continued to lead an upper-tier scoring offense even as the franchise's definitive top dog.
2012: 25.8 points per game (No. 9)
2013: 26.1 (No. 8)
2014: 24.6 (No. 10)
2015: 26.4 (No. 4)
2016: 22.1 (No. 18)
2017: 22.9 (No. 11)
2018: 26.8 (No. 6)
However, the offense changed directions in 2018 and re-embraced a run-first identity with help from new offensive coordinator Brian Schottenheimer. The result was a league-low 427 pass attempts — the fourth-lowest mark by an offense since 2010.
Ultimately, backing Pete Carroll (23-12-1 ATS, +12.8 units) in August has been good for business over the years.
LEAN: Seahawks +2.5
---
Preseason Week 1 Injury Report
The dashboard below features notes on injured players and their estimated game statuses. Note that the NFL doesn't require teams to designate their inactive players prior to kickoff, so all of the data is unofficial and based on a combination of reports from beat writers and coaches.

More Preseason Betting and DFS Resources
For preseason player projections and daily fantasy analysis, see our FantasyLabs Models as well as our evergreen and slate-specific DFS content. Also be sure to check out Action Network analyst John Ewing's 7 Simple, Profitable Tips for Betting NFL Preseason Games.
How would you rate this article?