NFL Preseason Week 3: Betting Odds & Angles for Bears-Colts, Every Saturday Game
Credit:
USA Today Sports. Pictured: Russell Wilson, Matt Nagy, Deshaun Watson
Ian Hartitz breaks down the betting odds for Saturday's NFL Preseason Week 3 matchups.
See his analysis and favorite picks for Bears-Colts, Seahawks-Chargers and all seven games.
We get a seven-game slate of preseason football on Saturday. It's finally Week 3, so expect to see plenty of key starters play for more than a quarter.
Let's start with a look at key storylines and actionable betting takeaways for all 14 teams in action.
All odds as of Friday.
---
Spread: PK
Over/Under: 40
Kickoff: 7 p.m. ET
Houston Texans
Don't underestimate how special this Texans offense could be with 16 regular-season games from each of Deshaun Watson, DeAndre Hopkins and Will Fuller.
Watson, Hopkins and Fuller have played 11 games together over the past two seasons. Fuller has caught 45 passes for 782 yards and 11 scores in those games, Hopkins has caught 69 passes for 1,113 yards and 12 touchdowns, and Watson has posted a 65% completion rate, averaged nine yards per attempt and accounted for 32 total touchdowns.
Fuller is, in a sense, the key that unlocks this elite offense. Watson averages 9.03 yards per attempt with Fuller vs. 7.2 without. Hopkins has 12 touchdowns in 11 games with Fuller compared to 12 scores in 21 games without since 2017.
The team (finally) attempted to improve its offense line this offseason, adding Alabama State tackle Tytus Howard with the 23rd overall pick as well as Northern Illinois tackle Max Scharping with the 55th overall pick.
Regardless, Watson remains one of the league's finest quarterbacks at avoiding free rushers.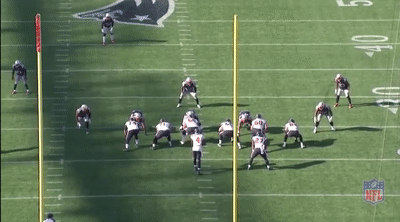 Dallas Cowboys
The Antonio Brown saga in Oakland has overshadowed some of the issues going on in Dallas, where Ezekiel Elliott remains MIA and Amari Cooper sidelined with a foot/heel injury.
It sounds like Cooper will suit up in Week 1, but it also doesn't sound like he's particularly close to 100%.
The Cowboys figure to boast a better offensive line in 2019 thanks to the return of All-Pro center Travis Frederick and improvement from second-year guard Connor Williams. Still, the hindrance of their top-two skill position players is hardly a recipe for success.
Gambling Rule No. 133,392: In a preseason pick-em matchup, always go with the team not coached by the league's worst coach against the spread.
PICK: Texans PK
Spread: Colts -2.5
Over/Under: 37.5
Kickoff: 7 p.m. ET
Chicago Bears
Neither the Bears nor the Colts are expected to play any of their starters in this one. That leaves the Bears with Chase Daniel and Tyler Bray.
Fun fact: Daniel has thrown just four regular-season touchdown passes since entering the NFL in 2010, yet has made more than $28 million.
Third-stringer Bray has attempted just one regular-season pass since entering the league in 2014.
The Bears' general disdain for the preseason is understandable. Still, they've managed to win three-of-seven scrimmages over the past two seasons under head coach Matt Nagy, notably defeating the Chiefs 27-20 in Chicago during last preseason's Week 3 with backups despite facing Patrick Mahomes and Co. for more than 30 minutes.
Indianapolis Colts
The Andrew Luck calf/ankle saga will live on for another week, as the Colts' franchise quarterback has yet to return to practice. Jacoby Brissett's status for Saturday's matchup is up in the air due to potential rest.
The good news for Indy faithful is that Chad 'Swag' Kelly is a damn preseason legend who seldom entertains the idea that there's a throw on this planet he's incapable of making.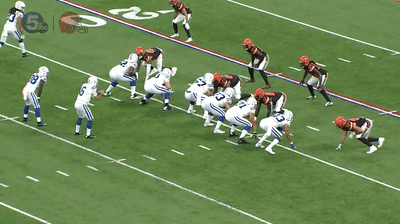 We'll also see plenty of Phillip Walker, who offers a bit of dual-threat upside (and looks like Tyrod Taylor in a Colts jersey).
It's pretty tough to get a read on this game due to the likelihood of most (if not all) starters resting. I do expect the Colts to be able to win those battles thanks to their superior quarterback depth, but I wouldn't blow my bankroll on it.
LEAN: Colts -2.5
---
Spread: Saints -3
Over/Under: 42.5
Kickoff: 7:30 p.m. ET
New Orleans Saints
Taysom Hill has been a thorn in the side of fantasy owners for most of his career, regularly serving as a vulture for essentially the entire Saints offense in the red zone.
Head coach Sean Payton's obsession with featuring Hill as a passer, rusher and receiver alike might not be ideal during the regular season, but there's little doubt that the Saints' jack-of-all-trades talent has emerged as a lethal weapon in the preseason.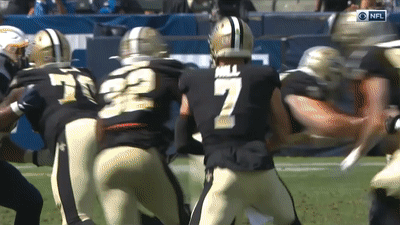 The Saints are expected to roll with Drew Brees for at least a drive or two on Saturday night. It will be interesting to see how he looks after a less-than-stellar finish to last season.
Jared Cook's and Ted Ginn's respective ability to stretch the field should help Brees continue to thrive on underneath patterns to Michael Thomas and Alvin Kamara alike, but Father Time remains undefeated and Brees will be 41-years-old come January 15.
New York Jets
We're yet to see Le'Veon Bell touch the ball in a game wearing a Jets uniform, but the early returns from the Sam Darnold-Adam Gase partnership appear to be going swell.
It was a nice throw.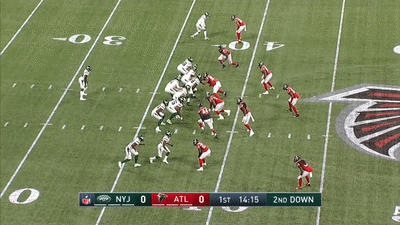 The Jets have done a great job surrounding Darnold with talented pass-catchers, as each of Robby Anderson, Quincy Enunwa, Jamison Crowder, Chris Herndon and Bell should at the very least be considered above-average receivers.
The bad news for the Jets is that their secondary largely remains a walking graveyard. I like the visitors in this one.
PICK: Saints -3
---
Spread: Chiefs -3.5
Over/Under: 45
Kickoff: 8 p.m. ET
San Francisco 49ers
No, Jimmy Garoppolo has not had a good August. Throwing five interceptions in five consecutive attempts during practice wasn't a great look, nor was his 1-for-6 performance for zero yards and (luckily only) one interception against the Broncos last Monday night.
In the wise words of the great Aaron Rodgers: R-e-l-a-x.
Jimmy G (8.3 adjusted yards per attempt) joins Patrick Mahomes (9.4), Matt Ryan (8.8), Deshaun Watson (8.5), Tom Brady (8.4) and Drew Brees (8.3) as the only quarterbacks to average at least eight adjusted yards per attempt over the past three seasons among 48 signal callers with double-digit starts.
The potentially more concerning narrative surrounding the 49ers is the reality that they might not have an above-average scoring offense. That's surprisingly been the case in eight of head coach Kyle Shanahan's 11 seasons as a head coach or offensive coordinator.
Kansas City Chiefs
The Chiefs told the media that their starters would likely play a half last week. Patrick Mahomes and Co. ultimately exited the game after two unsuccessful drives in the first quarter.
It's unclear how we'll see from the league's most explosive offense on Saturday night.
The good news is that the unit's two newest members should continue to get plenty of chances to shine.
Second-round receiver Mecole Hardman (4.33-second 40-yard dash) gives the Chiefs yet another ridiculously fast option in the passing game. He's turned three receptions into 48 yards and a pair of touchdowns.
Sixth-round running back Darwin Thompson has reportedly leaped Carlos Hyde on the depth chart. Thompson has broken five tackles on his 10 touches while Hyde has forced zero missed tackles on his seven touches (per Graham Barfield).
Per our tools at Bet Labs, the Chiefs are surprisingly just 9-19-2 at home in the preseason since 2004. Gimme the 49ers.
PICK: 49ers +3.5
Spread: Rams -1.5
Over/Under: 35
Kickoff: 9 p.m. ET
Denver Broncos
The Broncos were expected to enter 2019 with a fairly unproven depth chart at the wide receiver position, but Emmanuel Sanders apparently has super powers and has recovered from his torn Achilles in a record time.
Alas, Joe Flacco unfortunately remains Joe Flacco. It's been quite some time since we've seen him resemble an average quarterback.
Joe Flacco's Rank Among 49 QBs with at Least 16 Starts 2013-2018
Adjusted yards per attempt: 6.04 (No. 43)
Touchdown rate: 3.5% (No. 38)
Quarterback rating: 82.3 (No. 39)
The best bet for success in Denver will be for new head coach Vic Fangio to help the defense regain its footing as one of the league's elite units, while Flacco and Co. do enough to skirt by more weeks than not.
Los Angeles Rams
There's a decent chance we don't see either team's starters for an extended period of time Saturday night, if at all.
This has been Sean McVay's preferred approach in the preseason to this point, but he's still managed to post a respectable 4-6 overall record after two-and-a-half years at the helm.
Still, part of their success to this point has been the consistent presence of one of the league's best overall offensive lines. It remains to be seen if that will still be the case in 2019.
I don't feel good about either team in this one, but a 37-point total seems awfully low for a game that doesn't figure to feature either Von Miller or Aaron Donald.
PICK: Over 37
---
Spread: Seahawks -3
Over/Under: 40.5
Kickoff: 10 p.m. ET
Seattle Seahawks
The Doug Baldwin era is over in Seattle, which paves the way for Tyler Lockett to work as Russell Wilson's undisputed No. 1 wide receiver for the first time in his career.
The duo was efficient in 2018 (to say the least).
Wilson posted a perfect 158.3 quarterback rating when targeting Lockett.
Lockett's average of 13.8 yards per target was the highest mark in the league (minimum 25 targets).
Lockett averaged a league-high 3.1 fantasy points per target.
Lockett caught 14-of-18 (78%) deep-ball targets, easily surpassing Rashard Higgins (69%) as the league's most efficient deep-ball receiver (among 69 receivers with 10 such targets).
Overall, Wilson's average of 10.95 adjusted yards per attempt when targeting Lockett leads all quarterback and No. 1 wide receiver combinations. This combination is #special.
The Seahawks might remain committed to establishing the run in 2019, but there are more than a few big-bodied complements on the outside to complement Lockett's goodness in the slot.
Los Angeles Chargers
Philip Rivers and Co. likely won't see too many snaps.
Expect to see the team's backfield situation continue to play out. Austin Ekeler is the clear leader out of the clubhouse to this point.
And why shouldn't the Chargers trust Ekeler? All he's done with the ball is pick up yardage at a highly-efficient rate.
Austin Ekeler Since Entering the NFL in 2017
Yards per rush: 5.3 (No. 3 among 60 RBs with 150+ rushes)
Yards per target: 7.8 (No. 3 among 55 RBs with 50+ targets)
Yards per touch: 6.8 (No. 2 among 62 RBs with 200+ touches)
Overall, Ekeler posted 78%, 68% and 95% snap rates last season in three games without Melvin Gordon. Ekeler offers legit ability to thrive as a true receiver.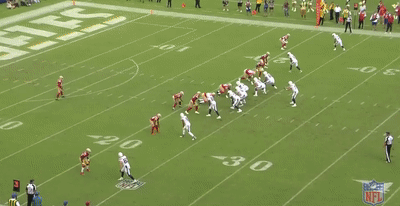 The Chargers likely have a more talented overall roster, but the Seahawks seem more likely to utilize their starters for an extended period of time in this one.
PICK: Seahawks -3
Spread: Vikings -6
Over/Under: 43
Kickoff: 1 p.m. ET
Arizona Cardinals
No, the Kyler Murray era has not started with a bang.
Preseason Yards per Attempt First-Round Rookie QBs Since 2018
Daniel Jones: 12
Dwayne Haskins: 8.2
Baker Mayfield: 8.1
Lamar Jackson: 5.6
Sam Darnold: 5.4
Josh Rosen: 5.1
Josh Allen: 4.8
Murray: 3.7
The Cardinals' starting offense has performed terribly this preseason. Overall, Murray's five drives have resulted in four punts and a safety.
Head coach Kliff Kingsbury has attempted to calm the masses by noting the Cardinals aren't exactly going out of their way to show off their offense during these glorified scrimmages, and Murray's ridiculous rushing ability has understandably been curtailed compared to what we'll likely see once the games matter.
Unfortunately for the peace of mind of Kingsbury and Murray, a trip to Minnesota is far from an ideal environment to get the offense on track.
Minnesota Vikings
The Vikings have been a model of defensive consistency during the Mike Zimmer era, largely thanks to the continuity they've managed to keep at all three levels of the unit.
Overall, both Zimmer and defensive coordinator George Edwards have been with the team since joining forces in 2014. The defense has finished as a top-10 unit in fewest PPR points allowed to quarterbacks, running backs, wide receivers and tight ends in at least four of the past five seasons.
The Vikings have been particularly dominant at home over this span, allowing just 18.3 points per game in Minnesota — the fourth-lowest mark in the league.
I like the Vikings to win, but six points is an awful lot in a game that still figures to feature backups for at least a quarter or so. I'm instead inclined to take the under here in hopes the Cardinals' struggles on offense continue.
PICK: UNDER 43
How would you rate this article?