100 Burning Questions for the 2020 NFL Season
Credit:
Getty Images. Pictured: Mike McCarthy, Cam Newton
There are plenty of league-wide questions as we approach this unprecedented NFL season. With the season set to kick off on time, we'll get answers to many of the remaining questions over the first few weeks:
Will we actually get a full uninterrupted season?
What will home-field advantage be worth without fans?
How will abbreviated preparation impact play on the field?
Which teams will be impacted most by opt outs and other offseason changes?
There are also more questions than usual for individual teams, which will head into the regular season without the benefit of any preseason games. I outline the three most important questions for all 32 NFL teams below (in ascending order of Super Bowl odds).
---

Odds as of Sept. 7 and via DraftKings. Get up to a $1,000 sign-up bonus at DraftKings today or see more offers and reviews for the best online sportsbooks.
---
Kansas City Chiefs
| | |
| --- | --- |
| Super Bowl Odds | +600 [BET NOW] |
| My Projected Wins | 11.7 |
1. Will the Chiefs miss a beat with Clyde Edwards-Helaire? With Damien Williams opting out, the pressure is on the rookie running back out of LSU. It'll likely be tougher than usual for rookies to contribute early on this season with the limited offseason and no preseason games. With that said, Helaire seems to have landed in the most ideal spot possible for a rookie.
2. Will Patrick Mahomes stay healthy? It's worth its own question — he's that important and that good in a quarterback-driven league.

3. Can the Chiefs become the first team since the 2004 Patriots to win back-to-back Super Bowls? The Chiefs essentially kept the band together after inking Chris Jones to a deal. They'll likely still struggle to defend the run and don't have the strongest group of cornerbacks, but the offense is more than capable of carrying them to a repeat title — as long as No. 15 stays on the field.
---
Return to the table of contents
---
Baltimore Ravens
| | |
| --- | --- |
| Super Bowl Odds | +650 [BET NOW] |
| My Projected Wins | 12.1 |
1. Who will step up at right guard? The offensive line should take a step back with the retirement of perennial Pro Bowler Marshal Yanda, the clear leader of the unit. The Ravens can turn to a myriad of inexperienced options or veteran D.J. Fluker to fill in, but none obviously have the pedigree and talent of Yanda.
Center is also a position to watch with Matt Skura, who did pass his physical, returning from a knee injury. It does at least help to have Lamar Jackson and two valuable bookend tackles in Ronnie Stanley and Orlando Brown Jr.
2. How fast can the rookie linebackers get up to speed? The Ravens drafted two linebackers over the first three rounds in order to address a need at inside linebacker — a weakness we saw the Titans exploit in the playoffs.
Both Patrick Queen and Malik Harrison should benefit from a significantly upgraded defensive line in front of them with the offseason acquisitions Derek Wolfe and Calais Campbell. If the rookie linebackers can smoothly handle the transition to the NFL, Wink Madrtindale's defense doesn't have many holes in front of an already stellar secondary that will get slot Tavon Young back from injury.
3. What will the loss of Earl Thomas mean? Three weeks before the season opener, Baltimore released free safety Earl Thomas for conduct detrimental to the team. It sounds like they had no choice for the locker room, but it does leave a hole at free safety. Thomas is no longer the player he once was in Seattle and seemed to avoid tackling like the plague, but he was still a very effective center fielder.
The job appears to now sit in the hands of third-year safety DeShon Elliott, who does not have much experience. Former cornerback Jimmy Smith might also get a shot back there as well as rookie Geno Stone. It's certainly a position to watch early in the season, starting with Week 1 against Cleveland.
If the Ravens can figure out right guard and free safety, and the rookies contribute as expected, this team arguably has the best top-to-bottom roster in the NFL.

Jackson owns an uber-impressive 19-3 regular-season record to start his career but has lost both of his playoff starts. It's not fair to pin two postseason losses entirely on a young quarterback, but they are what everyone will be talking about if Baltimore returns to the playoffs.
---
Return to the table of contents
---
San Francisco 49ers
| | |
| --- | --- |
| Super Bowl Odds | +900 [BET NOW] |
| My Projected Wins | 10.4 |
1. Does Jimmy Garoppolo have enough weapons on the outside? Kyle Shanahan will have a dominant rushing attack, regardless of who gets the carries. And the 49ers recently locked in the dominant George Kittle at tight end for five years. However, the pass-catching options at receiver don't inspire much confidence — especially if Deebo Samuel isn't fully healthy for the start of the season.
Remember that Emmanuel Sanders is now out of the mix, Richie James and Jalen Hurd are hurt, and Travis Benjamin opted out. The 49ers will need to get production from some players who have failed to break out in the past, or hope rookies Brandon Aiyuk (who is also dealing with a hamstring issue) and Jauan Jennings can contribute immediately. The 49ers could also potentially sign some veteran help, so keep an eye out on that front.
Fortunately for San Fran, it has an easy start to the schedule with the Cardinals, Giants and Jets. That also provides some gel time for an offensive line that has recently had plenty of moving parts.
2. Can the 49ers get more consistent play out of the second corner spot? The defense remains absolutely stacked at all three levels — it helps when you have a front that can generate pressure without blitzing better than any team in the NFL. Richard Sherman can still lock down his side of the field (although the 32-year-old can't keep up this level forever), and K'waun Williams is a rock in the slot.
However, the second cornerback spot struggled at times last year. Whether it's Ahkello Witherspoon or Emmanuel Moseley, this is the primary position to watch on the defense.
The other area worth watching lies in the interior of the defensive line. Rookie Javon Kinlaw will try to help fill the void left by DeForest Buckner, who the 49ers traded to the Colts for a draft pick they used on Kinlaw.

3. Can the 49ers achieve something that's been done only once since 1995? Only the 2018 Patriots have returned to the Super Bowl the year after losing one over that span.
---
Return to the table of contents
---
New Orleans Saints
| | |
| --- | --- |
| Super Bowl Odds | +1100 [BET NOW] |
| My Projected Wins | 10.5 |
1. How much of a toll will Father Time take on Drew Brees? It wouldn't surprise me to see a drop in production for the 41-year-old, but he's evaded Father Time the past few seasons.
It doesn't hurt that the Saints boast one of the NFL's top offenses. The offensive line is elite, especially if rookie Cesar Ruiz can slide in naturally in the interior. Alvin Kamara is now presumably healthy (and staying in the Big Easy). They also added a top-25 wide receiver in Emmanuel Sanders to pair with arguably the best wideout in the NFL. Oh, and Jared Cook remains at tight end.
New Orleans can certainly overcome a slight Brees decline and, if needed at any point, Sean Payton has as much QB depth as any coach with Taysom Hill and Jameis Winston.
2. Can they get more consistency at cornerback? The defense has all of the pieces to finish as a top-10 or even top-five unit. Acquiring Malcolm Jenkins adds valuable leadership and gives the Saints a dynamic one-two punch at safety with Jenkins and the supremely-underrated Marcus Williams. The front seven also doesn't have many holes with an All-Pro linebacker and endless depth along the defensive line.
That leaves an outside cornerback group consisting of Janoris Jenkins and Marshon Lattimore, who have no shortage of talent. If both can avoid inconsistent spells, the Saints will have a Super Bowl-caliber defense.

3. Can they finally get over the hump in the postseason? After back-to-back heartbreaking losses in the playoffs, the window is quickly closing on this version of the Saints. They're in pure win-now mode and looking for their first trip back to the Super Bowl since 2009 — their only appearance in franchise history.
---
Return to the table of contents
---
Tampa Bay Buccaneers
| | |
| --- | --- |
| Super Bowl Odds | +1400 [BET NOW] |
| My Projected Wins | 9.5 |
1. Which version of Tom Brady will we see? Yes, Brady didn't have the best supporting cast in New England last season, but he also had a subpar year based on a number of underlying metrics.
Whether you attribute the decline to age or injury, the future Hall-of-Famer will at least get a major upgrade in talent at wide receiver with arguably the league's best duo of Chris Godwin and Mike Evans. The more important question might be whether Brady can quickly learn and fit in Bruce Arians' offensive scheme as there could be some philosophical differences.
2. Can the offensive line keep Brady upright and healthy? If we assume Brady is now healthy and still has enough left in the tank, the Bucs will still need to protect their 43 year old. This will be a much more vertical offense, and Brady isn't the most mobile quarterback in the league.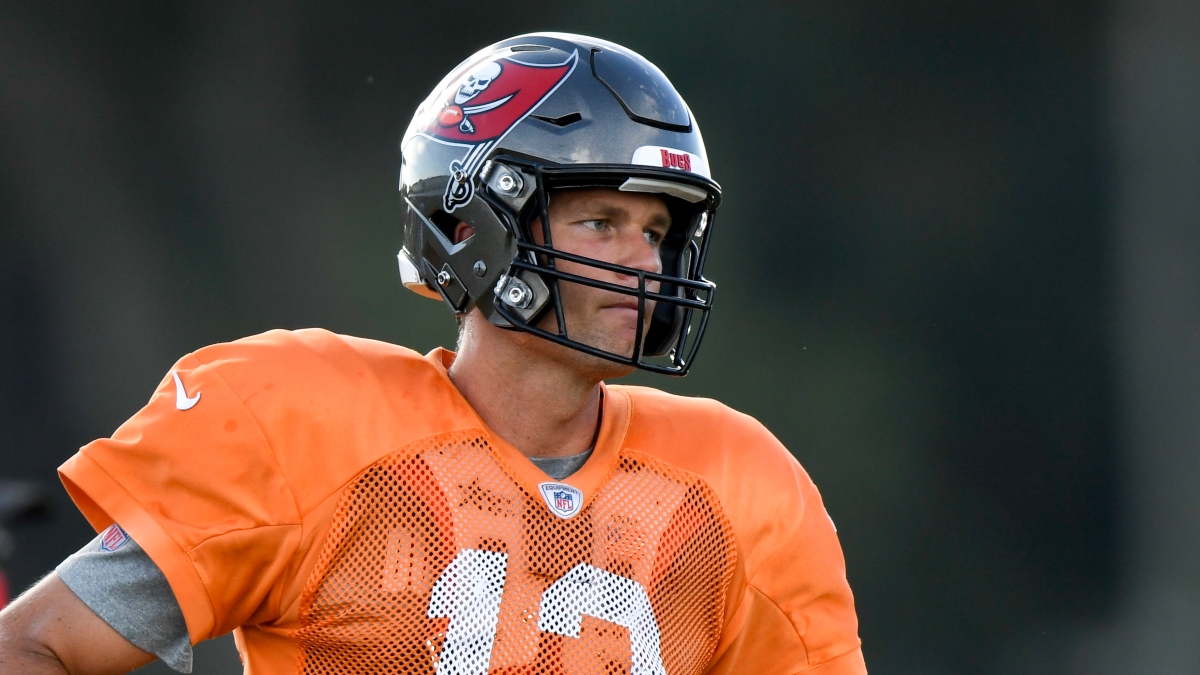 I actually really like the interior of the offensive line, so it's all eyes on the two tackles: Can Donovan Smith consistently protect Brady's blind side? How will rookie Tristan Wirfs adjust to the NFL on the right side?
After all the offseason hype, the last thing Bucs fans want to see at any point this year is Blaine Gabbert under center.
3. Can the defense avoid the regression monster? New defensive coordinator Todd Bowles conducted a remarkable defensive turnaround last season. Tampa went from one of the worst defenses in the league in 2018 to one of the best in 2019. The move to a 3-4 base created a unit that was near impossible to run on.
Tampa should still be stout against opposing ground games with its big bodies up front and talent at inside linebacker. However, it remains to be seen if Shaq Barrett can replicate his pass-rushing success, and if the secondary can carry over its improvement from the second half of last season.

It's an extremely young secondary that may also add a rookie starter in safety Antoine Winfield Jr.
---
Return to the table of contents
---
Dallas Cowboys
| | |
| --- | --- |
| Super Bowl Odds | +1500 [BET NOW] |
| My Projected Wins | 10.3 |
1. Who will step up at center? The Cowboys have boasted one of the top offensive lines in the NFL for the past few seasons, but replacing anchor Travis Frederick won't be a walk in the park. Joe Looney is a potential veteran option but the highest upside might lie with Wisconsin rookie Tyler Biadasz.
If Dallas can adequately plug up the center position and avoid injuries up front, its offense will be tough to stop, especially with the addition of rookie wide receiver CeeDee Lamb in an offense that will likely use a high frequency of three wide receiver sets.
However, they aren't off to a good start with right tackle La'el just hitting the IR. Another position worth watching with the alternative options not too promising, especially early on in the season as the earliest Collins can come back is after three weeks.
2. Can the defense force turnovers? Expect new defensive coordinator Mike Nolan, who preaches turnovers, to run a much more aggressive scheme than we saw last year. That said, the secondary will still need to make more plays on the ball. The Dallas defense finished tied for last with a league-low seven interceptions in 2019. The early development of second-round draft pick Trevon Diggs (and potentially fellow rookie Reggie Robinson) will be critical for a defensive backfield that lost Byron Jones and is now dealing with a slew of injuries leading up to the season opener.
I do love what the Cowboys did in the offseason along the defensive line with the additions of Everson Griffen, Dontari Poe and Aldon Smith. With DeMarcus Lawrence deciding not to opt out, assuming the linebackers stay mostly healthy, this defense could perform like the unit we expected to see in 2019, especially if a young secondary and more aggressive scheme translates to more takeaways.
3. How much of an upgrade is new head coach Mike McCarthy? This is not an ideal summer to have coaching turnover but felt like it was time to move on from Jason Garrett in Big D.

This will likely come down to whether McCarthy is willing to adapt to today's game. Based on his last few years in Green Bay, contrary to popular opinion, I actually think he will. His offensive approach should also align with this roster and offensive coordinator Kellen Moore.
---
Return to the table of contents
---
New England Patriots
| | |
| --- | --- |
| Super Bowl Odds | +2000 [BET NOW] |
| My Projected Wins | 8.1 |
1. How healthy is Cam Newton? He's clearly the best option at quarterback for New England — hence why he's been named the Week 1 stater — but three surgeries in three years justifies asking questions about his overall health, arm strength and how much he can/will run. He'll also have to learn a new system with a lack of preparation, underwhelming group of receivers and rookie tight end group.
2. How much will the defense drop-off after the offseason departures? The Patriots had one the best defenses in the NFL last year, but did benefit from one of the easiest schedules of opposing offenses and quarterbacks.
Regression looms.
In true Patriot fashion, they replaced some talent on defense with cheaper and/or younger options. What they couldn't have planned for was a league-high eight opt-outs related to COVID-19. The excellent secondary should still handle its business, although the loss of safeties Patrick Chung (opt out) and Duron Harmon (traded to Detroit) will sting, especially if rookie Kyle Dugger can't give them much in Year 1.
However, a rebuilt front seven has a lot to prove. Bill Belichick will have to work his magic to fill the voids left by Donta Hightower, Jamie Collins, Kyle Van Noy and Danny Shelton.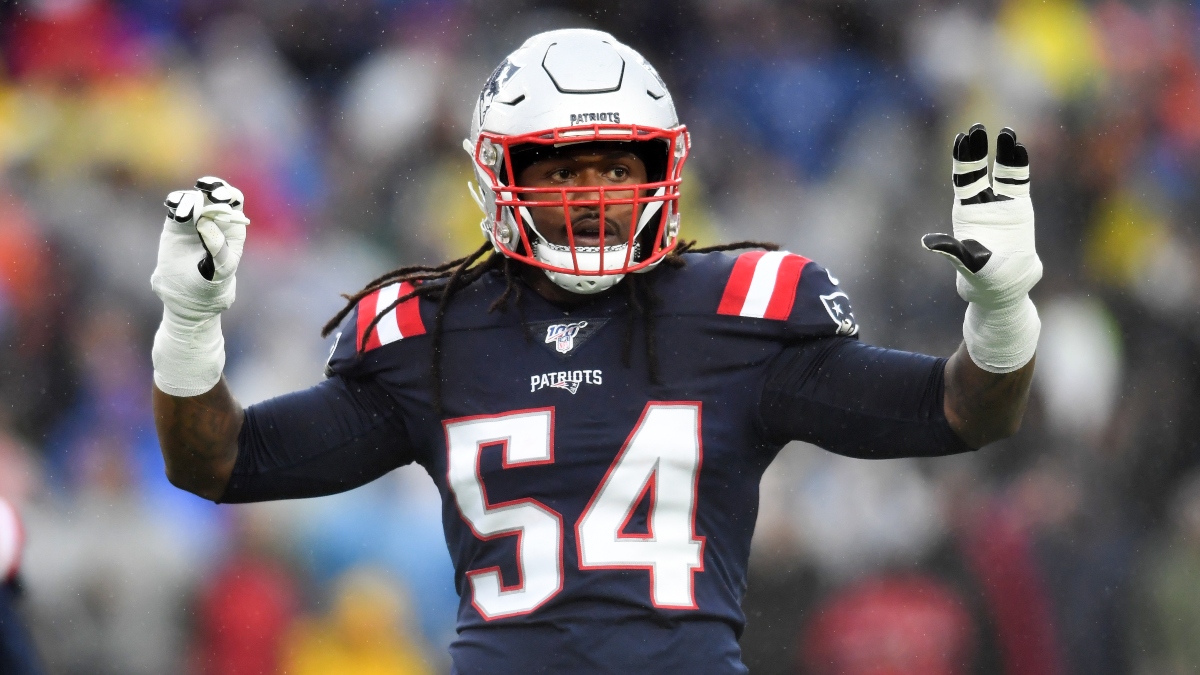 This unit should take a decent step back in 2020 as a result of the opt outs and offseason departures. There's also a high probability of regression in regards to health, penalties and takeaways — and all against a likely much tougher schedule.
3. What will the loss of Dante Scarnecchia mean for the offensive line? After decades with the organization, the legendary offensive line coach retired this past offseason. If the unit can avoid the horrid injury luck of last season, the talent is there for this unit to excel — especially since the approach shouldn't change with his assistants taking over. We may see more of an impact next season.

The more pressing issue this year is how will the Patriots replace reliable right tackle Marcus Cannon, who also opted out.
---
Return to the table of contents
---
Philadelphia Eagles
| | |
| --- | --- |
| Super Bowl Odds | +2000 [BET NOW] |
| My Projected Wins | 8.3 |
1. Did they solve their secondary issues? The Eagles signed two marquee free-agent cornerbacks in Darius Slay and slot Nickell Robey-Coleman, who have both previously played for defensive coordinator Jim Schwartz.
If you believe Slay still has No. 1 shadow corner ability, Philly will improve tremendously against opposing No. 1 receivers. If you're like me and don't believe Slay still has it, the Eagles may still struggle in that department. Slay had a down year in 2019 (Pro Football Focus' 86th-rated corner) and will turn 30 on Jan. 1 — an age in which man-to-man corners can drop off a cliff in production.
I also have doubts about Avonte Maddox as the other primary corner.
If the Eagles don't improve in coverage on the outside, this defense could really struggle.
The middle of the field also looks vulnerable at both linebacker and safety. Philly has obviously devalued the linebacker position, which I'm on board with this philosophy in today's NFL, but this group looks as weak as any in the NFL.
Meanwhile, they'll have to replace Malcolm Jenkins at safety with either Will Parks or former cornerback Jalen Mills. At least Eagles fans can feel confident that the defensive line, which has three of the six-highest paid 4-3 defensive tackles in the league, will control the line of scrimmage.
2. How will the loss of Brandon Brooks impact the offensive line? The Eagles have had one of the NFL's steadiest and most productive offensive lines in recent years, but that continuity and productivity could take a major hit in 2020 after losing one of the most dominant guards in the league to injury.
After a very shaky start to his career, Andre Dillard was slated to take over at left tackle, but the Eagles recently placed him on IR. Philly hopes veteran Jason Peters will stay healthy and fill that void.
The depth also took a hit when swing tackle Halapoulivaati Vaitai signed with the Lions. If the Eagles can't adequately protect the blindside and/or Peters can't stay healthy, this offense could really struggle.
Regardless, the Eagles have to worry about their offensive line for the first time in a long time.
3. Does Carson Wentz have enough weapons on the outside? I'm a believer in the North Dakota State product, who still navigated his way to the postseason with a completely decimated wide receiver corps last season.
The Eagles obviously need DeSean Jackson to stay on the field in order to have the deep threat to open up the rest of the offense. I'm not sure Alshon Jefferey has anything left in the tank, so the Eagles may need Jalen Reagor to contribute quickly in his rookie season. That's a tough ask for a first-year receiver, especially since the TCU product could miss at least Weeks 1 and 2 with a torn labrum, which won't help the learning curve.
At least Wentz can still lean on one of the better tight end groups in the league.

Better production at corner and receiver could help Philly win back-to-back division titles — something no team in the NFC East has done in 15 years.
---
Return to the table of contents
---
Seattle Seahawks
| | |
| --- | --- |
| Super Bowl Odds | +2000 [BET NOW] |
| My Projected Wins | 9.1 |
1. Can the Seahawks compete in the trenches? There are major concerns on both lines and I'm not sure their offseason moves moved the needle. The right side of the offensive line and lack of pass rush (they had an abysmal pressure rate in 2019) are specifically unsettling.
2. How much will the secondary additions improve the defense? A solid secondary can obviously help hide a weaker pass rush, and the signing of Jamal Adams certainly helps. Having an elite safety in Pete Carroll's Cover 3-heavy scheme is imperative to the success of his defense, which had to use way more Cover 2 than ever before last season as a result of poor safety play.
The secondary has really taken a hit since the departure of Earl Thomas, but that position is now in good hands with Adams, who is as versatile of a safety as we have in the NFL — I really can't stress enough how much Adams will elevate this defense.
Also, with Quinton Dunbar's legal troubles apparently cleared up, he'll serve as an upgrade at cornerback for a team that used its base defense as much as any in 2019. And don't forget the Seahawks will also have a full year of Quandre Diggs at the other safety spot to boot.
This unit, led by its strong linebackers and improved secondary, should post better results in 2020.
3. Will Seattle let Russ Cook? The offensive play-calling has been so poor in recent seasons, especially in first halves. Fortunately, Russell Wilson had enough late-game magic to get the Seahawks to the playoffs last year. But relying on a repeat 9-2 mark in one-possession games is a perilous approach. (Seattle won 11 games in 2019, almost three full games more than its 8.2 Pythagorean Wins.)

Keep in mind that the Seahawks will travel more miles than any team in a season in which travel might be more burdensome They also announced there won't be fans allowed at CenturyLink Field for their first three home games, so losing one of the league's best home-field advantages could also be a factor.
---
Return to the table of contents
---
Indianapolis Colts
| | |
| --- | --- |
| Super Bowl Odds | +2200 [BET NOW] |
| My Projected Wins | 9.1 |
1. What does Philip Rivers have left in his arm? The Colts feature a run-heavy offensive attack, but this is still a quarterback-driven league.
Rivers, who will turn 39 this year, will look to rebound from a down season in which he threw 23 touchdowns and 20 interceptions. The pro-Rivers argument rests on the dire offensive line situation in Los Angeles, which does have merit. He also hasn't missed a start since 2006, at least has familiarity with Frank Reich and will work behind a top-three offensive line.
Playing in a dome is an added bonus.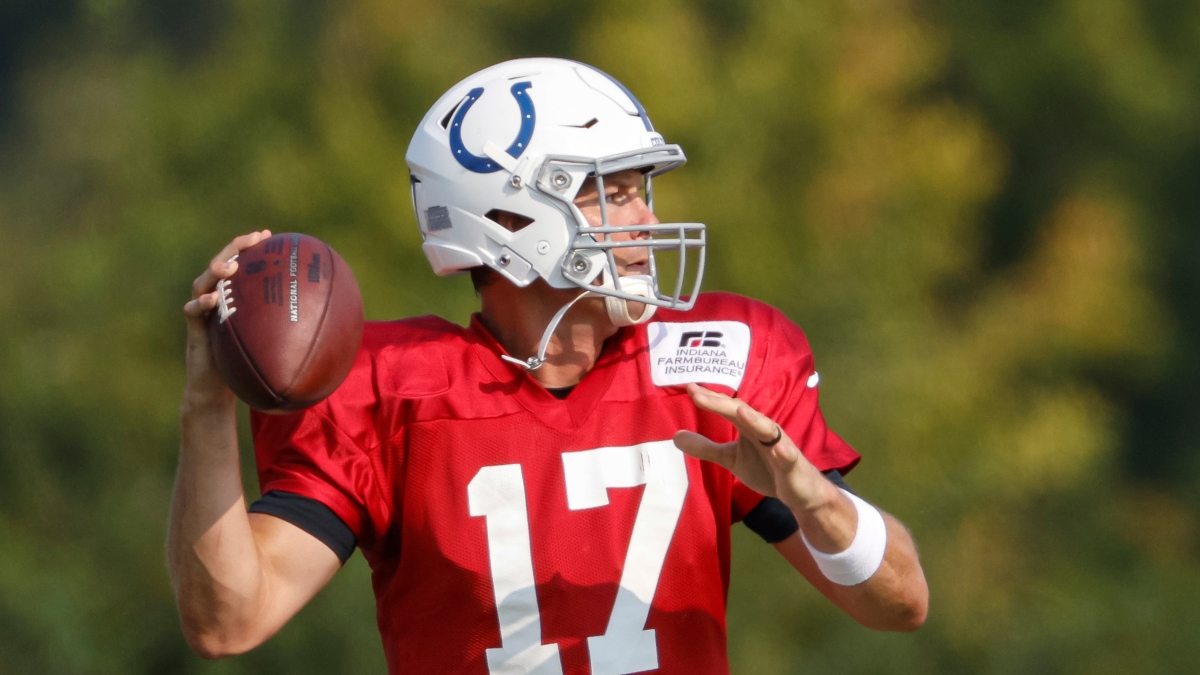 2. What can Xavier Rhodes give at cornerback? It's a position the Colts are very thin at outside of Kenny Moore in the slot. Maybe a new, more zone-heavy scheme will work in Rhodes' favor, but I have doubts for the aging and seemingly on-the-decline ex-Viking.
As I previously mentioned, it's not uncommon to see corners suddenly drop off a cliff in production around his age. And the 30-year-old Rhodes fell fast last season as PFF's 110th ranked corner. A putrid 32% success rate in 2019 should sound some alarms.
If the Colts can somehow figure out the cornerback position, they'll have a playoff-caliber defense. But Rhodes will have a lot to say about those postseason aspirations.
3. Will Indianapolis find a steady kicking game? Adam Vinatieri, who finished the season 17-25 on field goals and 22-28 on extra points, arguably cost the Colts three games last season. With the future Hall of Famer now out of the mix, the Colts hope rookie Rodrigo Blankenship will prove to be reliable.

This will mark the first time Indianapolis will have a new Week 1 kicker since 2005.
---
Return to the table of contents
---
Buffalo Bills
| | |
| --- | --- |
| Super Bowl Odds | +2500 [BET NOW] |
| My Projected Wins | 9.2 |
1. Will Buffalo's offensive line improve? You'd expect at least some progression after this completely rebuilt unit from last year gets all five starters back. That's a theme for the Bills as they return plenty of production throughout the roster.
2. How much will the addition of Stefon Diggs open up the offense? Buffalo now has a bonafide one-two punch at receiver for a group that had the second-most drops in 2019.
Offensive line continuity and the addition of Diggs looks great for this offense on paper, but…
3. Can Josh Allen improve his accuracy? The Wyoming product finished last in completion percentage (58.8%) among 32 qualified quarterbacks in 2019. Not great.
The Bills will need more efficiency from Allen if they want to win their first division title and/or playoff game in the past 25 years. They're 0-5 in playoff games since 1995 with five one-possession losses in which they averaged 16.4 points per game.

The pass defense should be a rock for a third consecutive season — even against a likely much more difficult schedule of offenses. And they could get even better overall if some of the new front seven additions improve the run defense and generate more pressure. But the high expectations for Buffalo will likely come down to Allen.
---
Return to the table of contents
---
Minnesota Vikings
| | |
| --- | --- |
| Super Bowl Odds | +2500 [BET NOW] |
| My Projected Wins | 8.9 |
1. Can Justin Jefferson step up at wide receiver? Minnesota needs to replace Stefon Diggs and find an adequate No. 2 receiver to pair with Adam Thielen. Jefferson is the candidate with the highest potential, but it's a tall task for a rookie in a new scheme — especially considering he frequently lined up in the slot in college, a position the Vikings don't really utilize.
2. How much will the offensive line improve in Year 2 of Gary Kubiak's zone scheme? A big step forward for the offensive line could also help compensate for the loss of Diggs in other ways. Also, look out for rookie Ezra Cleveland, who should fit this scheme like a glove. Don't be surprised if he ends up starting at either guard or tackle by the end of the season.
3. Can the rookie cornerbacks contribute? The Vikings had as much offseason attrition on defense (both players and staff) as any team in the NFL. That could backfire early with a lack of preparation in Mike Zimmer's complex defense.
I do actually think the turnover at cornerback will benefit the Vikings long term, but they'll need at least one and probably two of their rookies — Jeff Gladney, Cameron Dantzler or Harrison Hand — to contribute quickly if they want to return to the playoffs. Former 2018 first-round draft pick Mike Hughes also needs to produce at a high level as the team's top corner.

Zimmer will try to scheme up pressure to compensate for the losses of Everson Griffen and Linval Joseph. Acquiring Yannick Ngakoue from the Jaguars certainly helps compensate for the loss of Griffen, but there will still be plenty of pressure on an extremely young cornerback bunch.
---
Return to the table of contents
---
Pittsburgh Steelers
| | |
| --- | --- |
| Super Bowl Odds | +2500 [BET NOW] |
| My Projected Wins | 9.1 |
1. Can the offensive line regain its form? Even if we don't get peak Big Ben, who may have to fight off early rust and Father Time, the quarterback play should improve drastically from last season.
The wide receiver position is stacked and James Conner is now healthy, but I do have questions about an offensive line that has generally been so reliable for Pittsburgh. It's an aging group — Maurkice Pouncey, David DeCastro and Alejandro Villanueva are all 30 or older — that also may miss OL coach Mike Munchak. In fairness, the situation wasn't ideal last year, but some of the advanced metrics (30th in Adjusted Line Yards) do raise some eyebrows headed into a season when it will be essential to keep 38-year-old Ben Roethlisberger upright and healthy.
The alternative, as we saw last year, is hideous.
Keep an eye on how well Matt Feiler transitions to left guard, who wins the starting right tackle job and how the veterans perform with Big Ben back under center.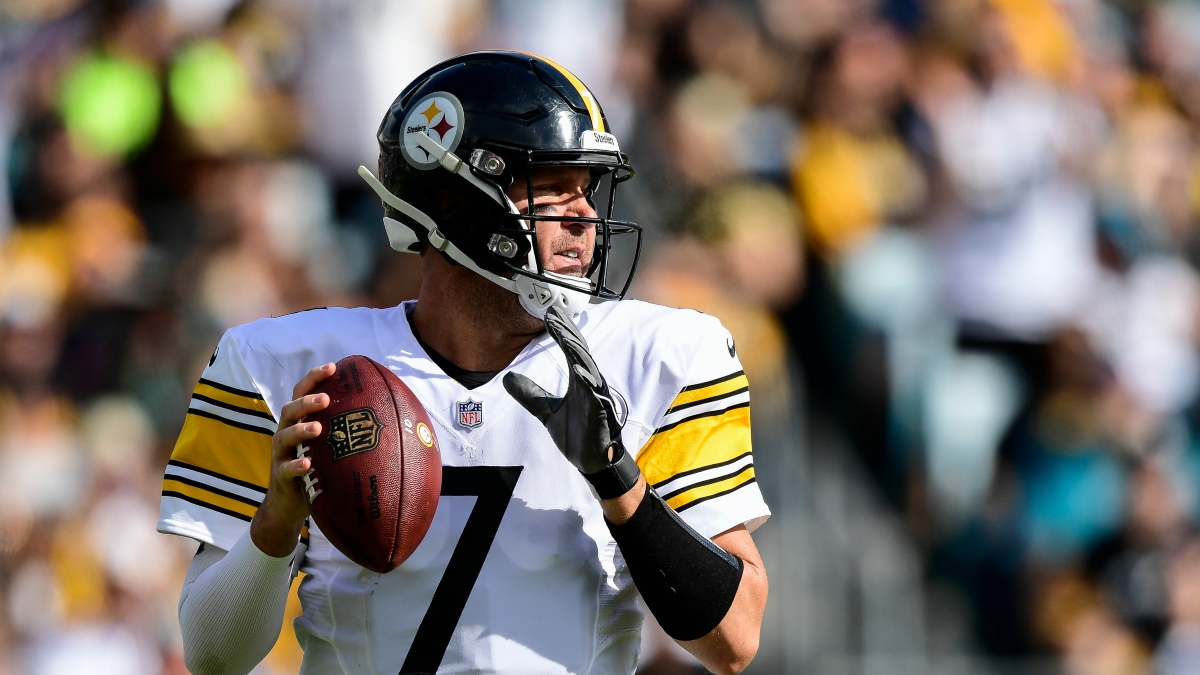 2. Can the defense reproduce its stellar 2019 without as much turnover luck? The Pittsburgh defense excelled at all three levels in 2019. It can generate pressure without blitzing as well as any team in the AFC — a huge luxury in today's NFL. You can almost mark the Steelers down as the NFL sack leaders for a fourth straight year.
They've also adapted with their coverage schemes for the better in recent years.
This unit absolutely dominated after the acquisition of Minkah Fitzpatrick alongside the emergence of Devin Bush. However, they did benefit from a league-high 38 takeaways. Since 2012, only two teams had more in a regular season: The 2013 Seahawks and 2015 Panthers — two Super Bowl teams that had 23 and 27 the following seasons, respectively. It's hard to envision a similar takeaway output for the Pitt defense, but keep in mind it also couldn't get any rest in 2019.
An improved offense could pay dividends on the defensive end.

3. Can the Steelers score touchdowns in the red zone? You'd think a healthy and productive Big Ben will help inside the 20-yard-line, but the ground game also needs more efficiency, which goes back to the offensive line. Pittsburgh scored touchdowns on just 35% of trips inside the 20 last season — the lowest rate of any team in the NFL since 2012.
---
Return to the table of contents
---
Green Bay Packers
| | |
| --- | --- |
| Super Bowl Odds | +2800 [BET NOW] |
| My Projected Wins | 8.5 |
1. What were the Packers doing this past offseason? Green Bay appeared to choose building for the future over winning now with some questionable draft selections.
Judging by his accuracy metrics in recent seasons, Aaron Rodgers is on the downward curve of his career trajectory. Although even with a slight decline, he remains a top-10 quarterback who just doesn't have enough of a supporting cast to win another Super Bowl.
Maybe we see a drastic shift in offensive philosophy to a more run-heavy scheme — that would at least explain why they drafted running back A.J. Dillon and tight end Josiah Deguara in the first three rounds without adding any WR help in a very deep wide receiver class.
2. Can anybody help out Davante Adams? Adams remains one of the best wide receivers in the NFL, but he didn't have much help last year. Offseason addition Devin Funchess opted out of the 2020 season, so that once again leaves Allen Lazard and Marquez Valdes-Scantling as the second and third options for a unit that dropped the fourth-most passes in 2019.
Maybe Jace Sternberger can break out at tight end in the second season of Matt LaFleur's offensive scheme, but the other receivers will need to do more to help out Adams.
3. Will the run defense get shredded again? The Packers won 13 games last season despite a decline in production from Rodgers, a lack of weapons and a rotten run defense (31st in Adjusted Line Yards).
How did they pull it off? A lot of good fortune (only 9.7 Pythagorean Wins) that finally caught up to them in the NFC Championship.
The regression monster looms, especially since they didn't address any of their glaring needs this offseason. They have new starting linebackers, but none are game-changers for a Mike Pettine defense that had six defensive backs on the field for more than 50% of snaps last season. The defense benefited from positive variance in a number of areas last season: Interceptions, facing backup quarterbacks, lack of injuries and winning close games.

The pass rush and secondary has talent, but the run defense must get better, especially if the Packers don't get all of the breaks again this year.
---
Return to the table of contents
---
Tennessee Titans
| | |
| --- | --- |
| Super Bowl Odds | +2800 [BET NOW] |
| My Projected Wins | 8.9 |
1. Can Ryan Tannehill repeat his 2019 success? Judging by the underlying metrics, there was nothing flukey about Tannehill's surprise 2019 performance after taking over for Marcus Mariota. You could easily make the case that Tannehill had one of the five best QB performances last season.
This year, he'll still have the luxury of Derrick Henry in a heavy play-action-based offense that suits his skill set perfectly. Oh, and throwing to A.J. Brown down the field doesn't hurt, either. The former Dolphin did benefit from a fairly easy schedule last year but he projects to have one again in 2020.
2. Can the rookies make an impact? Jack Conklin headed to Cleveland, which may require rookie Isaiah Wilson to eventually step up as the starting right tackle. If he struggles early or isn't quite ready to start, Tennessee does at least have a swing tackle with starting experience in Dennis Kelly.
The secondary should benefit from a healthy outside cornerback duo of Malcolm Butler and the blooming Adoree' Jackson. However, it no longer has the services of Logan Ryan in the slot. Those duties could go to LSU rookie Kristian Fulton, who could actually serve as an upgrade if he makes a quick transition to the NFL. Another possibility is safety Amani Hooker, who excelled in the slot at Iowa.
3. Will the offseason additions of Jadeveon Clowney and Vic Beasley be enough to elevate their defense? The Titans' most pressing issue on defense was the lack of pass rush off the edge. They defended the run at a top-10 level in 2019, but were sometimes vulnerable through the air. Injuries in the secondary played a part, but so did the absence of a formidable edge rush.
Tennessee will count on Harold Landry and now Clowney and Beasley to apply more consistent pressure off the edge. Beasley missed the start of camp, but finally passed a physical, and we'll see what Clowney can bring to the table — he could very well be the missing piece to this defensive puzzle.
The Titans could also use scheme to cook up more edge pressure, which is something to monitor following Dean Pees' retirement. Head coach Mike Vrabel decided not to hire a new defensive coordinator and will presumably call plays for the defense.
---
Return to the table of contents
---
Chicago Bears 
| | |
| --- | --- |
| Super Bowl Odds | +4000 [BET NOW] |
| My Projected Wins | 7.0 |
1. How long will Mitch Trubisky hold off Nick Foles? Regardless of whether Trubisky can hold onto the starting job throughout the season, I do worry about too many voices in his ear. Chicago has a new offensive coordinator, quarterbacks coach and passing game coordinator with head coach Matt Nagy still calling plays. Maybe Chicago will actually let "Maserati Mitch" run again — his best attribute.
Even if Foles ends up taking over at some point, I don't think he will serve as any major upgrade. I have both quarterbacks rated about equal.
2. Will the Bears find a productive second corner? Replacing Leonard Floyd with Robert Quinn and getting a healthy Akiem Hicks back should provide Chicago with a ferocious front seven — although the loss of Eddie Goldman (opt out) leaves a big hole in the middle.
I also have questions about the secondary, particularly  at corner.
With Steelers castoff Artie Burns lost to injury, the Bears may need Jaylon Johnson to contribute sooner than later as a starting corner opposite Kyle Fuller. That's a tall order for a rookie coming off shoulder surgery this offseason. If not, you might see both Buster Skrine and Kevin Toliver in nickel and dime situations. Yikes.
In positive news, Eddie Jackson moving back to his more natural free safety position could help generate more turnovers, which Chicago could sorely use.
3. Can the offensive line generate a push? This unit actually produced at a higher level two seasons ago but has really struggled in run blocking the past two seasons (bottom-five rank in Adjusted Line Yards in 2018 and 2019). Yes, injuries and penalties plagued a unit that lacked depth, but the individual production just hasn't been there and I don't think adding Germain Ifedi was the solution.
This bunch has to give whoever is under center more time and also help give the Bears some semblance of a rushing attack.

Chicago hopes new offensive line coach Juan Castillo can elevate this underwhelming group. I don't see it, which is one reason I fancy the Bears season win total under.
---
Return to the table of contents
---
Cleveland Browns
| | |
| --- | --- |
| Super Bowl Odds | +4000 [BET NOW] |
| My Projected Wins | 8.9 |
1. Have the Browns solved their problems at tackle? The offensive tackle position has plagued Cleveland in recent years, but the outlook is rosier for 2020. The Browns signed right tackle Jack Conklin and drafted Jedrick Wills in the first round. If Wills can naturally transition to left tackle, a position he never played at Alabama, they will have significantly upgraded at both tackle spots.
Bringing Bill Callahan on board to coach the offensive line should benefit the entire group but early reports indicate it may take Wills some time to get to where the Browns need him.
2. How much will the coaching changes benefit Cleveland? Coaching has been absolutely miserable in Cleveland of late, but I personally loved all the offseason hires.
The injuries in the secondary to Grant Delpit and Greedy Williams certainly haven't made things any easier for new defensive coordinator Joe Woods, who wanted to use more hybrid and three-safety looks. How long it takes to translate on the field could make or break the season, but the future is bright in Cleveland. At a minimum, they hopefully clean up the incessant penalties and missed tackles that killed the Browns last year.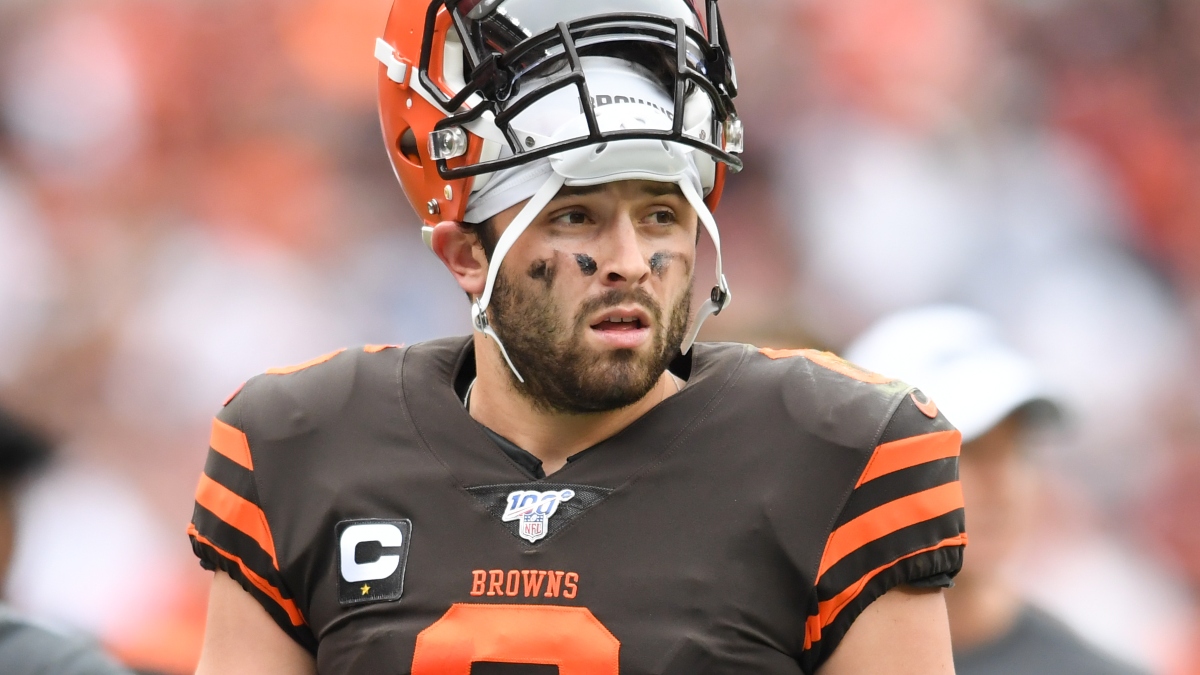 3. Can Baker Mayfield play more consistently? Mayfield should benefit from an improved offensive line in addition to Kevin Stefanski's play-calling and scheme, which are much better suited for Mayfield's strengths and weaknesses. He also has an abundance of skill position talent. There are no more excuses for Mayfield.
The defense has some holes to address at linebacker and slot corner in Joe Woods' nickel-heavy scheme. but the 2020 Browns will go as Baker goes.

It may take some time, but the potential is there for Cleveland to peak late, which is why I added a Super Bowl future. The Browns do play in a very tough division, but we do get the expanded playoff format this season.
---
Return to the table of contents
---
Los Angeles Rams 
| | |
| --- | --- |
| Super Bowl Odds | +4000 [BET NOW] |
| My Projected Wins | 7.6 |
1. Can the offensive line give Jared Goff any time to throw? The Rams' offensive line deteriorated severely last season, dropping in Pass Block Win Rate from 74.3% to 56.9%. Without a bounce back in 2020, the mechanical Goff will struggle to get the ball down the field once again.
Both tackles need to regain their form, but I'm not sure what L.A. can do with a very weak interior — the horrid Goff contract has really limited the flexibility in Los Angeles. One possible solution is a different offensive attack, one that features more two tight end sets.
Expect to see changes on this side of the ball with the hiring of new offensive coordinator Kevin O'Connell.
2. Will the defense decline with a new coordinator and lost production? Yes, the un-blockable Aaron Donald is still on the roster, but Wade Phillips departed as did five staples — Eric Weddle, Clay Matthews, Dante Fowler, Nickell Robey-Coleman, Corey Littleton — on a defense that played at a top-10 level in 2019. It's up to new defensive coordinator Brandon Staley to rebuild the defense around two foundational pieces in Donald and cornerback Jalen Ramsey.

3. Will no fans help Jared Goff? It's a question at least worth pondering. It seems as if Goff thrives when Sean McVay can basically tell Goff what to do pre-snap — he might benefit from the unique quiet environments more than any other quarterback in the league.
---
Return to the table of contents
---
Los Angeles Chargers
| | |
| --- | --- |
| Super Bowl Odds | +4500 [BET NOW] |
| My Projected Wins | 8.0 |
1. When will we see rookie Justin Herbert under center? Tyrod Taylor will start the year at quarterback. He won't turn it over (he as a minuscule 1.5% career interception rate) and will keep the Chargers in most games with what should be a conservative, ball-control focus on offense.
That said, we may see Herbert at some point if Taylor struggles to throw it over the middle of the field and/or L.A. just isn't winning games.
2. Is the offensive line finally serviceable? The Chargers' offensive line has been nothing short of a dumpster fire the past few seasons. They addressed the right side by signing two veterans in guard Trai Turner and tackle Bryan Bulaga, but the rest of this unit has flaws.
New offensive line coach James Campen has a lot of work to do ahead of Week 1, especially on the left side. At least Taylor brings more mobility than the statuesque Philip Rivers.
3. How much can the defense dominate? Coming into camp, the Chargers had a defense capable of carrying them to the postseason. They bolstered their linebacking corps by drafting Oklahoma product Kenneth Murray and by adding Linval Joseph to the interior to complement their pass-rushing chops and trio of good corners in Gus Bradley's dime-heavy defense.
I'm curious to see where totals get set for Chargers games as they could be a profitable early under team until the market catches up. This team was very unlucky last year (fumbles, injuries, close games, etc.), so a few bounces their way with a dominant defense could help the Chargers exceed fairly low preseason expectations compared to recent years.

Things aren't off to a rosy start with star safety Derwin James getting placed on IR. I can't stress the magnitude of that loss — James can do so many different things at an elite level.
---
Return to the table of contents
---
Arizona Cardinals
| | |
| --- | --- |
| Super Bowl Odds | +5000 [BET NOW] |
| My Projected Wins | 7.4 |
1. Can Kyler Murray take the next step in Year 2, particularly in the red zone? The Cardinals scored touchdowns on only 45.3% of red-zone trips last season (29th in NFL). Yards weren't an issue, but finishing drives was. The addition of DeAndre Hopkins certainly helps in that department. The offensive line has some questions, but Murray also has to learn to take fewer sacks in certain situations.
2. Will the defensive additions pay off for a unit that struggled mightily in 2019? All eyes are on versatile first-round draft pick Isaiah Simmons, who the Cardinals hope can help address a glaring weakness in covering tight ends. It looks like they plan on using the Swiss army knife as an inside linebacker, at least to start the year. The additions of Jordan Phillips, Devon Kennard and De'Vondre Campbell also help on paper.
Simply reducing the amount of missed tackles will be a step in the right direction.
3. How much will the secondary improve? Arizona actually didn't have issues defending the run (12th overall in Football Outsiders' DVOA) in Vance Joseph's first year of transitioning the defense to a 3-4 base. However, the coverage was downright awful for most of the year (27th overall).
The secondary did have to deal with the suspension of Patrick Peterson and Robert Alford's injury. With Alford suffering another season-ending injury in camp, Byron Murphy will have to tap into the valuable experience he gained as a rookie last year when he was thrown to the wolves. At least with Peterson back. there should be more stability.

If the offense can finish drives, the defense doesn't need to be elite, just average. The defensive backfield will likely determine where this unit ends up and Murphy simply has to be better this season. I'm sure he's going to get targeted plenty with Peterson on the other side.
---
Return to the table of contents
---
Atlanta Falcons
| | |
| --- | --- |
| Super Bowl Odds | +5000 [BET NOW] |
| My Projected Wins | 7.3 |
1. Can the offensive line youth unlock Atlanta's offensive potential? Matt Ryan has the necessary weapons, but the offensive line must improve. The Falcons hope Chris Lindstrom and Kaleb McGary will have more success in their sophomore campaigns — particularly McGary, who allowed a league-high 13 sacks in 2019. They also might need rookie Matt Hennessy to fill the starting left guard position.
Center and left tackle look solid with Alex Mack and Jake Matthews, but they need three more inexperienced players to keep Ryan upright and open up holes for Todd Gurley, who might not have much left in his legs to create on his own.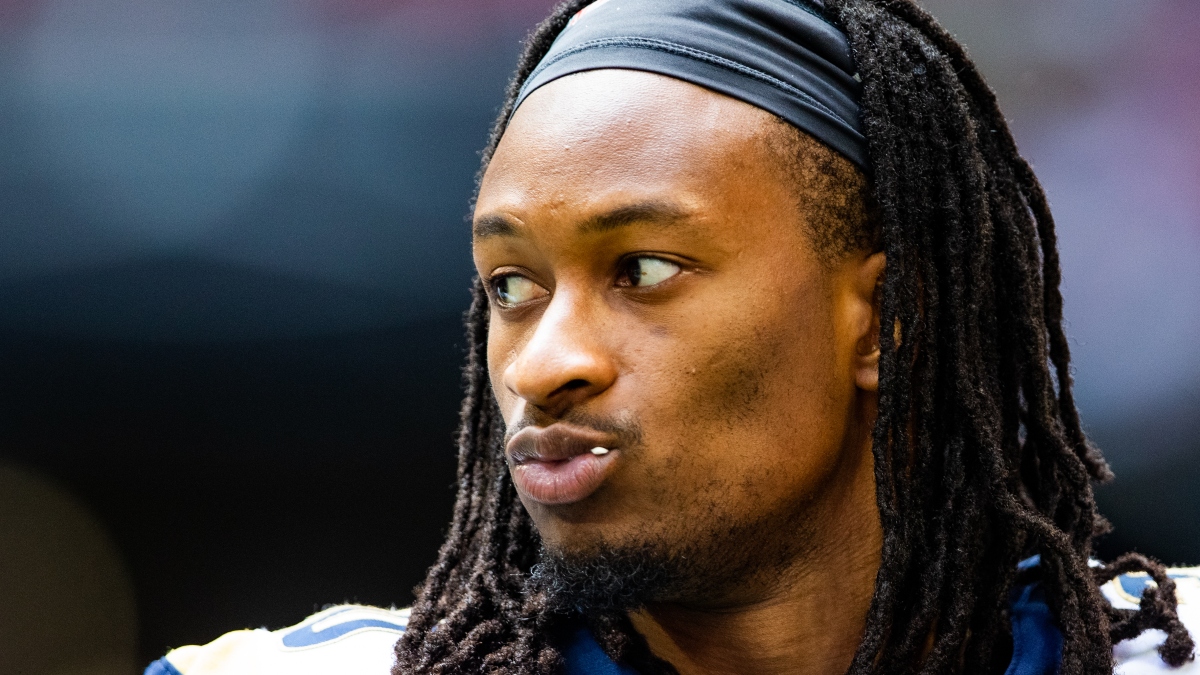 2. Will the defense continue its momentum from late last season? The Falcons defense couldn't stop a nose bleed in the first half of the season, allowing 31.7 points per game en route to a 1-7 start. They also ranked in the bottom three in sacks, turnovers and third-down conversion rate.
Then head coach Dan Quinn moved Raheem Morris from wide receivers coach to defensive backs coach while also giving up play-calling duties to Morris and linebackers coach Jeff Ulbrich.
From that point forward, they finished 6-2 with road wins against the Saints and 49ers. Over that stretch, they allowed only 18.6 points per game and finished in the top-five in turnovers, sacks, red-zone and third-down conversion rate — it was a remarkable turnaround that Atlanta hopes can carry over into 2020.

3. Can rookie A.J. Terrell get the job done as a starting corner? Atlanta moved on from Desmond Trufant, which means Isaiah Oliver slides into the No. 1 corner role. Terrell will likely start at the other corner spot on the outside. The 2020 first-round draft pick will need to produce immediately as the options behind him haven't shown much promise in the past. The Falcons also hope fellow rookie Marlon Davidson can help generate pressure up front.
---
Return to the table of contents
---
Denver Broncos
| | |
| --- | --- |
| Super Bowl Odds | +5000 [BET NOW] |
| My Projected Wins | 8.0 |
1. Will the defense thrive in Vic Fangio's second year? You'd naturally expect a jump in Year 2 of Vic Fangio's scheme for a unit that finished 13th in DVOA in 2019. With the addition of Jurrell Casey on the defensive line and the return of Bradley Chubb off the edge, Fangio has plenty of pieces to work with.
The safety group is also a strength, led by one of the NFL's most underrated defensive players in Justin Simmons.
The primary questions surround a cornerback group that only combined for one single interception last season. Newly-acquired A.J. Bouye struggled in 2019, but maybe he just needed to get out of Jacksonville. If he regains his form and Bryce Callahan — who will also play slot in sub packages — is healthy, Denver would only need to solve one corner spot. If rookie Michael Ojemudia can fill in adequately, Fangio should take this unit to the next level.
Update; Von Miller suffered an injury that will likely cause him to miss the entire season. Just a devastating blow to this defense.
2. How will the rookie starters perform on offense? The Broncos had one of the sexiest drafts in the NFL, adding two electrifying receivers in Jerry Judy and K.J. Hamler. Also, after losing their starting center to free agency in each of the past two seasons, they drafted a potential franchise center in Lloyd Cushenberry.
All three project as starters and will have a significant impact on the effectiveness of the offensive line and how much help Courtland Sutton gets on the outside in Pat Shurmur's new offense.
It's also worth watching right tackle after Ja'Wan James opted out. I think the Broncos made a savvy move by signing veteran Demar Dotson to fill in.
3. Has John Elway finally found his quarterback? Even if all three aforementioned rookies smoothly transition to the league without the benefit of a preseason, Drew Lock still holds the keys to the offense. Brock Osweiler, Zac Dysert, Trevor Siemian, Paxton Lynch, Chad Kelly, Mark Sanchez, Case Keenum, Joe Flacco and Brandon Allen all didn't work out, but Elway hopes Lock can buck that trend and finally solve Denver's QB riddle in the post-Manning era.
If the Missouri product lives up to his potential, this team has high upside and could peak at the right time late in the season.

Similar to Cleveland, Denver could be primed to grab one of the two wild-card spots in a wide-open AFC after the top two teams. That's part of the reason I took a shot with a Broncos 50-1 Super Bowl future.
---
Return to the table of contents
---
Houston Texans
| | |
| --- | --- |
| Super Bowl Odds | +5000 [BET NOW] |
| My Projected Wins | 7.5 |
1. Can the key pieces stay healthy for a full season? Injuries are so random, but it's a real concern worth bringing up for Houston.
J.J. Watt has played in only 32 games over the past four seasons — his presence is paramount on that side of the ball. Meanwhile, Will Fuller, who is coming off double groin surgery, has missed more than a third of all possible regular-season games since entering the league. Houston also added two other receivers in an aging Randall Cobb and Brandin Cooks, the latter of whom has very legitimate concussion issues.
That's a lot of questions for a group that lost one of the best receivers in the league this past offseason.
2. What will the Tim Kelly offense look like? This will be the first year that the offensive coordinator will call plays. If you assume Fuller and Laremy Tunsil are healthy, this offense still has plenty of potential with Deshaun Watson at the helm.
Keep an eye on the tendencies of this Houston offense early in the season, particularly in regards to the volume of play-action.
3. Can new defensive coordinator Anthony Weaver scheme up pressure? The secondary is extremely weak with only one reliable corner (Bradley Roby) as we all saw the last time Houston took the field in a playoff loss to Kansas City. That places even more emphasis on scheme.
Houston's defense simply couldn't get off the field last year, allowing teams to convert on 48.51% of third downs last season (31st in NFL). The Texans need to be much more aggressive on third downs, which is realistic to expect from first-time coordinator Weaver, who was mentored by Rex Ryan.
---
Return to the table of contents
---
Detroit Lions
| | |
| --- | --- |
| Super Bowl Odds | +6000 [BET NOW] |
| My Projected Wins | 7.1 |
1. Can the offensive line overcome a lack of cohesion? Matthew Stafford had the Detroit offense humming last season before his injury. He once again has all of the necessary talent at running back, wide receiver and tight end to lead a very explosive offense.
However, he will need his offensive line to come together fairly quickly, especially considering the potential back issues for Stafford. Detroit has a great young center in Frank Ragnow and should feel comfortable with left tackle Taylor Decker, but the entire right side of the line might be brand new with a potential rookie starting at right guard.
2. How quickly can Jeff Okudah become an elite corner? Matt Patricia — a product of the Bill Belichick coaching tree — blitzes only three and plays a ton of man coverage as you might expect. The Lions have lost Darius Slay and Quandre Diggs from a secondary that had a lot of potential headed into last year. Now, they will need first-round draft pick Jeff Okudah to step up as one of the two primary starting outside corners along with offseason acquisition Desmond Trufant.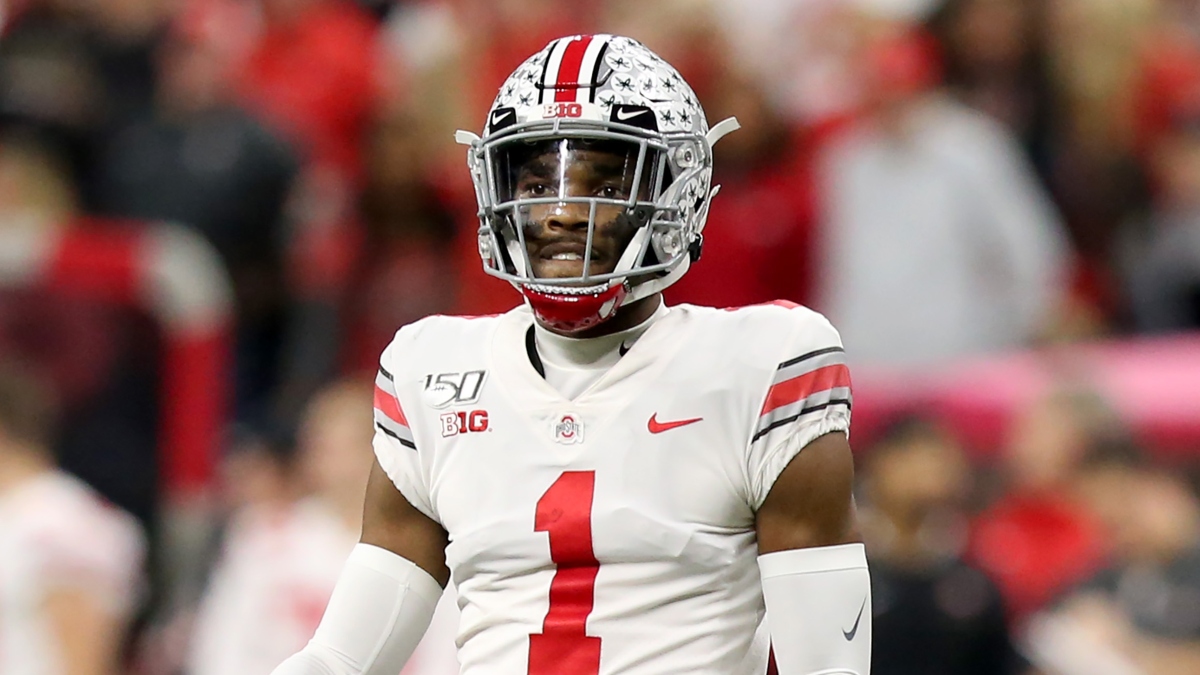 Justin Coleman is a very talented slot corner for a team that loves to play with 5 and 6 defensive backs, so this unit has potential if Okudah can become a true No. 1 early on in this season. He has all of the tools and there is a promising track record of corners drafted that high in the draft.
3. Can the defense finally mirror New England? Patricia is obviously trying to replicate the New England defense, but the results just haven't been there so far. This past offseason, he even acquired three Patriots to join his defense — filling needs at all three levels with Danny Shelton, Jamie Collins and Duron Harmon. That trio should help, but the scheme needs to become less predictable than just sitting in basic Cover 1 all game. Maybe new defensive coordinator Cory Undlin can add enough wrinkles to elevate this defense.

If Stafford stays healthy the defense improves, the Lions have an outside shot to win a wide-open division. You'd expect some bounces to maybe go their way a year after finishing a very unlucky 3-8-1 in one-possession games.
---
Return to the table of contents
---
Las Vegas Raiders
| | |
| --- | --- |
| Super Bowl Odds | +6600 [BET NOW] |
| My Projected Wins | 7.2 |
1. Will the defensive play-calling improve? I'm just not a fan of defensive coordinator Paul Guenther. In key situations, the Raiders simply sit back in zone and don't blitz nearly enough for a team that lacks elite edge rushers and lock-down cover corners.
To illustrate just how bad things were last year, the Raiders became the first team in NFL history to not record a single sack by a linebacker or defensive back in a season. They hope a few free-agent additions at linebacker will help, but the scheme must adapt to generate pressure to help out a secondary that will rely on a few very raw pieces.
2. Can the second-half coaching adjustments lead to better results? The Raiders averaged an NFL-worst 1.7 points per third quarter. They also allowed 6.9 points per third quarter, the second-highest mark in the league. That's not a recipe for success.
3. Can they survive a brutal early-season schedule? If the Raiders don't win their season opener at Carolina, things could ugly fast. They face the Saints in Week 2 then the Patriots in Foxborough on a short week. It doesn't get any easier from there with the Bills, Chiefs, Buccaneers and Browns.
If Vegas can find a way to get through its first seven games with at least three wins, a postseason berth is not out of the question.

The offensive line is elite and there's enough talent at the skill positions to grab a wild card as long as the defense performs at just an average level. But then again, it could all fall apart if the Raiders get off to a 1-6 start.
---
Return to the table of contents
---
Miami Dolphins
| | |
| --- | --- |
| Super Bowl Odds | +8000 [BET NOW] |
| My Projected Wins | 6.0 |
1. When will we see Tua? He has a perfect skillset for Chan Gailey's offense, but incumbent starter Ryan Fitzpatrick has experience playing in Gailey's offense.
You would also expect Miami to be cautious early with their future franchise quarterback as they try to figure out a rebuilt offensive line.
2. How much will the defense improve? I love what Brian Flores and Co. are building with all of their draft and salary cap capital. The Dolphins now have two of the three highest-paid cornerbacks in the league in Byron Jones and Xavien Howard with youthful potential in slot Noah Igbinoghene. You can expect plenty of man coverage from Flores, and an elite corner group can go a long way for a defense in today's NFL as we've seen in Flores' previous stop in New England.
Eric Rowe also seems to have found a home at safety, and the Dolphins anticipate new acquisitions Kyle Van Noy and Shaq Lawson can get after the quarterback for a defense that ranked dead-last in pressure rate in 2019.
This unit should make a large leap in production after an atrocious 2019 season.
3. Can the offensive line get better? This group was just abysmal in every aspect last year. Miami added some veterans (Ted Karras and Ereck Flowers), who should help patch up the interior. It also hopes two rookies (Austin Jackson and Robert Hunt) can immediately contribute as potential starting tackles. But that's a risky proposition, especially with reduced preparation time for a new offensive scheme.

The good news is it can't get any worse … I think.
---
Return to the table of contents
---
New York Giants
| | |
| --- | --- |
| Super Bowl Odds | +8000 [BET NOW] |
| My Projected Wins | 5.8 |
1. How much progress will Daniel Jones make in his second season? Having his weapons at receiver stay healthy will certainly help, but he needs to be less careless after a league-leading 18 fumbles in 2019. He also must adjust to a whole new staff as the Giants have their third new head coach in five years with Joe Judge along with a new offensive coordinator in Jason Garrett.
2. Can the defense either get edge pressure or lock down in coverage? The Giants need to improve in at least one of those two areas.
The defense had no issues stopping the run (No. 7 DVOA) with an elite three-man front that can eat blocks, but they had major issues generating pressure (23rd in Adjusted Sack Rate) and covering opposing receivers (31st DVOA against pass). The front office didn't really solve the lack of pass rush in the offseason, so New York will need its secondary to improve to compensate for the lack of edge rush and an underwhelming linebacker group.
It did at least draft safety Xavier McKinney and sign James Bradberry in free agency to slide into the No. 1 corner spot. The safety position has no shortage of young talent while Bradberry certainly serves as an upgrade at corner.
That said, the Giants still need to fill two other corner spots. Finding that solution could be even more difficult with DeAndre Baker's legal problems. Baker had a rough year, but the depth behind him isn't great and Sam Beal opted out.
New defensive coordinator Patrick Graham might need Julian Love to step up in the slot and hope for help from one of the three defensive backs they drafted in 2020. Graham, a Belichick disciple, just might not have the natural pass rushers or man cover corners to run what he wants. The late addition of Logan Ryan at least provides experience in the slot but he seems way past his prime.
3. Will the offensive line fall apart? The Giants already have enough to worry about with a brand new staff, young quarterback and inexperienced defense — all without the benefit of offseason workouts and preseason games. If they can overcome those hurdles, the focus will shift to whether or not they can put together a functional offensive line for Jason Garrett's vertical offense tendencies.
Nate Solder, who the Giants gave a horrendous contract to, opted out. He was on the decline but at least provided leadership and experience up front. Now this unit, which struggled mightily last season, will need rookie Andrew Thomas to successfully fill the left tackle spot.

Will Hernandez had a disappointing 2019 but the Giants are OK at guard — it's both tackle spots and a huge unknown at center that should worry the G-Men.
---
Return to the table of contents
---
New York Jets
| | |
| --- | --- |
| Super Bowl Odds | +8000 [BET NOW] |
| My Projected Wins | 5.7 |
1. Is Sam Darnold the answer? It's put up or shut up time for Darnold in his third season. I'm personally not a Darnold truther, and there's a lot of data to back up my stance.
It's not like he has a ton of help with an aging backfield, decent but not spectacular receiving corps and a subpar offensive line. I know the Jets overhauled their entire OL, but I'm not a fan of their acquisitions and question Mekhi Becton's pass-blocking ability in a brand new scheme in his rookie season.
The fact that there's still questions about who Sam Darnold really is should answer the question of who he really is — a quarterback unable to elevate this offense to a playoff contender.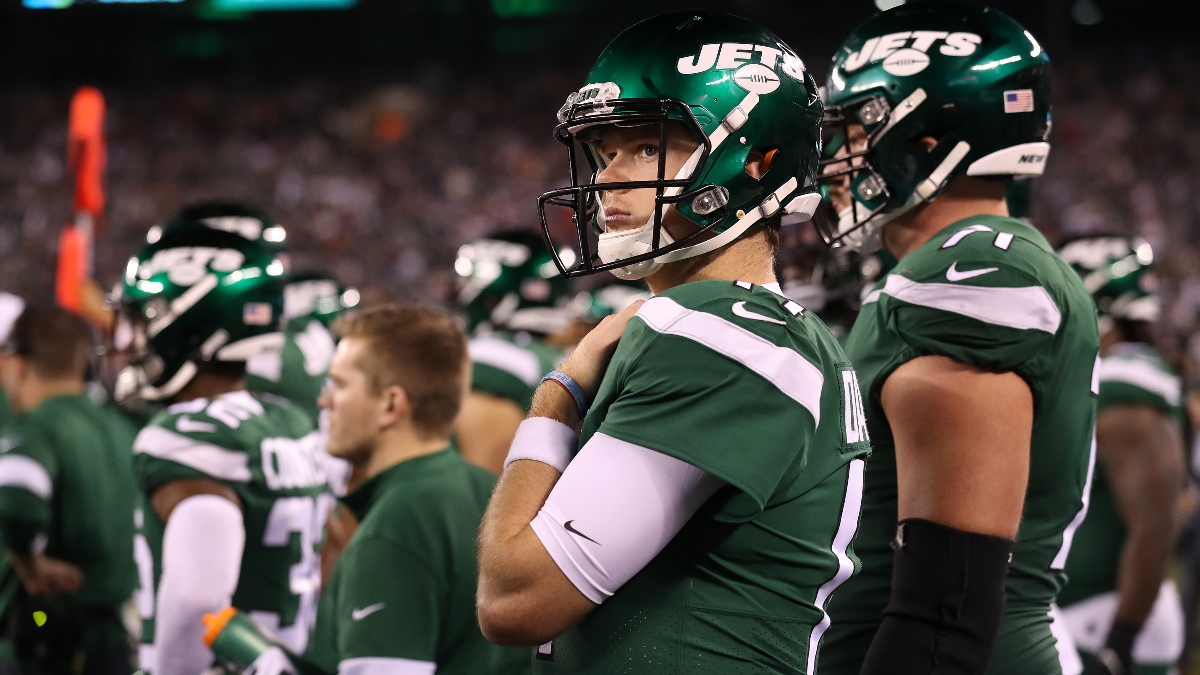 2. What will the secondary look like in New York? Losing one of the NFL's best safeties in Jamal Adams obviously stings, but it could pay off with draft capital later. Cornerback also looks fairly weak as I'm not convinced acquiring Pierre Desir makes any material difference. Gregg Williams has enough to work with up front but the roster still lacks an elite edge rusher.
This Jets secondary might get roasted all season against a likely much more difficult slate than they faced last season. Don't get fooled by their 6-2 run to close out last season — that had more to do with the quality of competition. It also doesn't help that star linebacker C.J. Mosley opted out.
3. Will it all fall apart? Maybe the trade of Adams leads to a boost in morale, but things seem treacherous in the New York locker room. I'm just not sure there's enough belief in Adam Gase , and rightfully so.
Now the Jets will have to deal with one of the toughest schedules in the NFL, per my projections — their itinerary includes three trips out west, including back-to-back weeks late in the year. If they start out 0-3 — at Bills, vs. 49ers, at Colts — it could go downhill rapidly for Gase.

I'm selling the Jets this season with an under 7 wins wager.
---
Return to the table of contents
---
Carolina Panthers 
| | |
| --- | --- |
| Super Bowl Odds | +12500 [BET NOW] |
| My Projected Wins | 4.7 |
1. How will the Panthers deal with all of the change? This is not an ideal year to bring in an entirely new coaching staff, a new starting quarterback and potentially up to 10 or 11 new starters.
2. How much will a new scheme help the defense? Last year, the Panthers switched to a 3-4 base defense in order to generate more of a pass rush. They succeeded in generating more pressure but were absolutely dreadful against the run (32nd DVOA). Carolina will now go back to a 4-3 base this year with Kawann Short and rookie Derrick Brown manning an interior that saw plenty of attrition in the offseason.
The new scheme should theoretically help against the run, but replacing Luke Kuechly with Tahir Whitehead in the middle could end in disaster for a unit that will need to replace eight primary starters, including both top performing corners from 2019.
3. Can Teddy Bridgewater win games? Bridgewater has been more than a serviceable backup and has had success as a starter (especially against the spread), but usually for playoff contenders. He can't simply conservatively manage games this year with a subpar roster against one of the toughest projected schedules in the league.
Bridgewater is at least familiar with offensive coordinator Joe Brady and should limit the turnovers that plagued Carolina last year — I personally just don't think Bridgewater is capable of leading this new-look Panthers team to seven wins.

I gladly jumped on this season win total under.
---
Return to the table of contents
---
Cincinnati Bengals 
| | |
| --- | --- |
| Super Bowl Odds | +15000 [BET NOW] |
| My Projected Wins | 4.7 |
1. What can Joe Burrow do in his rookie season? The No. 1 overall pick has the weapons around him to succeed if he can adjust to the speed of the NFL and learn a new system. However, this has to be the toughest summer preparation situation a rookie QB has ever walked into. And it's generally very difficult for a rookie quarterback starter in Week 1 under normal circumstances.
It also doesn't help that the Bengals have no depth at the quarterback position if Burrow struggles early or gets injured.
2. Can the offensive line protect Burrow? Cincy has its quarterback of the future, a solid running back in Joe Mixon and a bevy of talented wide receivers, but the offensive line still looks shaky at best.
Getting Jonah Williams back from injury could help, but he's essentially a rookie starting at left tackle after missing all of last season. Three potential new starters could serve as an upgrade, but it could just as easily end in disaster in a very competitive division. The interior still looks very shaky.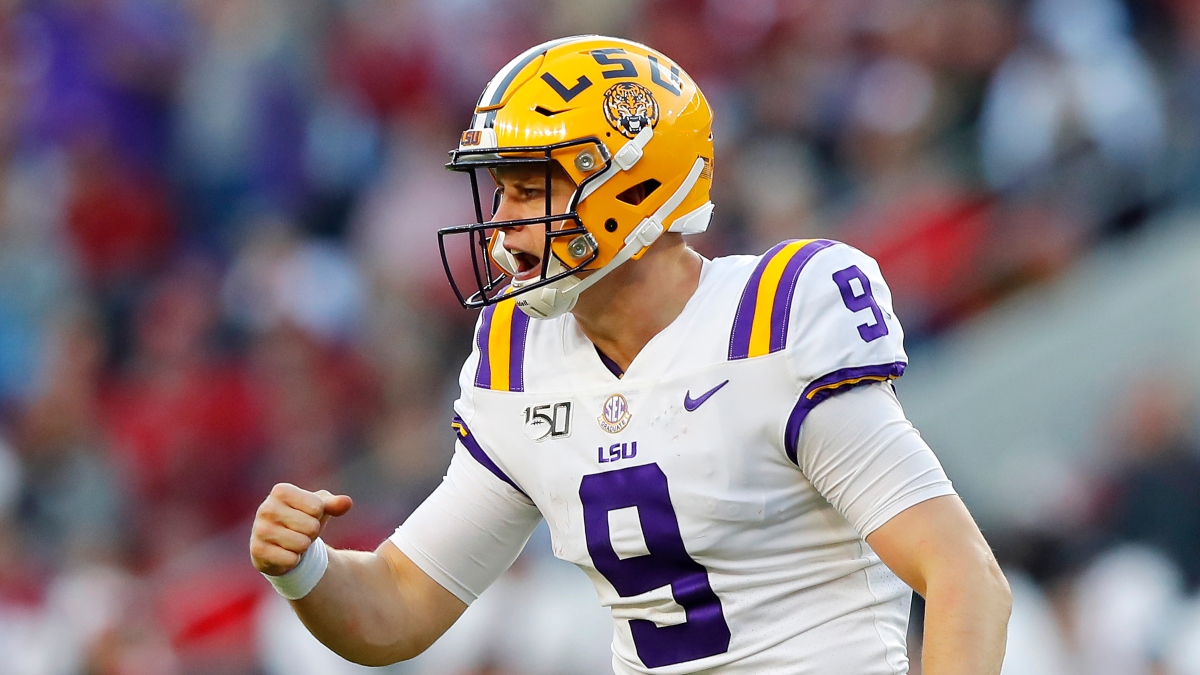 3. Will an almost entirely brand new back seven come together? The defensive line has plenty of potential, especially with the addition of D.J. Reader in the middle to pair with Geno Atkins. However, the back seven of the defense performed miserably in 2019. The linebackers couldn't stop the run or cover in space. The secondary struggled as well.
As a result, the Bengals revamped their linebacker corps with Josh Bynes and a trio of draft picks to add speed to a group that couldn't really do anything right. They also signed three new potential starters in the secondary via free agency. The cornerback position now has a lot of speed but that doesn't automatically translate to results on the field.
I'm a Burrow believer, but more so for the long term.

I'm selling Cincy this year with an under bet on their season wins. I just don't see them getting to 7 wins — even if its luck reverses a year after going an unfathomable 0-7 in one-possession games.
---
Return to the table of contents
---
Washington Football Team
| | |
| --- | --- |
| Super Bowl Odds | +15000 [BET NOW] |
| My Projected Wins | 5.2 |
1. Is Dwayne Haskins the answer? If you have a young true franchise quarterback in today's NFL, you're on the right track. Whether Haskins fits the bill remains to be seen, but he at least showed signs late last year that he could potentially be the guy.
2. Who can help out Haskins besides Terry McLaurin? Even if you believe in Haskins, he just doesn't have much help on paper at the skill positions outside of McLaurin. And it's not like there aren't concerns about both tackle spots. Washington may need the two rookie Antonio's (Gibson and Golden-Gandy) to produce in 2020 for Haskins to have any shot at success.
3. How much can the defensive line dominate? After Washington drafted Chase Young with the No. 2 overall pick, it now has one of the most ferocious defensive lines in the entire NFL. The team now has plenty of horses to fill out one of the most-talented and deepest defensive lines in football as it transitions to a 4-3 base defense.
This unit has the potential to absolutely dominate opposing offensive lines and it may need to do so with all of the questions Washington has at linebacker and defensive back in a brand new defensive scheme.
---
Return to the table of contents
---
Jacksonville Jaguars
| | |
| --- | --- |
| Super Bowl Odds | +17500 [BET NOW] |
| My Projected Wins | 4.4 |
1. Will the rebuilt defense give the Jags a shot? Star pass rusher Yannick Ngakoue, who has posted at least eight sacks in four straight seasons, got his wish and landed in Minnesota. That hurt a defense in complete rebuild mode just two years removed from coming up four points shy of a Super Bowl appearance.
All six defensive Pro Bowlers from that 2017 Jacksonville squad are now no longer with the team. The Jags might need first-round draft pick K'Lavon Chaisson to produce in his rookie year at the edge spot opposite of Josh Allen. It'd also be nice if 2018 first-round draft pick Taven Bryan can finally live up to expectations on the interior after the losses of Calais Campbell and Marcell Dareus.
Jacksonville hopes the addition of middle linebacker Joe Schobert will lead to better communication while moving Myles Jack to a more natural fit on the outside, but this front seven is a far cry from the "Sacksonville" teams of just a few years ago. Head coach Doug Marrone will also look to a pair of rookies – DaVon Hamilton and Shaq Quarterman — to help improve an abysmal run defense.
Those ferocious Jaguar defenses also boasted an elite corner duo. Well, things now look drastically different with both Jalen Ramsey and A.J. Bouye no longer in Duval County.
The youth movement has begun for this rebuilding defense, so all of the attention in 2020 will focus on rookie CJ Henderson, who should start on the outside on Day 1. With Rashaan Melvin opting out, there isn't much depth at the corner spot but if Henderson is ready to roll, there are worse corner trios than him, Tre Herndon and slot D.J. Hayden.
2. Can D.J. Chark get some help? There are question marks all over this roster, especially at the skill positions. Gardner Minshew, who no longer has Leonard Fournette in the backfield, will need help from his receivers not named Chark to get this offense going. It's time for Dede Westbrook and Chris Conley to step up and play more consistent football, while limiting the drops. If neither is fit for the job, the Jaguars better hope Laviska Shenault can produce right away. The upside is certainly there with the talented rookie.
If you believe in Minshew in Jay Gruden's new offensive scheme and the receivers break out, the offensive line has enough potential for this entire group to surprise. I just happen to reside in the camp that doesn't believe most of those things.
3. Will the Jaguars finish with the worst record in the NFL? It's a realistic question for the team with the lowest 2020 win total that appears to be in tank mode after cutting or trading three starters over the past week with Ronnie Harrison as the latest casualty. On the field, more effort and simply cleaning up the missed tackles, dropped passes and sloppy penalties (which were egregious in 2019) will at least make the Jaguars more competitive than we saw late last year but this is still the worst roster in the NFL.
But let's face it: Most Jaguars fans should be looking forward to a quarterback rich draft next year. Having one of the top two picks next year would be quite a consolation prize for this extremely young and inexperienced team[-. That is, unless you believe in Minshew magic.
How would you rate this article?