NFL Week 9 Picks for Every Game: Bets to Make on Seahawks, Bears, Packers, More
Credit:
Photo by Kevin Sabitus/Getty Images. Pictured: Chicago Bears.
Week 9 means we made it to the season's midpoint, and it's our lightest main slate of the year with six teams on bye.
Three of the NFC's best teams sit out in the Cowboys, Giants and 49ers, while we get a merciful break in the AFC from the Broncos, Steelers and Browns.
That leaves a real mixed bag of weekend games — four favorites of more than a touchdown, six toss-up games at three or less, and a few right in the middle.
Let's go around the league and make some picks. As always, we'll make picks for every game. Picks are sorted by confidence level: Bet, Lean, Pass, or Wait.
---
Note: Odds are the best available for each pick as of writing. Shop for the best real-time lines with our NFL odds page.
---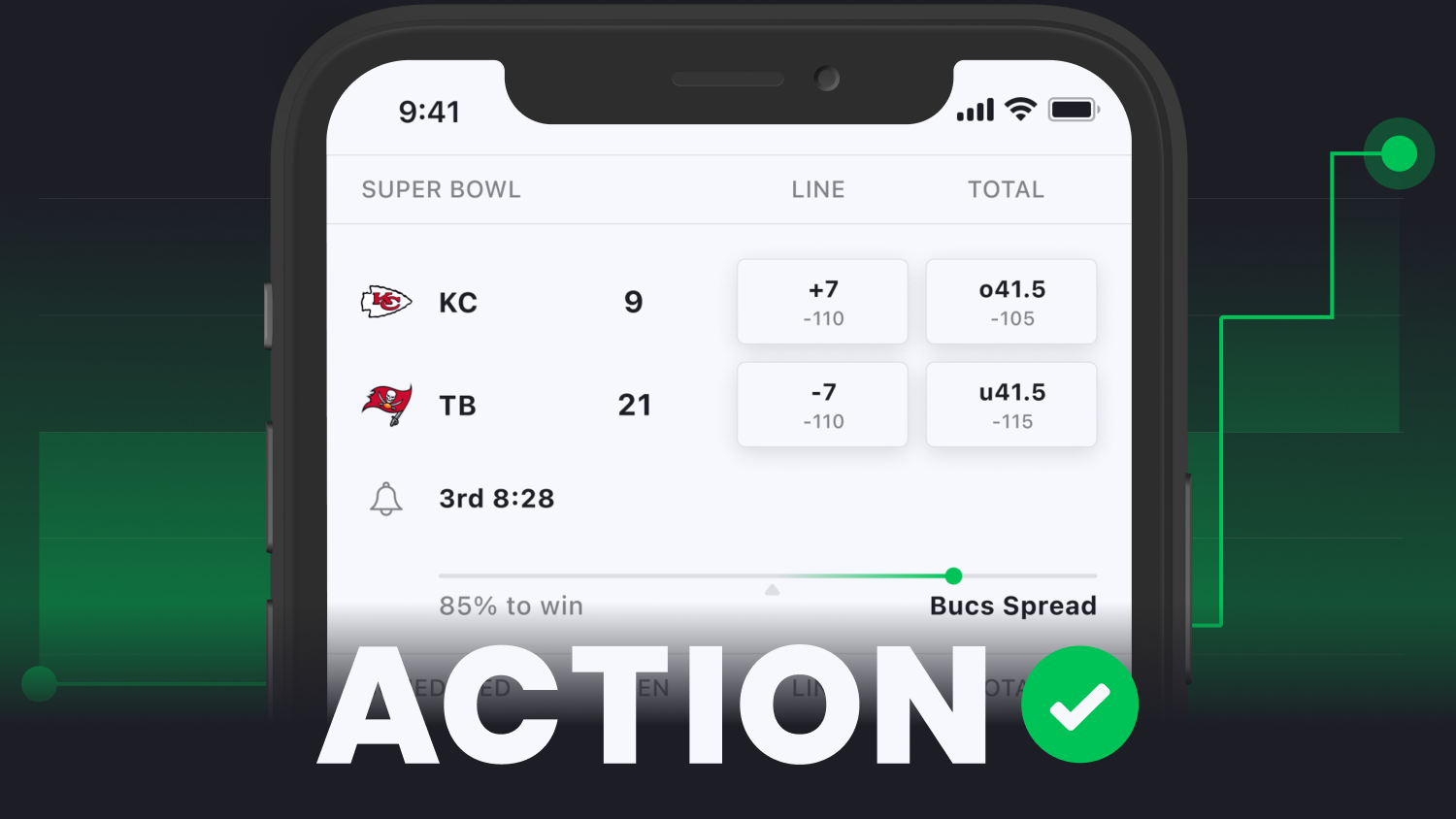 The must-have app for NFL bettors


Free picks from proven pros

Live win probabilities for your bets
THE WAITS
Atlanta's secondary is in shambles with A.J. Terrell, Casey Hayward and Jaylinn Hawkins injured. Terrell and Hayward are the starting corners and the only real strength of the defense; Atlanta was shredded by Joe Burrow and P.J. Walker without them.
As for the Chargers, they're coming off a bye week, but we still need to see how healthy the team actually got. I'm eyeing this spot for Atlanta, but we need to see injury reports for both sides before making a decision.
THE PICK: Wait for injury news on both sides.
Is any receiver more important to his team than Cooper Kupp? The Rams are badly lacking weapons, and Kupp is the only real safety valve for an offense that, frankly, hasn't been any good. Kupp was injured late in L.A.'s loss to the 49ers, and he's so important to this team that we need to wait for news.
I recommended the Under 43 on The Lookahead on Thursday, and that was before both of these offenses laid eggs. The Kupp injury only pushes us further under.
That's probably going to be a better play than the side anyway, and that total is already starting to drop. Grab the under if you haven't.
THE PICK: Wait for Kupp news, but play Under 42.5.
Jeffery Simmons ended up playing in a dominant Tennessee defensive performance, but the Chiefs are not the Texans.
The Titans might need to pass more than once in the second half this week, which means we need to wait and see if the Titans start rookie Malik Willis again, or if they get Ryan Tannehill back — and how healthy he looks.
THE PICK: Wait for Tannehill injury news.
THE PASSES
Minnesota is the better team, but not by as much as  you think. Washington matches up well, with a strong run defense that negates the Vikings' biggest strength and a good defensive front that should pressure Kirk Cousins and make life difficult for the Vikings offense.
If you like Minnesota, you might consider playing just the first half. Its offense ranks third in first-half DVOA versus 27th for Washington, and that gets you below this key number.
The most important factor about this game is Cousins' first return to Washington, and you never really know which direction those emotions will play out. You like that? I don't.
THE PICK: Commanders +3.5 (Pass).
OTHER ANGLES: Lean Vikings 1H -1.5.
Is Ja'Marr Chase really that important to Cincinnati's offense? The Bengals were awful on Monday Night Football, but it was the abysmal pass blocking that was the real problem, and that could be trouble again versus Brian Burns and company.
Carolina has actually played like a competent football team since firing Matt Rhule and installing P.J. Walker at quarterback. The offense ranks 14th in DVOA these last three weeks and continues to run the ball well, and we just saw the Bengals struggle to stop Cleveland's rushing attack.
Carolina's run defense has been stout, so Cincinnati will have to pass. With the problematic blocking and no Chase, that's enough reason to stay away.
THE PICK: Panthers +8 (Pass).
THE LEANS
You could easily argue that this is the best and worst team in the league facing off, so we probably don't need much football analysis here. The Eagles should run all over the Texans' awful run defense, and Houston's offense stands little chance.
The question is whether Houston can cover the large spread. The Texans have only lost by more than 10 once this season, but the Eagles have three wins by 16+ and the short week tends to amplify the difference between teams:
Thursday night favorites of 7+: 39-25 ATS (61%)
Thursday night favorites of 13+: 7-2 ATS (78%)
Thursday non-division favorites of 10+: 14-3 ATS (82%)
Lovie Smith teams on Thursday with a short week of prep: 1-6-1 ATS (14%)
If you follow on the Action Network app, I grabbed Philly -9 on Sunday morning as a bonus Lookahead pick. I prefer the CLV, but still like the Eagles to win comfortably and cover this inflated spread. Philadelphia fans can probably focus on the World Series on Thursday night.
If you prefer to avoid the huge line, the Eagles are 7-0 ATS in the first half, covering by 9.2 PPG and continue to be monsters in the second quarter.
THE PICK: Lean Eagles -13, or pivot to Eagles 1H to avoid a high line.
If the Eagles aren't the best team in the NFL, then the Bills are — but should the Jets really be treated with the same disrespect as the Texans?
It's odd to put these two lines next to one another as good as the Jets have been, especially on defense. Sauce Gardner and D.J. Reed lead an outstanding pass defense, and the Jets actually have the best defense in New York over the past five games, ahead of the Bills at third overall in DVOA.
This line feels like a reaction to how abysmal Zach Wilson was this past Sunday, and he was indeed terrible. But that just further pushes me toward the best angle on this game, which is the under.
Since 2013, games featuring a road favorite of seven or more and a total of at least 44 have gone under at 80-42-2 (66%). Increase the total to 48+ and unders have hit 73% of the time at 48-18-1. As well as both defenses are playing, I love under 48 here.
And if you like an under with a huge line like this, you're also compelled to take the points and the underdog. Buffalo has been terrific as a front runner, especially in the second half, but the Jets defense has been good enough to keep them competitive against a towering spread.
THE PICK: Lean Jets +13.
OTHER ANGLES: Bet Under 48.
The Colts have found yet another scapegoat for their pathetic offense. Last year, it was Carson Wentz. Last week, it was Matt Ryan. Now, it's apparently Marcus Brady, Indy's fired offensive coordinator.
That means Sam Ehlinger will make the first road start of his career with a new offensive coordinator against the greatest defensive coach of all time, which seems bad.
Ehlinger isn't technically a rookie, but this is a good time to remember that Bill Belichick is 24-7 straight up against rookie QBs all-time, including 14-0 at home and 11-3 ATS in those games.
Of course, New England might end up playing a rookie of its own if this Mac Jones disaster path continues. Jones was saved from a horrendous pick-six on a roughing the passer penalty, but he's struggling to find his way and the home fans could call quickly for Bailey Zappe if that continues.
Both defenses have been good, so this screams low-scoring, ugly, and under. New England has the better defense and, even with Jones struggling, the far better offense. The Colts rank last in offensive DVOA, bottom two both passing and rushing, and their offensive line is a big problem against a defense that ranks third pressuring the QB.
This is a brutal situational spot for Ehlinger's road debut against a great coach and defense with zero pass protection. Belichick is 31-10-1 ATS in our Bet Labs system (76%) in games with a total below 40. His team is better setup to hide the quarterback, play defense and let the opponent beat itself.
I think I like the first half play even better. New England ranks second in defensive DVOA in the first half, while the Colts rank 29th (plus dead last on offense). Indianapolis is 0-8 ATS in the first half this season.
THE PICK: Lean Patriots -5.5.
OTHER ANGLES: Bet Patriots 1H -2.5.
Who knows what to make of either of these teams. The Jaguars have a top-10 point differential, but are 2-6 and basically out of the playoffs. The Raiders entered Week 8 fourth in the NFL in EPA per play offensively, then got shut out by Andy Dalton's Saints.
Still, these teams are largely trending in opposite directions. Jacksonville started 2-1 and ranked seventh in offensive DVOA and fifth on defense. The Jaguars rank 30th and 27th, respectively, since then and have lost five straight.
The Raiders aren't winning games, but their offense has improved from 25th to 15th during that same stretch, even including the shutout.
We get one last chance to play our post-London trends since the Jaguars return home on a quick turnaround after playing in England on Sunday.
Opponent team totals are 7-2 to the over in those post-London games, and all nine opponents have tied or led in the fourth quarter against these tired, jet-lagged teams. That bodes well for a Raiders offense that has moved the ball well all year before the shutout.
Back the post-London trends and bet Raiders team total over 23.5. Las Vegas averaged 28.8 PPG its previous five games before the Week 8 calamity, with at least 22 in every game. And if the Raiders score that much and indeed tie or lead in the fourth quarter like every other post-London opponent, we have to like their chances to win, too.
THE PICK: Lean Raiders -1.
OTHER ANGLES: Raiders TT over 23.5.
A 24-0 shutout loss may not have looked great for the Raiders, but it's exactly what the Saints expected from this season. It was the best defensive game of the year for New Orleans, and this team has quietly been a top-10 DVOA squad over the last five weeks, top 12 on both offense and defense.
That Saints result may be buying us precious value on the line here though, dropping it below the key number against an opponent that has been better all year.
The Ravens have the league's best rushing attack despite a faltering passing game, and the defense filled its biggest need with the Roquan Smith trade. Baltimore also has a massive special teams advantage, so that could put it on the front foot all game.
I like the Ravens right from the start. Baltimore has historically been an outstanding first-half team with Lamar Jackson. He's now 36-19-2 ATS (65%) in the first half, and Baltimore's defense has been far better in first halves (eighth in DVOA) this year than second (29th). The Saints fit that same trend. New Orleans' offense ranks 21st or worse in each of the first three quarters. I love the Ravens in the first half.
Beware late, though. Baltimore has already blown three double-digit leads, and the Saints have saved their best for late.
Baltimore ranks last in fourth quarter defense, and New Orleans ranks third-best offensively. I'll try to get my Baltimore money by halftime, then watch for a good spot to bet on the Saints live late.
THE PICK: Lean Ravens -2.5.
OTHER ANGLES: Bet Ravens 1H -0.5.
THE BETS
This pick can hardly come as a surprise at this point. We've been hanging on on Seattle Island for weeks now, and I've already pushed you to back the Seahawks in this spot on The Lookahead and The Hot Read. The line is slowly moving toward a pick'em, but there's still value on Seattle.
The Seahawks are flat out better than the Cardinals at just about everything. Geno Smith continues to play like an elite quarterback while Kyler Murray's metrics are troublesome at best, mostly just scrambling and creating out of nothing.
Seattle's offense has a tough run attack, a pair of big-time receiving threats and an improving line — now the defense has caught up and might be playing even better.
The Seahawks just won three straight games by double digits. Two of those games came against the Giants and Chargers, playoff teams right now, and the third was against these Cardinals.
Arizona scored only three points on offense in that game, turning it over six times with six sacks. Seattle has the league's No. 1 defense over these past three weeks. From Week 4 forward, the Seahawks rank top-six in DVOA on both offense and defense.
Seattle's offense didn't even play that well in the first Arizona matchup, and the Seahawks still won with ease. They should score more easily this game, especially considering how vulnerable the Cards are to explosive pass plays. The presence of DeAndre Hopkins this time around improves Arizona's chances, but not by enough.
The Cardinals rank 31st in play success rate as an offense. In other words, they dig consistent holes on early downs, then rely on Murray to magically extend drives on late downs. Seattle's defense ranks third in DVOA on first downs, and the offense ranks third in play success rate.
The Seahawks do what Arizona doesn't — they use superior coaching to make things easier on players. We back Kliff Kingsbury as an underdog, but fade him as a favorite. Kingsbury is 9-15 ATS (38%) as a favorite, including 1-4 in the division. Pete Carroll, on the other hand, is 45-28-3 ATS (62%) as an underdog, 18-10 in the division (64%). Geno is profitable as a dog too at 17-10-2 ATS (63%).
Arizona will play at home, but that hasn't helped much lately either. The Cards have won one of their last nine home games in the rivalry, going 2-6-1 ATS and failing to cover by 9.2 PPG over that stretch.
I can't figure out why Arizona is favored here, or why a team playing great football on both sides of the ball is an underdog against an opponent it just beat soundly less than a month ago.
I'm not sure Seattle will be an underdog when this one kicks off. I'll happily head back to Seahawks Island for a cover and a moneyline bet at any plus number.
THE PICK: Bet Seahawks +2 and ML +115.
This Packers season hasn't exactly gone according to plan. They bounced back from an ugly opener to win three straight, but then lost four in a row and are at risk of missing the postseason altogether.
That makes this the perfect spot to buy low on Green Bay.
The last month was supposed to be a soft stretch, but that was before we learned how good both East divisions are. The Packers are 0-5 against teams at or above .500, but they're also 3-0 against teams below .500, and that's extremely what the Lions are.
Detroit has the worst defense in football. They rank last in Defensive DVOA, last against the pass and third-to-last against the run. As disappointing as Green Bay's attack has been, it still ranks in the top 10 both rushing and passing. The Packers should shred the Lions, like they always do.
The Lions offense has been better at home and should run on this porous Green Bay run D. But the difference is the passing attacks. Even a neutered Aaron Rodgers is galaxies better than Jared Goff, and Green Bay's pass defense is terrific while Detroit's is the worst in the league.
This is exactly where you want to back Aaron Rodgers:
Rodgers as a division favorite: 43-24 ATS (64%)
Rodgers as a one-score favorite: 58-32-1 ATS (64%)
Rodgers as a one-score division favorite: 25-12 ATS (68%)
Rodgers as a one-score favorite against Detroit: 8-3 ATS (73%)
Rodgers after a loss: 41-23-1 ATS (64%)
Rodgers after a loss under Matt LaFleur: 11-2 ATS (85%)
Even in this down year, Rodgers and LaFleur are 2-2 ATS after a loss, not bad considering how disastrous the season feels.
You don't have to believe the Packers are going to win the Super Bowl or even make the playoffs to make this bet. You just have to believe they're better than the Lions.
THE PICK: Bet Packers -3.
The Dolphins are flying high.
Miami went all-in on this season at the Trade Deadline, adding star pass rusher Bradley Chubb and RB Jeff Wilson.
Miami is now 5-0 when Tua Tagovailoa plays a majority of the snaps. The Dolphins have the league's best passing attack in those games, with Tyreek Hill and Jaylen Waddle exhausting opponents with blinding, endless speed.
The Bears are going the other way, tearing it down and selling off pieces. Last week it was Robert Quinn, this week Roquan Smith. Chicago now ranks last in my defensive matrix by talent. The Bears are looking to the future.
Only a fool would back the tanking Bears against the red-hot Dolphins … which is exactly why we're going to.
Dig a little deeper and you find some cracks in the veneer. Chicago's defense has been awful against the run, but league average against the pass and pretty good at limiting explosive passing plays. That's a good formula against a Miami team that doesn't run well or move the chains conventionally. The Dolphins also haven't gotten much pressure on opposing QBs, so unless Chubb changes that overnight, that lets Chicago's awful O-line off the hook.
Suddenly, Justin Fields looks like he might be the best QB from his draft class. Chicago is unleashing him on designed runs, and Miami's defense has struggled against mobile quarterbacks. The defense has been especially porous on the road. Miami's defense ranks 10th in DVOA at home but last on the road, and they looked the part in Detroit last week, allowing at least 27 points for the fourth time this year.
Chicago is on the other end of the spectrum. Their defense ranks second-to-last on the road but are seventh-best at home. The defense also ranks last in first halves but sixth-best in the second, when Miami tends to wear opponents out and play its best. The Bears also have a top-three special teams while the Dolphins have been a disaster on that end, worst in the NFL.
Chicago has the profile of a team that should push the Dolphins all the way. The Bears have scored 33 and 29 points the past two weeks and are starting to find their way with Fields.
This is the exact sort of underdog that has been smashing all season.
Underdogs between three and 10 points are now 41-21 ATS on the season, covering 66% of the time with a winning record all but last week. Those teams are 25-36-1 straight up with a 26% ROI on the moneyline.
Those underdog cover rates are even stronger with a total at 47 or below (30-12 ATS, 71%), in games with teams that both missed last year's playoffs (19-5 ATS, 79%), and games with less than half the bets on the underdog (30-9 ATS, 77%).
Miami is cruising and adding pieces. The Bears are selling off parts. It wouldn't make any sense for the Dolphins to stumble in Chicago. But the NFL hasn't made much sense this season.
I'm backing the Bears, though I may wait and hope we can get to +6 as this line creeps up. I'll sprinkle the moneyline, too. Moneyline underdogs of +180 or longer are 16-24-1 this fall with a 34% ROI.
THE PICK: Bet Bears +5.5 and sprinkle ML +190, though you may want to wait for the best number as the line rises.
How would you rate this article?
This site contains commercial content. We may be compensated for the links provided on this page. The content on this page is for informational purposes only. Action Network makes no representation or warranty as to the accuracy of the information given or the outcome of any game or event.