NFL Win Totals: Ravens, Jets, Bengals Are The Best AFC Bets For 2020
Credit:
Scott Taetsch via Getty Images. Pictured: Marlon Humphrey and Marcus Peters
The AFC landscape looks pretty straightforward at the top and bottom.
Most agree the Ravens and Chiefs are the class of not only the conference, but of the entire NFL — I have them with identical power ratings headed into the season. Their Week 3 matchup in Baltimore should be must-see TV and could determine which team ultimately ends up with the highly-coveted bye week, which only the top seed in each conference now receives under the expanded playoff format.
I rate the Bills as the third-best team in the AFC, but still make Buffalo about a 5-point underdog on a neutral field against both Baltimore and Kansas City.
On the other end of the spectrum, the Jaguars and Bengals appear to have the worst rosters in the conference. I'm also low on the Jets and Dolphins, but they're each a step above the basement headed into Week 1.
That leaves nine teams in a colossal cluster in the middle — I have that group all separated by less than a field goal on a neutral field. To me, figuring out which teams will exceed and which will come up short of expectations is where all the offseason intrigue lies in the AFC. That group also features two teams with high upside worth taking a look at in the Super Bowl futures market, which I explain here.
After projecting my win totals for each team, four triggered my threshold for value. I ended up investing in the following three. (I'll explain why I left off the fourth later.)
NFL Win Totals
---
Odds as of July 23 and via various sportsbooks. Find offers and reviews for the best online sportsbooks here.
---
Cincinnati Bengals Under 5.5 Wins
Taking the under on an NFL win total the year after a team went a disappointing 2-14 is usually not my style — especially when you consider that the Bengals had a number of close losses, finishing the year 0-8 in one-possession games.
However, I'm projecting their win total at 4.7, so there's simply too much value to pass up.
The Bengals not only have to face the Ravens twice, but the AFC North should improve overall with Ben Roethlisberger back under center for Pittsburgh and the coaching upgrades in Cleveland.
With coronavirus impacting offseason preparation and reducing the preseason, teams with new schemes, staffs and/or quarterbacks will all struggle early and for longer than a typical season. While the Bengals have continuity on the staff, they will have a new QB in Joe Burrow, who will need to learn an entirely new offensive system and adjust to NFL defenses. That's a nightmare summer scenario for any rookie QB.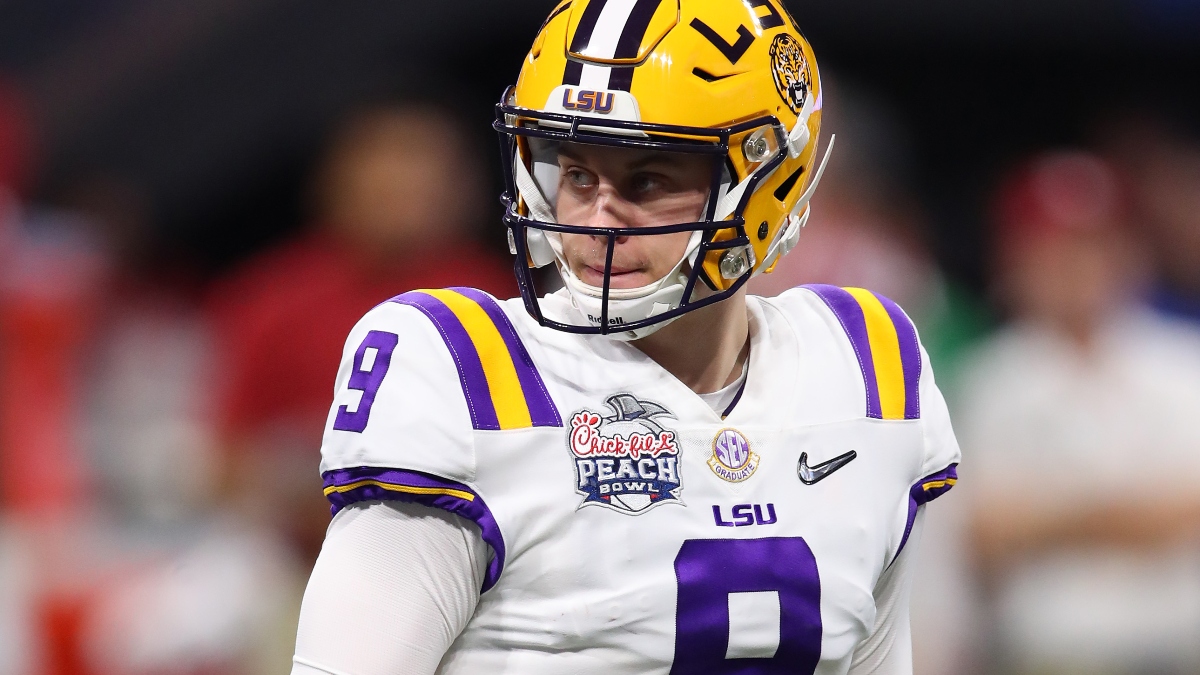 While Burrow will have the luxury of a deep and talented receiving corps — especially with the addition of Tee Higgins and the return of A.J. Green — major questions surround the offensive line. The Bengals could benefit from the services of 2019 first-round pick Jonah Williams, but since he missed all of last season due to injury, they're essentially breaking in a rookie tackle on Burrow's blindside.
It's also worth pointing out the lack of their QB depth. If Burrow gets hurt or struggles in his rookie campaign, the alternative is Ryan Finley, who looked lost in limited action last year.
On the other side of the ball, Cincy will have to deal with plenty of roster turnover, which isn't ideal with the aforementioned challenges of this season.
The defensive line has potential with the addition of D.J. Reader in the middle to pair with a still-effective but aging Geno Atkins. However, I'm not a fan of the Bengals' linebackers or secondary. Yes, they got younger and faster at corner, but I was underwhelmed by their offseason additions in the back seven.
It's also possible the bottom-feeders of the NFL could have more difficulty picking up cheap wins late in the season with more teams in playoff contention with the new expanded 14-team format.
I'm a Joe Burrow believer and he should have a successful career, but I don't see him leading Cincy to seven wins as a rookie with serious questions on both sides of the ball in such a grueling division. This could be an intriguing team in the near future if Burrow is a home run, but I'll fade the Bengals in 2020.
As always, make sure you shop around for the best line. The Under 5.5 (+125) at FanDuel is the best line as of writing, but you should be able to find Under 6 (-120) — it's worth the extra 45 cents if you can find the latter. Plus, you get a push at six wins instead of a loss.
Baltimore Ravens Over 11 Wins
This win total obviously has some correlation with the Cincy under since I'm lower than the market on the Bengals, who the Ravens face twice. But in addition to the numerical discrepancy, I fancy this over for a handful of qualitative reasons.
The Ravens check all of the boxes I'm valuing more than usual in such an unprecedented summer. They have depth, coaching and roster stability, plus an effective returning starter at quarterback.
Replacing Marshal Yanda in the interior of the offensive line is a concern, but it helps to have two stud bookends at both tackle spots. Baltimore also added some nice skill-position depth pieces in the draft who should contribute immediately.
The offense should have no issues putting up plenty of points once again. But it's the defense that I believe will take the biggest stride forward.
I loved the addition of Marcus Peters right from the jump midway through last season. I assumed he would thrive on the outside in Wink Martingale's heavy pressure defense. He and Marlon Humphrey give the Ravens two of the top pure cover cornerbacks in the NFL — a blessing in today's game. Plus, with slot Tavon Young back from injury, both can stick to the outside in their more natural positions — something Humphrey couldn't do with Jimmy Smith on the field last year. (Smith should get most of his snaps at safety in 2020.)
In 2019, the Ravens compensated for some of their defensive weaknesses up front with scheme. They were the NFL's heaviest-blitzing team by a wide margin. You can still expect ultra-aggressive play-calling, but it won't be as necessary — Baltimore significantly upgraded its defensive line with the additions of Derek Wolfe and the age-defying Calais Campbell.
Justin Madubuike was also a steal in the third-round of the draft. He provides much-needed explosiveness in the interior and will allow the Ravens to generate pressure with more even-man fronts without having to blitz — something they struggled to do last season. Throw in first-round draft pick and projected Day 1 starter, linebacker Patrick Queen, and this is a top-five defense on paper.
Strength of schedule usually gets completely overblown by pundits. Looking at prior year records to determine NFL schedule difficulty is an exercise in futility. That said, travel logistics in this particular season with so much uncertainty surrounding coronavirus could have a critical impact.
Fortunately for the Ravens, they have one of the friendliest road schedules imaginable. Just take a look at the cities they'll travel to in 2020:
Philadelphia
Washington
Pittsburgh
Cleveland
Cincinnati
Foxborough
Indianapolis
Houston
They basically just hang out on I-95 all season. Houston is the only taxing trip with no other excursions down south and nothing out west. The schedule contains the fewest miles traveled since the 2016 Steelers, who went to that season's AFC Championship Game.
Baltimore has also been outstanding under John Harbaugh with extra time to prepare for an opponent. This year, he'll have additional prep time for two key road games at Cleveland and Indianapolis.
And of course, I can't mention the Ravens without bringing up special teams. They should excel in this phase again led by Mr. Automatic, Justin Tucker, the best kicker in NFL history.
I project the Ravens — who should be favored in all 16 games barring injury — to win 12.2 games, so I'll gladly invest in over 11 wins.
New York Jets Under 7 Wins
My final two edges in the AFC were two AFC East unders with the Jets and Patriots. I had identical discrepancies between their posted win totals and my numbers, but I have to give the Patriots an extra bump just for Bill Belichick, the anti-Adam Gase.
It was an easy decision to pass on the Patriots' win total and roll with the Jets under.
I know the Jets finished 6-2 last season to get to 7-9, but don't fall for the smoke and mirrors. Just take a look at the six teams they beat:
Raiders
Dolphins
Steelers
Bills
A whole bunch of close wins against bad teams and the Bills backups in Week 17.
The Jets have continuity with their coaching staff and at quarterback, but I'm not a fan of Gase and am lower than most on Sam Darnold. And while they revamped their offensive line, none of the moves wowed me. I also have serious questions about left tackle Mekhi Becton's pass-blocking in his rookie year. The lack of continuity along the offensive line could be problematic early on with reduced preparation time this summer.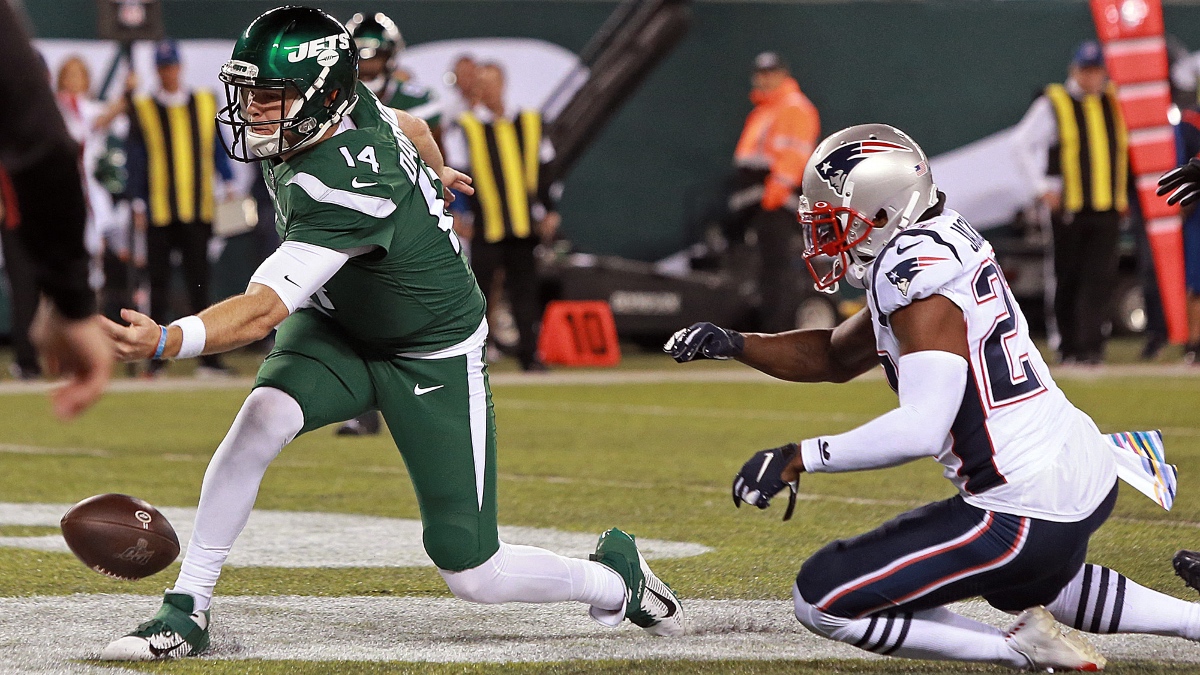 Despite a plethora of injuries, the defense did perform very well last year under the tutelage of Gregg Williams, but it benefited from an extremely-favorable pass offense schedule. Getting a presumably healthy C.J. Mosley back should help at linebacker and Williams does have a ton of depth up front to work with in his blitz-heavy defense. However, this team just couldn't generate much pressure last year despite blitzing at a top-five clip.
The Jets also don't have a shutdown corner and I don't love the scheme fit for CB Pierre Desir. The safety position is rock solid, assuming Jamal Adams stays and plays, but the lack of pass rush and underwhelming corner group has me lower on the defense than most.
The Jets likely won't enjoy as easy of a path as they did last season. Per my preseason power ratings, they have one of the three hardest schedules in the AFC — two of their first three games and three of their final four are away from home. They also have to make three road trips to the west coast, including two in back-to-back weeks late in the year against the Seahawks and Rams. The Jets' other two non-division road games are against the Chiefs and Colts.
That's just not an ideal itinerary in this particular season. Plus, they start at Buffalo before playing the San Francisco at home then heading to Indianapolis. For a team that seems to be dealing with some offseason dysfunction, things could unravel fast if the Jets stumble out of the gate.
I'm not a believer in Adam Gase. I'm not a Sam Darnold truther. And I hate that the defense lacks both a shutdown corner and dominant edge rusher in today's NFL. Throw in an unfriendly schedule structure, and I'm selling Gang Green. I personally make the number 5.8, so give me under 7 wins at -140 or better.
How would you rate this article?