Orlando Apollos-San Antonio Commanders AAF Betting Guide: Is Orlando Overvalued?
Credit:
Courtesy of @aafAPOLLOS/Twitter. Pictured: OIrlando QB Garrett Gilbert
Betting Odds: Orlando Apollos at San Antonio Commanders
Spread: Orlando -6
Over/Under: 44
Time: 4 p.m. ET on Sunday
TV: CBS Sports Network
Betting market: The Apollos opened as 6.5-point favorites, so some money appears to have come in on the Commanders.
The over/under has dropped 1.5 points since its open, which is somewhat surprising considering this is pretty much the week's only matchup with two competent quarterbacks.
Week 1 Takeaways
Orlando's 40-6 Win Over Atlanta
Steve Spurrier showed off a surprisingly efficient offense during the Apollos' blowout victory. Garrett Gilbert's efficient excellence (9.1 Y/A and two TDs with zero INT) was buoyed by a steady dose of pick plays and high efficient crossing patterns, although he also demonstrated the ability to beat secondaries down the field with touchdown passes of 26 and 33 yards.
Akeem Hunt (10 carries, five targets), De'Veon Smith (five carries, one target) and D'Ernest Johnson (five carries, one target) seem poised to form a three-back committee for a potentially high-scoring Apollos offense.
Orlando might have the best one-two punch at receiver in the league between former NFLers Charles Johnson (4-60-0) and Jalin Marshall (3-51-1).
San Antonio's 15-6 Win Over San Diego
Logan Woodside beat out Dustin Vaughan for the starting job and proceeded to finish with a respectable 225 yards while averaging 7.1 yards per attempt. His two interceptions and mediocre 50% completion rate weren't positives, but he did have a touchdown dropped and dealt with some miscommunication.
The Commanders also utilized a three-headed committee featuring Kenneth Farrow (14 carries, zero targets), David Cobb (nine carries, three targets) and Aaron Green (six carries, one target). Green showed off his 96th-percentile agility score (per PlayerProfiler) on his way to averaging a team-high 7.2 yards per rush including a ridiculous 5.2 yards per rush after contact.
Mekale McKay (12 targets) was the only player to reach double-digit targets last week, and he managed to catch five of them for 80 scoreless-yards. Greg Ward Jr. (nine targets) and Alonzo Moore (five targets) filled out 3-WR sets. Moore is the field-stretcher and averaged 4.88 yards per route run in Week 1 — the second-highest mark among all wide receivers.
Key matchup: Orlando's WRs vs. San Antonio's secondary
Let me be the first to introduce you to the AAF's single best nickname courtesy of the San Antonio secondary: Area 51.
Area 51 racked up three interceptions against Mike Martz and Co. last week and the front seven tallied a week-high nine quarterback hits. Cornerbacks De'Vante Bausby (47 yards allowed on eight targets) and Zack Sanchez (20 yards allowed on six targets) in particular were impressive.
They'll need an encore performance in Week 2 to help slow down Marshall and Johnson, who graded out as Pro Football Focus' No. 6 and No. 7 overall receivers, respectively, after one week of action.
Which team is healthier? Apollos
Orlando placed receiver and returner Marvin Bracy-Williams Jr. (forearm) and linebacker Jacob Pugh III (neck) on the injured reserve list.
Meanwhile, San Antonio had five players who started the week without a full practice. Tight end Cole Hunt (knee), running back Trey Williams (foot) and cornerback Duke Thomas (thigh) were unable to practice while offensive lineman Fred Lauina (knee) and safety Orion Stewart (back) were limited. The latter two players were able to return to a full practice on Thursday and appear positioned to suit up come game time.
DFS edge: Greg Ward
PFF graded the San Antonio offense as the league's second-best passing offense in Week 1 even though the Commanders scored only 15 points. A big reason could be a group of receivers that looks like the league's best unit.
Ward stood out as someone the offense is trying to get the ball to. Overall, the former collegiate quarterback caught 5-of-9 targets for 65 scoreless-yards, but also had a rush attempt, threw a pass and was the punt returner.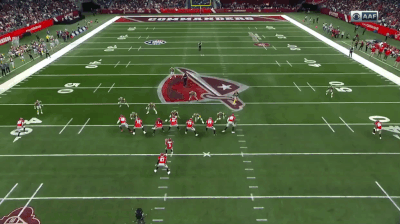 McKay ($6,800) finished with the most targets in Week 1, so pivot off the popular one-week sample by scooping Ward at $5,600.
Bets to watch: San Antonio +6.5; Over 44
I agree whole heartily with Koerner's favorite bet this week: San Antonio +6.5.
Here was the Oddsmaker's argument:
"I figured Orlando would be a slight road favorite in the -2.5 range, but nearly a touchdown favorite is too much. The Apollos are clearly the second-best team in the league, just behind Arizona. However, San Antonio is no pushover and likely a .500 or better team.
"Both of these teams were very close in odds to win the championship and regular-season win totals heading into the season, so it's remarkable to see this much of a jump in power ratings after one game."
I also like the over in what could be the week's only matchup with two above-average signal callers.
How would you rate this article?