Titans vs. Ravens Odds & Playoff Picks: Debating How To Bet This Wild Card Spread & Total
Credit:
Getty Images. Pictured: Lamar Jackson, Derrick Henry
Ready for Sunday of Wild Card Weekend? Our staff breaks down how they're betting the NFL playoff matchup between the Ravens and Titans.
They outline cases for both sides of the 3.5-point spread as well as the over and under of the 54.5-point total.
Find their picks and arguments below in our comprehensive breakdown of Sunday's game.
Titans vs. Ravens Odds
Titans Odds

+3.5

Ravens Odds

-3.5

Total

54.5

Time

1:05 p.m. ET

Day

Sunday

Odds as of Saturday via BetMGM, where you can win $100 if there's a touchdown in Ravens-Titans.
The 4-seeded Tennessee Titans host the 5-seeded Baltimore Ravens to kick off Sunday of Wild Card Weekend.
Find our comprehensive betting preview below, featuring the following (click a bullet point to skip ahead):
Ravens vs. Titans Picks
Our staff details how they're betting Sunday's game. Click on a pick below to skip ahead to that analysis.
Titans Spread
Koerner: Ryan Tannehill proved that 2019 wasn't a fluke by posting the second-best expected points added per play rate among all quarterbacks in 2020.
He's thrived in a Titans system that leans on Derrick Henry and play-action. It's unlikely that their 29th-ranked defense will be able to stop Lamar Jackson and the Ravens, but the Titans' explosive offense will give them a chance to win in any game script (leading or trailing).
Their last two meetings against Baltimore prove that:
Week 11: Titans trailed 13-21 heading into fourth quarterback, then came back to win 30-24 in overtime.
2019 playoffs: Titans dominated all four quarters to win 28-12.
This should be a high-scoring game that could come down to a field goal attempt on either side. I like the idea of getting the +3.5 here but would not bet it at anything lower.
Anderson: This is the game I'll be looking forward to all weekend. It could be our best and most unpredictable matchup.
I loved this Ravens team a year ago and finally, after waiting all year, they've looked like the Ravens again down the final stretch of the season. But I worry that it might be fool's gold. They looked great against an easy schedule down the stretch, but we already knew they could throttle bad teams. And there are no bad teams left in the AFC playoff picture for them to throttle, so that's not really relevant.
I still don't trust Baltimore's passing game, on either side of the ball. I don't trust Jackson yet if the script is not in his favor, and I don't trust a leaky secondary that's given up some big plays and is also playing through injuries.
The Ravens and Titans are extremely flawed teams that can hit the highest highs or lay down completely. I could absolutely see either beating the Chiefs if they get an opportunity. Both can dominate as front runners by running the football and keeping Patrick Mahomes off the field, and both play playoff football the way we remember it.
But the Ravens have never shown they can play from behind and the Titans have no defense.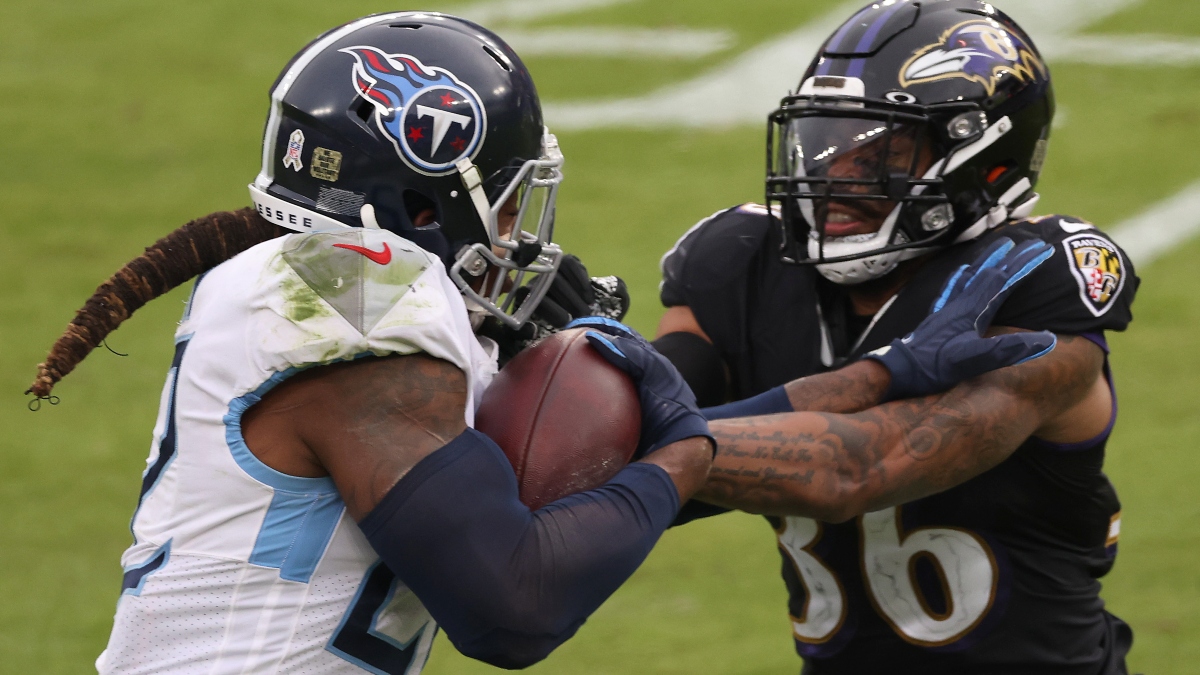 So what about this game? The Ravens secondary is exploitable if the pass rush doesn't get home, and they're especially vulnerable down the field. That's exactly what I fear against a Titans team that is absolutely lethal in playaction, dialing up the deep ball to A.J. Brown or Corey Davis, both of whom can beat Ravens secondary. And unlike the Ravens, the Titans have the passing game to play from behind, if they script doesn't go their way early.
These teams played earlier this year and the game went to overtime. And, lest you forget, the Titans went to Baltimore and won 28-12 in last year's playoffs in a mistake-riddled Ravens game. Tennessee is at home this time, and these teams have an ugly history, with the underdog winning often.
Three times this century, they've met in the playoffs with one team as the 1-seed and the underdog won all three. That's not the case here, but Mike Vrabel and the Titans will be fired up and ready, and you better believe they'll be pissed they were labeled underdogs here.
This looks like a dog fight to me, and a true toss-up. When the game opened at Baltimore -3, it was a stay away for me, because I do think the Ravens are slightly better. But at 3.5, I have to play the Titans to keep this close. They're being overlooked because of a bad defense, but the Ravens are not built to put up a huge number, and the Titans also have the exact sort of offense to grind out playoff wins and keep their leaky defense off the field.
Ravens Spread
Palmer: This line is interesting to say the least.
There's been a lot said about the lack of home-field advantage in the NFL this season, and yet the line for their Week 11 matchup in Baltimore is completely different from the line for Sunday's matchup in Nashville. The Ravens closed as 6-point favorites in that first meeting against the Titans. Now Baltimore is favored by three points.
You have to wonder whether we saw anything between Weeks 11 and 17 that warrants a drastic three-point difference.
Personally, I didn't.
The Ravens had a midseason slump and lost three straight games, but still managed to recover despite a COVID-19 outbreak that could have decimated their season. They've made a living over the past five weeks beating up on bad defenses, and the Titans are the definition of a bad defense.
As long as the Ravens don't turn the ball over, I expect them to be able to do whatever they want offensively. And with the key returns of Calais Campbell, Brandon Williams and Jimmy Smith, we should see a different Ravens defense than we saw in Week 11.
My projections make this Ravens -5.8, so I'll lay the points and look for Jackson to get the first playoff win of his career. This is actually a game in which I expect the Ravens to win by a touchdown or more, so if you have some gamble in you, you can sell points for an additional payout.
Nonetheless, you should have positive expected value laying three points with the Ravens.
Over
Freedman: I normally don't bet the over on outdoor postseason games, but I must make an exception here.
With Ryan Tannehill and Derrick Henry, the Titans have an explosive offense that can score in a hurry — and they're absolutely awful on defense, where they rank No. 29 with an 11.1% mark in Football Outsiders' DVOA.
That combination causes a lot of overs.
In Tannehill's 29 starts with the Titans, the over is 22-6-1 (53% ROI, including postseason).


And at Nissan Stadium in Nashville, the Tannehill over is 11-2-1 (62.2% ROI).
Under
Stuckey: Playing a Titans under is very scary — they've been an absolute over machine since Tannehill took over at quarterback.
That said, I see value in this under down to 54 (shop real-time lines here).
The Ravens will be able to sustain drives and chew up the clock in the process. However, I don't think it will be as easy as most think. The Titans' run defense has been much better than the pass defense, and they've seen this unique Ravens offense twice over the past 12 months. That experience should pay off, especially since I still have many questions about the Ravens' passing attack.
The Baltimore defense should also show up here. Tennessee's offense has been tremendous by every metric, but the Titans benefited from one of the easiest schedules of opposing defenses in the NFL. Their numbers are also a bit inflated due to other circumstances, such as oodles of garbage-time points against the Browns, playing the Bills before their defensive resurgence and facing the Ravens without two of their best defensive lineman.
I don't think the Titans offense is invincible by any stretch of the imagination.
Ravens 1H -2.5
Arinze: After a string of three losses in mid-November, the Ravens found themselves outside the playoff picture, but they managed to regroup and find their groove again by rattling off five straight wins.
On Super Wild Card Weekend, they'll get a chance to avenge one of those losses in their rematch with the Titans. In Week 11, Tennessee trailed Baltimore by 11 points in the second half but rallied back to tie the game before winning it in overtime.
I generally prefer teams with a defensive profile in the playoffs, and of these two teams, the Ravens are the only team that fits that description. Baltimore ranks ninth in defensive DVOA while Tennessee is ranked 29th in the league.
The biggest thing to keep an eye on in this game will be how both teams perform on third down. Per TeamRankings, Baltimore is ranked fourth in third-down conversion (48.79%) while Tennessee is fifth (46.15%). But on defense, Baltimore is second in opponent third-down conversion (34.03%) while Tennessee is dead last in the NFL at 51.87%.
Third down is where this game will be won or lost.
The Ravens are known to bully teams, but it's because they often get off to a fast start. That credit goes to their coaching staff as they do a tremendous job of getting their players' attention and having them ready to play.
With John Harbaugh as their coach, Baltimore is +28.77 units in the first half, and they've covered the first half in their last seven games.


FanDuel lists the Ravens as 2.5-point first-half favorites. I like their chances to make it eight straight covers on Sunday.
---
Most Valuable Ravens-Titans Players
Our Director of Predictive Analytics, Sean Koerner, highlights the five most valuable players for both teams based on how many points they're worth to the spread.
| Most Valuable Titans Players | Worth |
| --- | --- |
| QB Ryan Tannehill | 4.74 |
| WR A.J. Brown | 0.84 |
| RB Derrick Henry | 0.64 |
| WR Corey Davis | 0.56 |
| DT Jeffrey Simmons | 0.33 |
Ryan Tannehill (+4.74) proved that 2019 wasn't a fluke — he's the very reason that the Titans overcame poor defensive play to make the playoffs.
The Titans would love to give Derrick Henry (+0.64) 25-plus carries and set up play-action passes to A.J. Brown (+0.84), but their defense (18th in DVOA) doesn't afford them comfortable leads.
The Titans generate the NFL's lowest pressure rate (16.7%), putting a ton of pressure on a secondary that's been without Adoree' Jackson (+0.21) for the first 14 games this season. His return could help stop the bleeding a bit.
Jadeveon Clowney's (+0.36) season-ending injury played a role in the defense falling apart in the second half of the season.
| Most Valuable Ravens Players | Worth |
| --- | --- |
| QB Lamar Jackson | 4.45 |
| CB Marlon Humphrey | 0.43 |
| TE Mark Andrews | 0.42 |
| OT Ronnie Stanley | 0.29 |
| CB Marcus Peters | 0.28 |
Lamar Jackson is among the NFL's more valuable quarterbacks in the league, but struggles when playing from behind. It will be critical for the defense to be in top form to prevent a trailing game script.
Cornerbacks Marlon Humphrey (+0.43), Jimmy Smith (+0.17) and Marcus Peters (+0.28) are all banged-up. Their health will be critical for the Ravens.
Calais Campbell's (+0.26) calf injury has limited his playing time since Week 5 in the 30-50% range in addition to the four games he missed. If he were healthy enough to return to a normal 75% snap count, it would boost the Ravens' rating by about 0.2 points.
The Ravens lost Marshal Yanda (+0.37) to retirement and Ronnie Stanley (+0.3) and Nick Boyle (+.1) to season-ending injuries. Considering the Ravens run the ball at the highest rate in the NFL, it's fair to wonder if these key losses to their run-blocking will be their downfall in the playoffs.
---
Ravens-Titans WR/CB Matchups
Wide receiver vs. cornerback matchups might be the most important individual matchups in football. Read senior NFL analyst Matthew Freedman's breakdown of the expected matchups this Sunday.
| WR | CB | Designation |
| --- | --- | --- |
| A.J. Brown | Jimmy Smith | Large downgrade |
| Corey Davis | Marcus Peters | Moderate downgrade |
| Cameron Batson | Marlon Humphrey | Large downgrade |
| Marquise Brown | Adoree' Jackson | Small downgrade |
| Miles Boykin | Malcolm Butler | Small upgrade |
| Willie Snead | Desmond King | Small upgrade |
How would you rate this article?