Koerner's Week 8 Fantasy Football RB Tiers: Why James White Is a RB1 With Sony Michel Injured
Credit:
Quinn Harris-USA TODAY Sports Pictured: New England Patriots running back James White (28) and wide receiver Chris Hogan (15)
Sean Koerner -- the No. 1 in-season fantasy football ranker in 2015, 2016 and 2017 -- takes a detailed look at his Week 8 running back tiers.
Use the strategies outlined below to build the most optimal starting lineup for your fantasy football team.
Below you'll find my running back tiers for Week 8 fantasy football. These are based on standard scoring.
As a reminder, these tiers are not updated after publication. If you want my most up-to-date rankings for PPR, Standard and Half-Point PPR leagues, check out this post.
And, yes, my tiers will be part of our Action Network subscription this season. Be sure to check out everything that comes with a sub here.
---
Koerner's Running Back Tiers
Based on standard scoring; +/- indicates how many Tiers up/down each player would move in a PPR format.
Tier 1
Todd Gurley (vs. GB)
Gurley, who's projected to score four more points than anyone in the next tier, is the single most valuable player in fantasy this year. Like I mentioned in last week's Tiers, Gurley owners should be rooting for the Rams to lose some games. If the Rams have the No. 1 seed wrapped up, it's possible Gurley will be limited in Week 16 (Championship week).
One saving grace: He's going for a record or two, and they could keep playing him until he breaks them.
Tier 2
James Conner (vs. CLE)
Saquon Barkley (vs. WAS)
Kareem Hunt (vs. DEN)
We get another week of James Conner being an elite RB1 with Le'Veon Bell still yet to report to the Steelers. Before the season started, I recommended to avoid drafting a kicker/defense if league rules allow and snag guys such as James Conner and/or Chris Ivory as last-round fliers who could begin the season as their team's workhorse back.
Conner's ROI% has been league-winning to this point, as most teams that have him are likely playoff bound. I'm not going to sell him for peanuts with Bell possibly returning soon. I'm riding this wave as long as I can.
Tier 3
Joe Mixon (vs. TB)
James White (@ BUF) +1
David Johnson (vs. SF)
Sony Michel is set to miss Week 8, which means we will likely see James White get all the touches he can handle this week. While I don't think White can handle much more than 10 carries, the Patriots will likely use him even more with screen- asses to be an extension of the running game. He's an RB1 even in standard formats this week.
The Cardinals fired offensive coordinator Mike McCoy after the Thursday Night Football disaster against the Broncos. New coordinator Byron Leftwich has a vote of confidence from former head coach Bruce Arians in that he knows how to properly use David Johnson.
In what should be a competitive game (see live odds here), this is an eruption spot for DJ.
Another thing going in his favor is stud linebacker Reuben Foster suffered a shoulder injury Week 7 and is questionable. Foster missing Week 8 would give Johnson even more of a boost.
Tier 4
Alvin Kamara (@ MIN)
The return of Mark Ingram and rise of Taysom Hill Wildcat plays have taken a serious toll on Kamara's stock. The only thing keeping him this high in my rankings is his sheer talent and ability to score from anywhere on the field.
Tier 5
Nick Chubb (@ PIT) -1
Christian McCaffrey (vs. BAL)
Nick Chubb saw his stock jump last week with the Browns trading away Carlos Hyde to the Jaguars. He started off the Nick Chubb Era with a great 80-yard, 1-TD game.
It's worth mentioning that Chubb takes a massive hit in PPR formats, considering he is rarely used in the passing game, as Duke Johnson has that role on lockdown.
One thing that worries me about this week's matchup: If the Browns get down early, that could limit the number of touches Chubb sees. Either way, if you have him, you are starting him every week.
Tier 6
Latavius Murray (vs. NO)
Marlon Mack (@ OAK)
Mark Ingram (@ MIN)
Kerryon Johnson (vs. SEA)
Isaiah Crowell (@ CHI)
Adrian Peterson (@ NYG)
Lamar Miller (vs. MIA)
Jordan Howard (vs. NYJ)
Tarik Cohen (vs. NYJ) +1
T.J. Yeldon (vs. PHI)
Phillip Lindsay (@ KC)
Marlon Mack has rewarded owners who patiently held on to him as he got healthy. He should keep it rolling this week in a road matchup against Oakland, where the Colts are favored by -3.
The Colts are trying to become more balanced to reduce Luck's number of attempts, and they have been able to do so with Mack's emergence.
The Giants just traded away one of the league's premier run-stuffers in Damon Harrison to the Lions. This is great news for Adrian Peterson owners, as it should open up more holes for him in Week 8 and gives him a slight boost in my model.
Tier 7
Chris Carson (@ DET)
Alex Collins (@ CAR)
The Lions have been gashed on the ground this year allowing a league-high 5.32 yards per carry. However, they did just land aforementioned run-stuffer Damon Harrison. If he is cleared in time to play, that won't be great news for Carson, but I would still view him as a low-end RB2.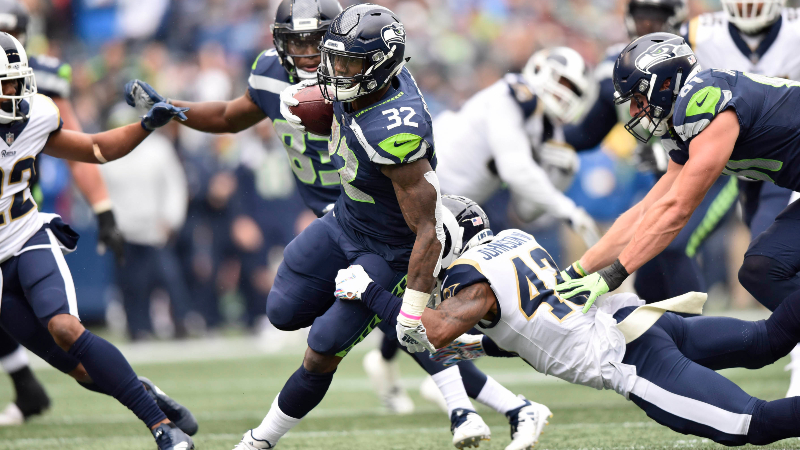 Tier 8
Kenyan Drake (@ HOU)
Doug Martin (vs. IND)
LeSean McCoy (vs. NE)
Corey Clement (@ JAX)
Wendell Smallwood (@ JAX)
Jalen Richard (vs. IND) +1
Raheem Mostert (@ ARI)
The Eagles' running back by committee has been as big of a headache as I predicted. Both running backs have the exact same projection at this point until we find out which one (if either) we can trust.
It's pretty clear that Matt Breida would be wise to rest his injured ankle for a week or two in order to get healthy. With Alfred Morris out of favor with Kyle Shanahan, Raheem Mostert has experienced a breakout that could continue into Week 8. He is a fantastic dice roll for people looking for help at running back this week
If Breida is officially ruled out, he would move closer to the top of this tier.
Tier 9
Peyton Barber (@ CIN)
Chris Thompson (@ NYG)
Royce Freeman (@ KC)
Kenjon Barner (@ BUF)
Duke Johnson (@ PIT)
Aaron Jones (@ LAR)
Frank Gore (@ HOU)
As I mentioned earlier, I think the Browns-Steelers matchup sets up nicely for Duke Johnson this week. It's likely that the Browns need to play in catch-up mode, which significantly raises Duke's ceiling.
Tier 10
Carlos Hyde (vs. PHI)
Chris Ivory (vs. NE)
Trenton Cannon (@ CHI)
Javorius Allen (@ CAR)
Ronald Jones (@ CIN)
Nyheim Hines (@ OAK)
Alfred Morris (@ ARI)
Mike Davis (@ DET)
LeGarrette Blount (vs. SEA)
For all the excitement over the Carlos Hyde trade and how it vaults Nick Chubb into the RB1 discussion, this was a massive blow to Hyde's stock. He will very likely be part of a strict time share with T.J. Yeldon until Leonard Fournette returns in a few weeks.