Stuckey: How Special Teams Factors into Super Bowl 53
Credit:
USA TODAY Sports. Pictured: Rams kicker Greg Zuerlein (4), Patriots kicker Stephen Gostkowski (3).
A great special teams unit doesn't win games on its own, but a bad one can certainly lose one the Super Bowl.
See how these the Rams' and Patriots' units can each gain an advantage in four specific categories on Sunday.
Do either of the Patriots' or Rams' special teams units have the potential to swing Super Bowl 53?
Let's analyze both.
Who Has The Special Teams Edge?
Kickers: Push
Greg Zuerlein has a bigger leg than Stephen Gostkowski at this point in their careers, but both are very reliable kickers. I should note that Zuerlein has a foot injury, but it's not expected to be serious.
Zuerlein: 27-31 (87.1%) 35-36 XPs (97.2%)
Gostkowski: 27-32 (84.4%) 49/50 XPs (98%)
Punting: Rams
The Rams ranked fifth in net punting average during the regular season at 43.9 yards, while the Pats ranked a subpar 17th at only 41.1.
Now, the Rams did struggle somewhat in punt coverage, allowing 8.7 yards per return (19th in NFL) — but the Pats were even worse at 10.2 yards per return (26th).
Rams punter Johnny Hekker is also significantly better at pinning teams. His 48.8% inside-20 percentage and 4.65% touchback percentage clearly trumps Allen's numbers (32.81% and 7.81%).
In the return game, LA averaged 10.2 yards per return (10th in the NFL) thanks to JoJo Natson, who actually ranked sixth overall in punt return average among qualifiers at 10.8.
While Julian Edelman is solid in the return game, he doesn't have the same level of explosiveness of some of the elite returners. The Pats averaged just 7.7 yards per punt return in the regular season, which again ranked in the bottom half of the league.
The Rams finished with a +4.4 net punting differential this season to the Pats' +3.1, which speaks to their edge in all three phases of the punt game: The punter, the returner and the coverage unit.
LA clearly wins this battle.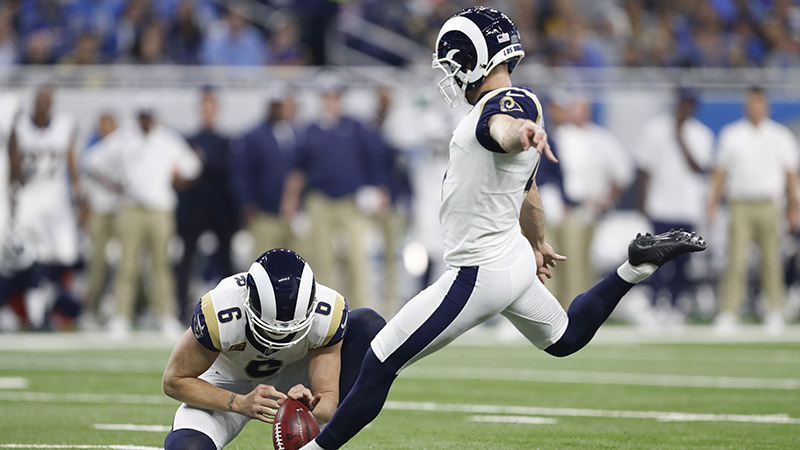 Kickoffs: Patriots
New England will feature one of the NFL's most explosive kick returners in Cordarrelle Patterson, who ranked No. 3 among qualified returners during the regular season.
He can break one at any time to flip a game, which we have seen happen a few times in Super Bowl history.
The Rams will hope to contain Patterson with a kicking team that ranked sixth in touchback percentage 71.96% and 12th in coverage (22.7)
The Pats kick unit struggled much more in both of those categories, ranking 25th in touchback percentage (53.76%) and 26th in yards per return (24.6).
However, the Rams' kick return unit has been stuck in the mud all season, ranking 22nd in average (21.4 yards). Part of that ineffectiveness can be attributed to Pharoh Cooper, who is now an Arizona Cardinal. However, the Rams generally won't kill you on kick returns and prefer to take touchbacks (they've only returned one kick in two playoff games).
I expect Belichick to not give them that option and use strategically placed kicks to try to exploit this weakness and force the Rams to start inside their own 20 after kickoffs.
For that reason, I give the slight edge to New England.
Overall: Push
The Pats have the 16th-best special teams unit per Football Outsiders (DVOA), while the Rams rank 17th. And even if you look at the weighted differential, which gives recent performance more of a boost, their respective ranks are 16th and 18th.
New England's average rating stems from a few uncharacteristic flaws this year: field goal misses, kick coverage, punt coverage.
However, you have to trust Gostkowski's leg in this spot, and the Rams have struggled in the kick return game and should take plenty of touchbacks.
The Rams should have a slight edge in the punting game, but not enough to swing this game one way or the other. And I think New England can make up for that potential field-position disadvantage with strategically placed non-touchback kickoffs, which you've seen from them in the past.
Overall, these are two evenly matched special teams units with two ultimately reliable kickers, which is the most critical piece of this phase.