13 Key Super Bowl Matchups For Buccaneers vs. Chiefs: How Both Teams Can Win Sunday
Credit:
Getty Images. Pictured: Carlton Davis, Tyreek Hill, Tom Brady, Frank Clark
What's the Chiefs' path to victory against the Buccaneers? What about the Bucs' path?
Our senior NFL analyst Chris Raybon breaks down 13 key matchups for Super Bowl 55.
With a 3-point spread, Super Bowl 55 is expected to be a close game. So what are the matchups that could swing it?
I break down 13 key matchups for when the Chiefs have the ball vs. when the Bucs have it below, followed by my case for each team winning on Sunday.
Chiefs Offense vs. Bucs Defense
Patrick Mahomes vs. Todd Bowles
The Bucs are clearly at their best when their opponent keeps it on the ground: They're fifth in Football Outsiders' overall defensive DVOA, but No. 1 against the run and No. 5 against the pass.
The Chiefs, while second in overall offensive DVOA, are unsurprisingly 11 spots better with the pass (second) than the run (13th). Excluding kneel-downs, 54 of their 71 plays on offense (76%) were called passes in the first matchup. And checking to runs if the Bucs play light boxes is not necessarily beneficial: According to Football Outsiders, opponents average just a 37% success rate and -30.7% DVOA on runs in which the Bucs have six men in the box.
If the Chiefs were going to pass, Bowles' game plan seemed to be to make Mahomes try his luck down the field. Mahomes' 9.9 intended air yards per pass attempt in the first matchup was his second-most this season — lower than only his 10.2 mark against the Raiders in Week 5, which happens to be Mahomes' only loss of the season.
Even though it worked for the Raiders, Mahomes shredded the Bucs for 37-of-49 passing for 462 yards, three touchdowns, and no interceptions. The Bucs were also better at defending short passes (seventh in DVOA) than deep (13th), so we will likely see an adjustment from Bowles this time around.
Right of Chiefs' Offensive Line vs. JPP & Co.
The Achilles injury to left tackle Eric Fisher will makes life difficult for Mahomes' pass protection.
Mike Remmers will now have to slide over to left tackle, where Fisher was filling in for Mitchell Schwartz. This leaves Andrew Wylie to play right tackle with Steven Wisniewski at right guard.
In the first matchup between these teams, the right side — consisting of Wylie at right guard and Remmers at right tackle — allowed 13 total pressures. Jason Pierre-Paul usually lines up on the offensive left, but spent a season-high amount of snaps lines up on the offense's right, presumably to torment a weakened right side of the line for Kansas City.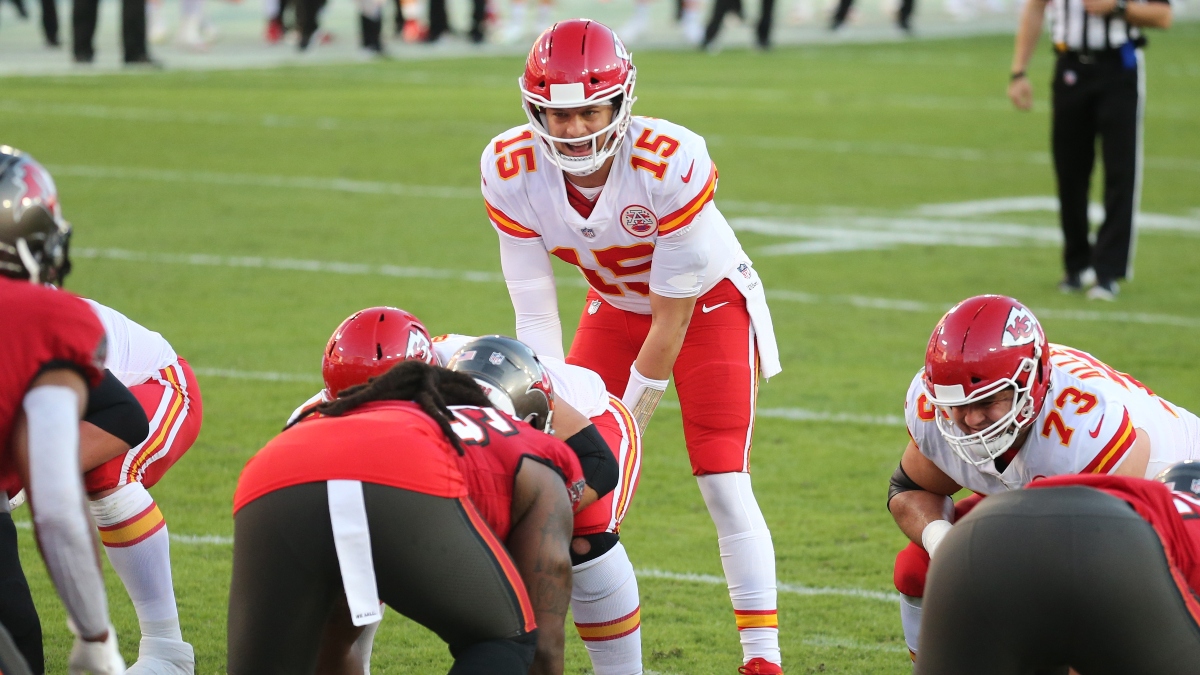 In 18 dropbacks under pressure in the first matchup, Mahomes completed 7-of-15 passes for 109 yards at a clip of 7.3 yards per attempt (YPA) with one touchdown, two sacks, and one scramble. He's dealing with a toe injury now but didn't look hampered by it in the AFC Championship. Given the big drop-off in efficiency under pressure — he averaged 10.4 YPA when kept clean — he may scramble more than we've seen him over the second half of the season.
Tyreek Hill vs. Carlton Davis
In the Week 12 matchup, the Bucs' main issue was finding themselves in situations in which Carlton Davis was matched up one-on-one on Hill.
Hill vs. Davis: 9-of-9, 211 yards, three TDs
Hill vs. all others: 4-of-5, 58 yards, zero TDs
One overlooked aspect of that matchup was that the Bucs were without cornerback Jamel Dean, forcing usual slot corner Sean Murphy-Bunting to play 50-of-57 coverage snaps outside.
With the understanding that Davis often has the toughest assignment, there's still a clear hierarchy among Bucs corners in terms of their effectiveness on a per-target basis, with Dean being the best and Murphy-Bunting being the worst:
Dean: 81 targets, 5.5 YPT, 76.5 Pro Football Focus coverage grade
Davis: 118 targets, 8.9 YPT, 64.5 PFF coverage grade
Murphy-Bunting: 104 targets, 9.0 YPT, 59.2 PFF coverage grade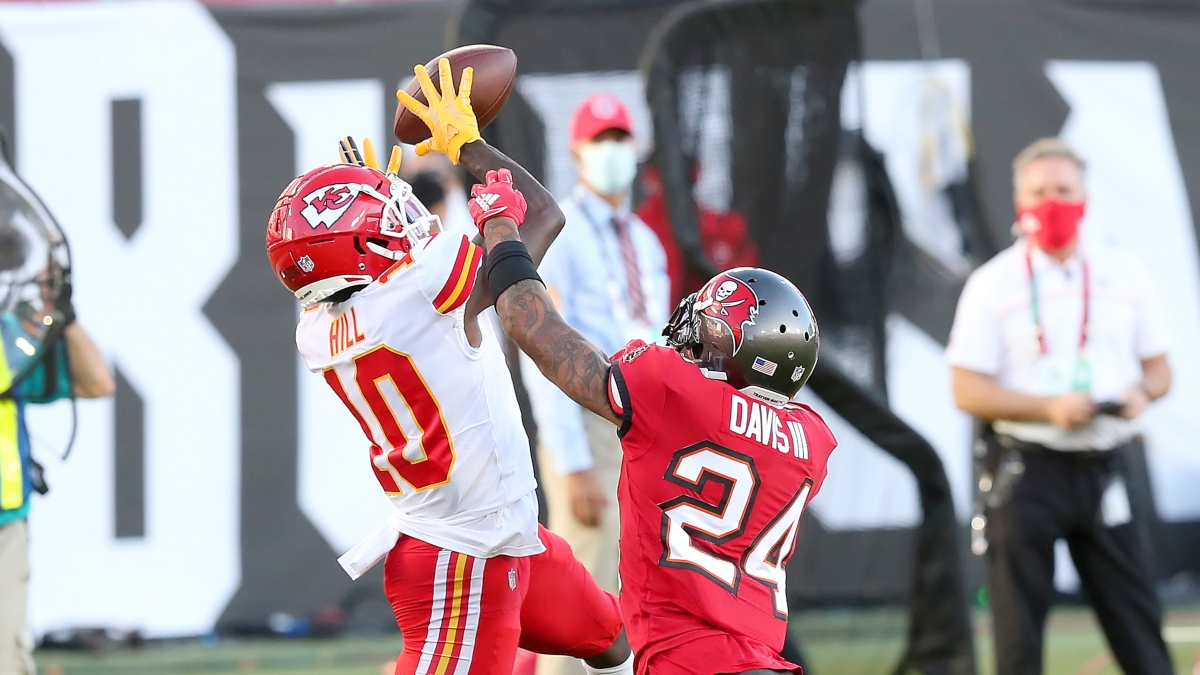 The absence of Dean not only took away a faster an likely more effective option against Hill from Bowles' arsenal, but it also had a domino effect that caused him to test the limits of how often he could trust schemes in which Davis was effectively one-on-one with Hill.
I say "schemes" lest you think Bowles was simply playing man coverage: The Bucs played zone 80% of this game, according to Sharp Football Analysis — 10% higher than their season average. Hill's 75-yard touchdown, for instance, came on a Cover 3 zone concept where Hill simply beat Davis in the deep-third Davis was responsible for, and the single high safety could not get over in time to influence the play.
After winning the week for his fantasy owners in the first quarter with a 7-catch, 203-yard, 2-TD performance on 7 targets, Hill was (relatively) contained the rest of the way, posting 6 catches for 66 yards and a TD on 8 targets.
Travis Kelce vs. Lavonte David
Playing predominantly zone comes with the expectation that you will concede catches to tight ends, and the Bucs did finish 25th in DVOA vs. the position. And while Kelce caught 8-of-8 targets against the Bucs in the first matchup, their defense on him was more or less a success.
For one, Kelce's eight targets represented a 17.4% target share, well below his season average of 24.8%. And his average reception went for 10.3 yards, well below his season average of 13.5.
Lavonte David, whose PFF coverage grade of 83.8 during the regular season was sixth off 99 qualified linebackers, was primarily responsible for coverage on Kelce and will likely play that role again in Super Sunday, as the alternative at linebacker, Devin White, ranked 90th with a coverage grade of 39.8. If you see a lot of White on Kelce early, bang Kelce's in-game overs an don't look back.
Chiefs WRs Not Named Hill vs. Bucs' Non-Primary Coverage Defenders
With Hill's fear-of-God-instilling first quarter explosion and Dean back, Bowles may be able to force Mahomes to rely on his ancillary wide receivers more than usual.
With Bowles effectively doubling Hill and Kelce on many plays, Sammy Watkins, Demarcus Robinson and Mecole Hardman combined for a 40.6% target share from the second quarter on in the first matchup. The Bucs were No. 22 in DVOA vs. No. 2 wide receivers, allowing 63.5 schedule-adjusted yards per game, fifth-most while faring better against No. 1s (sixth in DVOA, ninth-most schedule-adjusted yards allowed) and non-WR1/2s (first in DVOA, fewest schedule-adjusted yards allowed).
Based on last postseason, when Watkins ran a route on 90.8% of Chiefs dropbacks and was targeted 17.0% of the time, he could assume a larger role than expected despite not playing since Week 16. Last postseason, he was fourth on the team with 18 targets. No other Chiefs player had more than six.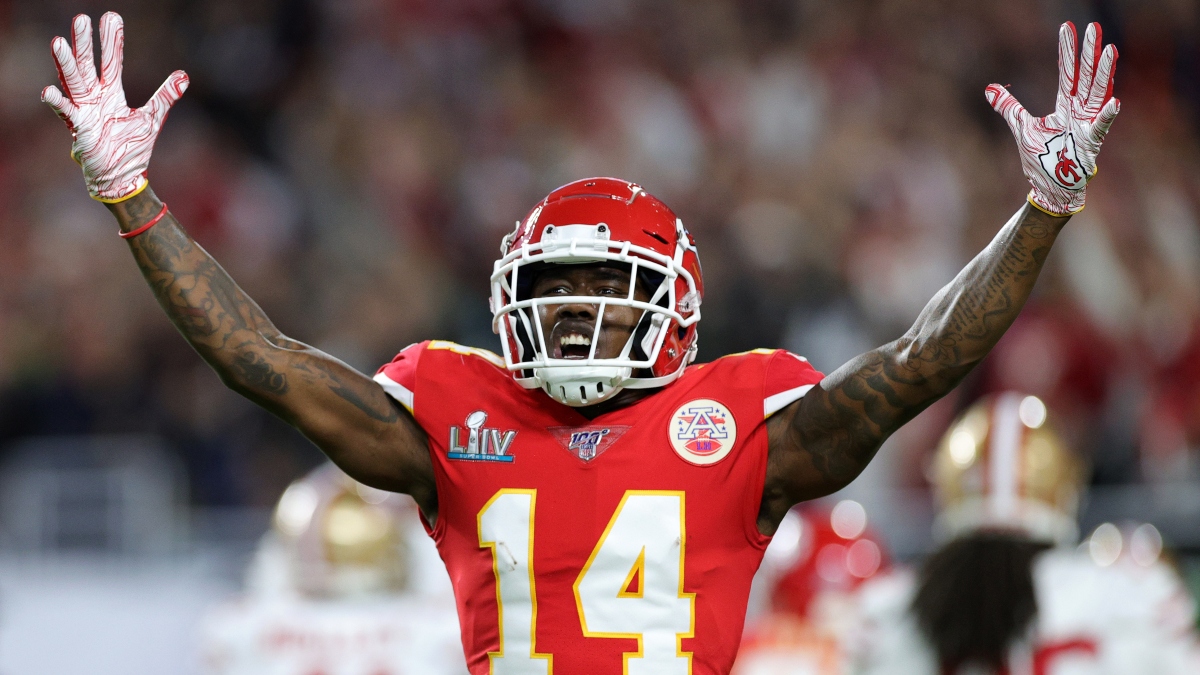 Hardman is a wild card here — his big play ability could give the Bucs another Hill-like headache to worry about, but Hardman hasn't often been trusted as a full-time receiver even with Watkins out: His average routes run per dropback with Watkins out is just 42%, and last week his 17 routes run were less than Byron Pringle (31) and Demarcus Robinson (30).
Clyde Edwards-Helaire, Darrel Williams vs. Bucs' Front Seven
The Chiefs' only success on called runs in the first matchup against the Bucs came on runs to the edge, where the Chiefs had four carries for 35 yards compared to 13 carries for 41 yards on all other called runs.
The speed and tackle-breaking ability of Edwards-Helaire will be needed in this matchup, so I would be surprised to see Williams as much this week as in the AFC Championship, when he saw 11 of his 13 carries come once the Chiefs were up 38-15. Before that point, Edwards-Helaire had a 6-2 carry edge.
For the season, the more explosive Edwards-Helaire has been the primary choice on runs to the edge, racking up 183 yards on 32 carries (5.7) compared to Williams' 64 yards on 12 carries (5.3).
Bucs Offense vs. Chiefs Defense 
Tom Brady vs. Steve Spagnuolo
Spagnuolo is famous for deploying a fierce four-man pressure scheme to slow Brady in the Super Bowl, but in Week 12, Spagnuolo sent constant pressure at the 43-year-old, blitzing Brady on 21-of-42 dropbacks. It worked: Brady averaged 10.0 YPA when not blitzed but only 7.0 when blitzed according to PFF. And on nine plays in which Spagnuolo sent six or more pass rushers, Brady averaged only 3.7 yards per play.
Brady ended up throwing vertically when faced with heavy pressure, with his average pass traveling 13.3 yards downfield vs. six-plus-man pressure in the first matchup. That's where the turnovers tend to happen: Brady has thrown just three picks on 445 passes traveling under 10 yards (0.67%), but 12 picks on 274 passes traveling 10 or more yards in the air (4.38%).
Even if Kansas City is playing coverage, Brady will have to be careful not to turn the ball over.
The Chiefs spend as much time as any team in the league with two safeties deep, which gives their cornerbacks help over the top. This allowed them to finish top-six in interception rate (2.9% in 2020, 2.6% in 2019) and top-two in fewest yards per game allowed to wide receivers (134.9, 119.3) in Spagnuolo's two seasons with the team.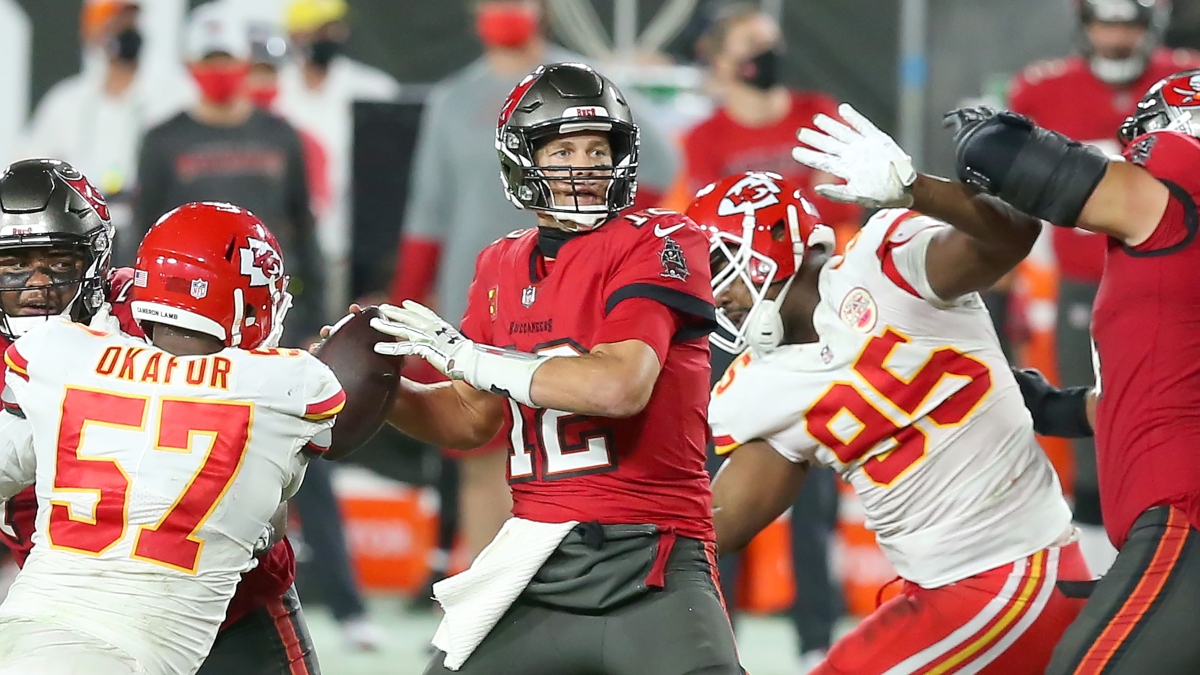 Donovan Smith & Ali Marpet vs. Frank Clark & Chris Jones
If the Bucs are able to adjust and have more success against Spagnuolo this time around, they will need the left side of their line to contain the Chiefs' two best pass rushers: Frank Clark and Chris Jones.
Left tackle Donovan Smith allowed only one pressure in the Week 12 matchup, holding Clark to a 56.7 pass rushing grade on the edge, but left guard Ali Marpet struggled inside against Jones, allowing three pressures and committing two penalties while letting Jones post a 90.9 pass rushing grade.
Mike Evans & Antonio Brown vs. Bashaud Breeland & Charvarius Ward (with Safety Help)
The Cover 2 shell will be most effective vs. outside receivers, which is exactly what we saw play out in the first matchup: Perimeter receivers Mike Evans and Antonio Brown were targeted a combined 12 times and caught five passes for just 61 yards (albeit with two being Evans' touchdowns), good for just a. 29.2% target share and 5.1 yards per target.
For comparison, Evans and Brown combined for 14.7 targets per game and 9.4 yards per target in their other nine games together.
In the first matchup, Bashaud Breeland allowed just 1/7/1 on six targets, while Charvarius Ward allowed 4/52/1 on six targets. Evans caught only 1-of-5 targets on Breeland for a 7-yard touchdown while going 2/43/1 on Ward.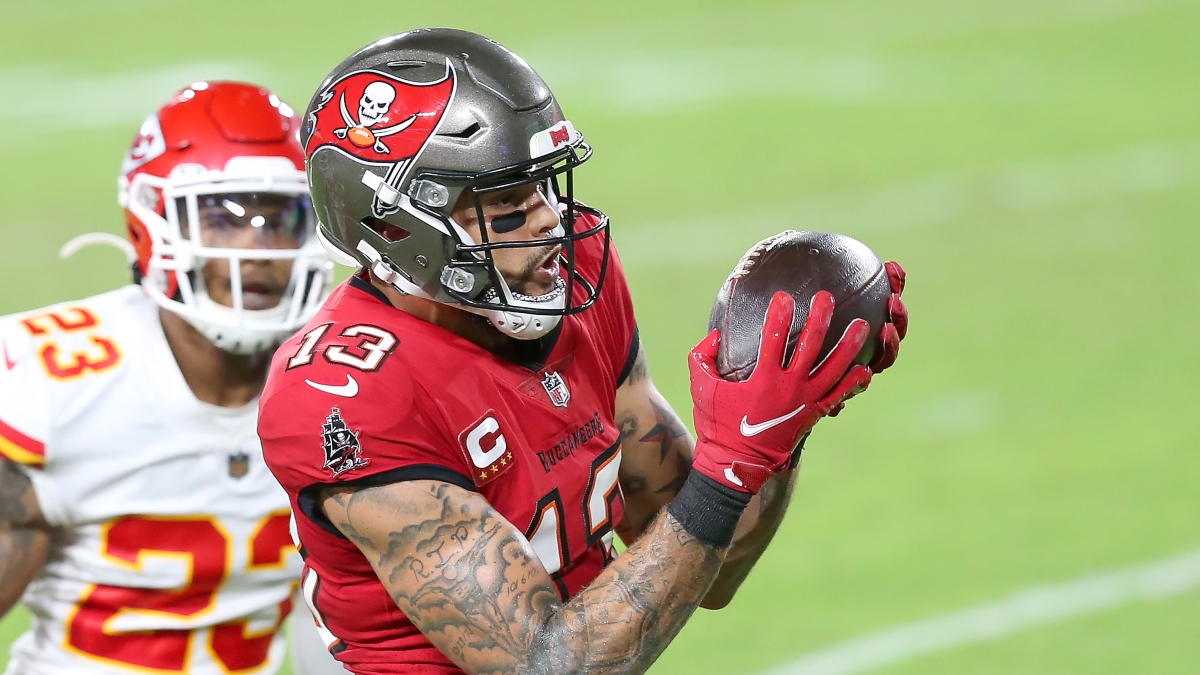 Breeland remains stationary at right corner, so Arians and Byron Leftwich will have to do a better job of getting Breeland matchup against Ward. Spagnuolo will likely double Evans in these situations, but Brady will have opportunities downfield with Evans one-on-one when Spagnuolo brings pressure.
The Evans receiving yardage prop under has been money this season, but he left nearly two thirds of his 149 air yards on the table in the first matchup and could ed up being a receiver Brady lives and dies by downfield — for better or worse.
Chris Godwin vs. L'Jarius Sneed
Sneed has been a revelation for the Chiefs, allowing just 277 yards on 55 targets in coverage (5.0 yards per target).
If Spagnuolo's scheme continues to funnel looks away from the perimeter, Godwin vs. Snead in the slot could be a make-or-break matchup given how wide receiver-focused Tampa Bay's passing game is.
In the first matchup, Godwin finished with eight catches for 97 yards, but 44 of those yards came on a deep shot against safety Juan Thornhill. Godwin's other seven catches went for just 53 yards, including just two grabs for 10 yards on Sneed.
Rob Gronkowski & Cameron Brate vs. Chiefs Linebackers & Safeties
Gronkowski's role in the passing game has been minimized since going 7/106/0 against the Bucs — he hasn't caught more than three passes in a game since. Against the Chiefs, using tight ends in the passing game is crucial with the safeties often deep and their linebackers (Anthony Hitchens, Ben Niemann, Damien Wilson) and safeties not named Tyrann Mathieu (Daniel Sorenson, Thornhill) being their weakest players in coverage.
Mathieu was largely avoided by Brady in the first matchup, seeing only 2-of-41 targets (both on Cameron Brate), leaving Gronkowski as the weapon of choice.
With Gronkowski having caught only nine of his 22 targets since the Week 13 bye (and since that first matchup), he may again be the poison Spagnuolo picks and could see another big target share after his seven targets in the first matchup tied for a post-October season-high.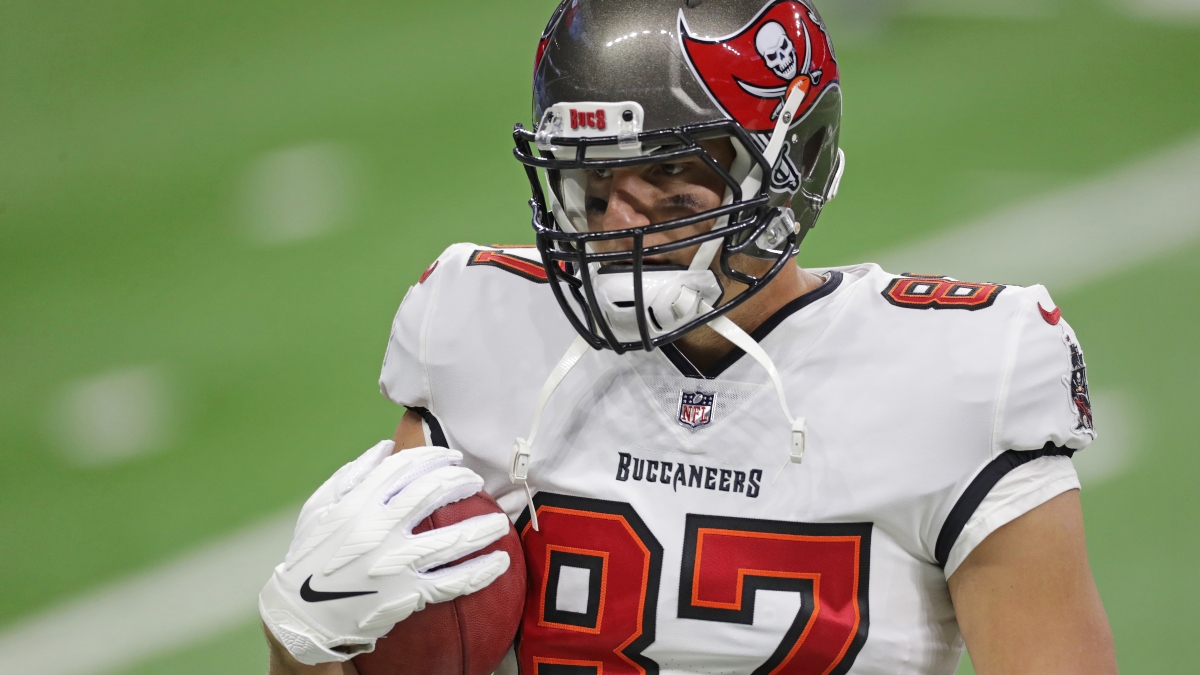 Leonard Fournette & Ronald Jones vs. Chiefs' Front Seven
The Bucs offense is top-10 both rushing and passing on every down except first-down rushing, where it ranks 12th. However, they'll be going against a Chiefs run defense that ranks 25th in run defense DVOA on first down and 31st in run-defense DVOA overall.
Increased efficiency may not be worth a whole lot here, though, as Tampa Bay's first-down runs have become predictable.
Kansas City's 33.1% DVOA against running backs ranked 31st and is easily the team's worst mark vs. any position, so we may see Tampa Bay throw to Leonard Fournette on first down rather than hand off.
In the postseason, Fournette is third on the team in first-down targets, and those targets have picked up an average of 8.4 yards per play compared to 4.6 on his first-down carries. And in the first matchup, Ronald Jones' 37-yard touchdown reception came on first-and-10. Later in the down, the back may be needed more than usual for blitz pickups, especially with Gronkowski, who pass blocks 16.8% of the time, likely to see a larger role in the receiving game.
Fournette has run a route on 68% and 65% of Bucs dropbacks in the two postseason games with Jones healthy, while Jones ran a route on just 16% and 12% of the dropbacks, so I expect Fournette to continue to see enough looks to clear his reception prop of 3.5.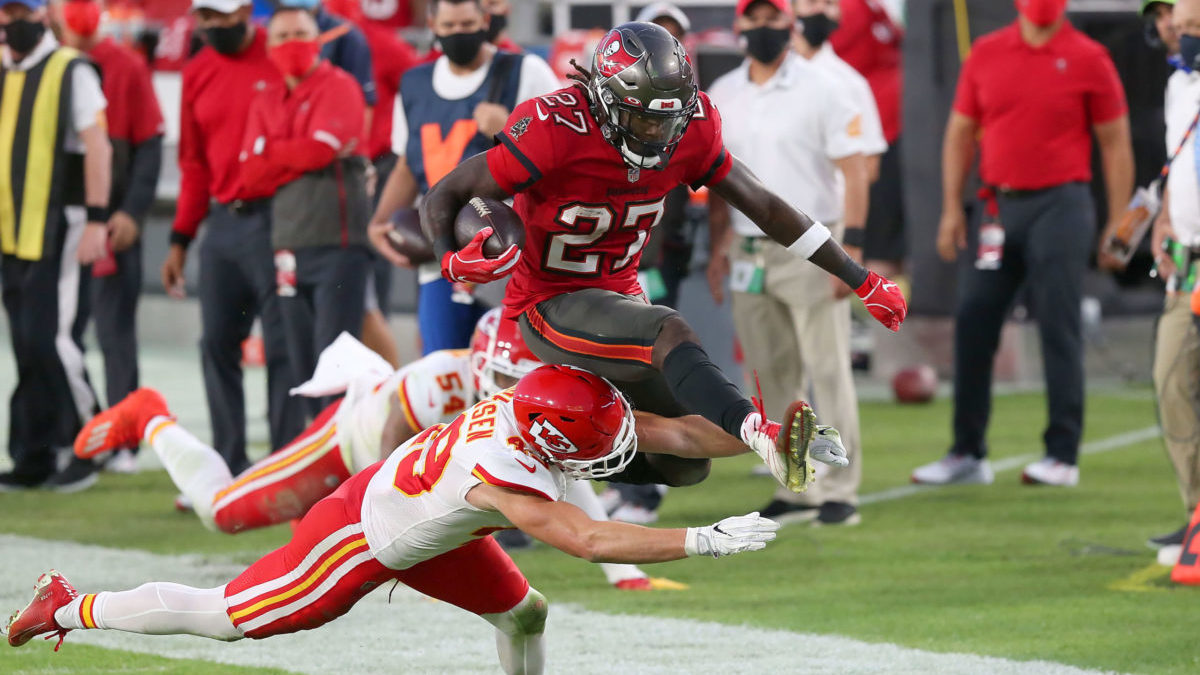 Jones' role will likely be more game script-dependent.
One place where the Bucs can have a huge advantage is short yardage: The Bucs finished No. 1 with an 88% power success rate on offense — which measures conversion rate with 1-2 yards to go on third/fourth down or in all goal-to-go situations — while the Chiefs finished last on defense with a 78% power success rate allowed.
Special Teams
Harrison Butker vs. Ryan Succop
The kickers aren't facing each other, of course. But in what is projected to be a close game, their contrasts could decide the outcome.
Including the playoffs, Harrison Butker is 5-of-5 on field goal attempts of 50-plus, while Ryan Succop is only 1-of-2. Dating back to the start of last season, Succop has only three 50-plus-yard attempts and one make in 25 games.
Tampa Bay succeeded on 62.5% of its fourth-down attempts this season while Kansas City allowed a 70.8% conversion rate, so the Bucs should have the edge on fourth down — but a single stop could be a game-swinging play for the Chiefs, and is made more likely by Succop's lack of range.
The Case for the Chiefs 
Even though the Chiefs' defense is the weakest unit in this game on paper, their scheme also aligns perfectly with stopping what the Bucs want to do on offense, which is get the ball to their wide receivers.
As they've shown for two years under Spagnuolo, the Chiefs have the ability to funnel the ball away from wide receivers and toward tight ends and backs. This is amplified with a healthy Sneed, who can limit Godwin.
Mathieu is another wild card, as he can also help on Godwin or work against Gronk instead of Brate this time around, which could force the Bucs' passing game to run through its weakest players (Brate, Fournette and Jones).
On offense, even a banged-up line susceptible to pressure won't totally thwart Mahomes, who essentially still performed like a league-average quarterback does across all situations when pressured in the first matchup.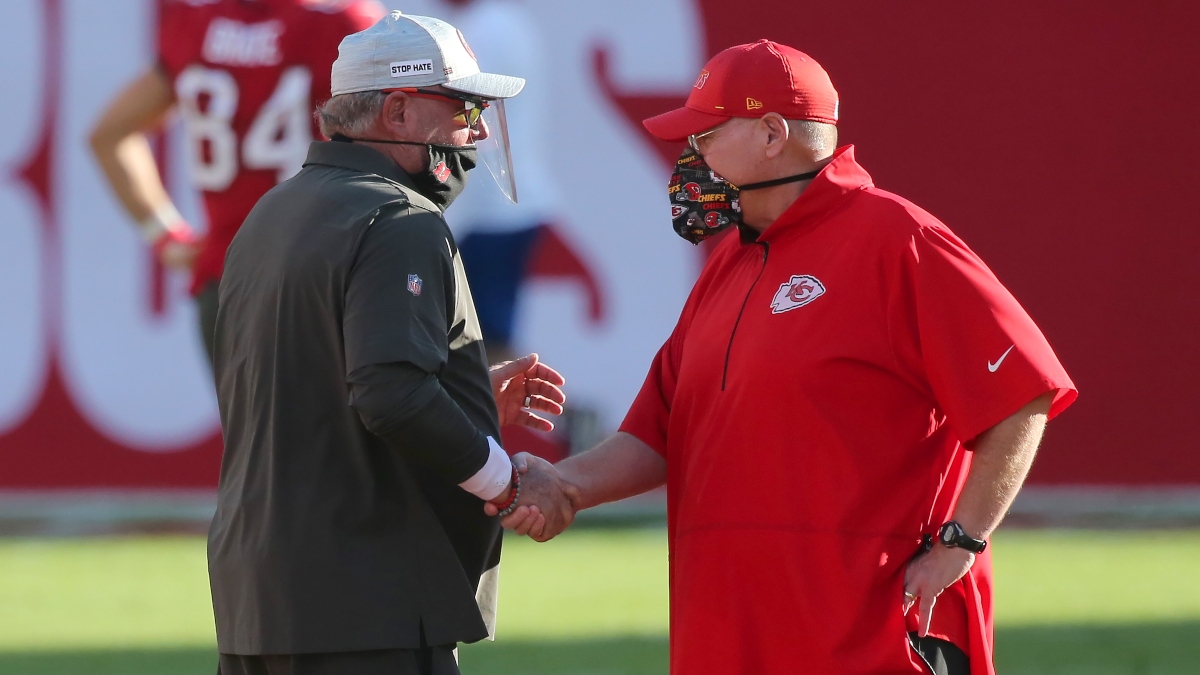 And more so than almost any other coaching staff in the league, Andy Reid and Co. will be willing to go pass-heavy, which limits the ROI for the Bucs' league-best run defense.
The Case for the Bucs
The Bucs outscored the Chiefs 24-10 after adjusting to Hill's first-quarter onslaught, and will be healthier at cornerback while the Chiefs will be weaker along the offensive line.
If the Bucs can play like they did over the final three quarters of their Week 12 matchup and force another key turnover on Mahomes like they did on a strip-sack in the red zone in the second quarter of that first meeting, they can keep it close and give themselves a chance for the upset.
How would you rate this article?