Analyzing All 16 NFL Spreads & Over/Unders — And Whether You Should Bet Any Sunday
Credit:
Alika Jenner/Getty Images. Pictured: Russell Wilson
Wondering whether to bet or pass on Sunday's NFL games?
NFL betting analyst Brandon Anderson runs through every Week 1 matchup below.
Find out which spreads and over/unders represent his bets NFL picks and which are his fades.
We've waited a long time, but NFL Week 1 is finally here!
The preseason is in the books, the previews have all been written, and I've made all my MVP (Tom Brady!), season leaders (Aaron Jones!), and Super Bowl (Browns?!) bets. Now, it's time for some real football.
I'll be picking every single NFL game for The Action Network this season, and that's equal parts exciting and terrifying. Let's see if we can go 272-0 together.
Normally we'll dive deep into DVOA, EPA, and all sorts of fun, fancy metrics, but for Week 1, I'll lean heavily on my preseason reads. That's what all that work was for, after all, and we'll adjust priors as we get new data. That means you may want to refer back to my Offensive and Defensive Unit ranks, plus my offensive line and coaching rankings.
We'll nibble a little below, but if you want the full meal and details on any particular team, you can check out my entire four-part season preview:
I'll make a pick for every game each week, but not all games are created equal. After each pick, you'll also see my confidence level: Bet, lean, or pass. Let's make some picks.
NOTE: All lines below are from BetMGM as of Saturday afternoon.
---
Thursday Night Football
Cowboys at Buccaneers (-8.5)
Hey, we already got a win! The Cowboys are my Super Bowl sleeper and looked the part Thursday night, though they couldn't quite hit our +340 moneyline play. Bummer, but we'll certainly take the 1-0 start to our picks.
THE PICK: Cowboys +8.5 (Lean)
---
Sunday Early Afternoon (1 p.m. ET)
Seahawks (-2.5) at Colts
Let's start with the most obvious play on the slate, which also makes it the most terrifying.
The Colts are a mess. They traded for Carson Wentz to be the savior, but the early returns are very worrisome. Wentz was hurt instantly, initially expected to be out a month or more into the season. He's reportedly healthy enough to play but just missed a week with his team in COVID protocol. And remember, he wasn't good last year anyway.
But it's not just Wentz. The offensive line is a disaster. Quenton Nelson has the same foot injury as Wentz, with the same nebulous timeline. He's Indy's best player, and he's questionable.
Indianapolis will also be without last year's left tackle Anthony Castonzo (retired) and his replacement Eric Fisher (injured), and center Ryan Kelly missed time in protocol too. Now CB Xavier Rhodes is out as well. The injuries and lack of continuity are a serious problem.
Still, Seattle loves to play with its food. Seahawks played one-score affairs 11 times in 16 games last season. This should be close late. But if it's close, would you rather have Russell Wilson and an offense that actually knows each other or whatever the Colts will roll out with Wentz and a makeshift line?
THE PICK: Seahawks -2.5 (Bet)
Steelers at Bills (-6.5)
These are two of my biggest negative regression teams, which makes a head-to-head matchup tricky. Buffalo is a chic title pick, but are we sure this is a Super Bowl roster? Outside of Josh Allen, the rest of the roster feels more good than great, and Allen's metrics last season look prime for regression.
Pittsburgh's defense will take a step back too, but they're still loaded, and T.J. Watt is signed and ready to go. I do worry a bit about Pittsburgh's corners and wonder if Brian Daboll will be able to exploit them deep, but with Big Ben healthy, this is just too many points to lay against a tough Steelers team.
THE PICK: Steelers +6.5 (Pass)
Chargers at Washington (-1)
Everyone and their mother is on Washington, both this game and for the season, and that's never a good sign. WFT made the playoffs with the worst offense in the league and an ugly 7-9 record. The defense should be even better after adding William Jackson and Jamin Davis on top of a fearsome pass rush featuring Chase Young, but is this D potentially a little overrated?
Washington's seven wins last season came against bad division opponents starting Andy Dalton (twice), Carson Wentz, and Jalen Hurts, plus Nick Mullens and the 49ers, Ryan Finley and the Bengals, and a weird COVID-rescheduled win against the Steelers. What has this team really proven?
The Chargers completely remade their offensive line, adding rookie LT Rashawn Slater and stud C Corey Linsley and getting RT Bryan Bulaga back healthy. This is the most improved line in the league, but this is quite the early test.
LA should improve greatly this season by virtue of increasing its floor with huge improvement in coaching, special teams, and line play. The Chargers defense is a bit shaky, but Washington isn't built to exploit it.
The books are practically begging us to take Washington here, but something smells off. I'll trust the improving road team.
THE PICK: Chargers +1 (Pass)
Eagles at Falcons (-3.5)
The battle of the birds! Both teams feature head coaches making their debuts, and both could end up squarely in a rebuilding phase or on the edge of the playoff race, depending on how things shake out.
I like Arthur Smith more than Nick Sirianni, and I trust Matt Ryan far more than Jalen Hurts. The Falcons struggle against the pass but can stop the run, and the Eagles can run but not pass much yet. I like the matchup for Atlanta, and I'll take the QB and coach I far prefer.
THE PICK: Falcons -3.5 (Lean)
Cardinals at Titans (-3)
The biggest stay-away on the board in Week 1 is from two of the teams I trust the least in the entire league.
I can't ride with Mike Vrabel without Arthur Smith around, and I've been out on the Kliff Kingsbury experience for awhile. Could this game turn into a shootout? Julio Jones, DeAndre Hopkins, A.J. Brown, and A.J. Green is a whole lot of receiving talent, and neither team has much in the secondary.
I like Arizona's defense better, especially against Derrick Henry and the rushing attack. But when you can't figure out which team is better, it's usually a good idea to just grab the points and let things play out.
THE PICK: Cardinals +3 (Pass)
Vikings (-3) at Bengals
At full strength, Minnesota is the far better team. Wherever Cincinnati has a strength, the Vikings are stronger. Joe Mixon is good; Dalvin Cook is great. Tee Higgins and Ja'Marr Chase are promising; Justin Jefferson and Adam Thielen are already terrific. The Bengals have a nice safety and some good defenders; the Vikings are loaded on D and among the best in the league.
It's fair to question what we'll get from either quarterback. Joe Burrow hasn't played real football in 11 months — just three snaps all preseason! — and reports out of training camp were not kind. But Kirk Cousins and the entire Vikings QB room were in COVID protocol in a topsy-turvy preseason. Both teams are pretty weak on the line too.
The under looks tasty here with both quarterbacks not particularly trustworthy, but if that's the case, you've got to ride with the better defense. That's Minnesota by a wide margin, and this is the sort of game Mike Zimmer's Vikings typically win easily over the years.
THE PICK: Vikings -3 (Lean)
Jets at Panthers (-4)
It's the Sam Darnold Game! The Panthers are in on Darnold after the Jets moved on, and this is an interesting debut in his first game not wearing green.
Darnold was replaced by Zach Wilson, and rookie quarterbacks who weren't the No. 1 pick have fared much better than you'd expect. Per Rich Hribar, non-No. 1 picks are 10-3 ATS over the past decade in Week 1, including 6-7 straight up.
These rookies have earned their starts and proven they're ready, and the preseason has shown how Mike LaFleur will make the game easier for Wilson with motion, simple reads, and short throws getting the ball into the hands of Corey Davis, Elijah Moore, and other playmakers.
A tough Panthers pass rush will be an early test for an improving Jets line, but I like what we've seen from Robert Saleh's coaching staff so far, and I'm not solid on Darnold, especially against a team that knows his every weakness. This line is moving toward New York, but it hasn't gone far enough. The Jets are straight up better. They're my Week 1 upset special at +165 moneyline.
THE PICK: Jets +4 (Lean)
49ers (-8) at Lions
This is a good reminder to grab value on the lines early in the week. The Lions were never going to close ground on this line, which sat at -7 early in the week but moved off that key number and is now as high as -9.5 at some books.
The Lions are the second worst team in the NFL. The 49ers are healthy for now, and when healthy, they've been fantastic. Jimmy Garoppolo, George Kittle, Nick Bosa, Dee Ford, and others who missed most of last season are back, and the talent gap here is enormous.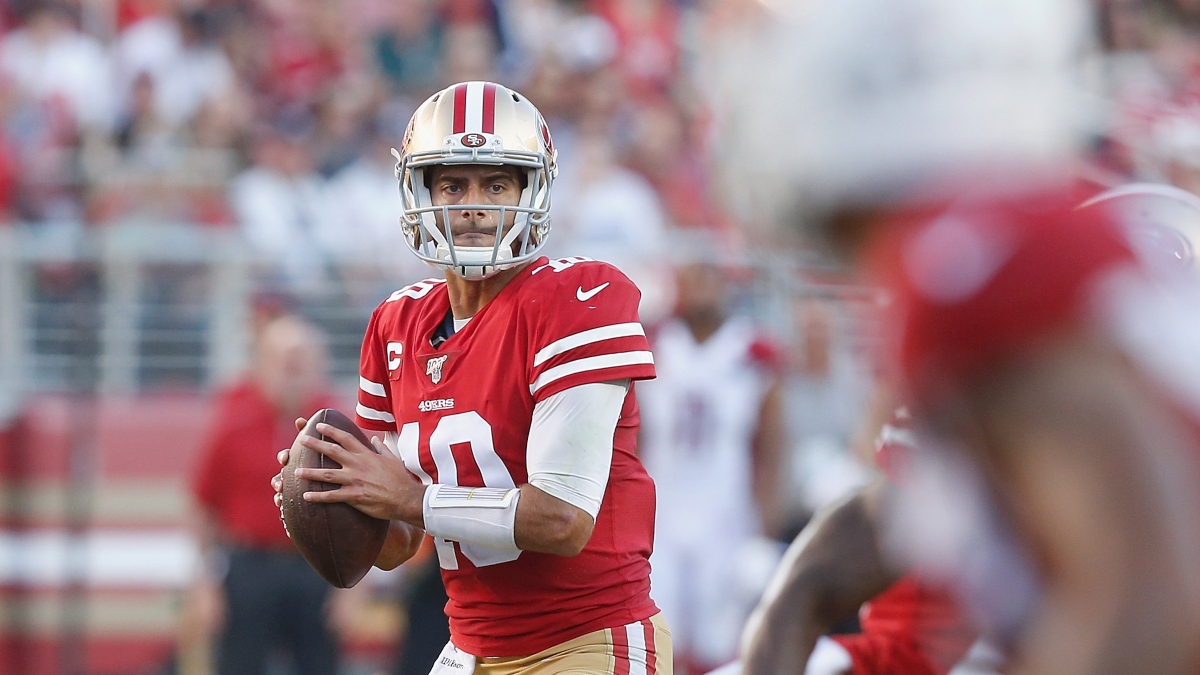 The Lions start a new regime with a group of inexperienced coaches, a new QB with the league's worst receivers, and a terrible secondary. The 49ers know exactly how to beat Jared Goff after seeing him twice in the division every year, and Kyle Shanahan's offense should light up this D. Blowout city.
THE PICK: 49ers -8 (Bet)
Jaguars (-3) at Texans
The Texans roster is an insult to dumpster fires. I grade each team carefully by position, and my spreadsheet turns good units green and bad ones red. The Texans are red at QB, RB, WR, TE, OL, DL, ED, S, ST, and Coach. That's… pretty much the entire team.
But Jacksonville might not be much better! Trevor Lawrence has struggled in the preseason, and I hate everything I've seen from Urban Meyer, from his Tim Tebow signing to his COVID comments to staging a "QB competition" with Lawrence and Gardner Minshew.
Per Rich Hribar, No. 1 overall draft picks this century are an ugly 3-11-1 ATS in their first start, including 2-5-1 in Week 1. Their teams are 2-12-1 straight up. History tells us No. 1 starters like Lawrence don't just waltz in and make an immediate impression, especially because they're joining a trashcan roster. The last No. 1 pick to win his first start was David Carr almost 20 years ago.
Lawrence debuts on the road with a poor roster, and Houston is a mostly veteran team with experienced coaching and an actual NFL QB. Tyrod Taylor may not stay healthy long, but he's been a solid starter when he's out there and should be motivated after being overlooked all offseason.
The Texans are favored to finish last in the NFL at every sportsbook, but this could be a Week 1 upset. They're +145 on the moneyline.
THE PICK: Texans +3 (Lean)
---
Sunday Late Afternoon (4:25 p.m. ET)
Browns at Chiefs (-5.5)
This is the game of the week, and I've talked myself into and out of both sides 25 times already.
On one hand, the Browns look like the real deal. Cleveland's rushing attack is lethal and the exact weapon you'd want against the Chiefs, allowing the Browns to dominate the trenches and control time of possession and pace of play.
The Browns have the best line in the league while the Chiefs will start five new guys against Myles Garrett and Jadeveon Clowney, so that's a serious continuity advantage in Cleveland's favor.
On the other hand, it's the Browns, and they've historically been god awful in Week 1. Arrowhead remains one of the league's toughest road trips, and Patrick Mahomes is getting less than a touchdown. History says to bet Pat.
These might be the two best teams in the AFC, so this is a playoff preview with serious seeding implications. All of the matchup indicators point toward the Browns, but this line is practically begging us to take Cleveland and feel foolish when they're down 20 and Mahomes is doing his thing.
I can't make up my mind, so I'll stay away and look to bet the losing team's Super Bowl odds on Monday morning instead.
THE PICK: Browns +5.5 (Pass)
Packers (-3.5) vs Saints
This one will be played in Jacksonville instead of the Superdome, and it feels like the books didn't adjust enough for the switcheroo. It's not just that New Orleans lost its outstanding home advantage; it's the mess of everything else, moving practice across multiple state lines amidst hurricane issues back home and, oh yeah, a pandemic.
The concern for the Packers is their run defense. New Orleans has an excellent line, so Alvin Kamara could be in for a big game and keep the Saints in it. If I trusted their QB — even last year's version of Drew Brees — maybe this would be one of those field goal games where the last team with the ball wins.
But it's Jameis Winston, not Brees, and that means we get Winston vs. the reigning MVP on a neutral field with Rodgers a field goal favorite. The Saints D takes a step back after a few losses, and we know what the Packers offense can do. The Saints can't run every play, and I don't trust Winston against Jaire Alexander and a good secondary. I have to trust the MVP.
THE PICK: Packers -3.5 (Lean)
Dolphins at Patriots (-3)
I like New England much better than Miami entering the season, so this is a great spot to lean heavily on our preseason read. (I also previewed this game in further depth here.)
The Dolphins' greatest strength is its pair of elite corners, but Xavien Howard and Byron Jones are a bit wasted against a team without much at receiver anyway. New England was brutal against the run last year, but Miami hasn't been able to run the ball in years.
This is a matchup of recent Alabama quarterbacks with Tua Tagovailoa and Mac Jones, but the difference is the supporting cast. Miami has terrible line play and that spells trouble against a revitalized Patriots defense that adds Kyle van Noy, Dont'a Hightower, and Matt Judon up front.
Meanwhile, New England added Trent Brown and has one of the best lines in the league, and Damien Harris and the new Pats tight ends give Mac Jones plenty of help.
Remember, the numbers say not to worry about Week 1 rookie QB starters who weren't the No. 1 pick. Mac Jones beat out a former MVP to earn his job fair and square, and besides, Tua Tagovailoa isn't much more than a rookie yet anyway after playing half a season with training wheels.
Bill Belichick teams typically dominate young QBs, and the Patriots have won 11 of their last 12 home games against the Dolphins. This is a great spot for New England and my favorite play of the week.
THE PICK: Patriots -3 (Bet)
Broncos (-3) at Giants
I wrote an in-depth preview of this game, but this one is all about the trenches, which makes this one of the easier reads on the board in Week 1.
The Giants defense is improving but doesn't do much to rush the passer. The strength of this D is Leonard Williams up the middle and James Bradberry and Adoree Jackson at corner, but Jackson is questionable. Without much pass rush, this sets up nicely for Teddy Bridgewater to stand in a clean pocket and deliver the ball to his young playmakers.
The trenches on the other side weigh heavily in Denver's direction too. The Giants can't block to save their lives. New York has the worst line in the league, and that spells huge trouble against what might be the league's best defense. Von Miller and Bradley Chubb will make life miserable for Daniel Jones, especially if Saquon Barkley (questionable) can't do much.
THE PICK: Broncos -3 (Bet)
Sunday Night Football
Bears at Rams (-7.5)
Everything about this screams TRAP. The Rams are the obvious Week 1 survivor pick, and when does that team ever win easy? LA is a big home favorite in primetime against an outmatched Andy Dalton. It seems too easy.
When something seems too easy, we have to make the case for the other side. The Bears defense is plenty familiar with Matthew Stafford after facing him twice a season for years, and Chicago's D is still pretty good. Stafford and the Rams first-team offense didn't touch the field in the preseason. What if the Bears D hounds a rusty Stafford and keeps this close? Maybe the Rams win an ugly 16-10 game. Heck, maybe the Bears steal it.
I don't buy it.
Stafford is plenty familiar with the Bears too, and he has more wins against Chicago (11) than any other opponent. He's also never had this much help before, not at receiver, not up front on the line, and certainly not schematically with Sean McVay.
Chicago is tough against the run but that secondary is suspect without Kyle Fuller. This feels like a game where Stafford and the Rams blow the doors off the Bears. Dalton did little to inspire confidence in the preseason, and the Bears line is a mess and has no shot against Aaron Donald.
With everyone watching Sunday night, this feels like a buzz-saw blowout folks will be talking about Monday morning — when will Chicago finally start Justin Fields, and are the Rams a real Super Bowl contender now??
This line rose from -7, but there's still value here. I would play the Rams to double digits in a nightmare spot for Chicago.
THE PICK: Rams -7.5 (Bet)
Monday Night Football
Ravens (-4) at Raiders
I tabbed the Ravens as a regular season juggernaut, but this is starting to smell a bit like a season from hell.
Baltimore lost all three of its top running backs for the season, with the Gus Edwards injury added to J.K. Dobbins and Justice Hill. The Ravens now turn to Ty'Son Williams and a pupu platter of LeVeon Bell, DeVonta Freeman, and Latavius Murray.
Running backs are fungible, but no team runs the ball more than Baltimore. We also haven't seen Lamar Jackson since he had COVID in August, and this offense is in massive trouble if he's anything short of 100%.
As we mentioned in our emergency podcast on Friday, the other big injury loss might be even more significant. Marcus Peters was elite at times, and Baltimore was entering the season with the league's best set of corners.
That's key for a Wink Martindale defense that loves to blitz aggressively and leave its corners stranded in man coverage. Of all the teams in the league to lose a key RB and CB on the eve of the season, Baltimore might have been the most significant because of style of play.
I'm not high on the Raiders, but something smells rotten in Baltimore. This is the home opener in Las Vegas with fans in the stands, and you know that stadium will be absolutely rocking. Derek Carr is underrated and might be able to hurt a weakened secondary, especially if the Ravens blitz doesn't get home.
I hope my spidey sense are wrong, because I already have a lot invested in Baltimore this season, but this is a trap spot on the road Monday night in front of a raucous crowd. The amped environment could push the Raiders to an early lead, and we know the Ravens struggle from behind. I don't like it one bit.
THE PICK: Raiders +4 (Pass)
How would you rate this article?
This site contains commercial content. We may be compensated for the links provided on this page. The content on this page is for informational purposes only. Action Network makes no representation or warranty as to the accuracy of the information given or the outcome of any game or event.