Week 2 NFL Picks For Every Game: Why You Should Consider Betting the Packers, Browns & Chiefs
Credit:
Jamie Squire/Getty Images. Pictured: Chiefs QB Patrick Mahomes
Well, we're off to a heck of a start.
The 2021 NFL season is off and running, and I'm picking every game. That means 272 incoming picks, and we're already 10-5-1 to begin the year. Hey, that's a 67% hit rate! Not bad, and it's actually 12-4 if you played the 49ers and Jets early enough in the week to get the best of the line.
That's why we're putting our picks earlier this week, on Wednesday instead of Saturday. This is a trade-off. Earlier means less time for research, less injury news and less everything really, but it also means getting the best of the lines. Later means more info but missing the best numbers — and losing those 49ers and Lions bets we got snake bit on in Week 1. So let's see how this goes.
Bookies love to crush everyone's overreactions in Week 2. It's natural after eight months away to put too much stock into one game, but the NFL is wonky and weird things can happen in one solitary game. We'll lean heavily on our preseason reads, still far more valuable for now. That means you may want to refer to my offensive and defensive unit ranks, plus my offensive line and coaching rankings. And don't forget the  full-length previews of each team:
Enough prologue — let's make some picks.
We're picking every game but remember that not all games are created equal. After each pick, you'll also see my confidence level: Bet, lean or pass.
Let's get some winners.
NOTE: All lines below are from BetMGM as of Tuesday evening.
---
Thursday Night Football
Giants at Washington (-3)
Last week, picking against the Giants was one of the easiest plays on the slate. New York has the worst offensive line in the league, and the Broncos are a very bad opponent to not be able to block. The Giants never made sense against an elite defense with a high-floor offense.
Washington is the NFC version of the Broncos. Its defense is every bit as nasty, and Chase Young and Montez Sweat will be in Daniel Jones's grill all game.
Offensively, Taylor Heinecke may actually be this team's Teddy Bridgewater. Ryan Fitzpatrick gave this offense a higher ceiling, but Heinecke has been a good game manager who can prevent mistakes and mostly stay out of the way.
This total is low and falling, which makes sense with both teams featuring good, aggressive defenses and not much offense. An early Thursday divisional game should be close, and the Giants have won the last three meetings between these teams by one score. Normally that means taking the points, but I can't get past the way this  game mirrors the Giants' game against Denver, against which they never really had a shot.
THE PICK: Washington -3 (Lean)
Early Sunday Afternoon
Bills (-3.5) at Dolphins

This is a game where it's important to dig below the surface in Week 1.
Buffalo took the loss but dominated the Steelers in many ways, running 24 more plays and going 8-of-18 on third downs, even with a clunker from Josh Allen. Unfortunately, the Bills also went 1-for-4 in the red zone and had a punt blocked for a TD in a game they lost by seven.
The sky is not falling in Buffalo.
Miami is on the other side. The Dolphins got a big road win in New England but was clearly the inferior team.
The Patriots ran 18 more plays, racked up 134 more yards and eight more first downs, also maintaining possession for almost 14 more minutes. Miami really wasn't very good. But two key fumbles were just enough for a one-point victory, and a win is a win.
The Bills have won five in a row against Miami and had four passing TDs in both games last year, even against this impressive secondary. The Dolphins pass defense is built to defend a team like this, and that should keep the game close, but Buffalo is still the far better team.
If you disagree, you may want to skip the cover and go straight for Miami's division odds. If the Dolphins pull off the home upset, they'll take a stranglehold on the division at 2-0, both wins over the only division opponents that matter, and sending Buffalo to 0-2, effectively 2 1/2 games back already.
Miami is +250 at BetRivers to win its division. I trust the Bills to get this win but if you like the Dolphins, there's some value there.
THE PICK: Bills -3.5 (Lean)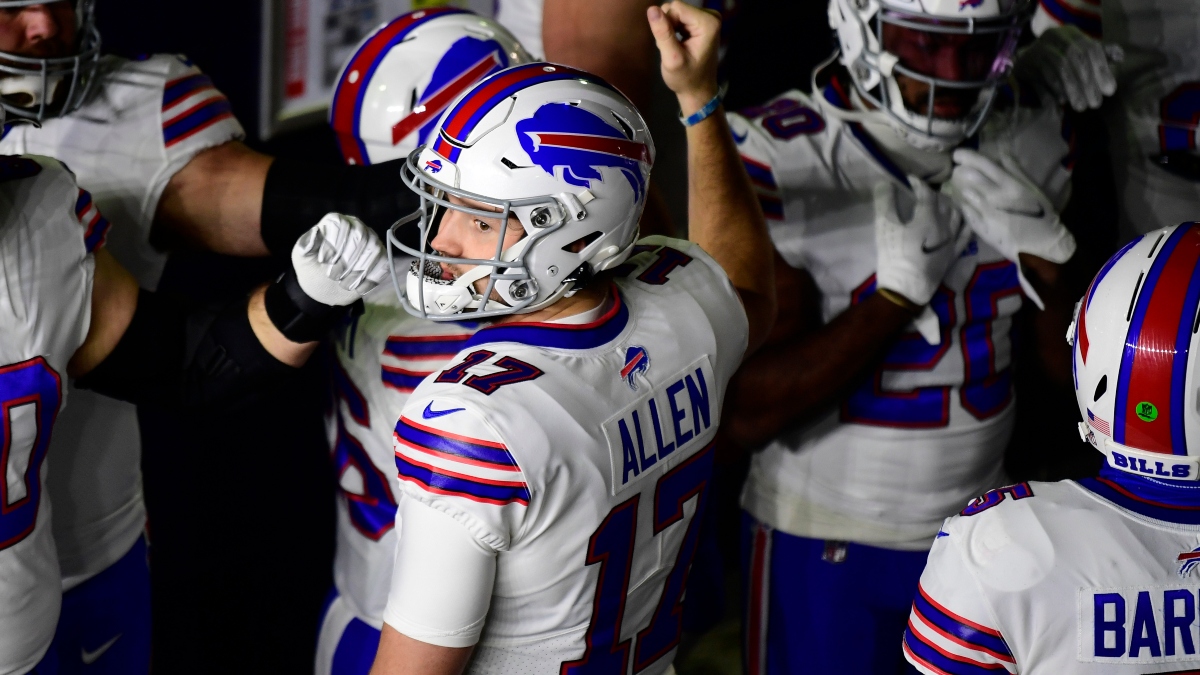 Rams (-4) at Colts

This is another case where we need to look past the final Week 1 scores. The Rams looked like they coasted but were actually pretty underwhelming, especially in run defense. Meanwhile, the Colts were mostly fine, gave up a few magical Russell Wilson plays and went 5-for-13 on third down and 0-for-3 on fourth down.
These teams may not be such an uneven match. And hey, the Colts actually got a real week of practice together this week! Imagine that.
Indianapolis has a really tough defense, and their line and run game can hurt the Rams. Stafford and LA will need to earn this 4-point spread on the road before I trust them.
THE PICK: Colts +4 (Pass)
49ers (-3.5) at Eagles
I'm leaning hard on my preseason read here, where I felt the 49ers were a possible No 1-seed in the NFC, while the Eagles might contend for the No. 1 pick.
Neither of those things look likely. The Niners are already missing two injured starters — RB Raheem Mostert and CB Jason Verrett — after only Week 1. And Philly looked pretty good, dominating the Falcons to pull away for a huge win while the 49ers held on late against a wild Lions comeback.
I'm thankful for that Detroit push because it obscured the slaughterhouse we were witnessing before a final six minutes that were never going to matter. San Francisco fumbled its first snap of the game but proceeded to get into scoring position on its next seven consecutive drives, scoring five TDs and attempting two field goals to go up 38-10. Consider that the Niners lost two fumbles in their own territory, missed a field goal, allowed an onside kick and pair of two-point conversions … and still the Lions would've needed their third TD and two-pointer in six minutes just to get to overtime, where the 49ers would've still rightfully been sizable favorites.
This was an absolute beatdown.
The Eagles 32-6 win? Not as much. Philadelphia was up 15-6 at the half, but Atlanta's inept offense couldn't convert on money downs so the Eagles had second-half scoring drives starting on Atlanta's 21-, 22-, and 50-yard line. And sure, Philly gets credit for playing really good defense. The Eagles will go toe-to-toe with the 49ers in the trenches here, and they might even have the edge.
But while Jalen Hurts, Nick Sirianni and DeVonta Smith impressed in Week 1, I'm still giving a massive edge to the Niners outside the trenches and that's why they're our play.
For once, though, Philly is the healthier team, and we're on the wrong side of a key number. Stick with the Niners, but play it safe.
THE PICK: 49ers -3.5 (Lean)
Raiders at Steelers (-5.5)
I would've loved to bet against both these teams in Week 2, so it's confusing to have to pick one side here. The Steelers got the biggest upset in Week 1, going to Buffalo and taking down the Bills as 6.5-point underdogs. The Raiders got an emotional home win on Monday night, taking down the Ravens in overtime.
This feels like an emotional letdown spot for the Raiders. They had that huge national TV spot at home with the first fans ever in Las Vegas, pushed it to overtime, won with a walk-off TD, celebrated and shook hands and everything before replay overturned things, then went back out on the field and blew the win with a doink interception, then somehow won it a second time with another walk-off TD. Whew! I'm exhausted just typing all that out.
Now the Raiders travel east three time zones on a short week to one of the toughest road visits in the NFL. The line is a little too high for a public team to be comfortable, but this feels like a schedule loss for Vegas.
THE PICK: Steelers -5.5 (Pass)
Broncos (-6) at Jaguars

Sometimes even playing early in the week isn't early enough.
In our early look-ahead to Week 2 on The Action Network Podcast, Raheem and I recommended these Broncos two weeks ago in this spot, figuring they'd get an easy Week 1 win over the Giants while the Jaguars might actually lose to Houston. Denver was -2.5 then, and now the value is mostly gone.
Still, the Jaguars look awful right now. The Urban Meyer thing is troublesome early, and if Trevor Lawrence is going to throw three interceptions against the league's worst defense, what's he going to do against the league's best?
Trust Teddy Covers to get the points he needs on the road.
THE PICK: Broncos -6 (Lean)
Patriots (-5.5) at Jets
Bill Belichick teams have been utterly dominant against rookie quarterbacks.
The Patriots under Belichick are 21-6 in that scenario, including a perfect 13-0 at home, the most recent of which was a 45-0 drubbing of Justin Herbert last season, and Herbert, you might remember, was a ridiculously good rookie.
It's not always pretty though. The Patriots are only 15-12 against the spread (ATS) in those games, and remember, Tom Brady was the QB for most of them. Now, Belichick has a rookie of his own under center, which makes life much more difficult.
This is the first road start for Mac Jones, and the one thing the Jets can do is defend the run, which will put a lot on the rookie's shoulders. This is the sort of game that tends to be low scoring and close, as Belichick does just enough to get the win.
New York certainly doesn't look good, but we have to play the number, and 5.5 is just too many points for a rookie QB making his road debut in the division.
THE PICK: Jets +5.5 (Pass)
Saints (-3.5) at Panthers
I picked against both these teams incorrectly in Week 1. The Panthers held on to cover against the Jets but weren't particularly impressive. Brian Burns and the pass rush dominated a bad New York line, but New Orleans is another animal entirely. This Saints O-line manhandled the Packers and made it clear the run game will still lead the way. New Orleans ran 39 times for 171 yards, controlling the clock.
Carolina's fearsome front seven is better rushing the passer than defending the run, and Sam Darnold was underwhelming even in a win. This is a much tougher spot against a Saints defense that just crushed Aaron Rodgers. New Orleans has won eight of nine against the Panthers and won the last four in Carolina by over 20 points per game.
THE PICK: Saints -3.5 (Lean)
Texans at Browns (-12.5)

Somehow, the Texans are leading the AFC South after a surprise win over the terrible Jaguars. And that's the only reason this line is still below 14, because Houston is still terrible. And guess what? The Browns are not Jacksonville. They're loaded up and down the roster.
Think of it this way: The Browns led the Chiefs by double digits at Arrowhead … and this is the Texans. Cleveland is built to blow out bad teams, and the Texans have the league's worst offense and defense. The Browns may not even need to pass. They'll win it in the trenches and should run all over Houston.
I'm undaunted by the 12.5-point spread. If this game were a month from now, it might be Browns -20. And I might take them then, too.
THE PICK: Browns -12.5 (Bet)
Bengals at Bears (-3)
It's the Andy Dalton revenge game! Is it possible to get revenge on a franchise that paid you for like five years too many?
I left these teams for dead in my preseason preview, but they were both better than expected in Week 1. Chicago hung with the Rams more than the final score indicated but got blown out late on a few big plays, while Cincinnati is 1-0 after taking care of Minnesota in a game that wasn't as close as it looked.
The Bears mirror those Vikings in their two glaring issues: Chicago's offensive line is even worse than Minnesota's, and the Bears corners are in worse shape too. That sets up for another nice game from Joe Burrow and Ja'Marr Chase, and maybe even a surprising Bengals D.
This game feels unpredictable, but Cincinnati looks a bit better and certainly knows Dalton so I'll take the points.
THE PICK: Bengals +3 (Pass)
---
Late Sunday Afternoon
Cowboys at Chargers (-3)

Oh baby, does this one look fun. The Cowboys and Chargers were two of my favorite sleepers, and both looked the part in Week 1. Dallas gave Tampa Bay all it could handle, and LA finally won one of those games it almost always loses, a tough road visit to Washington. Dak Prescott and Justin Herbert look like the next great quarterbacks.
This absolutely feels like one of those games that comes down to the final possession, with Prescott or Herbert deciding the game. A "home" Chargers game will basically be a home Cowboys game with how Dallas fans travel, and the absence of La'el Collins on the offensive line will be offset by the return of Zach Martin.
I played the over on this game with Raheem Palmer on our Week 2 Hot Read. Both teams play fast with great QBs and weapons and not much in the secondary, but that line has risen fast and is still going.
The public will be heavy on the over and the Cowboys, but I can't help myself. Dallas seems like the better team, and I have to take the points. And if the Cowboys do lose, I might just double down again and bet on their futures after a tough 0-2 start.
THE PICK: Cowboys +3 (Lean)
Vikings at Cardinals (-4.5)

This is one spot where I'm pivoting hard after what I saw in Week 1. Minnesota was supposed to have remade its offensive line and cornerbacks to get the team on the right track, but both units were disasters against Cincinnati. Burrow and Chase lit up the secondary, and the Vikings line had five false starts, three holding penalties and three others that were declined.
It sure looks like Arizona is the exact wrong team to have a weak line and unreliable secondary against. Chandler Jones had five sacks in Week 1, and he, J.J. Watt and the Cards front seven destroyed a solid Titans line. Meanwhile, DeAndre Hopkins, A.J. Green and Christian Kirk look like big trouble for these Vikings corners, and Mike Zimmer's defense typically struggles with mobile quarterbacks like Kyler Murray.
This Vikings season and the Zimmer era are hanging by a thread, and this feels like a kitchen sink Minnesota spot with a line that's risen three points since opening. Normally, that screams "take the dog," but I can't do it.
I'm pivoting hard on both teams and prepping for a Viking funeral.
THE PICK: Cardinals -4.5 (Lean)
Falcons at Buccaneers (-13)

The highest line of the week comes in a division battle, which is usually a warning sign. There's little question which of these teams is better, but the Falcons came as close as anyone to beating Tampa late last season, actually leading the Bucs before a winning fourth-quarter TD.
This is not about picking the better team — it's about playing the number. And history says to swallow hard to bet huge road underdogs in division games. Since 2006, road dogs of 12 or more points are 45-30-2 ATS, covering 60% of the time with a 16.1% ROI. It won't feel good, but we gotta play the number.
THE PICK: Falcons +13 (Pass)
Titans at Seahawks (-5.5)
This is another spot where the number just feels too high.
Early returns from Shane Waldron's offense are pretty good after Russell Wilson threw four TDs, but one of those was a moonshot deep ball and the other required an insane adjustment by Tyler Lockett. Seattle was good but not overwhelmingly great, and the Seahawks almost always play close games. Of their 16 last season, 11 ended as one-score affairs.
This is a bet on the Titans doing just that. Tennessee can't be any worse than it looked last week, and you know the offensive line and Derrick Henry will want to play with pride after that embarrassing showing. Both secondaries are weak, but this shapes up like an old smash-mouth battle between coaches who love it that way.
This line feels like an overreaction. These teams love to play toss-up games, and Tennessee could be our Week 2 Upset Special. They're +210 to the moneyline at Caesar's.
THE PICK: Titans +5.5 (Lean)
---
Sunday Night Football (8:20 p.m. ET)
Chiefs (-3.5) at Ravens

Fool me once, shame on you. Fool me twice, shame on me.
It sure feels like the Baltimore Ravens are the exact sort of team you'd build to beat the Kansas City Chiefs. What would that team look like? You'd certainly want a great defense with a good pass rush and elite corners. You'd hope for great coaching, and you'd want an offense that can run, run, and run some more.
You'd want the Ravens — or so you'd think.
That's the bet I've talked myself into every time these teams play, and then Patrick Mahomes goes out and makes me feel like an idiot. Wink Martindale just can't stop himself from blitzing. Live by the blitz, die by the blitz and Mahomes murders this blitzing D.
On top of that, those strengths you'd want for this matchup are weaker right now. Ty'Son Williams had a nice Monday night, but is still a far cry from the power-run game J.K. Dobbins and Gus Edwards were supposed to be, and the absence of Marcus Peters and Jimmy Smith in the secondary comes at the exact wrong time.
If I get Mahomes at under a touchdown, I'm always going to think long and hard before picking against him. He has shown he dominates this matchup so I'm not picking Baltimore again until proven otherwise.
The only unfortunate thing is that you already missed out on the best line here. I recommended Kansas City -2.5 on Monday morning on our Hot Read and the Chiefs are now -3.5 and will only see that line rise as the week goes on.
You already lost one key number. Don't lose another.
THE PICK: Chiefs -3.5 (Bet)
---
Monday Night Football (8:15 p.m. ET)
Lions at Packers (-10.5)

The Packers were my other Week 2 Hot Read and luckily, this line hasn't moved yet — but it will. Expect Green Bay to get to -13 or longer by kickoff as books look to get some teaser protection in there.
Look, the Packers will be fine. They were horrible in Week 1 but also had a loss just like that each of the past two seasons — 38-10 against Tampa last year, 37-8 vs the 49ers the year before — and went 13-3 both years anyway. Sometimes things just get totally away from this team. It's fine.
The talent disparity between these two teams couldn't be much wider. Don't get so excited about that wonky Detroit comeback. It was a 24-point game with six minutes left. San Francisco was already mentally in the locker room. The Lions stink, especially on defense.
If Jimmy Garoppolo and Deebo Samuel can light up this defense, what will Aaron Rodgers and Davante Adams do?
They can't set this line high enough. I can't wait to listen to Peyton Manning drool over A-Rod for three hours on Monday night. Thank God for a Packers loss and a meaningless Lions "comeback" that kept this line within range.
THE PICK: Packers -10.5 (Bet)
How would you rate this article?
This site contains commercial content. We may be compensated for the links provided on this page. The content on this page is for informational purposes only. Action Network makes no representation or warranty as to the accuracy of the information given or the outcome of any game or event.