Sunday NFL Picks: 10 Spreads & Totals To Bet For Week 2
Credit:
Mike Ehrmann/Getty Images. Pictured: Tom Brady.
Five underdogs. Three favorites. Two unders.

Ten of our analysts highlight their favorite Week 2 NFL picks for eight of Sunday's games.
We've included one sportsbook that's offering the best line for each pick as of Friday, but the market is always on the move and more than one book may be offering that line, so check our NFL Odds page to compare real-time lines across multiple sportsbooks.
Week 2 NFL Picks
Click on a pick to skip ahead to that analysis.
Travis Reed: Lions +6.5 at Packers
Kickoff: 1 p.m. ET | TV: FOX
The Packers put up 43 points on the Vikings while the Lions blew a 17-point fourth-quarter lead, so the perception of these two teams after one week could not be further apart. But my simulations think this line is too high in what is likely an overreaction to how the teams performed in Week 1.
I bet the Lions at +6 but given the importance of key numbers, I would not bet it if it falls back down to 5.5 before Sunday.

[Bet now at DraftKings and get a $1,000 bonus, including a $500 risk-free bet]
---
Return to the table of contents.
---
Kickoff: 1 p.m. ET | TV: FOX
Now that Jason Garrett is no longer with the Cowboys, Dan Quinn tops my personal "Bet against him no matter what" rankings.
During Quinn's tenure of five-plus years as the Falcons head coach, opponents are 45-36 against the spread (ATS, 7.9% ROI) — and 39-26 ATS (16.4% ROI) if we remove the Kyle Shanahan-spurred 2016 season.
The Falcons can keep up with any team in the league on offense: In Week 1, quarterback Matt Ryan had 450 yards passing while wide receivers Julio Jones, Calvin Ridley and Russell Gage each had 100 yards receiving. But the Falcons also allowed 322 yards and four touchdowns passing to Russell Wilson, and entered the year with Pro Football Focus' No. 30 secondary.
The Falcons simply cannot get any defensive stops.
As for the Cowboys, head coach Mike McCarthy is 123-92-7 ATS (12.3% ROI) for his career and an A-graded 53-34-4 ATS (18.6% ROI) as a home favorite.
With an offense that was No. 1 last year with 6.5 yards per play and a defensive line with elite edge rushers DeMarcus Lawrence and Everson Griffen, the Cowboys should be able to separate themselves from the Falcons.
I bet Dallas at -6.5 when lines first opened and like it all the way to -7.

[Bet now at PointsBet and get $150 if the Cowboys score a point]
---
Return to the table of contents.
---
Kickoff: 1 p.m. ET | TV: FOX
Despite the horrific defensive play against Green Bay in Week 1, Minnesota's offense was really efficient.
Kirk Cousins threw for 10.9 yards per attempt and led the Vikings on three straight touchdown drives in the fourth quarter. They also ran the ball with a lot of efficiency, toasting the rock for a whopping 6.1 yards per carry. Now Cousins has a great matchup against a weak Colts secondary that ranked 22nd in passing efficiency last season.
The Colts somehow found a way to lose a game in which they didn't punt and out-gained the Jaguars by more than 200 yards. To make matters worse, the Colts lost one of their two primary running backs, Marlon Mack, with a season-ending Achilles injury.
The Colts are really weak at wide receiver, with T.Y. Hilton and a bunch of question marks. The Vikings are really weak at the cornerback position, which was evident against Green Bay. But they should have a better matchup against a 38-year-old Philip Rivers, who has seemingly lost a lot of his arm strength.
The key to this matchup will be Cousins vs. the Colts secondary. Cousins has been one the most efficient passers in the NFL the past few seasons and should be able to put big numbers against a really weak Colts secondary.
The loss of Mack also cannot be understated. Mack ranked ninth in rushing success last season (per Sharp Football Stats), and even though the Colts have a top-five offensive line, they'll now have to rely on Jonathan Taylor to carry the load.
Based on my projections, I have the Colts as a -0.27 favorite, so I think there's good value on the Vikings at +3.5 on the road — I would play their number down to +2.5.
[Bet now at BetMGM and get a $500 INSTANT deposit match]
---
Return to the table of contents.
---
Kickoff: 1 p.m. ET | TV: CBS
This is a classic Week 1 overreaction.
Chicago was badly outplayed through three quarters against a Detroit team without its star wide receiver, Kenny Golladay. Even with a miraculous fourth-quarter comeback by Mitch Trubisky, the Bears still needed an end-zone drop by Lions rookie running back D'Andre Swift to avoid a loss and a Detroit cover.
The Giants, meanwhile, faced a much tougher defense in Week 1 against the Steelers and moved the ball effectively through the air. If not for an ill-advised Daniel Jones red-zone pass, New York could have earned a season-opening win against a Super Bowl contender.
Saquon Barkley was held to just six rushing yards on 15 attempts in Week 1, but I expect him to have a bounceback game, even against a stiff Chicago defense. As for Jones, he has a clear connection with wide receiver Darius Slayton, who is averaging 6.3 targets and 0.54 touchdowns in 13 career games with Jones. New York also hopes to have Golden Tate back from a hamstring injury.
Meanwhile, Chicago struggles to run the ball, ranking 28th last season in run offense DVOA per Football Outsiders. And Trubisky's Week 1 stat line was greatly improved by a miracle comeback.
I'll gladly take the 5.5 points on an explosive Giants offense against a turnover-prone quarterback — they could win this game outright. I would bet them down to +5.
[Bet now at PointsBet and get $150 if the Giants score a point]


---
Return to the table of contents.
---
PJ Walsh: Panthers-Buccaneers Under 47.5
Kickoff: 1 p.m. ET | TV: FOX
Chris Godwin, who led Tampa receivers with six catches for 79 yards in Week 1, is currently in concussion protocol and will reportedly be listed as doubtful for Sunday's game against the Panthers.
The Bucs' other premier wide receiver, Mike Evans, is still nursing a hamstring injury that certainly contributed to his paltry two receiving yards on one catch against New Orleans last week. And Tampa Bay's offense played very slow in its first game with Tom Brady under center, ranking 29th in Football Outsiders' Situation-Neutral Pace metric.
It's reasonable to expect another slow, grinding offensive game plan this Sunday — especially with injuries plaguing the team's top two weapons.
Carolina played with the 15th-fastest Situation Neutral Pace in Week 1, but while the Panthers had more tempo than Tampa Bay, they weren't exactly playing fast.
Additionally, should receivers for either team get free downfield, the weather certainly won't do Brady nor Teddy Bridgewater any favors: According to our data, unders are 495-392-10 (55.8%) in games played in double-digit winds since 2003, and Sunday's current forecast is calling for consistent 17-18 mph winds at Raymond James Stadium.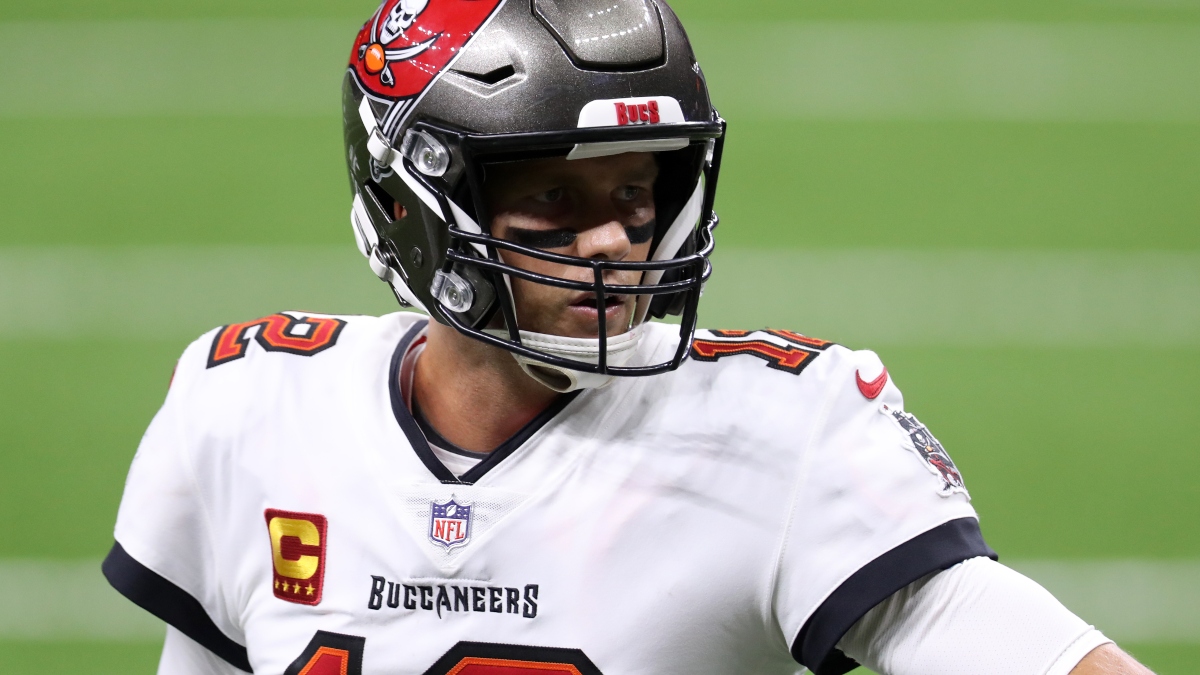 Because 47 is the fourth-most common landing spot for total points scored since the NFL moved extra-point attempts back to the 15-yard line in 2015, I'm locking in under 47.5 right now.
I'm still okay with betting this to 47, but because there are so many 47.5s available, there is no reason not to visit our NFL Odds page and find one of the many sportsbooks offering the extra half-point.

[Bet now at BetMGM and get a $500 INSTANT deposit match]
---
Return to the table of contents.
---
Kickoff: 1 p.m. ET | TV: FOX
Jimmy Garoppolo won't get top wide receiver Deebo Samuel back for at least another couple of weeks, and wide receivers Brandon Aiyuk and Richie James Jr. are battling hamstring injuries. That means Garoppolo will have to rely on throwing to his tight ends and running backs, positions that accounted for 66% of his targets in Week 1.
Raheem Mostert's 76-yard touchdown reception notwithstanding, targeting these positions will lead to shorter completions and require longer time of possession to score.
San Francisco is also shaky on the interior offensive line: Daniel Brunskill is a new starter at guard, and the 49ers may be down to their third-string center with starter Weston Richburg (knee) on PUP and backup Ben Garland (ankle) failing to suit up in Week 1.
So we'll get the better of the two offenses in this game at less than 100% while traveling across country for a sleepy early start against a listless Jets offense that doesn't have the ability to force San Francisco into a shootout: New York averaged only 17.3 points per game last season and needed extended garbage time just to get 17 in Week 1 against a defense of similar quality to San Francisco in Buffalo.
The Jets and 49ers both played to totals of 44 in Week 1, but the 49ers offense the Jets will face won't be nearly as aggressive (or effective) throwing as the Bills were last week, and the Jets offense the 49ers will face has zero resemblance to that of the Kyler Murray-led Cardinals.
I bet this under at 43.5 but like it down to 41.5.
[Bet the 49ers-Jets Under at FanDuel completely risk-free for $1,000]
---
Return to the table of contents.
---
Kickoff: 1 p.m. ET | TV: FOX
Many people were stunned by Philadelphia's upset loss to Washington last week, but I was not among them. The Eagles have been a remarkably average team since their Super Bowl run in 2017, and they're also already besought by a litany of injuries, which seems to be an Eagles trademark at this point.
It looks like Miles Sanders and Lane Johnson should be back this week, so that will help, but it remains to be seen how close to full strength those two are, and Philly is still light on the line and at receiver. Even with Johnson back at right tackle, the Eagles are down two offensive line starters for the season.
That was the big problem last week — not Carson Wentz. Wentz was a problem, too, but he was under pressure all game from the only strength of the Washington Football Team: Their defensive pass rush.
Speaking of, may I introduce you to Aaron Donald? Donald is the best defensive player in the league, and he's the sort of guy who can disrupt an entire offense. The Rams won last week in part because of offensive line injury issues for Dallas, and now they luck into their second straight advantageous spot.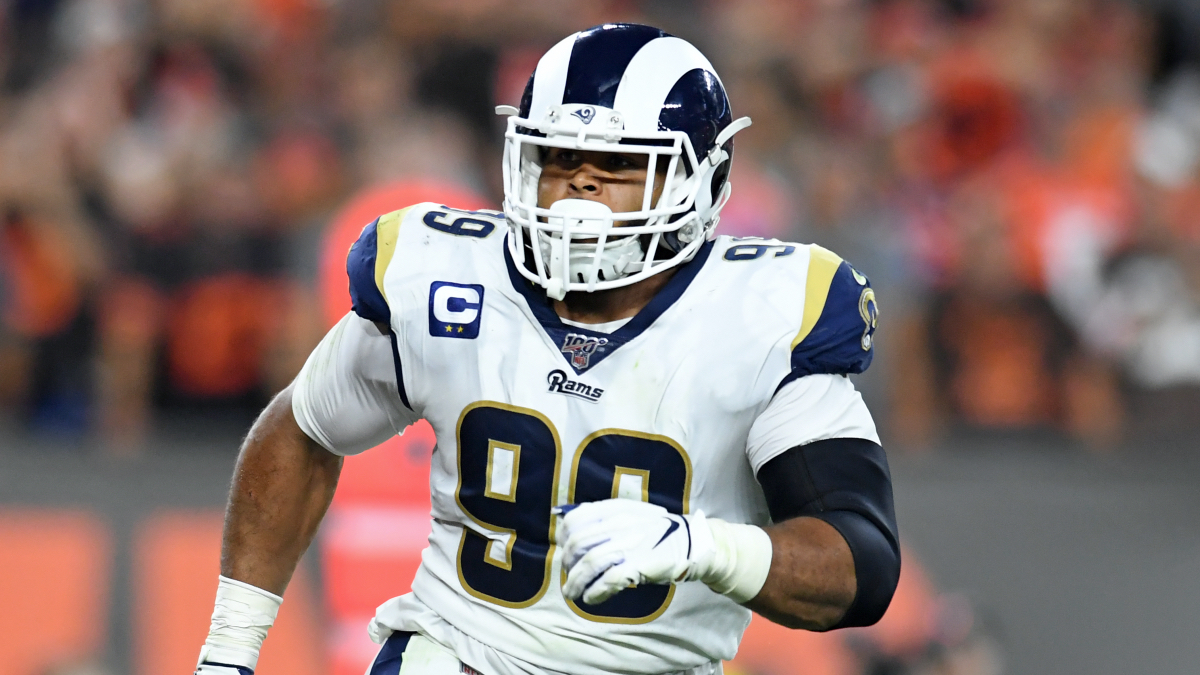 The oddsmakers are essentially calling this a toss-up, since it doesn't look like home field is a factor, and these teams just don't seem like equals right now. The Rams were excellent against a terrific Cowboys team last week, and they just look better than Philly right now. I'll play to -2.5 if needed.

[Bet now at DraftKings and get a $1,000 bonus, including a $500 risk-free bet]
---
Return to the table of contents.
---
Kickoff: 1 p.m. ET | TV: FOX
I'm taking the opposite side of Brandon on this game.
Week 2 is historically one of the best weeks for sportsbooks, and how the market overacted to the Rams' victory over the Cowboys is a prime example why.
Oddsmakers opened the Eagles as 3-point favorites over the Rams, and it was swiftly bet down. What did we see last week that would make the Rams a 1.5-point favorite on the road against a desperate Eagles team that is 25-10 at home during the Doug Pederson era?
As Hall of Fame boxer Roy Jones Jr. once rapped, "y'all must've forgot," so I'll refresh your memory.
Just last week the Rams opened as 2.5-point home underdogs to the Cowboys with overwhelming public support on the road team before sharp money moved the line, making Los Angeles a short favorite. Apparently a primetime win from the Rams and a 17-0 collapse to a divisional opponent from the Eagles is all it takes to drastically change the perception and alter the power rating of these two teams.
Hook, line, sinker. I'm not buying it.
The Eagles are coming off a game in which they allowed 24 pressures, 14 hurries and eight sacks with Carson Wentz being hit 11 times. This seems like a disaster given the matchup against Aaron Donald, however the Eagles have reinforcements coming: RG Lane Johnson is on track to play Sunday, and the return of Miles Sanders should be huge against a Rams team that is weak at linebacker and just gave up 136 yards on 5 yards per attempt to the Cowboys.
Given the offensive line struggles in Week 1 with the injuries to Brandon Brooks, Andre Dillard and Johnson, you can expect a better game plan out of the Eagles this week. Wentz had the highest intended air yards with 12.4 last week, which is the opposite of how the Eagles should approach things going forward.
Look for them to go to the quick passing game and run the ball more to negate the Rams' pass rush.
The return of Derek Barnett and Javon Hargrave should also bolster the Eagles defensive line. The Cowboys got just one sack, three hits and seven pressures on Jared Goff this past Sunday night. Against a quarterback who struggles under pressure, Dallas didn't get the job done but I expect a Philadelphia defensive line to make life tough on Goff.
Looking at the score of their Week 1 matchup against the Washington Football Team, it's easy to be misled. On the surface, the Eagles gave up 27 points to a Dwayne Haskins-led team. In reality, they gave up only 3.4 yards per play and 159 yards passing. Their 27 points allowed were a product of three turnovers and drives that started in Eagles territory.
NFL teams that win the turnover margin win the game 78% of the time. The Eagles had a turnover differential of -3 last week, and teams lose 97.3% of the time in that scenario. As long as the Eagles don't turn the ball over on Sunday, look for them to get their first victory to avoid going 0-2.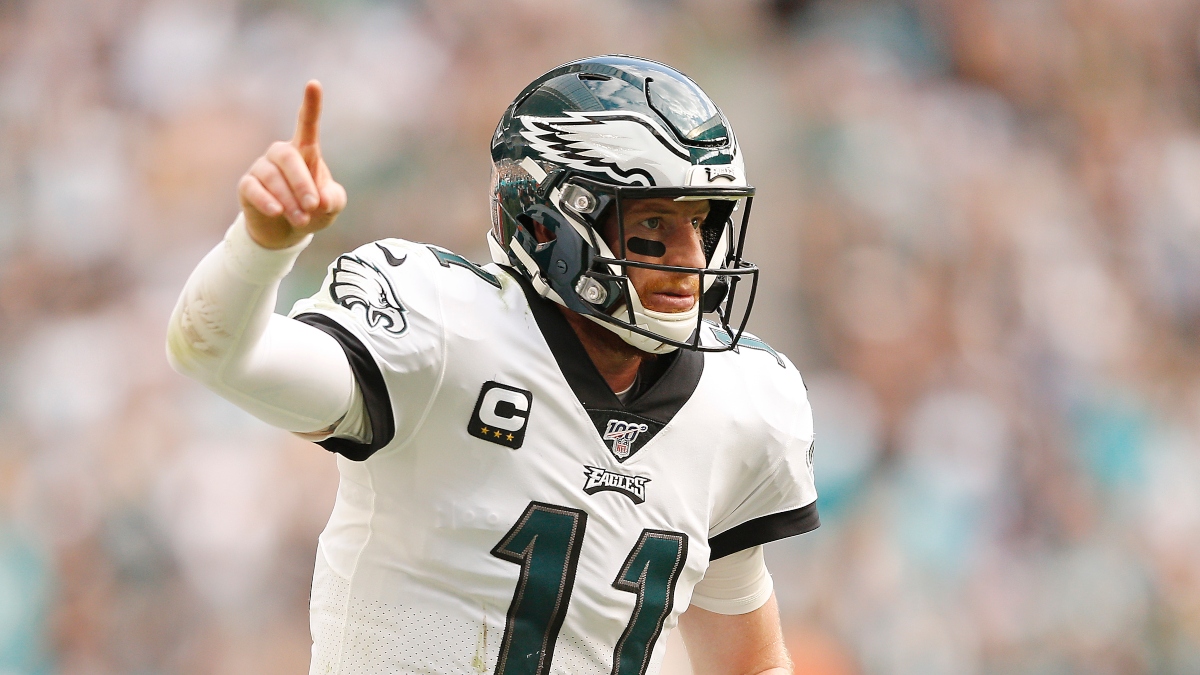 The Eagles might not have been the same team since winning the Super Bowl (and losing Frank Reich), but they've consistently performed when necessary. Whether it's Week 16 and 17 against the Cowboys and Giants to win the NFC East in 2019 or winning three straight to make the playoffs in 2018, Doug Pederson has always had his team ready in key spots.
This is one of them. Take the Eagles.
I would play them up to -1.5.

[Bet the Eagles at FanDuel completely risk-free for $1,000]
---
Return to the table of contents.
---
Stuckey: Chargers +8.5 vs. Chiefs
Kickoff: 4:25 p.m. ET | TV: CBS
As I mentioned multiple times on our podcast, Chargers unders were squarely on my radar to start this season.
With Tyrod Taylor at quarterback, Anthony Lynn can now run his snail, rush-heavy, conservative offense. And Taylor won't turn it over like Philip Rivers did too often last season.
The Chargers want to grind the clock, rely on their solid defense and try to win games like they did last week by a score of 16-13. They did play a little faster and took a few more deep shots than I expected last week, but I expect an extremely conservative game plan on Sunday as long as the game stays within reach.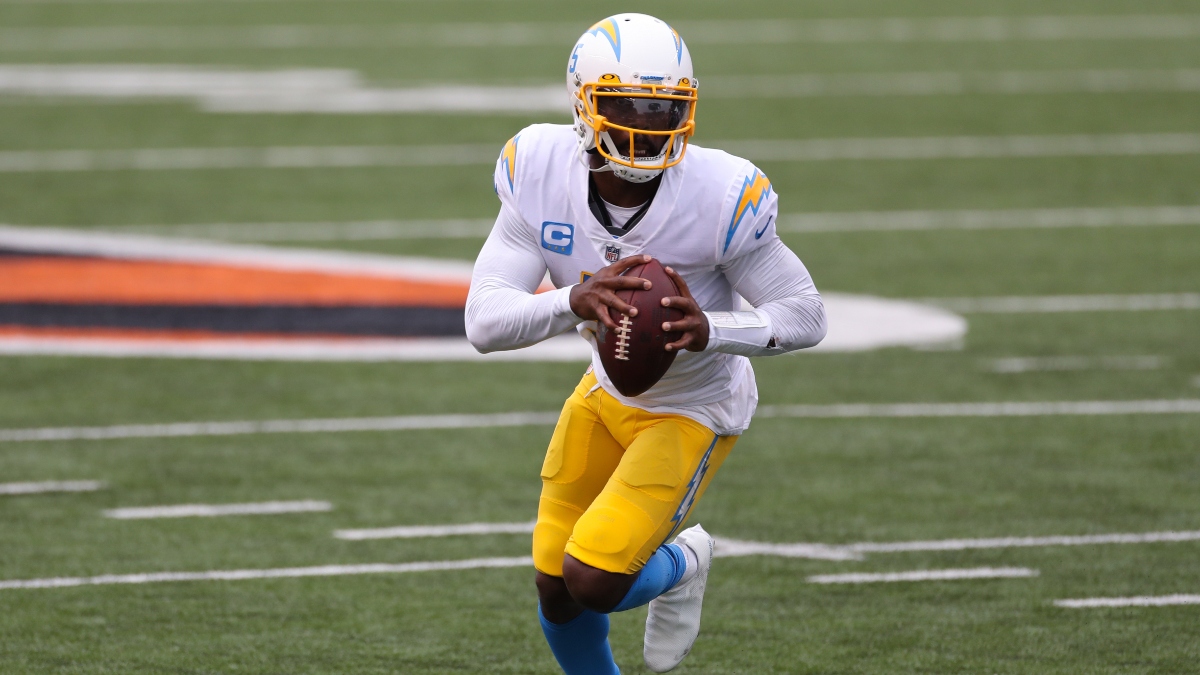 While a rush-heavy attack with Tyrod Taylor under center lowers the ceiling of Los Angeles in today's NFL, it's a strategy that could have some success against the more talented Chiefs.
You can run the ball on Kansas City, and that's how you keep Patrick Mahomes off the field. And when Mahomes did take the field last year, the Chargers did as good of a job as anybody in the NFL — Mahomes threw for fewer than 200 yards in both meetings with a total of two touchdowns and two interceptions.
The Chargers lost both those meetings but out-gained Kansas City, 438 to 310 yards, in a 7-point loss. And in a 10-point loss later in the season, they also finished with more total yards and dominated time of possession. Both games basically came down to turnovers as L.A. had six to Kansas City's two. Taylor should keep those down this season.
I'm not sure the Chargers can win this game against a Chiefs team that has absolutely dominated the division in recent years but I do think L.A. can stay within a touchdown. I make this line around KC -6, so the +8.5 is even more enticing in what I expect to be a lower-scoring game than the total implies.
This is wild. The Chiefs are 27-2 in their past 29 division games. The two losses came by a combined 2 points on miraculous comebacks with touchdowns as time expired.

— Stuckey (@Stuckey2) July 1, 2020
It's also scary fading Andy Reid with extra time to prepare after a Thursday night opener — he's 33-22-1 against the spread (ATS) with eight or more days between games — but I can't pass up the home division dog catching over a touchdown here. And yes, I'll always have a soft spot for competent NFL home dogs of seven or more, which have gone 153-136-6 ATS (52.9%) since 2003.

[Bet now at BetMGM and get a $500 INSTANT deposit match]
---
Return to the table of contents.
---
Kickoff: 4:25 p.m. ET | TV: CBS
I'm gonna have to fade Stuckey here.
Watching this week's Thursday Night Football matchup between the Bengals and Browns really gave a glimpse into how offensively challenged the Chargers are with Tyrod Taylor. They were lucky to escape Cincinnati last week with a win as they easily could've lost the game if not for an offensive pass interference call on A.J. Green with seven seconds left in the game. Los Angeles had a negative yards per play of -1.1 last week, which shows that they actually got outplayed by rookie quarterback Joe Burrow in his NFL debut.
Next up is Patrick Mahomes and the reigning Super Bowl champion Kansas City Chiefs.
Last week, the Chiefs actually ran the ball more than they threw it as Andy Reid was intent on testing out his new toy in running back Clyde Edwards-Helaire.
Mahomes was efficient with his arm and completed 24-of-32 passes for 211 yards and three touchdowns. That's all without any pass completions of more than 20 yards and an average yards per attempt of just 6.59, which was in the bottom-half of all Week 1 quarterbacks. And yet the Chiefs still strolled to a comfortable double-digit win over the Texans — that's scary for a team that didn't even look to go vertical down the field.
Figure this: In their last five games on the road against the Chargers, the Chiefs are 5-0 straight up and against the spread with four of those wins by double digits.
Don't overthink this one. The Chiefs will roll on Sunday in Los Angeles — big. I'd play this up to -9.5.
[Bet now at PointsBet and get $150 if the Chiefs score a point]
---
Return to the table of contents.
---
How would you rate this article?