Raybon's Week 6 Fantasy Football Trade Targets: The Best Options to Buy & Sell
Credit:
Scott R. Galvin-USA TODAY Sports. Pictured: Cleveland Browns wide receiver Odell Beckham Jr. (13)
What players are the best fantasy football trade targets heading into Week 6?
Chris Raybon analyzes some big names who've under-performed expectations and are great buy-low options.
He also outlines the running back to sell high on if you own him.
After JuJu came through for us last week following a recency-bias inducing primetime no-show, we're back in Week 6 buying another alpha receiver who is also coming off a game in which he failed to get it going under the lights.
As always, below I'll detail a few players worth buying low in fantasy, and one player who's worth selling if you own him.
Let's get to it.
---
Week 6 Buy Lows

WR Odell Beckham Jr., Browns
The growing pains for Baker Mayfield and Freddie Kitchens are morphine-worthy, but OBJ is unlikely to keep posting sub-WR30 numbers as long as he's in the lineup. In five pro seasons — all with late-career Eli Manning — OBJ has never finished outside the top-10 WRs in per-game fantasy production.
2018: 9th PPR/9th half-PPR/9th standard
2017: 3rd/3rd/3rd
2016: 4th/5th/5th
2015: 4th/3rd/2nd
2014: 1st/1st/1st
Despite placing just outside the top 30 WRs, OBJ is 11th in the NFL air yards (518, per AirYards.com) and tied for 11th in targets (43), so it's only a matter of time. With OBJ struggling and a Week 7 bye on the horizon, you should be able to pry him away from a fed-up owner for less than he's worth — kind of like the Browns did to the Giants (scary thing is, the jury's still out on who got the last laugh).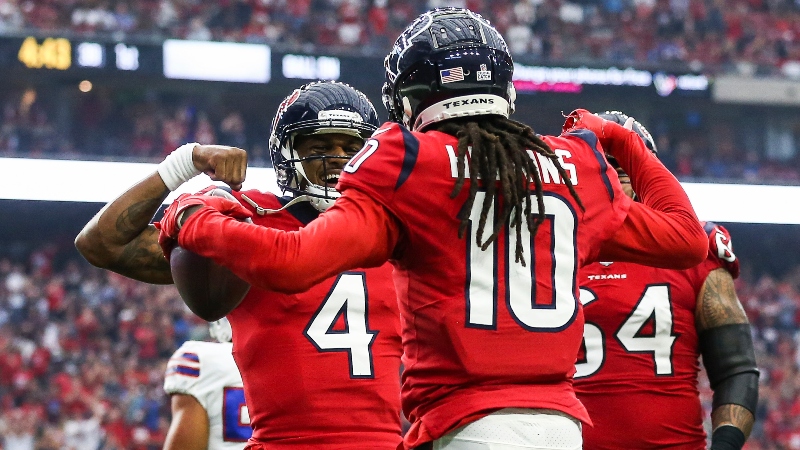 WR DeAndre Hopkins, Texans
Nuk has posted a modest 31-347-2 line on 44 targets this season, putting him 15th among WRs in PPR, 17th in half-PPR, and all the way down at 23rd in standard. But judging by his performances since breaking out in Year 2, there's an 80% chance he ascends, and a 60% chance he finishes top-six.
2018: 1st PPR/2nd half-PPR/2nd standard — 115-1,1572-11 on 163 targets (16 games)
2017: 1st/1st/1st — 96-1,378-13 on 174 targets (15 games)
2016: 27th/30th/35th — 78-954-4 on 151 targets (16 games)
2015: 4th/4th/6th — 111-1,521-11 on 192 targets (16 games)
2014: 14th/14th/14th — 76-1,210-6 on 127 targets (16 games)
A couple of things are working in Hopkins' favor. For one, even though he's on pace for a five-yea low in targets (141), he has posted a superb 70.5% catch rate on 2017 targets since the start of last season, so there's reason to believe he can continue to maintain that pace as Deshaun Watson continues to make strides with his accuracy.
In Pro Football Focus' Adjusted Completion Percentage, which adjusts for drops, throwaways, spikes, etc, Watson has improved 65.6% in 2017 to 76.1% in 2018 to 77.1% this season. A 70.5% catch rate would put Hopkins on pace for 99 receptions, which is actually three more than he had during his overall WR1 campaign in 2017.
Hopkins has basically been a victim of TD variance. He has reached the paint only twice this season, but he scored 24 times in 31 games from 2017-18.
His career TD-per-reception rate of 8.67% would put him on pace for 8-9 TDs if he caught 99 balls. His 11.2 yards per reception is also primed for regression, as he's never averaged below 12.2 in a season, which would put him on pace for a floor of 1,200 yards if he stays healthy. And that he has, failing to suit up for only one of his 101 career regular-season contests.
If the injury bug again strikes Will Fuller, who has missed 17 of a possible 53 games in his career, or Keke Coutee, who has missed 11 of a possible 21, Nuk  is a shoo-in top-three WR. As it stands, he's still a near-lock to finish as at least a low-end WR1, so I would aggressively target owners who may be viewing him as more of a WR2 due to recent results.
RB Le'Veon Bell, Jets
Bell is ranked 11th/18th/23rd in PPR/half-PPR/standard, but with the bye aleady out of the way and quarterback Sam Darnold nearing a return, things are looking up for Bell, who has legit top-six upside the rest of the way.
Bell's value lies in his usage: He has played 100% of the offensive snaps twice already and hasn't had a snap rate of less than 88%. This has allowed him to pile up 25.8 carries plus targets per game, second in the league behind only Christian McCaffrey.
From Weeks 6-16, Bell faces only two opponents currently ranked higher than 16th in run defense in Pro Football Focus team grades: Week 11 at Washington (seventh) and Week 16 vs. Pittsburgh (sixth). The other nine matchups come against Dallas (23rd), New England (16th), Jacksonville (27th), Miami twice (20th), the Giants (17th), Oakland (26th), Cincinnati (25th), Baltimore (21st). And if he doesn't get going on the ground, the floor will remain high because Bell ranks second among running backs in routes run per game (30.0), behind only Leonard Fournette, according to data from PFF.
---
Week 6 Sell High
RB Jordan Howard, Eagles
With Darren Sproles (quad) on the shelf and Eagles head coach Doug Pederson publicly toying with the idea of giving Howard more carries, it's easy to think his stock is on the rise.
Not so fast.
Howard has snuck into the top 25 by scoring an unsustainable five TDs over the past three games, and the next six weeks of the Eagles schedule is the farthest thing from conducive to sustaining outlying TD production.
The Eagles face all three of the NFL's top scoring defenses over the next six weeks, and not a single defense they'll face is currently ranked lower than seventh:
Week 6 at Minnesota: 14.6 PPG allowed (5th)
Week 7 at Dallas: 18.6 PPG allowed (7th)
Week 8 at Buffalo: 14.0 PPG allowed (3rd)
Week 9 vs. Chicago: 13.8 PPG allowed (2nd)
Week 10: Bye
Week 11 vs. New England: 6.8 PPG allowed (1st)
With the threat of a Miles Sanders breakout, as well as a barrage of potentially negative game scripts looming for Howard over the next month-and-a-half, he will struggle to maintain his current top-25 pace.
This is exacerbated because he's being called upon to block on 32% of his pass snaps this season while averaging just 1.8 receptions per game. Compounding matters, he's stuggling to make things happen even when the ball does come his way through the air, posting a below-average 6.5 yards per reception over the past three years and failing to haul in a full one-third of his career targets.
How would you rate this article?