Raybon's Fantasy Football Trade Targets: Who to Buy & Sell in Week 7
Credit:
Brad Rempel-USA TODAY Sports. Pictured: Minnesota Vikings wide receiver Stefon Diggs (14).
Which players should you be looking to trade for in Week 7? Who should you be dishing off?
Chris Raybon has his top fantasy buys and sells to get your lineup ready for Week 7 and set you up for the rest of the season.
If you're still reading this column every week, that's a good thing — it probably means you're still in position to make the fantasy playoffs and gut the teams of the mentally checked out bottom-dwellers along the way.
Earlier in the season, it was easier to capitalize on small-sample overreactions that often corrected that very week, but now that we're a little deeper in, the advice you'll hear over and over is trade depth for studs.
It's good advice, but it doesn't mean you shouldn't be passing up value for players with stud upside who may not be playing like it at the moment — players who might not even elicit a veto if you swindle them from the owner of an 0-6 team.
Week 7 Buy Lows

RB Joe Mixon, Bengals
Mixon's 8-10-0 rushing line last week against the Ravens wasn't pretty, and left him on the outside looking in at the top-40 running back. But with his value at a low point, I'm playing the percentages here.
Mixon was going as a top-12 pick overall in most drafts and is averaging 17.6 touches per game since Week 2 (he left Week 1 with an injury), so odds are he still gives you unsexy, low-end RB2 value.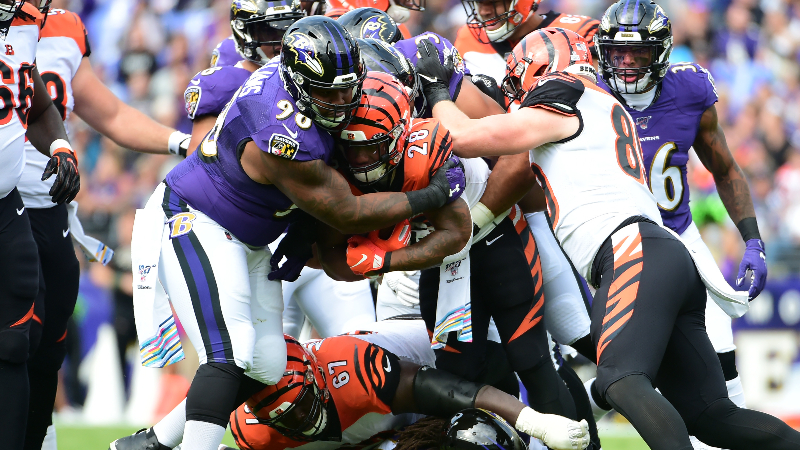 With the Jaguars next up for Mixon and a Week 9 bye looming, it probably won't take much to pry him away — I'd dangle WR3/FLEX types and see if the Mixon owner bites.
But just make sure you're aggressive as it gets closer to kickoff, because the Jags are ranked third-worst in yards per carry allowed (5.2) and dead last in rushing DVOA (11.3%, per Football Outsiders), so Mixon's perceived value may not be nearly as low at this time next week.
RB Melvin Gordon, Chargers
The contract gods have laughed in Gordon's face as he's plodded for just 49 yards on 20 carries (2.5) since ending his holdout. Through two weeks, he's hasn't even cracked the top 50 running backs in fantasy points per game.
But his snap rate climbed from 45% in his first game to 60% in his second, and he has handled 80% of the backfield carries while still averaging 5.0 targets per game.
Austin Ekeler isn't going away, but in Gordon, you're should be getting a player in line for 15 weekly touches and goal-line work on a team that won't fall behind early every week like it did against the Broncos and Steelers (I think).
Gordon has punched in 38 touchdowns over his past 43 games, and it's only a matter of time before he gets his first one and the buy-low opportunity is shut. As with Mixon, the ideal play would be to swindle an exchange of wide receiver depth for running back depth, which is always more valuable.
WR Keenan Allen, Chargers
Even after three straight duds (5-48-0, 4-18-0, 2-33-0), Allen is still a top-20 fantasy receiver, which is exactly why you should buy low on him if you still can. With Allen's downturn coinciding with the return of Gordon and Hunter Henry (knee), his owners may overthink it and try to bail.
But Allen posted a 103-1,397-6 line in 2017 with Gordon and Henry both in the lineup. He's sixth in the NFL in receiving yards per game since 2015 (82.6) and is eighth this season (83.8) despite the three-game slump, so odds are this goes down as the biggest lull of his season.
I'm still treating him as a WR1, and he's an especially good target if you're a playoff-bound team looking to exchange surplus depth for studs in two-for-one deals.
---
WR Sammy Watkins, Chiefs
Since going off for  9-198-3 in Week 1, Watkins has been quiet, failing to top 64 yards in a game. While Watkins has been missing time with hamstring injury, Tyreek Hill also returned and scored two touchdowns. All of this, combined with the Chiefs getting upset twice, has created a perfect storm for buying low on Watkins.
Including the 2018 postseason, Watkins has scored double-digit PPR points in 11 of 16 games with the Chiefs, and Hill and Travis Kelce will ensure that Watkins is a distant third on the defense's priority list.
The likes of Demarcus Robinson and Byron Pringle have reminded us that we should be buying any and all receivers on an offense led by Patrick Mahomes, and Watkins is flying under the radar right now. He's a nice high-risk/high-reward gamble if you're season is teetering on the edge.
Week 7 Sell High
Alshon Jeffery, Eagles
Jeffery has three touchdowns this season and is coming off a 10-76-1 line against Minnesota, but he projects as more of a WR3 than a WR2 going forward due to a variety of factors.
For one, he could be in trouble if the touchdowns dry up, because he's averaging a career-low 9.0 yards per catch.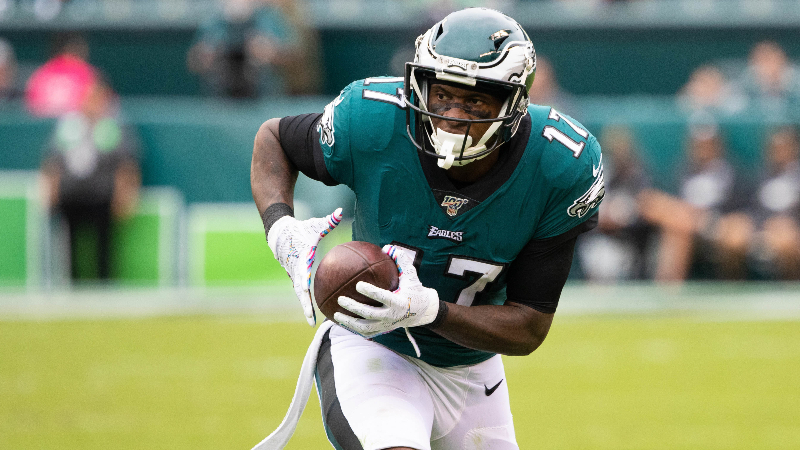 Given his age (30 in February) and the decline we've seen from wide receivers at that age with similar body types, I think it's a smart move to get ahead of any potential decline and offload him while his fantasy value is still intact.
DeSean Jackson is nearing a return, which will increase the competition for available targets. The Eagles' also face a daunting slate of pass defenses starting after the Cowboys game this Sunday night, drawing the Bills, Bears, a bye, and then the Patriots.
Each of those defenses rank top six in pass DVOA, so you're looking at an entire month where Jeffery could be taking up space on your bench.
WR Stefon Diggs, Vikings
I was all in on buying Diggs a few weeks ago, but when a player goes off for  7-167-3, you've got to try and sell high. Especially a player who has never played 16 games in a season and has been targeted more than seven times once all season.
If you traded for Diggs and he won you a week with his blowup, congratulations, but the grind never stops.
Flip him for a more consistent weekly option and you'll be thankful you did come playoff time, when the cold weather starts causing Diggs' soft tissue to tighten up and Mike Zimmer aims to turn every game into a 10-6 slugfest.
How would you rate this article?