NBA Futures Odds, Picks, Predictions: Our 12 Favorite Bets for MVP, Win Totals NBA Champion and More
Credit:
Aaron Ontiveroz/MediaNews Group/The Denver Post via Getty Images. Pictured: Jamal Murray (L) and Nikola Jokic (R) of the Denver Nuggets.
It's official, the NBA is back.
All 30 teams are back in action this week and begin their quest for a championship, or deep postseason run, or the Play-In Tournament, or maybe even Victor Wembanyama and Scoot Henderson.
Our crew of NBA contributors and analysts have various bets they are making entering the season, including win totals, division winners, player awards and more.
You can check out their favorite bets ahead of the season below.
NBA Odds & Picks
Nuggets-Warriors Regular Season Wins Head-to-Head
Jim Turvey: I truly love these regular season win total head-to-head props. They allow you to pair a team you're high on with a team you're low on, and that's exactly what I'm doing right here.
The Warriors side is the one that may need talking more people into, so let's begin there. This is not at all a vibes play. We all saw the Draymond punch, but the team already seems to have moved on and betting on narrative is always a dicey move.
Instead, this a bet on Steve Kerr and the Light Years Ahead Front Office trying to split the difference between eras during the regular season. The Wiseman-Kuminga-Moody trio provide a potential bridge to the future, and with young—and mostly fresh—legs after a more limited playoff run than the Curry-Klay-Dray side of the roster, they should rightfully get plenty of opportunities to prove themselves essential to the future of the franchise.
There's also the Trip to Asia factor that our own Matt Moore has talked about when fading the Warriors win total this season: Teams that have traveled to Asia during the preseason are 15-8-1 to the under, with the trend only growing stronger in recent seasons.
On the flip side of the bet, I'm guessing I won't have to win many folks over on the Nuggets, but since their win total has actually trended down lately, maybe there are indeed some of you out there.
The abbreviated case is simple: Jokic is one of the two best players on the planet right now, and last year he dragged Denver to 48 wins with a roster that resembled your local YMCA squad. This year, he gets Jamal Murray and Michael Porter Jr. back, alongside sneaky great acquisitions in the form of Bruce Brown and Kentavious Caldwell-Pope.
Add in the fact that this is Bones Hyland's world and we're all just living in it, and there are lots of smart folks eyeing their Most Regular Season Wins bet at +1100. All we need is for them to finish ahead of the Warriors.
Getting all of this at plus money on the Denver side only makes the bet all the more valuable — I would take it at even money.
---
» Return to the table of contents «
---
Detroit Pistons Win Total — 29.5
Jacob McKenna: Some of my favorite bets come in the form of who I think is an under the radar team that may not have high expectations. I think that is the case this season with the Detroit Pistons, and taking the over here at 29.5 at DraftKings is a great bet in my eyes.
Last season we saw Detroit win 23 games, and that was without much veteran leadership and pretty much relying on Cade Cunningham, a rookie, to carry the load on offense and defense. Jerami Grant was constantly on and off the court all year because of injuries, another reason why they failed to win many games.
Grant has since been traded to the Portland Trailblazers, which is seen as a rather large loss and is playing a large factor in this total. However, Detroit retooled quite nicely in the offseason, and I think this group is in a much better position in the 2022-23 season than they were last year.
The first move they made came in the NBA Draft, where the Pistons selected Jaden Ivey out of Purdue. Ivey was a freak athlete and a star in college, often drawing comparisons to Ja Morant and Derrick Rose.
The NBA preseason helped confirm why many people see similarities in Ivey and current and past NBA stars, as he averaged 12 points, three rebounds, and four assists in four games, showing that he can provide solid production alongside Cade Cunningham.
Detroit also went out and got plenty of NBA veterans in the offseason, more specifically in the form of Bojan Bogdanovic, Alec Burks, and Nerlens Noel. Bogdanovic and Burks will certainly help improve on the offensive struggles that the Pistons have had over the last several years, and Noel will provide the team with a defensive anchor off of the bench.
When you combine those veteran additions with Detroit's young core of Cade Cunningham, Isaiah Stewart, Saddiq Bey, Marvin Bagley, and Jaden Ivey, I think you have a recipe for at least a 30 win team.
---
» Return to the table of contents «
---
Denver Nuggets Alternate Win Total — 53.5
Andrew O'Conner-Watts: This season, I don't think I could be higher on the Nuggets if I was smoking a joint in a Dan Issel jersey on top of Mt. Elbert.
This offseason Denver bolstered its depth with a few key acquisitions. Signing Bruce Brown added defense, respectable shooting, and skill off-ball that should fit perfectly with Nikola Jokic's ability to make plays from anywhere in the post.
While the Nuggets lost some scoring in a trade with the Wizards that sent Will Barton and Monte Morris to Washington (combined 27.3 PPG last season) in exchange for Ish Smith and Kentavious Caldwell-Pope (combined 19.5 PPG), that loss in offense will hardly be missed with the return of Jamal Murray and Michael Porter Jr. who sat a combined 155 games last season due to injuries.
Even if Murray and Porter Jr. get off to a slow start in terms of minutes and workload, a team with Jokic and high-level role players is good for at least 48 wins as we saw last season.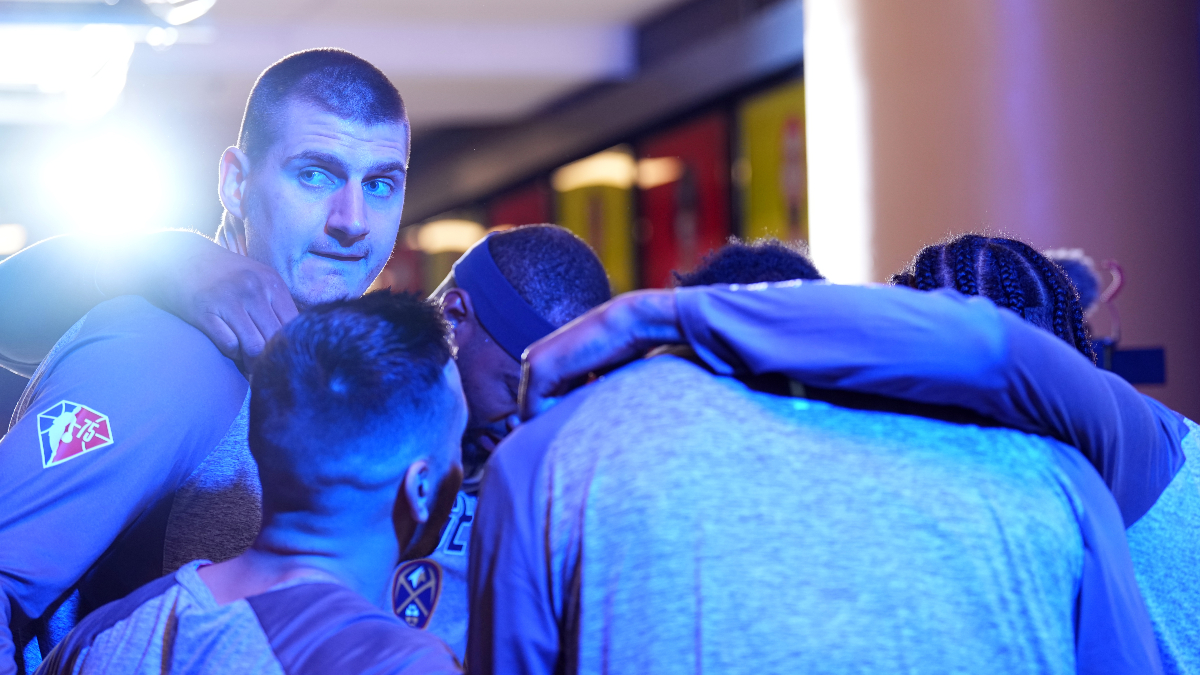 In the seven seasons with Michael Malone as head coach, their win percentage has increased every year but two — the shortened pandemic season, and last season without Murray and Porter Jr.
In the years their win percentage increased, it did so by an average of 7%. If we assume a 7% increase this season (I think we can expect more), that equates to 53.74 wins.
The Denver Nuggets' regular season win total of 49.5 is way too low at DraftKings and I would bet that even with the heavy -140 juice, but let's have some fun with a futures bet that won't cash for over half a year. If you want something with a bit more oomph, I also love Michael Malone to win Coach of the Year (14-1 at DraftKings).

---
» Return to the table of contents «
---
New Orleans Pelicans Win Total — 44.5 Wins
Munaf Manji: The New Orleans Pelicans are coming off their first playoff appearance since the 2017-18 season. Despite finishing with a record of 36-46 during the regular season last year, the Pelicans beat the San Antonio Spurs and Los Angeles Clippers in the Play-In Tournament then gave the top seeded Phoenix Suns all they could handle.
There are several factors I love about this Pelicans team. At the top of that list is the scoring abilities of their "Big 3" — Brandon Ingram, Zion Williamson and CJ McCollum. The Pelicans were nearly a top-10 offense the last time Williamson played and showed flashes of being dangerous without him in their six-game series against the Suns.
More importantly, the length and defensive ability this team possesses will be key for defense that ranked ranked ninth in Defensive Rating after the All-Star break . Herb Jones, Larry Nance Jr., and Jaxson Hayes will give opposing teams fits. Additionally, Jose Alvarado brings energy and intensity off the bench.
The Pelicans' bench also has their first-round pick, Dyson Daniels along with Devonte Graham and Trey Murphy III. The Pelicans tick all three boxes of guard play, length, and defensive ability that I look for in a team's success coming into the season.
Furthermore, the Pelicans have a more than capable head coach in Willie Greene who will be in consideration for Coach of the Year. Let's also not forget general manager David Griffin is not afraid to go out and make a move to improve this team.
With the return of Zion Williamson, this team is primed to compete and succeed in the Western Conference this season.
---
» Return to the table of contents «
---
Minnesota Timberwolves Win Total — 49.5
Tyler Schmidt: Looking over our 2023 NBA Win Total Tracker, the Minnesota Timberwolves stood out the most at their 49.5 win total line.
The main storyline for the Timberwolves is the addition of three-time Defensive Player of the Year Rudy Gobert. Many people didn't like the trade for the Timberwolves, but Gobert joins a great nucleus of young talent after averaging a double-double for the sixth-straight season.
Gobert is notorious for his pick-and-roll offense, which will greatly benefit D'Angelo Russell who averaged double-digit points in the 2017-18 season off the pick-and- roll with big man Jarrett Allen in Brooklyn. Russell averaged a career-high 7.1 assists last year and with an easy lob presence like Gobert, expect that number to rise even more.
Karl-Anthony Towns and Anthony Edwards averaged over 20 points per game each last season and both seem poised to make another jump forward, especially Edwards. He improved in every category from Year 1 to Year 2 and is a potential breakout candidate this season.
Offensively the Timberwolves are absolutely loaded with talent and adding Gobert should help their defense that ranked a little above average in defensive rating last season. The Timberwolves won 46 games last season and with their core players getting into their prime, they should get over this 49.5 win total with ease.
During the playoffs, the Gobert and Towns tandem may be an issue when their opponents play a smaller lineup, but this is a regular season bet. They should thrive in a Northwest division that has three teams — the Oklahoma City Thunder, Utah Jazz, and Portland Trailblazers — who will be in the mix for the No. 1 overall pick.
Taking the Timberwolves at +140 to win the division is also very intriguing. Theoretically all they would have to do is beat out the Nuggets who have had several injury problems the last couple of years. But I like the over on their win total here.
---
» Return to the table of contents «
---
Mavericks Win Southwest Division
Austin Wang: Everyone scoffed at the Jason Kidd hire, but he has proved to be a solid head coach. Last season, the Mavericks shocked the Suns in the second round to get to the Western Conference Finals with a mediocre roster. After getting a taste of that success, I see them returning this season with vengeance.
They've beefed up their front court over the offseason, trading for Christian Wood and signing Javale McGee. They lost Jalen Brunson in free agency, but Spencer Dinwiddie stepped up as a strong second playmaker to Luka Doncic. They will also expect Tim Hardaway Jr. back to the roster, who adds another scorer and shooter.
I think the Mavericks have the highest upside in the Southwest Division. They are healthy and I believe they will get off to a quick start as opposed to last season when they were riddled with injuries. They have one of the league's top defenses and should dominate inferior teams in the half-court with their style of play. I see a MVP-caliber season for Doncic in his fifth season.
I anticipate some regression for the Memphis Grizzlies who will be without Jaren Jackson Jr. for the beginning of the season. I think there is considerable value with taking the Mavericks to win the Southwest Division at +140.
---
» Return to the table of contents «
---
Denver Nuggets NBA Championship
Chris Baker: Following the acquisition of Aaron Gordon at the trade deadline of the 2020-21 season, the Nuggets went 7-0 with four of their wins coming by double digits, including convincing wins over the Atlanta Hawks, Los Angeles Clippers, and Philadelphia 76ers.
The starting five of Jamal Murray, Will Barton, Michael Porter Jr., Gordon, and Nikola Jokic was a league best +61 in just 90 minutes through their first four games together. They scored an NBA best 135.1 points per 100 possessions and allowed an NBA best 102.3 points per 100 possessions on defense. I get it, that's a really small sample size, but those numbers are encouraging, plus they have the two-time with the MVP on their team.
Despite that, at least three sportsbooks have the Nuggets listed behind the L.A. Lakers in their title odds and two have their odds priced the same, despite all the question marks the Lakers have entering the season.
The Nuggets exceeded all expectations this past season, their preseason win total, according to most Sportsbooks, was about 47.5 and they managed to cash the over at most spots landing precisely on 48 wins despite losing MPJ and Murray sitting out the entire season. Even if you just ran back the same roster as last season with a healthy Jamal Murray and Michael Porter Jr., you still end up with a potential contender.
The reason I am so high on this team this year is because of the moves they made in the offseason to further improve their roster. Adding Kentavious Caldwell-Pope, Bruce Brown, and rookie Christian Braun gives them three guys who can all space, defend, and cut to the rim well for Jokic. These were the traits that Will Barton and Monte Morris were never fully able to provide for the Nuggets and I think that they fit perfectly next to Jokic.
I truly believe that if the Nuggets can avoid major injuries to their star players, they are at least a top-five team in the NBA. I'm comfortable backing this team at +2000.

---
» Return to the table of contents «
---
Most Valuable Player — Luka Doncic
NBAFirstBasket: When I look at futures bets, in general, I need them to be significant odds if I am going to lay out money for a long period of time.
In looking at the MVP race for the upcoming season I think it comes down to Luka Doncic, Joel Embiid or Nikola Jokic. Jokic has won the MVP the past two years and Denver is likely to be pretty good this year. But with Jamal Murray and Michael Porter Jr. back, they are likely to provide more help to Jokic and reduce his output.
For maybe the first time in his career, Doncic appears to have taken his physical health seriously and has thinned down, according to the Slovenian national team strength and conditioning coach.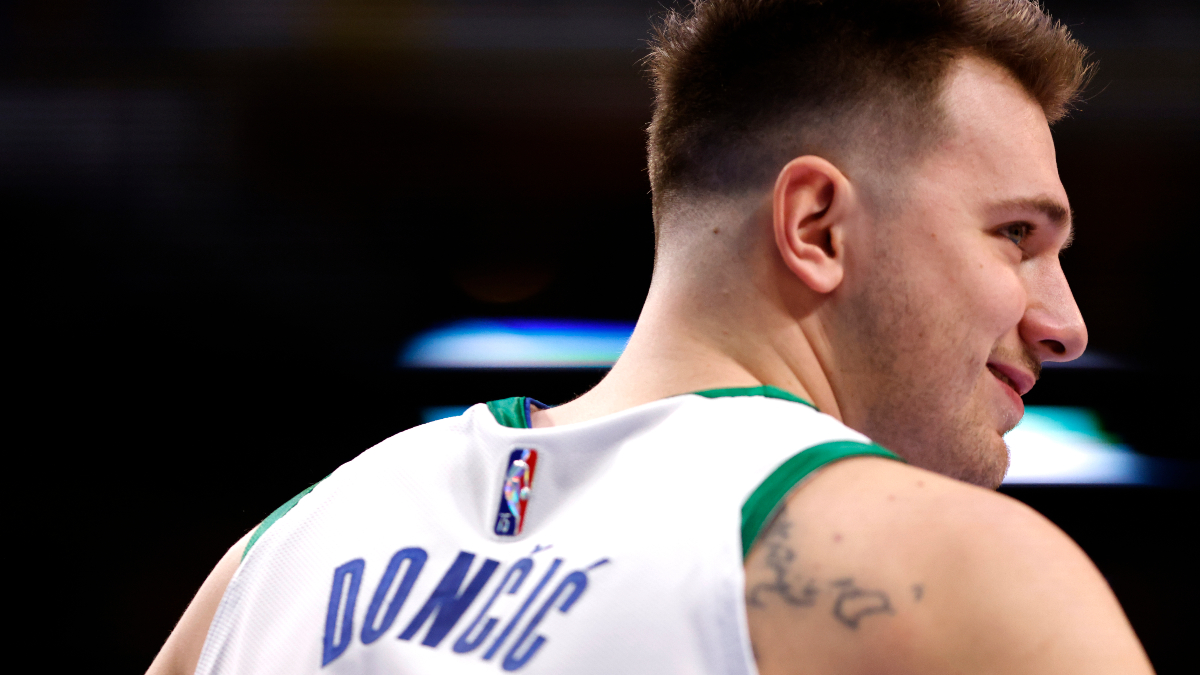 Jalen Brunson is off to New York and Kristaps Porzingis was traded to Washington mid-year. Dallas did go out and get Christian Wood from Houston, but appears to have settled on starting JaVale McGee over him.
The starting lineup of Doncic, Tim Hardaway Jr., Reggie Bullock, Dorian Finney-Smith and McGee only makes a stronger case that Luka will need to increase his production for this team to contend in the Southwest division.
Doncic put up 30 points, 9 rebounds and 9 assists per game last year. His points per game increased when Porzingis was traded by almost 3 points. I think we see Luka lead the league in scoring as he will be asked to do more this season.
If he is even halfway serious about improving his physical health, I think he can push his per game stats higher this year. His best price across the market is at FanDuel (+500).
---
» Return to the table of contents «
---
Rookie of the Year — Bennedict Mathurin
Kenny Ducey: Bennedict Mathurin turned some heads when he said LeBron James was going to prove that he was better than him at basketball, and all he did in the preseason was back that up. He finished as the scoring leader among all rookies and did so in just 23.5 minutes per game.
Mathurin is such an intriguing pick here for Rookie of the Year because he's a part of a young team with a lot of upside — he's playing alongside Tyrese Hailburton, who should only help boost his numbers with his excellent playmaking.
While the Pacers' ceiling certainly isn't high, they haven't sold off their top players, Buddy Hield and Myles Turner and pivoted toward the lottery. We should expect the Pacers to at least compete for one of the play-in spots until something changes.
Mathurin has everything you want in a Rookie of the Year candidate. He's a daring shot-taker and will surely have some eye-popping scoring nights. I know the preseason counts for nothing, but if he's able to come anywhere close to replicating that type of scoring efficiency, he's going to be one of the favorites for this award. He should be able to quickly leapfrog Chris Duarte on the depth chart, and with that should be front and center in this race.
We've already seen Chet Holmgren get hurt, and with Paolo Banchero playing on a basement-dweller, he could easily be shut down for an extended period should he pick up even a minor injury. I think this is a shot worth taking.
---
» Return to the table of contents «
---
Rookie of the Year — Jaden Ivey
Alex Hinton: The Detroit Pistons finished with the third-worst record last season, but slipped to the fifth pick in the lottery. However, needing a backcourt mate to pair with Cade Cunningham, the team caught a break when Jaden Ivey fell to the fifth pick. That is part of the reason I like this bet.
Head coach Duane Casey has been cautious with his first round picks during the Pistons' rebuild. Killian Hayes, Saddiq Bey, and Isaiah Stewart all came off the bench to begin their careers. Meanwhile an ankle injury to Cade Cunningham contributed to a slow start and ultimately was too much for him to overcome to win rookie of the year.
However, guard Alec Burks has been out for the entire preseason as he recovers from an offseason foot surgery. Killian Hayes also has not panned out as the Pistons had hoped, which is why Ivey fills a big need. Ivey has started every game in the preseason and is in line to begin the year as a starter.
By the time Burks returns, Ivey will likely be entrenched in the starting lineup. In addition to Ivey, the Pistons acquired Bojan Bojdanovic, who will add much needed shooting and scoring punch as well.
Ivey has a chance to be among the team's top two scorers, out of Cunningham, Bogdanovic, Bey, and himself. If Ivey averages in the ballpark of 16 points and four assists with solid efficiency, he will be a strong contender to win Rookie of the Year.
Additionally, the Pistons should get more attention as a young and exciting team on the rise, possibly making them a league pass darling. That will put more eyeballs on Ivey as Detroit only has one national television game. At +460, Ivey still offers good value to take home the award.
---
» Return to the table of contents «
---
Rookie of the Year — Paolo Banchero
Joe Dellera: Paolo Banchero was at the center of the NBA Draft Odds controversy when he went No. 1 overall during this year's NBA Draft and he is now the favorite to win Rookie of the Year.
Is this warranted?
Yes, he's in total command of his play and it's shined through. He was shut down after just two games of Summer League because the Magic had simply seen enough and in his latest preseason game he tallied 17 points, 5 rebounds, and two assists in 27 minutes vs the Cavaliers.
Banchero will be a focal point of this offense and it would not surprise me to see him average 18 points, 7 boards, and 2 assists this season considering he is also a willing passer.
He is built for the NBA grind and should directly benefit from playing alongside budding young star Franz Wagner who had a knack for finding the right pass for his rim runners in EuroBasket and in his rookie season.
These odds are short, but they are not short enough.
---
» Return to the table of contents «
---
Defensive Player of the Year — Joel Embiid
Brandon Anderson: I did a deep dive on all the players I like to win this award, but Embiid was by far the the best bet on the board. (He was +2500 when I bet it.)
Embiid has never made First-Team All-D and didn't make All-Defense last season, so that's a mark against him. But he's three-time All-Defense and received DPOY votes in three of the last five seasons, including a runner-up finish in 2018. The reputation is there, the voter history is there, and the team defense is there.
And don't overlook the narrative.
Embiid is a perennial MVP contender but can't quite get over the hump, in part because his health prevents him from playing enough. Could voters give Embiid DPOY as something of a consolation prize if the Sixers ball out with an elite defense and a top seed in the East? Games played don't matter as much, and he really ought to have a major award by now.
Embiid is the best big man and most important defender for what might be the best defense in the league. He has the reputation, voter history, and narrative. Embiid checks nearly every box.
---
» Return to the table of contents «
---
How would you rate this article?
This site contains commercial content. We may be compensated for the links provided on this page. The content on this page is for informational purposes only. Action Network makes no representation or warranty as to the accuracy of the information given or the outcome of any game or event.