Arkansas vs. LSU Betting Odds, Picks, Predictions: Can Razorbacks Cover Historic Line?
Credit:
Nelson Chenault, USA Today Sports. Pictured: KJ Jefferson
The latest betting odds for LSU vs. Arkansas list the Tigers as a historic 42.5-point favorite.
It's close to the largest spread in any SEC conference game, trailing only Florida vs. Vanderbilt in 1996.
Can the Razorbacks keep this close, or is there a betting way to bet this game? Collin Wilson gives his pick.
Arkansas vs. LSU
Spread: LSU -42.5
Over/Under: 69
Time: 7 p.m. ET
TV: ESPN
Just how bad is this Arkansas team? We might find out this week.
The Razorbacks are a historic SEC underdog against LSU, which enters the week at No. 1 in the College Football Playoff rankings.
While the Tigers aren't No. 1 in our power ratings, they've got one of the best offenses in the country, a quarterback playing with so much confidence and an improving defense.
Model Prediction for LSU-Arkansas
Collin Wilson uses his power ratings to project every college football spread and total. Get his Week 13 lines here and over/unders here.
Spread: LSU -43.5
Total: 60.1
Are my Arkansas Razorbacks the worst SEC team over the span of the last couple of decades? That is certainly a valid argument, though it could be challenged by previous Arkansas teams.
We once lost to The Citadel and our coach quit the next day. Our fanbase used the Freedom of Information Act to expose Houston Nutt's text messages. Bobby Petrino took a motorcycle ride with a University employee and that all led to this from John L. Smith.
The Razorbacks have lost at home to Toledo, North Texas and San Jose State, over the past four-plus seasons. 2018 marked the first time Arkansas football lost double-digit games, with victories only over Eastern Illinois and Tulsa. If the record isn't enough, consider that we are paying Chad Morris and Bret Bielema eight figures to get out of town.
Club Dub is officially the most expensive place in the world, averaging about 4 million dollars per trip.
Paying Houston Nutt 3.5 million in 2007 now seems like a distant memory. At least Nutt had us in a bowl as I cherish my memories of Tom Brady undressing the Razorbacks in a New Year's nooner at the Citrus Bowl. Please don't even start on how Dana Altman was our basketball coach for a single day.
To everyone outside the State of Arkansas we have become a punchline. Inside the state, the fanbase has irrational expectations, an empty 80,000-seat stadium and a heavy dose of apathy in the fall. As an alumnus, I will not let apathy set in. I will continue to do what I have been doing since eating with Brandon Burlsworth in Brough Commons or playing NBA Live with Pat Bradley in Walton Hall: gamble on my Razorbacks.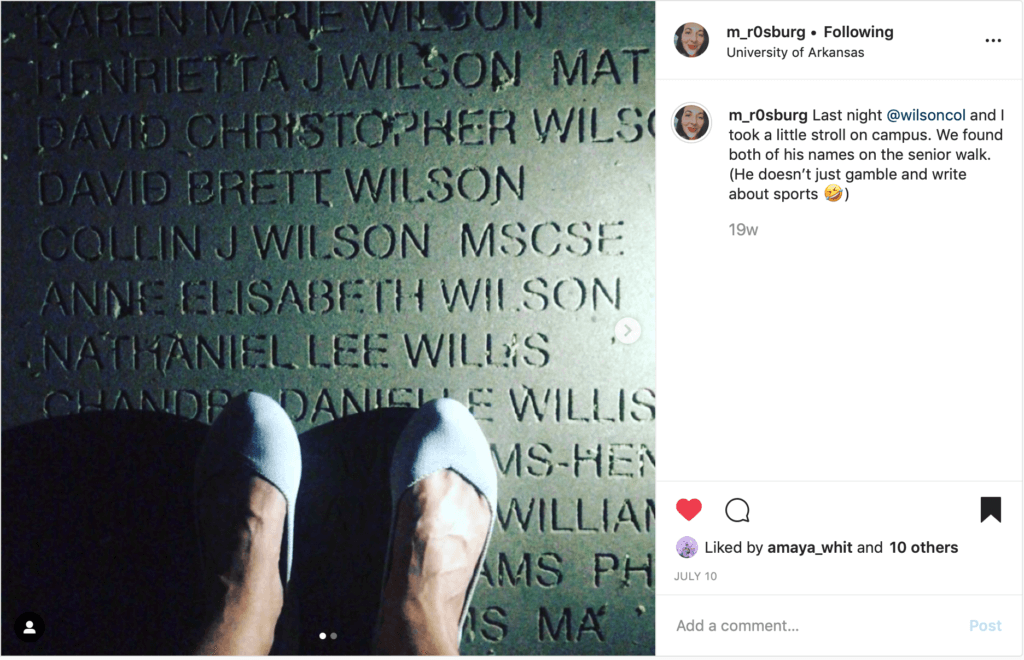 The idea that Alabama and LSU are the new Big 12 was a thought that entered my mind once Joe Brady made his landing in Baton Rouge. The Big 12 has always been known for high-flying offenses putting up plenty of points. Alabama and LSU have adopted offenses with similar concepts, but it has come at the cost of a lockdown defense. The Tigers are giving up 23 points a game, something the fanbase is quite worried about.
Ed Orgeron asked if he's ever gained 700 yards. He doesn't think so.

"I don't think we've ever given up 600 yards, neither." #LSU

— Brody Miller (@BrodyAMiller) November 17, 2019
Both Vanderbilt and Ole Miss put up at least 37 points vs. the Tigers, something that won't fly in the College Football Playoff if LSU survives the SEC Championship. LSU practices have seen an increase in awareness of pursuit angles and tackling. This should be LSU's best effort at playing a sound technical defensive game with so much focus on defensive coordinator Dave Aranda.
The current total sits well above the Action Network projection of 60. Arkansas' interim head coach Barry Lunney Jr. will make play calling a 'collaborative effort.'
The Razorbacks' depth chart at quarterback lists Nick Starkel, K.J. Jefferson and John Stephen Jones at quarterback. There are not a ton of answers in the wake of firing Chad Morris. Lunney's job is to bridge the gap through the final two games and help the players find joy in playing the game of football.
Will Joe Burrow score as many points as Ed Orgeron wants? Of course, but with a total around 70 and Burrow a heavy favorite in the Heisman race, there should be no need for the quarterback to have reps past a lead of 35 points or in the second half. As for Arkansas, the advanced stats are bloody.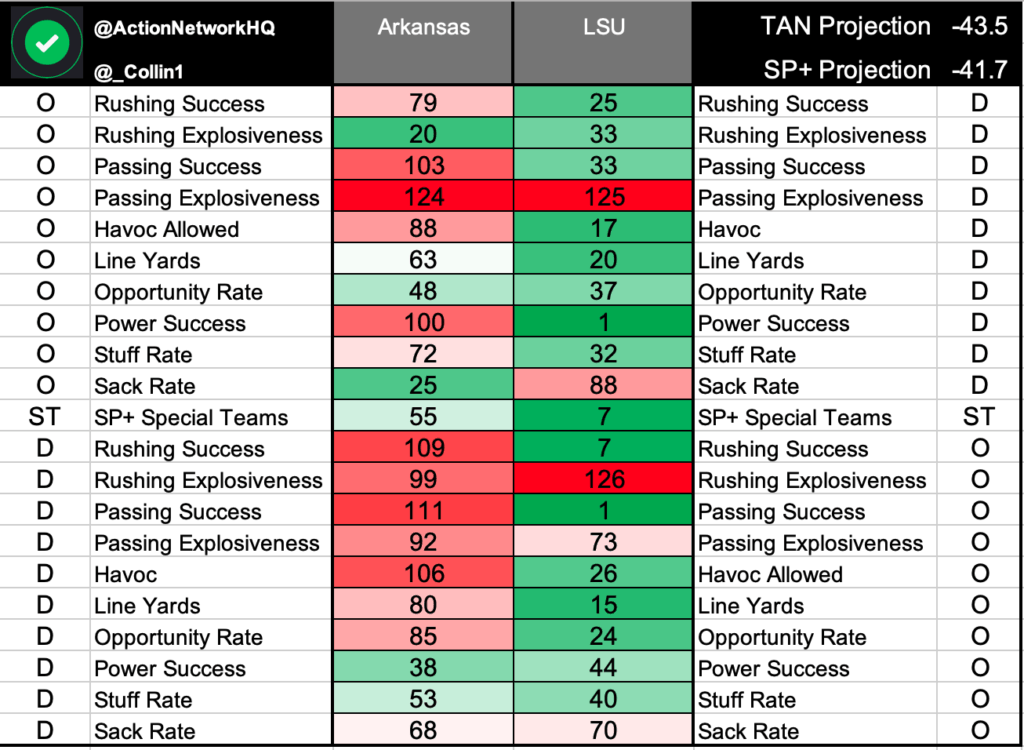 This game is a 'get healthy' event for the LSU defense, as Arkansas cannot expose the opponent pass explosiveness issue that plagues the Tigers. Havoc on both sides of the ball heavily favors LSU, while the explosive rush of Rakeem Boyd will be neutralized by the Tigers defense.
The Razorbacks are 120th in red zone scoring percentage and 110th in red zone touchdown scoring. The total indicates Arkansas should score two touchdowns, but with renewed interest on the defensive side of the ball, LSU should have no issues shutting the Hogs out. I'm willing to put my money on the LSU defense having an all-effort game, while the Razorbacks are looking for high fives and fun dip on the bus ride back to Fayetteville.
Pick: Under 69.5 [In New Jersey? Bet now at PointsBet]
How would you rate this article?