College Football Odds, Picks: Collin Wilson's Week 12 Bets for Oregon State vs Washington, Tennessee vs Georgia & More (Nov. 18)
Credit:
Getty Images. Design by Cyriel Klitsie/Action Network. Pictured (left to right): Memphis' Seth Henigan, Georgia's Brock Bowers, Kansas State's DJ Giddens, Washington's Michael Penix Jr. and Oregon State's DJ Uiagalelei.
We're down to the penultimate full Saturday slate of the 2023 college football season.
This season has flown by, but we might as well make the most of what we have left. I broke down four of Saturday's biggest games and came through with a betting pick for each.
First, we go to the AAC, as the SMU Mustangs travel off Beale Street to take on the Memphis Tigers in a game with major AAC Championship implications.
Then, we'll make the trip to Knoxville for one of the biggest rivalries in college football, as the top-ranked Georgia Bulldogs look to keep rolling against the No. 18 Tennessee Volunteers, who are coming off a big loss to Missouri.
The rivalry theme continues immediately after that with the Sunflower Showdown between the No. 21 Kansas State Wildcats and No. 25 Kansas Jayhawks.
Finally, to wrap it all up, all eyes will be on Reser Stadium for arguably the biggest college football matchup of the weekend when the No. 5 Washington Huskies attempt to keep their undefeated season alive as underdogs against the No. 11 Oregon State Beavers.
So, let's not waste any time, and dive into my analysis for Saturday's Week 12 college football slate.
---
Collin Wilson's Week 12 Betting Card
The team logos in the table below represent each of the matchups that Action Network senior writer Collin Wilson is targeting from Saturday's slate of games. Click on the team logos for any of the matchups below to navigate to a specific bet discussed in this article.
Game
Time

(ET)

Pick
12 p.m.
3:30 p.m.
7 p.m.
7:30 p.m.

Specific betting recommendations come from the sportsbook offering preferred odds as of writing. Always shop for the best price using our NCAAF Odds page, which automatically surfaces the best lines for every game.
---
Spots in the American Athletic Conference Championship game hang in the balance over the next two weeks, as Memphis and SMU look to deliver a knockout punch.
Both teams have been on a heater, weathering the storm in conference play.
SMU rides into the Liberty Bowl on a six-game winning streak, undefeated in the conference after winning nearly every conference game by in a blowout.
Head coach Rhett Lashlee will be one of the hottest names on the coaching market, as a win on the road would all but cement the Mustangs' place in the conference title game.
Memphis has a single loss in conference play, a Week 7 defeat to a Tulane team that remains undefeated in the AAC standings. Because the Tigers will not play UTSA, this game is a must-win for head coach Ryan Silverfield if he wants to play in his first conference title game since his inaugural year in 2020.
Silverfield and Lashlee last met as head coaches in a regular-season finale in 2022 with SMU emerging as the victors.
Let's dive into the SMU vs. Memphis odds and find a betting pick and prediction for Saturday, Nov. 18.
---
With quarterback Preston Stone originally being questionable for the North Texas game last week, SMU blasted the Mean Green on a Friday night to stay undefeated in the conference.
Stone threw for two touchdowns and 234 yards, but the game belonged to the backfield duo of Jaylan Knighton and LJ Johnson Jr. The pair combined for 235 rushing yards and two touchdowns.
The offense begins with a ground game that's top-20 in Success Rate and Stuff Rate. The offensive line has been one of the best in college football, ranking sixth in FBS in percentage of runs that get hit at the line of scrimmage.
Nearly every carry comes with inside and outside zone blocking, and both rank above the national average in Success Rate.
Stone has contributed on the ground, but his best asset is in the passing game, where he has 23 big-time throws to 10 turnover-worthy plays.
Stone has displayed a higher tendency for success and explosives against 1uarters coverage.
The nickel defense of coordinator Scott Symons is top-10 in terms of Success Rate, pass rush, Quality Drives and limiting expected points.
A low rate of blitz comes with a shallow two- and three-man front, protecting against explosives while obtaining the top overall rank in Passing Downs Success Rate.
SMU often lines up in Cover 3 and has had plenty of success defending inside and outside zone.
---
The health of Memphis quarterback Seth Henigan was a significant factor leading up to the Week 11 contest against Charlotte. The junior did play, throwing for 329 yards and recording three big-time throws.
Henigan has heated up down the stretch with a 9:1 touchdown-to-interception ratio behind an offensive line that's top-10 in pass blocking.
Memphis has one of the highest ranks in standard downs explosives with the ability to put plenty of quick-strike scores on opponents thanks to Henigan's passing and Blake Watson's rushing.
However, the consistent slide of the defense put Memphis in an overtime battle with Charlotte. The 49ers rushed with a 65% Success Rate and averaged nearly a full yard more per play than the Tigers in Week 11.
Memphis' 3-3-5 personnel has fallen to a rank of 114th in explosives allowed in standard downs and sits 130th in tackle grading, per PFF.
---
There are plenty of advantages for SMU's offense against a lackluster Memphis defense.
The Mustangs live in inside and outside zone to start their drives and will now face a Tigers team that ranks 84th in Defensive Rushing Success Rate with a massive drop in efficiency against zone runs.
SMU is not only top-10 in Quality Drives, but a severe mismatch exists when the Mustangs enter scoring position. Memphis allows 4.1 points to opponent drives that cross the 40-yard line, indicating that the Tigers need to make this a high-scoring affair if they want to cover.
Stone sits above the national average in Success Rate and explosives when facing quarters coverage, a package Memphis runs in the secondary in an equal split with Cover 1.
Will Memphis' offense continue to implement a quick-strike mentality against SMU's defense?
The Mustangs have just as many problems stopping explosives in standard downs on the defense, similar to Memphis. The Tigers are a top-25 explosive unit in early downs and own a rank of seventh in Success Rate when they pass on first down.
Both Henigan and Watson are expected to move the chains and pin SMU's defense in scoring position. The Mustangs' stop unit has had its own struggles in keeping opponents out of the end zone, ranking 62nd in Defensive Finishing Drives because it allows 3.7 points per opponent drive past the 40-yard line.
Action Network projects the total at 64, close to the current market offering. We also project the spread at SMU -6.5, giving value to a Memphis team that will have many advantages on early downs.
Take the Tigers over a touchdown, as Memphis will piece together enough explosives to cover a game that will ultimately send a team to the conference championship
Pick: Memphis +8 or Better
ESPN Bet is now live! Make sure you're ready for all the action with our exclusive ESPN Bet promo code TANBONUS.
---
---
Nearly 250 miles of state highway and the Great Smoky Mountains separate one of the greatest rivalries in college football in Georgia vs. Tennessee.
Georgia leads the all-time series against Tennessee, 27-23-2. The Bulldogs have won each of the past six games by at least two touchdowns, holding the Volunteers to 21 points or less in each iteration.
Georgia head coach Kirby Smart knows what's needed to win on the road in a tough environment like Neyland Stadium, indicating that establishing the rush is the key.
While the Bulldogs aim for a third consecutive National Championship, the Volunteers are looking to regroup after an abominable road trip to Missouri. Tennessee managed just a single touchdown in the loss, giving up 530 yards of offense to a Tigers team dealing with injuries.
Now, head coach Josh Heupel must rebound with an embattled quarterback right as the fanbase is ready to move on to the next signal-caller on the depth chart.
---
The Bulldogs continue to torment opposing SEC teams, as a guaranteed trip to Atlanta for the conference championship did nothing to curb a 52-point effort against Ole Miss.
Georgia has been firing on all cylinders since tight end Brock Bowers went down with injury and wide receiver Ladd McConkey returned to full strength in Week 7.
Offensive coordinator Mike Bobo calls an offense that's top-15 in Success Rate and generates quality drives at the third-highest rate in FBS.
With so many weapons at the disposal of quarterback Carson Beck, the Bulldogs are 10th in Offensive Finishing Drives.
Beck may not have the yards or touchdowns to receive an invitation to New York for the Heisman Trophy ceremony, but the current version of the Georgia offense can win the national title.
The Bulldogs' Success Rate and Expected Points per Play numbers have been some of the best in the nation against Cover 1 and Cover 3, and there's a low probability they make a negative play against quarters coverage.
Georgia has also dominated the line of scrimmage in recent games, generating a 77% Success Rate in 35 rushing attempts against Ole Miss. The Rebels allowed Georgia to average 8.6 yards per play on rushing attempts, with Kendall Milton and Daijun Edwards receiving the most carries.
The Bulldogs have been elite in terms of Success Rate and explosives with inside and outside zone.
The Georgia defense has shed so many names from the two-deep depth chart to the NFL over the past five years. However, recruiting has replenished the roster yearly, as veteran linebacker Smael Mondon Jr. leads the team in pressures and tackles.
Georgia is a top-10 team against the pass in any respective statistic, running a heavy amount of quarters and shutting down opponents in Cover 1.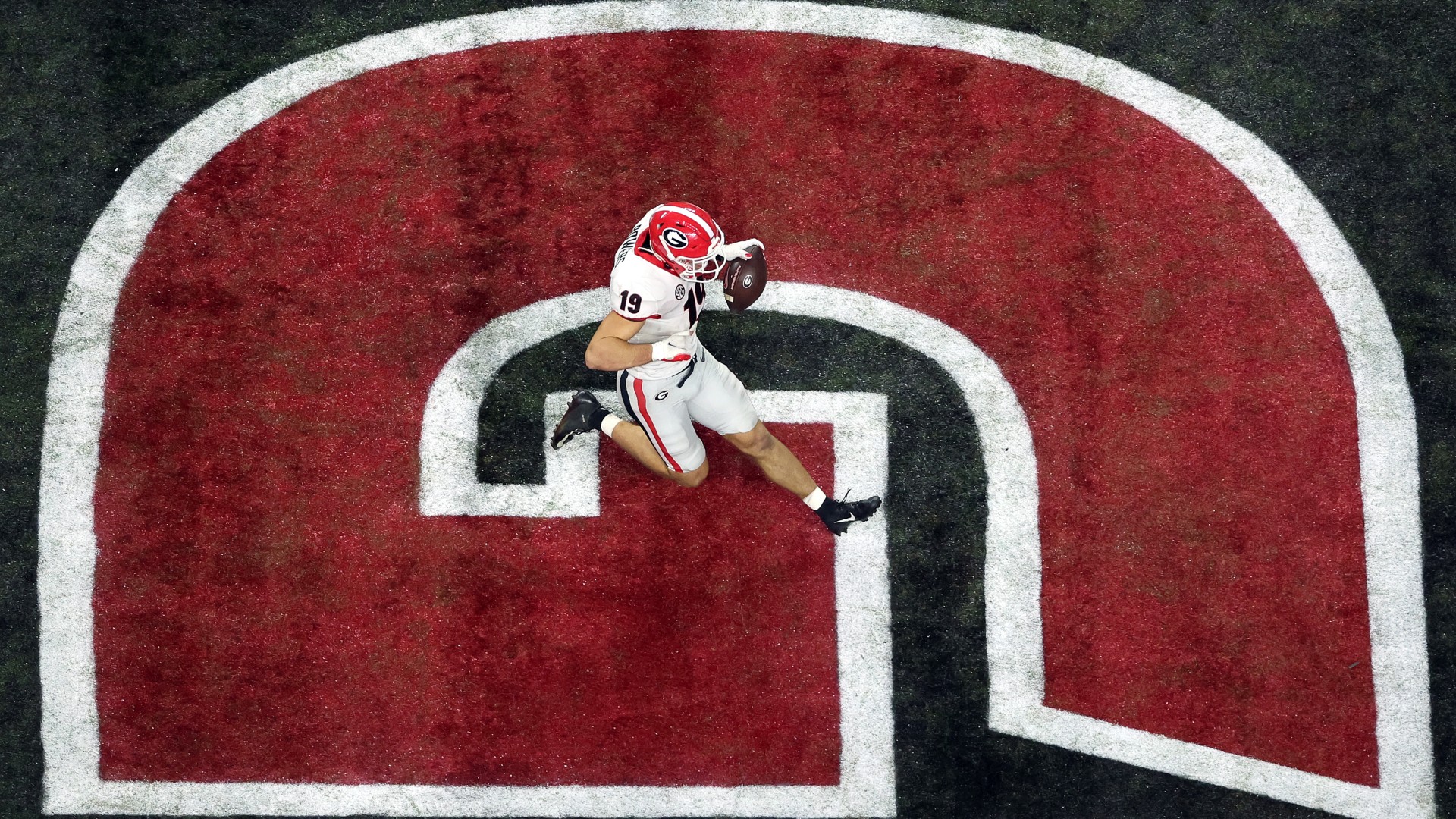 ---
A rout at the hands of Missouri has left Tennessee fans, coaches and players in a state of confusion. The Volunteers were peaking in SEC play with victories over Kentucky and Texas A&M, as no hangover lingered from a double-digit loss to Alabama.
Despite producing multiple methodical and explosive drives against Missouri, the Volunteers did not generate a single point from a drive that ended scoring position.
Injuries are a part of the equation for Heupel, as Tennessee will lose one of its most explosive targets for the remainder of the season in Dont'e Thornton Jr.
While the offense was paralyzed by inefficiency against Missouri, the defense should also take the blame. The Vols' stop unit allowed 13 explosives, as Missouri gained nearly double the national average in available yards at 81%.
Although Tennessee produced eight tackles for loss and three pressures, Missouri converted 11 of its 17 third downs at an average distance of six yards to go.
Heupel has expressed the need to get back to establishing a rush, an area where Tennessee ranks top-40 in Success Rate, Line Yards and Stuff Rate.
The Volunteers have been above the national average with inside zone and power concepts behind an offensive line that ranks 13th in contact at the line of scrimmage.
---
Both head coaches have expressed the need to establish the run in this game.
Georgia wants to eliminate the crowd and control the line of scrimmage in its last SEC regular season game.
Tennessee, meanwhile, wants to establish an identity on the ground, presumably to take pressure off quarterback Joe Milton. The sixth-year senior has not produced passing numbers at the level of Hendon Hooker from a year ago, and now the fan base is clamoring for freshman Nico Iamaleava to take over.
The issue for Tennessee in establishing the run is the methodology. The Volunteers run a heavy amount of inside zone and power. Both of those concepts have been fruitless when utilized by other rushing offenses against Georgia's front seven.
Where the Bulldogs struggle is outside the tackle box, primarily against teams that specialize in outside zone.
If there's good news on the passing front for Tennessee, Milton has been above the national average in Success Rate against Georgia's most-used secondary package of quarters.
On the flip side, the Tennessee defensive front has been equally fantastic against inside and outside zone. Georgia will look to establish the run against a Vols front that ranks 11th in Success Rate and limiting explosives against the rush.
With both teams looking to establish the rush against defenses that specialize in shutting down their run concepts, the under is certainly worth an investment.
The Action Network projection places Georgia at -8.5, giving the smallest edge in the market to Tennessee.
Considering Georgia's current warpath matches that of its previous two national title teams, look to make a play on the first-half and full-game total.
Pick: First Half Under 29.5 · Under 59 or Better
ESPN BET has officially launched launching their new sportsbook. Register with Action's ESPN BET promo code TANBONUS for a welcome offer!
---
---
Despite all the conference realignment, the Sunflower Showdown will continue on a yearly basis even with the mass number of changes to the Big 12.
Kansas leads the all-time series, 65-50-5, but has not won this rivalry game since 2008. Kansas State has won this game by two possessions in 12 of the past 13 iterations.
The defending conference champion Wildcats have been on a roll in 2023, losing three games the entire season by a combined 14 points. Kansas State has a wild path to make the conference championship, needing Oklahoma, Oklahoma State and Texas to all win out the final two weeks.
With all three losses coming in conference for the Jayhawks, this rivalry game serves as a chance to knock out the Wildcats from a potential trip to Arlington.
Let's preview Kansas State-Kansas on FS1 Saturday night with my Kansas State vs. Kansas prediction and picks.
---
Kansas State has fielded a balanced attack all season, but the ability to create explosives in early downs has set the team apart. Both Treshaun Ward and DJ Giddens have rushed for nearly 1,400 yards while creating 36 attempts on the ground for more than 10 yards.
Head coach Chris Klieman uses a combination of two-tight end and two-running back sets for run concepts that include power, inside zone, pull lead and counter concepts.
Not only can both backs create explosives, but the duo features two of the best running backs in short passing plays.
Kansas State is not limited to just Giddens and Ward on the ground — quarterbacks in Avery Johnson and Will Howard have also contributed 13 rushing touchdowns. Led by one of the best offensive lines in college football, Kansas State is top-10 in Havoc Allowed and Finishing Drives.
The 3-3-5 personnel on defense has been a strength in 2023, ranking top-25 in Success Rate. The Wildcats have not been as consistent in standard downs but have excelled in passing downs with a rank of fourth in Success Rate.
Kansas State rarely sends a pass rush but limits explosiveness at a top-30 rate against the run and pass. Although the Wildcats have average efficiency in quarters and Cover 1, the defense ranks 11th in on-target rate allowed.
---
Kansas' injuries at the quarterback position may linger into Week 12 for the Sunflower Showdown.
Jalon Daniels suffered a back injury earlier this season and hasn't completed a pass since Week 4 against BYU. Experienced backup Jason Bean took over the starting role but fell to injury in Week 11 against Texas Tech.
Although Bean tried to come back into the game, starting quarterback duties now fall to freshman Cole Ballard.
Ballard, the son of Indianapolis Colts general manager Chris Ballard, finished 9-of-20 against the Red Raiders, failing to record a big-time throw.
The Kansas offensive line failed to protect the freshman, as 12-of-26 dropbacks came with pressure.
Head coach Lance Leipold is optimistic Bean will return, but the extent of his scrambling and passing could be in jeopardy.
The Jayhawks' offensive scheme includes 11, 12 and 21 personnel with the heaviest amount of motion and shotgun for any college program. Ballard did have success on the ground against Texas Tech, ripping off 34 yards in a single designed rush attempt.
The Kansas defense continues to trend downward for coordinator Brian Borland. Nearly every offense has the ability to create a methodical offensive possession, as Kansas ranks 115th in Defensive Quality Drives.
That number gets worse as teams get closer to the goal line, with a defensive red-zone rank of dead last nationally.
The Jayhawks have average secondary numbers and a great Defensive Havoc rank, but a consistent issue in stopping first downs has plagued Kansas all season.
---
Based on Standard Downs Success Rate alone, Kansas State has a heavy advantage when lining up against the Kansas defense.
The Jayhawks are 123rd in Defensive Stuff Rate and 96th in Line Yards, signaling the Wildcats will bust through the line of scrimmage.
A look at Kansas' Defensive Success Rate and Expected Points against the run concepts of inside zone, counter and man blocking dictate a big day for the Kansas State offense.
Kansas State ranks fourth in red-zone touchdown rate, giving Klieman full confidence in deferring on field goal attempts in scoring position.
There should be no resistance when the Wildcats possess the ball, but the bigger mystery is the health and subsequent efficiency of the Kansas offense.
While Bean is hopeful, the point spread would be Kansas +6.5 if he's confirmed for Saturday. Without Bean, Kansas State should steam up until the next key number of 10.
Kansas does have similar advantages in standard downs, but Kansas State's high defensive rankings in scoring opportunities should keep the Jayhawks out of the end zone.
Without Bean, this is a play on the Wildcats side pre-kick. The safer bet comes against a Jayhawks defense that will have to contend with run concepts that have haunted the defense all season.
Pick: Kansas State Team Total Over 33.5
ESPN Bet Sportsbook is now another option to maximize your Kansas State vs. Kansas action. You can now use our ESPN BET promo code TANBONUS for a new user welcome.
---
---
The Pac-12 Conference is thriving in its last season of existence, highlighted by a pair of teams that have a shot at the College Football Playoff.
One of those teams is the Washington Huskies, who are 10-0 and need a conference championship to return to the playoff for the first time since 2016.
The Huskies pulled away from Utah in a home game that infuriated investors of the home team last week.
Looking to play the role of conference spoiler is Oregon State, which hopes to knock off Washington and Oregon in back-to-back weeks.
If the Beavers can pull off the upsets and Arizona takes a loss, Oregon State will be packing for Las Vegas and a shot at the conference championship.
The good news for the Beavers is that they possess the best home-field advantage of the decade, entering this game 16-1 against the spread at home since the 2021 season.
---
The Huskies hit a speed bump on the path to an undefeated record, failing to score a touchdown against Arizona State in Week 8. Since then, Washington has returned to offensive domination, averaging 43 points per game with wins over Utah, USC and Stanford.
Running back Dillon Johnson was crucial in the victory over USC, posting 256 yards rushing and four touchdowns before adding another 104 yards and a score against Utah in Week 11.
Quarterback Michael Penix Jr. continues to torment defenses, as his Heisman campaign includes more than 3,500 yards passing with 28 passing touchdowns.
In the absence of slot receiver Jalen McMillan, wideout Rome Odunze has dominated opposing cornerbacks. A challenger for the Biletnikoff Award, Odunze has racked up 1,100 yards receiving and nine touchdowns while averaging an electric 2.9 yards per route run.
In both standard and passing downs from any field position, this is one of the best offenses in the running for a national title.
The issues for head coach Kalen DeBoer all reside on the defensive side of the ball.
The Huskies rank 131st in Defensive Rushing Success Rate, coming in near dead last in rush explosives allowed.
Washington consistently struggles with opposing offenses that like to run the ball, allowing run concepts such as inside zone, outside zone and man run blocking to create a high number of explosives.
---
Oregon State started its homestead running circles around Stanford in Week 11. The Beavers scored 62 points thanks to an average of 7.3 yards per play on 39 rushing attempts.
Most college football teams average a single methodical drive (10 plays or more) and explosive drive (an average of 10 yards per play or more). Oregon State posted six explosive drives and two methodical drives in 13 total possessions against Stanford, so the offense is clicking on all cylinders heading into this Week 12 showdown.
Quarterback DJ Uiagalelei is having the best season of his four-year career, generating the highest big-time throw rate and best average depth of target of his career.
The Clemson transfer had previously posted 38 combined fumbles and interceptions in seasons past, but that number has dropped to just six in 2023.
The quarterback is not alone in doing damage, as running backs Damien Martinez and Deshaun Fenwick both average 3.8 yards after contact.
No matter the run concept, from inside zone to outside zone, the Beavers are annihilating the competition on the ground.
Head coach Jonathan Smith is sure to be the most coveted coach in the upcoming carousel, but defensive issues continue to plague Oregon State.
The Beavers' biggest issue is missed tackles, ranking 132nd in tackle grading, per PFF.
However, the nickel defense does send blitz on 35% of snaps, adding to a Defensive Havoc rank of ninth nationally.
If Oregon State is not meeting opponents in the backfield, the opposing offense has a chance to score against a Beavers unit that ranks 133rd in broken tackles allowed.
---
The Huskies aren't expected to provide any resistance against Oregon State's dominant rush attack. The Beavers rank second in Offensive Rushing Success Rate, trailing only LSU in first-down efficiency.
Utah was the last offense to face the Huskies, posting nearly double the national average in Success Rate on 27 rushing attempts.
The Washington defense ranks 115th in red-zone rushing touchdowns allowed, per SportSource Analytics. Oregon State's ground game is second nationally in red-zone touchdowns, making this a significant challenge for Washington defensive coordinator Chuck Morrell.
There are plenty of offensive advantages for the undefeated Huskies, centering on the ability to shake defenders in an open field. Washington sits just 63rd in creating missed tackles, but it's the biggest gap in the Oregon State defense.
The Beavers are also vulnerable against the rush, particularly against the inside zone attack Washington will implement with Johnson. The difference is Oregon State can defend the red zone, ranking top-25 in Defensive Finishing Drives.
Action Network projects this game as a pick'em, as steam hit the market early on Oregon State. Because of the Huskies' defensive rush statistics, there will be a sharp appetite for Oregon State this week.
The Washington passing attack should get what it wants against a Beavers secondary that has struggled at cornerback, but Mother Nature could play a role. Precipitation and light wind are expected at kickoff, which could potentially assist Oregon State and its poor tackling.
The best bet is to go with the team that has the ability to run the ball, control the clock and limit possessions for the opposing offense.
With one of the best ground attacks in the nation, look for Oregon State to shake up the Pac-12 and the College Football Playoff rankings.
Pick: Oregon State -2 · Oregon State ML -130 or Better
ESPN Bet is now live! Make sure you're ready for all the action with our exclusive ESPN BET promo code TANBONUS.
How would you rate this article?
This site contains commercial content. We may be compensated for the links provided on this page. The content on this page is for informational purposes only. Action Network makes no representation or warranty as to the accuracy of the information given or the outcome of any game or event.