All 32 NFL Offensive Lines Ranked for 2022: Why It's Important to Bettors
Credit:
Getty Images. Pictured: Jason Kelce (left), Orlando Brown (center) and Quenton Nelson.
As we careen toward the 2022 NFL season, all of the focus is on the QBs and skill players. But the game is won and lost in the trenches, and no position group in football is more impactful than the five men on the offensive line.
Think about it: five of the 11 men on offense play on the line — almost half the offense! They may never touch the ball, but the line makes everything else go.
A good line can elevate an average supporting cast, but even the most talented players can't do much if the defense is in the backfield every play. Offensive lines are more multiplicative than additive; a great line multiplies an offense's greatness, while a bad one can stymie it entirely.
Offensive lines are also a team effort. It's less one or two stars elevating the unit and more of a weakest-link game. Like an NBA defense, an offensive line needs all five guys working together in sync to be at its peak. Stars help, but sometimes it's even better just having five quality players and no weak links. And in a long grueling season, depth is a huge value add, while continuity is extremely valuable since the players are working together.
Let's rank all 32 NFL offensive lines, focusing on continuity, depth, and balance as we head into the new 2022 season. What implications does it all have for NFL bettors?
---
Take advantage of WynnBet's latest promo — bet $50, get $200 no matter what!
---
Tier I — The Elite Trenches

1. Philadelphia Eagles (Last year's preseason ranking: 8)
2. Kansas City Chiefs (5)
3. Detroit Lions (15)
The Eagles are number one with a bullet. They're atop just about any expertOL listyou'll read, led by coach Jeff Stoutland and built around stud center Jason Kelce. Four of the five Eagles starters ranked top-five in the NFL at their position in run-block win rate, per ESPN's Seth Walder, and Philadelphia had a top-five line last year even with a heap of injuries. This line is deep and nasty and sets the Eagles up for their unique brand of smash-mouth football that makes them an intriguing sleeper.
The Eagles could be in their own mini tier at the top, but second is up for grabs. I'll ride with the Chiefs, who completely remade their line a year ago with five new starters but now return all five. The big investment was LT Orlando Brown, but it was the interior of the line that really came together for Kansas City, with both guards and star rookie center Creed Humphrey all No. 1 in pass-block win rate. Coach Andy Heck has done wonders with this unit. Kansas City prepared for life without Tyreek Hill by investing in this line. It's time for that to pay off.
The Hard KnocksLions round out the elite tier and appear to be on the verge of greatness. Detroit returns all five starters after seeing the line come together late last season after LT Taylor Decker returned from injury, allowing rookie Penei Sewell to move to RT, where he flourished.
The Lions are building the team in the image of head coach Dan Campbell, and this line features three first-round picks plus a high-priced free agent. Detroit is a chic sleeper pick, and if the Lions do surprise, this line will be a big reason.
---
» Return to the table of contents «
---
Tier II — As Good As Anyone … Pending Health

4. Cleveland Browns (1)
5. Tampa Bay Buccaneers (4)
6. Dallas Cowboys (11)
7. Green Bay Packers (13)
The talent on these four lines is undeniable, enough so any one of these four could lead the list if healthy all season. But the injury history cannot be ignored and, in many cases, is already bubbling to the surface as a serious problem.
The Browns might have ranked second before losing center Nick Harris on the second play of the preseason opener. Harris was already a question mark stepping in for JC Tretter, who remains a free agent and could very well return to the team. That's the one weak spot with a pair of terrific tackles when healthy and maybe the league's best guard duo in Joel Bitonio and Wyatt Teller. Add in longtime elite OL coach Bill Callahan and this unit should keep Cleveland's offense competitive no matter which QB is under center.
The Bucs have an even bigger hole at center after losing Pro Bowler Ryan Jensen for the year, and the problem nearly compounded when backup Robert Hainsey went down himself, though it does not appear serious. It's still a concern that not-exactly-mobile 45-year-old Tom Brady will start the year with three new interior linemen, and it wouldn't be a surprise to see a slow start in September as this unit gels.
Tampa Bay led the NFL in pass attempts last season but allowed the fewest sacks, and this line has been a secret strength. But if the injuries continue to mount, this could quickly transform from a strength to the downfall of a presumed contender.
The Cowboys line has long been a strength, but many longtime names are gone now. Tyron Smith is still as good as anyone at left tackle but has missed 20 games the past two seasons, and this line lost a lot of experience with the departures of La'el Collins and Connor Williams. Even if the replacements are as good as expected, depth could be an issue when the inevitable injuries arise.
The Packers could end up one tier higher or three tiers lower, depending on the progression of health for David Bakhtiari and Elgton Jenkins. The two may be the best pass protecting tackle duo in the league when healthy, but both are recovering from torn ACLs and may not be ready to start the season. Green Bay also said goodbye to Billy Turner and Lucas Patrick, leaving the Pack perilously thin to start the year. That could make for a slow and difficult start for a team that's won 13 games three straight years.
---
» Return to the table of contents «
---
Tier III — Good Lines With Clear Question Marks

8. Los Angeles Chargers (12)
9. New England Patriots (3)
10. Indianapolis Colts (7)
11. Los Angeles Rams (10)
The Chargers were one of last year's surprise teams, and the massive leap the offensive line took was at the heart of LA's drastic improvement. Rookie LT Rashawn Slater stepped in and starred immediately, while veteran free agent center Corey Linsley anchored the line. The right side of the line was still a problem all year, though. Los Angeles drafted Zion Johnson in the first round to play RG, but RT is still a massive question mark, probably the biggest one on the team.
One of Bill Belichick's many secret strengths is an excellent offensive line year after year. Believe it or not, the Patriots have ranked in the top 10 in Football Outsiders' run blocking metric for an absurd 15 straight seasons. This year could face some lumps with the starting tackles switching sides and rookie G Cole Strange transitioning straight from the FCS into the starting lineup, but Belichick always seems to find a way.
The Colts line took a step back last season with a litany of injuries, and the ceiling is not as high as it once was with big question marks at LT and RG. Still, Quenton Nelson looks like a future Hall of Famer at LG, and he and center Ryan Kelly should provide much steadier line play this season after surprisingly inconsistent years last fall.
The defending champion Rams should have a good, above average line again this season, but there will be one huge glaring hole. LT Andrew Whitworth finally retired after adding a Super Bowl ring to his 16-year career, and even at age 39, Whitworth may have been the best pass protector in the league last fall. Joe Noteboom was steady in his absence but has big shoes to fill.
---
» Return to the table of contents «
---
Tier IV — Solidly Above Average for Now

12. Washington Commanders (18)
13. San Francisco 49ers (6)
14. Baltimore Ravens (9)
15. Cincinnati Bengals (27)
The Commanders brought in a pair of guards who have seen better days in Andrew Norwell and Trai Turner, but those better days came under Ron Rivera in Carolina so perhaps the trio will strike gold again. Add in a pair of tackles on the upswing and this could be a surprisingly strong unit with quality depth. That's important for a team with a new QB Carson Wentz who has a knack for holding the ball too long, though it's worth noting that this unit will likely be much better run blocking than pass.
One glance at the 49ers' ranking is a quick reminder that this is a team rank, and that one star can only take a line so far, even if that star is LT Trent Williams, the best offensive lineman in football. San Francisco's tackles remain terrific, but the team will start a new LG and C, and that could make for a rockier-than-anticipated transition to sophomore QB Trey Lance.
The Ravens might be the most difficult unit to rank, mostly because of injuries to LT Ronnie Stanley and first-round draft pick center Tyler Linderbaum. Stanley is a star when healthy but played only a handful of snaps in one game last year and is still struggling to be ready for Week 1. Linderbaum is dealing with a Lisfranc injury that has kept him out of training camp, and that's bad news for a guy who needs to get his timing down with Lamar Jackson. This could be a unit that starts slow but rounds into top-10 form by the end of the season, so we'll split the difference and rank them in the middle for now.
On paper, the Bengals might be the most improved line in the league. This unit ranked second to last in Football Outsiders' pass protection metric one year ago before making a Super Bowl run anyway, but the writing was on the wall and the line got a complete overhaul this offseason. Center Ted Karras, RG Alex Cappa, and RT La'el Collins are all major upgrades on the right side of the line, and overnight this unit has gone from weakness to relative strength.
---
» Return to the table of contents «
---
Tier V — Fine, Thanks for Asking

16. Denver Broncos (19)
17. Buffalo Bills (17)
18. New York Jets (21)
19. New York Giants (32)
20. New Orleans Saints (2)
The Broncos ranked right at 16 or 17 in almost every list I consulted, the epitome of an average line. ESPN's Seth Walder thinks this unit is underrated, particularly the tackles, and could be set to take a step forward under new head coach Nathaniel Hackett.
If you're looking for a reason to doubt the Super Bowl favorite Bills, the offensive line is probably the weakest spot on the team. Then again, the fact that the weak point is still league average might also be exactly why they're the favorites. Buffalo makes up for a lack of high-end talent with a deep line and a ton of bodies ready to step in. This unit is far better at pass blocking than run, likely by design, so expect the offense to remain pass-heavy.
The Jets lost mammoth LT Mekhi Becton to injury but brought in veteran Duane Brown to replace him. They didn't have either last season, so this could still be a step forward for an otherwise young line with plenty of talent.
All three New York teams cluster in this tier, and that's good news for Giants fans after having Pro Football Focus's worst ranked line last season. For my money, this could be the league's most improved line with another step forward from LT Andrew Thomas and immediate contributions from first-round RT Evan Neal. This line was terrific blocking for the run last year, and if Neal makes an impact similar to Rashawn Slater a year ago, the Giants could follow in the Chargers' footsteps as a surprise team.
A once-dominant Saints line had a rough 2021, and now with stud LT Terron Armstead gone, it could take another step back. First rounder Trevor Penning could get the replacement call, but last year's line found out that it's much tougher blocking for Jameis Winston et al than Drew Brees's quick release.
---
» Return to the table of contents «
---
Tier VI — Heading in the Right Direction

21. Miami Dolphins (28)
22. Minnesota Vikings (23)
23. Carolina Panthers (30)
24. Houston Texans (24)
The Saints' loss is the Dolphins' gain, with Terron Armstead headed to Miami to anchor an improving line. The Dolphins also added Connor Williams from Dallas and are moving in the right direction with this line now but still have a long ways to go, even with all the shiny toys at receiver.
The Vikings have invested heavily into their line and could start five men drafted in the first two rounds since 2019, but the team is still waiting for that investment to pay off. The best hope is LT Christian Darrisaw, who improved down the stretch and could be helped by the new system under rookie head coach Kevin O'Connell.
The Panthers are another young line that's long struggled but is starting to put some pieces together. Top-10 draft pick Ikem Ekwonu should be the long-term answer at left tackle but might be too big of a project, especially in pass protection.
Believe it or not, a No. 24 ranking makes this one of the Texans' better overall units. LT Laremy Tunsil is a terrific anchor on the left side but can't do everything on his own, and this unit was absolutely abysmal at run blocking last fall. Houston runners were contacted at or behind the line of scrimmage a ghastly 52% of all runs, per Sharp Football. This year should be at least a little bit better.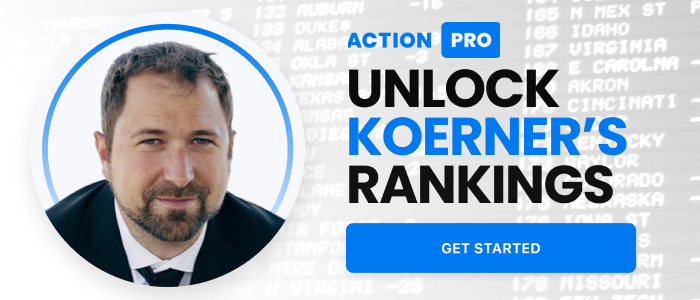 ---
» Return to the table of contents «
---
Tier VII — It's Certainly Not Great News

25. Arizona Cardinals (14)
26. Atlanta Falcons (26)
27. Jacksonville Jaguars (22)
28. Las Vegas Raiders (25)
29. Tennessee Titans (16)
The Cardinals have one of the league's older lines with an average age over 30. That sounds like stability but more likely means injury risk and downside for a unit that was flat out bad the back half of last season and then decided to run it back with a center who wanted to retire, a RG who couldn't even start for the lowly Giants, and a couple other veterans declining quickly. This unit is decent at pass blocking but could bottom out in a hurry if things go south.
The Falcons return all five starters, so Atlanta gets some points for continuity, but only two of the five are actually good. Jake Matthews remains the anchor, but the rest of the line is just like the team — in full rebuild mode.
Brandon Scherff is a welcome addition on the Jaguars line, but the team also lost its best lineman from an already bad unit. Jacksonville continues to invest a lot into this line and get nowhere quickly, though a competent set of coaches should help.
The Raiders continue to be the Raiders, adding splashy names Davante Adams and Chandler Jones at the cost of depth and talent where the team was weakest, in the trenches. Vegas has a young line with potential that's mostly yet to be realized. That could be the difference in a loaded division.
Remember the Titans? You may not want to remember last year's line, which struggled through a barrage of injuries and has fallen off precipitously over the past few years. LT Taylor Lewan isn't what he once was, and the line is racked with uncertainty. Remember, it's not just Derrick Henry who needs to get healthy to have a good season in Tennessee.
---
» Return to the table of contents «
---
Tier VIII — Objectively Awful and Outright Harmful

30. Pittsburgh Steelers (31)
31. Seattle Seahawks (20)
32. Chicago Bears (29)
The Steelers ranked near the bottom last year too, but Ben Roethlisberger got rid of the ball so fast that it disguised just how bad this unit was. That could be a much bigger problem this year with Mitchell Trubisky or rookie Kenny Pickett under center, and it's reason for concern with Najee Harris's 3.9 YPC too.
Duane Brown was the one strength on the Seahawks line, so his absence sends this rebuilding unit tumbling. Seattle invested in a pair of rookie tackles, and while that investment should pay off down the line, it'll likely be rough sledding for now.
The Bears are alone at No. 32, only because we can't count any lower. The only decent player from a year ago, LT Jason Peters, has retired and left a pair of second-year tackles who haven't looked particularly playable. This unit ranked dead last in pass protection last season at Football Outsiders.
---
» Return to the table of contents «
---
5 Key Takeaways for Bettors
1. Elite offensive lines could make the Eagles and Lions real NFC sleepers.
The Eagles and Lions are two of the most popular sleeper teams, and these OL rankings suggest getting a piece of the action.
Philadelphia has the league's consensus No. 1 line with a unique run-first offense that nearly cracked the top 10 in DVOA last fall. If the Eagles dominate the trenches, they could be a great investment at +175 to win the NFC East. They're +1400 to win the NFC, and Jalen Hurts could even be a sleeper MVP candidate at +2500.
The Lions could be in contention for the top line in the league if this young unit comes together, especially with Decker and Sewell bookending things. Detroit is a long shot to win the NFC at +6000, but you can bet them to win the division at +1000 or make the playoffs at +485.
2. OL improvements for the Commanders, Giants and Dolphins could lead to surprise division contenders in the NFC and AFC East.
It's always good to look for the lines taking the biggest leap forward in the search for this year's Cinderella. Last year it was the Chargers. This season it could be one of these three teams.
The NFC East sees a pair of rising lines with Washington and New York taking a step forward. With Dallas taking a step back too, that division could be much closer than anticipated. The Commanders and Giants are +575 and +800 to win it.
The Dolphins are another potential sleeper if Armstead and Williams stay healthy. New Miami coach Mike McDaniel has done terrific work on the line and in the run game at San Francisco. Could an improved line put the Fins in contention for the division at +500?
The Bengals are the other obvious improvement candidate, but it's hard to improve much when you just made the Super Bowl.
3. The Saints, Titans and Cardinals could be regression candidates this season as line play takes a step back.
We should also note the teams headed in the wrong direction.
The Titans and Cardinals made the playoffs last year, and Tennessee even got the bye and the 1-seed, but both teams could see a big drop off as their lines age out. That's even more dangerous with Derrick Henry and Kyler Murray coming off injuries and needing all the protection they can get. The Saints are the league's biggest faller, from No. 2 last autumn to No. 20 this season, and Armstead will be a huge miss.
All three could be candidates to go under and might be teams set to fade over the second half of the season. Pittsburgh may be another sneaky candidate here without Big Ben around to hide the bad line.
4. Beware of slow starts for presumed contenders Packers, Bucs and Ravens.
The Packers look like they'll be missing both tackles to start the season. The Bucs start three new men on the interior, possibly including a third-string center. Baltimore hopes its line will be ready to start the season but might need a slow ramp-up for its two best starters.
That could mean slow starts for all three, and it means now is not the time to bet overs or futures for these teams. A slow start should drop the odds for Super Bowl, division, even team win totals, so there's no reason to invest now. You may want to wait on those Brady, Rodgers, and Jackson MVP tickets too.
5. The NFC could be more wide open than expected if question marks for the Bucs, Packers and Rams' offensive lines come to fruition.
The NFC has three hefty favorites at +500 or shorter, all coming off great seasons, but each one has real question marks on the line. All three teams will begin the year without their highest-graded PFF lineman from a year ago. The Bucs and Rams won't get Jensen or Whitworth back this season. The Packers should get Jenkins and Bakhtiari back eventually, but when?
At least one of these lines should stabilize and leave a clear NFC contender, but there's a good chance at least one line detonates and knocks someone out of the mix. Keep a close eye on the trenches as you play NFC and Super Bowl futures this fall.
How would you rate this article?
This site contains commercial content. We may be compensated for the links provided on this page. The content on this page is for informational purposes only. Action Network makes no representation or warranty as to the accuracy of the information given or the outcome of any game or event.