Bengals Fantasy Rankings, Projections, Analysis for Every Player
Credit:
Jason Getz-USA TODAY Sports. Pictured: Cincinnati Bengals wide receiver A.J. Green (18) celebrates with quarterback Andy Dalton (14).
See our experts' fantasy rankings, projections and analysis for every relevant Cincinnati Bengals player.
For the first time in 16 seasons, the Bengals will have a new head coach as Zac Taylor took the reigns from former coach Marvin Lewis.
Can the Bengals revive their stale offense? Will Joe Mixon improve on his breakout fantasy season? Can A.J. Green get healthy and become a fantasy staple again?
Our analysts rank all their key players by scoring format, project their season-long stat lines and analyze their overall outlooks heading into the season.
Bengals Fantasy Rankings, Projections
Andy Dalton, QB
Pass: 325 comp | 519 att | 62.6 comp% | 3,699 yds | 22.7 TDs | 13.9 INTs
Rush: 32 car | 125 yds | 1.6 TDs
Joe Mixon, RB
Rush: 238 car | 1,072 yds | 8.1 TDs
Rec: 47 catches | 373 yds | 1.4 TDs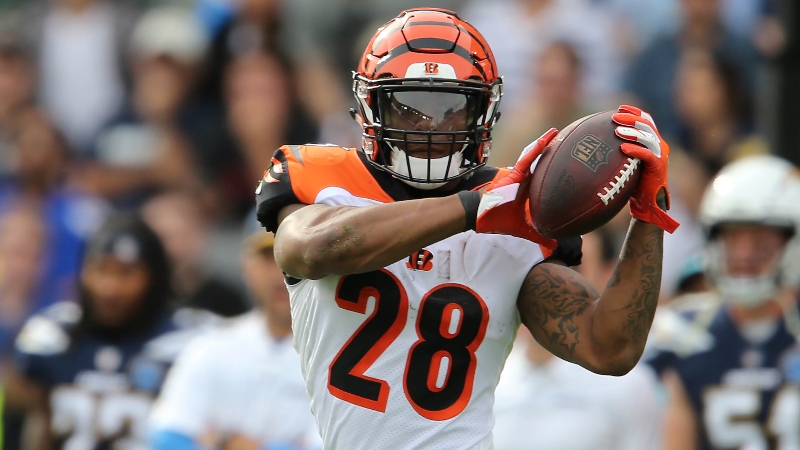 Giovani Bernard, RB
Rush: 69 car | 289 yds | 2.2 TDs
Rec: 38 catches | 317 yds | 1.4 TDs
Tyler Boyd, WR
Rec: 72.2 catches | 908 yds | 5.2 TDs
A.J. Green, WR
Rec: 55 catches | 808 yds | 5.4 TDs
John Ross, WR
Rec: 23.4 catches | 282 yds | 2.8 TDs
Tyler Eifert, TE
Rec: 37 catches | 451 yds | 4.3 TDs
C.J. Uzomah, TE
Rec: 16 catches | 157 yds | 1.1 TDs
Note: Projections as of August 22.
---
>> Get our experts' latest fantasy rankings and projections in our Draft Kit.
---
Bengals Fantasy Outlooks
Chris Raybon analyzes Bengals head coach Zac Taylor's playcalling tendencies to predict who could benefit the most.
Taylor and Callahan want to predominantly feature 11 personnel (1 RB, 1 TE, 3 WR) a la Sean McVay's Rams, but admit they will likely employ more 12 personnel (1 RB, 2 TE, 2 WR) until A.J. Green returns from his ankle injury, according to Paul Dehner Jr. of The Athletic. Much has been made of the dip in Tyler Boyd's numbers without Green, but you can attribute a lot of that to Andy Dalton missing a chunk of that time, as well. Boyd was effective both in the slot (9.8 YPT) and outside (10.8) last season, and Taylor's arrival will bring about an increase in pre-snap motions that should allow him to continue to gain the most separation among Bengals receivers.
Joe Mixon saw an increase from 3.6 to 4.3 targets per game with Green in vs. out of the lineup last season, and that will likely be the case again because the Bengals struggled to run out of 12 personnel (4.3 YPC) compared to 11 (4.9 YPC), but had much more success throwing to backs in 12 (6.9 YPA) than 11 (4.7 YPA).
A shift to more 11 as the season moves on could mean a gradual decline in production for Tyler Eifert. Passes to tight ends are much more successful out of 12 (115.8 passer rating) than 13 (92.9 passer rating), and while Eifert will be needed with Green, Taylor would have the luxury of using him as more of a receiving specialist to preserve him down the stretch, which would likely result in inconsistent weekly results.
How would you rate this article?