Koerner's Week 10 Fantasy Football Tiers: Rankings at QB, RB, WR, TE, More
Credit:
USA TODAY Sports. Pictured: Ezekiel Elliott (21), Drew Brees (9), Tyreek Hill.
Need help setting your fantasy football lineup for the Week 10 NFL slate?
Sean Koerner separates players into tiers to allow you to easily identify projected output for the upcoming weekend.
There are six teams out on bye this week (Denver Broncos, Houston Texans, Jacksonville Jaguars, New England Patriots, Philadelphia Eagles, Washington Redskins), which means fantasy owners will need to be focused on the lower tier players much more than they have in past weeks.
Take these tiers/rankings as a window into where I am starting the week off in my model.
There is going to be a ton of volatility in rankings movement so, as always, be sure to check my updated rankings before it's time to make the final sit/start calls this week.
And if you're looking for streaming advice, you can find my favorite streamers here.
---
Go To: QB | RB | WR | TE | K | DEF
---
Week 9 Fantasy Football Tiers
Quarterbacks
Tier 1
Lamar Jackson (@ CIN)
Jackson proved he is matchup proof with QB3 finish against the Patriots on Sunday Night Football. Next up is a smash spot against the Bengals.
In Week 6, he made it look easy when he dropped 152 rushing yards on them. He is three projected points clear of the next tier and has the ultimate high floor/ceiling combo we want from our QB1.
Tier 2
Jameis Winston (vs. ARI)
Drew Brees (vs. ATL)
Patrick Mahomes (@ TEN)
Kyler Murray (@ TB)
Aaron Rodgers (vs. CAR)
Dak Prescott (vs. MIN)
Winston has massive upside this week. My projections of him facing the Cardinals slots him in as the overall QB2. It's critical to acknowledge that no matter what the matchup is, Winston has a lower floor than all quarterbacks in this range.
You should not be starting him over Mahomes, but if you are in a spot where you can start him over a Russell Wilson or Jared Goff type, you should consider it.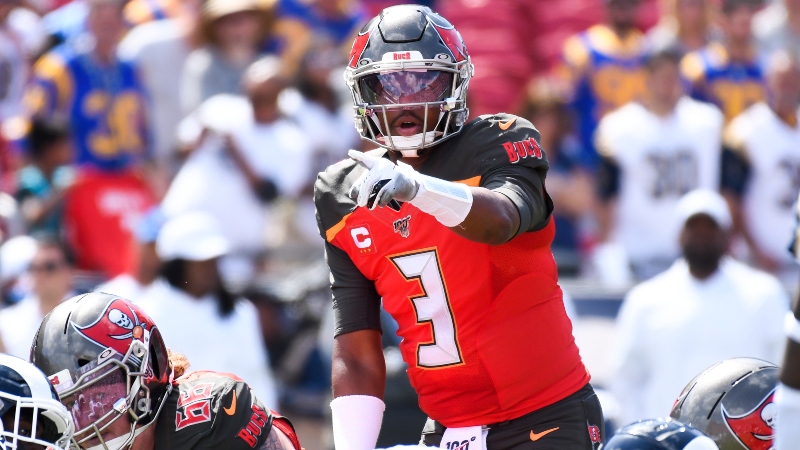 The rest of the quarterbacks in this tier are great floor/ceiling plays this week, including Murray who is facing a Tampa Bay defense that hasn't been able to slow down any opposing quarterbacks of late.
Tier 3
Russell Wilson (@ SF)
Wilson is a tough call this week in a tough road game against the undefeated 49ers. I consider Wilson pretty much matchup proof at this point in his career so I would lean towards starting him with confidence even if you seem to have a tough sit/start call on your hands.
He's likely to have Josh Gordon this week as another option in the passing game, which will give him a boost longer term once they start to get chemistry.
Tier 4
Daniel Jones (@ NYJ)
Jared Goff (@ PIT)
Philip Rivers (@ OAK)
Matthew Stafford (@ CHI)
Jimmy Garoppolo (vs. SEA)
With six teams on Bye this week, Jones makes for an appealing streaming option for people in need of a one-week rental. He's my top quarterback streamer this week as he has a great matchup against the Jets.
His performances this year have correlated heavily based on opposing defense. The Jets have allowed back-to-back games of at least 280 yards and three touchdowns to Gardner Minshew and Ryan Fitzpatrick. He's also likely to get Sterling Shepard back this week so it'll help having all of his top weapons healthy again.
Tier 5
Matt Ryan (@ NO)
Brian Hoyer (vs. MIA)
Derek Carr (vs. LAC)
Ryan Tannehill (vs. KC)
Kirk Cousins (@ DAL)
Mitchell Trubisky (vs. DET)
Josh Allen (@ CLE)
Baker Mayfield (vs. BUF)
Sam Darnold (vs. NYG)
The QB2 Tier is a mixed bag this week. Brian Hoyer sticks out like a sort thumb in this group, but he has an ideal matchup at home against the Dolphins. He managed to throw for three touchdowns in relief against the Steelers in Week 9.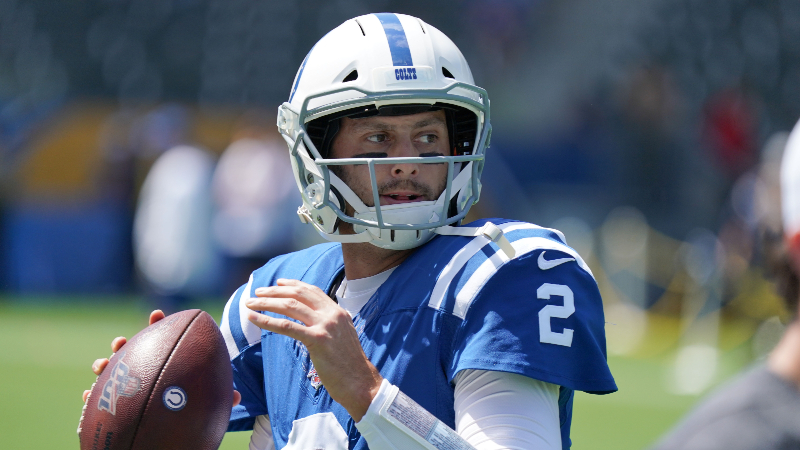 A lot of this has to do with how well coached the Colts are and they will put together a game plan a veteran backup like Hoyer can execute. The Colts will be without T.Y. Hilton and Parris Campbell, but still have enough talented pass catchers to put up numbers on the Dolphins.
Allen always comes with massive upside no matter where he is ranked. If you are in a situation where you have to play him this week, don't be too concerned with his lower rank this week.
The Bills have the third-lowest team total this week which means we need to lower our expectations for Allen, but his ability to put up big numbers with his legs means we can still roll the dice on him in this tougher spot.
Tier 6
Kyle Allen (@ GB)
Mason Rudolph (vs. LAR)
Ryan Fitzpatrick (@ IND)
Ryan Finley (vs. BAL)

This position is so thin this week with six teams on a Bye that you may need to dabble with the bottom tier in 2QB/Superflex leagues. Finley is the only quarterback I would want to avoid this week, if possible.
He's making his debut this week and while he could pop up as a QB2 option going forward- the matchup against a hot Ravens defense is not an ideal one this week.
---
Running Backs
Tier 1
Christian McCaffrey (@ GB)
Congrats if you spend your first pick on CMC this year. He is a fantasy God this season and nothing is going to slow him down.
Tier 2
Saquon Barkley (@ NYJ)
Dalvin Cook (@ DAL)
Ezekiel Elliott (vs. MIN)
There isn't much to say about these backs other than to start them in all leagues. One thing I wanted to dive into real quick that goes with my Player Rank Odds piece I put out every Thursday is how we should view ranks vs. expectations.
While I have CMC more likely to outscore each of these backs more than 51% of the time, there is actually a 60-65% chance one of these Tier 2 running backs outscores McCaffrey this week, we just don't know which one.
Tier 3
Le'Veon Bell (vs. NYG)
Alvin Kamara (vs. ATL)
Le'Veon Bell underwent an MRI on his knee Monday but is apparently fine. This is something we will need to monitor this week.
Kamara will be returning from injury this week and it will be interesting to see if we see Latavius Murray have a bigger role going forward after he thrived during the two games Kamara missed.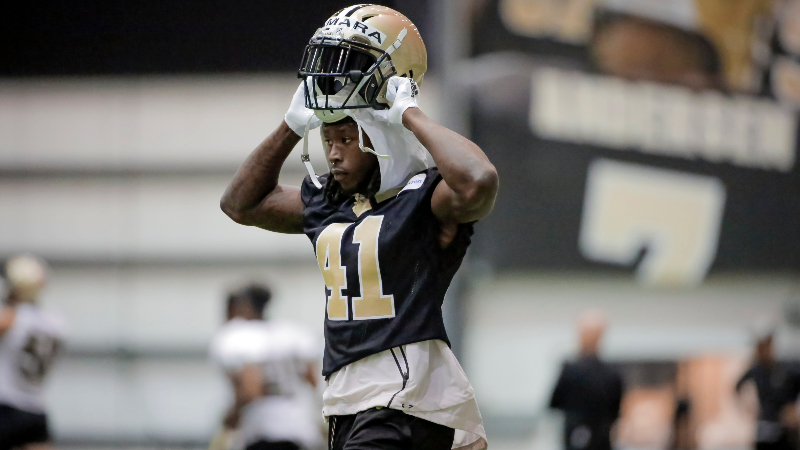 I'm speculating we could see Murray take over the Mark Ingram role going forward, which would make Kamara more of a mid/low end RB1 most weeks.
Tier 4
Aaron Jones (vs. CAR)
Nick Chubb (vs. BUF)
Josh Jacobs (vs. LAC)
Kareem Hunt returns from his eight-game suspension so all eyes will be on how his return will impact Chubb's role.
I mentioned last week that I'm not too worried about it. Chubb has surprisingly put up better numbers when he's played 60-70% of the snaps verses games he's seen more than 80% of the snaps.
This leads me to believe we shouldn't be too concerned if Hunt keeps him in that 60-70% snaps range going forward.
Tier 5
Marlon Mack (vs. MIA)
David Johnson (@ TB)
Derrick Henry (vs. KC)
Mack is in a smash spot this week against the Dolphins where the Colts are 10.5-point favorites. Given the fact that Hoyer is likely to start over the injured Jacoby Brissett, it only increases the chances that the Colts plan on giving Mack a heavy workload this week.
Tier 6
Jaylen Samuels (vs. LAR)
Mark Ingram (@ CIN)
Tevin Coleman (vs. SEA)
Chris Carson (@ SF)
Melvin Gordon (@ OAK)
Devonta Freeman (@ NO)
Joe Mixon (vs. BAL)
Todd Gurley (@ PIT)
Devin Singletary (@ CLE)
David Montgomery (vs. DET)
It sounds like James Conner could play this week, but for now my projections are based on him being out. Samuels would be a RB1 in PPR formats after putting up 13 receptions in his spot start last week.
Coleman put up a dud on Thursday Night Football and that can be chalked up to being part of a RBBC. He is going to have a wider range of outcomes than your typical RB2, but I'm expecting a bounce back game from him this week.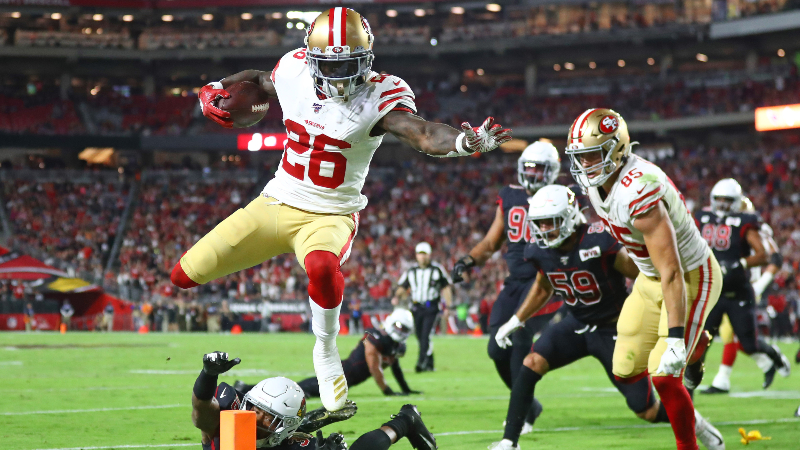 Singletary has taken over as the lead back for the Bills after back-to-back games of 66% of the snap share. It's important to note that both games were opposite game scripts as one was a 15-point win and the other an 18-point loss. It's reassuring to see a trend like that for both extremes so we know he isn't dependent on game flow for usage.
The other takeaway from this that may be getting overlooked by some is that Frank Gore was stuffed for three straight carries on the 1-yard line in the first half. The next goal-line carry went to Singletary in the fourth quarter when he converted for a 2-yard score.
This increases the chances Singletary will see the goal-line carries going forward which only boosts his value going forward even more.
Tier 7
Austin Ekeler (@ OAK)
Damien Williams (@ TEN)
Williams seems to have re-claimed the lead back role for the Chiefs after a huge Week 9. LeSean McCoy's value has hit rock bottom and the timing couldn't be more perfect for Williams owners as Mahomes' return will boost all Chiefs players.
While he was in fact my FYRE Festival Tier at running back when he was being drafted in the second round this year, if you either hung onto him or traded for him when his value was in the gutter, it looks like you may have landed a potential RB2 the rest of the way.
Tier 8
Ronald Jones (vs. ARI)
Jamaal Williams (vs. CAR)
Matt Breida (vs. SEA)
Ty Johnson (@ CHI)
Jones is another young back that appears to have taken over the lead back role. Bruce Arians confirmed this to the media as well.
It wouldn't be surprising if the Bucs lean more on the running game more this week as 4-point home favorites. Anything to limit the potential for Jameis Winston turnovers would fall under the logic of rational coaching so I would expect that here from Bruce Arians in what is a revenge game for him.
Tier 9
Latavius Murray (vs. ATL)
Kenyan Drake (@ TB)
Kalen Ballage (@ IND)
Murray is set to go back to his change of pace backup role after back-to-back massive games starting in place of Kamara. He's earned a larger role even with Kamara returning this week. It's worth noting that Brees' return helps Murray as well.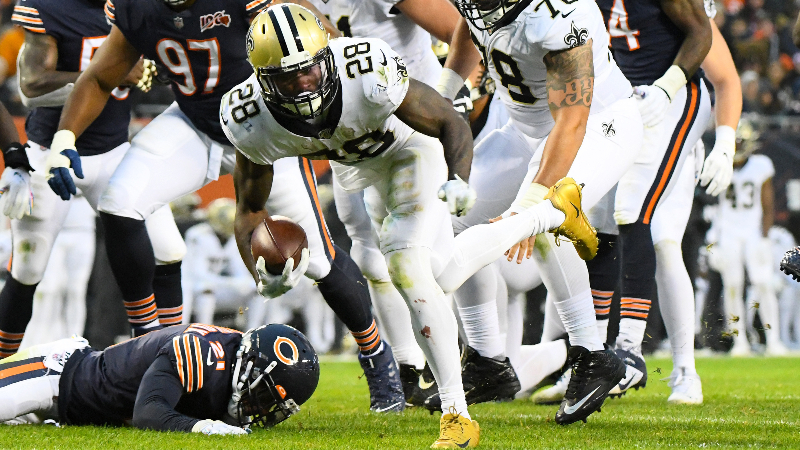 The Saints opted to lean heavily on Kamara after Brees went down. Given the fact that Kamara started to break down after seeing more usage, they are more likely to scale him back to his 2018 role when Ingram returned from suspension. Murray is a potential Flex play going forward.
Tier 10
Tarik Cohen (vs. DET)
Kareem Hunt (vs. BUF)
Trey Edmunds (vs. LAR)
Frank Gore (@ CLE)
J.D. McKissic (@ CHI)
LeSean McCoy (@ TEN)

Any one of these backs can be used in a six-team Bye week emergency this week. While a few of these players have lost the starting job, they are still likely to be part of a RBBC and could bounce back this week.
J.D. McKissic has been sort of the darkhorse back in the Lions' RBBC that is worth owning right now. He was handpicked by offensive coordinator Darell Bevell as he has played in his system before in Seattle.
---
Wide Receivers
Tier 1
Michael Thomas (vs. ATL)
Mike Evans (vs. ARI)
Chris Godwin (vs. ARI)
Tyreek Hill (@ TEN)
Cooper Kupp (@ PIT)
Evans and Godwin form the best wide receiver duo we have seen in some time. It's remarkable to see two receivers from the same team inside the top three.
Hill has managed to put up 2.5 WR1 type games without Mahomes under center. He has proven to be quarterback-proof and Mahomes' return only increases his ceiling.
Tier 2
Amari Cooper (vs. MIN)
Julio Jones (@ NO)
Tyler Lockett (@ SF)
Kenny Golladay (@ CHI)
Davante Adams (vs. CAR)
Stefon Diggs (@ DAL)
Keenan Allen (@ OAK)
I do not expect the addition of Josh Gordon to hurt Lockett or D.K. Metcalf much. Both receivers are able to put up solid numbers even when the sheer volume of targets might not be there.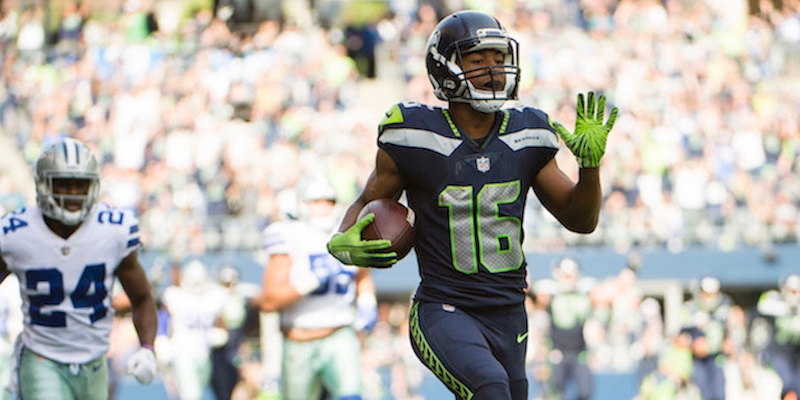 With Wilson throwing to them, they are able to benefit from extreme efficiency, Gordon won't take that away. If anything, Gordon will absorb the WR3 role of David Moore/Jaron Brown who have been in a position battle the past six games.
Tier 3
Allen Robinson (vs. DET)
Odell Beckham (vs. BUF)
Marvin Jones (@ CHI)
Beckham owners have to be reaching a tipping point soon. We are entering Week 10 and he still only has one touchdown on the season (back in Week 2). This week is a tough spot for him as he will likely see a ton of Tre'Davious White.
If he struggles again this week it would make sense to see what an OBJ owner would be willing to take for him. The Browns' schedule is about to open up so I can see Beckham breaking out any week now and might be easier to pry away after this week than you realize.
Tier 4
Emmanuel Sanders (vs. SEA)
D.J. Moore (@ GB)
Brandin Cooks (@ PIT)
Juju Smith-Schuster (vs. LAR)
Sanders is clearly the 49ers' No. 1 wide receiver going forward and he will only get better as he learns the playbook and builds chemistry with Garoppolo. He is shaping up to be this year's version of 2018 Amari Cooper. Moore has been quietly putting up good but not great numbers of late.
He is averaging 9.5 targets the past four games, yet has gone scoreless in five-straight. Taking a closer look, he made an incredible catch in the third quarter last week where he went out at the 1-inch line. He was that close from putting up a 7/101/1 game and having more buzz around him.
It's amazing just how it is a game of inches and I try to track tiny details like this since their box score is only part of the picture. Moore is playing much better than his recent box scores would lead you to believe.
Tier 5
Michael Gallup (vs. MIN)
John Brown (@ CLE)
Jarvis Landry (vs. BUF)
D.K. Metcalf (@ SF)
Mike Williams (@ OAK)
Zach Pascal (vs. MIA)
A.J. Green (vs. BAL)
Robert Woods (@ PIT)
DeVante Parker (@ IND)
Sammy Watkins (@ TEN)
Golden Tate (@ NYJ)
Jamison Crowder (vs. NYG)
Calvin Ridley (@ NO)
Christian Kirk (@ TB)
Curtis Samuel (@ GB)
Tyrell Williams (vs. LAC)
Green appears set to make his 2019 debut. Unfortunately it comes at a time where the Bengals season has now turned into tank mode as they are set to start rookie Ryan Finley this week.There is going to be a drop off for Green who has developed chemistry with Dalton for years now. His name value is probably worth more than what we should expect from Green going forward.
With Preston Williams out for the season, DeVante Parker shoots up the ranks as Fitzpatricks potential top target going forward.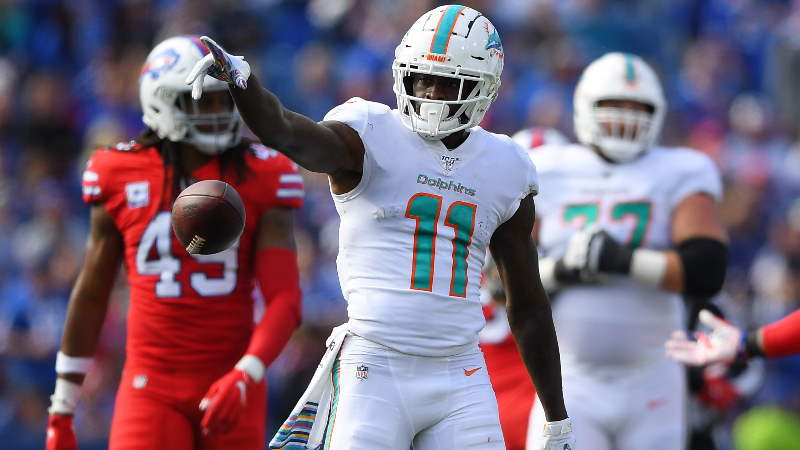 Parker has a long history of pulling the rug from under the fantasy community whenever it's ready to trust him again. You've been warned, but there is every reason to believe he should be treated as a WR3 this week.
Tier 6
Larry Fitzgerald (@ TB)
Marquise Brown (@ CIN)
A.J. Brown (vs. KC)
Tyler Boyd (vs. BAL)
Robby Anderson (vs. NYG)
Corey Davis (vs. KC)
Marquise Brown has been the biggest tease of 2019. After dropping a ridiculous 4/147/2 game in his NFL debut (on only 18% of the snaps played!) he has fallen victim to tough luck and injury. He returned last week for the brutal matchup against the Patriots, where he predictably put up an underwhelming 3/48/0 line.
Their schedule starts to open up this week so I encourage you to try to pry him away from his owner that may have given up chasing his Week 1 game by now. Defenses are going to start selling out to stop Jackson's rushing attack which could leave them vulnerable to deep balls to Brown.
It's now or never for Anderson this week. I often say that we need to give buy-low players more than one game to perform before giving up on them. In Robby's case, if we can't see some sort of break out happen this week against the Giants, then it'll be hard to trust him in our lineups going forward.
Tier 7
Sterling Shepard (@ NYJ)
Chester Rogers (vs. MIA) (-)
Danny Amendola (@ CHI) (-)
Cole Beasley (@ CLE) (-)
Diontae Johnson (vs. LAR)
Deebo Samuel (vs. SEA)
Olabisi Johnson (@ DAL) (-)
Hunter Renfrow (vs. LAC) (-)
Josh Gordon (@ SF) (+)
Adam Humphries (vs. KC) (-)
James Washington (vs. LAR) (+)
Taylor Gabriel (vs. DET) (+)
Russell Gage (@ NO) (-)
Demaryius Thomas (vs. NYG)
Jakeem Grant (@ IND)
Allen Lazard (vs. CAR) (+)
Allen Hurns (@ IND)
Higher Ceiling (+)
Higher Floor (-)
This tier it's important to point out the high ceiling vs. high floor players. Since there are so many teams on a Bye this week, a lot of people will need to stream wide receiver or find a one-week flier.
If you are a pretty solid favorite this week, seek high floor players from here. If you are a sizable underdog, you need to increase your upside and should see high ceiling.
One of the sneakiest plays of this tier this week is Gage. He took over most of the Sanu role in Week 8 when he played 60% of the snaps and put up a 7/58/0 line on nine targets.
It's easy to forget a game like that when that player then goes on a Bye the very next week. Don't sleep on him and if you need help in a deep PPR format, you could do worse.
---
Tight Ends
Tier 1
Travis Kelce (@ TEN)
Mahomes is likely back this week, which means we need to put Kelce back where he belongs in Tier 1.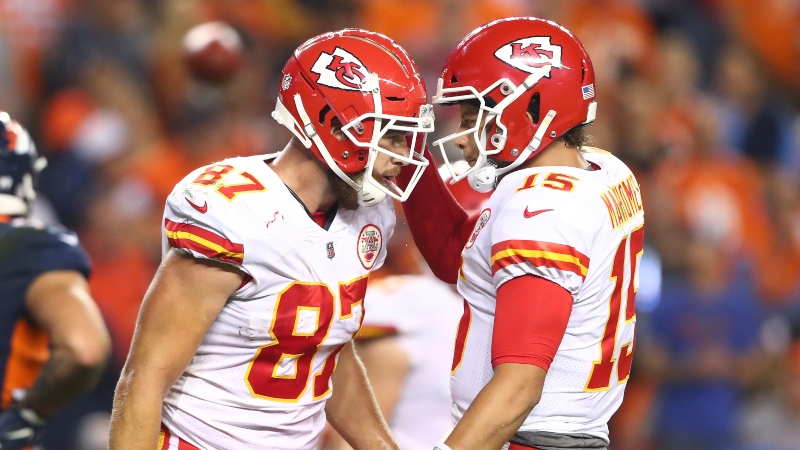 Tier 2
George Kittle (vs. SEA)
Hunter Henry (@ OAK)
Kittle was banged up last Thursday, but still managed to put up a 6/79/1 game. At one point it looked like Kittle could have suffered a game ending or even season ending injury.
It was a scare where his owners saw their fantasy season flash before their eyes. Being forced to stream the tight end position is a situation we all want to avoid. Kudos to Kittle for fighting through pain and finishing the game.
Tier 3
Darren Waller (vs. LAC)
Austin Hooper (@ NO)
Waller has come back to Earth a bit with back-to-back two-reception games. Do not worry too much, the position itself is extremely hard to find consistent production from and you landed a top-three tight end (to date) from what was likely a waiver wire pick up. No one feels sorry for you.
Hooper has been one of the more valuable picks this year as he is the TE1 on the season as was typically available in Rounds 11-12 in most drafts. I ended up targeting him heavily as I discussed in my season long Tiers here.
I will admit that I did NOT expect him to be the No. 1 overall tight end at this point. I really think Dirk Koetter could have more to do with this breakout than people realize like I speculated it could. We have seen OJ Howard and even Cam Brate disappear under Bruce Arians this year.
Tier 4
Evan Engram (@ NYJ)
Engram gets a bit of a hit in my projections with Shepard set to return. With Shepard/Tate/Barkley all back in the mix, it lowers the target share we can expect from Engram.
The past three seasons the Giants have seen a ton of cluster injuries in their key pass catchers, to which Engram has taken advantage of in a big way. He's still a top-five tight end in terms of raw talent, but I think we do need to lower expectations a tad going forward.
Tier 5
Mark Andrews (@ CIN)
The Ravens implemented a three-way tight end committee on Sunday that caused Andrews to put up a disappointing 2/21/0 line. It was likely a game plan specific to facing the Patriots and we can cautiously expect Andrews to take back his spot as the alpha tight end in this offense. Either way, it's a bit concerning to see this pop up as we have seen the Ravens use up to four tight end committees in the past.
Tier 6
Gerald Everett (@ PIT)
Greg Olsen (@ GB)
Greg Olsen's value took a bit of a hit when Cam Newton was shut down for the rest of the season. Allen doesn't use him as a security blanket the same way Cam does.
When Olsen dropped a 6/75/2 line in Allen's first start, it appeared that the quarterback change might not affect him much at all. Looking back however, it was likely driven by the specific matchup against the Cardinals who have been a sieve to opposing tight ends.
He has yet to score another touchdown since that Week 3 game.
Tier 7
Eric Ebron (vs. MIA)
Mike Gesicki (@ IND)
Jack Doyle (vs. MIA)
T.J. Hockenson (@ CHI)
Delanie Walker (vs. KC)
Vance McDonald (vs. LAR)
Jason Witten (vs. MIN)
Jimmy Graham (vs. CAR)
Jacob Hollister (@ SF)
The tight end streamer tier this week has the usual cast of characters but the one that should stick out is Mike Gesicki. He is coming off a career best game of 6/95/0 and is clearly forming chemistry with Fitzpatrick.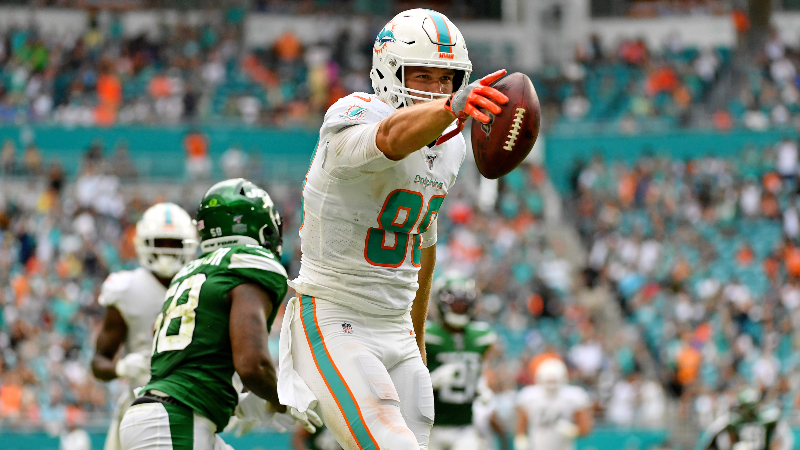 With Williams out for the season, there is a very real possibility Gesicki becomes Fitzpatrick's No. 2 target going forward and some weeks could even be the top target. He makes as a great tight end streamer with six teams on a Bye this week.
The Colts play more of a soft zone defense that allows tight ends to make easy catches over the middle which should enhance Gesicki's outlook this week.
Tier 8
Kyle Rudolph (@ DAL)
Jared Cook (vs. ATL)
Irv Smith (@ DAL)
OJ Howard (vs. ARI)

There may be some "OJ truthers" out there still, but like I mentioned earlier, I think there is something to be said about Koetter's history with tight ends that could explain Hooper and Howard's 2019 seasons so far.
---
Kicker
Tier 1
Wil Lutz (vs. ATL)
Justin Tucker (@ CIN)
Matt Gay (vs. ARI)
Adam Vinatieri (vs. MIA)
Harrison Butker (@ TEN)
Tier 2
Mason Crosby (vs. CAR)
Robbie Gould (vs. SEA)
Brett Maher (vs. MIN)
Zane Gonzalez (@ TB)
Daniel Carlson (vs. LAC)
Greg Zuerlein (@ PIT)
Michael Badgley (@ OAK)
Ryan Succop (vs. KC)
Eddy Pineiro (vs. DET)
Dan Bailey (@ DAL)
Tier 3
Aldrick Rosas (@ NYJ)
Austin Seibert (vs. BUF)
Matt Prater (@ CHI)
Joey Slye (@ GB)
Chris Boswell (vs. LAR)
Jason Myers (@ SF)
Younghoe Koo (@ NO)
Sam Ficken (vs. NYG)
Steven Hauschka (@ CLE)

Randy Bullock (vs. BAL)
Jason Sanders (@ IND)
Zane Gonzalez (@ TB)
Dustin Hopkins (BYE)
---
Defenses
Tier 1
Indianapolis Colts (vs. MIA)
Baltimore Ravens (@ CIN)
New Orleans Saints (vs. ATL)
Tier 2
Green Bay Packers (vs. CAR)
Kansas City Chiefs (@ TEN)
Chicago Bears (vs. DET)
Cleveland Browns (vs. BUF)
New York Jets (vs. NYG)
New York Giants (@ NYJ)
Tier 3
San Francisco 49ers (vs. SEA)
Buffalo Bills (@ CLE)
Los Angeles Rams (@ PIT)
Tampa Bay Buccaneers (vs. ARI)
Arizona Cardinals (@ TB)
Detroit Lions (@ CHI)
Tier 4
Pittsburgh Steelers (vs. LAR)
Dallas Cowboys (vs. MIN)
Minnesota Vikings (@ DAL)
Los Angeles Chargers (@ OAK)
Oakland Raiders (vs. LAC)
Tennessee Titans (vs. KC)
Seattle Seahawks (@ SF)
Carolina Panthers (@ GB)
Miami Dolphins (@ IND)
Tier 5
Cincinnati Bengals (vs. BAL)
Atlanta Falcons (@ NO)
How would you rate this article?