Giants vs. Patriots Updated Weather Report: How to Bet a Foxborough Nor'easter
Credit:
Greg M. Cooper-USA TODAY Sports.
The weather does not look pretty for the Thursday Night Football showdown between the Giants and Patriots.
Rain and heavy winds are expected in Foxborough. Let's examine how the forecast is affecting betting odds.
Thursday 10 a.m. ET Update:
While the forecast looks much the same as it has all week, expected wind speeds have tampered down just the slightest bit. For much of the week, we were expecting average speeds close to 20 mph. As of Thursday morning, that has dropped into the 16-17 mph range. So … it's still really windy: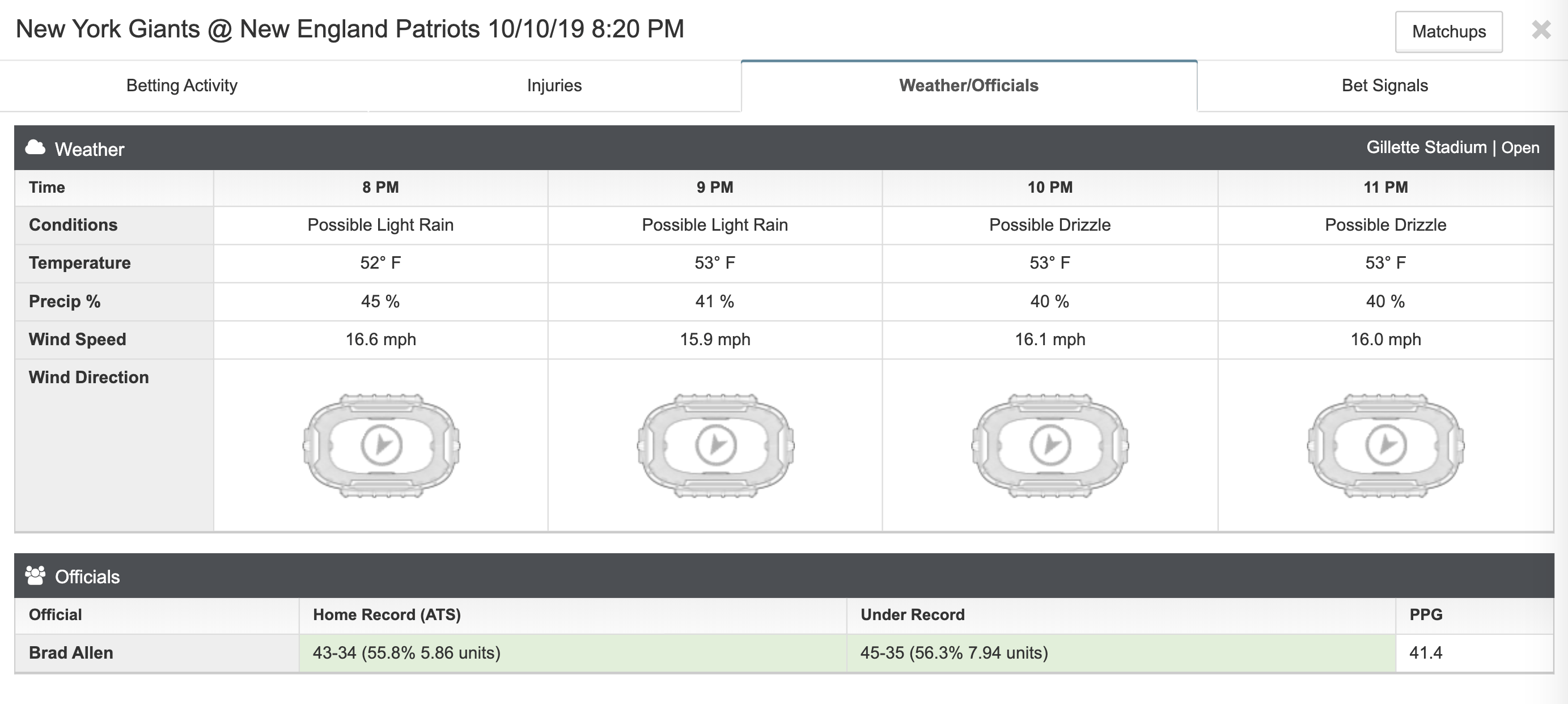 The severity of the rain looks to have diminished a bit, with the tail end of the game now looking at just a potential drizzle.
The total has finally made its first move back in the positive direction, ticking from its low-mark of 40.5 back up to 41 around most of the market early Thursday morning.
Here's how our historical data says to bet extremely windy games like we'll see on TNF:
---
Originally published Wednesday at 8 a.m. ET:
The Patriots' formidable defense isn't the only obstacle Daniel Jones and his depleted group of offensive weaponry will have to deal with on Thursday Night Football in Foxborough.
Instead, the horrendous weather forecast adds an extra layer of difficulty to the equation. It's like making the jump from 'Hardened' to 'Veteran' when playing a Call of Duty campaign — not for the faint of heart.
Winds are expected to be darn near close to 20 mph on average (including gusts up to 40 mph), with steady rain in the forecast, too. That's a Nor'easter for ya.
---
Odds as of Wednesday at 8 a.m. ET. Check out PointsBet, where Action Network users can access an exclusive promotion to get a 200% deposit match (deposit $50, bet with $150).
---
If it was 30 degrees colder, we could be looking at a couple of feet of snow during what will be an outright ugly 48+ hours of weather across Massachusetts.
How has this impacted the betting lines? Well, as you may have guessed, the over/under has dropped.
After opening at 46, the total is now at 41 at the majority of shops. We've tracked three steam moves on the under, and although tickets are fairly split, 75% of the cash is on the under.
Historically, windy NFL games (10+ mph) have gone under 55.8% of the time per Bet Labs, including a 7-3 record this year. Most folks assume rain also leads to unders, but that's tougher to quantify.
There's no real data that exists regarding rain because there's no good way to define it. What's the difference between a game with sprinkles throughout and a game that had a three-minute downpour?
Are both considered "rainy" games?
In fact, some people believe rain is good for the over because the wet, slippery ground makes it harder for defensive players to backpedal and keep up with receivers. Perhaps those folks will jump on the over now that the line has moved so much.
Regardless of the weather, it's safe to say New York could have some extra trouble scoring points vs. the Pats. Saquon Barkley (doubtful), Sterling Shepard (out), Evan Engram (questionable) and Wayne Gallman (out) may all miss the contest, leaving the young Jones with some lackluster options.
I suppose there's a reason why the G-Men are teetering on the edge of +17 …
How would you rate this article?