How Henry Ruggs Landing With Raiders Impacts His Dynasty Rookie Outlook
Credit:
Kevin C. Cox/Getty Images. Pictured: Henry Ruggs
Henry Ruggs III Dynasty Rookie Analysis
Position: WR | School: Alabama
Height: 5'11" | Weight: 188 pounds
40-yard dash: 4.27 seconds
2020 Age: 21 | Class: Junior
Recruitment Stars: 4-5
Draft Position: 1.12 (Raiders)
Henry Ruggs III's Fantasy Fit with Raiders
Wow. Ruggs went off the board as the No. 1 wide receiver in the draft. Who could have predicted something like that?
Even though the Raiders have wide receivers Tyrell Williams and Hunter Renfrow and tight end Darren Waller, I expect that Ruggs will be more than just a field-stretching complement.
He's going to be the No. 1 wide receiver right away — just like the comparable Marquise Brown was last year with the Baltimore Ravens.
Ruggs will be inconsistent, especially as a rookie, but he will almost certainly have multiple week-winning performances this season thanks to his big-play upside. I'll probably stay away from him in redraft leagues but target him heavily in best ball.
Henry Ruggs: Dynasty Analysis
Ruggs is likely the most polarizing player of the 2020 draft class.
Film-grinding analysts tend to like Ruggs because of his world-class speed, big-play ability and under-appreciated route-running ability.
But most analytics-driven dynasty touts (for lack of a better word) dislike Ruggs because he never had a breakout season. They begrudgingly have him at the bottom of Round 1 in their rookie fantasy rankings because they know it would be utter lunacy to rank a fast 21-year-old big-play star-recruit SEC first-rounder any lower than that. But ultimately, they want nothing more than to bury him in the middle of Round 2 and then watch him fail for the next three years before falling out of the league.
I usually caucus with the analytics folks — we see most players in a similar fashion. But we part ways when it comes to Ruggs.
[Easy Money!Get 2-1 Odds on Joe Burrow to Go No. 1 … (Yes, We're Serious)]
I'm not convinced that he'll be a star.  It's suboptimal that he never had a big collegiate campaign. But that's all that he's lacking. He has everything else.
Dynasty investors who focus on numbers tend to privilege production above all else, and that makes sense. College production is predictive of professional performance. If a guy puts up stats in college, he has a respectable chance of doing so in the NFL.
But strong college production I've found is normally accompanied by — or maybe even driven by — good marks in other areas. If a guy does well in college, he tends to be young. He tends to enter the NFL as an underclassman. He tends to have a good physical profile. He tends to have a high recruitment grade. He tends to be selected early in the draft. He tends to play at a good college program. He tends to be efficient with his opportunities.
That's Ruggs. He checks all the boxes — except for the big one at the top: He doesn't have the voluminous production.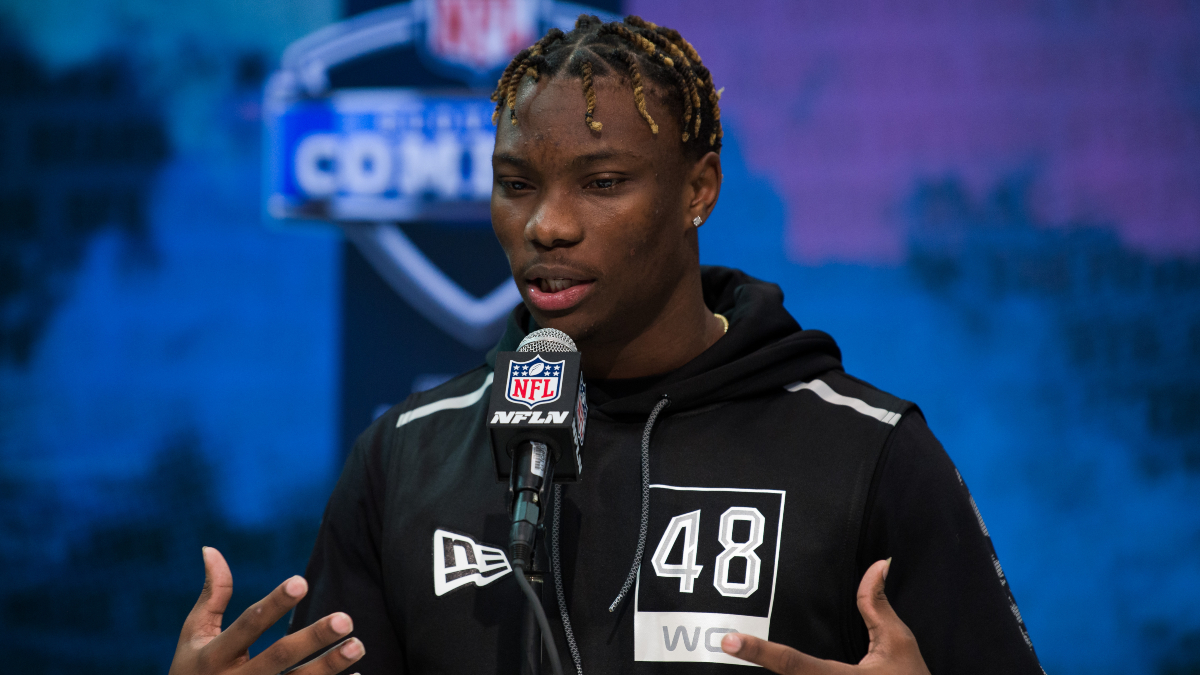 And that's what I think a lot of the analytics community is missing with Ruggs: College production I believe is the result of — the evidence of — all these other factors, which are the true determinants of NFL success. Production is just a proxy. A signifier.
But people act as if it is the signified — in the words of King Lear, "the thing itself." Production is not the thing. It's merely a symbol of what a player really is.
Ruggs hasn't declared himself to be a king — but he's wearing the regal robes and a crown, he's carrying a scepter and he's marching toward us with an army. We should probably assume he's a monarch.
When it comes to prospects, the proof is ultimately in the pudding of the NFL draft. The market is sometimes inefficient, but it never lies, and Ruggs went off the board as the first receiver selected in Round 1. And that wasn't a fluke.
Over the past four years — essentially, since speedster Tyreek Hill's rookie season — the NFL has privileged speed at the wide receiver position, and as a result, we've seen fast receivers go off the board as either the first player at the position or a top-10 pick.
2019: Marquise Brown, 1.25 (1st) – No pre-draft workout because of injury, reportedly ran a 4.33 as a junior college recruit
2018: D.J. Moore, 1.24 (1st) – 4.42 at 210 pounds
2017: John Ross, 1.10 (3rd) – 4.22 at 188 pounds
2016: Corey Coleman, 1.15 (1st) – 4.37 at 194 pounds (pro day)
Unlike Brown, Moore, Ross and Coleman, the electric Ruggs never had a breakout season in college, but I'm not faulting him for that.
With Alabama's assortment of pass-catching talent and offensive dominance, Ruggs was never called upon to be an alpha receiver. The team didn't need him to do a lot for it to roll over opponents, and Ruggs had to compete with Jerry Jeudy, Devonta Smith and Jaylen Waddle for targets — all three of those guys are potential first-rounders.
Ruggs' lack of overall production is understandable. And it's not as if he contributed nothing at Alabama. For his career, he turned 100 touches from scrimmage into 1,791 yards and 25 touchdowns.
That's elite efficiency, and he is a better receiver than most numbers-based analysts think: Ruggs is an above-average route runner with strong contested-catch skills for his size, and his elite deep speed makes him a threat to score whenever he touches the ball. For his career, he gifted his quarterbacks with a 151.4 passer rating when targeted (per Pro Football Focus).
Among draft-eligible receivers, Ruggs trailed only CeeDee Lamb last year with his mark of 13.6 yards per target (per Sports Info Solutions).
As you might expect if I told you only that Ruggs is a fast 21-year-old big-play star-recruit SEC first-rounder, he's actually a good receiver.
Because of how he forces defenses to play when he's on the field, Ruggs ultimately might be more valuable to his NFL team than his fantasy franchises. But I expect that, at a minimum, he will have some Tyreek-esque week-winning performances as early as the 2020 season. And for daily fantasy and best ball especially, he will be a desirable option.
At his best, Ruggs will likely be a Brandin Cooks-caliber producer — and that's not nothing. People like to forget how good Cooks has been throughout his career: Over the past six years, he has averaged 1,000-plus yards and six touchdowns per season. And he could have a few more 1,000-yard campaigns ahead of him.
At his worst, Ruggs will be John Ross, maybe Curtis Samuel. Let's keep in mind that Ross had 510 yards and three touchdowns in eight games last year and that Samuel has seven touchdowns in each of the past two years while playing primarily with backup quarterbacks.
If Ruggs turns into Ross or Samuel, that might not be a negative outcome.
NFL Prospect Comp: Mecole Hardman with more speed and way more production
More Dynasty Analysis For Freedman's Top Rookies
---
Matthew Freedman is the Editor-in-Chief of FantasyLabs, part of The Action Network.
How would you rate this article?
This site contains commercial content. We may be compensated for the links provided on this page. The content on this page is for informational purposes only. Action Network makes no representation or warranty as to the accuracy of the information given or the outcome of any game or event.