Koerner's NFL Power Ratings: Projecting Week 7 Spreads & Over/Unders to Find the Best Bets
Credit:
USA Today Sports. Pictured: Russell Wilson, Jared Goff, Deshaun Watson
Sean Koerner projects spreads and over/unders for every Week 7 NFL game using his power ratings.
He uses these power ratings -- and analysis -- to recommend the best pregame and live bets.
Things are getting interesting as we enter the midseason stretch. There are a few contenders in potential bounceback spots and, of course, the Dolphins positions as double-digit underdogs once again.
Like every week, I'll use projected spreads and over/unders to identify the best bets for Week 7. I've also added one new feature: My projected final scores.
A couple more notes before we dive in:
I recently created a Pass/Run Funnel Model (PRFM) as another way to view specific matchups, so I'll be highlighting various teams' ratings throughout.
The PRFM in-sample records should be treated like trends — it's not implying a bet would win at that same rate outside of the sample (i.e. this upcoming week), rather it's intended to be about its predictive value.
Now let's run through every matchup and identify my favorite picks (including one in-game bet I'm looking to make).
---
Odds as of Wednesday evening and via PointsBet, where Action Network users can access an exclusive promotion to get a 200% deposit match (deposit $50, bet with $150).
---
Chiefs at Broncos
Current odds: Chiefs -3; 48.5
My Projections: Chiefs -3; 49.5
Thursday Night Football
This is an intriguing matchup between two teams going in opposite directions. After an 0-4 start, the Broncos have now won back-to-back games while the Chiefs are losers of two straight after a 4-0 start.
It's not a surprise to me that the public is heavily backing the Chiefs to bounce back here as 78% of the tickets have been on them thus far (see live public betting data here). But despite the lopsided action, the spread has actually dropped from the opener of -4 down to the most critical key number at -3.
Looking at the context of this matchup, I'd still be willing to take Broncos +3. Their run-heavy offense is able to attack the weakness of a Chiefs' defense that's ranked second-to-last in Football Outsiders' DVOA. They've allowed a 100-plus yard rusher in four straight games (and nearly five with Josh Jacobs' 99 yards in Week 2). The thunder and lightning combo of Phillip Lindsay and Royce Freeman should take advantage of this and move the ball effectively.
Patrick Mahomes has been dealing with an ankle injury that's clearly limiting him. He was visibly limping on it again in Week 6 after he got trapped under a defender. The Chiefs don't have their bye until Week 12, so it's something he has to play through in the meantime. I'm thinking the short week will prevent him from making a full recovery and limit him again, but after 10 days of rest on the other side, we should see the MVP-caliber Mahomes emerge in Week 8.
I'm going to speculate a bit beyond my power ratings and lean toward the Broncos and under here.
My Projected Team Totals: Chiefs 26.25; Broncos 23.25
Cardinals at Giants
Current odds: Giants -3; 50.5
My Projections: Giants -2.5; 47
The Cardinals are now on a two-game win streak and get Patrick Peterson back from his six-game suspension. The Giants have key offensive players who are questionable in Saquon Barkley, Evan Engram and Sterling Shepard, so it would be a significant boost to the offense if/when all three are active and near 100%. I'm guessing Engram will play, Barkley will be limited and Shepard will sit. With 79% of the money on the Giants, it's driven the line up to the key number of 3, meaning now may be the time to lock in the key number.
It doesn't look like sharps are letting it get up to 3.5 as they might have the same read on this game as me at +2.5.
Despite the over getting 70% of the bets, this total has dipped from 49 to 48.5 and has since rebounded up to 50.
It makes sense that the public is attacking this over. You have two top-10 teams in terms of pace and two below-average defenses. Either offense is capable of scoring points in the right matchup. However, 50 points is still a bit high given Peterson's return and the Giants having key offensive players at less than 100% health.
I'm leaning toward the under but am willing to see if the line continues to climb higher than 50 before taking it.
My Projected Team Totals: Giants 24.75; Cardinals 22.25
Texans at Colts
Current odds: Colts -1; 47.5
My Projections: Colts -1; 46.5
This is a matchup of two teams that are typically undervalued according to my power ratings. I was expecting this market to favor the Texans here, but it looks like it's in agreement with me with the Colts coming off a bye.
The betting behavior looks incredibly balanced, so this line looks solid. I'm going to pass on this game, but whichever team loses could be a value next week as both teams are better than their public perception.
My Projected Team Totals: Colts 23.75; Texans 22.75
Dolphins at Bills
Current odds: Bills -17; 40.5
My Projections: Bills -15.5; 38.5
Life has been good since I decided to pass on taking a side on the spread in any Dolphins matchup. They're truly one of the worst football teams we've ever seen and the market has been trying to correct for that by establishing unthinkable lines such as this one.
The Bills being favored by 17 points has forced the market to side with the Dolphins: 62% of the tickets and 84% of the money has come in on Miami.
The Bills aren't the type of team that can pile on the points, so bettors are likely more willing to take the huge underdog here. But the Bills defense is more than capable of holding the Dolphins to single digits. In fact, the Bills' strength is their running game, so this matchup sets up for them nicely.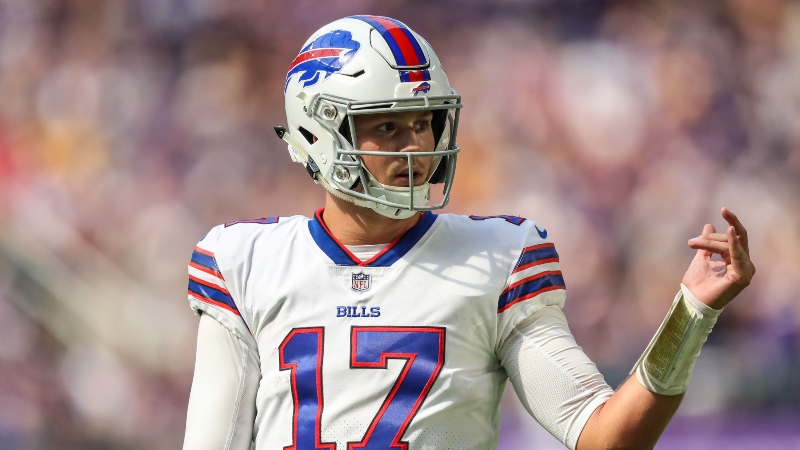 As I mentioned earlier, I created a Pass/Run Funnel Model and the Bills are popping with a rating of 0.78 in this matchup. On the season, teams with a rating of 0.78 or higher have covered 77% of the time (23-7). Smoothing out the data a bit has a 0.78 rating with a projected in-sample win rate of 63.8%.
The under is also popping in the pass/run funnel model, which is also aligned with my power ratings as well as the reverse line move considering the total dropped from 41 to 40.5 even due to 81% of the money coming in on the over. Any game with a rating below -0.34 has gone 10-5 (66.7%) on the under this season and has an in-sample projected win rate of 65.3%.
My Projected Team Totals: Bills 27; Dolphins 11.5
Vikings at Lions
Current odds: Vikings -1.5 45.5
My Projections: Vikings -0.5; 44
You have to wonder where this line would be if the refs didn't call those two phantom penalties on Trey Flowers and the Lions ended up beating the Packers on Monday Night Football. I would guess it would be a pick 'em as my power ratings are meant to cut through the noise of game results. The Lions could be worth snagging if this pops over +2 and definitely if it reaches +3.
The total is the most interesting about this matchup. It opened at 46 and has since been bet down to 45.5 — a line move that seems a bit weak considering 89% of the money has come in on the under.
We've seen the Vikings take advantage of poor pass defenses the past two games by airing it out and giving the squeaky wheel treatment to Adam Thielen in Week 5 then Stefon Diggs in Week 6. We could see them shift back to their run-heavy approach here, which would help favor the under. Considering the Lions have become a run-heavy team under offensive coordinator Darrell Bevell — 57.4%, seventh-highest in the league — this matchup sets up nicely for the under here.
My Projected Team Totals: Vikings 22.25; Lions 21.75
Raiders at Packers
Current odds: Packers -5.5; 47
My Projections: Packers -8; 47
Everything sets up for the Packers at -5.5 here.
My PRFM gives the Packers a 0.70 rating here, which has an in-sample predictive value of 62.5%. The market seems to be leaning toward the Raiders here with 55% of the action coming their way, hence the line drifting down from 7.
One thing I'll want to monitor before pulling the trigger on the Packers is the health/availability of Davante Adams and Geronimo Allison. Aaron Rodgers needs both to be active for me to feel more confident in backing them. They brought in former Packer, Ryan Grant, which could be a sign they expect one or both wide receivers to miss. Either way, it's a cluster injury worth waiting to get clarity on before betting on the favorite.
My Projected Team Totals: Packers 27.5; Raiders 19.5
Jaguars at Bengals
Current odds: Jaguars -3.5; 44
My Projections: Jaguars -2; 43.5
The Jaguars dealt Jalen Ramsey to the Rams for two first-round picks and a fourth on Tuesday. It was a move that we sort of saw coming with Ramsey sitting out due to a "back" injury. It's a short-term blow for the Jaguars, who are looking beyond 2019 to build their team of the future.
The Bengals +3.5 is one of the better plays this week, especially if they can get A.J. Green back.
To no surprise, the 0-6 Bengals are getting very little action with 78% of the tickets and 75% of the money pouring in on the Jaguars. Are the Bengals a bad team? Absolutely. But looking at their schedule to date, they've played four of their six games on the road, faced a fairly tough schedule and are now 0-4 in one-score games. Their Pythagorean expected record is 1.4-4.6.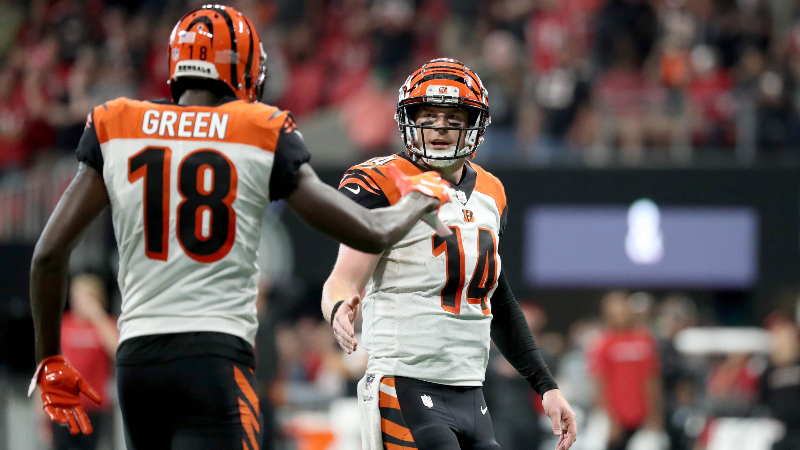 This is a classic case of the public likely underestimating a very bad team. Give me the underdog here at +3.5, locking in the most valuable number against the spread.
My Projected Team Totals: Jaguars 23; Bengals 20.5
Rams at Falcons
Current odds: Rams -3; 54.5
My Projections: Rams -3; 54
The Rams gave away two first- and one fourth-round pick to acquire Ramsey. It's worth noting they traded away Marcus Peters and lost Aqib Talib to IR.
I'm treating them straight-up this week, assuming Ramsey is able to suit up, but their main issues still lie with their offensive line. It's also becoming clear that the league has been able to figure out their offense, which means Sean McVay is now the one who needs to adjust. We've seen that with them incorporating their tight ends more recently, and they should be able to exploit the Falcons' lack of pass rush.
I expect Jared Goff and the Rams to have a bounce back game, but the line(s) look about right, so this is a pass for me.
My Projected Team Totals: Rams 28.5; Falcons 25.5
49ers at Redskins
Current odds: 49ers -10; 41.5
My Projections: 49ers -11.5; 40.5
This under is popping as it's -0.43 PRFM rating gets an in-sample 68.9% probability of hitting. This makes sense as the 49ers should be able to use their shutdown defense and efficient running game to bury the Redskins with ease.
Terry McLaurin looks like the real deal as he's erupted in his rookie season. The problem is that he's really this offense's only weapon. San Francisco will be able to get away with double-teaming him since no other pass catcher will make them pay.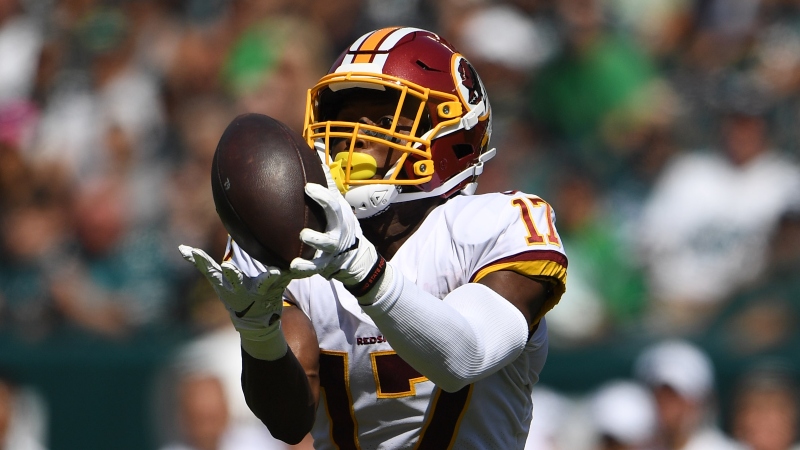 This is a game flow and matchup that screams under.
My Projected Team Totals: 49ers 26.75; Redskins 15.25
Chargers at Titans
Current odds: Titans -2; 39.5
My Projections: Titans -1; 39.5
I had mentioned earlier in the preseason that if the Titans ever needed to start Ryan Tannehill, it likely wouldn't have much impact on the spread. They've had to deal with Marcus Mariota missing periods of time and having to roll with QBs like Blaine Gabbert. It wasn't surprising for the Titans to just bench the struggling Mariota outright and give Tannehill the start to see if he can spark the offense.
I haven't changed their power rating at all with the QB swap.
While I'm passing on this matchup of two underachieving teams, I'll be looking to back whichever team loses in Week 8. Both are 2-4 despite having positive point differentials. They also each have a Pythagorean expected record of 3.2- 2.8 right now, well above their actual record. Both have had extreme bad luck in one-score games and are much better on paper than their record.
Whichever team leaves this week 2-5 could be an under-the-radar team for the second half of the season and a solid bet for Week 8.
My Projected Team Totals: Titans 20.5; Chargers 19.5
Ravens at Seahawks
Current odds: Seahawks -3.5; 49.5
My Projections: Seahawks -4; 48.5
The Seahawks are popping in my PRFM with a rating of 0.87 (an in-sample predictive win rate of 65.4%). This lines up with my power ratings and even market behavior.
A 3.5-point spread is the easiest line to gauge sharp action. If the betting action is tilted in the underdog's favor, like it is here with a 56% and 71% ticket/money split, and it doesn't get bet down to 3, it likely means there's enough sharp action to keep it -3.5 or higher.
Russell Wilson is playing like an MVP and the Ravens defense is not good enough to slow him down. They've given up 340-plus passing yards to Kyler Murray, Patrick Mahomes and Baker Mayfield while Lamar Jackson has tapered off a bit against better competition. He could be without his stud rookie WR Marquise Brown again, which will hurt.
The Seahawks get Jarran Reed back from a six-game suspension and the timing couldn't have been better as he'll give their pass rush an instant boost.
Give me Seattle here.
My Projected Team Totals: Seahawks 26.25; Ravens 22.25
Saints at Bears
Current odds: Bears -3; 38
My Projections: Bears -3; 39.5
This is another matchup in which sportsbooks could be rooting for the favorite. The Saints are 4-0 in the four starts Teddy Bridgewater has filled in for the injured Drew Brees. All four of those wins were one-score games, which puts their one-score record at 5-0. By definition, the public is going to be overrating them right now.
We're still unsure as to who will be the starting QB for the Bears this week. They're cautiously optimistic that Mitchell Trubisky will return from his shoulder injury, but they appear to be splitting first-team reps with Chase Daniel just in case. It's a pretty big indictment against a starting QB when they're a true game-time decision and all sportsbooks are taking action just as if it's any other game.
Alvin Kamara is dealing with an ankle injury, and with a Week 9 bye looming, the Saints may limit him again or rule him out in an attempt to get him 100% healthy.
Due to all of these factors, it appears Bears -3 is the play here.
My Projected Team Totals: Bears 21.25; Saints 18.25
Eagles at Cowboys
Current odds: Cowboys -3; 49
My Projections: Cowboys -2.5; 48
Sunday Night Football
The Cowboys are dealing with a cluster injury situation at wide out, which is incredibly poor timing as the way to beat the Eagles is through the air.
If Amari Cooper and Randall Cobb are ruled out, it'll force Michael Gallup into the No. 1 WR role and we could see Jason Witten more involved. This doesn't set up for a Zeke game as the Eagles have a stout run defense. Look for Dallas to use Ezekiel Elliott a bit more in the passing game as a result.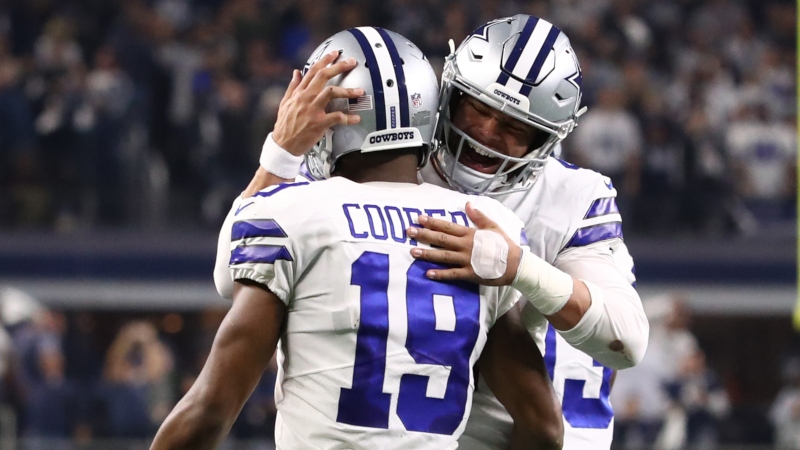 I'm going to stay away from this game until we get more clarity on Dallas' WRs.
My Projected Team Totals: Cowboys 25.25; Eagles 22.75
Patriots at Jets
Current odds: Patriots -9.5; 42.5
My Projections: Patriots -10.5; 43
Monday Night Football
Sam Darnold looked sharp in his return from a bout of mono. Now he gets the toughest test in football against the league's best defense.
The total for this game has dropped from 43 to 42 and it's not quite clear how much of that is due to the potential rain for Monday night. I typically shy away from totals this far out if there are potential weather concerns and don't have a strong read either way. I'm right in line with these current odds, which means I'll pass on this for now.
My Projected Team Totals: Patriots 27.25; Jets 16.25
How would you rate this article?