Koerner's Week 7 Fantasy Football Tiers: Ranking QBs, RBs, WRs, TEs & More
Credit:
USA TODAY Sports. Pictured: Dallas Cowboys running back Ezekiel Elliott (21), Baltimore Ravens quarterback Lamar Jackson (8), Houston Texans DeAndre Hopkins (10).
Sean Koerner sorts his Week 7 fantasy football rankings into tiers to help perfect your lineup decisions.
He digs deep into every position below -- quarterback, running back, wide receiver, tight end, defense and kicker.
Week 6 was highlighted by monster performances from dual-threat players around the league, including Baltimore Raven quarterback Lamar Jackson, who led all players in rushing with 19 carries, 152 yards and a touchdown.
A few regular fantasy standouts are on bye in Week 7, but there are still plenty of opportunities for dominant performances.
Let's dive into my tiers — a window into how I'm approaching the week. As always, check out this piece for my most up-to-date rankings.
And if you're looking for streaming advice, you can find my favorite streamers here.
---
Go To: QB | RB | WR | TE | K | DEF
---
Week 7 Fantasy Football Tiers
Quarterbacks
Tier 1
Russell Wilson (vs. BAL)
Lamar Jackson (@ SEA)
Patrick Mahomes (@ DEN)
I have all three guys projected within 0.3 points of each other, so it's a bit trivial to label any one as the No. 1 quarterback, but right now Wilson has that honor. He faces a Ravens defense that shouldn't be as feared as usual. They've allowed at least 340 passing yards to Kyler Murray, Baker Mayfield and Mahomes.
The other three quarterbacks the Ravens have faced are well below average. This is an eruption spot for Wilson, who has now rushed at least six times in four of his six games. His rushing upside appears to be back and his ability to throw for two-plus touchdowns — which he's done in 79% of games over the past three seasons — is a bit overlooked.
Wilson is the ultimate floor/ceiling combo this week.
Jackson could slip past Wilson if it looks like Marquise Brown will be 100%, and Mahomes will return to QB1 overall once it looks like he's 100% over his nagging ankle injury.
Tier 2
Kyler Murray (@ NYG)
Matt Ryan (vs. LAR)
Deshaun Watson (@ IND)
Murray finally put it all together through the air and on the ground for his first true ceiling game. Now he's set up perfectly to repeat that against the Giants.
Ryan is the ultimate floor/ceiling play as he's thrown for at least 300 yards in every game this season and for three or more touchdowns in four games.
Watson was the overall QB1 last week, and despite currently ranked sixth, he has just as good a shot to repeat as the highest scoring quarterback. His median projection is just slightly below the quarterbacks above due to the Colts having the bye to prepare for him and the Texans having a middling team total.
Tier 3
Dak Prescott (vs. PHI)
Josh Allen (vs. MIA)
Prescott has a great matchup against the pass funnel Eagles. However, with Amari Cooper trending on the wrong side of questionable, the Cowboys will be hurting for receiving options if Cooper and Randall Cobb are out.
The defense will be able to focus on stopping Gallup and force Prescott to lean on Jason Witten a bit more, which hurts Prescott's upside a bit.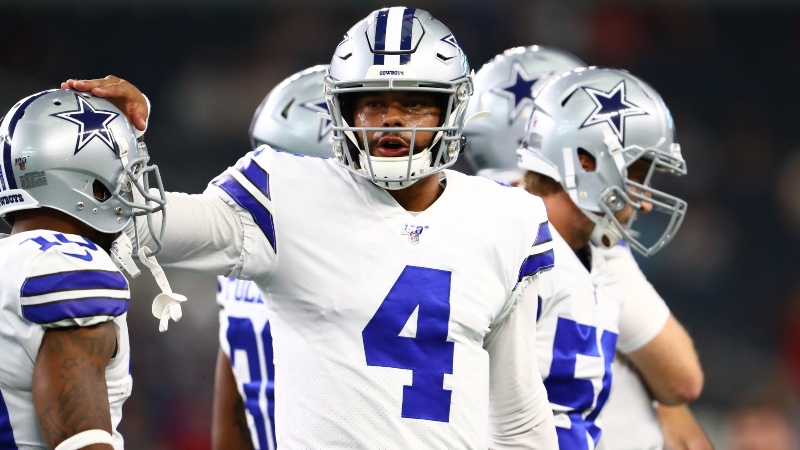 Allen is my top streaming quarterback this week.
He'll likely get most of his production in the first half as the Bills are 16.5-point favorites against the Dolphins, who are likely to allow some big pass/run plays to the dual threat quarterback. This matchup is right up Allen's alley.
Tier 4
Jared Goff (@ ATL)
Aaron Rodgers (vs. OAK)
Tom Brady (@ NYJ)
Daniel Jones (vs. ARI)
There are some bounce-back quarterbacks in this tier.
Goff put up a microscopic 78 yards through the air in Week 6. That's the type of production you would expect in a blizzard game. But I can confirm that the weather was in fact perfect here in LA for that game. It's more of a testament to how good the 49ers defense is, how poor the Rams offensive line has been and how much the Rams lean on Todd Gurley being a threat out of the backfield to set up play action.
The Falcons will not be able to generate enough pressure to knock Goff off his game, so he should bounce back against a poor defense in a likely shootout.
Jones has had a rough stretch where he's faced top defenses without some of his key weapons. He should get Saquon Barkley and Evan Engram back, which helps. The Cardinals are the perfect defense to get him back on track and I'm viewing him as a low-end QB1 on a heavy bye week.
Tier 5
Carson Wentz (@ DAL)
Jacoby Brissett (vs. HOU)
Wentz benefited a bit from Kirk Cousins and Stefon Diggs torching the Eagles' secondary for a massive game. It forced Wentz in permanent comeback mode, which did wonders for his fantasy value. If you own Wentz, you're playing him. I would simply lower expectations a tad.
The Cowboys could be without Cooper and Cobb, which could set this game up to be a more balanced, low-scoring game than we realize.
Tier 6
Jimmy Garoppolo (@ WAS)
Gardner Minshew (@ CIN)
Garoppolo has a low weekly ceiling given how dominant the 49ers' defense is and how effective their running game has been. That effect will be amplified against the Redskins, and Jimmy G will have to get his points early.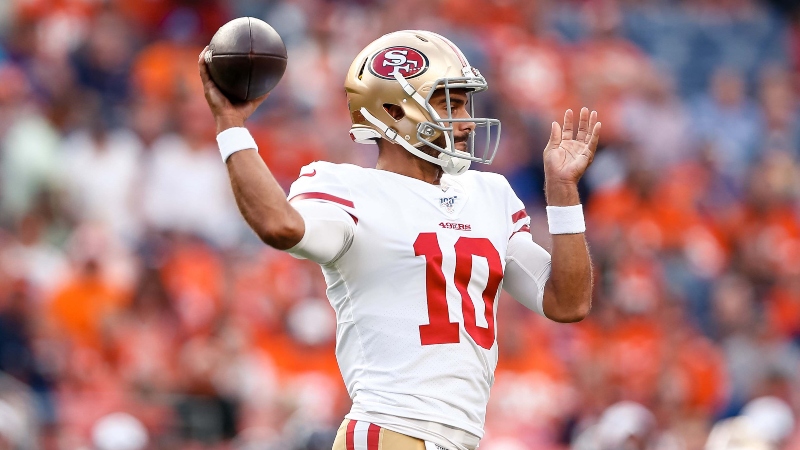 I was a bit bearish on Minshew until last week, then he burned me. He should bounce back against the Bengals, but I'm back to treating him as a low-volume QB2. Minshew has benefited from Leonard Fournette's poor touchdown luck this season, but I think we'll see Fournette have a huge game this week at Minshew's expense.
Tier 7
Matthew Stafford (vs. MIN)
Kirk Cousins (@ DET)
Cousins had a couple consecutive squeaky wheel games against weak pass defenses, but I think we'll see the Vikings return to their run-heavy approach this week, which might trap Cousins' point chasers with a floor type game we saw earlier this season in their starting lineup. Ideally you won't need to start him this week.
Tier 8
Andy Dalton (vs. JAX)
Philip Rivers (@ TEN)
I wouldn't rely on either quarterback this week, but with Baker Mayfield and Jameis Winston on bye, it could force these two into play for some. Dalton's final rank will depend on the status of A.J. Green, so be sure to check my rankings once we know for sure whether Green is in or out.
Tier 9
Mitchell Trubisky (vs. NO)
Joe Flacco (vs. KC)
Derek Carr (@ GB)
Marcus Mariota (vs. LAC)
Teddy Bridgewater (@ CHI)
We still aren't quite sure if Trubisky or Mariota will be starting. Hopefully you aren't waiting on that info for your sit/start decisions.
Flacco might seem like an enticing streamer based on matchup. But the truth is t hat the Chiefs have been vulnerable to opposing running backs, so expect a healthy dose of Phillip Lindsay/Royce Freeman to exploit that. I would look elsewhere for a "what the heck" type flier than Flacco.
Tier 10
Sam Darnold (vs. NE)
Case Keenum (vs. SF)
Josh Rosen (@ BUF)
I currently have all three quarterbacks projected to throw for fewer than 200 yards. They offer zero rushing upside, which means they're the optimal low-ceiling, low-floor combo we try to avoid in fantasy football.
---
Running Backs
Tier 1
Ezekiel Elliott (vs. PHI)
Leonard Fournette (@ CIN)
Dalvin Cook (@ DET)
Similar to Tier 1 at quarterback, it's not worth splitting hairs trying to peg who should be the No. 1 running back this week. After my full projection process later this week, the order could be reversed by Sunday.
The main point is that the top slot is wide open with Christian McCaffrey on a bye. Not to mention we have Nick Chubb and James Conner on a bye. The Week 7 bye weeks open up three slots in the top 12 this week.
Tier 2
David Johnson (@ NYG)
Alvin Kamara (@ CHI)
Chris Carson (vs. BAL)
Johnson (back) and Kamara (ankle) are both dealing with injuries, which means we've seen a spike in the usage of their backups, Chase Edmonds and Latavius Murray, respectively.
I think this is a trend we'll continue to see with Kamara for the next two games as the Saints have their bye in Week 9. They'll likely have their eyes set on having Kamara and Drew Brees close to 100% starting in Week 10, which could involve a slightly lighter load this week.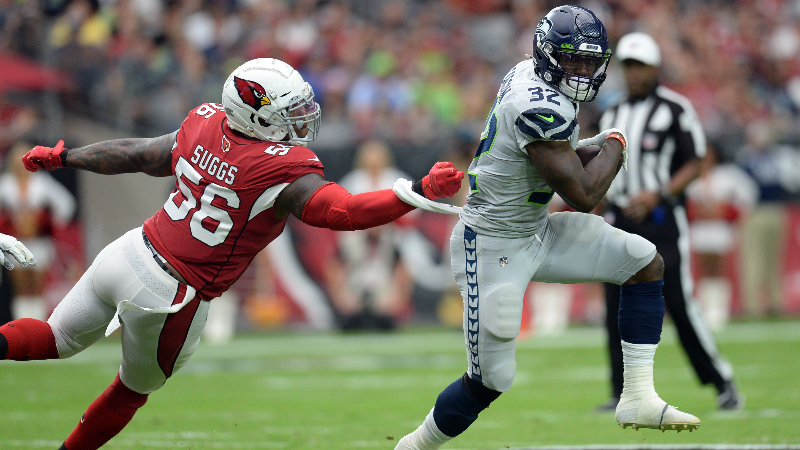 Carson has put his fumbling issues in the rearview mirror and Rashad Penny was inactive this week due to his hamstring injury. Carson is a rock solid RB1 going forward.
Tier 3
Aaron Jones (vs. OAK)
Le'Veon Bell (vs. NE)
Saquon Barkley (vs. ARI)
We saw Jones crash back down to Earth in Week 6 after being the overall RB1 in Week 5. A lot of that has to do with Jamaal Williams' return, forcing this to be more of a committee.
It didn't help that Jones dropped a would-be touchdown on Monday night that would've salvaged his Week 7 stat line. Look for him to get back on track this week, even though Williams' presence lowers his ceiling.
Barkley seems likely to return, but we're still unsure if he will be limited at all. His rank is likely to change as we find out more info on his and even Wayne Gallman's statuses.
Tier 4
Derrick Henry (vs. LAC)
Todd Gurley (@ ATL)
Phillip Lindsay (vs. KC)
Joe Mixon (vs. JAX)
Devonta Freeman (vs. LAR)
Kerryon Johnson (vs. MIN)
I'm treating Lindsay as a low-end RB1 on the heavy bye week. He's been getting slightly less than 50% of the snaps as he and Royce Freeman are in a strict time share. However, the Broncos are such a run-heavy team we can still bank on 15-20 touches a game — not to mention he gets the most valuable carries around the goal line over Freeman.
The Chiefs have been the most vulnerable against opposing running backs as they've allowed big rushing games for five straight weeks: Josh Jacobs (99 yards), Mark Ingram (103), Kerryon Johnson (125), Marlon Mack (132) and Carlos Hyde (116).
Despite Lindsay's tiny frame, he profiles out as the Broncos' lead back in terms of carries, while Freeman has the edge in the passing game. This sets up perfectly for Lindsay.
Tier 5
Josh Jacobs (@ GB)
Mark Ingram (@ SEA)
Sony Michel (@ NYJ)
Marlon Mack (vs. HOU)
Jacobs' needle is pointing up now that he's finally getting targets in the passing game. He has back-to-back games of two or more catches, and more importantly, Jalen Richard is being phased out and saw only 15% of the snaps in Week 5.
A lot of that could do with the Raiders being involved in positive game scripts in those contests (they won both), so in a spot in which they're likely to be trailing the Packers, we'll see if this trend continues. The Packers have had a run funnel defense for most of the season, so Jacobs is a solid play this week.
Ingram and Michel are my favorite sell-high candidates. I recommended waiting for Ingram's likely 70-yard, one touchdown game against the Bengals before selling and that's exactly what happened. The next step is to cash in before their schedule tightens up and he sees touchdown regression.
Michel is handling massive volume as his knees appear to be holding up fine, but that could change at any moment — not to mention Rex Burkhead's return could start to limit his touch count.
Another deep factor that could hurt Michel is losing blocking fullback James Develin (IR). The Patriots were able to have Jakob Johnson fill in quite well and essentially play the Develin role, but now that he suffered a season-long injury, we may see the lack of a true fullback start to impact Michel slightly.
Tier 6
Royce Freeman (vs. KC)
Melvin Gordon (@ TEN)
Carlos Hyde (@ IND)
Tevin Coleman (@ WAS)
Matt Breida (@ WAS)
Austin Ekeler (@ TEN)
The 49ers' running back committee has a ton of potential in what should be a run-heavy game script against the Redskins — the problem is figuring out which back will see more touches.
There's a chance both backs hit value, but it's more likely that one has more of a ceiling game while the other has a floor game. There's also the threat of Raheem Mostert seeing a majority of second-half carries if the 49ers are up big.
As always, if Jeff Wilson is active, we may see him continue to be a goal-line vulture. It's a nightmare from a projections standpoint and why I recommended selling high on Breida if you can.
Ekeler was another sell-high candidate I highlighted last week. His value bottomed out as he played a season-low 45%. Melvin Gordon is only going to see his snaps increase as he returns from his multi-week holdout, so Ekeler's snap count could only go down.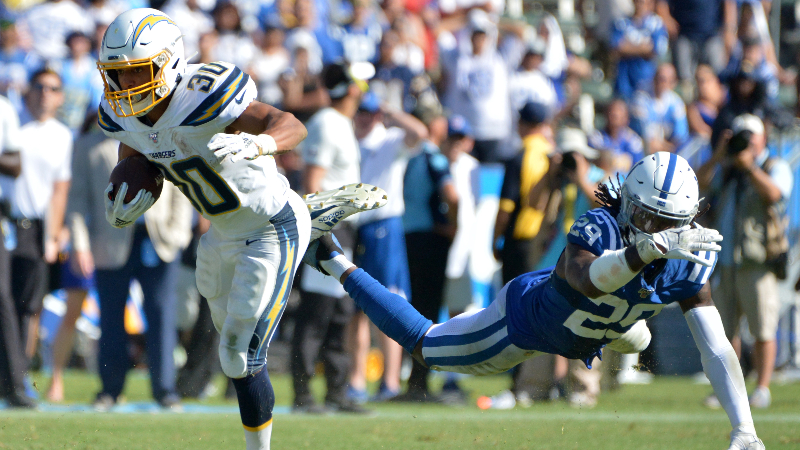 The most concerning part was that it was a game in which the Chargers trailed early and often, so you would've expect that game flow to actually spike Ekeler's usage, but we saw the opposite.
With Hunter Henry back, Ekeler is the fourth or fifth target in the current pecking order and is only seeing change-of-pace carries behind Gordon.
Tier 7
David Montgomery (vs. NO)
James White (@ NYJ)
Frank Gore (vs. MIA)
Montgomery has settled into a low-end RB2/Flex play we can bank on for enough volume to put up useful scores each week. We have still yet to see a true ceiling game from him yet, but I'm betting we see him pop off a few more times this season.
Gore could be a great flex play in a revenge game. Devin Singletary's return will hurt Gore's long term value, but I think this week they ease Singletary in. Next week we could see Singletary start to inherit the true workhorse role away from Gore if he's closer to 100% recovered from his hamstring injury.
Tier 8
Adrian Peterson (vs. SF)
Kenyan Drake (@ BUF)
Jordan Howard (@ DAL)
Tarik Cohen (vs. NO)
Jamaal Williams (vs. OAK)
LeSean McCoy (@ DEN)
Miles Sanders (@ DAL)
Washington's Interim head coach Bill Callahan made a point to run the ball more, specifically with Peterson, in a Week 6 win over the Dolphins. This week sets up a negative game script, which hurts AP.
However, with Chris Thompson likely out, we may see the Redskins use AP as the passing back a bit more. It could help prevent him from getting phased out of the game plan completely.
This is a brutal matchup, but with so many quality backs on bye, you could do worse. Williams erupted in Week 6 for the Packers after missing two games due to concussion. He has some stand alone flex value against the Raiders.
Tier 9
Damien Williams (@ DEN)
Devin Singletary (vs. MIA)
These two backs could see their ranks move up or down as more news becomes available farther along in my projections process. As I mentioned above, Singletary could be eased in this week with the Bills 16.5-point favorites. He's a great buy-low running back for the second half of the season. I predict he'll be the lead back for the Bills by Week 9.
Tier 10
Duke Johnson Jr. (@ IND)
Wayne Gallman (vs. ARI)
Nyheim Hines (vs. HOU)
Ito Smith (vs. LAR)
Chase Edmonds (@ NYG)
Malcolm Brown (@ ATL)

These backs are mainly must-own handcuffs as opposed to recommended plays this week. Three of these backs — Gallman, Edmonds and Brown — are backups to starters who are banged up, so any one of them may shoot up later this week if they become the de-facto starter.
Be sure to check my updated rankings later in the week, especially for volatile situations like this where we have limited info early in the week.
---
Wide Receivers
Tier 1
Julio Jones (vs. LAR)
DeAndre Hopkins (@ IND)
Michael Thomas (@ CHI)
Cooper Kupp (@ ATL)
There are roughly seven WR1/2s on bye, which means it's even thinner near the top of the position.
Hopkins continues to frustrate with pretty solid games — he simply isn't finding the end zone. But he'll see some positive touchdown regression in the very near future. The monster game(s) are coming, you just have to be patient.
Tier 2
Keenan Allen (@ TEN)
Adam Thielen (@ DET)
Tyler Lockett (vs. BAL)
Tyreek Hill (@ DEN)
Julian Edelman (@ NYJ)
Hill returned with a bang, hanging a 5/80/2 line on the Texans. He's likely to get chased around by Chris Harris Jr. on Thursday, but a player like Hill is matchup-proof and a solid WR1.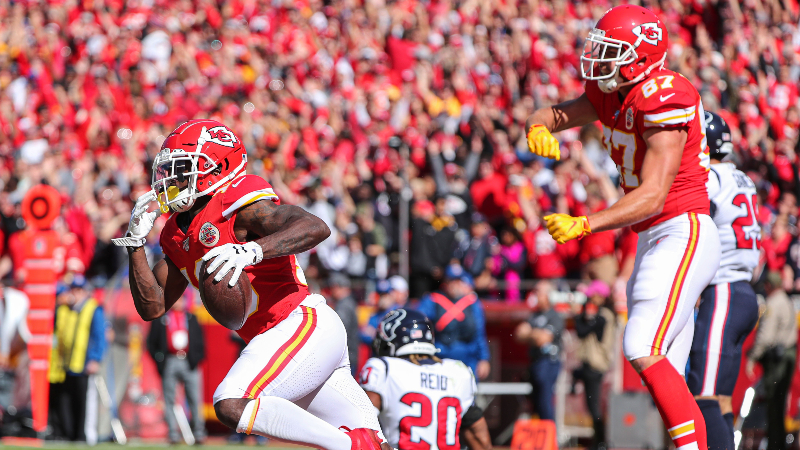 Tier 3
Kenny Golladay (vs. MIN)
Larry Fitzgerald (@ NYG)
Amari Cooper (vs. PHI)
Stefon Diggs (@ DET)
Will Fuller (@ IND)
T.Y. Hilton (vs. HOU)
D.J. Chark (@ CIN)
Cooper seems to be on the wrong side of questionable, but it appears to only be a bruise that's causing him pain and it's not expected to sideline him long (if at all). This is a fantastic matchup, so it would be a shame if he ends up missing. We'll monitor his status closely, but it would be wise to make backup plans.
Diggs had his much-anticipated squeaky wheel game with a 7/163/3 eruption in Week 6. He nearly caught a fourth touchdown on another deep ball by Cousins, but they couldn't connect. Expect Diggs to come back down to Earth this week, but it's good to see him have a blow up spot that can keep his motivation up.
Fuller almost followed up his Week 5 eruption with another three-touchdown game. Unfortunately he dropped all three potential scores. It goes to show just how much we need to use film to put box score data into better context. It's also why my full weekly projection process takes 30-plus hours each week and wraps up on Saturday night.
The opportunities are there for him, so expect a bounce-back game this week.
We can also expect a bounce-back game from Chark, who was chased around by Marshon Lattimore to scrap together a 3/43/0 line. We saw Cooper and Mike Evans struggle against Lattimore only to put up massive games the following week. Buy low on Chark.
Tier 4
Brandin Cooks (@ ATL)
Alshon Jeffery (@ DAL)
Davante Adams (vs. OAK)
Michael Gallup (vs. PHI)
Calvin Ridley (vs. LAR)
Courtland Sutton (vs. KC)
John Brown (vs. MIA)
A.J. Green (vs. JAX)
Allen Robinson (vs. NO)
Golden Tate (vs. ARI)
D.K. Metcalf (vs. BAL)
Adams and Green might return this week. Both of their projections will change as we get a better sense on their availability and health. Gallup could be the de-facto No. 1 WR for the Cowboys against a very vulnerable Eagles defense if Cooper isn't able to suit up.
Metcalf sees only four to six targets a game, but with Wilson as his quarterback, that's more than enough to start considering him a low-end WR2 with upside going forward. Will Dissly being on IR could open Metcalf up to two more targets a game, especially in the red zone.
Tier 5
Terry McLaurin (vs. SF)
Robert Woods (@ ATL)
Josh Gordon (@ NYJ)
Tyler Boyd (vs. JAX)
Marquise Brown (@ SEA)
Dede Westbrook (@ CIN)
Marvin Jones (vs. MIN)
McLaurin is the real deal. He predictably torched the Dolphins to the tune of a 4/100/2 line. However, I expect him to get the attention of the entire 49ers defense this week.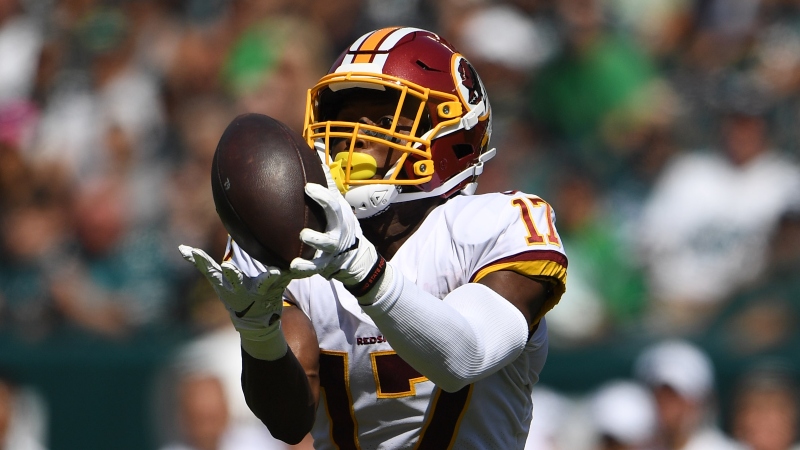 It's clear that he's the only real threat in the Redskins passing attack. Expect plenty of double teams as they force Case Keenum and others to beat them.
Brown looks like he'll return from his one-week absence due to his ankle injury. He's still one of my favorite buy-low candidates. He's cooled off since his Week 1 debut, when he went 4/147/2.  But based on his film and underlying usage data, I have no doubt that by the end of the season we'll be treating him as a weekly high-end WR2. It's always good to get ahead of that curve if you can.
Tier 6
Darius Slayton (vs. ARI)
Mike Williams (@ TEN)
Emmanuel Sanders (vs. KC)
Sammy Watkins (@ DEN)
Christian Kirk (@ NYG)
Desean Jackson (@ DAL)
Mohamed Sanu (vs. LAR)
Cole Beasley (vs. MIA)
This entire tier is either banged up or backing up players who are banged up. We could see these receivers disperse up or down to other tiers by the end of the week, so it's critical to check my updated rankings later in the week if you're deciding whether to sit or start any of them.
Tier 7
Tyrell Williams (@ GB)
Robby Anderson (vs. NE)
Jamison Crowder (vs. NE)
Corey Davis (vs. LAC)
Preston Williams (@ BUF)
Marquez Valdes-Scantling (vs. OAK)
Dante Pettis (@ WAS)
Anderson is back in play now that Darold is back. He's a must sit against the Patriots, but he has a very easy schedule the second half of the season. The time to buy low on him will be after this week's game.
MVS hasn't stepped up with Adams out, but is still worth stashing on your bench as he could still break out in the second half. He's worth being a bit more patient on.
Pettis is quietly emerging as the 49ers' No. 1 wide receiver. He led the receivers in snaps (72%) along with targets (six) and yards (45). It's the type of trend that is a bit under the radar, but the window of opportunity to buy low on him might soon be slammed shut.
Tier 8
A.J. Brown (vs. LAC)
Marquise Goodwin (@ WAS)
Jaron Brown (vs. BAL)
Anthony Miller (vs. NO)
Jakobi Meyers (@ NYJ)
Adam Humphries (vs. LAC)
Auden Tate (vs. JAX)
Zach Pascal (vs. HOU)
Deebo Samuel (@ WAS)
Demarcus Robinson (@ DEN)
Demaryius Thomas (vs. NE)
Willie Snead (@ SEA)

Nelson Agholor (@ DAL)
Mecole Hardman (@ DEN)
DeVante Parker (@ BUF)
If Green is expected to sit out for Bengals again, we'll have to bump Tate back up. He's looked sharp these past couple of weeks and is worth a rest-of-season flier in the event Green ends up being traded.
---
Tight Ends
Tier 1
Travis Kelce (@ DEN)
The main reason Kelce owners are getting a bit impatient about their Round 1-2 investment is the lack of touchdowns. With only one touchdown grab on the year, it's prevented Kelce from hitting value with so many other tight ends having breakout seasons.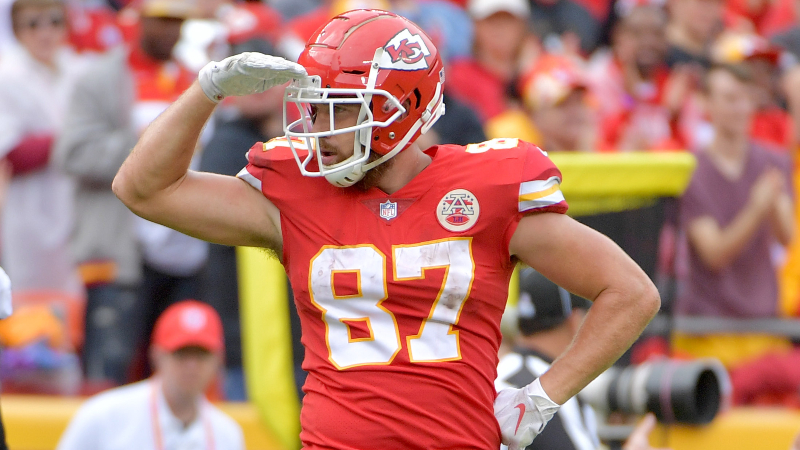 Don't panic as he'll see his luck shift and start putting up the massive numbers we expected out of him. The silver lining here is that we can count on him peaking in the second half and during fantasy playoffs. That's preferable, in my opinion.
Tier 2
George Kittle (@ WAS)
Evan Engram (vs. ARI)
Austin Hooper (vs. LAR)
Zach Ertz (@ DAL)
Mark Andrews (@ SEA)
These tight ends have essentially formed a massive Tier 2. Any given week, any one of these tight ends can outscore Kelce. Individually, though, I would take Kelce straight up against every single one (and give odds).
It's important to not let the phenomenon of Kelce vs. these five tight ends warp your view of Kelce — be sure to check out my player rank odds piece on Thursday for a more in-depth look.
Hopefully Engram can heal in time to take advantage of the dream matchup for tight ends against the Cardinals — it's one of the safest bets in all of fantasy and Engram should take full advantage.
Tier 3
Darren Waller (@ GB)
Hunter Henry (@ TEN)
Both tight ends have weekly Tier 2 upside, but are in tough spots this week.
Henry was supposed to be somewhat limited in his return, but ended up erupting for a 8/100/2 game. He benefited from the Chargers being in permanent comeback mode on Sunday night, but expect him to have closer to a 4/50/0.4 type line in what should be a tighter matchup against the Titans.
Tier 4
Gerald Everett (@ ATL)
Jimmy Graham (vs. OAK)
Jason Witten (vs. PHI)
T.J. Hockenson (vs. MIN)
Jack Doyle (vs. HOU)
Jared Cook (@ CHI)
Delanie Walker (vs. LAC)
Chris Herndon (vs. NE)
Dawson Knox (vs. MIA)
Darren Fells (@ IND)
Trey Burton (vs. NO)
This massive streamer tier is a weekly game of spin the wheel (and hoping it lands on a touchdown). If Cooper and Cobb are ruled out, Witten should have the highest floor of the group and can guarantee you a handful of points.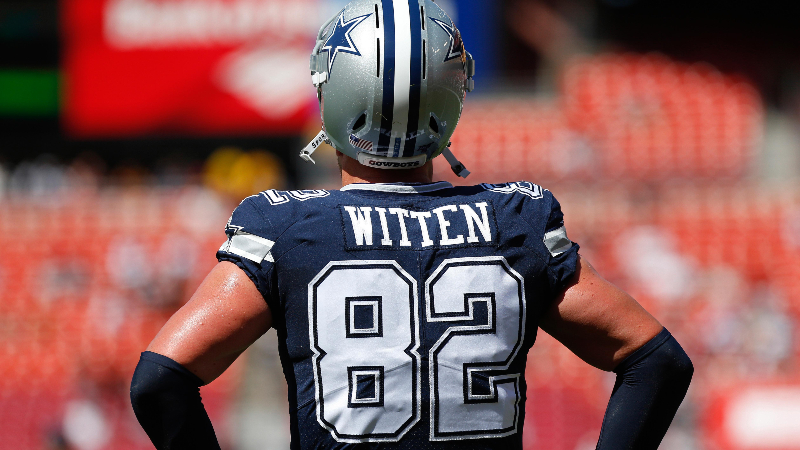 My personal favorite tight end flier this week is Knox. He was trending up the previous three games leading into their bye. He's going to be overlooked this week as a result, but could break off a big catch or two against the Dolphins.
Although he's only seeing about five targets a game, he reminds me a bit of rookie Andrews in that he can put up a 2/65/1 type line any given week with a fairly low target projection.
Tier 5
Luke Willson (vs. BAL)
Eric Ebron (vs. HOU)
Tyler Higbee (@ ATL)
Dallas Goedert (@ DAL)
Noah Fant (vs. KC)
Tyler Eifert (vs. JAX)
Vernon Davis (vs. SF)
Jordan Akins (@ IND)
Ryan Izzo (@ NYJ)
Dissly is now on IR for the second straight season. The Seahawks already got rid of Nick Vannett via trade a couple of weeks ago, which means Willson is now the starting tight end. I'm interested in any player Russell Wilson will be throwing to this week.
Ebron was out-snapped by Mo-Allie Cox in Week 5.
The Colts appear to be a three-way tight end committee that I'll be avoiding this week. The Texans have limited three stud tight ends in their past three games, so this is a matchup I rather avoid altogether. It's key to not chase Ebron's 13 touchdowns from a year ago. His value has completely bottomed out.
---
Kicker
Tier 1
Greg Zuerlein (@ ATL)
Justin Tucker (@ SEA)
Jason Myers (vs. BAL)
Harrison Butker (@ DEN)
Steven Hauschka (vs. MIA)
Tier 2
Robbie Gould (@ WAS)
Matt Bryant (vs. LAR)
Brett Maher (vs. PHI)
Aldrick Rosas (vs. ARI)
Adam Vinatieri (vs. HOU)
Mason Crosby (vs. OAK)
Mike Nugent (@ NYJ)
Matt Prater (vs. MIN)
Ka'imi Fairbairn (@ IND)
Jake Elliott (@ DAL)
Tier 3
Josh Lambo (@ CIN)
Dan Bailey (@ DET)
Brandon McManus (vs. KC)
Zane Gonzalez (@ NYG)
Cody Parkey (vs. LAC)
Eddy Pineiro (vs. NO)
Randy Bullock (vs. JAX)
Daniel Carlson (@ GB)
Wil Lutz (@ CHI)

Tier 4
Chase McLaughlin (@ TEN)
Dustin Hopkins (vs. SF)
Sam Ficken (vs. NE)
Jason Sanders (@ BUF)
Defenses
Tier 1
Buffalo Bills (vs. MIA)
New England Patriots (@ NYJ)
San Francisco 49ers (@ WAS)
Tier 2
Jacksonville Jaguars (@ CIN)
New Orleans Saints (@ CHI)
Tennessee Titans (vs. LAC)
Green Bay Packers (vs. OAK)
Chicago Bears (vs. NO)
Los Angeles Chargers (@ TEN)
Tier 3
Indianapolis Colts (vs. HOU)
Kansas City Chiefs (@ DEN)
New York Giants (vs. ARI)
Detroit Lions (vs. MIN)
Cincinnati Bengals (vs. JAX)
Arizona Cardinals (@ NYG)
Tier 4
Dallas Cowboys (vs. PHI)
Minnesota Vikings (@ DET)
Seattle Seahawks (vs. BAL)
Houston Texans (@ IND)
Los Angeles Rams (@ ATL)
Philadelphia Eagles (@ DAL)
Washington Redskins (vs. SF)
Miami Dolphins (@ BUF)
Atlanta Falcons (vs. LAR)
Tier 5
Denver Broncos (vs. KC)
Baltimore Ravens (@ SEA)
Oakland Raiders (@ GB)
New York Jets (vs. NE)
How would you rate this article?