NFL Week 7 Fantasy RB Breakdown: Todd Gurley Is a Must-Play
Credit:
Joe Nicholson-USA TODAY Sports. Pictured: Todd Gurley
Matthew Freedman breaks down every relevant running back's daily fantasy value for Week 7 of the NFL season.
Here's a deep dive on two for Sunday's main slate of rushers.
See the full version of this piece at FantasyLabs.
The 2018 NFL season rolls on, and we're still on pace for a record-breaking campaign with an average of 24.1 points per game per team. We could be in for another week of high scores with a 10-game main slate that kicks off on Sunday, Oct. 21, at 1 p.m. ET.
With four teams on bye, two at Wembley Stadium and six in prime-time games, we are without the following running backs:
Thursday Night Football: Broncos (Phillip Lindsay, Royce Freeman) at Cardinals (David Johnson)
International Series (London): Titans (Dion Lewis, Derrick Henry) at Chargers (Melvin Gordon, Austin Ekeler)
Sunday Night Football: Bengals (Joe Mixon, Giovani Bernard) at Chiefs (Kareem Hunt)
Monday Night Football: Giants (Saquon Barkley) at Falcons (Tevin Coleman, Ito Smith)
Byes: Packers (Aaron Jones, Jamaal Williams, Ty Montgomery), Raiders (Marshawn Lynch, Jalen Richard), Steelers (Le'Veon Bell, James Conner), Seahawks (Chris Carson, Mike Davis)
For analysis on the smaller slates, consult Chris Raybon's premium strategy guides (released throughout the week).
In writing this piece, I've relied primarily on the FantasyLabs Models. This breakdown is less of a comprehensive analysis of each running back and more of an introduction to this week's players via our large suite of analytic DFS Tools. We'll start with the four running backs at the top of the salary scale, follow with three rushers at the top of our individual Pro Models and finish with the rest of the slate's fantasy-relevant backs.
For updates on Vegas spreads and over/unders, check out The Action Network Live Odds page.
Highest-Priced Running Backs
As is the case every week, Todd Gurley is at the top of the salary scale.
Todd Gurley: Los Angeles Rams (-9.5) at San Francisco 49ers, 52 Over/Under
$9,800 DraftKings; $10,200 FanDuel
Ever since head coach Sean McVay joined the Rams, Gurley has easily been the best running back in football, leading the position with 28.5 DraftKings points per game, a +8.35 Plus/Minus and 2,963 yards and 30 touchdowns from scrimmage. He has an 86.8% market share of snaps, and he's the unquestioned alpha on the No. 1 team in The Action Network NFL Power Rankings.
Barring a mid-game injury, he's a mortal lock for 18 or more opportunities, a threshold he's hit in every game in the McVay era.
Last week, Gurley was one of the most-rostered backs on the slate, sporting an ownership rate in excess of 20% in every major guaranteed prize pool, and after he put up 39.5 DraftKings points on a career-best 208-yard rushing performance, we're projecting him to be the slate's most popular back, which makes sense: Gurley is the only back who is yet to have fewer than 25.0 DraftKings points in any game this season.
Gurley led the league (in 15 games) with 37 opportunities inside the 10-yard line last season, and he's on pace to shatter that mark in 2018. Through six games, he has 26 carries and five targets inside the 10, and that doesn't take into account his two successful two-point conversions in Week 2.
With Gurley's goal-line opportunities and scoring prowess, it's not a surprise that he leads all non-quarterbacks with his +600 odds to win the 2018 MVP award.
While most players tend to struggle on the road, Gurley has significant reverse home/away splits under McVay.
Home (10 games): 22.8 DraftKings points, 74.5 yards and 0.9 touchdowns rushing, 47.5 yards and 0.2 touchdowns receiving on 3.9 receptions and 5.6 targets
Away (11 games): 32.6 DraftKings points, 107.6 yards and 1.18 touchdowns rushing, 50.9 yards and 0.55 touchdowns receiving on 4.2 receptions and 5.6 targets
The sample isn't large, but Gurley's +12.31 DraftKings Plus/Minus as a visitor is outstanding.
Historically, road teams have been profitable against the spread in division games (744-670-44), and that trend has applied to both favorites and underdogs. On top of that, the Rams have seen their road games turn into shootouts under McVay with an 8-3-0 over/under record overall and a 4-0-0 record within the division (per Bet Labs).
It's less than ideal for the Rams to be playing their third consecutive game on the road, but they should still be able to put up points.
It helps that Gurley has a great matchup against the 49ers, who have allowed performances of 10+ DraftKings points to eight running backs in six games. In his four career games against the 49ers, he's averaged 106 yards and 1.25 touchdowns from scrimmage per game. As a big favorite, Gurley could benefit from a run-heavy game script.
The Rams will be without wide receiver Cooper Kupp (knee), who leads the team and is top-10 in the league with seven targets inside the 10, so it's possible that Gurley could see even more usage than he normally does near the end zone.
On Sunday morning, I might look to bet the over on Gurley's rushing yardage prop, which this season has been anywhere from 87.5 to 94.5. The 49ers have the league's worst overall defense grade (54.7) from Pro Football Focus and second-worst PFF tackling grade (38.1). If Gurley gets 18 carries — and so far this season he's averaging 21.5 per game — I like his chances to get 95-plus yards.
To find the best bets in the props market, use our Player Props Tool, which is powered by our industry-leading projections. Since Week 1, the props with a bet quality of 10 have gone 137-64-4, which is good for a 67% win rate. Without question, you should supplement your DFS action with player props.
The Rams lead all teams with their 31.25-point implied Vegas total, and this game has the slate's highest over/under. It's also the only matchup with two top-10 teams in situation-neutral pace.
With his high usage, three-down ability and multi-touchdown upside, Gurley is a game script-independent potential GPP winner. Gurley has position-high median, ceiling and floor projections in our Models, and he leads all backs with 10 Pro Trends on DraftKings and 17 on FanDuel, where he's the No. 1 back in every Pro Model except for one (Freedman).
Model Running Backs
Besides Gurley, there are three running backs atop the individual Pro Models that Jonathan Bales, Peter Jennings (CSURAM88), Adam Levitan, Sean Koerner, Chris Raybon, Kevin McClelland (SportsGeek) and I have constructed.
Of the three, Carlos Hyde is the one I like the most.
Carlos Hyde: Cleveland Browns (+3.5) at Tampa Bay Buccaneers, 50.5 O/U
$4,700 DraftKings; $6,500 FanDuel
UPDATE (10/19): The Browns have traded Hyde to the Jaguars for a 2019 fifth-round pick. In his absence, 2018 second-round selection Nick Chubb becomes a must-play cash-game option with an excellent chance of earning 18 or more touches in his first start.
Change-of-pace back Duke Johnson could also see a few additional touches, which makes him viable as a strategic leverage play on Chubb, who will almost certainly lead the entire slate with a sky-high ownership rate. 
Hyde is pretty much a nonentity as a pass-catcher (1.0 receptions per game), but he's third in the league with 19.0 carries per game and tied for second with 10 carries inside the 5-yard line. He has a touchdown in 4-of-6 games. And now he's facing a Bucs team that has allowed a league-high 34.6 points per game to opponents, just fired defensive coordinator Mike Smith and watched its top run-stopper in six-time Pro-Bowl defensive tackle Gerald McCoy (calf, questionable) miss practice on Wednesday and Thursday after exiting Week 6 early with an injury.
In five games this season, the Bucs have allowed 12 or more opportunities to seven different running backs. Collectively, they've averaged 19.6 DraftKings points per game with a +7.57 Plus/Minus. In every game, the Bucs have allowed at least one back to score double-digit fantasy points. In 3-of-5 games, they've allowed multiple touchdowns to backs.
The Bucs are yet to allow any given runner to hit even 70 yards rushing, and Hyde isn't the most efficient of runners (3.4 yards per carry this year, 4.0 for his career), but it's not hard to imagine an 18-72-2 rushing line with maybe a couple of receptions for 10 yards. The Bucs have allowed a top-eight mark of 30.3 DraftKings points per game to opposing backfields.
Because of his low ownership and high ceiling projections, Hyde has a position-high 99% leverage score on DraftKings, where he's the No. 1 back in the CSURAM88, Levitan, SportsGeek and Freedman Models.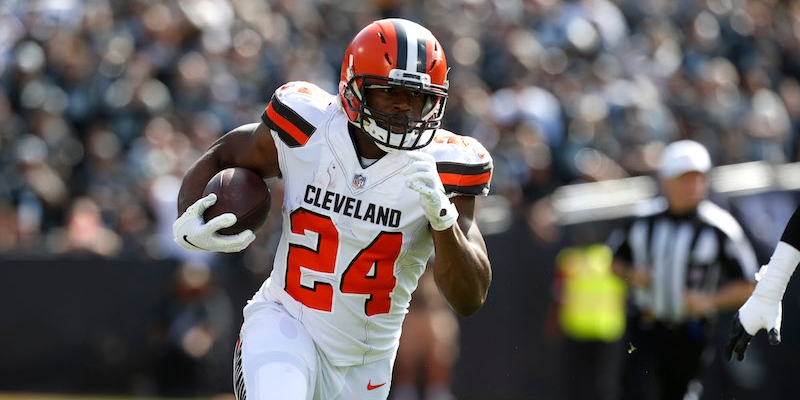 Also on the Browns:
Duke Johnson: $4,000 DraftKings; $5,100 FanDuel
Nick Chubb: $3,600 DraftKings; $4,800 FanDuel
Chubb is the back of the future, and his 3-105-2 rushing performance in Week 4 was impressive. But he's yet to see more than three carries in any game. Johnson led all running backs with 1,741 yards receiving in his first three seasons, but he's yet to have more than six touches in a game this year.
See the full version of this piece at FantasyLabs.
---
Positional Breakdowns & News
Be sure to read the other Week 7 positional breakdowns.
For more in-depth NFL analysis information, check out The Action Network.
After this piece is published, FantasyLabs is likely to provide news updates on a number of players. Be sure to stay ahead of your competition with our industry-leading DFS-focused news blurbs.
---
Matthew Freedman is the Editor-in-Chief of FantasyLabs. He has a dog and sometimes a British accent. In Cedar Rapids, Iowa, he's known only as The Labyrinthian.