NFL Week 8 Fantasy WR Breakdown: Fade Antonio Brown at Home?
Credit:
Philip G. Pavely-USA TODAY Sports. Pictured: Pittsburgh Steelers wide receiver Antonio Brown (84)
Antonio Brown highlights the group highest-priced receivers for Week 8.
Tyreek Hill and Sammy Watkins are at the top of our fantasy experts' individual Pro Models.
See the full version of this piece at FantasyLabs
The 2018 NFL season rolls on, and we're still on pace for a record-breaking campaign with an average of 24.0 points per game per team. We could be in for another week of high scoring with a 10-game main slate that kicks off on Sunday, Oct. 28, at 1 p.m. ET.
With four teams on bye, two in London and six in prime-time games, we are without the following quarterbacks:
Thursday Night Football: Dolphins (Albert Wilson, Kenny Stills, Jakeem Grant) at Texans (DeAndre Hopkins, Will Fuller, Keke Coutee)
International Series (London): Eagles (Alshon Jeffery, Nelson Agholor) at Jaguars (Keelan Cole, Dede Westbrook, Donte Moncrief)
Sunday Night Football: Saints (Michael Thomas, Tre'Quan Smith, Cam Meredith) at Vikings (Adam Thielen, Stefon Diggs)
Monday Night Football: Patriots (Julian Edelman, Josh Gordon, Chris Hogan) at Bills (Kelvin Benjamin, Zay Jones)
Byes: Falcons (Julio Jones, Calvin Ridley, Mohamed Sanu), Cowboys (Cole Beasley, Michael Gallup), Titans (Corey Davis, Taywan Taylor) and Chargers (Keenan Allen, Mike Williams, Tyrell Williams)
For analysis on the smaller slates, consult Chris Raybon's premium strategy guides (released throughout the week).
In writing this piece, I've relied primarily on the FantasyLabs Models. This breakdown is less of a comprehensive analysis of each wide receiver and more of an introduction to this week's players via our large suite of analytic DFS Tools. We'll start with three high-priced wide receivers, follow with six pass-catchers at the top of our individual Pro Models and finish with the rest of the slate's fantasy-relevant receivers.
For updates on Vegas spreads and over/unders, check out The Action Network Live Odds page.
---
>> Sign up for The Action Network's daily newsletter to get the smartest NFL conversation delivered into your inbox each morning.
---
Highest-Priced Wide Receivers
This week, three wide receivers have top-five positional salaries on DraftKings and FanDuel. Of the three, Antonio Brown deserves the most attention.
Antonio Brown: Pittsburgh Steelers (-8) vs. Cleveland Browns, 49 Over/Under
UPDATE (10/27): Right tackle Marcus Gilbert (knee) is out. Backup Matt Feiler is expected to start in his place.
$8,500 DraftKings; $8,800 FanDuel
Brown is having something of a mixed campaign. On the one hand, he's tied for the league lead with one receiving touchdown per game and 11 end-zone targets, and he trails only Adam Thielen with his average of 12 targets. On the other hand, he's tied for 11th and 17th with just 6.7 receptions and 79.7 yards per game.
As a four-time All-Pro from 2014-17, Brown had a catch rate of 68.3% and 9.34 adjusted yard per attempt (AY/A) when targeted by quarterback Ben Roethlisberger. This season, he has a 55.6% and 5.81 AY/A. It's hard to say that Brown is having a bad year, but through six games, it's a bad year for him.
2014-17 (61 games): 24.3 DraftKings points, +2.93 Plus/Minus, 60.7% Consistency Rating, 11.3 targets, 7.7 receptions, 104.2 yards, 0.72 touchdowns
2018 (six games): 21.63 DraftKings points, +1.23 Plus/Minus, 50.0% Consistency Rating, 12 targets, 6.7 receptions, 79.7 yards, one touchdown
Brown's enhanced touchdown production has compensated for his newfound receiving inefficiency. It is possible that he could reach his All-Pro averages throughout the rest of the season. But it's also possible that, at the age of 30, he's starting to slow down.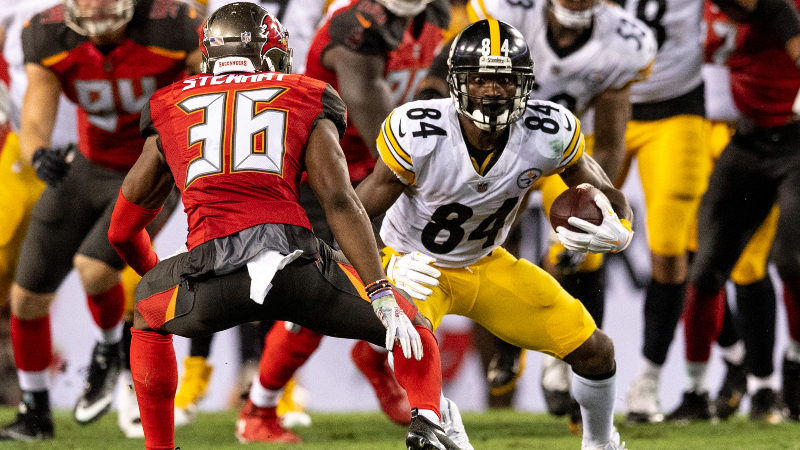 And that might matter this week, because Brown has a tough matchup against the Cleveland defense. Specifically, he's likely to face first-round rookie cornerback Denzel Ward (read Week 8 CB/WR matchups here), who has elite athleticism (4.32-second 40-yard dash time) and a growing record of success as a shadow corner.
Week 5 (vs. John Brown): 2-43-0 receiving on seven targets and 68.8% of routes
Week 6 (vs. Keenan Allen): 1-17-0 receiving on three targets and 66.7% of routes
Week 7 (vs. DeSean Jackson & Chris Godwin): 3-29-0 receiving on six targets and 84.4% and 60.9% of routes
In his NFL debut in Week 1, Ward was thrown at seven times while defending Brown, who had a 5-50-1 receiving line on those targets. That's good, but Ward also got an interception on a Brown target, and on Brown's touchdown Ward had great coverage but simply lost out on a 50/50 ball. In Week 8, he could have a better showing against Brown.
So caution is advised when it comes to AB. After all, the Browns rank first in pass defense with a -23.4% mark in Football Outsiders' DVOA.
But who am I kidding?
You might not roster him in cash games this week, but if you knew entering this week that Brown was going to run about two-thirds of his routes in single coverage against a rookie cornerback making his eighth start, would you want exposure to him in guaranteed prize pools — especially since the Steelers are big favorites at Heinz Field?
Like Roethlisberger, Brown has severe home/away and favorite underdog splits. Since 2014:
Home (33 games): 27.3 DraftKings points, +6.02 Plus/Minus, 66.7% Consistency Rating, 8.0 receptions, 109.2 yards, 1.0 touchdowns
Away (34 games): 21.0 DraftKings points, -0.36 Plus/Minus, 52.9% Consistency Rating, 7.3 receptions, 95 yards, 0.5 touchdowns
Favorite (49 games): 25.6 DraftKings points, +4.29 Plus/Minus, 63.3% Consistency Rating, 8.0 receptions, 106.2 yards, 0.84 touchdowns
Underdog (18 games): 20.0 DraftKings points, -1.33 Plus/Minus, 50.0% Consistency Rating, 6.7 receptions, 90.8 yards, 0.5 touchdowns
As a home favorite, Brown has been sublime.
Home Favorite (28 games): 29.3 DraftKings points, +8.08 Plus/Minus, 71.4% Consistency Rating, 8.5 receptions, 118.6 yards, 1.12 touchdowns
No receiver matches Brown's massive Plus/Minus edge as a home favorite.
On top of that, the Steelers will once again be without running back Le'Veon Bell (contract dispute). In Bell's absence, Brown has enjoyed elevated point-per-reception (PPR) production since Bell's 2013 rookie season.
Brown with Bell (61 games): 20.4 PPR points, 10.6 targets, 7.2 receptions, 93.8 yards, 0.64 touchdowns
Brown without Bell (22 games): 25.4 PPR points, 12.7 targets, 8.5 receptions, 116.3 yards, 0.86 touchdowns
Even with his 2018 slump and tough matchup, Brown leads all wide receivers with his median projections on DraftKings and FanDuel.
Also on the Steelers:
JuJu Smith-Schuster: $7,400 DraftKings; $8,000 FanDuel
James Washington: $3,400 DraftKings; $4,700 FanDuel
No player in NFL history has more than Smith-Schuster's 100 receptions and 1,478 yards receiving before turning 22 years old. JuJu leads the team with 42 receptions and 561 yards receiving.
Washington is a talented second-round rookie, but he trails Brown, Smith-Schuster, tight end Vance McDonald and running back James Conner in target priority with just three opportunities over the past two games.
Model Wide Receivers
There are six wide receivers at the top of the individual Pro Models that Jonathan Bales, Peter Jennings (CSURAM88), Adam Levitan, Sean Koerner, Chris Raybon, Kevin McClelland (SportsGeek) and I have constructed.
Of those receivers, Tyreek Hill, Sammy Watkins and Robert Woods are most notable.
Tyreek Hill & Sammy Watkins: Kansas City Chiefs (-10) vs. Denver Broncos, 53.5 O/U
Hill: $8,600 DraftKings; $7,800 FanDuel
Watkins: $4,600 DraftKings; $6,400 FanDuel
With his nine-touch, 76-yard, one-touchdown performance last week, Hill added another top-10 fantasy game to his record, moving to sole possession of first place among wide receivers with seven touchdowns receiving and eight touchdowns total.
Even though head coach Andy Reid screwed over bettors with his end-of-game decision not to kick a field goal inside the 10-yard line, the Chiefs helped public bettors crush sportsbooks in Week 7. With Hill leading the team in targets (61), receptions (41), yards receiving (635) and air yards (878), the Chiefs are 7-0 (ATS) this season, the league's only remaining undefeated ATS team.
On a per-game basis, they have …
Outscored their implied totals by 10.1 points (No. 1 in NFL)
Surpassed their game total by 10.2 points (No. 1)
Covered their spreads by 10.1 points (No. 1)
The Chiefs lead the league in scoring at 37.1 points per game and are nearly unstoppable on offense.
You can read the rest of this piece here on FantasyLabs.
Positional Breakdowns & News
Be sure to read the other Week 8 positional breakdowns.
• Quarterbacks
• Running Backs
• Tight Ends
For more in-depth NFL analysis information, check out The Action Network.
After this piece is published, FantasyLabs is likely to provide news updates on a number of players. Be sure to stay ahead of your competition with our industry-leading DFS-focused news blurbs.
---
---
Matthew Freedman is the Editor-in-Chief of FantasyLabs. He has a dog and sometimes a British accent. In Cedar Rapids, Iowa, he's known only as The Labyrinthian.