NFL Odds, Picks & Predictions: How to Bet Every Week 5 Game on Sunday (Oct. 11)
Credit:
Getty Images. Pictured: Amari Cooper, Baker Mayfield
Looking for a way to bet all 10 NFL games on Sunday? Look no further.
Our NFL staff broke down each Week 5 game and came up with a betting pick supported by analysis.
Check out each breakdown below.
With another wave of positive COVID-19 tests postponing the Broncos-Patriots and Bills-Titans games until at least Monday and Tuesday, respectively, this NFL Sunday will look a bit different than expected. But as long as there are games to bet on, we will be here to offer our best advice on each.
Our staff has previewed all 10 of Sunday afternoon's matchups, featuring odds and picks for each.
Week 5 NFL Odds, Picks & Predictions
Click on a matchup to skip to that preview and pick.
---
All odds as of early Sunday and via DraftKings. Get up to a $1,000 sign-up bonus at DraftKings today or see more offers and reviews for the best online sportsbooks.
---
Editor's note: ESPN's Adam Schefter reported on Saturday that a Chiefs strength and conditioning coach tested positive for COVID-19. We're monitoring the news and will update this piece accordingly.
---
Written by Raheem Palmer
The Las Vegas Raiders hit the road to face the Kansas City Chiefs in a battle of AFC West division rivals. Unfortunately for the Raiders, this matchup hasn't been to kind to them, as they're just 2-12 against the Chiefs since 2013.
Raiders quarterback Derek Carr, who is winless in six games at Arrowhead Stadium, had a sobering remark about his team's lack of success against Kansas City. "To be honest, to call it a rivalry we have to win some games against them," Carr told local media.
With Patrick Mahomes winning all four head-to-head matchups against Carr's Raiders by a combined 22 points and oddsmakers installing the defending Super Bowl champion as a double-digit favorite, things don't appear to be changing anytime soon.
Can the the Raiders finally make this rivalry competitive, or will the Chiefs continue their dominance? I'm confident it's the latter, but let's take a closer look.
Las Vegas Raiders
The Raiders welcome the return of right tackle Trent Brown and wide receiver Henry Ruggs, which should go a long way toward helping this offense. In spite of their absences though, the Raiders have had some success, scoring 27.75 points per game, are 10th in Football Outsiders' offensive DVOA and eighth in play success rate at 54%.
Carr has thrown for 1,095 yards, eight touchdowns and zero interceptions, with a completion percentage of 73.6%, which ranks second among all quarterbacks. Darren Waller continues to lead the team in targets, receptions and yards — he also comes into this game following a strong showing against the Bills in which he caught nine passes for 88 yards.
Nevertheless, the Raiders' chances of getting the upset rests on the shoulders of Josh Jacobs, who is coming off his worst performance of the season, rushing for just 48 yards on 15 carries (3.2 yards per carry) against Buffalo. Jacobs has cracked four yards per carry just once over his first four games, but that could change against a Chiefs defense that's giving up 5.3 yards per carry (31st in the NFL) and allowing 58% of runs to be successful this season, which is 26th overall in the league.
In last week's matchup against the Chiefs, the Patriots rushed 35 times for 185 yards on 5.3 yards per carry, controlling the time of possession by a 31:34 minutes to 28:26 minutes margin. Given their upset win over the Saints, during which the Raiders held the ball for more than 36 minutes, this is certainly a game plan they're capable of executing and one they will need to replicate to keep Mahomes off the field.
Anything the Raiders do on offense could be trivial based on their defense, though. Las Vegas is 31st in defensive DVOA, giving up 30 points per game (22nd), while also allowing 6.2 yards per play (28th), 7.3 yards per pass (26th) and 59% of rushing plays to be successful.
For a defense ranked 31st with just four sacks on the year and a pressure rate of 17.5% (29th), Kansas City will be forced to generate pressure without the services of Mo Hurst, who tested positive for COVID-19 on Tuesday.
Kansas City Chiefs
With guards Laurent Duvernay-Tardif and rookie Lucas Niang opting out of the season due to COVID-19 concerns, the Chiefs offensive line has had issues all season. However, the loss of the duo hasn't really mattered: Kansas City is still scoring 29.2 points per game (ninth in the NFL), averaging 6.1 yards per play (sixth) and Mahomes is still putting up another MVP-caliber season. In fact, the Chiefs star is on pace for 4,500 yards and 44 touchdowns.
Mahomes has his lowest intended air yards of his career, with just 6.9 yards per pass attempt. Still, the Chiefs remain dangerous offensively with weapons everywhere in Travis Kelce, Tyreek Hill, Sammy Watkins and Clyde Edwards-Helaire. And against a Raiders defense that's giving up 7.3 yards per pass and 5.0 yards per rush, the Chiefs should be able to generate plenty of offense.
The Raiders are 27th in rushing success-rate defense, allowing 59% of runs to be successful and 30th in explosive run rate (rushes of 20+ yards or more), so you can expect a big day on the ground from Edwards-Helaire.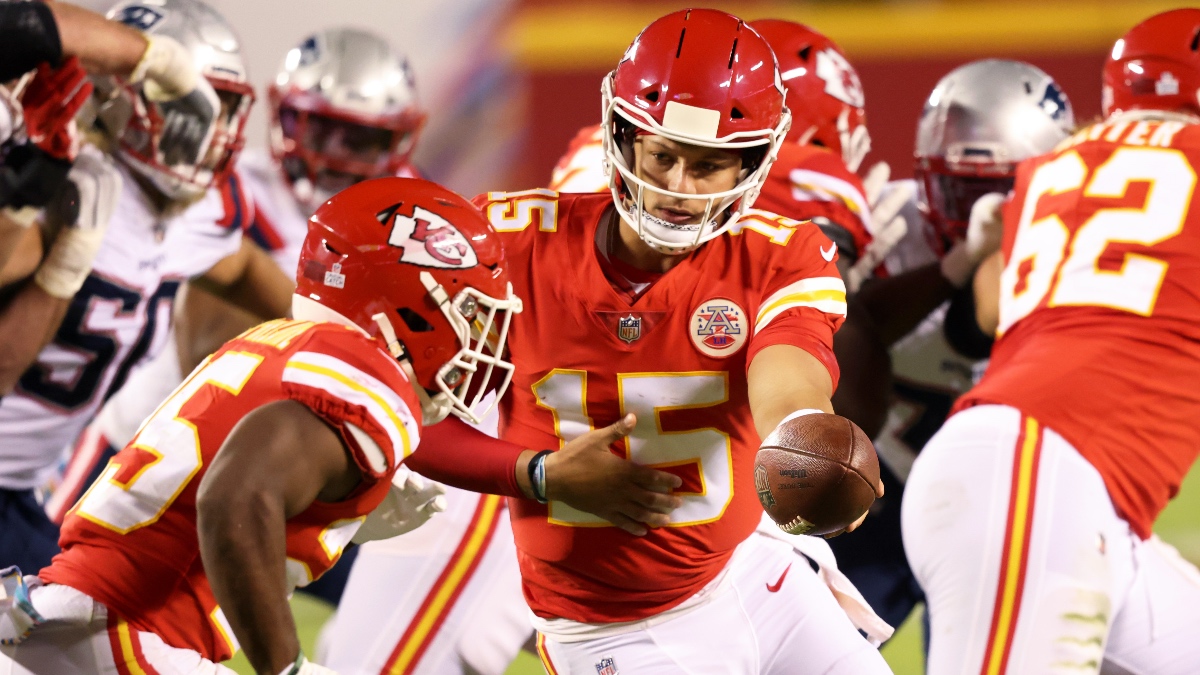 If there's been a surprise, it's been the sudden dominance of Kansas City's defense.
In the second year playing in defensive coordinator Steve Spagnuolo's system, the Chiefs haven't allowed more than 20 points all season, yielding just 17.5 points per game (third overall) and 5.4 yards per play (12th in the league). The Chiefs are fifth in defensive DVOA.
Kansas City's secondary has been missing veteran cornerback Bashaud Breeland. Injuries have hampered the Chiefs, with L'Jarius Sneed (broken collarbone) and Charvarius Ward (fractured hand) among the banged-up players. However, Kansas City is giving up just 5.5 yards per pass, which is third in the league.
If there's a weakness on this defense, it's Kansas City's inability to stop the run, as the Chiefs are giving up 5.3 yards per carry. With their ability to gain leads, many teams find themselves having to abandon the run early.
Kansas City defensive tackle Chris Jones — the team's sack leader — returns to the lineup after missing Monday's game against the Patriots. With 3.5 sacks on the year, you can expect Jones to add to that sack total against a Raiders team that might eventually find itself playing from behind.
Raiders-Chiefs Pick
Sharp money has hit both the side and total, betting the spread down from -13.5 to -11.5. Despite Kansas City's defense being better than the public realizes, I'm not seeing any value on the total and vehemently disagree with the move on the side.
The Raiders have given up 30 or more points to Teddy Bridgewater, Cam Newton and Josh Allen. Without the ability to rush the passer, I expect Las Vegas to be in for a long day against Mahomes and his high-flying offense.
The Chiefs have won 28 of their last 30 division games, which exemplifies their stranglehold on the AFC West. And according to our Bet Labs data, Mahomes is 9-4-1 (69.2%) against the spread in his 16 career division games as well.
My projections make Kansas City a -15.45 favorite. While I'm typically not a proponent of laying double digits in the NFL, the combination of the high total and Mahomes' dominance over the Raiders makes me feel more comfortable.
PICK: Chiefs -11.5 (up to -13)
[Bet $1 on Chiefs -11.5 at BetMGM and win $100 if there's a touchdown]

---
Return to the table of contents.
---
Written by Brandon Anderson
In 1943, World War II caused many NFL teams to lose players to military service, and that led two Pennsylvania teams to temporarily merge. The "Steagles" went 5-4-1 that season.
This week's battle of Pennsylvania will feature those two franchises — the Pittsburgh Steelers and Philadelphia Eagles — and thankfully, the COVID-19 pandemic has not forced them to merge. Instead, it's a battle of division leaders.
The Steelers are coming off an unexpectedly early bye week thanks to Tennessee's COVID-19 outbreak, while the Eagles got their first win of the season last Sunday night against a beat-up San Francisco squad.
Not all division leaders are created equal. In this local rivalry, the Steelers are healthy and rested while the Eagles are a MAS*H unit hanging together by a thread. That's why Pittsburgh is favored by a touchdown, and it's a big reason why they're the pick this week.
Philadelphia Eagles
The Eagles may have saved their season with their Week 4 win over the 49ers, but they are still in a tough place, thanks to a litany of injuries.
Philadelphia's offensive line was expected to be a strength, but its been decimated by injuries. Two of its five starters are out for the season and a third is on IR, while the other two are struggling through injuries but expected to play. The Eagles are also missing their top three receivers along with tight end Dallas Goedert. Philly's injury bug has plagued the defense, too, especially throughout the secondary.
You might look at the Eagles, see Carson Wentz at quarterback and Doug Pederson coaching, and assume Philadelphia is still in good shape. But Wentz has been one of the worst quarterbacks this season, holding the ball far too long, spraying it around inaccurately and risking far too many turnovers.
Philadelphia's passing offense ranks dead last in the NFL in Football Outsiders' DVOA. The offense as a whole ranks second to last, and the team as a whole rates as the third-worst team in the NFL.
Maybe the Eagles aren't underperforming at 1-2-1. Maybe they're just not very good.
Pittsburgh Steelers
The Steelers, on the other hand, appear to be pretty good.
The defense was expected to be among the best in the league and has lived up to the billing thus far. Pittsburgh has yet to allow more than 21 points in a game and is averaging just 290 yards allowed. The Steelers have been especially good against the run, ranking first overall in rush defense DVOA.
The offense has been fine, mostly. Ben Roethlisberger is still trying to find his rhythm after missing most of last season. The Steelers have not topped 28 points yet, and they haven't exactly faced a murderer's row of opponents. They're 3-0 against the Giants, Broncos and Texans, who are a combined 1-11.
The Steelers were supposed to face Tennessee last week, but that game was postponed due to a COVID-19 outbreak among the Titans. Unfortunately for Philadelphia, that gives Pittsburgh a huge advantage here.
The Steelers are the far healthier team. While Philadelphia is decimated at receiver, offensive line and in the secondary, Pittsburgh is relatively healthy on both sides of the ball. The Steelers have a huge health advantage that's only accentuated even further by their unexpected early bye week.
Eagles-Steelers Pick
These may be two division leaders, but this is a mismatch.
Pittsburgh is better on both offense and defense by a wide margin. The Steelers are healthier and more rested, and they're better at nearly every position on both sides of the ball, save tight end.
Philadelphia has struggled to score all season, and those struggles will only get worse against Pittsburgh's elite defense. The Eagles' offensive line has no chance against a Steelers' pass rush that is first in Adjusted Sack Rate (11%), and that should cause problems for Wentz, who has struggled under pressure. It wouldn't be a huge shock to see rookie QB Jalen Hurts take some snaps in this game — either because Wentz took one too many hits or because he made one too many mistakes.
The Eagles' team under is at 18.5. Philadelphia should struggle to score, but that's a pretty low number. The best bet here is just taking the better, healthier, more rested team — especially while they're only favored by one score.
Don't be surprised at all to see this line push to -7.5 or beyond by kickoff, so grab it at -7 while you can. If the line does raise a bit, you might be better off teasing the Steelers this week with teams like the Rams, Seahawks and Cowboys all favored in the same range.
PICK: Steelers -7
[Bet $1 on Steelers -7 at BetMGM and win $100 if there's a touchdown]
---
Return to the table of contents.
---
Written by Raheem Palmer
After opening the season with four straight losses, the Atlanta Falcons are in desperate need of a victory to save their season with Dan Quinn firmly sitting on the hot seat. They'll look to do that against their NFC South rivals, the Carolina Panthers, who are coming off two straight wins and have exceeded expectations so far under new head coach Matt Rhule.
This should be an ideal spot for Atlanta, which has won eight of its last nine meetings against Carolina, but I don't think the Falcons get off the snide.
Let's take a closer look.
Carolina Panthers
After an offseason that saw heavy turnover, including quarterback Cam Newton and head coach Ron Rivera moving on, expectations weren't very high for the 2020 Panthers. Oddsmakers set their preseason win total at just 5.5, and Carolina was seen as the bottom feeder of a division that features Drew Brees, Tom Brady and Matt Ryan at quarterback.
With Rhule forced to implement his new system virtually, most would be surprised that the Panthers have started this season 2-2 with back-to-back wins over the Chargers and Cardinals. Those victories are especially surprising given that running back Christian McCaffrey has been out due to a high-ankle sprain that he sustained in Week 2.
Quarterback Teddy Bridgewater is finding his groove with offensive coordinator Joe Brady.
Bridgewater's accuracy has been instrumental in Carolina's success as he ranks third in the NFL in completion percentage at 73% — the highest mark for any Panthers quarterback through the first four games of a season. He's also seventh in the NFL in passing yards with 1,147 through four weeks. And a depleted Falcons secondary should provide the perfect opportunity for Bridgewater — who has just four passing touchdowns and one on the ground through four games — to increase his scoring totals.
Bridgewater's stable play has continued to make him historically great against the spread (ATS) as he enters his seventh NFL season. According to our Bet Labs data, he's 29-9 (76.3%) ATS in his career and 19-5 (79.2%) against the number as an underdog, a role he'll find himself in again this Sunday on the road.
The Panthers' offense hasn't skipped a beat without McCaffrey, as we've seen a more balanced attack from them since his injury in Week 2. Over the past two games, running back Mike Davis has thrived as a short-term replacement in the backfield, rushing for 131 yards on 30 carries and catching 21 passes for 146 yards with two total touchdowns since Week 2.
Robby Anderson developed chemistry with Bridgewater, catching 28-of-34 targets for a team-leading 377 yards and one touchdown. D.J. Moore has had a disappointing start to this season given his breakout in 2019, but he's still been relatively productive with 18 receptions for 288 yards.
Carolina's inability to generate a pass rush is its biggest issue defensively, as the Panthers are dead-last in the NFL with just three sacks and rank 31st with a 15.7% pressure rate. Despite this, they're still significantly better than the Falcons defensively: Carolina ranks 22nd in yards allowed (352.25), 14th in points allowed per game (25.5), 14th in passing success rate and fifth in explosive pass play rate.
Atlanta Falcons
The Falcons' defense continues to consistently put them behind the eight ball.
Despite having a defensive-minded head coach in Quinn, the Falcons rank 31st in yards allowed per game (448.2), 31st in points allowed per game (34.5), 29th in passing success rate, 20th in rushing success rate and 30th in explosive pass play rate (plays of 20 or more yards).
The Falcons gave up 18 explosive plays over their first three games, so a matchup against a Packers team without its top two wide receivers in Davante Adams and Allen Lazard seemed like an ideal spot to turn things around this past Monday night. Atlanta proceeded to open that game by giving up plays of 20 or more yards on three of Green Bay's first nine plays from scrimmage.
For a defense that became the first in NFL history to blow two consecutive fourth-quarter leads of 14 or more points, there appears to be no end in sight.
Injuries have made a struggling unit even worse.
The Falcons were already without starting safeties Keanu Neal and Ricardo Allen, cornerbacks A.J. Terrell and Darqueze Dennard and defensive end Takk McKinley. Then things got worse during Monday night's game against Green Bay. Atlanta lost safety Damontae Kazee (Achilles) and strong safety Jaylinn Hawkins (concussion). Fortunately, Terrell is set to return after missing the last two games after being placed on the reserve/COVID list, and McKinley, Allen and Neal were all limited participants in practice this week and had no injury designations entering the weekend.
The Atlanta offense will have to overcome the problems of its struggling defense without the services of All-Pro wide receiver Julio Jones, who missed the second half of Monday night with a hamstring injury. Despite a zero-catch performance last week, Calvin Ridley has emerged as a star for Atlanta in the passing game, catching 21 balls for 349 yards and four touchdowns this season. He's been limited in practice this week while nursing knee and thigh injuries, but he's expected to play against Carolina.
While Atlanta managed only 16 points against the Packers, we can expect a bounce-back offensive performance against a Carolina defense that can't generate a pass rush.
Panthers-Falcons Pick
The sand in the hourglass is ticking on Quinn's tenure in Atlanta.
According to our Bet Labs data, Quinn is just 37-47 (44%) ATS as a head coach and 18-33 (35.3%) ATS as a favorite. Quinn's Falcons teams haven't gained much of a home-field advantage either, as they're just 13-22 (37.1%) ATS in Atlanta.
When you dig deeper into the data, the Falcons are just 6-13 (31.6%) when home favorites of 1 to 3.5 points during Quinn's tenure.

We've seen enough evidence that backing Quinn's Falcons as favorites is a losing proposition, and to make matters worse, they're in a tough spot playing on a short week with injuries on both sides of the ball.
My model makes this game a pick'em, but I view this as more of a fade of the Falcons than a play on the Panthers. I liked this better at the opening line of +3.5, but I still like it at +2.5. That said, I think the Panthers have a chance at winning this one outright, so if the spread ticks back down to +2 or lower, I would recommend just playing the moneyline instead.
The Panthers also make a good Stanford Wong six-point teaser leg to pair with New Orleans. (Panthers +8.5/Saints -2.5).
PICK: Panthers +2.5
[Bet $1 on Panthers +2.5 at BetMGM and win $100 if there's a touchdown]

---
Return to the table of contents.
---
Written by Reed Wallach
The Arizona Cardinals travel to MetLife Stadium to take on the winless New York Jets after two consecutive outright losses as favorites.
The Jets will turn to quarterback Joe Flacco in this matchup, with starter Sam Darnold nursing a shoulder injury. On the other side, the Cardinals are expected to get back some key defensive members, including Budda Baker.
Nearly at full strength, expect Arizona's defense to make Flacco's first start of the year a difficult one.
Arizona Cardinals
Just a few weeks ago, some were talking about the Cardinals as the dark horse out of the loaded NFC West. Following losses to the Detroit Lions and Carolina Panthers, those same pundits may have pumped the brakes.
However, this could be the right time to buy low on Arizona, which is getting healthy again on the defensive side of the ball.
Baker, the team's stud safety, was deemed active Wednesday and corner Dre Kirkpatrick is expected to be a go as well. Against a banged-up Jets team that is trotting out a backup quarterback, no matter what Flacco's accolades say, this is the right opportunity for the Cardinals defense to find its past mojo.
On offense, Kyler Murray will likely welcome Jets defensive coordinator Gregg Williams' heavy-blitzing scheme. Murray has done a fine job staying on his feet, turning pressure into his advantage via drop backs that result in scrambles for positive plays.
With the Jets reeling with an 0-4 record, as well as dealing with a host of issues on the field and sideline, Arizona will happily travel to the East Coast for this get-right spot.
New York Jets
Flacco is filling in for Darnold, who has performed admirably amidst a host of injuries and a poor offensive line. Darnold has shown the ability to keep plays alive with his legs to create some big plays. However, the slow-footed Flacco is going to be under fire often due to a poor offensive line that ranks 22nd in Adjusted Sack Rate (per Football Outsiders). Flacco is likely going to be counted on to play from behind the sticks on most possessions.
Rookie Mekhi Becton did not suit up, but the Jets finally got some good news that running back Le'Veon Bell has been activated from injured reserve and will be in the lineup for the first time since opening week. Make sure to monitor Bell's game status up to kickoff, but getting him on the field should give Flacco some insurance in the backfield, as the team may have ran the aging Frank Gore a bit too thin already this season.
Arizona has been a solid defense all around, but hasn't been able to force many turnovers just yet. Where it has succeeded is limiting the run and getting off the field on third down.
Even though Bell is back, I don't foresee him transforming the offense, especially with Flacco on the field. Jets head coach Adam Gase is going to be forced into going more vanilla in the passing game and try to control the possession with the veteran Flacco running the offense. That could force Bell into pass protection when he is on the field.
Bell also may run into some trouble with the Jets' banged-up line going against the Cardinals' strong run defense. Arizona is above league average in terms of running back success allowed, according to Sharp Football Stats. On top of that, Arizona has been able to get off the field on third down, tied for fifth best in the league at 37%.
Cardinals-Jets Pick
Arizona presents a strong 6-point teaser option, where you can get the team down to -1. Personally, I'll be looking to play the Cardinals with the Cleveland Browns, whom I teased to +7.5 points. Carolina and Pittsburgh provide attractive options as well to get through the key numbers of 3 and 7 (compare real-time odds here).
I also see value in the Jets' team total under at anything above 17 points. The Jets' offense looks hopeless thus far, so asking Flacco to come in and light a fire under this team seems like a lost cause.
Even with Bell back, he's not the offensive presence he was in Pittsburgh, and the Jets offense will likely struggle again to get into the end zone. Arizona may have been a bit overvalued following its 2-0 start, but this team does have promise and is getting back the likes of Baker to make life difficult for Flacco.
Considering the line did not change off -7 with the news of the shift to Flacco, I'm going to stay away from the spread. Instead, I am looking to play the Cardinals in teasers and the Jets team total under the number.
PICKS: Jets Team Total Under 17 (or better)
Tease Cardinals -1 (or better)
[Bet the Cardinals-Jets game at PointsBet risk-free up to $250]
---
Return to the table of contents.
---
Written by Brad Cunningham
The Rams are off to a 3-1 start and sit one game behind the Seahawks for first place in the NFC West.
Jared Goff and Sean McVay seem to have returned to their 2018 form, which should scare the rest of the league, as the Rams are top-six in both passing and rushing success. The Rams defense has held up through their first four games, but will need to improve against the run if L.A. is going to be a threat in the playoffs.
Meanwhile, Dwayne Haskins struggled to move the ball move this ball this season, and Ron Rivera has had enough of it. Washington announced that Kyle Allen will now be starting, and the change could turn things in the right direction, but keep in mind that this is a rebuilding year for Washington — with a new coach, new president and a lot of new players on the roster, Washington is going to go through some growing pains in 2020.
Now let's take a closer look at how to bet this matchup.
Los Angeles Rams
Offense
Despite scoring only 17 points against the Giants last weekend, the Rams offense has been clicking on all cylinders. The Rams rank sixth in passing success and first in rushing success (per Sharp Football Stats).
Goff took a step back in 2019 as issues with the Rams' offensive line took a toll on the former No. 1 overall pick. His passer rating dropped all the way down  to 88.8, which ranked 25th among qualified quarterbacks last season. So far he's improved drastically in 2020, increasing his passer rating to 112.8 and throwing for 9.1 yards per attempt. However, he may find life difficult vs. Washington's secondary, which ranks third in defensive passing success.
Losing Todd Gurley hasn't seemed to matter in 2020, as the Rams are running the ball for 4.2 yards per attempt behind the duo of Malcom Brown and Darell Henderson.
Coming into the season, the Rams offensive line had all sorts of issues, but have seemed to figure things out through their first four games.
Defense
The Rams have not been able to stop the run at all in 2020. They are dead-last in the NFL in defensive rushing success and are allowing 5.0 yards per carry. Aaron Donald has once again been wreaking havoc in the backfield, as he already has 3.5 sacks and 4.5 tackles for loss.
The problem for the Rams, though, is building around Aaron Donald on the defensive line. Right now there isn't another above-average lineman to complement Donald, however the good news is that Washington has struggled to run the ball this season.
In the secondary, the Rams have one of the best corners in the game in Jalen Ramsey. However, outside of Ramsey, things look pretty bleak. The Rams have been pretty successful against the pass this year, ranking 13th in defensive passing success.
Even though Washington is making the change to Allen, L.A. should be able to hold Washington's passing attack in check.
Washington Football Team
Offense
The question marks coming into the season for Washington have not been answered through the first four games. The Football Team is averaging only 4.6 yards per play and only 3.6 yards per carry. Even though they're facing the worst run defense in the NFL, its hard to imagine they'll be able to run the ball with a bunch of no-names in the backfield and a below-average offensive line.
Haskins' inability in the passing game, along with the constant turnovers, ended up being his downfall. Washington is 30th in passing success and 26th in passing explosiveness. They'll now turn to Allen, who struggled as the starter for Carolina last season. He ranked 31st among qualified quarterbacks in passer rating and threw 16 interceptions compared to only 17 touchdowns in 2019.
That said, Allen does know Ron Rivera's system better than Haskins, so Allen could be an upgrade a quarterback for the Football Team.
Defense
Washington's defensive line will no doubt improve in 2020 after the team drafted Chase Young with the second overall pick. However, Young is questionable for Sunday's game.
Washington finished as one of the worst defenses in 2019, ranking 24th in defensive passing success and 27th in defensive rushing success. However, the Football Team has improved so far in 2020, especially in the secondary — it ranks third defensive passing success in 2020 and is allowing only 6.6 yards per pass attempt.
Washington has been pretty average vs. the run this season, allowing 4.4 yards per carry. However, they'll have a tough matchup on Sunday trying to defend the Rams' two-headed rushing attack, especially if Young cannot play.
Rams-Washington Pick
The matchup to watch in this game is Goff and the Rams' passing attack vs. Washington's secondary — Landon Collins is starting to play like an All-Pro safety again and could be a key factor in slowing down the Rams offense.
On the flip side, the change from Haskins to Allen isn't going to make a huge difference. Washington doesn't have a running game, a decent offensive line or any weapons other than Terry McLaurin. Based on those factors, points will be hard to come by in this game.
I've projected 42.32 points for this game, so I there's some value on Under 46.5 points, but I wouldn't play it any lower than that.
PICK: Under 46.5
[Bet now at DraftKings and get a $1,000 bonus, including a $500 risk-free bet]

---
Return to the table of contents.
---
Written by Mike Randle
The Ravens entered the season as one of the NFL's top Super Bowl contenders and the favorite to win the AFC North. They bounced back from a Week 3 drubbing at the hands of the Chiefs to with a 31-17 win over Washington, but how will they fare against this Bengals team?
Cincinnati is coming off its first win of 2020, but it has lost four of its last five games to the Ravens.
Let's dive in.
Cincinnati Bengals
Cincinnati's run defense has struggled without the presence of defensive tackles Geno Atkins and Mike Daniels. While Daniels is on injured reserve and not eligible to return until Week 7, Atkins practiced on a limited basis and will return this week at Baltimore for his 2020 debut.
Offensively, the Bengals appear to be as healthy as they can be. Coming off a 181-yard, three-touchdown game, Joe Mixon is listed as questionable for the game due to a shin injury, but he is expected to play.
The Bengals' success has all been tied to the impressive early success of rookie quarterback Joe Burrow. The first overall pick in the 2020 draft has thrived over the past three weeks, during which Cincinnati is 1-1-1. Burrow has thrown for more than 300 yards in each of those games and has six touchdowns to just one interception.
Wide receivers Tyler Boyd and Tee Higgins have become Burrow's go-to pass catchers, having combined for 37-of-77 (48.1%) targets over the past two weeks. Veteran A.J. Green was targeted 13 times in Week 2, but hauled in just three balls — he has six catches on 12 targets for 39 yards over the past two games.
Burrow now faces a Baltimore defense that just allowed the overall RB4 and WR10 performances in PPR leagues, as well as 314 passing yards to a now-benched Dwayne Haskins.
Baltimore Ravens
The Ravens' offense rolled through the first two weeks before a 14-point home loss to the Chiefs in Week 4, but Baltimore bounced back with a 14-point win last week over Washington, led by Lamar Jackson's three touchdowns.
This week, Jackson missed practice on both Wednesday and Thursday with a knee and subsequent illness designation, but he did practice on Friday.  Baltimore listed 13 players on its Friday injury report, including left tackle Ronnie Staley (shoulder), wide receiver Marquise Brown (knee) and tight end Mark Andrews (thigh). However, all but two players practiced on Friday. ESPN's Adam Schefter also reported that Jackson, Andrews and Brown are expected to play.
On the surface, the Ravens have been stout against the run, ranking third in Football Outsiders' run defense DVOA, but Baltimore has allowed running backs an average of 4.0 yards per carry and the seventh-most receiving yards.
Over the past two weeks, Baltimore has struggled to contain opposing running backs, both rookies. Clyde Edwards-Helaire gained 134 total yards, while Antonio Gibson combined for 128 yards and a touchdown. Those are cause for concern with Mixon coming off a breakout performance.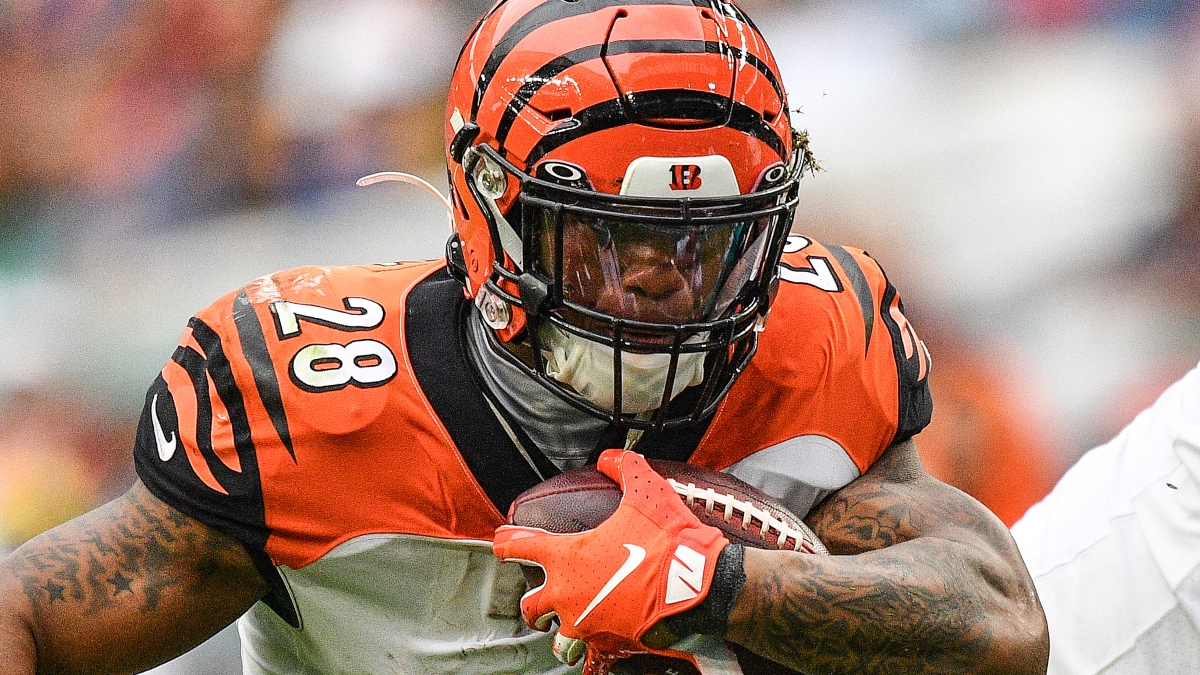 Baltimore's backfield-by-committee approach has limited the upside of all three running backs: Mark Ingram, J.K. Dobbins and Gus Edwards. All three of have been good but not great through four weeks, although the Ravens still rank third in the NFL with 160.8 rushing yards per game.
The most reliable wide receiver for Baltimore is the speedy Brown. The second-year wideout has not translated his third-best air yards share into efficient production. It would greatly help for Brown, who leads the Ravens with 16 catches and 242 receiving yards, to start producing against a Bengals team that actually ranks 10th in pass defense DVOA.
Baltimore will also need to rely on the superior pass-catching skills of Andrews, who has a pair of two-touchdown games this season, including last week against Washington. Cincinnati has allowed 22 receptions and no touchdowns over the first four games to opposing tight ends.
Bengals-Ravens Pick
The Baltimore defense has not played at the level of years past, and faces a Cincinnati offense that has been reborn under Burrow. The return of Atkins will bolster the run defense, while Cincinnati's secondary will limit Baltimore's big plays.
Per our Bet Labs data, Baltimore is just 4-8 as a home favorite with Lamar Jackson as quarterback.
I'm taking the Bengals with the double-digit points to cover at Baltimore, and I would take it down to Cincinnati +11.5.
PICK: Bengals +12.5
[Bet Bengals +12.5 at FanDuel completely risk-free for $1,000]

---
Return to the table of contents.
---
Written by Phillip Kall
The Texans host the Jaguars in a battle of teams at the bottom of the AFC South that entered 2020 with differing expectations.
The Texans made the playoffs last season and, while they traded away DeAndre Hopkins, were built to win now coming off a fourth division title in six seasons. Feeling the urgency of an 0-4 start, Houston gambled and fired its head coach (and general manager) after last week's loss to the previously winless Vikings with hopes of turning its season around.
Meanwhile, the Jaguars nearly started the season 2-0. After upsetting the Colts in Week 1, it took late-game heroics from Ryan Tannehill to give the Titans a Week 2 win. Losses to the Dolphins and Bengals have shown that the Jaguars are closer to the team most thought they would be entering the season, one that is rebuilding.
This has the makings of a bounce-back game for the Texans. Let's dig into why.
Jacksonville Jaguars
The Jaguars' offense could be in line for a big day against a Texans defense that ranks last in the NFL in rushing yards allowed and has allowed the second-highest quarterback rating through four weeks. As the Jags showed last week against the Bengals, who entered the game allowing the second most rushing yards per game in the league, a good matchup isn't enough.
Like their Week 5 opponents, early offense has been a major struggle for the Jaguars, as 208 of their 247 offensive plays this season have been run while trailing. Expect the winless Texans, who have similarly struggled early in games to the tune of 14 first-quarter points this season, to come out swinging offensively in a last-ditch effort to save their season.
The Jaguars' big test will be in attempting to contain quarterback Deshaun Watson. Houston is averaging 8.6 yards per pass attempt, which ranks sixth in the league. The key to slowing the Texans' passing attack has been applying pressure on Watson before he has the chance to throw. Houston has allowed 16 sacks this season, the most in the NFL.
Jacksonville will be shorthanded in its pass rush, though, as Josh Allen has been ruled out due to a knee injury. Coming off a Pro Bowl campaign last season as a rookie, Allen registered a sack in each of the Jags' last two games.
Houston Texans
The Texans were done no favors with their schedule to start the 2020 season. Their first three opponents — the Chiefs, Ravens and Steelers — have one combined loss, and that was a Baltimore loss to Kansas City. Then Week 4 brought a winless Vikings team to NRG Stadium, but Minnesota headed back north with a victory thanks to a late goal-line stand.
These struggles lead to Houston firing Bill O'Brien. It's difficult to predict how teams will fare after having a coach let go during the season, but there has been a small bump in favor of those teams. Houston hasn't given up on this season, so it's reasonable to believe a team that made the playoffs a year ago will come out firing.
The Texans' offense showed signs of life in the fourth quarter against the Vikings, coming within one yard of two touchdowns in the final 10 minutes of the game. Their success should continue against a Jaguars defense that has allowed points on 55% of drives despite playing teams that rank 21st or worse in yards per play.
An above-average pass rush was the Jaguars' best chance at slowing down Watson, but that unit could struggle without Allen. If Watson has time to throw, he may finally be able to connect with deep threats like Brandin Cooks and Will Fuller for the big plays that Houston has been missing so far this season.
The Texans' big weakness on defense has been containing the run, as they rank last in the NFL in yards allowed per game. The Bengals were 31st in rushing yards allowed per game at 181.7 entering their Week 4 matchup against the Jaguars, which is just what the doctor ordered, but Cincinnati held Jacksonville to just 89 yards on the ground.
A similarly strong performance against the run would be huge for the Texans, who would love to make Gardner Minshew beat them instead of early season surprise package James Robinson in the Jags' backfield.
Jaguars-Texans Pick
Expect the winless Texans to come out with renewed energy to show the league that they are no pushover. Houston has scored just 14 points this season in the first quarter, a mark it will surely look to improve. If the Texans can make that happen, the rest will be up to the Texans' defense to bounce back and keep the Jaguars offense in check, which is what I expect to happen.
PICK: Texans -5.5
[Bet $1 on the Texans at BetMGM and win $100 if there's a touchdown]
---
Return to the table of contents.
---
Written by Mike Randle
Coming off a loss in last season's Super Bowl, the 49ers find themselves 2-2, having lost both of their home games this season to the Cardinals and Eagles. Sitting in third place in the NFC West, San Francisco hosts the Dolphins.
Could 1-3 Miami send the 49ers to a third straight home loss? Let's dig in to find out.
Miami Dolphins
The Dolphins have ruled out two players: Defensive end Shaq Lawson and tight end Durham Smythe. The more important loss is Lawson, who suffered a shoulder injury in Miami's 31-23 home loss to Seattle. His 10 tackles, one sack and five quarterback hits will need to be filled by career backup Zach Sieler and a pair of rookie defensive linemen in Raekwon Davis and Jason Strowbridge.
The Dolphins will need to rely heavily on defensive tackle Christian Wilkins, who will be the only Miami starting front seven player ranking inside Pro Football Focus' top-20 rush defensive grades.
The Dolphins have produced sporadic offensive efficiency with veteran quarterback Ryan Fitzpatrick at the helm. The 37-year-old's "risk it for the biscuit" attitude is dangerous, especially against a San Francisco defense that has allowed the second-fewest passing yards to opposing quarterbacks this season.
Wide receiver DeVante Parker faces a secondary that has stingily allowed the fifth-fewest fantasy points to opposing wideouts. He will need to carry the production with teammate Preston Williams still yet to get into a groove after spending the offseason recovering from a torn ACL.
Miami's best bet for an offensive spark might be to incorporate little-used running back Matt Breida in a potential revenge game. Whether it's the former Niner Breida, Myles Gaskin or short-yardage special Jordan Howard, look for a relentless San Francisco run defense to again limit their opposition's production on the ground. In last week's 25-20 home loss to Philadelphia, running back Miles Sanders managed only 13 rushes for 46 yards with two receptions.
Uber-athletic tight end Mike Gesicki, who is second on the Dolphins with 190 receiving yards this year, will again have a difficult time against a San Francisco team that's allowed a total of 12 receptions and 84 receiving yards to opposing tight ends over four games.
San Francisco 49ers
The 49ers' defense is dealing with a multitude of injuries, especially to its secondary. San Francisco could potentially be without four cornerbacks against Miami, including Richard Sherman, who is on injured reserve with a calf strain.
On the other side of the ball, San Francisco could possibly see the return of lead running back Raheem Mostert, who returned to practice this week. Mostert dominated in two games before suffering an MCL sprain in Week 2. Including that game against the Jets in which he got hurt, Mostert has 258 total yards of offense and two touchdowns.
San Francisco is, fortunately, deep at the running back position with Jerick McKinnon, who has 251 total yards of offense since Week 2, and Jeff Wilson, who scored twice in Week 3 against the Giants, providing balance and flexibility. Running backs are averaging a robust 4.5 yards per carry this season against Miami.
Under center, the 49ers will definitely welcome back quarterback Jimmy Garoppolo, who missed San Francisco's last two games due to a high ankle sprain. The Dolphins are allowing the sixth-most passing yards and fantasy points to opposing signal callers this year.
Garoppolo's weapons will include tight end George Kittle, who is the top fantasy tight end on average at 24.7 fantasy points per game; rookie Brandon Aiyuk coming off a WR 12 performance in Week 3 and another touchdown in Week 4; and Deebo Samuel, the 49ers' top receiver from last season who returned from a Jones fracture last week.
In 10 games with Garoppolo under center at home, San Francisco is averaging 30.9 points per game with a 10.1 point differential.
Dolphins-49ers Pick
I expect San Francisco to dominate time of possession with its strong running game and stout defense. The 49ers' ability to stop the run will force Fitzpatrick to try to attack their weak secondary. While Fitzpatrick is known for the occasional explosive performance, I see the 49ers forcing multiple turnovers and wearing down a Miami defensive void of elite playmakers.
The return of Garoppolo and potentially Mostert, combined with facing a potential 0-3 start at home, means I'm laying the points for the defending NFC champions.
I would take this line up to San Francisco -9.5.
PICK: 49ers -8
[Bet $1 on 49ers -8 at BetMGM and win $100 if there's a touchdown]
---
Return to the table of contents.
---
Written by Raheem Palmer
Four weeks into the NFL season, the NFC East is historically bad.
All four NFC East teams combine for just a 3-12-1 record with the Eagles holding the division lead with just one win by virtue of a 23-23 tie against the Cincinnati Bengals. If there's a silver lining, it's that this division is wide open — even for the 0-4 New York Giants, who head to AT&T Stadium to take on the Dallas Cowboys on Sunday afternoon.
Can America's Team get back on track, or will the Giants pick up their first win of the season? It appears the value is on New York, but let's take a closer look.
New York Giants
The New York Giants' inability to score is alarming, to say the least.
While the rest of the NFL is scoring at a historical level, the Giants have mustered just 11.7 points per game with a league-low three offensive touchdowns through the first four games of this season.  The Giants haven't scored a touchdown in two consecutive games for the first time since 1998, as kicker Graham Gano has provided all of their scoring with six field goals.
Without Saquon Barkley, the Giants don't have many playmakers to scare opposing teams, and Daniel Jones hasn't made the leap you'd expect from a second-year quarterback. It's no coincidence the Giants are ranked toward the bottom of nearly every offensive metric, as they're 31st in total offense (278 yards per game), last in red-zone production (20%), 29th in total success rate (43%), 28th in explosive play rate (only 8% of their plays go for 20 or more yards) and dead-last in early-down success rate.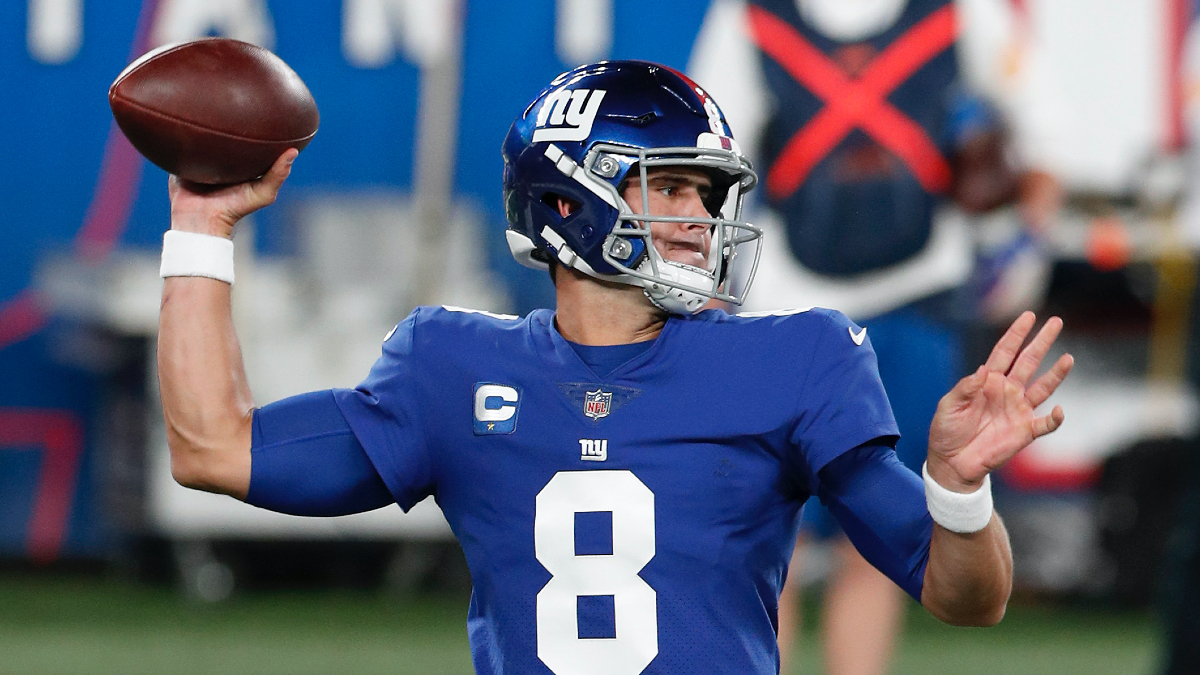 New York's defense may be the only thing keeping it competitive this season; it ranks 14th in points allowed (24 points per game), sixth in yards allowed (328.25), 11th in Football Outsiders' defensive DVOA, and first in explosive plate rate, allowing only 6% of plays to go for 20 or more yards.
Despite this, the Giants secondary had to struggles at times. It gave up 343 yards passing to a Nick Mullens-led 49ers team without George Kittle and Deebo Samuel. It also allowed 229 yards and three touchdowns to Ben Roethlisberger in his first game back from a year-long absence.
This Cowboys offense will be the best it's faced thus far. The Giants defense will certainly have their work cut out for them.
---
Check out our NFL odds page, which automatically surfaces the best line for every game.
---
Dallas Cowboys
With Dak Prescott putting up video game numbers, the Cowboys offense is the polar opposite of what we've seen from the Giants thus far.
Prescott's 1,690 passing yards are the most in NFL history through four games, and he's the first player in NFL history to throw for 450 yards in three consecutive games. Of course, these numbers are skewed by the Cowboys facing double-digit deficits in each of the last three games against the Falcons, Seahawks and Browns that forced them to throw their way back into games.
Still, the Cowboys have weapons everywhere.
Ezekiel Elliott, Amari Cooper, Michael Gallup, CeeDee Lamb, Dalton Shultz and Cedrick Wilson have helped account for 22 explosive plays this season. Even with a patchwork offensive line that's played multiple lineups and will go without starting tackles Tyron Smith and La'el Collins for the rest of the season, the only thing that can stop this offense is itself.
Protecting the football, though, has been Dallas' Achilles heel and would go a long way toward helping its struggling defense.
The Cowboys are dead-last among NFL teams in turnover differential (-7),  first turnovers (-9) and are tied for 31st in takeaways (2). It doesn't take a rocket scientist to realize a team can't win in the NFL if it's turning the ball over more than its opponent. The Cowboys' first four opponents have turned their nine turnovers into 45 points, as each has taken place on their side of the 50-yard line. When you add in the Cowboys being 4-of-9 on fourth down, they actually have more turnovers than their numbers indicate.
The Cowboys defense has allowed 146 points through the first four games of the season. As great as they are offensively, they are equally as bad on the defensive side of the ball, as they've allowed 430 yards per game this season, ranking 30th among NFL teams. This Dallas defense is also allowing 14% of runs to go for 20 or more yards and 10% of pass plays to go for 20 or more yards, both in the bottom-10 in the league.
Coming off a game in which it allowed 508 total yards and 307 yards rushing to the Browns, this defense appears to have hit rock bottom. Fortunately for the Cowboys, the Giants don't have Nick Chubb, Kareem Hunt, Odell Beckham and Jarvis Landry.
Giants-Cowboys Pick
Despite both teams being one game apart in the standings, I believe these are two teams headed in opposite directions.
I faded Dallas last week because I felt its defense would put it at a disadvantage against a Browns team with weapons. The Giants have no such weapons to punish the Cowboys for their defensive deficiencies.
The Giants rank dead last in Football Outsiders' offensive DVOA.
By comparison, their previous opponents rank:
Rams: Second
Falcons: 21st
Seahawks: Third
Browns: Ninth
Oddsmakers opened this line at 9.5, and while we've seen this line drop, I don't agree with the line move even with the absence of Smith. Despite issues on the offensive line, the Cowboys are in another class offensively, and the Giants don't have the firepower to match up.
We could see a scenario in which this game gets out of hand, as the Giants trade field goals for the Cowboys' touchdowns. Should the Cowboys clean up their turnovers and avoid a negative turnover differential as they have in the past three games, they should win this one going away.
I would also recommend adding this into a six-point teasers with the Cardinals.
PICK: Cowboys -8.5
TEASER: Cowboys -2.5/Cardinals -1
[Bet $1 on Cowboys -8.5 at BetMGM and win $100 if there's a touchdown]
---
Return to the table of contents.
---
Written by Stuckey
This is one of the most intriguing matchups of the Week 5 NFL slate. We have two legitimate AFC playoff contenders that each come into the week riding three-game winning streaks.
Let's take a closer look at how this might play out on Sunday and determine where the betting value lies.
The Matchup
I was higher on the Browns than most coming into the season based on their offseason staff and personnel additions. I loved the upside of this team, which is why I bought a preseason Super Bowl future. We're seeing some of that potential play out on the field even earlier than I anticipated.
Yes, Cleveland got trounced in its opener against Baltimore, but that was an almost impossible situation for a team going through wholesale schematic changes against a powerhouse Ravens team. The Browns have since played excellent football, dominating the Bengals and securing relatively easy wins against Dallas and Washington.
The play-calling and game-planning has significantly improved, and Baker Mayfield is being put in much more comfortable passing situations that complement his skill set. The improvement along the offensive line, specifically at the two tackle spots — a major weakness in recent seasons — has also paid dividends for the league's No. 2 rated rush offense in Football Outsiders' DVOA.
Nick Chubb is now sidelined with an injury, but Kareem Hunt is more than capable of shouldering the load at running back. I expect Cleveland to have plenty of success on the ground once again on Sunday. That will set up some playaction shots down field to the talented Cleveland receivers against what I still think is a vulnerable Indy secondary.
Believe it or not, Cleveland's offensive line actually leads the NFL in Adjusted Line Yards, per Football Outsiders. Meanwhile, Indianapolis' highly-touted offensive line ranks 28th in that same category. It's one of the reasons the Browns lead the league at 5.9 yards per carry, while the Colts surprisingly rank dead last at 3.5.
The Colts offensive tackles have been especially vulnerable. That's an area Myles Garrett and a defense that continues to get healthier can exploit against the statuesque Philip Rivers. Plus, starting tackle Anthony Castonzo might have to sit with an injury. Remember this unit already lost Marlon Mack, Michael Pittman and Parris Campbell to injury.
Yes, the Colts defense has been nothing short of spectacular statistically to start the season. However, they've benefited from a relatively easy schedule. Plus, they could be extremely undermanned at linebacker in their 4-3 base. Darius Leonard has already been ruled out while Bobby Okereke and Anthony Walker (questionable) have injuries that could keep them off the field on Sunday.
I'm a huge fan of the Colts staff, including defensive coordinator Matt Eberflus, who should have something special cooked up in his return to his home state. But the Colts are simply overvalued after three straight wins against mediocre competition. Mix in their key injuries, and I have to ride with the home dog.
Colts-Browns Pick
Ultimately, Cleveland should have more success on the ground and in generating pressure on Rivers. That will prove to be the difference in what should be a close contest.
I make the Browns close to 2-point favorites, so I immediately scooped up +3 (-120) earlier in the week. (Shameless plug: Follow me on the Action App to get real-time alerts when I track a bet.) I'd still play them at +1.5 or better (shop for the best real-time line here). They're also a very appealing teaser piece if you can get them over a touchdown.
PICK: Browns +1.5
[Bet Browns +1.5 now at PointsBet risk-free up to $250]
---
Return to the table of contents.
---
How would you rate this article?