Buccaneers vs. Rams Odds & Picks: How To Bet the Monday Night Football Spread & Total
Credit:
Getty Images. Pictured: Chris Godwin
Buccaneers vs. Rams Odds& Picks
The last time the Tampa Bay Buccaneers hosted a primetime matchup against an NFC contender, they were routed 38-3 by the New Orleans Saints.
Now the Bucs will play host to a different NFC contender on Monday night: The 6-3 Los Angeles Rams, who are beginning to look a lot like their 2018 selves.
So, where's the betting value on this showdown? Our staff details how they're betting the spread and total.
Buccaneers -4.5
Brandon Anderson: Oh boy, we got ourselves a doozy.
As things stand, the Bucs and Rams are the most complete teams in the NFC — the Saints has the big Drew Brees question mark, the Packers slipped up Sunday, and neither they nor the Seahawks have much of a defense.
The Bucs and Rams have the whole package: Offense, defense and even special teams. And their Monday night matchup may well be a preview of the NFC Championship Game. The question is which package is better, and by how much.
The key on Monday will be which team gets more pressure on the opposing quarterback, and which quarterback handles that pressure better. We already know that neither Jared Goff nor old man Tom Brady are particularly adept under pressure.
For the Rams, the entire defensive effort is built around two superstars. Jalen Ramsey will have his hands full with his choice of elite receivers in Chris Godwin, Mike Evans and Antonio Brown — that's still utterly absurd. Ramsey obviously can't guard them all, and the rest of the coverage isn't as strong, particularly the linebackers.
But then there's the other Rams star, the one who's probably going to win Defensive Player of the Year again. Can Aaron Donald get to Brady and make his life miserable? Tampa Bay's line has been good mostly but can be up and down.
It's the other side of things that's more worrisome.
Have you wondered what the big difference is between the 2018 and 2020 Rams, who have been so successful, then the 2019 Rams, who missed the playoffs? The difference has been blocking. Last season's offensive line was decimated, and the offense fell apart around it. And now, unfortunately, the best Rams lineman is out again — Andrew Whitworth will be a huge miss against a swarming, nasty, aggressive Bucs defense, and you better believe coordinator Todd Bowles will have his guys attacking.
Can Brady still handle the heat? Maybe, maybe not. But if you're asking me to bet on Goff on the road without protection in a marquee game against the GOAT, all while he's under pressure all game? I can't get there.
I would definitely feel better about this line below a field goal, but I'll make a small play at -4.5 and watch for an opportunity to live bet the Buccaneers if the Rams take an early lead and give me a Bucs moneyline at near even odds.
Rams-Buccaneers Under 48.5
Raheem Palmer: We've run out of superlatives to describe first-year defensive coordinator Brandon Staley. Sean McVay was hailed as an offensive genius when he took over the Rams' head coaching position in 2017, and it appears he's found his equal on the defensive side of the ball.
The Rams are second in points allowed, holding teams 18.7 points per game. They're first in expected points added per play, fourth in defensive success rate (41.4%) and they've held five out of eight opposing quarterbacks to sub-70 passer ratings. They aren't just doing it against inferior competition, either — they held Russell Wilson and a Seahawks offense that's averaging a league-high 31.8 points per game to only 16 points last week.
In the greatest scoring era in NFL history, the Rams' second-half defense has reached historical levels, allowing just 36 points through nine games with only two second-half touchdowns (both against the Bills). The Rams are only allowing four second-half points per game, too, and have given up only three field goals over the second half of their past six games.
On the other side of the ball, we see quite possibly the biggest mismatch of the week: Jared Goff vs the Tampa Bay Buccaneers' first-ranked defense.
When handicapping games featuring Goff, there's are a couple key questions to answer:
Is he on the road?
Will he face pressure?
The answer to both of those questions this week is yes.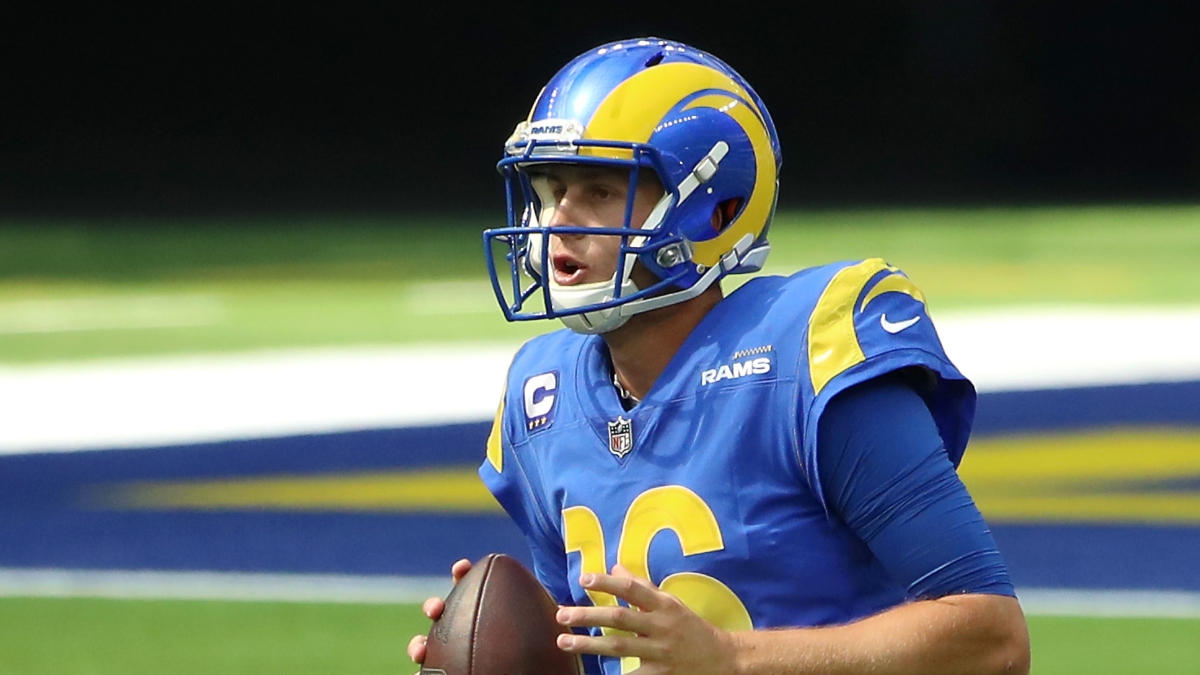 Goff's home/road splits may be one of the worst in the NFL as he sees his completion percentage drop by three points and sharp declines in passer rating and yards per game as well as an increase in turnovers.
Todd Bowles' defense specializes in getting to the quarterback and the Buccaneers are second in both sacks (110) and pressure rate (27.4%). With the absence of left tackle Andrew Whitworth, we can expect this Rams offensive line to struggle, which should subsequently suppress their offensive output. With the Rams having the ninth-highest run/pass ratio (46%/54%), I don't expect a high-scoring game.
From a numbers perspective this game doesn't have a substantial edge, though it should still be low-scoring, so take the first-half under down to 24 and full-game under down to 48.
How would you rate this article?