NFL Picks To Make For Week 10: Ravens Spread, Chargers vs. Dolphins Total, More
Credit:
Robin Alam/Icon Sportswire via Getty Images. Pictured: Lamar Jackson
And just like that, we are onto Week 10 of the NFL season.
A lot is in flux for this week, but our staff has still found early-week value on three games. Let's take a closer look at the trio of picks they made right away.
NFL Picks For Week 10
Kickoff: 1 p.m. ET on Sunday | More Game Info
Through the midway point, Kevin Stefanski's first season as the Browns' head coach has been a success. They come into Sunday's game at 5-3, on pace for their first playoff berth since 2002.
The biggest reason for the turn around is the fact that the Browns have made a habit of beating inferior competition. Their five victories have come against teams that have a combined record of only 11-21-1 with a point differential of -93: The Bengals (twice), Washington, Cowboys and Colts. And of those five, only the Colts have a winning record (5-3) and positive point differential (+48).
With a 2-6 record, a point differential of -46 and their only two wins coming against Jacksonville (twice), the Texans fit right at home on this list of bad teams that the Browns have used as a springboard for what could turn out to be their first playoff appearance in 18 years.
The good news for the Browns is that they've gotten healthy during the bye week as they welcome the return of running back Nick Chubb (MCL) and guard Wyatt Teller (calf).
Through the first four games with Chubb and Teller, the Browns had a rushing success rate of 57% and were first in the NFL with 205 rushing yards per game, 5.0 yards per carry and explosive run percentage with 22% of their carries going for 20 or more yards. Their numbers have plummeted in Chubb's and Wyatt's absences as the Browns have averaged just 95.5 yards per game (24th) and 3.9 yards per carry (24th) with a rushing success rate of just 43% (30th) since.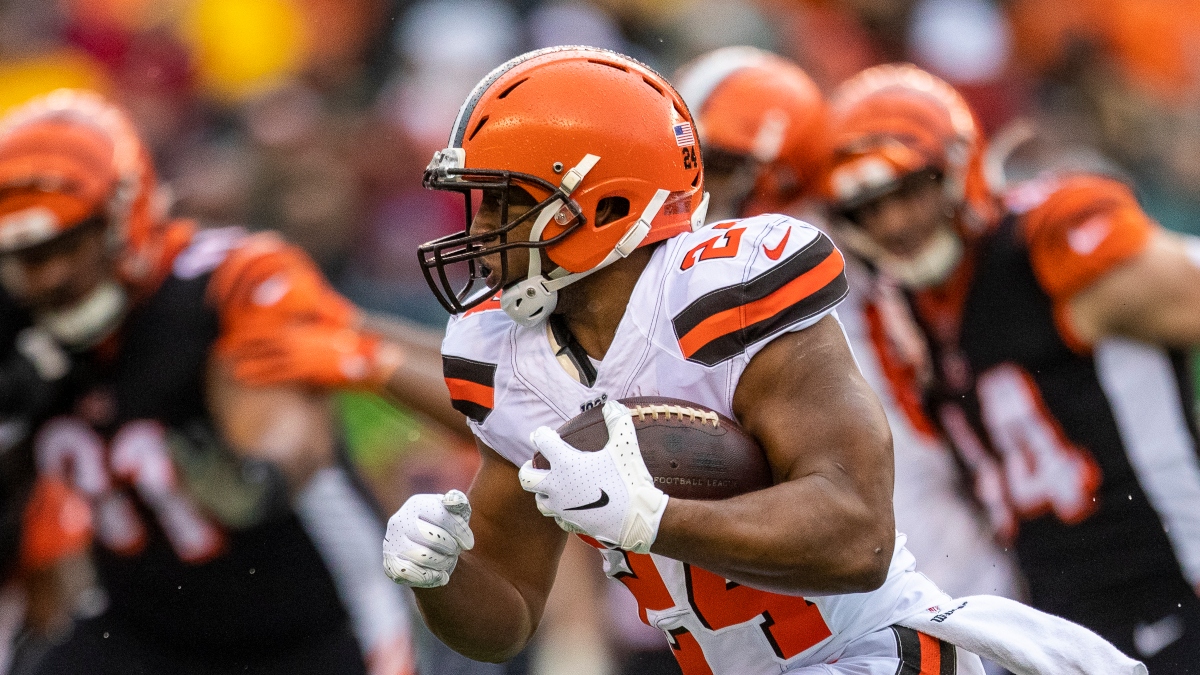 A healthy combination of Chubb and Kareem Hunt with Teller blocking doesn't bode well for a Texans defense that gives up a league-worst 159 yards rushing per game on 5.1 yards per carry, allowing 53% of runs to be successful as well as the fifth-most explosive runs this season. Chubb also leads the league in explosive runs with six of 20 or more yards despite not playing since Week 4.
The effect of Chubb and Wyatt in the lineup is cumulative as Cleveland's ability to take the pressure off Baker Mayfield opens up play action, which is a staple of Stefanski's offense. This helps to sustain drives and keep the defense off the field, giving the Browns more time to rest — something that didn't happen in their Week 8 loss to the Raiders who dominated time of possession (37:43 vs. 22:17).
On the defensive side of the ball, Myles Garrett returned to practice this week after injuring his knee in Week 8. Unlike the Raiders, the Texans won't be able to push this Cleveland defensive line around — Houston has one of the worst offensive lines in the league, ranking 27th in adjusted line yards and 30th in pass protection with an adjusted sack rate of 8.6% (per Football Outsiders).
Overall, this is the perfect get-right spot after a disappointing, weather-aided loss to the Raiders and a bye week that allowed the Browns' stars to get healthy. They're a playoff team, and that starts with winning games like this one against the Texans.
I'm laying the points with Cleveland up to -3.
[Bet now at PointsBet and get $125 if the Browns gain a yard]


Michael Arinze: Chargers-Dolphins Over 47.5
Kickoff: 4:05 p.m. ET on Sunday | More Game Info
I disagree with the move on this total, which opened at 49.5 but is now as low as 47.5 (compare real-time odds here).
I suspect that part of the reason for the move has to do with the 10 to 13 mph winds that are expected. While those gusts might affect quarterbacks who don't have strong throwing arms, I don't expect that to be this case here.
Rookie quarterbacks Justin Herbert and Tua Tagovailoa have good enough arm strength to be able to navigate the conditions.
The Chargers are second in the league with 420 yards per game and first over their past three games with 469.7. Now they face a Miami defense ranked 23rd in touchdowns allowed on 68% of their opponent's red-zone trips. The Chargers have generally been one of the faster-paced teams this season — Football Outsiders has them ranked eighth with 26.35 seconds per play — and they're second with 72.4 plays per game.
I would not be surprised if fatigue and the humid Miami weather lead to some tired legs on defense in this game.
Last week, the outcome of both of teams' games remained undecided until the final two minutes of the fourth quarter — and in the Chargers case, until the final play. We could see a similar back and forth in this game that features two quarterbacks tipped to be the future of the NFL.
The Chargers are 5-0 to the over in their last five games and 4-0 to the over off a straight up loss. Our Bet Labs database shows that since 2003, Chargers games have gone over the total (55%) for 9.17 units when they're on the road:

This should be an exciting matchup between two first-round quarterbacks looking to out-duel one another.

The over is worth a look at 48 or better.
[Bet now at BetMGM and get an INSTANT $500 deposit match.]
Kickoff: 8:20 p.m. ET on Sunday | More Game Info
Two Patriots primetime games in a row! Aw, NFL, you shouldn't have.
No, seriously. You shouldn't have.
The Patriots are dreadful — both to watch and as a team product. Before Monday night's 30-27 win over the Jets (the Jets!), the Patriots were on a four- loss streak.
What's wrong is that the Patriots just aren't very good. They already weren't very good on offense last season, with no weapons at running back or receiver, then they lost the GOAT quarterback and GOAT tight end. They also had more COVID opt outs than any other team, a number of them key dynasty contributors on multiple Super Bowl-winning teams.
For a few weeks, the Pats had us fooled, with a 2-1 start. But now we have a fuller picture. New England has the fourth-most turnovers in the league, is ranked fourth-to-last in passing yards, and have a bottom-10 rushing defense. If you want to be charitable, you'd call the Patriots decent defending the pass and pretty good at running the football, mostly thanks to Cam Newton.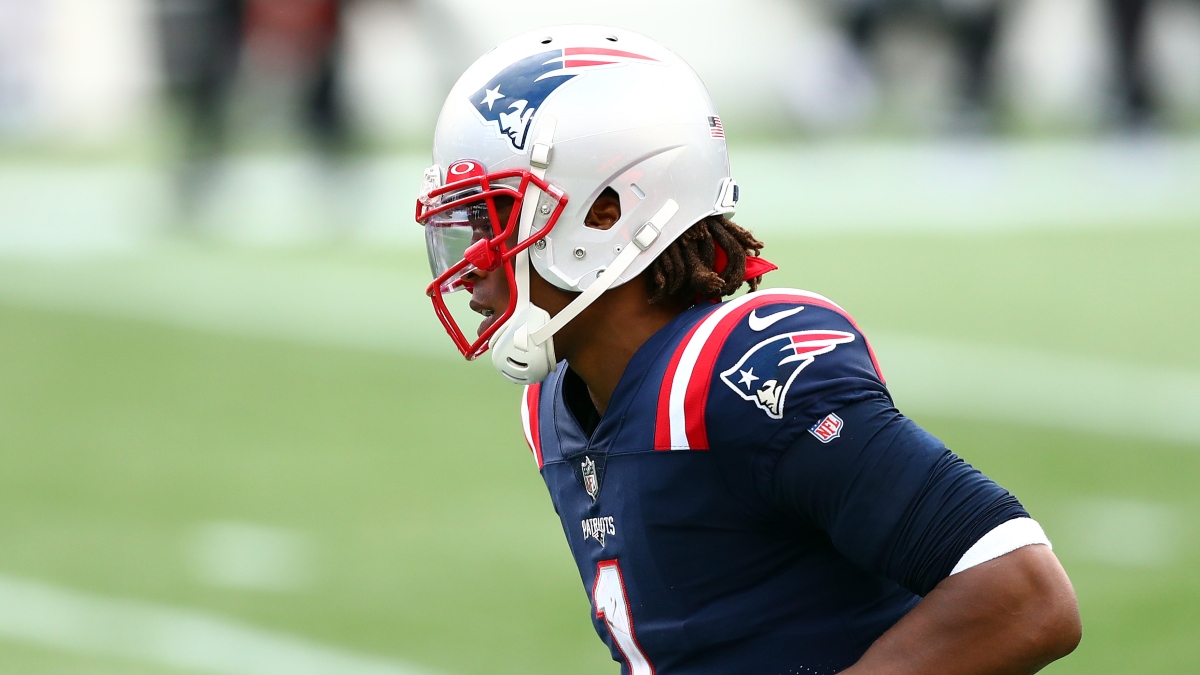 Well, allow me to introduce you to the Ravens.
Baltimore has the best run defense in football, and its rushing attack is so good the Ravens don't even need to pass. I know you instinctively think Bill Belichick is going to come up with some crazy scheme to shut down Lamar Jackson, but if coaches could magically make their players good, don't you think he would have tried that sometime over the past month?
Take away the jersey and the history and you see a bottom-five team.
The Patriots aren't good. The Ravens are really good, and they're best at the exact things to hurt New England.
This spread is still at 6.5 at some books, so grab it before it hits 7 (shop for the best line here). Even if it moves to -7, grab it there, too — it's easy to see this line hitting double digits by kickoff.
And while you're at it? Make alternate plans for next Sunday night…
[Bet now at PointsBet and get $125 if the Ravens gain a yard]
How would you rate this article?