Expert NFL Picks for Ravens-Seahawks, Every Late Game
Credit:
Joe Nicholson-USA TODAY Sports. Pictured: Russell Wilson
Our staff breaks down how they're betting Week 7 of the NFL season.
Find their picks for Chargers-Titans, Ravens at Seahawks and Saints-Bears.
Our experts run through how they're betting Week 7, featuring spread and over/under bets for the late afternoon games:
Chargers at Titans: 4:05 p.m. ET
Ravens at Seahawks: 4:25 p.m. ET
Saints at Bears: 4:25 p.m. ET
Eagles at Cowboys: 8:20 p.m. ET
Now let's dig into their picks!
Week 7 NFL Picks
---
Odds as of Sunday morning and via PointsBet, where Action Network users can access an exclusive promotion to get a 200% deposit match (deposit $50, bet with $150).
---
Stuckey: Titans -2.5 vs. Chargers
There's no buying low or selling high here as both teams come in on two-game skids. Both offenses are an absolute mess, primarily due to horrible offensive line play.
The Chargers at least have an excuse as of playing without their two best offensive linemen in LT Russell Okung and Mike Pouncey, but the unit still ranks near the bottom in almost every stat. As a result, the run game has been nonexistent and Philip Rivers looks rushed and panicked right from the snap.
Now, there's an outside chance that Okung does play as he just returned to practice. Either way, this is a unit that should struggle.
The Titans, meanwhile, have an excellent defense. They rank in the top-five in points per game allowed and have yet to allow more than 20. They can also get pressure, ranking in the top 10 in adjusted sack rate. Their secondary is also rock solid, especially with the significant improvement of cornerback Adoree Jackson.
In my opinion, the Chargers simply aren't being downgraded enough by the market. This is a team that has won one game since an OT victory at home in the season opener. And that victory came against the winless, tanking Dolphins.
I hate to side with Ryan Tannehill and the ugly Titans offense, but I don't mind the atrocious Chargers OL and banged up defense on the road here at under a FG. I'll side with the one unit I trust in this game: The Titans defense.
Stuckey: Ravens +3 at Seahawks
Russell Wilson is playing at a ridiculous level. He's the well-deserved MVP frontrunner, but it says a lot about the flaws of this Seahawks team that they've pulled out four of their five wins by a combined eight points, none of which have come against teams better than .500.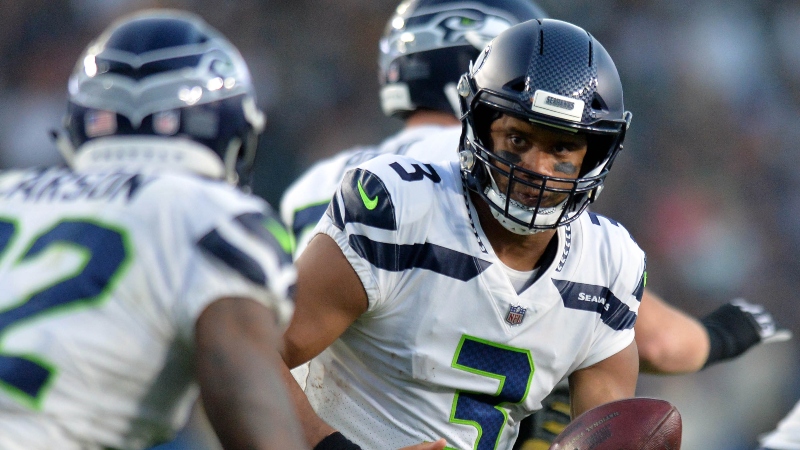 This team could just as easily be 1-5 with a few different bounces of the ball. As a result, I think the Seahawks continue to be overvalued. They have plenty of flaws, especially on defense. They struggle to get pressure and have subpar safety play.
And now the Seahawks could be without three starting offensive linemen. If Duane Brown is ruled out, it would leave Germain Ifedi and George Fant as the starting tackles, who rank 70th and 71st in Pass Blocking Efficiency among 71 tackles with at least 70 snaps.
The loss of Will Dissly will also hurt the Seahawks in the red zone, where they've excelled with him as one of Wilson's favorite targets.
Finally, I think many are undervaluing the acquisition of Marcus Peters.
The Ravens have one lockdown corner in Marlon Humphrey. But due to a plethora of injuries, their second corner has been nothing short of a disaster, so Peters will help sure up that gap immediately.
I have the Ravens rated a point better than the Seahawks on a neutral field, so I gladly took +3.5 and would take anything at 3 or above. I also think Baltimore is a worthy teaser piece in what should be one of the week's most competitive games.
John Ewing: Saints-Bears Over 37
At the time of writing, 70% of tickets are on this under as of writing (see live public betting data here). Both teams are starting backup quarterbacks and the defenses have been solid to start the season, as the Bears are allowing 13.8 points per game (third) and the Saints are giving up 20.3 ppg (11th).
The public is expecting a low-scoring affair but there are a few reasons to think this game can go over the total.
For starters, history says the over is a smart play. Since 2003, it has been profitable to bet the over in low-total non-division games that don't feature windy weather.
Following this strategy, over bettors have cashed 55% of their tickets returning a profit of $9,432 for a $100 gambler.
It is not just history that points toward the over: Our Bet Labs sims have this total at 45.6 points, which makes this one of the best over bets in Week 7.
Freedman: Eagles +2.5 at Cowboys
The Cowboys have a head coach in Jason Garrett who consistently gets the least from his players. Under his gum-chewing, hand-clapping regime (since 2010), the Cowboys have routinely played down to the level of their opponents.
In the situations where Garrett's Cowboys have had an edge, they have consistently underperformed.
At home, the Cowboys have allowed visiting teams to go 42-30-2 (13.9%) ATS. As favorites, they have coughed up a record of 49-35-3 ATS (13.9% ROI) to underdog opponents.
And as home favorites, the Cowboys have allowed road dogs to go 34-19-1 ATS (25.8%). No coach in the league has been more profitable to bet against as a home favorite than Garrett.
I would know. I'm a Cowboys fan.
---
Editor's note: Games that kicked off at 1 p.m. ET have been moved below the late afternoon games.
---
Aaron Rodgers has notable home/away splits against the spread.
Home: 50-28-3 | 24.7% ROI
Away: 42-39-1 | 1.9% ROI
In the Rodgers era (since 2008), the Packers are the only team in the league that ranks top-five in home/away scoring differential for both offense and defense, as they have averaged 3.7 more points per game at home than on the road and held opponents to a league-best 4.9 fewer points in Green Bay.
As a result, they have an NFL-high 8.5-point overall home/away scoring differential. At Lambeau Field, they truly have a home-field advantage.
I bet this at -6.5 earlier in the week.
Stuckey: Falcons +3 vs. Rams
The Rams have gambled with an inexperienced interior on the offensive line and its backfired significantly.
Take a look at just how bad the line has performed:
Offensive line ranks last in pass-blocking efficiency at 76.2 (the next worst is Miami at 80.0)
They've allowed a league-high 91 QB Hurries (the next-highest is Green Bay at 60)
They have given up a gaudy 115 QB Hurries (the next-highest is the Chargers at 115)
Per Pro Football Focus, Jared Goff has dropped back under pressure a league-high 114 times. That's 43.3% of all drop backs, the second-highest frequency in the NFL. And on those plays, he has an adjusted completion percentage of just 60.7 — 21st out of 21 quarterbacks with a minimum of 150 drop backs.
The strength of Atlanta's defense is the interior of its defensive line. Expect the Falcons to blow up a number of plays, forcing Goff into some drive-killing inaccurate throws and/or turnovers.
The Falcons are also a mess along the offensive line, but that doesn't disrupt the Falcons' offense as much. L.A. will certainly score points against a beat up and subpar Atlanta defensive backfield. But I'll gladly take the points at home in a game that I have as a coin flip.
Freedman: 49ers -10 at Redskins
I snap bet this on Sunday night at -9.5 knowing it would almost certainly get to the key number of -10. Although I like the -9.5 way better, I'm still willing to bet it at -10.
On defense, the 49ers should be able to shut down the Redskins.
The Redskins offense ranks 27th with 4.8 adjusted net yards per attempt (ANY/A) while the 49ers defense is No. 2 with a 3.2 ANY/A, and as bad as Washington has been, the 49ers have made far better teams look worse than the Redskins when passing.
In the running game, the Redskins are No. 30 with a 40% success rate. When rushing, they struggle to pick up the yardage necessary to sustain drives — and under interim head coach Bill Callahan, the Redskins actually want to be a run-heavy team. The 49ers don't have an elite run unit, but it is above average and should be good enough.
And will the Redskins be able to stop the 49ers running game? I'm guessing not. They're No. 27 with a 54% rushing success rate allowed.
With a double-digit spread, anything can happen, especially with a road dog. But I have so little respect for the Redskins — who have a per-game differential of -12.8 points — that it's hard for me not to bet against them with an opponent I consider to be vastly superior.
Freedman: Texans +1 at Colts
Deshaun Watson has been his best in adverse circumstances. His career doesn't offer a huge sample of games, but his splits are suggestive (per RotoViz Game Splits App).
Underdog (13 games): 270.2 yards and 2.31 touchdowns passing, 39.3 yards and 0.62 touchdowns rushing
Favorite (16 games): 249.7 yards and 1.69 touchdowns passing, 29.6 yards and 0.25 touchdowns rushing
Road (14 games): 270.1 yards and 1.86 touchdowns passing, 38.1 yards and 0.50 touchdowns rushing
Home (15 games): 248.5 yards and 2.07 touchdowns passing, 30.1 yards and 0.33 touchdowns rushing
And we see these same splits reflected in his against the spread record. As a dog, he's 9-3 (48.4% ROI). On the road, he is 9-4-1 (33.8% ROI).
And as a road dog, he's an outstanding 8-2 ATS (57.9% ROI).
I bet this at Texans +2.5 and +1.5, so I like the even lower price.
You have to wonder where this line would be if the refs didn't call those two phantom penalties on Trey Flowers and the Lions ended up beating the Packers on Monday Night Football. I would guess it would be a pick 'em as my power ratings are meant to cut through the noise of game results.
Given how both of these team's recent results could be impacting this line, the Lions are worth snagging at +2.5 and definitely if it reaches +3.
Travis Reed: Bengals +4.5 vs. Jaguars
This is an ugly play since the Bengals are 0-6, but the line is too good in my opinion. The Bengals have played a tough schedule to date as the combined record of their opponents stands at 22-11-1 including losses to the 49ers, Seahawks, Ravens and Bills.
This team is still fighting, as four of their six losses have come by one possession, including road games against Baltimore, Seattle and Buffalo — three of the toughest places to play in the NFL.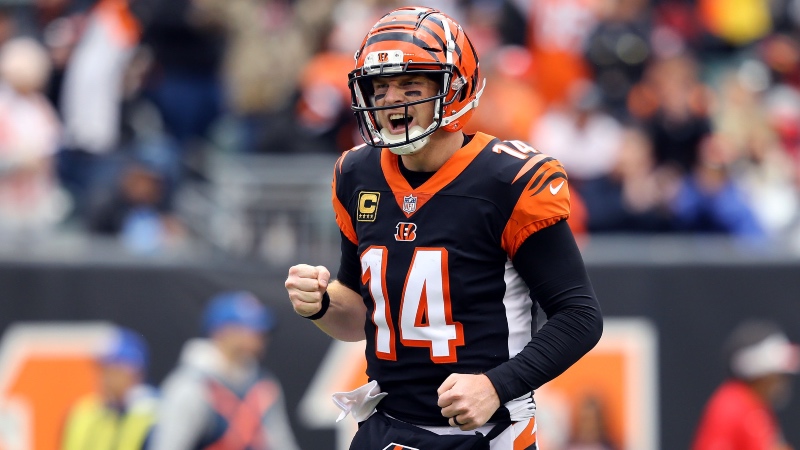 The simulations that I run each week have the Bengals as slight favorites here. I was able to grab the Bengals +4 earlier in the week, but would easily take three points or more at home.
Mike Randle: Cardinals-Giants Over 50.5
The return of Saquon Barkley would be ideal for a Giants offense that should score against an Arizona defense that ranks 30th in overall DVOA. The Cardinals have been particularly poor against opposing quarterbacks, allowing 24.5 fantasy points per game (31st among all teams).
Daniel Jones should also be able to generate yards on the ground, as only the Bengals have allowed more rushing yards to opposing signal-callers.
The Cardinals offense also have a juicy matchup against a Giants team that is 28th in pass defense DVOA. Kyler Murray has improved every week and notched consecutive top-five fantasy quarterback performances. His wide receiving corps should be back to full strength with the potential return of Christian Kirk. Before the injury, Kirk ranked third among all wide receivers in targets. New York allows the third-most points to opposing fantasy wide receivers.
Both the Giants (eighth) and Cardinals (first) play at an extremely quick pace, causing me to bet on the offensive playmakers in this matchup of two poor defenses.
One of the keys to betting NFL point spreads is to take the total into account. The lower the score, the more difficult it is for a favorite to pull away by enough to cover a big number even when they win.
The Bills are a perfect example of a good team whose style of play tilts the odds against them when it comes to winning big. They don't get beat deep on defense, love to run the ball and have a quarterback in Josh Allen who turns the ball over at a high rate. And because Allen sometimes forgets he's not a running back, he's one of the most susceptible QBs to an in-game injury.
Six of Allen's nine career wins have been decided by one score or less, and only two were by 17-plus. This season we've already seen the Bills go against many of the NFL's worst teams, and the final point differentials have been mostly underwhelming: 17-16 (Jets), 28-14 (Giants), 21-17 (Bengals) and 14-7 (Titans).
According to our data at Bet Labs, road underdogs of +16 or better are 20-16-2 ATS since 2003, and though it would probably take decades to get a sample large enough to draw sweeping conclusions, I would expect it to be a trend that continues in the long term because lines this big are almost always artificially inflated.
How would you rate this article?