NFL Odds: Saturday Divisional Round Picks for Bengals vs Bills, Cowboys vs 49ers
Credit:
Kevin Sabitus/Getty Images. Pictured: Ja'Marr Chase.
We're down to eight, and for my money, this is the best weekend in football. Two games Saturday, two Sunday, and it feels like anything can happen.
So, let's make some NFL picks.
The Divisional Round is where the league's best put it all on the line for a spot in the final four, and if history is any indication, it won't be as predictable as it seems. It's not pretty for the big home favorites this round. In fact, here's a reminder on key Divisional Round trends (since 2003) we observed earlier this week:
Home favorites: 30-42-1 ATS (42%)
1-seeds: 13-24-1 ATS (35%)
1-seeds favored by 10 or less: 8-23-1 ATS (26%)
Favorites with over a 75% win rate: 15-30 ATS (33%)
Whew, that is u-g-l-y for the favorites. Road underdogs finished .500 or better ATS in the Divisional Round in 14 of the past 19 years. If we're backing a favorite this round, we better be really, really sure.
Let's analyze all four games and make some picks — sides, totals, props and otherwise. I already made the case for every team's future. Let's dive into this awesome slate of games. Like usual, picks are labeled Bet, Lean or Wait.
---
Note: Odds are the best available for each pick as of writing. Shop for the best real-time lines with our NFL odds page.
---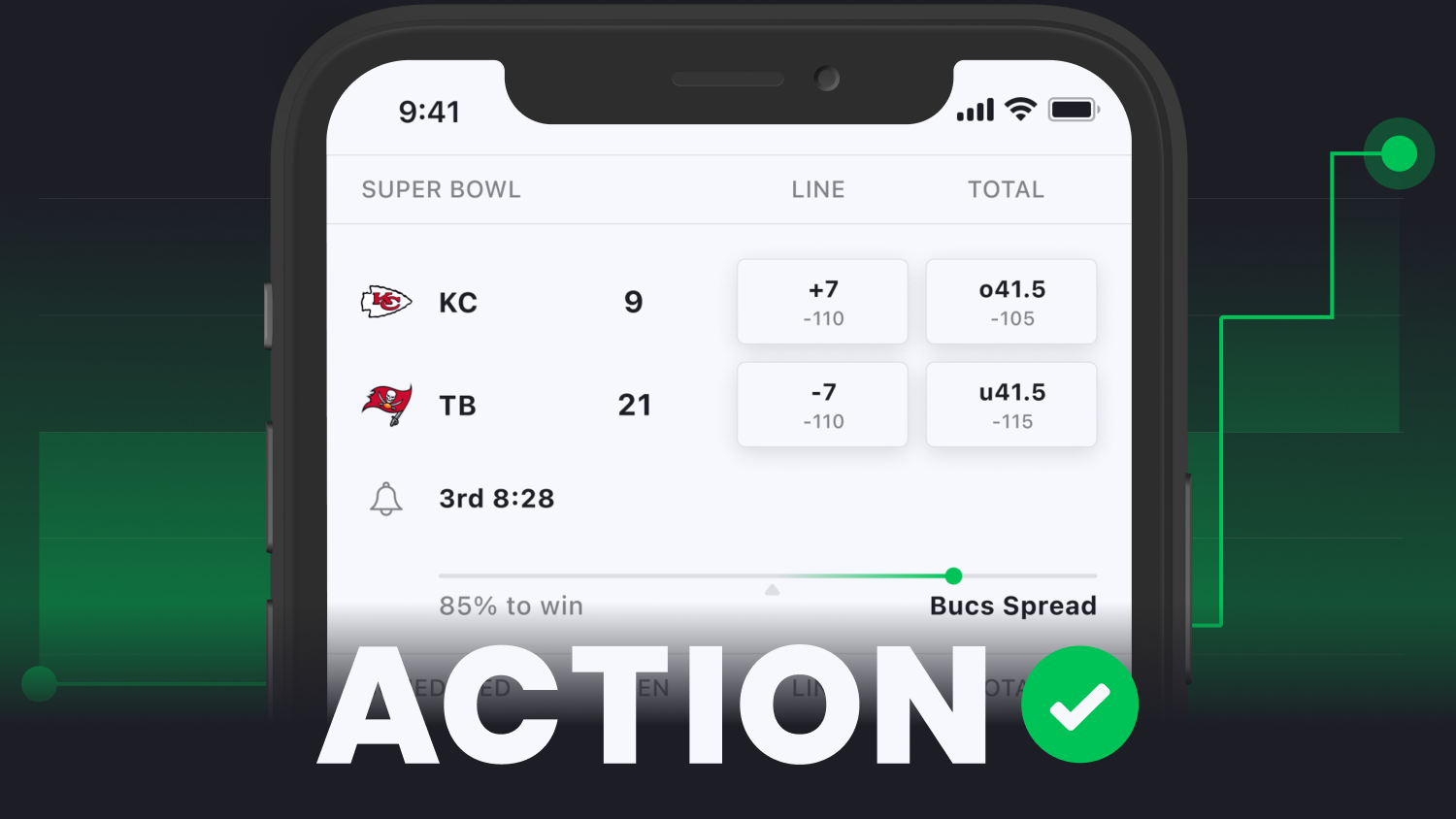 The must-have app for NFL bettors


Free picks from proven pros

Live win probabilities for your bets
SATURDAY GAMES

Last week, my top bet on the board was fading the Jaguars. That one looked pretty sweet … for about a half. This week, I'm going back to the well with Jacksonville — but I'm backing the Jags as my top bet.
It's not like the Jaguars suddenly found a pass defense. Patrick Mahomes shredded this defense when they played earlier this season, and most top offenses did. That was a concern last week, and it's a concern again here.
But the Chiefs pass defense looks almost as vulnerable. Like the Jags, Kansas City has faced one of the softest schedules in the league defensively, and the Chiefs ranked just 24th in passing defense and overall by DVOA against offenses in the top 12, such as Jacksonville. Kansas City's secondary has struggled to hold up when the pass rush can't get home, and Trevor Lawrence has grown as a passer, getting the ball out quickly and efficiently.
The Jaguars can score with the Chiefs, and Lawrence can match Mahomes score for score. That means the backdoor will be open, and 9.5 points is asking a lot. Remember, Mahomes is just 13-19-1 ATS (41%) as more than a touchdown favorite.
And Lawrence might get more help from his defense than you think. As good as Kansas City's offense is, the one fly in the ointment is the line. The Chiefs rank 16th in pass protection and faced only one team all season in the top quarter of the league in pressure rate. That was these Jaguars, who rank seventh on the season and third over the final two months in that stat. In that game, the Chiefs had a season-high three turnovers. Josh Allen has a sack in five of the past six games and is a nice bet to snag another at +130.

Normally, the Chiefs are a good bet for hidden reasons — coaching and special teams. But those reasons might point to Jacksonville here. Kansas City has been abnormally poor on special teams, especially in the kicking game, and Doug Pederson is the more reliable game manager and postseason coach. Pederson is 6-0 ATS as a playoff underdog, including an amazing 5-1 SU.
Remember all those stats at the top about fading the home 1-seeds? The Chiefs boast a plethora of red flags. They fall perfectly into the range of favorites with overinflated lines this round as underdogs of 7-11 points are 12-21 SU over the past 19 years with an awesome 61% ROI on the moneyline. Jacksonville also fits a trend of teams that missed last year's playoffs going 26-12 ATS (68%) in the Divisional Round.
We should get plenty of scoring. I lean over, though we've missed the best price now that the line has risen. Mahomes playoff overs with a total of 54 or below are 4-1 (80%), covering by 15.7 PPG, and eight of his 11 playoff games have seen at least 51 points.
If you're looking for a prop, I'm looking for a big game from Travis Kelce against the league's worst defense against tight ends by DVOA. Kelce had eight games this season with at least 92 yards, and he's had at least 95 yards in all six of his playoff games over the past two years with a touchdown in all but one.
Over 80.5 receiving yards looks good, but I'd rather get creative and bet a couple alternate overs. Kelce is +200 to hit 100 yards at Bet365. That's my favorite. I'll also nibble a SGP of eight catches, 95+ yards and an anytime touchdown at +330 at DraftKings. Kelce has done that in four of his past six playoff games.
Sometimes the most vulnerable favorites are the ones that seem invincible. Lawrence has never lost a Saturday game in high school, college or the NFL. Could he keep the streak alive with a shocking win? At +400 on the moneyline, I'll sprinkle the trends and find out.
THE PICK: Bet Jaguars +9.5
PROPS: Kelce 100+ yards +200 and alternative overs
OTHER ANGLES: Sprinkle Jaguars +400
What is QuickSlip?

QuickSlip is an Action Network feature that allows users to automatically pre-load their bet slip at FanDuel Sportsbook.
---
---
» Return to the table of contents «
---
The Eagles are a hit for virtually every negative trend this round. They're Divisional Round 1-seeds playing at home as 7-11 point favorites, and the numbers say they're even more vulnerable than the Chiefs. Road teams are 14-4-1 ATS (78%) in divisional rematches in the first two rounds, including 5-1 ATS this round (4-2 SU). Oh, and Daniel Jones is 17-5 ATS as a road dog.
If you're a trends bettor, just stop reading right now and bet the Giants. Few spots have been trendier all season, and many bettors are all over New York.
But I just can't get past how glaring a mismatch this is for Philadelphia. It's not just one thing — it's everything.
The Eagles are the best rushing attack in the NFL. They lead the league in both DVOA and EPA, even including the late games without Jalen Hurts, and they lead the league in explosive runs. The Giants rank last against the run. They're 31st by EPA and explosive runs allowed.
The Eagles should run all over the Giants and did so in the regular season. Philadelphia ranks third in Success Rate offensively and the Giants rank 28th defensively. New York is the worst in the league defensively on first downs by DVOA. If the Eagles play like they did most of the season, they might be able to name their score in this game.
The other side of the ball is bad too. The Eagles lead the league in Pass Defense DVOA. They also lead the league in pressure rate with a sack rate further ahead of No. 2 (Dallas) than the Cowboys are ahead of No. 28. The Giants rank 28th in pass protection. Daniel Jones will find life very different, and much more difficult, this week.
The Eagles have won in the trenches all season and should own both sides of the trenches here. Dexter Lawrence might have something to say about that after missing the one meaningful game between these teams, but who better to help neutralize Lawrence than the league's finest center in Jason Kelce? Unless Lane Johnson is unable to go, Philly should own the trenches.
Everyone's flying high on the Giants right now, but are we really all that excited about them outlasting a Minnesota squad everyone knew was overrated all year? In the past 11 games, the Giants have four wins — all against bottom 12 DVOA teams, both offensively and overall. The Eagles are not that.
The first time these teams played, the Eagles went up 24-7 at the half and led 48-14 until garbage time. In Week 18 (when the Giants rested key starters), it was 16-0 at the half and 22-9 before garbage time. That's a combined 70-23 in meaningful minutes. These games haven't been close.
Everything about this matchup makes me think the Eagles roll in a snoozer. I'm compelled to play Eagles -20.5 +425 (Bet365) in case I'm correct.
Still, the trends terrify me.
The trends say to stay far away from a Philadelphia cover, and the fact that the line has sat right at -7.5 all week is fishy too. I think the books are begging you to remember that the Giants have played 14 one-score games, asking you to just bet them to keep it close — or maybe begging us to tease the Eagles to -1.5. It's fishy.
I won't bet the full-game spread — it stinks too much. Instead, I'll play the first half.
Philadelphia is 12-5 ATS (71%) in first halves this season, the second-best mark in the league. The Giants rank 28th in DVOA both offensively and defensively in the first quarter, while the Eagles rank third at both in the first half. The Eagles have led 40-7 at halftime in the two previous meetings combined.
Maybe Hurts really isn't healthy. Maybe Johnson isn't either, and the Eagles offense just isn't what it was earlier in the year. If that's the case, this probably stays close all the way and Brian Daboll gives the Giants a chance to steal another win. If that happens, I think we'll know very quickly — meaning a first-half bet is just as dead as a full-game bet past the key number.
But if the Eagles are as strong a matchup as things look, they should go up early, so I'll get my money at the half and avoid that stinky full-game line. If you like the Eagles to lead early and go on to win, you can play the halftime/full-time Eagles combo at -138, or grab +120 for Philadelphia to lead after every quarter at Bet365. You can also get more aggressive and bet a first-half Eagles shutout at +850 at DraftKings.
I can't get past how awful a matchup the Eagles are for the Giants.
Truthfully, I think Philly is a nightmare matchup for all the contenders left, with an awesome pass rush and elite pass defense, combined with a mean, physical rushing attack built to win in January. They're still my favorite Super Bowl bet on the board and it better start with a dominant win here.
THE PICK: Bet Eagles 1H -3.5
OTHER ANGLES: Eagles -20.5 +425
FUTURES: Eagles +500 to win the Super Bowl
Pick: Eagles 1st Half Spread
---
---
» Return to the table of contents «
---
SUNDAY GAMES

One month later, we're finally getting that Bengals-Bills game we were all so excited to watch.
And as excited as I am to watch the game, I'll be treading lightly as a bettor. We have no way to know the emotions either side will bring into this matchup or how that might impact either team. We also don't know how much it will help either side to have seen one drive from the other just a few weeks ago. Be careful.
The injury report pushed me to back Buffalo -3.5 early in the week as I was expecting the line to rise as it has. Cincinnati will be without three starting offensive linemen this week as Jonah Williams, Alex Cappa and La'el Collins are out. This was the big Bengals flaw last postseason, and Cincy struggled mightily in the second half against Baltimore.
Buffalo ranks top 10 in the NFL in pressure rate and has improved without Von Miller. Joe Burrow has been getting the ball out quickly, and Buffalo's pass defense has leaked explosive plays and been beatable at times. However, I expect the Bills to disguise coverages and play some zone to slow Burrow's process and make life difficult with so little blocking.
Cluster injuries can doom a team, and they're often worse on the line and in the secondary. That's another Bengals vulnerability as Chidobe Awuzie is already out and Eli Apple is struggling some. Josh Allen could put up big passing yards on this secondary if he gets rolling.
I do expect the Bills to score. They've scored at least 34 points in all three playoff games over the past two years, and Cincinnati's defense is far worse on the road (No. 22) than at home (No. 2). In a normal spot, where I trusted emotions more, I'd be eyeing the Bills team total over 27.5.

My favorite bet of the game, and maybe the weekend, is back to the well on Old Faithful, the same bet I made last game before it was cancelled — Josh Allen rushing overs in a big Bills game.
It's very clear watching these past couple years that Buffalo saves Allen's legs and hits for the games that matter most. That's why I'm not thrown by his four carries for 20 yards last week. That was against a third-string quarterback and a game in which Buffalo was heavily favored. But generally speaking, the Bills dial up more Allen designed runs and scrambles against playoff opponents. The numbers over the past two years speak for themselves:
22 games vs non-playoff teams: 6.4 rushes for 39.5 yards per game
14 games vs playoff opponents: 9.1 rushes for 57.3 yards per game
That's almost a 50% increase in output when Allen faces a playoff opponent. He's run for 44+ yards in 10 of those 14 games (71%) against playoff teams and gone for 59+ in over half of them. He run for 70+ five times this year, all in big games, and he's run for 54+ in five of seven playoff games (71%).
This line should be in the mid-50s. I grabbed over 40.5 early in the week on the app, and I still like it at 42.5 or the best number in the 40s you can find. I'm betting alternate overs too: 60+ at +280 is double the price it should be, and I'll nibble on 75+ at +600 at Bet365.
I loved this bet for that Monday night game because Cincinnati ranks bottom five against designed quarterback runs. We only got one Buffalo drive, but Allen ran twice for 14 yards and was well on his way to an easy over. He owes us some cash.
I like the Bills to win at home with all the Bengals injuries, especially given Buffalo's advantages on defense, with coaching and on special teams. But I also think the line is about right, so I'm not eager to push new money in. The trends lean Cincinnati, and Buffalo has been a poor first quarter team at 19th in Offensive DVOA and 27th Defensive.
If you like the Bills, you're likely better off waiting to bet them live. Cincinnati is going to score some too and the game could be back-and-forth early. Wait for a better spot on the line, or play a live moneyline.
If you're betting a side right now, I think the best side is probably just Bengals +205 on the moneyline. Would the Bengals really win fewer than one in three against these Bills? Buffalo has way too much variance, and Cincinnati is far too good and versatile for that to be the case.
I'll mostly stay away from sides and emotions and just hope Allen runs all day.
THE PICK: Allen over 42.5 rushing yards & alt overs
LIVE ANGLE: Look Bills after a slow first quarter start
OTHER ANGLES: Lean Bengals +205 ML, Bengals +5.5 (Pass)
---
» Return to the table of contents «
---
Cowboys at 49ers (-3.5)

Is everyone getting a little too excited about Dallas?
The Cowboys housed the Buccaneers on Monday night and suddenly everyone's back in, but I can't get too fired up about a team that beat a Tampa Bay squad that didn't bother showing up for the night. Tampa Bay stunk all year and stunk again in the playoffs.
Everyone LOVES the Cowboys this week, but I don't see it. The Cowboys are a collection of stars, but the 49ers are the better team.
I love the matchups for San Francisco.
Dallas's greatest strength is Micah Parsons and an elite pass rush. Meet Trent Williams, the best offensive lineman in football and an elite pass blocker. The 49ers secondary is beatable, but Dallas has only one established receiver in CeeDee Lamb and struggles when it can't get him going. On the other side, the Cowboys secondary is banged up and leaking big plays and the 49ers are loaded with offensive weapons and YAC stars.
The 49ers have been a juggernaut hiding in plain sight since trading for Christian McCaffrey. We all got distracted by the switch to a rookie seventh-round quarterback and missed the fact that the 49ers rank top three in both rushing and passing, on both offense and defense, since acquiring McCaffrey. Dallas, meanwhile, has slowly slipped back toward the pack over that same stretch.
Brock Purdy is untested against top pass defenses. He's yet to play anyone in the top 15 by DVOA, averaging the No. 22 Pass Defense DVOA so far. In theory, this is a big step up in competition. But if the Dallas pass rush doesn't get home, the Cowboys are in trouble. Dallas ranked 25th in Pass Defense DVOA over the final six weeks, so right now, the Cowboys defense might not be much of a step up from anyone else Purdy has played.
Still, Purdy is an unknown, and this will be his biggest test. He looked shaky in the first half against Seattle in the playoff opener, and San Francisco has been vulnerable when it doesn't dominate the turnover battle. In 14 wins, the Niners have forced 29 turnovers with just six themselves. In four losses, they've turned it over 11 times and forced just three.
Dak Prescott was a turnover machine this season. He led the league in interceptions in 11 1/2 games and the Cowboys had 14 turnovers in seven games heading into the postseason. If Dallas turns it over a few times and Purdy and the Niners don't, this could get ugly for Dallas — but turnovers can be fickle and unpredictable.
Like every other road team in the Divisional Round, the trends like the Cowboys. Favorites who have won over 75% of their games are just 15-30 ATS (33%) this round, and they're an abysmal 2-16 ATS (11%) when the opponent has also won at least 70% of its games.
I like the 49ers, but I'd like them better below the key number, and there's no denying the unpredictability in this matchup. Both teams are relatively untested, and this feels like a heavy narrative game.
When a game feels unpredictable, we often confuse that with expecting it to be close. My gut says just the opposite — I think one of these teams finds its rhythm and dominates.
Dallas has 13 wins, with eight of them being by 12+ points, and 11 of San Francisco's 14 wins are by 13+. Six of the teams' combined nine losses have come by nine or more points. When the Cowboys are good, they're great. When they're not, it's often ugly. The 49ers were similar early in the year.
There's not a great way to bet on "not a close game." You can play 49ers -8.5 +190 and Cowboys -8.5 +440 at multiple books to give an implied -115 on a multiple-score game, but that juice doesn't feel worth the squeeze. If you go with 12 points given the margins above, you can play both sides of 49ers -11.5 +250 and Cowboys -11.5 +800 at an implied +152 for either team to win by 12 or more. That's still not great, but it pays out well if Dallas wins big.
I like the matchup for the 49ers, but don't feel comfortable enough with either side to go too hard on this one. I lean Niners -3.5 and will sprinkle one of those alternate lines for a big San Francisco win and an offseason chock full of Cowboys narratives and Sean Payton rumors.
THE PICK: Lean 49ers -3.5
OTHER ANGLES: 49ers -11.5 +250
---
---
» Return to the table of contents «
---
NFL Divisional Round Best Bets
Josh Allen over 42.5 rushing yards and alt overs
Jaguars +9.5
Eagles 1H -3.5
Travis Kelce 100+ yards +200
---
» Return to the table of contents «
---
How would you rate this article?
This site contains commercial content. We may be compensated for the links provided on this page. The content on this page is for informational purposes only. Action Network makes no representation or warranty as to the accuracy of the information given or the outcome of any game or event.