Monday Night Football Picks & Predictions: 4 Ways to Bet 49ers vs. Bills
Credit:
Timothy T Ludwig/Getty Images. Pictured: Josh Allen, Isaiah McKenzie
The San Francisco 49ers host the Buffalo Bills on a neutral field in Arizona to close out the Monday Night Football doubleheader.
With this spread pinging back and forth between either team as the favorite, where is the value on this primetime game?
Our senior NFL analyst Chris Raybon breaks down how three ways he's looking to bet this matchup below.
NFL scheduling changes have gifted bettors with another Monday Night Football doubleheader, with the Buffalo Bills vs. San Francisco 49ers kicking off at 8:15 p.m. ET on ESPN.
Our staff details how they're betting the second game, from pregame bets to in-game angles to props and more. Find their picks below.
NFL Picks & Predictions
49ers +1 vs. Bills
Brandon Anderson: This is Josh Allen's big chance to show us what he's got on a big national stage … and I'm just not sure yet.
Buffalo is playing well, but so is San Francisco. The 49ers are in the middle of a lost season, but they may have quietly saved their season. With the Cardinals' loss to the Rams on Sunday, a 49ers win here moves them into a tie for the final playoff spot with the Cardinals and Vikings, and the Niners still play the Cardinals in a couple weeks, too.
Speaking of Arizona, that's where this game will be played — the 49ers cannot play or even practice in the Bay because of pandemic restrictions, so we're getting a rare neutral site game. That's interesting, and it's also not irrelevant. This line opened a couple points higher but swung toward a near pick'em when the 49ers moved, but did they really lose any home-field "advantage"?
This feels like a spot where we're unnecessarily getting a couple free points.
The Bills defense has improved as the season has gone along, but this is still very much the Josh Allen show. Buffalo goes as Allen goes. And I'm a bit worried about Allen against an aggressive, tough San Francisco defense that's gotten better and better as the year has gone on — even with an endless litany of injuries. The 49ers now rank ninth in defensive DVOA, even with all those injuries.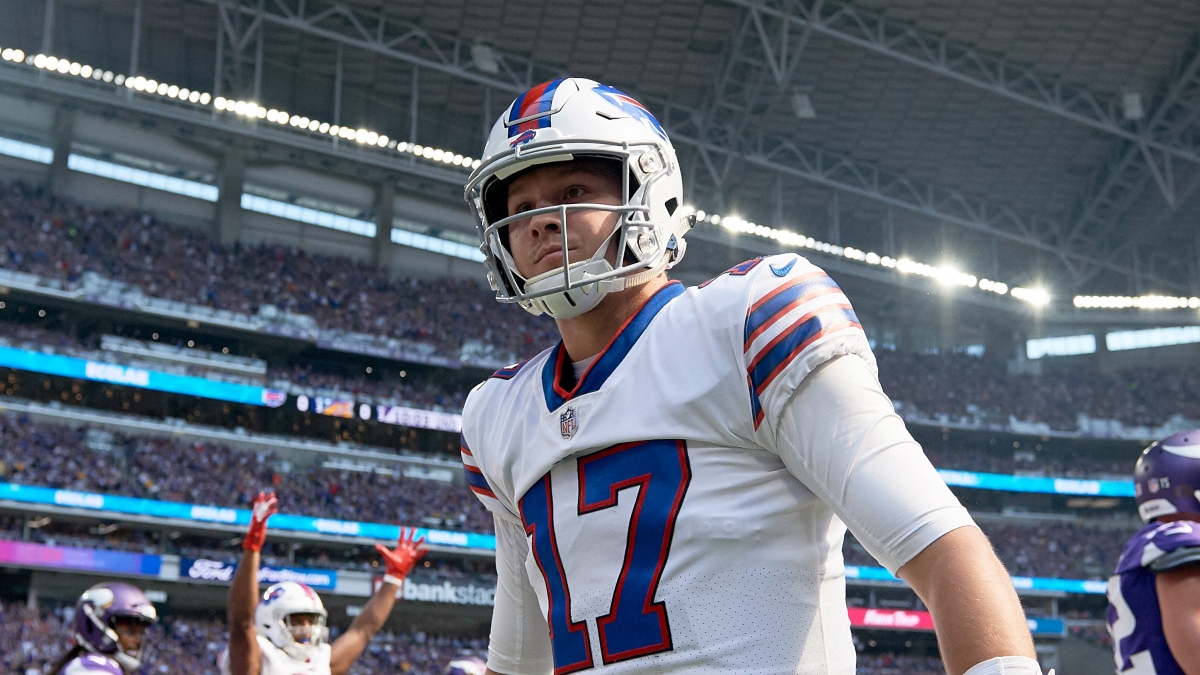 Allen has been terrific this season, but he still makes a few big mistakes every game, and the Niners defense will make him pay for those mistakes.
Sometimes when you play poker, you have to pay down your opponent just to see that he's got the cards. I'm not ready to trust Allen yet in such a huge spot. If he's really ready for this, I'm just going to have to pay him down. Give me the Niners.

Devin Singletary Under 34.5 Rush Yards
Chris Raybon: Singletary has gone over this number in only five of 11 games, which drops to three of eight in games in which Zack Moss has played.
The 49ers uncharacteristically gave up a 61-yard run to Cam Akers last week, but otherwise held Rams backs to 46 yards on 21 carries. And the 49ers are allowing the sixth-fewest yards per carry to opposing backs on the season (3.65).
Singletary is averaging just 8.5 carries per game with Moss active, and that number has dropped to 5.7 over the past three games. I will likely post more player props leading up to game time, so be sure to follow me in the Action app to get notifications.
I would bet this down to 32.5 yards.
49ers +3 or Better Live
Chris Raybon: I have this game rated as a pick 'em, and it's no surprise that it's been flip-flopping between each team being favored. I bet the 49ers at +2 because they're being underrated by the market given their return to health, particularly in the case of Raheem Mostert and Richard Sherman.
These teams have also been on opposite ends of the luck spectrum, with Buffalo's point differential suggesting its "true" record should be 5.9-4.1, a net differential of -2.1 wins compared to their 8-3 record. San Francisco's point differential, on the other hand, implies a 5.7-5.3 record (+0.7).
I doubt that playing in Arizona will have much of an effect on the 49ers. Shanahan has led them to a 4-2 record against the spread on the road this season, and he's 18-12 on the road in his career, according to our Bet Labs data.
The line is between 49ers -1 and +1 as of this writing (find real-time odds here), but I don't see as much value unless they drop back to +1.5 or more. If the 49ers fall behind early, I'll be looking to bet them again at +3 or better live and/or on the second-half spread — the Bills have been outscored by an average of 4.1 points after halftime, and Shanahan will stay committed to the run, which shouldn't allow the Bills lead to balloon.

Raheem Mostert Over 53.5 Rush Yards (-112)
Michael Arinze: The 49ers snapped a three-loss streak last week with a divisional win over the Rams. And despite the challenges of no longer playing at home, there's plenty for the 49ers to play for as they're currently just one game out of the final playoff spot in the NFC.
San Francisco has benefitted from getting some reinforcements back after a long spell of injuries, and running back Raheem Mostert is one of the players they're happy to have back.
During their three-loss streak, the 49ers rushed for 52, 55 and 49 yards — there was only one other game this season in which they didn't rush for more than 100 yards. In last week's win over the Rams, the Niners rushed for 112 yards. Running the football is paramount to Kyle Shanahan's offense—especially now with Nick Mullens starting at quarterback.
The softest part of the Bills defense is against the run — they rank 16th in overall defensive DVOA but 22nd in the league in rush DVOA. This season, they're allowing their opponents 4.7 yards per carry and are ranked 24th in yards allowed per game (129.6).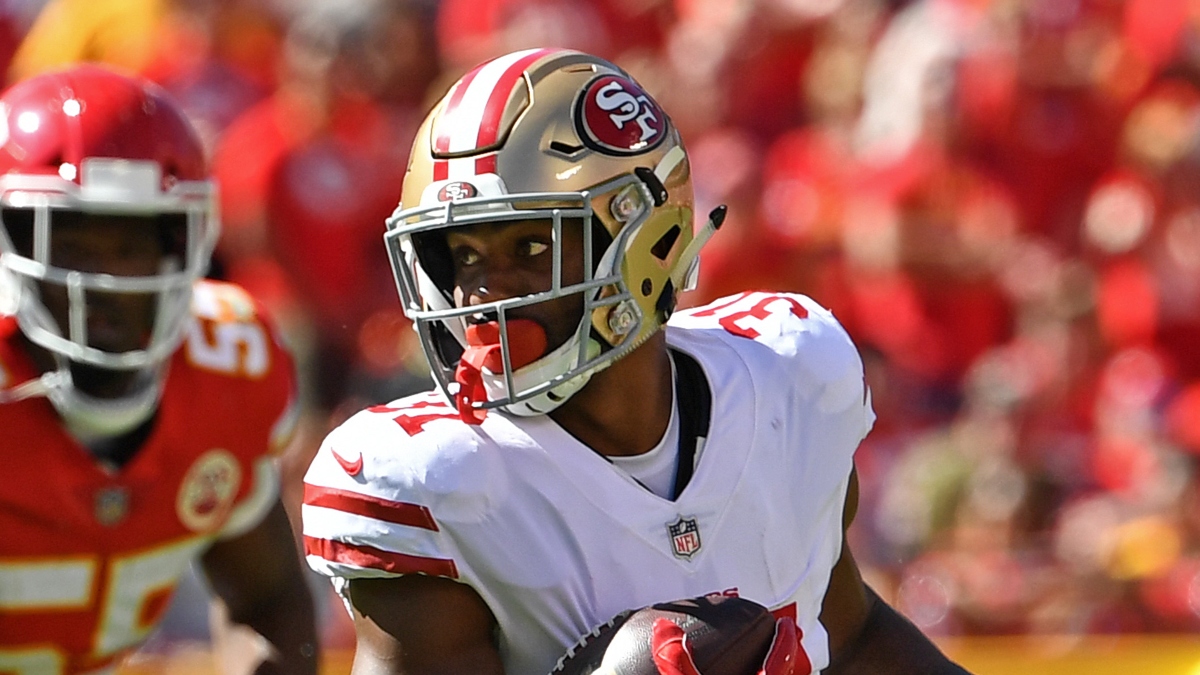 I would expect the 49ers to attack the Bills with their running game and keep the Bills' dynamic offense on the sidelines by controlling the time of possession. The use of Mostert would prevent the 49ers from overexposing Mullens, who has a six-to-seven touchdown-to-interception ratio and is ranked 28th in the league with a 45.5 QBR per ESPN.
In his first game back from an ankle injury, Mostert posted his lowest rushing yards (43 yards) of the season against a tough Rams defense that's ranked seventh in rush DVOA. He's unlikely to face as much resistance when he goes up against this Bills defense and it's possible he gets even more touches with this being his second week back from the injury.
This is my favorite prop on the DraftKings board right now and I'd play it up to 56.
---
Washington vs. Steelers Picks
Washington-Steelers Over 43.5
Raheem Palmer: These are two of the NFL's elite defenses — the Steelers are first in defensive expected points added per play (-0.156) while the Football Team ranks fourth (-0.042). They're also first and second in sacks and quarterback hits, respectively.
These teams don't have prolific offenses, either. The Steelers are 15th in offensive efficiency while the Football Team ranks 27th.
While most people will think these factors should lend themselves to an under, I believe there's value on the over.
Both teams are above-average in pass/run frequency, passing on 60% of plays, and more passes mean we don't have a running clock. The Steelers will be without James Conner and are coming off a game in which Ben Roethlisberger threw the ball 51 times — mostly quick and short passes — and could see more of that in this matchup.
We've witnessed opposing offenses find ways to negate Washington's pass rush and put up high point and yardage totals:
Cardinals: 30 points, 438 total yards
Browns: 34 points, 300 total yards
Ravens: 31 points, 350 total yards
Rams: 30 points, 429 total yards
Lions: 30 points, 372 total yards
And the Steelers are actually ranked higher than the Ravens, Browns and Lions in offensive efficiency.
With weapons like Chase Claypool, JuJu Smith-Schuster and Diontae Johnson, I have trouble believing Washington will keep this unit in check for a full game. And given the short week and the injury to Bud Dupree, I expect a solid output from Washington's offense as well.
Overall, in a season with record-breaking scoring numbers, there's some value on this over.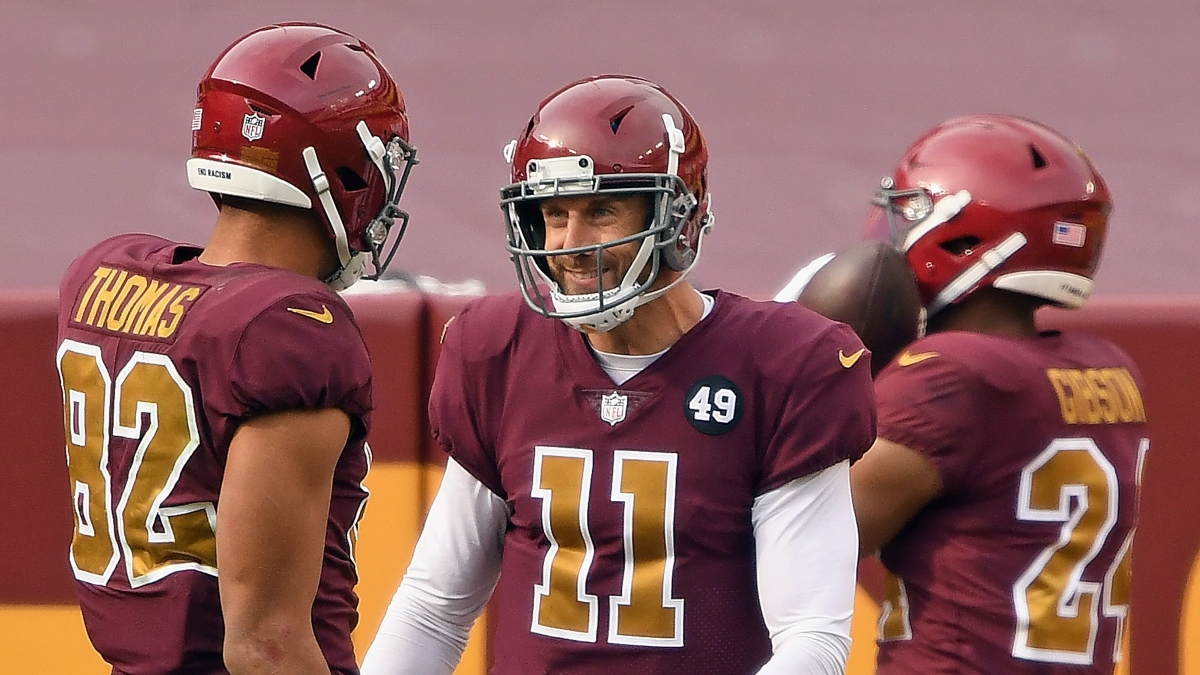 Teaser: Washington +12.5/Under 49.5
Brandon Anderson: You'd think there would be a lot more buzz about an 11-0 team getting a bonus Monday night game on a crash course with history, but these Steelers have never felt particularly buzz worthy.
They may be 11-0, but the advanced metrics would put them around eight or nine wins. Still good, of course, but maybe that's why they don't quite "feel" like an unbeaten team.
The defense has looked Super Bowl caliber for sure. The Steelers rank first or near the top in most defensive metrics, but they've now lost two key starting linebackers for the season. Devin Bush and Bud Dupree have both torn their ACLs, removing the heart of the defense and an outstanding pass rusher. Pittsburgh isn't exactly about to start leaking points to Alex Smith without those two, but the defense is moving in the wrong direction.
The Steelers aren't the only great defense on the field, either: Washington ranks top-five in Football Outsiders' defensive DVOA. They're especially good rushing the passer, though Big Ben gets the ball out faster than any NFL quarterback, so that's a pretty good antidote to a tough pass rush.
Neither offense is great — Washington's is downright bad, and Pittsburgh mostly relies on the receivers making plays.
Don't forget that Pittsburgh just played last Wednesday and plays again Sunday night, so this is the middle of a brutal, unprecedented 12-game stretch. It's also the "easy middle game" between huge showdowns against the Ravens and Bills. This has letdown game written all over it.
Bettors agree and have bet this Washington line below a touchdown, removing most of the value. That's why I'm grabbing the double, teasing Washington and the under and counting on a close, ugly, low-scoring game. Pittsburgh's only goal: Survive and advance.
How would you rate this article?