NFL Picks: How We're Betting Titans vs. Broncos On Monday Night Football
Credit:
Dustin Bradford/Getty Images. Pictured: Derrick Henry
Editor's note: Steelers-Giants picks were moved to the bottom of this piece after kickoff.
---
Week 1 of the 2020 NFL season concludes with a Monday Night Football doubleheader.
Our staff outlines how they're betting both games — Steelers at Giants (7:10 p.m. ET) and Titans at Broncos (10:20 p.m. ET) — below complete with spread and moneyline picks. But with two home underdogs, there's some disagreement on one of the matchups.
Let's dive into their explanations.
Note: The sportsbooks listed below have the best odds as of writing — we've also cited different books if they're offering the same odds — but since lines are always on the move, you can use our NFL Odds page to compare.
Titans vs. Broncos Picks
Click on a pick to skip ahead to that analysis.
Raheem Palmer: Broncos +3
One of the biggest edges in recent memory has been fading teams playing early-season road games at Mile High as the Broncos are 28-6-1 all time at home in Week 1, winning their last seven home openers.
For a variety of reasons, the impact of home-field advantage (HFA) in the NFL has been decreasing year over year with it being all but negligible in 2019. Looking at HFA individually, however, you see a different picture: The Broncos' HFA has historically been one of the best in the league because they play at altitude. Early-season games only exacerbate the issue for visiting teams.
When you factor in the lack of preseason or a full training camp to get in football shape, Denver's HFA should be greater than usual.
Still, the Broncos are in a tough spot with the loss of Von Miller and a banged-up Courtland Sutton (shoulder). Oddsmakers opened the Denver Broncos as 2-point favorites and the line move to Broncos + 3 seems to suggest that they can't overcome their losses. I'm not sure that's the case.
Although it's a significant test, the Broncos do have some things working in their advantage.
The Titans lost right tackle Jack Conklin in free agency, replacing him with a rookie in Isaiah Wilson, which could be a problem against a Broncos defensive line that added former Titans DT Jurrell Casey in free agency.
As for the loss of Miller, he didn't have his best season in 2019, and I believe Bradley Chubb, Malik Reed and Jeremiah Attaochu can do enough to minimize the loss against a Titans team that led the league in sacks taken with 56. In addition, this Broncos defensive line held Derrick Henry to 28 yards on 15 attempts in their 2019 matchup. Although Marcus Mariota started in last year's 16-0 loss against the Broncos, Ryan Tannehill is a prime regression candidate as his 70.3 completion percentage, 7.7 touchdown rate and 13.6 yards per carry are anomalies in his seven year career.
Offensively, despite Sutton's questionable status, the cupboard isn't completely bare. This Drew Lock-led offense is filled with weapons in Phillip Lindsay, Melvin Gordon, Noah Fant and rookie Jerry Jeudy. Look for the Broncos to run the ball early and often, controlling clock to keep this Titans offense off the field.
I see a close game either way, and I'm betting on this line being over adjusted toward the road team. With oddsmakers setting this total in the 40.5-41.5 range, points will be at a premium, making +3 more valuable.
In light of the low total, add the Broncos to a 6-point teaser along with one of the the following Week 2 teaser legs: Cleveland -6 to PK vs. Cincinnati, or Arizona -6.5 to -0.5 vs. Washington.
Michael Arinze: Broncos Alt Line +3.5 (-125)
In addition to being without standout OLB Von Miller, the Broncos are also dealing with injuries to WRs Courtland Sutton (shoulder) and K.J. Hamler (hamstring) and Courtland Sutton, who are both listed as questionable.
If you recall, it was a hamstring injury that prevented Hamler from running the 40-yard dash at the NFL Combine. And as for Sutton, he had almost double the targets (124) and receiving yards (1112) of any Broncos WR last season, so that could impact their game plan if he's not at full-strength. While drafting Jerry Jeudy should help, he's still a rookie who will take the field without any preseason games under his belt.
It remains unclear whether free-agent addition Melvin Gordon or Phillip Lindsay will be the feature back, but with five years in the league, Gordon is certainly a proven rusher and should add some dynamism as both backs can catch the ball out of the backfield.
While the Titans come into this game much healthier than the Broncos, there are a few notable names on their injury report: OLB Vic Beasley Jr. and CB Adoree' Jackson are both out with knee injuries while backup RB Darrynton Evans has been ruled out with a hamstring injury. First team WR Corey Davis is also listed as questionable, but he did practice on Friday and Saturday.
When these teams met last season, the Titans got shut out in a 16-0 loss that became pivotal in their season as that was the last game Marcus Mariota started. Ryan Tannehill replaced Mariota in that game, but despite completing 13-of-16 passes for 144 yards, Tannehill couldn't get the Titans into the end zone.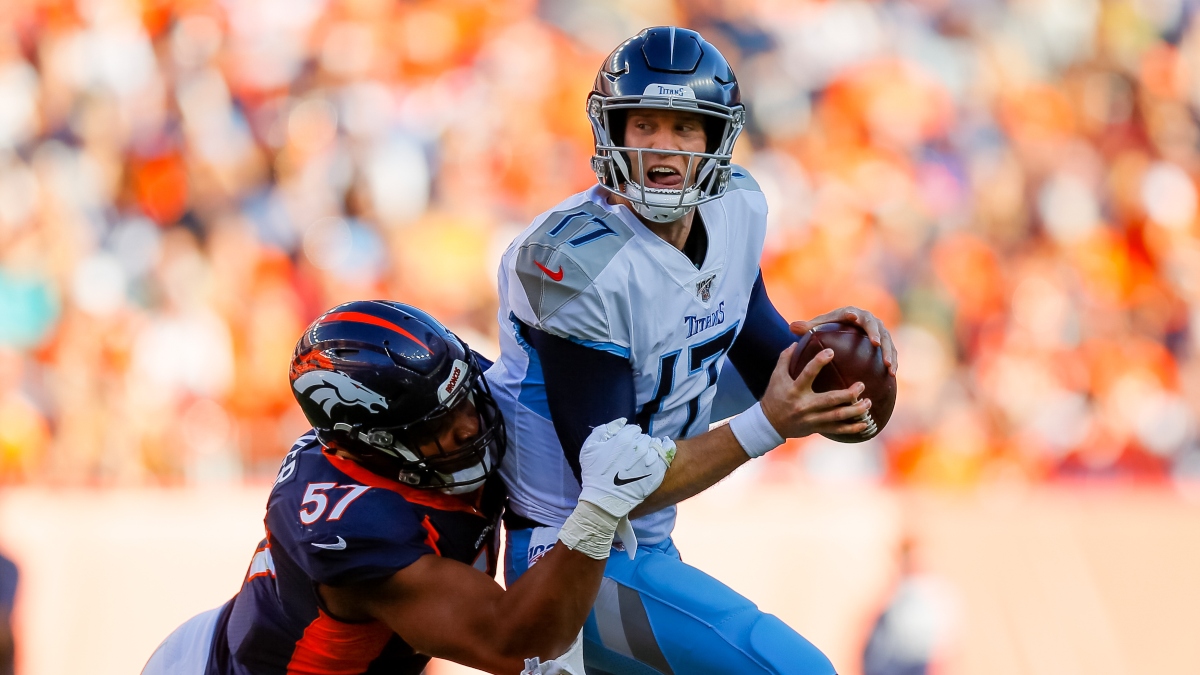 The Titans will field relatively the same team as they did last season as they look to run it back. They didn't add any notable skill position players in free agency or the draft. Their biggest acquisition came nine days ago when they picked up Jadeveon Clowney, but if you asked me, there's a reason Clowney was without a team for so long. He'll still need to get up to speed with the Titans defense and he's already behind schedule after not participating in their training camp.
The Broncos have been a bugaboo for Derrick Henry. He's faced them twice in his career and averaged 2.5 yards per carry, far below his career average of 4.8. Jurrell Casey switching teams could provide even more insights on how to contain Henry.
The Broncos opened as 2-point favorites back in June and now they've flipped to a +3 underdog based on recent injuries, but there's still enough there for the Broncos to be competitive in this game. I'll take the points here and will also look to sprinkle a little on the +150 moneyline at DraftKings.
Note that the Titans are 0-4 against the spread and straight up when facing the Broncos in Denver.

[Bet now at DraftKings and get a $1,000 sign-up bonus.]
Brandon Anderson: Titans -3
This is a very fascinating way to wrap up Week 1 with two of the most unpredictable teams in the league.
When I go through the schedule and predict every game of the season, I mark each game as either a win, a "super win" if I'm especially confident or a toss-up. Tennessee and Denver are tied for my most toss-up games in the league, with eight each. Both feel around league average, but I don't have a good feel for whether they're above or below, in part because Ryan Tannehill and Drew Lock are two of the quarterbacks I feel least certain about heading into the season.
For now, my lean is slightly up on Tennessee and slightly down on Denver, though that down arrow on the Broncos is getting stronger over the last few days. I liked two units best on their roster: Their receivers and their linebackers. Then Von Miller went out for the season, Courtland Sutton sprained his AC joint, and Bradley Chubb remains a question mark for the opener, too. Are those Denver's three best players? They very well might be.
I don't love betting against a home Monday night dog in one of the few places where home-field advantage might still be a thing with the Denver elevation, but the Titans just seem like the better, healthier team. I'll place a small bet on them to win and cover the low line, but I'll put most of my money on Pittsburgh in the earlier game.
I would hold if the spread pushes past -3 and instead look to bet live in-game if the Titans fall a score behind early in what should be a tightly-contested game.
[Bet now at BetMGM and get an INSTANT $500 deposit match.]


Chris Raybon: Titans -3; Titans ML -175
The Broncos were favored at one point, but I wouldn't chalk up the movement to the Broncos losing Von Miller and the Titans signing Jadeveon Clowney; the line was off from the beginning, and simply corrected course as the game drew nearer.
Mike Vrabel's squad has the advantage over Vic Fangio's in nearly every facet, and one of Denver biggest potential edges — home-field — could be suppressed due to lack of fans, and due to the fact that Tennessee's best player (Derrick Henry) arguably qualifies as the least likely player in the league to get tired due to elevation.
I initially bet the Titans way back when they were +3 dogs and added in some Titans moneyline after the Miller news (at -126), but I would bet Tennessee at -3 or better on the spread and -180 or better on the moneyline. If Courtland Sutton (shoulder) is ultimately ruled out, I would increase the moneyline threshold to -200.
Additionally, I will be looking to live bet the Titans at better odds than close if the Broncos get out to a small lead — say a field goal or a 7-3 lead — knowing that Denver's odds of winning would drop considerably if Tennessee were to tie the game or take the lead.
You can read my full breakdown of the game here.
[Bet now at DraftKings and get a $1,000 sign-up bonus.]
---
Steelers vs. Giants Picks
Click on a pick to skip ahead to that analysis.
Chris Raybon: Steelers -6; Steelers ML -260
When you think of a team that went 8-8 — including 8-6 without its starting quarterback — you wouldn't expect that team to finish second-to-last in schedule-adjusted offensive efficiency. Alas, the Steelers did just that after Ben Roethlisberger went down in Week 2.
Well now Roethlisberger is back, James Conner is healthy after missing six games last season and the Steelers are in a get-right spot against a Giants defense that finished 28th in Football Outsiders' DVOA while letting up 28.2 points per game last season (third-most in the NFL).
The Steelers also return all the key pieces of a defense that posted top-three efficiency vs. both the run and pass while holding opponents to 18.9 points per game (fifth-best in the NFL). And while the Steelers may eventually regress from their league-leading 38 forced turnovers on defense in 2019, this may not be the week: Giants QB Daniel Jones threw 13 picks and lost 10 fumbles in 12 starts last season.
The Steelers have a sizable advantage on both sides of the ball. They're also no stranger to the bright lights, as Mike Tomlin is 16-2 straight up all-time on Monday Night Football.
I would bet the Steelers up to -6 and their moneyline up to -260.
[Bet $25 on Steelers-Giants at Parx and win $100 if Pittsburgh scores a TD.]

Brandon Anderson: Steelers -6
You've been reading the same thing as me all August: Continuity, continuity, continuity.
With no preseason action or intrasquad games, continuity will be huge in this weird pandemic season, especially early on. We're looking for teams that know how to play together, for lines that are in rhythm, for coaches who are in sync with their quarterbacks.
On one side of the field, you've got a sophomore quarterback (Daniel Jones) who didn't get a real offseason adjusting to a new offensive coordinator and system (Pat Shurmur) under a new head coach in his first game ever leading the team (Joe Judge). Not much Giants continuity.
On the other side of the field, it's Ben Roethlisberger returning for his 17th season, all of them under Mike Tomlin, one of three Steelers coaches since 1969. The Steelers return an excellent line and both unit coordinators, plus most of the key members from last season's elite defense.
It's not just continuity of course; the Steelers are also a way, way better team — in fact, Pittsburgh is my pick to be this year's sleeper Super Bowl contender. The Giants, meanwhile, have one of the worst pass defenses in the league and should get torn apart by Big Ben if that elbow is really healthy and ready to go. If this game happened a month from now, I think the Steelers would be double-digit favorites.
This is my favorite spot on the board in Week 1. Just give me the best odds up to -6.5, and you know I'll be throwing this one into a few teasers, too.
How would you rate this article?