Koerner's NFL Power Ratings: Projecting Week 6 Spreads & Over/Unders to Find the Best Bets
Credit:
USA Today Sports. Pictured: Jared Goff, Aaron Rodgers, Case Keenum
Sean Koerner projects spreads and over/unders for every Week 6 NFL game using his power ratings.
He uses these power ratings -- and analysis -- to recommend the best pregame and live bets.
We've got two double-digit favorites. A matchup between one actively tanking team and one that just fired its head coach. And another London game.
Like every week, I'll use projected spreads and over/unders to identify the best bets for Week 6. I've also added one new feature: My projected final scores.
Now let's run through every matchup and identify my favorite picks (including one in-game bet I'm looking to make).
---
Odds as of Wednesday evening and via PointsBet, where Action Network users can access an exclusive promotion to get a 200% deposit match (deposit $50, bet with $150).
---
Giants at Patriots
Current odds: Patriots -17; 40.5
My Projections: Patriots -17; 43
Thursday Night Football
This is the fourth time this season the Patriots are favored by more than two touchdowns. So far, they're 2-1 against the spread in this spot.
Sportsbooks are surely going to be rooting for the Giants to cover, but those prospects got tougher when Saquon Barkley, Wayne Gallman, Sterling Shepard and Evan Engram were ruled out — a cluster of injuries that can impact the spread quite a bit. However, a spread as high as -17 is a harder to move off of because it hinges more on how much mercy the Patriots will have in the second half, which can cause a backdoor cover.
These aren't the type of bets I like to take part in — we saw this very effect in Week 3 when Jarrett Stidham came in relief of Tom Brady and threw a pick-six that allowed the Jets to backdoor cover.
After opening at 46.5, this total has fallen all the way to 41 due to windy and potentially wet conditions.
Editor's note: Koerner initially liked the over, but this blurb has since been updated to reflect the weather.
My Projected Point Totals: Patriots 30, Giants 13
Panthers vs. Buccaneers
Current odds: Panthers -2.5; 47.5
My Projections: Panthers -1.5; 48.5
The Buccaneers opened as slight 1-point favorites here, but to no one's surprise, the line quickly moved in favor of the Panthers up to the 2-2.5 range — much more closer to where I pegged this line to settle.
Looking beyond my power ratings, there could be even more value on the Panthers. The Buccaneers now three weeks into their massive road trip; they don't play in Tampa again until Week 10. They started this road trip in LA, then New Orleans and now now they're overseas in London. This type of travel is going to catch up with them as soon as this week.
Additionally, Carolina is very much a run funnel defense. The Panthers have limited Jared Goff, Kyler Murray and Deshaun Watson to sub-200 passing yards and even limited Jameis Winston to 208 in Week 2. Despite being more vulnerable to opposing rush offenses, that really isn't the Bucs' strength, which limits their ability to take advantage of this matchup.
On the other side of the ball, the Bucs are very much a pass funnel defense. The Panthers are more equipped to attack that weakness, and instead of running Christian McCaffrey into the teeth of the strong Tampa Bay run defense, they can use him more in the passing game. They failed to do this in Week 2 and likely won't repeat that same mistake here.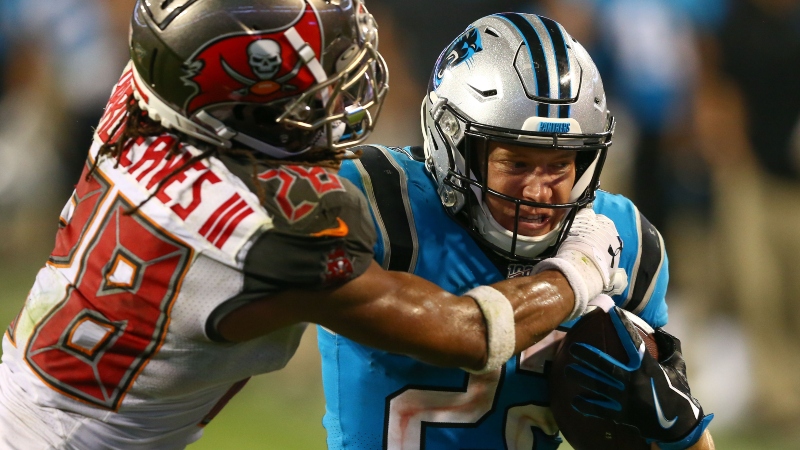 I'd lean on Panthers at anything sub-3.
My Projected Point Totals: Panthers 25, Buccaneers 23.5
Bengals at Ravens
Current odds: Ravens -11; 48
My Projections: Ravens -11; 47.5
I'm right in line with market here, so I don't see any value.
My Projected Point Totals: Ravens 29.3, Bengals 18.3
Seahawks at Browns
Current odds: Seahawks -2; 47
My Projections: Seahawks -0.5; 46
This seems like the ultimate trap game. The Seahawks beat a good Rams team on Thursday Night Football then the Browns were blown out on Monday Night Football. Primetime games can have a bigger impact on how the public perceives certain teams because more people watch them.
There was nothing positive to take away from the Browns' performance — there are no metrics that you can point to and say they're actually better than the Seahawks.
To back the Browns here, you have to believe their roster and coaching are better than what we've seen to date. I happen to be in that camp, and I specifically pointed to the Browns' tough schedule to start the year could make them a great buy-low candidate near mid-season. This is a spot I think we can cash in on that plan.
The market is getting flooded with Seahawks money as 81% of tickets are on them as of writing (see live public betting data here). It could force books to push the line up to 3, so we need to wait and see if it reaches that key number. We also need to see if starting cornerbacks Denzel Ward and Greedy Williams are able to return this week. If the Browns are closer to full strength, I'll like them even more in what will be a prime bounce back spot.
My Projected Point Totals: Seahawks 23.3, Browns 22.8
Texans at Chiefs
Current odds: Chiefs -4.5; 55
My Projections: Chiefs -6; 55.5
Patrick Mahomes suffered an ankle injury during the Chiefs' loss to the Colts. It clearly limited him, so we'll need to monitor it before betting this game.
Right now I have the line set as if he's 100%. Any indications that the ankle could be a concern would make me lay off the -4.5 line. While he doesn't rely on his legs to scramble much, he does use his mobility to escape pressure, keep the play alive and find a receiver for a huge play. Any limitations to his mobility could affect how much value he brings to this offense.
My Projected Point Totals: Chiefs 30.8, Texans 24.8
Saints at Jaguars
Current odds: Jaguars -1.5; 44.5
My Projections: Jaguars -1; 44
The Saints are 3-0 straight up and against the spread ever since Teddy Bridgewater replaced the injured Drew Brees. Bridgewater certainly deserves some credit for keeping the Saints alive while Brees recovers from thumb surgery. However, a lot of it is thanks to the Saints' coaching tailoring this offense to get the ball in the hands of Alvin Kamara and Michael Thomas.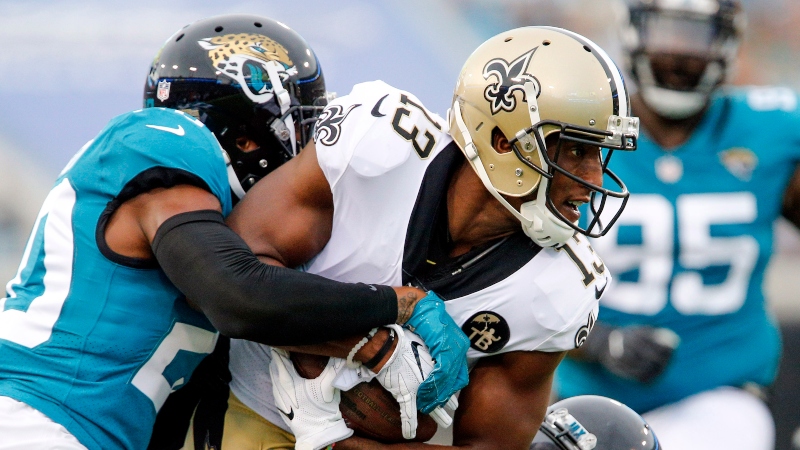 The Jaguars should be able to figure out that simple blueprint this week and could force Bridgewater to make higher risk throws. They desperately need Jalen Ramsey to return to possibly slow Thomas down. The public is likely treating the Saints as the favorites — they're attracting 76% of the tickets — while the sharps are making the Jags the favorites with 60% of the money.
Right now this line is right where I have it pegged.
My Projected Point Totals: Jaguars 22.5, Saints 21.5
Eagles at Vikings
Current odds: Vikings -3; 44
My Projections: Vikings -3; 43.5
The Vikings' main goal each week is to establish the run. They've enabled Dalvin Cook to have a breakout year, which has caused their star wide receivers to complain to the press.
But what does the Eagles defense do best? Stop the run.
Anytime we see a funnel defense that's set up to stop the opposing offense, it creates hidden value. In this case, there isn't much value in the pre-game lines as I'm right in line with them, but this sets up a potential in-game betting plan: If the Vikings happen to get an early lead of seven or more points, it's going to set up a scoring environment that favors the under. If the Eagles get up early, it'll set up a scoring environment that favors the over.
My Projected Point Totals: Vikings 23.3, Eagles 20.3
Redskins at Dolphins
Current odds: Redskins -3.5; 41
My Projections: Redskins -3.5; 42.5
In a matchup between winless teams, I'm going to avoid taking a side.
Case Keenum will start for the Redskins, which I had set the line at -3.5 if he or Dwayne Haskins were to draw his first start. If they let Colt McCoy get another start, I would've been more inclined to set this at -2.5.
I would lean toward the over here as the Redskins have been willing to let Keenum air it out. He's topped 300 yards in two of his three full games this season. However, with new interim head coach Bill Callahan stating that he believes the Redskins didn't run the ball as much as they should've under Jay Gruden, we could see a much more conservative offense that leans on Adrian Peterson in what should be a close game. As a result, I'm going to pass on the total as well.
My Projected Point Totals: Redskins 23, Dolphins 19.5
49ers at Rams
Current odds: Rams -3; 50.5
My Projections: Rams -3; 49
The ugly display by the Browns offense on MNF was also a display of how improved this 49ers defense is — they're stout against the run and pass, which is a big reason I'm showing value on the under here.
The line opened right at 49, but has been bet up to 50.5 with 71% of tickets and 88% of money pouring in on the over, so there's no reason for the line to stop now. Fifty-one is a pretty key number, so it's worth seeing if it reaches that or 51.5, then take the under. That's probably when sharps will start to show resistance and not let it get much higher.
My Projected Point Totals: Rams 26, 49ers 23
Falcons at Cardinals
Current odds: Falcons -2.5; 51.5
My Projections: Falcons -1.5; 53
The Cardinals managed to get their first win of 2019 in Cincinnati. Now they get a 1-4 Falcons team that is reeling with secondary and offensive line issues that are likely to continue. The public is backing the Falcons big here based on their public perception, but it's worth noting that Matt Ryan is 4-15 against the spread on the road over the past three seasons.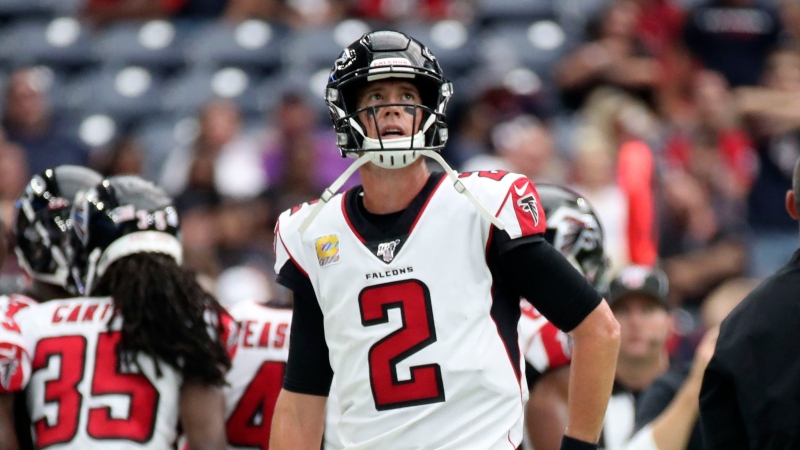 There was some odd line movement on Monday in which, despite getting 78% of the tickets, the line dropped from -2.5 to -1.5 and then to -1 over the first few hours.
It's since climbed all the way up to -2.5 with enough juice that it's likely going to hit -3 eventually. I'm guessing certain sharp bettors wanted to lock in the Cardinals while they were getting points — almost as if they were anticipating that the Cardinals would eventually be favored here. We're likely to see public money flood in until it hits -3, at which point I think we see the sharps come in hard on the Cardinals again.
My Projected Point Totals: Falcons 27.3, Cardinals 25.8
Cowboys at Jets
Current odds: Cowboys -7; 43
My Projections: Cowboys -7; 43.5
Sam Darold is set to return after a bout with mono, which bumped my Jets rating up by about three points. It's important to remember that the Jets also lost backup Trevor Siemian and were forced to turn to third-stringer Luke Falk. Getting Darnold back, as a result, is going to be a bigger boost to their offense than people realize.
He's also likely not going to be 100% this week, but I'll likely add another point to the Jets power rating once we can confirm that he's fully recovered. Either way, the spread and total match up with mine, so this is a no bet for me.
My Projected Point Totals: Cowboys 25.3, Jets 18.3
Titans at Broncos
Current odds: Browns -2; 39
My Projections: Broncos -2; 39
I'm right in line with market here, so I don't see any value.
My Projected Point Totals: Broncos 20.5, Titans 18.5
Steelers at Chargers
Current odds: Chargers -7; 41
My Projections: Chargers -7; 42
Sunday Night Football
Mason Rudolph (concussion) has been ruled out, which forces the Steelers to start rookie QB Devlin Hodges. In his limited action in Week 5, he didn't appear to be too much of a drop-off from Rudolph. The Steelers will put together a very conservative game plan to limit high-risk throws and hope their defense can keep them in the game.
On the other side of the ball, the injuries keep piling up for the Chargers as center Mike Pouncey was just placed on Injured Reserve.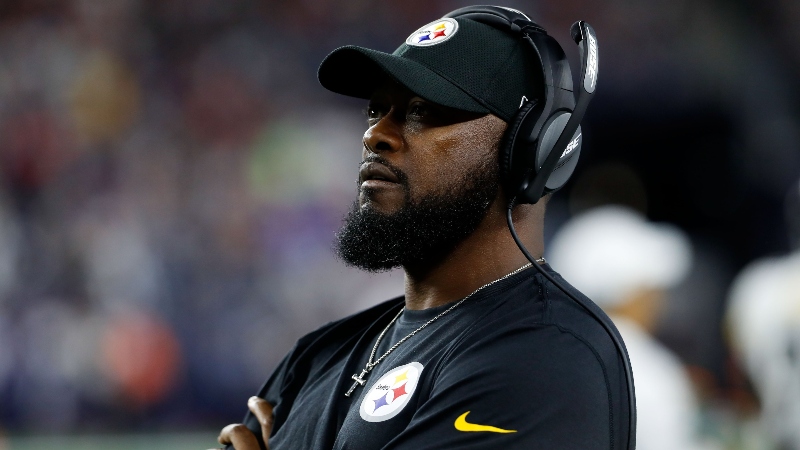 After last week's cover, Mike Tomlin has now gone 31-17 against the spread as an underdog. Look for this line to potentially reach +7.5, at which point it might be worth nibbling on. I think the drop-off between Rudolph to Hodges will be fairly negligible.
My Projected Point Totals: Chargers 24.5, Steelers 17.5
Lions at Packers
Current odds: Packers -4; 47
My Projections: Packers -5.5; 46.5
Monday Night Football
I factor in the entire context of the previous week's games when adjusting my power ratings. And when it comes to the Packers, we've seen a trend in which they get out to a pretty big lead then let the other team comeback. But that isn't really unique to them — most teams are willing to run the ball more to burn the clock and shorten the game rather than run up the score with big leads.
On the defensive side, the Packers surrender more passes underneath to prevent the big play that can let the other team back in it. As a result, their +26 point differential doesn't illustrate just how dominant they've been this year. They offer some value at -4, but the line keeps moving down from the -6.5 opener. It's worth seeing if it can fall to -3.5 or even -3 before taking them.
My Projected Point Totals: Packers 26, Lions 20.5
How would you rate this article?