Koerner's Week 6 Fantasy Football Tiers: Ranking Every QB, RB, WR, TE, K, More
Credit:
USA TODAY Sports. Pictured: Texans WR DeAndre Hopkins (10), Packers QB Aaron Rodgers (12), Saints RB Alvin Kamara (41).
Sean Koerner sorts his Week 6 fantasy football rankings into tiers to help perfect your lineup decisions.
He digs deep into every position below -- quarterback, running back, wide receiver, tight end, defense and kicker.
We're coming off another week of massive performances, including two 200-yard receiving games from Will Fuller (14-217-3) and Amari Cooper (11-226-1), and a dominant passing performance from Deshaun Watson (28-of-33, 426 yards, five touchdowns).
So, which players should you be buying and selling in Week 6?
Let's dive into my Tiers — a window into how I'm approaching the week. As always, check out this piece for my most up-to-date rankings.
And if you're looking for streaming advice, you can find my favorite streamers here.
---
Go To: QB | RB | WR | TE | K | DEF
---
Week 6 Fantasy Football Tiers
Quarterbacks
Tier 1
Patrick Mahomes (vs. HOU)
Lamar Jackson (vs. CIN)
Mahomes tweaked his ankle in the Chiefs' loss to the Colts, so we'll need to monitor his status this week. While we don't bank on his rushing stats to fuel his fantasy value, his ability to move in and out of the pocket to keep the play alive is one of his many strengths. A lingering ankle injury could hinder that.
Either way, I would take a one-legged Mahomes over just about any other quarterback, so he remains my QB1 this week.
Tier 2
Deshaun Watson (@ KC)
Matt Ryan (@ ARI)
Dak Prescott (@ NYJ)
Tom Brady (vs. NYG)
The high-end QB1 tier is loaded with the optimal high floor/ceiling combos.
Brady's ceiling took a bit of a hit with the Giants ruling out Saquon Barkley, Wayne Gallman, Sterling Shepard and Evan Engram for Thursday night. The Giants offense won't be able to put up enough of a fight for Brady to keep his foot on the gas in what's arguably the easiest passing matchup on paper.
Tier 3
Kyler Murray (vs. ATL)
Russell Wilson (@ CLE)
Murray made up for a scoreless game through the air with a massive 10/93/1 game on the ground in the Cardinals' win over the Bengals. We've yet to see a true ceiling game for him, so it's smart to stick with him while he displays a fairly safe weekly floor.
He has the Falcons then Giants up next, so we could see a true ceiling game from him soon. Christian Kirk's potential return this week will only boost the odds of that happening.
Tier 4
Aaron Rodgers (vs. DET)
Jared Goff (vs. SF)

Right now I'm assuming both Davante Adams and Brandin Cooks will be able to suit up. If either were to be ruled out, it would likely bump these quarterbacks down a tier (more so for Rodgers).
Rodgers has been on the wrong end of touchdown luck as the Packers have been feeding their running backs near the goal line. Eventually the tides will turn and some will turn into Rodgers touchdown passes near the goal line. He seems like a decent buy-low candidate right now.
Tier 5
Jameis Winston (vs. CAR)
Gardner Minshew (vs. NO)
I admittedly took too long to raise Minshew to QB1/2 streamer status, but that's exactly where I have him this week. Still available in roughly 75% of leagues, he's my top Week 6 streamer play at quarterback. His ability to move around the pocket to buy time and, if needed, scramble for a decent pick up enhances his weekly outlook.
The connection with DJ Chark appears to be the real deal and I'm not so sure when Nick Foles returns from the IR that the Jaguars necessarily just hand him the keys. Another reason Minshew's value has spiked lately is the absence of Jalen Ramsey, which has exposed the Jags defense a bit so opposing teams can move the ball effectively, forcing the Jacksonville offense to be more aggressive.
Tier 6
Jimmy Garoppolo (@ LAR)
Baker Mayfield (vs. SEA)
Philip Rivers (vs. PIT)
Kirk Cousins (vs. PHI)
Kyle Allen (@ TB)
Carson Wentz (@ MIN)
Dwayne Haskins (@ MIA)
Matthew Stafford (@ GB)
Teddy Bridgewater (@ JAX)
This week's sit/start tier is massive.
Mayfield flopped on Monday Night Football and showed zero signs of a possible turnaround any time soon. I happen to think this is a good bounce-back spot for him at home against the Seahawks. If you happened to spend high draft capital to get him and have no other options, I'd urge you to just roll him back out there this week.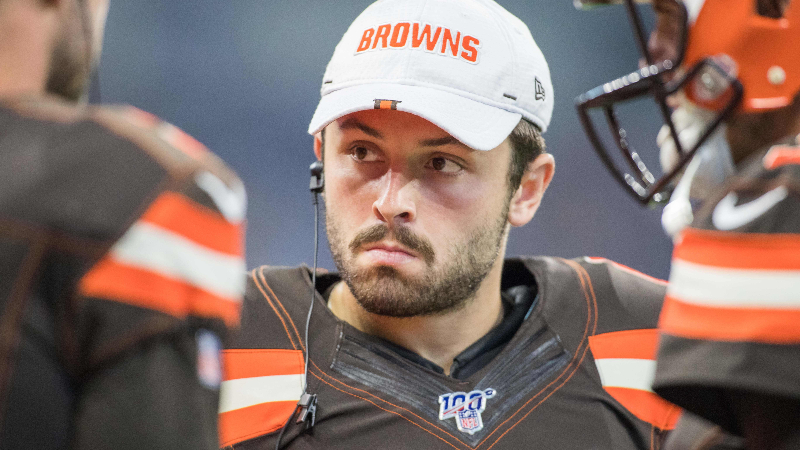 Cousins had a huge day against the Giants in what I speculated would be a squeaky wheel game. Now he gets another matchup best attacked through the air against the Eagles, so we could see another useful game from him this week.
On the other side of the ball, Wentz is a sit for me. After back-to-back sub-200 passing yard games, Wentz enters a brutal stretch over the next four weeks: at Minnesota, at Dallas, at Buffalo and vs. Chicago. The Eagles' projected team total this week is only 1.5 points higher than the Dolphins.
Finding a one-week rental (like Minshew) is the smart play this week.
I'm only assuming the new head coach in Washington decides to start Haskins, but as of writing, there's no word on who will start against the Dolphins.
Tier 7
Andy Dalton (@ BAL)
Marcus Mariota (@ DEN)
Joe Flacco (vs. TEN)
Any one of these quarterbacks can put up a useful score from time to time. It's best to not try to guess when that will be and should be off your radar this week.
Tier 8
Sam Darnold (vs. DAL)
Josh Rosen (vs. WAS)
Darnold's expected return is much more of a boost to Jets' skill players as a whole than it is for him in any league or format.
Rosen gets a fairly easy matchup against the Redskins in what I'm calling the Toilet Bowl. He's another quarterback who hopefully you aren't forced to use this week.

Tier 9
Devlin Hodges (@ LAC)
Daniel Jones (@ NE)
Jones could return to the QB1/2 streaming discussion at some point, but he's my lowest ranked QB for Week 6. With nearly every skill player on the Giants offense ruled out for their road game against the Patriots, it's a must-fade week for Jones.
Part of me hopes the Giants use the potential garbage time in the second half to send Eli Manning out there and troll Patriots fans a bit.
Running Backs
Tier 1
Christian McCaffrey (@ TB)
Fantasy football's No. 1 player had a massive Week 5 performance with 44.7 points in half PPR. The most crazy thing about that game? It wasn't even the top score of the week!
Aaron Jones ended up topping it with a four-touchdown game against the Cowboys. Despite the tougher matchup against a Tampa Bay defense that shut him down just a couple weeks ago, CMC is by far my No. 1 back this week.
Tier 2
Ezekiel Elliott (@ NYJ)
Dalvin Cook (vs. PHI)
Alvin Kamara (@ JAX)
Cook has a pretty tough matchup against an Eagles defense that has shut down every back it's faced this season. It's very much a fade matchup, but based on talent, I'm still treating Cook as an elite RB1 this week.
Tier 3
Nick Chubb (vs. SEA)
Leonard Fournette (vs. NO)
Aaron Jones (vs. DET)
Le'Veon Bell (vs. DAL)
David Johnson (vs. ATL)
With Jamaal Williams out, there was some belief that the Packers would have rookie Dexter Williams take over his role and possibly prevent Jones from becoming a true workhorse back. But the Packers didn't even have Dexter active for Week 5 and unleashed Jones in a massive 26-touch, four-touchdown performance.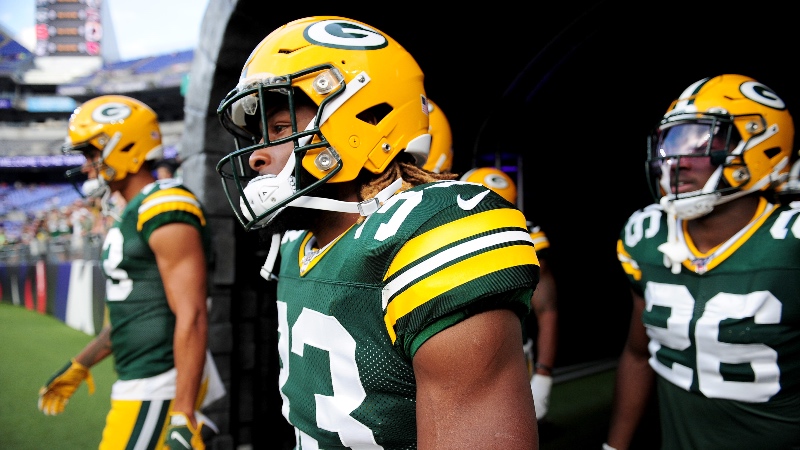 We have to wonder if this could be a turning point similar to one Matt LaFleur had last year when he decided to make Derrick Henry a true workhorse back. The window to buy low on Jones has slammed shut.
Tier 4
Todd Gurley (vs. SF)
Kerryon Johnson (@ GB)
James Conner (@ LAC)
Mark Ingram (vs. CIN)
Chris Carson (@ CLE)
Melvin Gordon (vs. PIT)
I was banding the table all last week saying to sell high on Ingram considering his touchdown rate was unsustainable. Sure enough he managed to get yet another goal-line score. He put up just 49 total scrimmage yards, so we need to realize that the easy score bailed out what would have been a dud game.
He still has competition from Lamar Jackson and even Gus Edwards for touchdown shares around the goal-line, so I'm sticking with my rest-of-season prediction of about five touchdowns for Ingram.
He has a great matchup this week, so I would say roll with him as a low-end RB1 play, hope he goes off then try to sell high for someone that views him as a solid RB1. I view him as more of a solid RB2 from Week 7 on.
Tier 5
Joe Mixon (@ BAL)
Derrick Henry (@ DEN)
Austin Ekeler (vs. PIT)
Phillip Lindsay (vs. TEN)
Devonta Freeman (@ ARI)
Sony Michel (vs. NYG)
Ekeler will see his value drop over the next couple games as Melvin Gordon re-inherits his workhorse role. This could actually be a good time to sell-high on Ekeler, who just dropped a ridiculous 15/86/0 receiving line, benefitting a great deal from the Chargers trailing early and Gordon being eased in with 46% of the snaps.
This week we could see Ekeler even more limited in what should be a positive game script with Gordon seeing upwards of 70% of the snaps.
Tier 6
Kenyan Drake (vs. WAS)
Damien Williams (vs. HOU)
Jordan Howard (@ MIN)
James White (vs. NYG)
If there were ever a week to treat Drake as a low-end RB2, it would be this week. The Dolphins have yet to be in a competitive game this season. Drake has been their workhorse back as long as the game has stayed competitive, but he often gave way to backups Ballage and Walton late in the second half of games.
The Toilet Bowl should be a pretty close game, and Drake has the upside of playing the entire game as the workhorse back. As a result, he could surprise people and break a huge play or two against a vulnerable Redskins defense.
Tier 7
Royce Freeman (vs. TEN)
Tevin Coleman (@ LAR)
Carlos Hyde (@ KC)
Adrian Peterson (@ MIA)
One winner of the Jay Gruden firing could be Peterson. Interim head coach Bill Callahan stated that he thought the team didn't run the ball enough under Gruden.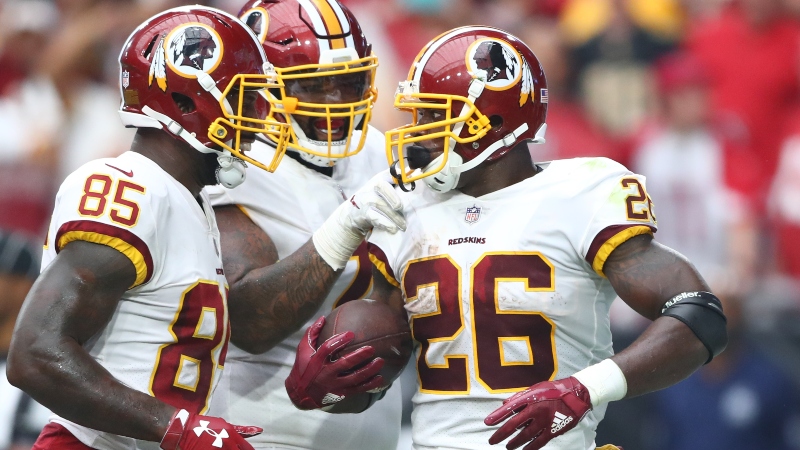 Not only that, but we have a matchup in which the Redskins are 3.5-point favorites over the Dolphins. This is a rare matchup where AP will be able to benefit from a positive game script. He's in-play as a Flex play in most formats. It would be wise to sell high if he has a solid game this week.
Tier 8
Miles Sanders (@ MIN)
Matt Breida (@ LAR)
Jonathan Hilliman (@ NE)
LeSean McCoy (vs. HOU)
Ronald Jones (vs. CAR)
Chris Thompson (@ MIA)
Ito Smith (@ ARI)
The Giants likely have no choice but to start Hilliman as Barkley and Gallman are already ruled out for Thursday night. This is a brutal matchup, but if you're in a pickle at running back, you could do much worse than picking up a starting running back for a one-week rental at almost zero cost.
On paper, Breida's value has taken a bit of a hit with Tevin Coleman's return and fullback Kyle Juszczyk expected to miss four to six weeks. But he's such a dynamic back who doesn't need many touches to put up great numbers, making it nearly impossible to bench him this week. I wonder if this is simply a great time to sell high on him to someone in need of a running back.
Tier 9
Duke Johnson Jr. (@ KC)
Peyton Barber (vs. CAR)
Johnson's value has hit a low point as the Texans clearly view Hyde as their workhorse. This could be a matchup where the Texans are playing from behind and in an attempt to keep up with the Chiefs run more packages with Duke out there. He's a potential leap-of-faith Flex play in PPR formats this week.
Tier 10

Jamaal Williams (vs. DET)
Rex Burkhead (vs. NYG)
Gus Edwards (vs. CIN)
Chase Edmonds (vs. ATL)
Rashaad Penny (@ CLE)
Giovani Bernard (@ BAL)
Wide Receivers
Tier 1
Julio Jones (@ ARI)
Michael Thomas (@ JAX)
DeAndre Hopkins (@ KC)
Keenan Allen (vs. PIT)
We're due for eruption games from Jones and Hopkins, and both are in prime spots this week to do just that. The window to potentially buy low on Hopkins could slam shut after this week.
Tier 2
Chris Godwin (vs. CAR)
Odell Beckham (vs. SEA)
Amari Cooper (@ NYJ)
Cooper Kupp (vs. SF)
Godwin has somehow shattered what were already lofty expectations heading into 2019. He's developed into an every-week WR1.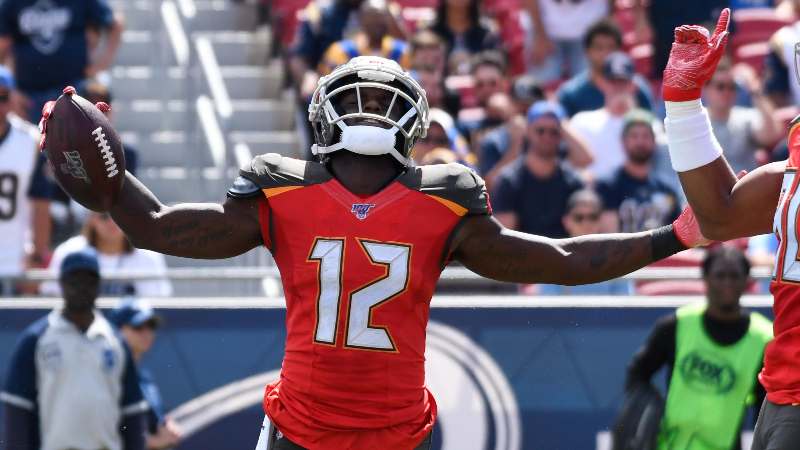 If there was ever a time to buy low on Beckham, it would be this week after he and the Browns bombed. They'll eventually break out of this funk and an impatient OBJ owner could be willing to cut bait right now for the right offer.
Tier 3
Adam Thielen (vs. PHI)
Julian Edelman (vs. NYG)
Mike Evans (vs. CAR)
Tyler Boyd (@ BAL)
Tyler Lockett (@ CLE)
Thielen had his squeaky wheel game and there's reason to believe it could continue against an Eagles defense that's best attacked through the air.
Evans put up a goose egg against Marshon Lattimore and the Saints. I think it's important to remember that his role in the Bucs offense could make him more of a boom/bust option than we realize. Godwin is the much more stable pass catcher in this offense and has more rest-of-season value than Evans as a result.
Tier 4
Larry Fitzgerald (vs. ATL)
Kenny Golladay (@ GB)
Stefon Diggs (vs. PHI)
Josh Gordon (vs. NYG)
Will Fuller (@ KC)
D.J. Chark (vs. NO)
Robert Woods (vs. SF)
Marquise Brown (vs. CIN)
Brandin Cooks (vs. SF)
Davante Adams (vs. DET)
D.J. Moore (@ TB)
Calvin Ridley (@ ARI)
Sammy Watkins (vs. HOU)
Thielen had a huge impact last week, but we could see Diggs get the treatment this week.
Fuller, meanwhile, had his eruption game with a massive 14/217/3 line last week. It was long overdue, but we have to remember his boom/bust nature could mean he comes crashing down to Earth against the Chiefs if he doesn't connect on a couple of deep balls from Watson. This week's shootout potential makes Fuller a low-end WR2 option.
Cooks and Adams are game-time decisions, so be sure to check our rankings once we know their official status as those will have a ripple effect for their teammates.
Tier 5
Alshon Jeffery (@ MIN)
Jarvis Landry (vs. SEA)
Juju Smith-Schuster (@ LAC)
Emmanuel Sanders (vs. TEN)
Christian Kirk (vs. ATL)
Courtland Sutton (vs. TEN)
Marvin Jones (@ GB)
Curtis Samuel (@ TB)
Mike Williams (vs. PIT)
Terry McLaurin (@ MIA)
Smith-Schuster is now down to his third-string quarterback under center. It's another hit to his fantasy value and there's a good chance you could sell high on him after a solid 7/75/1 outing.
There's only so much he'll be able to do in this offense going forward, so you should opt to get a potential high-mid WR2 in return for him if you can.
McLaurin, meanwhile, would benefit from a more stable quarterback situation if the Redskins decide to move forward with Haskins as their starter. The two should have instant chemistry as they were college teammates at Ohio State. And what better way to kick things off than against the Dolphins?
Tier 6
Michael Gallup (@ NYJ)
Marquez Valdes-Scantling (vs. DET)
Demarcus Robinson (vs. HOU)
Mecole Hardman (vs. HOU)
Dede Westbrook (vs. NO)
Mohamed Sanu (@ ARI)
Gallup came back from his two-week absence with a bang, dropping a 7/113/1 on the Pack. He's back into the WR2/3 discussion going forward.
MVS was unable to capitalize on Adams' absence with a dreadful 1/18/0 line last week, but there's no reason to drop him as he still has WR2/3 upside for the rest of the season. He might be better treated as a bench stash until he ultimately gets it together.
With Tyreek Hill's return apparently imminent, the value of both Chiefs wide receivers in this tier is about to take a hit. This could be the last week we can bank on Robinson and Hardman as WR3/Flex plays, so if you're deep enough to have either on your bench this week, it might make sense to offer one up to a receiver-needy team.
Tier 7
Golden Tate (@ NE)
Robby Anderson (vs. DAL)
Desean Jackson (@ MIN)
D.K. Metcalf (@ CLE)
Preston Williams (vs. WAS)
With the Giants ruling out nearly every skill player, Tate could be a target monster on Thursday Night Football. He's a PPR-only emergency Flex play this week.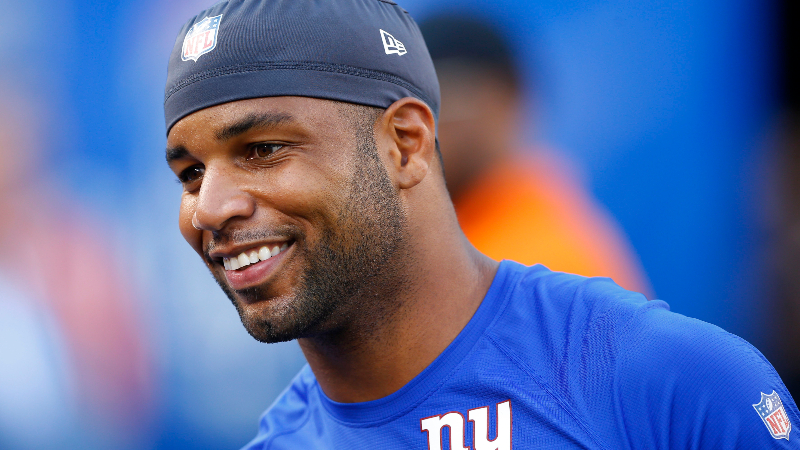 Anderson should get a nice boost with Darnold back. However, with Chris Herndon due back from suspension and Demaryius Thomas emerging as the potential No. 2 receiver, Robby has much more competition than years past. Right now he's more of a bench stash than someone I trust in my lineup.
Tier 8
Auden Tate (@ BAL)
DeVante Parker (vs. WAS)
Marquise Goodwin (@ LAR)
Demaryius Thomas (vs. DAL)
Darius Slayton (@ NE)
Danny Amendola (@ GB)
Willie Snead (vs. CIN)
Diontae Johnson (@ LAC)
Corey Davis (@ DEN)
Albert Wilson (vs. WAS)
Randall Cobb (@ NYJ)
Geronimo Allison (vs. DET)
Jamison Crowder (vs. DAL)
Slayton is the top wide receiver flier this week off the waiver wire. He's flashed some of his upside the past couple games. With Shepard and Engram ruled out for Week 6, he will become Jones' No. 2 target in a tough matchup against the Pats.
Bonus Tier
Josh Reynolds

I mentioned Reynolds in the preseason as an ideal receiver bench stash. He'll get inserted into the starting lineup if either Kupp, Cooks or Woods were to ever miss time.
Reynolds is typically a low-end WR3 option when given that opportunity. With Cooks a game-time decision this week, it's important to make sure Reynolds is not available.
It's rare to have a backup player with injury upside to three different players. The chances he has some spot starts rest of season is fairly likely.
---
Tight Ends
Tier 1
Travis Kelce (vs. HOU)
Kelce has left some points on the table this season, but he's still by far my No. 1 tight end and is nearly three full projected points above the next tier.
Tier 2
George Kittle (@ LAR)
Austin Hooper (@ ARI)
Zach Ertz (@ MIN)
Mark Andrews (vs. CIN)
This tier has some added company this week with Hooper, who happens to be the current No. 1 tight end, getting the dream matchup against the Cardinals.
He seems like a lock to keep it rolling this week.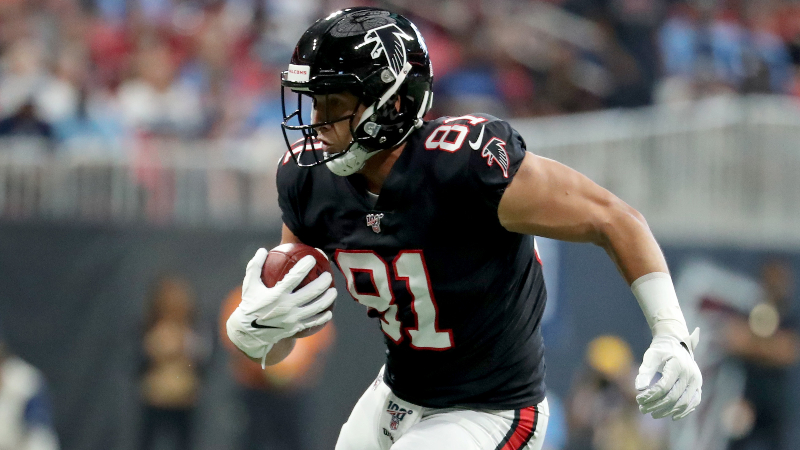 Tier 3
Greg Olsen (@ TB)
Will Dissly (@ CLE)
Olsen goose-egged Week 5 following a 2/5/0 in Week 4. Despite the ice-cold two-week stretch, I think we can expect him to bounce back this week against the Bucs, a team he torched for 6/110/0 just a few weeks ago.
Dissly has become a weekly TE1 ever since the Seahawks traded Nick Vannett over to the Steelers.
Tier 4
Delanie Walker (@ DEN)
Gerald Everett (vs. SF)
Jason Witten (@ NYJ)
Jimmy Graham (vs. DET)
Everett appears to be in the middle of a Year 3 breakout. We can treat him as a low-end TE1 this week to see if he can keep it up. Just realize that he, like all tight ends in this range, could put up a complete dud at a moment's notice.
If Cooks happens to miss Week 6, it could give Everett a boost.
Tier 5
Jared Cook (@ JAX)
OJ Howard (vs. CAR)
Vance McDonald (@ LAC)
Chris Herndon (vs. DAL)
Noah Fant (vs. TEN)
Vernon Davis (@ MIA)
Tyler Eifert (@ BAL)
Most people have given up on Howard and it's very possible he's been dropped in most leagues. But in a week in which we have four teams on a bye, there's a chance you could be in need of streaming a tight end, and I think Howard could be an interesting dice roll.
He's bound to have a big game in the near future, why not gamble on it being this week?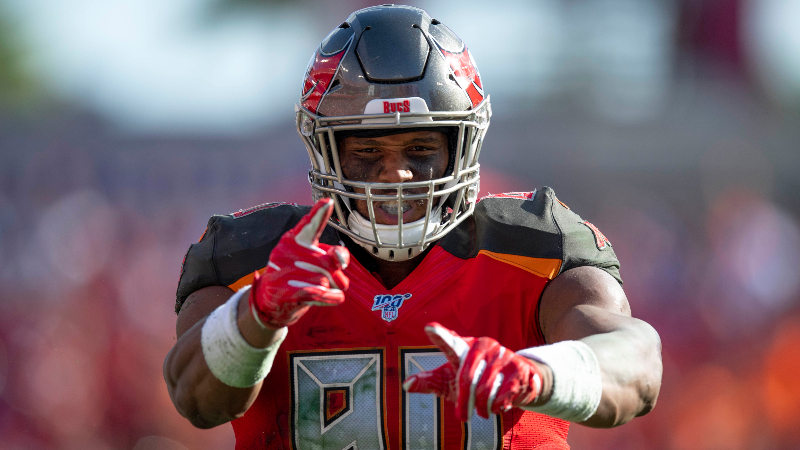 Still, tight ends in this tier have a potential floor of zero, so no tight end is safe.
Herndon returns from his four-game suspension, so I would take a flier on him if I'm in need of a long-term tight end solution. We don't know how much the Jets intend on playing him — he could be eased in his first game back, so I would lean toward being cautious and leaving him on the bench.

Tier 6
Hayden Hurst (vs. CIN)
Tyler Higbee (vs. SF)
Darren Fells (@ KC)
Jesse James (@ GB)
Rhett Ellison (@ NE)
Kicker
Tier 1
Justin Tucker (vs. CIN)
Harrison Butker (vs. HOU)
Mike Nugent (vs. NYG)
Matt Bryant (@ ARI)
Greg Zuerlein (vs. SF)
Tier 2
Ka'imi Fairbairn (@ KC)
Brett Maher (@ NYJ)
Mason Crosby (vs. DET)
Joey Slye (@ TB)
Dan Bailey (vs. PHI)
Wil Lutz (@ JAX)
Robbie Gould (@ LAR)
Josh Lambo (vs. NO)
Zane Gonzalez (vs. ATL)
Dustin Hopkins (@ MIA)
Tier 3
Matt Gay (vs. CAR)
Austin Seibert (vs. SEA)
Jason Myers (@ CLE)
Chase McLaughlin (vs. PIT)
Matt Prater (@ GB)
Jake Elliott (@ MIN)
Brandon McManus (vs. TEN)
Jason Sanders (vs. WAS)
Randy Bullock (@ BAL)
Tier 4
Cody Parkey (@ DEN)
Chris Boswell (@ LAC)
Sam Ficken (vs. DAL)
Aldrick Rosas (@ NE)
---
Defenses
Tier 1
New England Patriots (vs. NYG)
Dallas Cowboys (@ NYJ)
Los Angeles Chargers (vs. PIT)
Tier 2
Washington Redskins (@ MIA)
Baltimore Ravens (vs. CIN)
Denver Broncos (vs. TEN)
Carolina Panthers (@ TB)
Tennessee Titans (@ DEN)
New Orleans Saints (@ JAX)
Tier 3
Cleveland Browns (vs. SEA)
Green Bay Packers (vs. DET)
Kansas City Chiefs (vs. HOU)
Minnesota Vikings (vs. PHI)
Atlanta Falcons (@ ARI)
Miami Dolphins (vs. WAS)
Tier 4
Seattle Seahawks (@ CLE)
Pittsburgh Steelers (@ LAC)
Jacksonville Jaguars (vs. NO)
Philadelphia Eagles (@ MIN)
Tier 5
Arizona Cardinals (vs. ATL)
Tampa Bay Buccaneers (vs. CAR)
Los Angeles Rams (vs. SF)
Detroit Lions (@ GB)
New York Jets (vs. DAL)
Tier 6
San Francisco 49ers (@ LAR)
Houston Texans (@ KC)
Cincinnati Bengals (@ BAL)
New York Giants (@ NE)
How would you rate this article?