NFL Preseason Week 2: Betting Odds & Angles for Bears-Giants, Bills-Panthers, Dolphins-Bucs
Credit:
USA Today Sports. Pictured: Daniel Jones, Peyton Barber, Cam Newton
Ian Hartitz breaks down the betting odds for Friday's NFL Preseason Week 2 matchups.
See his analysis and picks for Bears-Giants, Bills-Panthers and Dolphins-Buccaneers.
We get a three-game slate of preseason football on Friday night. It's only Week 2, so don't expect to see many starters play for more than a quarter or two in most cases. Either way, offenses and defenses will largely rely on simplified schemes.
Let's start with a look at key storylines and actionable betting takeaways for all six teams playing on Friday.
All odds as of Thursday evening.
---
Spread: Panthers -3
Over/Under: 40.5
Kickoff: 7 p.m. ET
Buffalo Bills
There sure isn't anywhere for Josh Allen's passing efficiency to go but up after last season's performance.
Josh Allen's 2018 Stats
Yards per attempt: 6.48 (28th among 29 quarterbacks with at least 10 starts)
QB rating: 67.9 (28th)
Touchdown rate: 3.1% (27th)
Interception rate: 3.75% (29th)
Completion rate: 52.8% (29th)
One of the biggest X-factors in a potential Year 2 leap for Allen is the Bills' offseason additions at wide receiver.
Allen did demonstrate a penchant for taking shots downfield as a rookie, leading all quarterbacks with a 19.7% deep-ball rate (per Pro Football Focus). This bodes well for John Brown's chances at cashing in on some of his offseason hype.
Bills OC Brian Daboll on John Brown

"John's a great pro … And even though John's a little shorter, he has very good vertical speed, but he also has great balance and body control … John has flexibility to play inside and outside." (h/t @SalSports )pic.twitter.com/CcwPksHLwg

— Ian Hartitz (@Ihartitz) August 14, 2019
And then there's Cole Beasley, who gives Allen a reliable underneath option that he simply didn't have a season ago. Beasley (70.9% catch rate) joins Michael Thomas (77%), Adam Humphries (70.4%), Adam Thielen (70.1%) and Tyler Lockett (70.3%) as the only receivers with to catch at least 70% of their targets since 2012 (minimum 100 targets).
The Panthers ran the seventh-most zone coverage in the league last season, so Allen and the other quarterbacks won't have the luxury of defensive backs consistently turning their backs to the football. Friday night thus presents a great first test to see just how improved this passing game will be in 2019.
Carolina Panthers
The Panthers will look to defend home field Friday night with help from their vastly improved front seven. They lost longtime franchise stalwarts Julius Peppers (39) and Thomas Davis (36) to retirement and the Chargers, respectively, but the Panthers managed to add some much needed talent with their additional offseason moves.
Bruce Irvin has played for the Seahawks, Raiders and Falcons over the years and provides pass-rushing depth off of either edge.
Gerald McCoy ripped off six consecutive Pro Bowl appearances from 2012 to 2017, although he wasn't the same level of difference-maker last season.
Brian Burns was the Panthers' 2019 first-round pick and possesses a ridiculous blend of size (6-foot-5 and 249 pounds), speed (4.53-second 40-yard dash) as well as explosiveness (36-inch vertical).
The Panthers ranked 20th in Football Outsiders' adjusted sack rate last season. Their five sacks against the Bears in the first week of the preseason was certainly a step in the right direction, and an improved overall pass rush will only mean good things for talented cornerbacks James Bradberry and Donte Jackson.
Head coach Ron Rivera said he expects starters to get reps on Friday, which would seem to include studs Cam Newton and Luke Kuechly.
I'm riding with the hometown squad in this one.
PICK: Panthers -3
Spread: Giants -2
Over/Under: 42.5
Kickoff: 7:30 p.m. ET
Chicago Bears
The Bears seem poised to rest their key starters for essentially the entire preseason based on popular opinion from various beat writers.
One of the key storylines to watch in the meantime is the progression of some of the defense's young potential studs.
Khalil Mack, Akiem Hicks, Eddie Jackson and Kyle Fuller (rightfully) get most of the praise from the league's top-ranked defense, but the Bears also boast two former top-10 picks who could take the unit to another level with further improvement in 2019.
The Bears selected inside linebacker Roquan Smith with the eighth overall pick in 2018. The former consensus All-American didn't disappoint as a rookie, but anything short of domination from a stud with Smith's combination of instincts and speed (4.51-second 40-yard dash) will inevitably be critiqued. The second-year linebacker already showed signs of growth during the Bears' Week 1 preseason loss to the Panthers.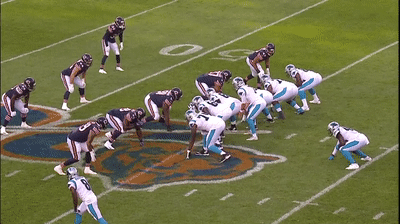 The Bears drafted Leonard Floyd with the ninth overall pick in 2016. Few pass-rushers possess Floyd's ability to bend the edge and get to the quarterback in a hurry, but he's ultimately tallied a modest 15.5 sacks in 38 games while failing to rank among Pro Football Focus' top-50 edge rushers during each of his first three seasons. Floyd should continue to avoid too much attention from opposing offensive lines as long as Mack and Hicks stay healthy, although it's fair to say the clock is ticking on him fulfilling his sky-high potential.
New York Giants
The Daniel Jones era is NOW.
Sure, Christian Hackenberg also drove down the field for a score on his first career preseason drive, but that's neither here nor there.
The word out of Giants camp is that Jones has been much more willing to test the defense downfield compared to Eli Manning. This isn't particularly surprising, although additional reports have suggested that Manning has remained efficient in the short-and-intermediate areas of the field and isn't at risk of losing his starting job anytime soon.
The larger issue for both quarterbacks ahead of both Friday night and Week 1 is their sad excuse for a wide receiver corps. Both Golden Tate (suspension) and Sterling Shepard (fractured thumb) are already compromised, while Corey Coleman (torn ACL) is done for the season. This leaves Bennie Fowler, Cody Latimer and Russell Shepard to fill out three receiver sets. Yuck.
Betting on the Bears backups vs. the Giants isn't for the faint of heart. Still, I have a hard time believing either offense will be very successful for four quarters.
PICK: Under 42.5
Spread: Buccaneers -3
Over/Under: 43
Kickoff: 7:30 p.m. ET
Miami Dolphins
The Dolphins have a number of names at wide receiver that have earned 'truther' status to some extent during their respective careers. DeVante Parker, Kenny Stills and Albert Wilson are expected to start in three receiver sets, but Jakeem Grant, Allen Hurns and Brice Butler have also been involved.
Then we have Preston Williams, who looked like the best of the bunch during the Dolphins' 34-27 win over the Falcons last week.
Williams has great size (6-foot-4 and 211 pounds) and a history of college dominance (96-1,345-14 as a redshirt junior at Colorado State) to overcome a lack of straight-line speed (4.66-second 40-yard dash).
The most important takeaway from Friday night will be the status of the Dolphins' continued quarterback battle between Ryan Fitzpatrick and Josh Rosen. The good news is both signal callers have plenty of capable weapons at their disposal to feel good about their chances of winning the job.
Tampa Bay Buccaneers
The hype surrounding Jameis Winston, Mike Evans and, of course, Chris Godwin can't get much higher. But the status of the Buccaneers' backfield is still up in the air ahead of the team's Week 1 matchup against the 49ers.
Peyton Barber seems to have the lead for now, as he out-snapped Ronald Jones eight-to-four during Winston's 10 snaps last week (per Adam Levitan).
Barber wasn't anyone's idea of an efficient rusher in 2018 (3.7 yards per carry), but does perhaps deserve some slack for the Bucs' consistent pass-first mindset as well as the league's 31st-ranked offensive line in adjusted line yards per rush.
Barker ranked 13th in total broken tackles in 2018, ahead of Alvin Kamara, Todd Gurley, Joe Mixon and David Johnson (among others).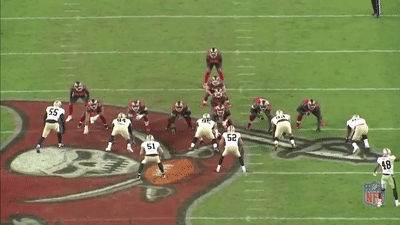 Ultimately, the Buccaneers' continued inability to stop the pass against Pittsburgh makes me side with the visitors in this matchup.
PICK: Dolphins +3
How would you rate this article?