NFL Picks & Predictions: Our Experts' Favorite Bets for Giants-Cowboys, Colts-Chargers
Credit:
USA Today Sports. Pictured: Ezekiel Elliott
Sides. Totals. Eight games. Eleven picks.
See how our staff is betting Sunday's NFL Week 1 slate.
Should you trust the Eagles to cover the biggest spread of the week? Are bettors overreacting to Andrew Luck's retirement? Which teams are our analysts backing in season-opening divisional matchups?
Our staff reveals their 11 favorite bets for Sunday's NFL Week 1 slate.
All odds are as of Friday afternoon and via PointsBet.
Here are all the games our experts will hit on:
Chiefs at Jaguars: 1 p.m. ET
Falcons at Vikings: 1 p.m. ET
Titans at Browns: 1 p.m. ET
Rams at Panthers: 1 p.m. ET
Bills at Jets: 1 p.m. ET
Redskins at Eagles: 1 p.m. ET
Colts at Chargers: 4:05 p.m. ET
Giants at Cowboys: 4:25 p.m. ET
Now let's dig in!
---
Collin Wilson: Jaguars +3.5 vs. Chiefs
Kickoff: 1 p.m. ET
The Jaguars have a legitimate shot at winning the AFC, and Week 1 is their first chance to prove that. The 2018 season was marred with a record of 0-4 in games decided by a field goal or less and 2-6 in games decided by fewer than six points. There's still plenty of defensive retention from a 2017 roster that led New England in the fourth quarter of the AFC Championship.
Blake Bortles exits the roster;  Andy Reid-quarterback Nick Foles enters.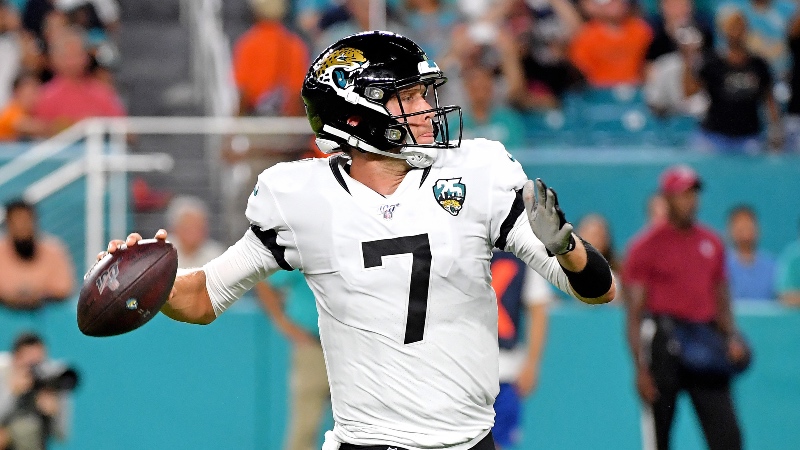 Some will point to Foles having motivation to show up Reid and Kansas City, but the real story is John DeFilippo — the new play-caller for the Jags whose history includes a stint as offensive coordinator for the Super Bowl-winning Eagles, led by none other than Foles.
Regression for Patrick Mahomes is expected after the loss of superior weapons in 2018's run to the AFC title game. Kansas City leaves the frying pan of the midwest for the 90-degree coastal humidity.
Take the Jaguars to win this game outright and for their AFC Championship odds to increase.
Stuckey: Jaguars +3.5 vs. Chiefs
Kickoff: 1 p.m. ET
When these two teams met last year in Arrowhead, the 5-0 Chiefs were 3-point favorites over the Jaguars. If you assume nothing has changed since then, that would imply the Jaguars should be about a 3.5- to 4-point favorite here.
But they opened as a 3.5- to 4-point dog and now sit around 3.5/4. So, what gives?
Well, obviously the Chiefs ended up being much better than many had anticipated and the Jaguars continued to slide for the remainder of the season. But I still think this is an overreaction– remember that season-to-season regression is vicious in the NFL.
The Jaguars were simply not as bad as they looked on the field in 2018 — one year removed from the AFC Championship game.
Last year….
They dealt with atrocious QB play from Bortles
Injuries plagued them throughout the season
They recovered only 39% of fumbles compared to 58% the year prior
Look no further than last season's matchup, which was a microcosm of the Jags' year. It looks like a blowout on paper (31-14 KC win), but Bortles threw four picks (including one returned for a TD) and lost a fumble.
Bortles has since been replaced by Foles in one of the biggest QB upgrades of the offseason. And the Jags are much healthier on defense and in the backfield with Leonard Fournette, who should have plenty of success running against a suspect KC run defense.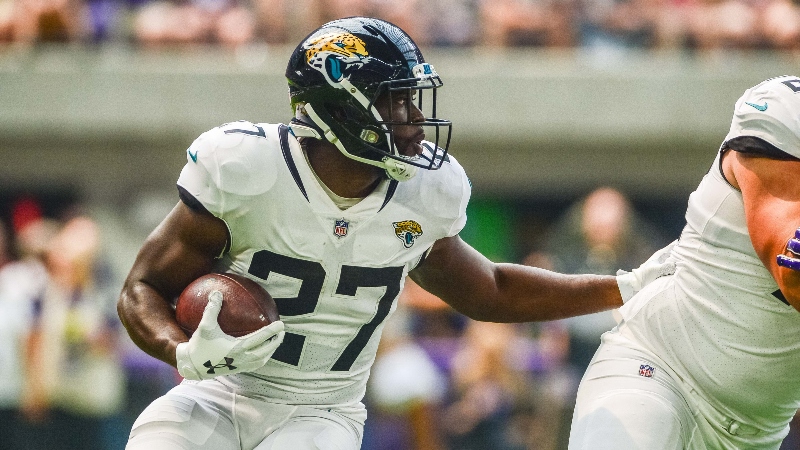 Jacksonville also upgraded in the trenches and has two elite corners who will come in handy against the explosive Chiefs offense. While the Jags do play a ton of Cover 3 and 4 with some man mixed in, Jalen Ramsey will still shadow Hill. Now, there are questions at safety, and Travis Kelce could have a massive day, but this Jags defense can match up with KC.
Reid is excellent with time to prepare (17-3 after a bye) and the Chiefs have excelled in September the past few seasons. KC has also been nails in season openers under Reid, including three straight road wins over eventual playoff teams.
But this number is just an outrageous market overreaction. I'm buying the Jags and have them circled as a potential team to bet throughout September.
Kickoff: 1 p.m. ET
I respect the Falcons, but under head coach Mike Zimmer, the Vikings have had all sorts of edges (per Bet Labs).
They have been a profitable regular-season team to back:
At home: 27-12-1, 33.4% Return on Investment
As favorites: 29-14-1, 30.5% ROI
Outside of division: 36-13-1, 42.1% ROI
I tend not to be a "trend bettor," but I think these trends make sense within the context of who Zimmer is as a coach and what kind of team the Vikings are.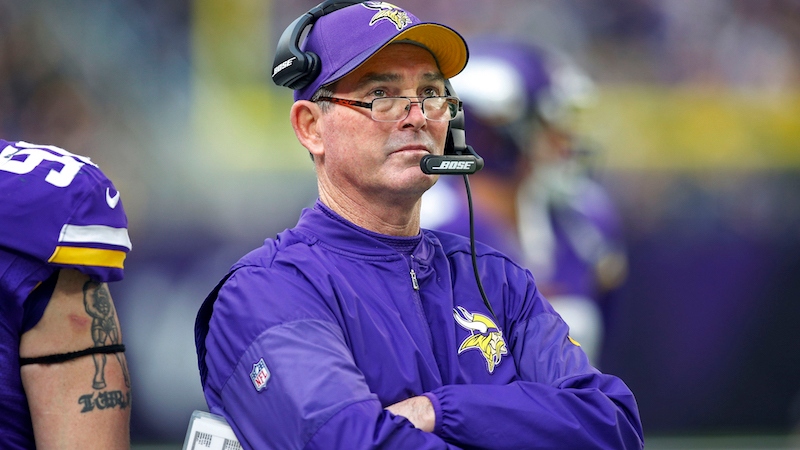 Zimmer is a focused, no-nonsense, risk-adverse, process-oriented "manager" (for lack of a better word), and the Vikings are a disciplined team that doesn't often make big mistakes. They don't waste the natural advantage they have at home. They don't play down to the level of their underdog opponents. They don't present a known and easy challenge to teams that aren't familiar with them.
Against the Falcons, the Vikings are a non-divisional home favorite. They are in the middle of this Venn diagram of sports-betting goodness.
As non-divisional home favorites, Zimmer's Vikings are an outstanding 16-2-1, good for a nice 69% ROI.
I'm hammering the Vikings.
Kickoff: 1 p.m. ET
I like the Browns at the dead number here for the reasons Freedman outlined in our Titans-Browns betting guide.
Mayfield was 0.1 yards per attempt behind Patrick Mahomes for the league lead over the second half of last season and took just five sacks over that eight-game span.
The Titans like to muck up the game to stay close and have a mostly solid football team, but even with Delanie Walker back and the addition of Adam Humphries, they'll struggle to play from behind against Garrett and Olivier Vernon off the edge with Denzel Ward blanketing Corey Davis.
Last season, Tennessee mustered just 4.8 yards per play when trailing, 26th in the league.
Kickoff: 1 p.m. ET
The Rams graded as an F and the Panthers received an A-plus in my Buy/Sell Ratings. I'm looking to buy into the Panthers here as a result.
My plan was foiled a bit when Cam Newton suffered an ankle injury in Week 3 of the preseason. He appears to be fine for Week 1, but could be limited. While waiting for that news, the line has dropped off a key number in +3. I still like the Panthers at +1.5 since I think this should be a pick'em.
The best way to buy into them here is forego the spread altogether and take them on the moneyline. The betting behavior and line movement all indicate that sharps are on the Panthers this week.
Kickoff: 1 p.m. ET
Head coach Sean McDermott has put his stamp on the Buffalo defense. Last season, the Bills ranked second in Football Outsiders' pass defensive DVOA and second overall in defensive efficiency. Buffalo has won three of the last five games in New York, including a 41-10 throttling last season.
Offensively, Buffalo added receiving weapons John Brown and Cole Beasley, to giving strong-armed Josh Allen more options. The ground game is secure with veterans Frank Gore and T.J. Yeldon, as well as rookie Devin Singletary.
The Jets offensive line continues to raise concerns and was ranked fourth-worst by Pro Football Focus heading into the season. New York will be short-handed without suspended tight end Chris Herndon while wide receiver Robby Anderson deals with a calf injury.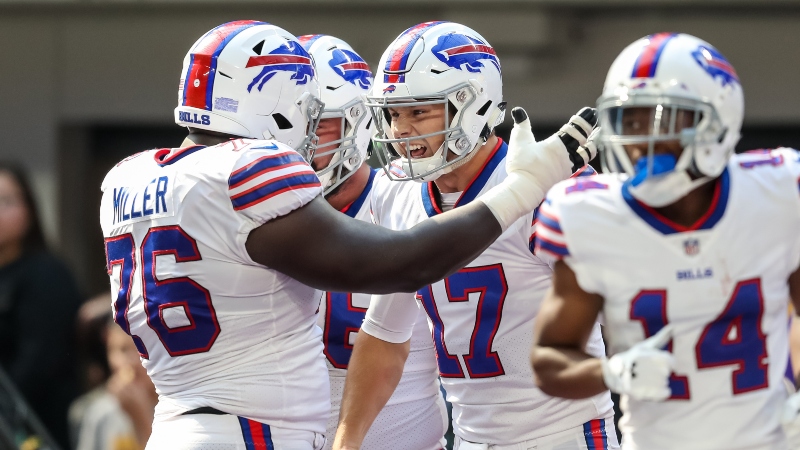 The Bills were an impressive 5-3 against the spread in road games last season, including an early-season 27-6 win at Minnesota. The Jets were a disappointing 2-6 ATS at home.
Look for the Bills to win outright, and grab the 2.5-point gift.
Scott T. Miller: Lee Smith Under 2.5 Receptions (-115)
Kickoff: 1 p.m. ET
You might be asking yourself: "Who the hell is Lee Smith?" I had to Google it myself, so I can hardly blame you. This fella is the blocking tight end for the Buffalo Bills, and, according to our NFL projections guru Sean Koerner, he's the owner of "one of the worst prop lines I've ever seen."
That should be enough for you, considering Sean's favorite prop bets in our magnificent FantasyLabs player props tool went 239-122 (66.2%) overall last season, including 152-57 (72.7%) on unders. But I'll go a little deeper: Smith played in all 16 games last season; he had a total of 10 catches and he eclipsed 2.5 grabs in only one contest.
At this line, Koerner said Smith's odds to go under should be closer to -300 or -400 … but they're -115 a multiple New Jersey books. I'd bet this all the way up to -175 if the line stays at 2.5, and -115 if it moves to 2.
Kickoff: 1 p.m. ET
Look, I think we can all agree on the fact that the Redskins are going to be one of the league's worst teams this year. There's not a ton of positive things to say about them and the only thing that could turn their fortunes around, in my mind, is if Dwayne Haskins takes over at some point and looks legit.
We likely won't be seeing Haskins on Sunday, but I still like the Redskins +10.
Division dogs have covered at a 56.1% rate in September and are 21-11-1 ATS when getting 10 or more points. They also fit another system I like: Non-playoff teams vs. playoff teams in Week 1. Bettors have last year in mind and overvalue teams that are coming off a postseason berth.
This system has gone 56-41-2 (57.7%) ATS since 2003, covering by nearly three points on average.
PJ Walsh: Redskins-Eagles Under 44.5
Kickoff: 1 p.m. ET
Washington's seven-time Pro Bowl left tackle is showing no signs of returning to an offense that will have Case Keenum throwing to starting wide receivers Paul Richardson, Trey Quinn and Terry McLaurin. Needless to say, this team is going to have trouble scoring.
And even if the Redskins can move the ball, they'll likely do so at an incredibly slow pace. According to Football Outsiders' situation-neutral pace, Washington ranked dead last in the NFL last year in offensive pace.
Philadelphia is loaded in terms of offensive talent, but just like Washington, plays at a shockingly slow place. The Eagles finished last season just 30th in situation-neutral pace, indicating they'll be in no rush offensively either.
I grabbed the under at 46, but it's still available at 45 at Westgate as of writing. I wouldn't take this if it dips to 44.
Kickoff: 4:05 p.m. ET
Rule No. 1 in betting: Bookmakers live and die by public perception. And Andrew Luck is how most of the public perceives the Colts.
Not only was he the face of the franchise, not only did he retire unexpectedly, but the news broke during the first primetime college football game of the year, which led to a hastily arranged press conference afterward. As much as the fact Luck was retiring, the shock of the moment sent betting markets spiraling.
Before the news, the Colts had been 3-point underdogs to the Chargers. Afterward, the Luck-less Colts had moved to 7.5-point underdogs. Holy over-correction!
Wiseguys will tell you that the drop from Luck to Jacoby Brissett was three points, maximum. And they backed up their beliefs by betting the Colts as 7.5-point underdogs, 7-point underdogs and even as 6.5-point underdogs. That is where the number is still sitting, even with 66% of the bets coming in on Los Angeles (check out our odds page for up-to-date info). I'll be on the Colts.
Kickoff: 4:25 p.m. ET
Like Mark mentioned, Week 1 presents a great opportunity for bettors looking to take advantage of the public's overreaction to the previous season. Teams that made the playoffs tend to be overvalued the following year, and teams that struggled to put together wins are written off.
So when you get a first-week matchup consisting of one of each, it's been very profitable to take the uncomfortable side. Specifically, teams coming off a season of six wins or fewer have gone 82-58-4 the following Week 1, and 36-20 against teams coming off a playoff year.
In divisional matchups, that record improves to 20-4.
How would you rate this article?