NFL Week 10 Picks for Every Game: Bets to Make for Seahawks, Steelers, Dolphins, More
Credit:
Michael Reaves/Getty Images. Pictured: Tua Tagovailoa #1 of the Miami Dolphins.
We are exactly halfway through the NFL season. We've played 136 of this season's 272 games, and it continue to be the Year of the Underdog.
The Bucs, Packers, and Rams entered the year as three of the five biggest Super Bowl favorites. If the playoffs started right now, two of those three wouldn't even make the postseason, and the other would eke in by winning an awful division via tiebreaker at 4-5. The AFC favorites have held so far, but now Buffalo could be in trouble too if the Josh Allen injury is serious.
Instead, underdogs reign — both game-by-game and in the big picture.
The Giants and Jets each have six wins at the midpoint. The Dolphins have six too, and Tua Tagovailoa and Jalen Hurts have gone from contract year to MVP favorites. The Cowboys were left for dead after Dak Prescott's injury but are a healthy 6-2 coming out of the bye. And Seattle Island continues to expand and grow every week, now 6-3 and full speed ahead.
Let's go around the league and make some picks. As always, we'll make picks for every game. Picks sorted by confidence level: Bet, Lean, Pass, or Wait.
---
Note: Odds are the best available for each pick as of writing. Shop for the best real-time lines with our NFL odds page.
---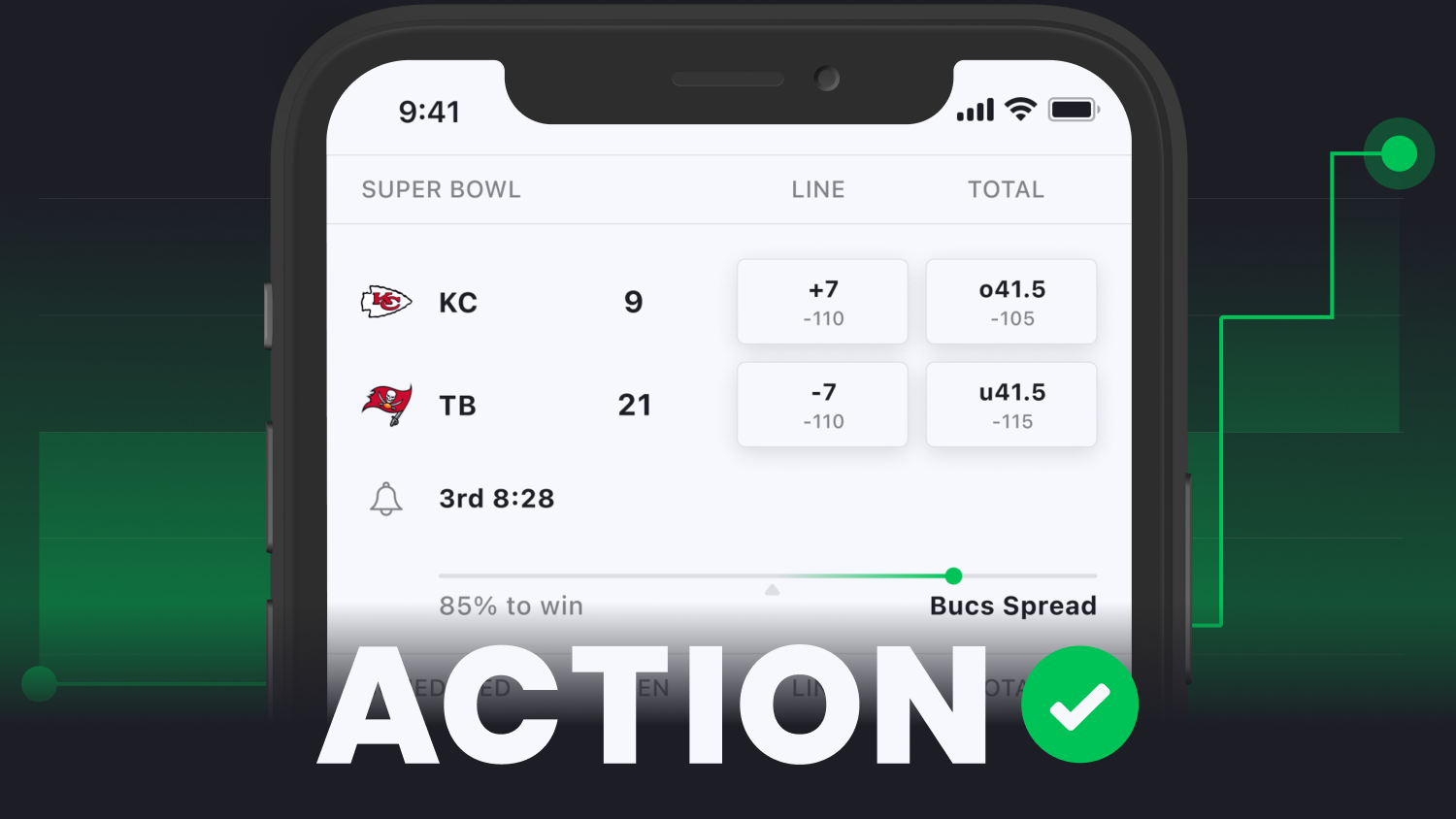 The must-have app for NFL bettors


Free picks from proven pros

Live win probabilities for your bets
THE WAITS
Vikings at Bills (-5)

This line just keeps slowly dropping all week. It was Bills -9.5 on Sunday morning before Buffalo lost and, more importantly, may have lost Josh Allen. He picked up a late elbow injury, and rumors of the injury and possible missed time pushed that line to -7.5 Sunday night, and it's edging down ever since. We obviously need to wait for Allen news.
THE PICK: Wait for Josh Allen injury news
Broncos at Titans (-3)
Looks like another week waiting out Ryan Tannehill. Is there any question the Titans could've stolen that win in Kansas City with even one or two good throws from Tanny instead of rookie Malik Willis? We need to know who's playing quarterback for Tennessee, and some Denver injury updates out of the bye would be helpful too.
THE PICK: Wait for Tannehill and Denver injury news
Chargers at 49ers (-7)

We've been waiting on a bunch of games involving both of these teams, so we'll obviously need the injury report when they're playing each other. The Chargers could be missing Mike Williams and Keenan Allen again, while the 49ers need some updates out of the bye. Will either Bosa be ready to go?
THE PICK: Wait for injury report on both sides
---
THE PASSES
Lions at Bears (-2.5)

These might be the two worst defenses in football. Both defenses rank bottom six in rushing and passing Defensive DVOA. The Lions allow 29.3 PPG, most in the NFL, and the Bears are rapidly catching up of late since they traded Roquan Smith and Robert Quinn, their two best defenders.
I've been looking for overs on both of these teams, and I'm loving our over 45.5 we got on last week's Lookahead. That's up to 48.5 now but I still lean over. Lions games average 52.8 PPG, and the last five Bears games are at 52.4 with Chicago suddenly scoring 33, 29, and 32 its last three games. Justin Fields has been unleashed, and both offenses should move the ball well.
I don't feel the need to play a side between two unpredictable teams with their eyes on the future, but we should get some points.
THE PICK: Bears -2.5 (Pass)
OTHER ANGLES: Lean over 48.5
Texans at Giants (-6.5)
When you can't make up your mind on a side, that's a pretty good sign to stay away. Despite the 1-6-1 record, the Texans have hung around and lost only three times by more than a touchdown. Houston fits a handful of favorable trends as underdogs in this range with a low total, and Daniel Jones is only 3-6 ATS as a favorite and has only been favored by more than a field goal once ever.
Then again, Houston's run defense is awful so Saquon Barkley should run all over this team, and the Texans can't pass protect so that spells trouble against a feisty pass rush too. The matchup likes the Giants, but the number says Houston. I'd look at a teaser for New York, but even that feels weirdly trappy, and the Giants can't sleep with Lady Luck in the fourth quarter forever.
One trend I might play: when both teams have 10 or more days off like this one, overs are a perfect 8-0 all-time when the total is below 40, going over by 12.1 PPG. We're at 40.5 right now, but if this drops another point, I'll play.
THE PICK: Texans +6.5 (Pass)
OTHER ANGLES: Bet the over if it drops below 40
Colts at Raiders (-6.5)

The Colts are an absolute mess right now, firing head coach Frank Reich the week after firing offensive coordinator Marcus Brady, shortly after benching Matt Ryan. Indianapolis finally ran out of excuses, and now they turn to Jeff Saturday, who's never been a head coach or coordinator above high school and who has no one on the staff that's called plays before.
I have absolutely no idea what to make of Indy right now. This sounds like a complete disaster tank job, but can the Colts really get any worse? Teams often get a dead cat bounce after firing the coach. Indianapolis has the best unit in this game — its defense — and the Raiders really shouldn't be a touchdown favorite against anyone.
The trends like Indianapolis as an underdog here, but I just don't need my money invested in either of these moribund franchises right now.
THE PICK: Colts +6.5 (Pass)
---
THE LEANS
Falcons (-3) at Panthers

Thursday night brings us a rematch of that wild back-and-forth game from 10 days ago that ended with the Falcons winning 37-34 in overtime. Atlanta has now won 11 of it's last 14 games against Carolina since Cam Newton's Panthers infamously celebrated their then-unbeaten regular season during a game against their division rival, and the Falcons are 10-4 ATS in those games (71%).
Just when P.J. Walker and the Panthers were starting to look competent, they got blown out of the water by a struggling Bengals squad. Walker threw 10 passes for nine yards, and two of his five completions went to the other team. That meant a second half with Baker Mayfield, and now Sam Darnold has been activated too. Meanwhile, Marcus Mariota cost Atlanta a very winnable game against the Chargers.
This division remains there for the taking. Carolina's defense has cratered in recent weeks, and Atlanta's was never good to start with. But the Falcons still have the more reliable offense, third in play Success Rate versus 30th for Carolina. These teams were even in the first game, but Atlanta's offense has been far better and mostly good on the season.
I like the Falcons, but I'd rather just bet against both defenses. Overs are 64-48-1 (57%) for Thursday night games with totals from 42 to 49. These teams scored 71 last time, and the Panthers game saw 63 last week. The Falcons are over this number in five of nine and close twice more. Both defenses are so bad we might actually get Thursday night points for once.
THE PICK: Lean Falcons -3
OTHER ANGLES: Lean Over 43.5
Jaguars at Chiefs (-9.5)

Jacksonville's defense has fallen apart, down to 29th in DVOA over the past five weeks. That's never good news hitting the road to face Patrick Mahomes, especially since the pass D has been so bad. Jacksonville has been good on first downs but ranks dead last on late downs, and the Chiefs offense has been the best in the league there. There's a script of this game where Kansas City goes 13-of-16 on third down and the Jags defense just can't get off the field.
But the truth is that these teams are much closer than the records would indicate. Jacksonville should be able to move the ball and get some scoring opportunities, and underdogs between three and 10 continue to be very profitable on the season at 43-23 ATS (65%). Mahomes is only 10-15-1 ATS (40%) as more than a seven-point favorite.
This isn't going to feel good, but we have to play the number and bet the Jags. Jacksonville finally got its first one-score win last week but is still 1-6 in one-score games. That's not great, and this team obviously doesn't know how to close out wins, but a one-score game hits the cover and Jacksonville has covered this line in every game this season. Bet the number.
THE PICK: Lean Jaguars +9.5
Cowboys (-5.5) at Packers

Second verse, same as the first? We have to play another number, and this one feels gross, especially after the Packers killed us last last week with a dominant statistical performance marred by three Aaron Rodgers redzone interceptions and a loss.
It's hard to talk yourself into Green Bay on paper. The Cowboys should run all over this awful run defense, and Micah Parsons and Dallas's league-best pressure rate should put pressure on Rodgers, especially if LT David Bahktiari isn't himself again.
Green Bay has nothing left at receiver, and their best defender Rashan Gary is out for the year now too. Dallas, on the other hand, is rested and finally healthy coming out of the bye. Road favorites out of a bye week cover 61% of the time, and Mike McCarthy is the most profitable post-bye coach in our system at 12-3-1 ATS (80%).
So, why again are we about to talk ourselves into the Packers?
It might be time to toss out the Aaron Rodgers legacy stats. All those 65% ATS at home and 63% after a loss stats haven't come in very useful lately. Rodgers is 5-1 ATS (83%) as a home underdog, covering by 11.5 PPG with only one outright loss. But he's never been a home dog of more than three, and in the 10 games where he was a bigger underdog, Rodgers is 2-8 both SU and ATS.
Forget all the legacy trends. I'm going back to that trend of underdogs between three and 10 points, now 43-23 ATS (65%) on the season and profitable in every week but one. I tried to zoom in further at Bet Labs to see what else our covering teams have in common this year, and every meaningful trend I found also checked off Green Bay.
The Packers fit every trend below for underdogs between 3 and 10 this year:
Same or worse win %: 34-15 ATS (69%)
With an opponent .500 or better: 31-14 ATS (69%)
Just lost by more than three: 16-5 ATS (76%)
Getting under 50% of spread tickets: 31-10 ATS (76%)
Same or worse ATS % as opponent: 27-7 ATS (79%)
With an ATS record below .500: 20-4 ATS (83%)
Ugh. We gotta do it — play the number and back the Packers, a team our Action Network Luck Rankings also make one of its top picks this week.
Don't expect a particularly high-scoring game. Second-half unders are a combined 12-3-2 this season (80%) for these teams, so we might get a second straight Game of the Week Sunday afternoon nap. I'll play the 2H under with a Packers cover and hope for a close, low-scoring snooze fest.
THE PICK: Lean Packers +5.5
OTHER ANGLES: Lean 2H under 21
Commanders at Eagles (-10.5)

The Eagles get a second straight primetime game and plenty of rest after playing Thursday last week. This line feels a bit inflated, and double digit road underdogs cover 57% of the time the first 10 weeks of the season. Then again, Philadelphia has covered this line in half its games and won by 8+ in six of eight games (75%).
That includes the first time these teams played. The Eagles ran up the score 24-0 in the second quarter and got huge pressure on Carson Wentz, sacking him nine times. Wentz won't get to start in his return to Philadelphia, but the Commanders offense has remained somewhere between meh and bad under Taylor Heinicke.
Washington continues to get off to slow starts. The Commanders have the league's worst DVOA offense in the first quarter and rank 30th in the first half, while Philadelphia ranks first on offense and second on defense in the first half. You probably joined the rest of the world and got burned by Eagles 1H against the Texans, but it's the right play again. Philadelphia is 7-1 ATS in the first half this season, and you avoid the key number by playing that way.
I also like the under 44.5. Washington games have gone under that number seven straight times, with the Commanders held to 17 or fewer in all but one of those games. Monday Night Football division games with a total from 41 to 48 are 27-15-1 to the under (64%) over the past decade, including 3-0 this year. Washington has the run defense to limit Philly some, and the Eagles defense should have its way against that Washington O-line again.
I lean Eagles on the game, but I prefer Philly 1H and the full game under.
THE PICK: Lean Eagles -10.5
OTHER ANGLES: Bet Eagles 1H -6.5 and Under 44.5
Cardinals at Rams (-3)

I backed Rams -3 on The Lookahead last week, but this line hasn't budged even after another Cardinals loss. I still like the Rams.
Sean McVay has owned Kyler Murray and Kliff Kingsbury. McVay is 6-1-1 ATS and 7-1 SU against the duo, including January's playoff mashing. Those seven wins each by at least a TD, averaging a 13.3 PPG margin. And though we typically  back Kingsbury as a road underdog (15-4-2 ATS), he's only 1-4-1 as an underdog to McVay.
The Rams have simply had this team's number. Murray has scored only eight TDs in eight games against the Rams, averaging only 20 rushing yards, while DeAndre Hopkins averages just 5.3 catches for 52 yards against Jalen Ramsey and the Rams. If you shut down Kyler and Nuk, you shut down the Cards.
I'm listing this with the leans, but I'd still bet the Rams at -3, just not past that. I lean under here, and Kingsbury road unders are 16-5 since the start of the 2020 season, so a low-scoring game and a tepid Rams offense means a stay-away if it gets past the -3.
Still, the Cardinals just aren't very good and the Rams defense is the best unit on the field and should get the job done at home with the Super Bowl champs playing for their season.
THE PICK: Lean Rams -3 and Bet Rams there but no further
---
THE BETS
Seahawks vs Buccaneers (-2.5)

Ahoy, back to Seattle Island we go, and this time we're going international.
I really didn't expect to go back to the well again this week, but I just can't get away from this disrespected Seattle team. Seattle is good, I swear! Over the last five games, the Seahawks rank 4th in DVOA. They're 4th in defense, now ahead of the offense which ranks 4th for the season. There's 32 NFL teams! Seattle is top four at all the things! I feel like I'm taking crazy pills.
The Bucs rank below average overall, on offense, and on defense over the last five weeks. The offense has been mostly terrible away from home, and the defense has fallen off mightily after its early surge and continues to pile up injuries. Shaq Barrett is a big loss since Geno Smith isn't great under pressure, and Seattle should hit some big pass plays with Tampa's secondary struggling.
The Bucs have four wins. Three of them were ugly games against the Cowboys, Saints, and Rams, scoring just one TD in each, and the other one required a phantom Atlanta penalty late to preserve the win. The Bucs are 0-4 when the defense allows 20 points.
Seattle, on the other hand, has won four straight games by double digits. The Seahawks led Atlanta with 30 seconds left and led the Saints with five minutes left. They're that close to 8-1. They're really quite good!
Honestly, though, I think Pete Carroll and his guys are absolutely relishing this underdog role. The Seahawks are loving life and having fun out there, and I expect Seattle to make a fun college road trip out of this Germany experience. The Bucs seem to hate each other, so flying across the world with a QB that wishes he was still retired doesn't seem great.
There's just no metric that makes me think Tampa should be favored on a neutral field. Seattle's offense is better. Seattle's defense is better. They're blocking better, running better, passing better. The Seahawks are healthier. They're coached better.
And you know what else? They have the better QB too. Ahoy!
THE PICK: Bet Seahawks +2.5 & +125 ML
Saints (-3) at Steelers

The Steelers got the week off, and boy did they need it.
Finally, this offense got a chance to give rookie QB Kenny Pickett a full week to practice after pivoting to him mid-game on the fly. Even more importantly, Pittsburgh's defense got a lot healthier. It looks like defending DPOY T.J. Watt is back, and he changes everything. Pittsburgh's secondary also gets far healthier after missing one-to-three starters in every Pickett start.
Pittsburgh's results with Pickett haven't been great, but three of his four starts have come on the road against the Bills, Eagles, and Dolphins. The banged-up defense got lit up in all three, but that defense is healthy now and grades out top-five in my position rankings matrix. The Steelers won Pickett's one home start against the Bucs, and he also nearly beat the Jets at home after debuting in the second half, a result that looks pretty good in hindsight.
Besides, are we really making the Saints road favorites? This team is 3-6 with two wins in the final minutes, and New Orleans could barely even move the ball against the Ravens on Monday night. Now they get a short week against a rested opponent, and they're road favorites? I don't see it.
Mike Tomlin is 11-4 SU out of the bye, and you know this is an awesome Rah Rah Tomlin underdog spot. Tomlin is 39-16-1 ATS (71%) as a dog from Week 5 forward, and he's an absurd 14-2-1 ATS (88%) at home with nine straight covers and seven straight wins outright, including one with Pickett. Tomlin is 13-4 SU as a home dog in those games with a 98% ROI on the moneyline.
You really want to step in front of that train for Andy Dalton and Dennis Allen?
I sure don't.
I love this spot for Pittsburgh. The Steelers are a different team at home, and the defense is another animal entirely with T.J. Watt. As long as he's cleared to go, I love the rested, healthier Steelers to cover and win outright against an overvalued Saints team coming off a short week.
THE PICK: Bet Steelers +3 & +125 ML
Browns at Dolphins (-3.5)

I must admit, I'm pretty confused by this line. The preseason lookahead number was Dolphins -5.5, which means this line has moved toward Cleveland for some reason? I really can't imagine why.
It feels like an overreaction to the last time we saw the Browns, beating up on the Bengals on Halloween before a bye week. But was that the high point of Cleveland's season? The Browns have played well offensively, but Miami's run defense is stout. The pass D has been pretty bad, but can Jacoby Brissett take advantage and keep up in a likely shootout?
Tua Tagovailoa continues to absolutely deal. We grabbed a +8000 MVP ticket on Tua under one week ago on Futures Friday. He's down to +800 now — notice the missing zero — and continues to ball. Tagovailoa is 6-0 when he takes at least half the snaps, averaging over 300 yards and nearly three touchdowns a game and lighting up opposing defenses with Tyreek Hill and Jaylen Waddle.
For all Miami's scoring, five of those six Tagovailoa wins have come by six or fewer points, but he's still 4-2 ATS against this line. In a game with two poor defenses that looks like a shootout, four points just doesn't seem like much to ask for the far more explosive offense.
The DVOA splits shake out heavily in our favor. The Browns offense ranks 1st at home but 15th on the road, while the Phins offense ranks fourth at home versus 11th on the road. Miami's defense also ranks seventh at home vs. 31st on the road, so the home-field advantage could be significant here.
Cleveland also ranks 31st defensively in the second quarter and 30th in the fourth quarter. The Dolphins offense ranks eighth and second in those quarters, and that's where Miami has been most dangerous as opposing defenses tire out near the end of each half. Even if Cleveland hangs around, the Browns are 17-35-1 ATS (33%) in the second half over their last 53 games.
This line is remembering Cleveland a bit too fondly after that Halloween night win. Road underdogs of three to seven points coming off a bye after covering by seven or more are only 5-14 ATS (26%) and an awful 1-18 SU, with 12 of those 18 losses by double digits, the last five by 18 or more.
The time is coming soon to fade these Dolphins, but we're not there yet. I like Tua to add another win and head into the bye flying high.
THE PICK: Bet Dolphins -3.5
How would you rate this article?
This site contains commercial content. We may be compensated for the links provided on this page. The content on this page is for informational purposes only. Action Network makes no representation or warranty as to the accuracy of the information given or the outcome of any game or event.