NFL Futures Bets: Tua Tagovailoa's MVP Case; Ravens to Win AFC
Credit:
Photo by Peter Joneleit/Icon Sportswire via Getty Images. Pictured: Tua Tagovailoa.
Welcome back to another edition of Futures Friday!
Each Friday, we zoom out from the game-to-game trees and consider the whole NFL forest. We'll take a look around the league and talk big-picture awards, season leaders, playoff odds and more as we look to the future.
Too many bettors think of futures as dart throws to make prior to the season before crossing their fingers, waiting six months and hoping for the best. Instead, we're playing the market every single week, buying low and selling high, building a deep and varied portfolio that should give us big line value and long-term upside.
Today, we've got one long shot MVP pick and one AFC conference pick.
Tua Tagovailoa to Win MVP (+8000; BetMGM)
Let's just acknowledge this up front — this one is a long shot. There's really no way to bet on a MVP at 80-1 odds at the season's midpoint and pretend otherwise. Tagovailoa is a serious long shot to win MVP. But not this long.
I wrote at length about the history of the MVP award before the season. I concluded that it's a team accomplishment more than an individual award, and that we need a quarterback capable of a 13-win season and a run at the 1-seed. Oh, and someone with a shot at 4,500 yards and 40-plus TDs.
There's one other criterion I mentioned in my profile. Every quarterback who's won MVP in the last 15 years finished top two in Expected Points Added (EPA), and six of the last nine finished No. 1. The same is also true for EPA + CPOE (Completion Percentage Over Expectation). Aaron Rodgers ranked first in both metrics each of his last two seasons en route to winning the award.
That doesn't help much before the season since it's impossible to predict EPA, but it's a great metric to track as the season progresses. Here's what I saw when I pulled up the numbers at RBSDM half way through the season: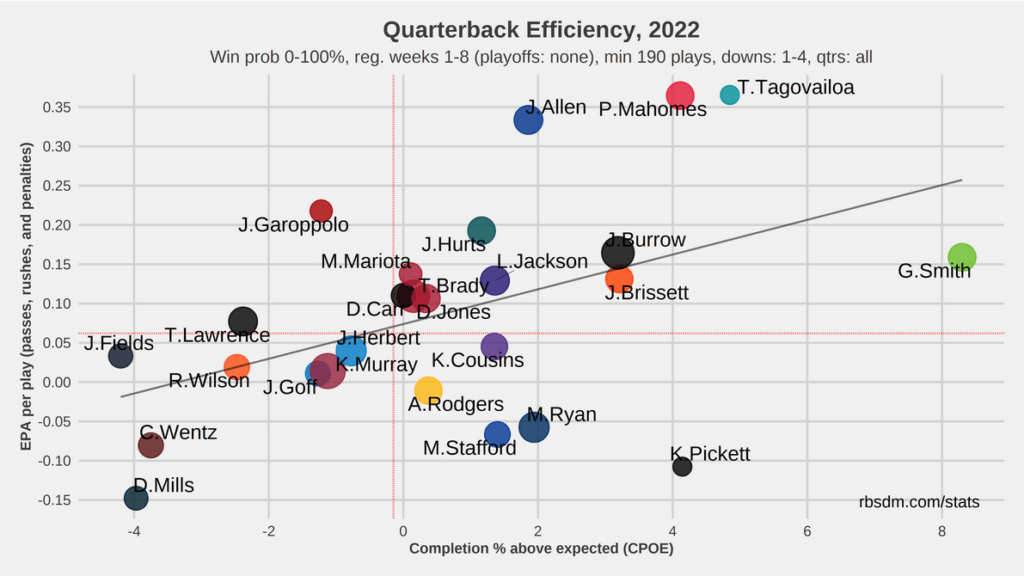 The names at the top are the EPA leaders at the season's midpoint. Look at the three who have separated themselves from the crowd: MVP favorites Josh Allen and Patrick Mahomes — and Tagovailoa.
Tagovailoa leads the league at 0.365 EPA per play. He's been worth more than a full point to his team every three plays. By comparison, Joe Burrow is worth about a point every six plays, and he ranks sixth. Tagovailoa has nearly tripled Lamar Jackson, ranked ninth. Tagovailoa, Allen and Mahomes are blowing away the field, double the EPA all but two other players.
Tagovailoa has played only four fully healthy games out of the six he's played. He's averaging 346 yards and 2.75 TDs in those outings, which would project to an incredible 5,874 yards and 47 TDs. Those other games count, too, but it shows us just how good he has been.
Even if we include the other four games — two missed to injury, and two partial outings (concussion protocols) — adding healthy Tagovailoa games paced over the rest of the season would still mean 4,788 yards and 37 TDs. Historically, that is right smack in the range of MVP production.
The Dolphins are a perfect 5-0 when Tagovailoa plays at least half the snaps. They're a top-five DVOA offense, including second in passing. Up next for Miami are the Bears, Browns and Texans, so the Phins have a great shot to start 8-0 in Tagovailoa games.
Of course, there's another QB leading an 8-0 team. The difference is that Jalen Hurts is priced around +350 or +400 to win MVP at most books, while Tagovailoa is about 20 times that price with odds closer to guys like Derek Carr, Kyler Murray or Christian McCaffrey, which is ludicrous.
To win MVP, we need a reason to pick against the clear favorite (Allen). Tagovailoa could be that reason. The Dolphins already beat the Bills once. If Miami wins in Buffalo on Dec. 18 and Tagovailoa sweeps Allen head-to-head to steal the division, that would really turn heads.
Could the Dolphins finish 12-2 or 13-1 in Tagovailoa's starts? That's in reach if he starts 8-0 and wins that Buffalo game, and that would be more than in line with the historic 83% winning percentage for modern QB MVPs.
Would voters ignore Miami's three-game losing streak with Tagovailoa injured if he was that excellent in the rest? It's not totally unprecedented. Joe Montana won his first MVP in 1989 with only 13 games played, though it probably helped that Steve Young went 3-0 in his absence.
Six of the last seven MVPs were long shots, way down the odds list before the season, capturing the hearts and imaginations of voters with once-in-a-lifetime seasons. That's not Allen or Mahomes. It might be Tagovailoa.
If the Dolphins make a run at a top-2 seed and steal the AFC East, are we sure voters wouldn't just give the award to Tyreek Hill instead? That's possible, and you can sprinkle the 300-to-1 odds at Circa if you're concerned. But even Jerry Rice never won MVP, and Jaylen Waddle's brilliance should offset Hill enough that Tagovailoa would likely be the Miami choice for an award that overwhelmingly goes to quarterbacks.
It's a long shot. Tagovailoa has to stay healthy, keep producing at an elite level, and keep winning enough to catch Allen, Mahomes, or both. We're really threading the needle. But at 80-to-1 to win MVP, Tua Tagovailoa has been brilliant enough when healthy to be worth a shot.
Other teams got more buzz after a busy NFL Trade Deadline, but my biggest winner might be a team that got its business done early.
The Ravens paid big for Roquan Smith, but he addresses a glaring weakness for a team that's always been a linebacker factory. Smith should slot right in and make an immediate impact for the 23rd-ranked run defense, and he's also going to get help on the edge with both Tyus Bowser and David Ojabo practicing this week and looking set to return from Achilles injuries soon.
Bowser was arguably Baltimore's best defender last year, and Ojabo was a top-10 draft talent outside of the injury; the duo can only help what's been a mostly anemic pass rush. It looks like All-Pro caliber S Marcus Williams will return soon while Baltimore's corners are still getting healthier and get a bye week soon to rest up.
In my defensive rankings matrix, adding Smith alone boosted the Ravens defense from 23rd to 16th, even at a position that's become less important in the modern era. Adding Bowser, Ojabo and Williams pushes Baltimore into the top 10 and near the top five.
Baltimore's offense has been title caliber this season, but the defense has held the team back. The Ravens rank 29th in second half DVOA defensively, including last in the fourth quarter when they've repeatedly surrendered big leads. Baltimore has the league's best special teams, like usual, so if it can just shore up the defense it will really be cooking with gas.
The schedule is about to break kindly, too.
Football Outsiders rates Baltimore's schedule thus far as the third-hardest in the league, but the rest of the way, it's the third-easiest. The Ravens don't face a single team the rest of the season with a winning record (right now). Heck, Baltimore may not even face another team pushing for the playoffs after Week 9.
Remaining Baltimore schedule:
The only team on that list definitely in the playoff hunt is Cincinnati, and that game is the regular-season finale and might not matter for one or both teams. The Bengals are also dealing with major injuries — at WR and CB — and just lost badly to the Browns, so the Ravens are in great position to win the division and secure a home playoff game.
Football Outsiders has the Ravens at almost 90% to make the playoffs and nearly 80% to win the division. Baltimore has under 7% odds to win the 1-seed, with that loss to Buffalo a real killer, but there are still plenty of scenarios where the Ravens finish ahead of the Chiefs or even on the opposite side of the bracket. In fact, Football Outsiders has the Ravens at 16.8% to win the AFC, ahead of the Chiefs.
Things could break nicely for this team as it hits the bye week after Monday night. It's clear Baltimore thinks so as well, given the big move to get Smith.
Wide receiver is still a weakness, but not as bad as it seems. Rashod Bateman is out for the year, but he hasn't contributed much in a month. Demarcus Robinson is a great blocking receiver — quite important on this team — and newly signed DeSean Jackson is still a dangerous downfield threat. Devin Duvernay has been the team's best receiver this year, while Mark Andrews is this team's real WR1.
At +1000 to win the AFC, that's an implied 9.1%. That means we're getting nearly double the value with Football Outsiders' odds. Those odds should only shorten as Baltimore beats up on bad teams and emerges at something like 12-5 or 13-4 when the playoffs start.
I prefer the AFC odds since Baltimore is +1400 or shorter to win the Super Bowl at most books.
The Ravens showed their belief in this roster as title contenders with the big Roquan Smith trade. It's now time for us to believe as bettors and grab Baltimore at +1000 to win the AFC.
How would you rate this article?
This site contains commercial content. We may be compensated for the links provided on this page. The content on this page is for informational purposes only. Action Network makes no representation or warranty as to the accuracy of the information given or the outcome of any game or event.