NFL Week 11 Picks for Every Game: Bets to Make for Steelers, Patriots, Eagles, More
Credit:
Photo by Mark Alberti/Icon Sportswire via Getty Images. Pictured: Mike Tomlin.
The Year of the Underdog continues!
Week 10 saw another slew of big upsets. The Vikings stunned Josh Allen and the Bills in overtime, covering and winning outright as 6.5-point underdogs. The Colts, Packers and Cardinals won and covered as more than three-point dogs. And the biggest shock came on Monday night when the Commanders — 11-point underdogs — upset the undefeated Eagles in Philly.
That's five team who covered as more than a field goal dog, all winning outright — and that continues to be a trend all season long.
Underdogs of between three and 10 points are now an incredible 48-26 ATS on the season, covering 65% of the time. They've only had a losing record in one of 10 weeks, and they'e 30-43-1 straight up, with a 24% ROI on the moneyline.
Some specific trends this year for underdogs between 3 and 10 points:
36-18 ATS (69%) with the same or worse win percentage as opponent
30-9 ATS (77%) with the same or worse ATS cover percentage
24-5 ATS (83%) for teams with an ATS record below .500
17-6 ATS (73%) playing a division opponent
19-6 ATS (76%) coming off a loss by more than a field goal
33-12 ATS (73%) for teams receiving under 50% of the spread tickets
Week 11 features seven teams in that range, plus four others right on the doorstep at +3. As many as 11-of-13 games could feature an underdog in that range.
So will the Year of the Underdog continue, or will favorites finally fight back?
Let's go around the league and make picks for every game. Picks are sorted by confidence level: Bet, Lean, Pass or Wait.
---
Note: Odds are the best available for each pick as of writing. Shop for the best real-time lines with our NFL odds page.
---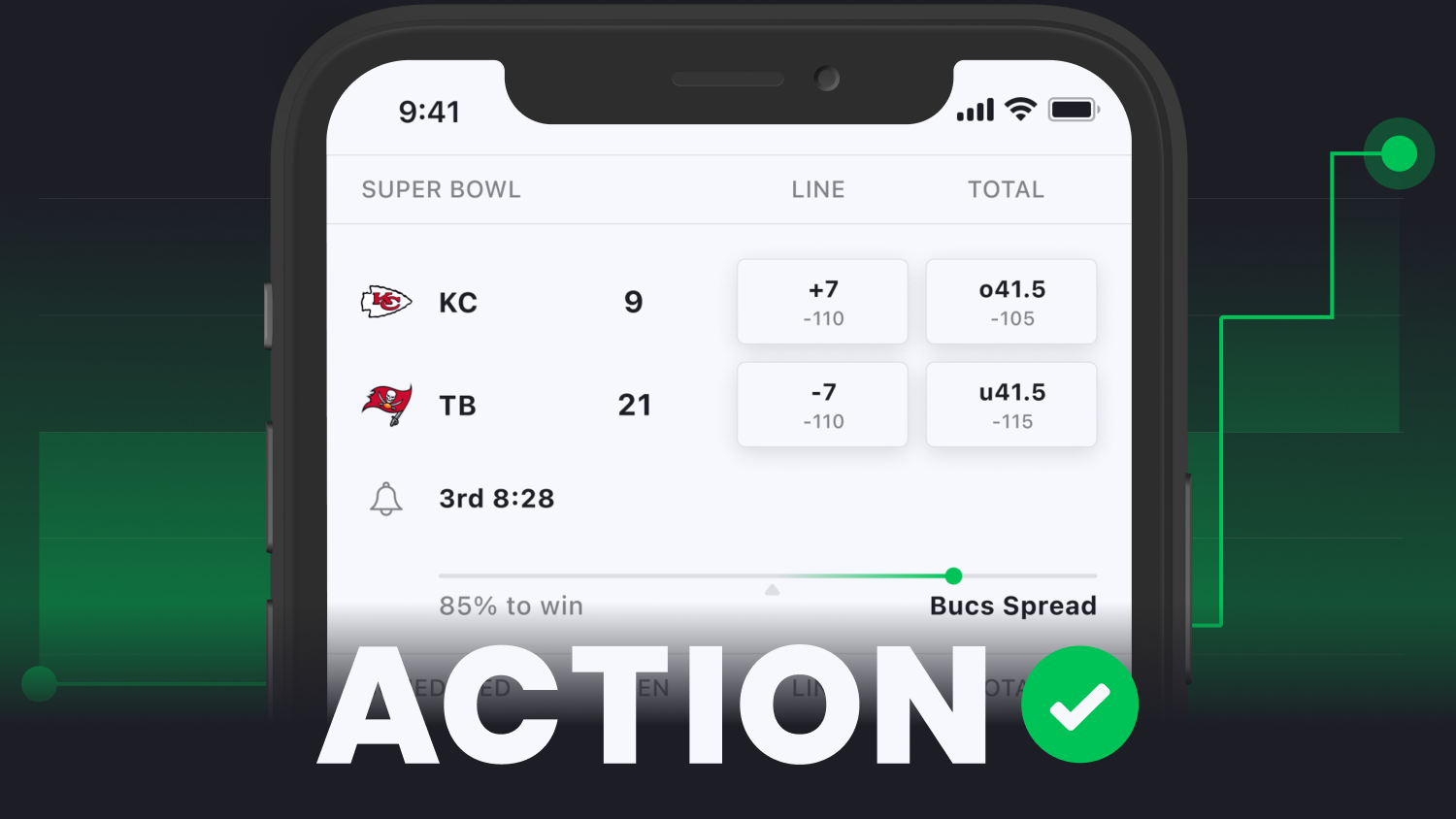 The must-have app for NFL bettors


Free picks from proven pros

Live win probabilities for your bets
THE WAITS
So we're just going to keep making the Saints favorites?
Obviously, baked into this line is the uncertainty surrounding Matthew Stafford (concussion) and the loss of Cooper Kupp (ankle; IR). The best bet for this game is probably the under 42.5 we grabbed last week on The Lookahead. This total is already down to 38.5 — and dropping.
THE PICK: Wait for Stafford injury news
The Commanders pulled off one of the biggest upsets of the season Monday night against the Eagles, but Washington still isn't settled at quarterback. Taylor Heinicke is 3-1 as a starter, but Carson Wentz is due back from injury this week. Until we know for sure which QB is getting the start, we better wait to make a decision.
THE PICK: Wait for a Washington QB decision
Sigh. Another week, another wait-and-see on the Chargers. This is too big of a game and L.A.'s injury list is simply too long to bet this one blind without more information.
Will Keenan Allen and Mike Williams suit up? Will the Chargers have more than three playable defensive linemen? Who's healthy on the offensive line? The Chargers have covered this line in five straight games against the Chiefs, but with so many missing bodies, they're just not the same team.
THE PICK: Wait for yet another Chargers injury update
We're heading to Mexico City for Monday night, but we're not sure just yet which QB Arizona will be starting — if they have one at all.
Kyler Murray is a question mark for the second straight week with a hamstring strain, and this line makes me suspect his status is in real doubt. Colt McCoy filled in admirably in a win, but he also picked up a late injury.
That could mean the first career NFL start for third-stringer Trace McSorley. Add in the ever-present 49ers injury list and we best wait for some news.
THE PICK: Wait for an Arizona QB decision
---
THE PASSES
The Titans just keep finding ways to win. They'd be an easy underdog pick if healthy, but the short week throws everything into question. Ryan Tannehill is back, but limited, and Tennessee's defense is besieged by injuries to Jeffery Simmons, Bud Dupree and others.
The Titans should run all over a bad Packers run defense; Tennessee, however, is dead last in pass protection so it could be very one-dimensional. The Titans also have the league's best run defense so that could also make Green Bay one dimensional and put the burden on Aaron Rodgers.
Rodgers is 23-10-1 ATS (70%) at home in primetime, while Tannehill is 6-11 ATS (35%). But Mike Vrabel's teams are outstanding as underdogs, now 19-7 ATS (73%) as a dog of three or more and winning seven of the last eight outright. I'd lean Titans +3.5 but might go with the Packers at -2.5 — that's a good sign to just stay away.
Instead, I like under 42.5 best. The Titans are under that number in six straight. Tennessee's last five games average 31.6 points, with both the Titans and opponents at 21 or below in every game.
The Titans play at the league's slowest pace, while Green Bay ranks fourth lowest. Thursday night feels slow, plodding and low scoring. I'll skip a side and play the under.
THE PICK: Titans +3 (Pass)
OTHER ANGLES: Bet under 42.5
This is the NFL's equivalent of a Loser Leaves Town game. Will Josh McDaniels or Nathaniel Hackett survive losing to the other? Could Derek Carr get benched for Jarrett Stidham? Can the Broncos defense hold an opponent to three points and lose 4-3 anyway? Honestly, anything seems in play.
If the Broncos had simply scored 20 points in every game thus far, they would be 8-1. Instead, their unders are 8-1, and their games are averaging just 28.1 points in those eight unders.
Of course, the one over and the only time Denver surpassed 21 all season was in its previous game against the Raiders, who now rank last in defensive DVOA.
Life hack: Don't bet on this game. Don't even acknowledge its existence. You're welcome.
THE PICK: Raiders +2.5 (Pass)
---
THE LEANS
I've been riding with Atlanta for much of the season, but I think I'm ready to get off the wagon. The defense stinks, and I've seen more than enough of Marcus Mariota quarterbacking this extremely one-dimensional offense.
Are we sure the Bears shouldn't be favored? Chicago's offense is rolling, and Justin Fields could have another monster day. The Bears have scored at least 29 points in four straight games, ranking fifth in DVOA over that span. By comparison, Chicago ranked 30th in DVOA the first six games of the season.
Atlanta is still short in the secondary and has allowed 25.0 PPG, even against one of the 10 softest defensive schedules. The Bears should run on this defense, and Chicago's terrible pass protection gets a respite against the league's worst pass pressure rate.
The question is whether Chicago's defense is any better. The Bears are the first team in history to lose three straight games in which they scored 29 or more points, and while Atlanta's offense is not exciting, it has been efficient. The Falcons have been at 17 points or less in four of their last six, but Chicago's defense could be a get-right spot.
I like the Bears better and would bet them at +3.5 or longer, but my favorite play here is simply the Bears team total over 22.5. I don't know if Chicago can stop Atlanta, but there's little reason to think a team that's scored 29 in four straight won't get to at least 23 against the Falcons.
THE PICK: Lean Bears +3
OTHER ANGLES: Bet Bears TT over 22.5
Tied for the best record in the league, the Vikings are flying high after back-to-back emotional road wins, but this feels like a letdown spot.
Even at 8-1, the Vikings just now entered the top half of the league in DVOA (16th). Dallas is the better team, and Cowboys' metrics underrate the team because of those Cooper Rush weeks.
Dak Prescott was poor against the Packers, but Dallas looked invincible in its other games after Prescott returned. Even counting the Green Bay loss, Dallas' offense ranks fourth in DVOA since his return.
Minnesota's defense is improving but still ranks last in drive success rate. Dallas should be able to sustain long drives, and its elite pass rush could have its way against an offensive line that ranks 30th in pressure rate allowed, pushing Kirk Cousins off script.
The Vikings have won seven straight, all by one score, and might have just won their Super Bowl. Their luck could run out against a superior Cowboys team.
THE PICK: Lean Cowboys -1
The Browns are technically one of the teams in our dangerous underdogs range, but I'm not sure they'll finish that way. I grabbed Buffalo -8.5 Sunday night expecting this line to rise, and it got to -9.5 quickly before swooning back this direction.
This is a great buy-low spot for the Bills. Josh Allen looks healthy enough and, just as importantly, Buffalo should field a much healthier defense against Cleveland. That was the real problem against Minnesota with four of five secondary starters out.
Cleveland also played on Sunday and its defense got blown off the field. Buffalo has a similarly aggressive passing attack to Miami and should hang a big number — Cleveland's offense isn't built to win a shootout. The Browns also welcomed Deshaun Watson back to the practice field this week, which could be more than a slight distraction and throw things off.
When the Bills win, they win big. An incredible 24 of their past 27 wins have been by double digits. So either you think Cleveland wins this outright, or you play a Bills cover, especially while this line is a bit low.
Much has been made of Buffalo's recent second-half struggles, with no TD since the Week 6 win against the Chiefs. But Josh Allen covers 67% of his second halves over his career, and the Browns have only covered 17 of their last 52 (33%), constantly falling apart late. Even if the Browns hang around awhile, expect the Bills to get back on track.
THE PICK: Lean Bills -8
OTHER ANGLES: Bills 2H
The Panthers have actually been respectable since firing Matt Rhule, winning twice and ranking around league average offensively. But that also coincides with the switch to P.J. Walker, who is now injured and being replaced by Baker Mayfield.
When Mayfield plays half the snaps this season, the Panthers offense ranks 31st in DVOA — and you know the Ravens defense knows all of Mayfield's tendencies after years of division games.
John Harbaugh has covered five in a row against Mayfield, and his teams are also 9-5 ATS coming off a bye week. Carolina shouldn't be much of a test for a rested Ravens team with a defense that's getting healthy.
THE PICK: Lean Ravens -12
On the one hand, Detroit's profile isn't much different than New York's if you ignore the win-loss column. The Lions actually rank one spot higher in DVOA, and their defense has improved rapidly since the bye week, from near worst in the league to top 20 against both the run and pass.
The Giants were our Lookahead pick on Friday at -3.5. I expected this line to rise to -6 or beyond, and I was clearly wrong on that one. But as much as Detroit has improved, so have the Giants.
New York's offense continues to get the job done and should be fine even with the Lions improving, not to mention Detroit's offense has been inconsistent and should struggle against an improving Giants D.
I'll be honest — I don't love this spot anymore. I'll still play the Giants at -3 but probably not any further. New York has seven wins this season all by one score, but that means every half point is important.
THE PICK: Lean Giants -3
---
THE BETS
We rode the Steelers last week to an easy home win, and we're going back to the well as this is my favorite pick of the slate.
T.J. Watt truly changes everything for the Steelers. Without the reigning Defensive Player of the Year, the Steelers defense ranks bottom three over the past two seasons. With him, they've consistently rated as a top-10 unit, leading the league in sacks in five consecutive years when Watt is on the field.
Watt returned in Week 10 and Pittsburgh completely stymied the Saints offense, holding them to a meager 186 yards. The Steelers secondary is also starting to get healthy with Damontae Kazee and Levi Wallace back. By my metrics, a fully healthy Steelers defense ranks top five in the league.
Minkah Fitzpatrick is a real miss for Pittsburgh, but his absence is more than offset by Cincinnati being without Ja'Marr Chase. With Chase sidelined the last two games, the Bengals have plummeted to 20th in passing DVOA.
Without Chase, the Bengals offense just isn't quite as dangerous, and the revitalized Steelers defense may actually be the best unit on the field. Besides, there's just about no better situational spot in football than backing Mike Tomlin as a home underdog — especially against Cincy:
Tomlin vs the Bengals lifetime: 21-10 ATS (68%), his most profitable opponent
As an underdog against the Bengals: 7-2 ATS (78%); 7-2 SU
As an underdog Week 5 forward: 39-16-1 ATS (71%)
As a one-score dog in that spot: 36-11-1 ATS (77%)
As a division dog in that spot: 19-3-1 ATS (86%); 15-8 SU
As a home dog in that spot: 14-2-1 ATS (88%) and 13-4 SU, covering nine straight and winning the last seven outright
It's the Year of the Underdog, and no dog barks as loudly as the Steelers at home under Rah Rah Mike Tomlin.
I love the Steelers. I think they could win a second straight and pull off the upset so I'll also play the moneyline.
THE PICK: Bet Steelers +5 and Steelers ML +190
Does this even count as a division rivalry anymore?
The last time the Jets beat the Patriots in regulation, Mark Sanchez threw the opening touchdown to LaDainian Tomlinson in a 2011 playoff win. The last time it happened in the regular season was 25 matchups ago. New England has won 13 in a row against New York, 12-0-1 ATS to this line in that stretch. Not much of a rivalry.
But are these Jets different? New York has won five of six, and the last time we saw the Jets, they were upsetting the mighty Bills and then-MVP favorite, Josh Allen. That was a heck of a way to enter the bye week, but historically, that also tells us the Jets are probably a bit overvalued in the market.
That's just one of a slew of trends begging us to back the Patriots:
Opponent who just won by a TD or less as double-digit dogs: 25-15-1 ATS (63%)
Favorites playing a rested division opponent: 59-41-2 ATS (59%)
Favorites of a FG or less on 14+ days of rest: 49-28-5 (64%)
Home favorites of a TD or less after a bye: 76-56-22 ATS (58%) in the first half
Bill Belichick in games with a total below 40: 31-10-1 ATS (76%)
Belichick as an 8-point favorite or shorter against the Jets: 15-5-2 ATS (75%)
Division favorites against Robert Saleh: 6-3 ATS (67%)
No matter how you slice it, the trends love the Pats.
Both teams rank top three in defensive DVOA over the past five weeks, and in a game of outstanding defenses, you want Belichick every time. New England's terrific pass rush looks like a big advantage, and so is Belichick with two weeks to prep for Zach Wilson.
THE PICK: Bet Patriots -3
This is a classic buy-low, sell-high spot.
On Sunday morning, this line was Eagles -10.5. Philadelphia was the unbeaten and dominant Super Bowl favorite, and Indianapolis was the laughingstock of the NFL with a totally untested coach and one of the worst profiles in the league.
We're throwing the whole first half of the season out for one wonky weekend?
The popular narrative now is that Jeff Saturday changed everything and that the Colts weren't really as bad as they looked in those two Sam Ehlinger weeks.
Spoiler alert: Indianapolis was awful in its Matt Ryan games too. The Colts offense ranks last in DVOA on the season in just Ryan games, including last as a passing attack.
As for Saturday, we really think he had some master plan to fix everything on a short week with zero preparation? Isn't the more likely scenario that the Colts simply beat a train-wreck Raiders team that ranks last in defensive DVOA — not to mention they needed to rally for a late TD to get over the line?
I'm not moving this line four points from one weekend of results, and I won't magically pretend the Colts suddenly learned how to block and play offense just because they hung 25 points on the worst defense in the league.
Philadelphia wasn't itself on Monday night and misses Jordan Davis, but I can't take too much away from a game where it had more turnovers in one night (four) than the entire first half of the season (three). Their exhausted defense — on the field over 40 minutes — held Washington to 4.1 yards per play, but got bit by an outlier of 12-of-21 third-down conversions from a team that ranks near the bottom of the league on late downs.
The Eagles weren't good, but they weren't bad either. They were just unlucky, and I'm happy to back them as under a touchdown favorite against a Colts team that has to win more than one game to win me back.
I'm expecting a good start for the Eagles, too. Philadelphia remains 7-2 ATS in the first half, and the Colts are 1-8 ATS there. The Colts rank 32nd in first half DVOA offense compared to Philly's at No. 2. Indianapolis also ranks 24th in first-half defense (versus fourth in the second half), with Philly No. 3.
A week ago, I fully expected to back the Colts as a long home underdog against an inflated unbeaten team. Circumstances have changed, and I'm grateful for the gifted points on the line effectively giving us a free teaser.
THE PICK: Bet Eagles -6.5
OTHER ANGLES: Eagles 1H -3.5 (or play both together at +150)
How would you rate this article?
This site contains commercial content. We may be compensated for the links provided on this page. The content on this page is for informational purposes only. Action Network makes no representation or warranty as to the accuracy of the information given or the outcome of any game or event.