NFL Week 5 Betting Picks: 3 Underdogs To Target, Including The Philadelphia Eagles & San Francisco 49ers
Credit:
Ezra Shaw/Getty Images. Pictured: 49ers QB Trey Lance.
Welcome to Week 5.
With all 32 teams in the NFL having four games under their belts, we're starting to get a better feel for scheme tendencies while beginning to differentiate between the haves and have nots — although it's still too early to completely abandon preseason power ratings.
It's also still the NFL, where overreactions will persist throughout the regular season based on weekly results. That's exactly what I'm seeing with a trio of underdogs this week.
Let's dive right into those and then finish up with one key thought in each of the other 10 Sunday afternoon games.
The hype took off in the Charlotte area after the Panthers raced out to a 3-0 start. However, it was one of the more hollow 3-0 records you'll ever see in this league as a result of an extremely favorable opening schedule that saw them play the Jets, Saints and Texans.
Yes, in its first three games, Carolina got to face two rookie quarterbacks (Zach Wilson and Davis Mills) making their first career starts — one in Week 1 and the other on a short week. And the other came against a Saints team (fresh off of an upset win over the Packers) that had key injuries and eight assistant coaches out due to COVID-19 protocols.
The scheduling gods (clearly Panthers fans) didn't stop there as Carolina then benefited from four extra days of preparation for a road date with the Cowboys, who smacked division rival Philadelphia the previous Monday night.
Despite the scheduling advantage, the Panthers came crashing back down to reality in a game that was never really in doubt. The Cowboys averaged 7.7 yards per play, including 34 rushes for 245 yards (over 7.0 yards per carry).
It's safe to say many overrated the Panthers defense after the 3-0 start. However, even after that humbling game that quieted down some of the hype, the market still seems to be a little bit too enamored with the Panthers compared to where I project this spread.
Part of that might have more to do with a complete lack of faith in the Eagles, who have dropped three straight after a Week 1 road romp of the Falcons. However, Philadelphia had a much tougher schedule with its other three contests coming against the Cowboys, Chiefs and a healthy 49ers squad it probably should've beat.
Despite missing four of its original starting offensive linemen on Sunday, the Eagles offense still performed at an extremely high level against the Chiefs. In fact, Philly didn't punt a single time. I think the Eagles can carry some of that momentum over into this week and (hopefully) improve some of the red-zone play-calling, which really cost them a shot at keeping up with Kansas City.
I expect Jalen Hurts to take advantage of a vulnerable Carolina secondary that is still without three of its five Week 1 starters in the secondary when in nickel packages. There's a reason Carolina traded for C.J. Henderson and Stephon Gilmore (not eligible until Week 7) over the past few weeks. It's also worth mentioning that Shaq Thompson won't suit up either, which really hurts a thin linebacker group.
Additionally, the Panthers likely have some massive third-down regression coming on the defensive side of the ball. They currently lead the league with a 23.8% opponent third-down conversion rate. Yes, that's partly opponent driven, but it's still nowhere close to sustainable for this unit. That mark would actually set a new NFL record. For reference, the Dolphins led the NFL last year at 31.2%.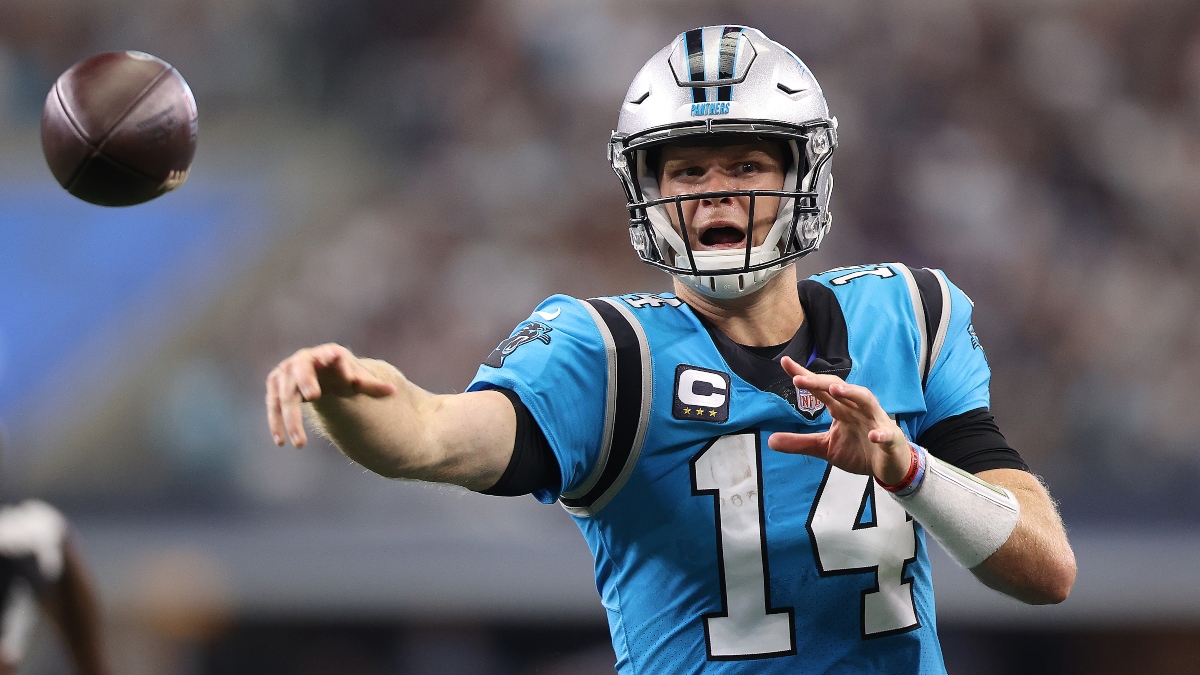 The Panthers strength on defense right now is their edge rush, which could pose problems for a beat-up Eagles offensive line. However, I think there's a decent chance at least one (if not both) of Philly's starting tackles return this week. That would go a long way in helping to neutralizing the Panthers' very capable edge rushers. (Thursday update: Jordan Mailata practiced; Lane Johnson still didn't.)
On the other side of the ball, the Philly defense will feel relieved to see this Panthers offense after facing the high-powered Chiefs and Cowboys offenses in back-to-back weeks. This is still an offense run by Sam Darnold, who I'm not a believer in, especially with a subpar offensive line with three of five questionable slots that ranks 23rd in Pass Blocking Efficiency.
Philly should generate enough pressure to disrupt Darnold and a Carolina offense that still could be without its best player in running back Christian McCaffrey. Yes, McCaffrey practiced this week, but I don't think they rush him back this week, risking a longer-term injury, especially after starting 3-1. I could be mistaken, but that's my assumption here.
Too much value in this line to pass up due to what I think is a misguided perception difference between two teams that I power rate very similarly.
This matchup fits almost the exact mold of the one I just covered. I just believe there's betting value on the underdog that has been undersold after a couple of losses taking on an overbought Cardinals team.
Just two weeks ago, everybody wanted to buy 49ers stock after they started out the season 2-0 on a prolonged trip out east to pick up two road wins against the Lions and Eagles. Now, after two home losses against two NFC contenders in Seattle and Green Bay (by a combined nine points), everybody has jumped off of the San Francisco bandwagon.
All of those selling their 49ers stock have seemingly reinvested their proceeds in the new hot stock of the week: the Cardinals, who are the last remaining unbeaten team in the league.
Admittedly, I've been super impressed with Kyler Murray so far this season. He's now just the third quarterback in NFL history to start out 4-0 with at least 1,200 passing yards and a completion percentage of 75% or greater. For what it's worth, the other two QBs, Russell Wilson and Peyton Manning, didn't cover in game five in the year they accomplished this rare feat.
Despite Murray's excellent play under center, I'm of the camp that the Cardinals are getting a little bit too much love for one dominant win over the Rams.
In Week 1, they took advantage of a Tennessee team playing its first game after a number of changes on offense (and a weak defense) while also having to deal with COVID leading up to the season opener. I think that game said more about the state of the Titans at the time than anything else.
The Cardinals followed that up with a road win over winless Jacksonville in a game the Jags led 19-10 with under two minutes to go in the third quarter before things unraveled, including a pick-six on an ill-advised throw (and play-call) on a flea flicker. Arizona then moved to 3-0 by squeaking by Minnesota at home after the Vikings missed a game-winning chip-shot field goal attempt as time expired.
As a result of a few late plays breaking their way, they were 3-0 instead of 2-1 or maybe even 1-2. Then came the dominating win over Los Angeles that filled up the bandwagon to capacity.
Yes, that was an impressive victory that caused me to bump Arizona in my power ratings, but it's still one game. And if there's one thing I know about betting the NFL, it's never over-react to one game in this league. Just take a look at Week 1 when the Steelers beat the Bills and the Saints smoked the Packers.
This is just a great buy-low, sell-high spot for a game that would've been lined pretty much at a PK before the season started. Yes, the Cardinals have exceeded expectations so far (although not as much as some believe) and the 49ers have a number of key injuries (Jimmy G, Trent Williams, George Kittle to highlight the biggest names that are questionable), but not enough to push this line across the key numbers of 3 and 4.
And even if Trey Lance gets the start, I expect Kyle Shanahan to come up with a rock-solid game plan that attacks in a variety of ways on the ground with Lance, the running backs and even receivers against an Arizona defense that ranks second in EPA per drop back but remains very vulnerable against the run, which is exactly how the 49ers can attack here.
Here are some of the more troubling metrics for the Cardinals run defense:
29th in Rush Success Rate
25th in Adjusted Line Yards
27th in 10+ yard rushes allowed
32nd in percent of rushes allowed over five yards
The San Francisco offensive line should generate a sizable push up front against an Arizona front that still has major holes. Lance should also look much more comfortable with a full week of practice getting reps with the first team in addition to specific packages built out for him. The element of surprise and lack of tape on those plays and sets can only work in the 49ers' favor.
Plus, I love backing Shanahan as an underdog (especially against Kliff Kingsbury in what I think is a massive coaching edge for San Francisco):
Shanahan as an underdog: 23-16 59% (14.8% ROI)
Shanahan as a favorite: 8-20-1 28.6% (-42.3% ROI)
Those underdog numbers also include a 16-9 (64%) ATS mark away from home, covering by just under 4 points per game.
Defensively, the 49ers also aren't at full strength, but they've done a solid job containing Murray in the past. I foresee they get enough pressure to be disruptive without blitzing, which is key against Murray, who leads the league in passer rating when blitzed.
Don't forget the 49ers really botched that Seattle game last week with many costly penalties and a couple of mindless special teams blunders. Speaking of special teams, the Cardinals rank No. 1 in the NFL in special teams hidden points, per Football Outsiders. That means they've benefited more from things out of their control on special teams (missed field goals, punts) more than any team in the league. There are other potential areas that suggest regression could be coming for Arizona, including turnovers. And the 49ers have done a solid job defending Murray (without blitzing, which is key) in the past.
Lastly, don't forget home-field advantage continues to diminish with each passing season. In fact, road teams have a winning record through four weeks this year. And that advantage has always been less in division games where teams usually don't have to travel as far and have more familiarity with opposing venues. Well, that's even more pronounced here for the 49ers, who played some of their home games in Glendale last year.
In a game where the home-field advantage minuscule, I simply find a way to get to this number. Maybe the Cardinals are truly elite and they will prove me wrong, but I will gladly pay to find out without hesitation here.
Bengals +3 vs. Packers
First off, this is a good situational spot for the Bengals, who will benefit from a few extra days of rest and preparation after playing at home last Thursday night. Meanwhile, the Packers had to make the trip to Cincy after playing a physical Steelers squad.
With that said, this is primarily a complete fade of the Packers defense. For starters, Green Bay's defense hasn't looked good to start the year. Excluding garbage time, the Packers defense ranks 26th in Success Rate — despite playing the Lions and Steelers in two of their four games. The other two were underwhelming performances against Jimmy Garoppolo and Jameis Winston.
To make matters worse, this defense is nowhere close to healthy. Top pass-rusher Z'Darius Smith was already on IR and now Jaire Alexander, one of the best corners in the entire NFL, will likely not see the field this week due to a shoulder injury. No. 2 corner Kevin King has also missed the past two weeks due to a concussion and linebacker Preston Smith got a little banged up against Pittsburgh.
The key injury here is Alexander, who just means so much to the Packers defense. By locking down one side of the field, he allows the Packers to do so many other things scheme-wise. Without him, this is an extremely vulnerable cornerback room that Joe Burrow can pick apart with one of the most talented wide receiver groups in the league, especially with Tee Higgins expected to return from injury. Burrow should also have plenty of time to throw against a defense that ranks below average in Adjusted Sack Rate.
On the other side of the ball, Cincy's defense has been a pleasant surprise so far this season, ranking sixth in Success Rate. The secondary should be healthier this week and the defensive line could get some impactful pressure against an offensive line that could be down three starters. Deep-threat Marquez Valdes-Scantling also remains shelved on the IR, which certainly makes the Packers easier to defend when Rodgers drops back.
Look, Rodgers should get his as usual, but I'll gladly take the three points with a Bengals offense at home that should move the ball effortlessly against an undermanned Green Bay defense. And if Joe Mixon can't go, that might work out in Cincy's favor if it leads to more Burrow early-down throws. But even if he does, Cincy should find holes against a leaky Packers run defense that ranks dead last in Stuff Rate.
From a total perspective, I fancied the over some at below 52, but these two teams don't play very fast. Therefore, I'd rather wait to see if either team jumps out to a double-digit lead, which could set up a nice live or 2H over bet.
10 Quick Thoughts
1) The regression monster looms for a Jets (+3 vs. Falcons) defense that could have tired legs in London after facing Derrick Henry in an overtime game.
Despite a defensive roster void of talent and full of injuries, New York's defense ranks in the top five in both red-zone TD percentage and third-down conversion rate. However, the Falcons are going to be without their top two wideouts.
2) Here's a stat that really illustrates the ineptitude of the Steelers (-1 vs. Broncos) offense: 18.4% early-down rush success rate. The next worst is Miami at 24%. Ben Roethlisberger's rapid decline isn't the only issue in Steel City. The offensive line is simply getting no push.
3) Can anybody slow down this Cowboys (-7.5 vs. Giants) offense? Dallas boasts a 58% Rush Success Rate on Early Downs, while no other team in the league sits above 50%. The Cowboys (along with the Chiefs) are also one of only two teams with a Pass Success Rate of over 60% on Early Downs. That's a deadly combination for Dak Prescott and the 'Boys.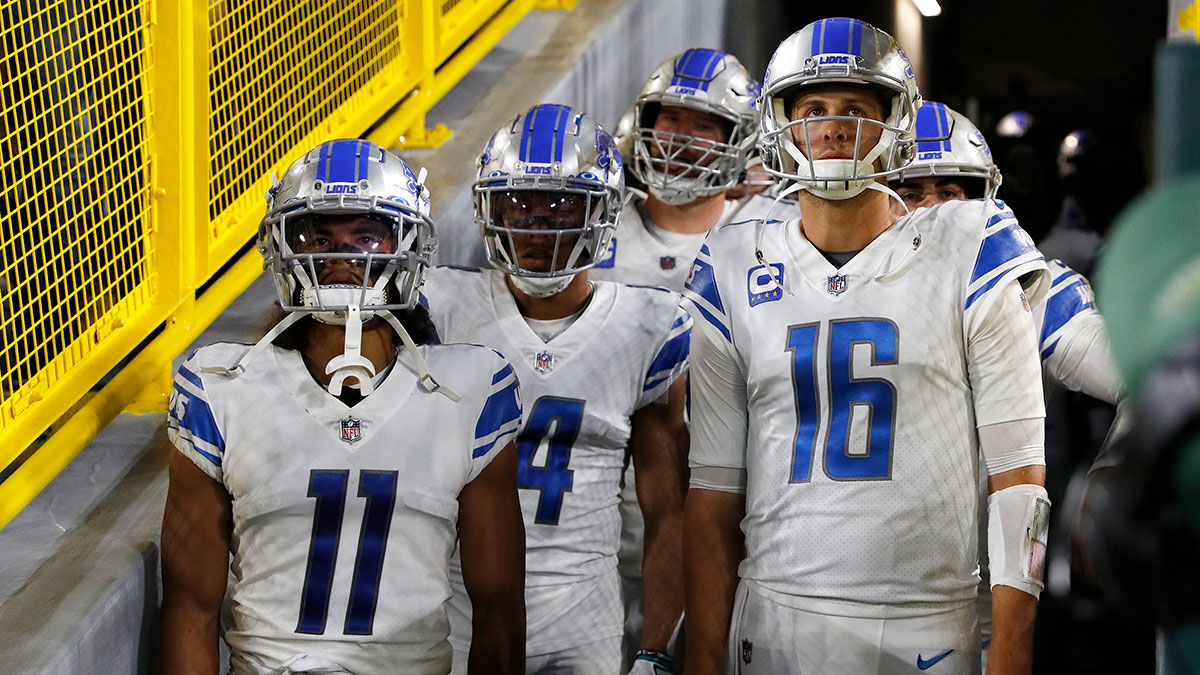 4) The Lions (+9 at Vikings) didn't have many strengths on paper coming into the season outside of their offensive line. However, that's suddenly turned into a potential major area of weakness. Pro Bowl center Frank Ragnow will now join starting left tackle Taylor Decker on IR, while first-round draft pick tackle Penei Sewell may also have to miss this week. Not great, Bob.
5) Can we start talking more about this re-loaded Browns (+1.5 at Chargers) defense? With a deep and talented secondary to complement Myles Garret's pass rush and the excellent play of rookie linebacker Jeremiah Owusu-Koramoah, this defense is playing at a ridiculously high level.
Cleveland has only allowed a grand total of 20 points over its last 10 quarters and just held back-to-back opponents to single digits for the first time since 1995. If Baker Mayfield can start hitting wide open receivers, look out!
6) Can Jacoby Brissett exploit an undermanned Bucs (-10 vs. Dolphins) secondary with an efficient short-passing attack? That will likely decide if Miami covers or not. Tampa may be down its three Week 1 starting corners with safety Antoine Winfield Jr. also in concussion protocol.
Teams have wisely attacked this Bucs defense through the air with quick passes to exploit the depleted secondary while keeping their pass rush in check. It also makes sense since nobody can run on the Tampa defense, so why even waste your time? As a result, Tampa has allowed opponents to complete 73% of their passes, which ranks third-worst in the NFL — only better than the Jaguars and Giants.
Miami won't get anything on the ground with its completely incapable rushing attack and its horrendous offensive line won't give Brissett much time in the pocket to look deep (plus no Will Fuller), so it all comes down to his efficiency in the quick-passing attack.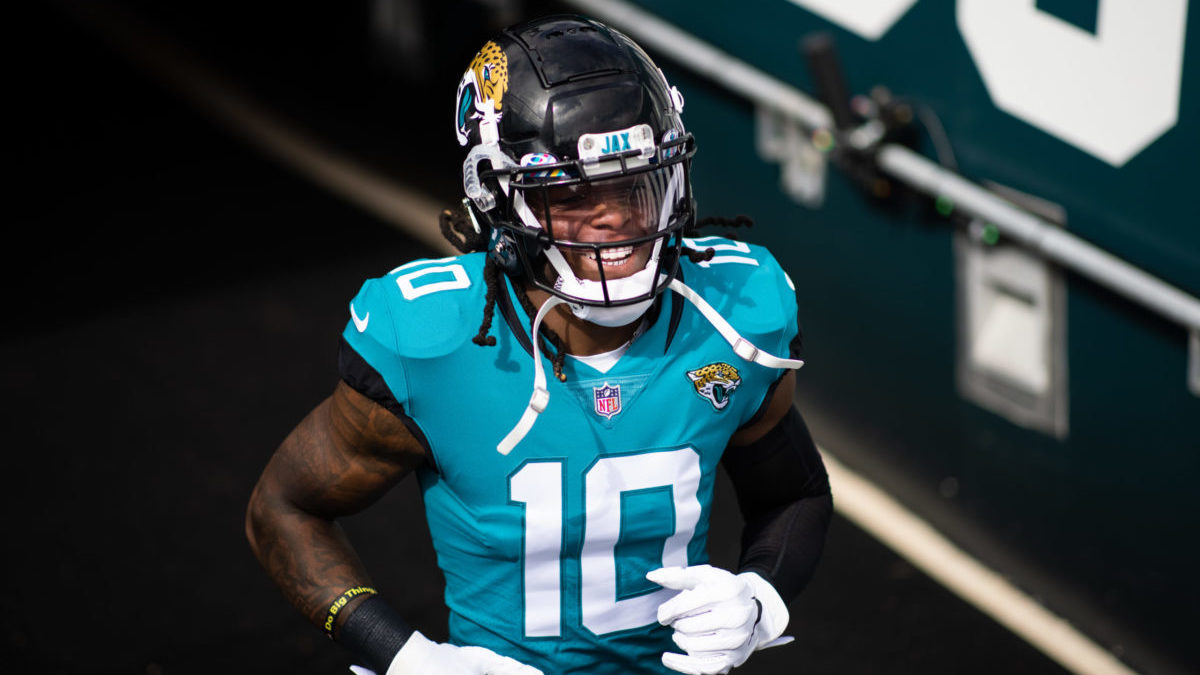 7) The winless Jaguars (+4.5 vs. Titans) do get extra rest and preparation for a Tennessee team playing its second straight road game after an overtime affair in New York last Sunday. For me, this all boils down to if A.J. Brown and/or Julio Jones play. If neither can go, Jacksonville has value at home against a very poor Tennessee defense.
I actually think Mike Vrabel will err on the side of the caution with both this early in the season, especially since the Titans play in a weak division and will have an extra day of rest next week before an AFC showdown with the Bills on Monday night.
8) This could be a potential flat spot for the Raiders (-5.5 vs. Bears). They are on a short week after an emotional 3-1 start against four teams many thought would compete for playoff spots in the AFC. This game is also sandwiched in between a pair of division matchups with the Chargers and Broncos. For what it's worth, home favorites that played the previous Monday night have gone just 69-94-5 (42.3%) since 2003, per Action Labs.
9) When will the Football Team (+1 vs. Saints) defense show up in 2021? There have been major coverage issues on the back end and this highly-touted defensive line full of former first-rounders only has seven sacks in four games. They might be able to finally get going here agains Jameis Winston, especially if New Orleans is still without starting left tackle Terron Armstead and starting center Eric McCoy.
10) There are many historically profitable buy-low trends on the Texans (+9 vs. Patriots) one week after getting shut out 40-0. However, while this is an awful situational spot (traveling to Houston in between games against Tampa and Dallas), head coach Bill Belichick has always thrived in this spot by keeping his teams focused.
Belichick owns a 30-20-1 (60%) ATS record as a road favorite against sub-.500 teams. The bigger question facing New England this week is who will suit up along the offensive line due to a handful of covid and injury issues.
How would you rate this article?
This site contains commercial content. We may be compensated for the links provided on this page. The content on this page is for informational purposes only. Action Network makes no representation or warranty as to the accuracy of the information given or the outcome of any game or event.