NFL Odds & Finals Picks For Every Game: Browns & Bills To Cover As Underdogs, More Bets To Make In Week 5
Credit:
Joshua Bessex/Getty Images. Pictured: Josh Allen.
Let's finalize our Week 5 picks as we get ready for some October football.
We've already covered every game in some detail below, but let's circle back with a few late-week updates to our positions now that we have more information on injuries and how the lines moved.
First, let's recap picks from below that remain unchanged:
Packers -2.5 at Bengals (Bet)
Bucs -9.5 vs. Dolphins (Lean)
Titans -4.5 at Jaguars (Bet)
Patriots -8 at Texans (Lean)
Browns +2.5 at Chargers (Bet)
Giants +7 at Cowboys (Lean)
Raiders -5.5 vs. Bears (Lean)
Bills +3 at Chiefs (Bet)
Colts +7 at Ravens (Lean)
A couple games were near toss-ups earlier this week, but with lines moving in the wrong direction and trends not in our favor, we'll tenuously flip to the other side. The Lions are now 10-point dogs in Minnesota. Double-digit road dogs are 109-85-7 ATS (56.2%) in division games. That's a pretty solid edge over a large sample — it's tough to win big in rivalry games. Detroit has been good in garbage time and the Vikings aren't good enough to be double-digit favorites.
As for the Saints, we hate backing Jameis Winston in a toss-up spot with a rising line. In games featuring spreads of three or less, no QB in Action Labs has been less profitable. Betting against Winston in any toss-up game gives bettors a 21-12-3 ATS (63.6%) advantage. We're switching sides to the underdogs with the line moves but ultimately passing on both of those games:
Washington +2.5 vs. Saints (Pass)
Lions +10 at Vikings (Pass)
Jets +3 vs. Falcons (Pass)
Alright, let's dive a little deeper into three games we waited on this week.
Eagles at Panthers (-3)

This is the game I just haven't been able to get a read on all week. And that's probably because I'm not too into either one of these teams yet — I've picked against both Philadelphia and Carolina in all four games this season.
Both of these teams are really banged up. Carolina is missing Jaycee Horn at corner and can't play Stephon Gilmore yet — breakout LB stud Shaq Thompson is out this week too. The Eagles are missing three offensive line starters, while the Panthers are missing two of their own. It looks like Christian McCaffrey will miss again too with that hamstring injury.
In the end, I'm not sure these teams are that far apart. The Panthers are 3-1 but compiled unimpressive wins over the bad Jets and Texans, and the defense looked far less impressive last week against the Cowboys. The Eagles have lost and failed to cover three in a row but actually played the 49ers and Chiefs pretty well during that stretch, and it's no real embarrassment to lose to those two and the Cowboys. Philly is defending well and moving the ball better than I expected.
I still don't have a great read on this one, and when that happens, it's usually a good idea to default to the underdog and take the points in what might be a toss-up situation. I think I'll ultimately sit this one out though.
THE PICK: Eagles +3 (Pass)  |  Previously Wait
Broncos (-1.5) at Steelers

We waited on this one for more injury news, but it's still looking murky. Teddy Bridgewater appears to have cleared concussion protocol and looks on track to start, but we don't know for sure yet if he'll play or how good he'll look.
Meanwhile, the rest of the injury report has gotten muddied. Patrick Surtain II is questionable, and the Broncos are already without Ronald Darby at corner. Melvin Gordon is questionable at RB, and now Courtland Sutton is questionable too after rolling his ankle. And remember, Jerry Jeudy is still out.
Still … I really don't like the Steelers. I really, really don't want to pick the Steelers here. Roethlisberger is so washed I've been calling him "Big Been." Dude has THREE fourth-down checkdowns in the last two games. And Denver's defense is really good. Points will be at a premium in this game.
Still, Drew Lock is somehow even worse than Big Been. If he starts, I have to play the Steelers. If Bridgewater is a go, I'll take Teddy Covers but stay away.
THE PICK: Broncos -1.5 if Bridgewater starts (Pass), Steelers +1.5 if it's Lock (Lean)
49ers at Cardinals (-5.5)

We waited for injury news in this one too, and we got it: Jimmy Garoppolo is out this week, which means rookie Trey Lance will officially make his first start — and he'll do it on the road against the last unbeaten team in the NFL. Oh baby.
Normally, that would make this the easiest decision in the world. Rookie quarterbacks have struggled this season, and Lance was presumed to be the least NFL-ready starter. He had deer-in-the-headlights look in relief for Jimmy G last week, with only one completion his first 20 minutes of game play, and now he has to go on the road against the red-hot Cardinals?
But my instincts all lean the other way. I'm ready to fade Arizona for a few weeks after they looked SO good against the Rams. This team feels a bit overvalued right now. The win over the Rams was great but inflated by some uncharacteristic L.A. mistakes, missed passes, poorly-timed turnovers and the like. The Cards should've lost to Minnesota, and the wins over Titans and Jaguars shouldn't impress anyone. The Cardinals no longer untested — but we shouldn't pretend like they're this 4-0 juggernaut either.
The Cards are getting extra points here thanks to that zero at the end of their record, and this might actually be a get-right spot for the 49ers. Garoppolo is out, and it looks like George Kittle will miss too, but the Niners are getting much healthier overall. Stud tackle Trent Williams is good to go, RB Elijah Mitchell is back, and names like Josh Norman and Javon Kinlaw are back on defense. The 49ers weathered the early storm — and they might have been forced into playing the more talented and better scheme-fit QB.
The weak spot on this Cardinals team is the run defense. Arizona can be run on, and you better believe Kyle Shanahan will have used this week in practice to get the team and the playbook ready for Lance. That means using his QB as a runner. It means zone reads and misdirection, and the return of Mitchell means stretch plays from the team's best one-cut runner, and those two will run behind Williams, who remains maybe best O-lineman in the league.
The best defense against Kyler Murray is a run game that chews up the clock and keeps him on the sidelines. This is a huge chance for Lance. If he looks good heading into the bye week, it's the perfect time for San Francisco to turn over the playbook and go forward with the rookie. Arizona can really put some distance between itself and the rest of the division with a win, but most metrics put San Francisco pretty close behind the Cards.
I'm willing to give the rookie a shot in his first start because I like the matchup and because I'm always happy to bet against Kliff Kingsbury and on Kyle Shanahan. Shanny is awful as a favorite (8-20-1 ATS!) but a healthy 23-16 ATS as an underdog, including 10-3 ATS (77%!) the last two seasons.
I searched all week for that big underdog who can win and be this week's Upset Special. With Lance in the lineup, I think we found it. The 49ers are +200 to the moneyline at DraftKings. I think the Niners are live.
THE PICK: 49ers +5.5 (Lean)  |  Previously Wait
---
Editor's Note: The content below was published on Wednesday. Please check out the information above to see how Brandon Anderson's picks have changed — and why — since then.
We're already almost a quarter of the way through the new NFL season, and Week 5 is our last full week before the byes.
The season is moving quickly, and so are the Power Rankings.
The Bucs and Chiefs were heavy favorites to start the season but have picked up key injuries and losses already. The Bills were buried after a home Week 1 loss but have been the best team in football ever since. And a team many picked to finish last in their division (including me!) is our last unbeaten after the Arizona Cardinals went to Los Angeles and crushed the Rams.
So how much do we adjust our priors coming into the season? And where do we stick with what we believe about these teams? Four weeks may not seem like much, but after 240 minutes of football, these trends really start to matter. Let's dig into the numbers and make some picks.
Remember we're rolling this piece out each Wednesday to get ahead of the market, but that timing sometimes costs us with key injury and other news that could still break, so the confidence ratings for this initial edition of our Week 5 column are "bet," "lean" or "wait."
Check back Saturday for my final rulings and decisions on "waits."
Note: Odds highlighted below are the best available for each pick as of writing. Shop for the best real-time lines with our NFL odds page here.
---
Thursday Night Football
We've got an awesome Thursday night game to start the week as the Rams hit the road for Seattle in a matchup of NFC West rivals.
Both are just four days removed from another division battle. The Seahawks dug out of an early hole to take care of the 49ers while the Rams got blown off their own field by the unbeaten Cardinals. Just a few days ago, the Rams were flying high after a win over the mighty Bucs while the Seahawks were staring at 1-2 from the bottom of the division — now they can pull ahead of LA with a home win.
Seattle was unimpressive in its win over San Francisco, though.
The game swung in a weird five-minute stretch with a couple of magical moments from Russell Wilson bookended around a fumbled kickoff by Trenton Cannon, who had about the worst special teams day you could imagine for the Niners. They got the win but were dominated on paper as the 49ers rolled up yardage while the Seahawks defense struggled to get off the field.
The Rams' blowout wasn't as bad as it looked. It felt more like "one of those days" for LA.
Matthew Stafford was intercepted early and missed Cooper Kupp for an open touchdown later. Sony Michel fumbled on the Rams' 25 early in the second quarter, giving the Cardinals a short field. The Rams missed a field goal and turned the ball over on downs at the 1-yard-line.
LA's offense was just fine. It's the defense that was the problem. The Rams forced a three-and-out on the first drive but allowed the Cardinals to score on seven of their next eight possessions, including long scoring drives of 87, 75, 70, 64 and 94 yards.
We could get a lot of points on Thursday night, because both of these defenses are pretty problematic.
Football Outsiders ranks both LA and Seattle among the top four offenses by DVOA, but the Rams rank 20th by defense while the Seahawks are 25th. Seattle's pass defense is particularly problematic, rated 27th in DVOA versus the Rams' second-ranked passing attack. Sean McVay and Stafford have been passing the ball all over teams, and Seattle's defense hasn't been able to get off the field all season.
If you're a trends bettor, you'll love Seattle. Short underdogs have been killing it this season, and Russell Wilson is 24-10-2 (70.6%) against the spread (ATS) as an underdog and 14-6-2 (70.0%) ATS at home in primetime, though McVay is 10-5 (66.7%) ATS coming off a loss, and he and the Rams have won six of eight against the Seahawks (including three in Seattle).
I'm playing the matchup, though — not the trends. I don't trust Seattle's O-line against Aaron Donald. And I don't trust the Seahawks defense to get off the field against an elite offense.
THE PICK: Lean Rams -2
---
Sunday Morning

We got our first London game of the year, and hoo boy, it's a doozy.
Jets! Falcons! Set your alarms for 9:30 a.m. ET … it's football time!!
This is ugly. The Jets rank 30th on DVOA and 32nd in offensive DVOA. The Falcons rank 31st on offense, 29th on defense and 32nd in overall DVOA. You're welcome, London. Stay safe out there.
The one decent unit in this game is the Jets defense, where Robert Saleh has made his mark early while fellow rookie head coach Arthur Smith struggles to find his way with the Falcons offense. Now there are rumblings that Matt Ryan wants out, right after Atlanta blew yet another winnable game.
I'll take the good vibes and the team coming off its first win of the year. Just don't forget to set your fantasy lineups early.
THE PICK: Lean Jets+3
---
Early Sunday Afternoon
What would this line have been a month ago? Packers by 10? Certainly at least a touchdown.
Instead, we get a gift from the oddsmakers after a 3-1 start from Cincinnati, but really, what have these Bengals proven? They got lucky to beat the Vikings in the opener then beat bad Steelers and Jaguars teams, and the Bengals needed a comeback against the Jags.
The Packers haven't been particularly impressive themselves, but there's still a gulf in talent between these two teams. Cincinnati's defense grades out well so far but it's been a pretty weak slate of opponents offensively, and Aaron Rodgers, Aaron Jones and Davante Adams are another animal entirely.
This line feels worryingly low, so we have to hope the Packers don't eke out a one- or two-point win, but I'll gladly grab the Packers before we lose the -3. Aaron Rodgers is 54-29-1 ATS lifetime as a one-score favorite, covering 65% of the time. Even if it's close late, Rodgers will find a way like usual.
THE PICK: Bet Packers -3
The Battle for Florida feels like a chance for Tom Brady and the Bucs to exhale. First it was a monster game against the Rams, then all the emotions from Sunday night with Tom's return to New England. Now, finally, it's just an ordinary football game — and against a team that has been pretty awful.
The Dolphins managed only three points at home against a Colts team on life support until scoring a couple of garbage time touchdowns on fourth down, and the Dolphins were shutout at home by the Bills a few weeks ago. This Miami offense is ranked 29th in both passing and rushing DVOA, so even with Tampa Bay's secondary so banged up, I'm not sure Jacoby Brissett will be able to take advantage.
And while the Dolphins' pass defense is good with Xavien Howard and Byron Jones, Brady knows head coach Brian Flores — former Patriots defensive coordinator — and should pick this aggressive defense apart.
If you like Tampa, don't wait. This line could easily approach two touchdowns by kickoff.
THE PICK: Lean Bucs -9.5
I didn't love either of these teams coming into the season, and I've picked against both in all four games so far.
Carolina is built around an elite defense that's starting to fall back to earth, while Philadelphia is best in the trenches, but both teams are rapidly picking up key injuries at their biggest strengths. The Panthers lost rookie corner Jaycee Horn and will now be without breakout star LB Shaq Thompson, while the Eagles lost their top pass rusher Brandon Graham and are down three or four starters on the offensive line.
I can't get a feel for this game yet, and my pick may ultimately come down to which direction the line moves and the injury report shakes up. Let's wait.
THE PICK: Wait to see where the line ends up
This line was a full touchdown on Sunday morning, but then the Titans went out and lost to the Jets and the line was cut in half.
It's never a good thing losing to the Jets, but the Titans shouldn't be too worried. They dominated that game statistically, racking up yardage and running 93 plays to just 60 for the Jets, tallying a whopping 30 first downs and moving the ball with ease all game. And the Titans did that without both of their star wideouts, with A.J. Brown and Julio Jones out injured.
It was the mistakes that did Tennessee in. The Titans were sacked seven times and had 98 penalty yards, and they were 5-of-19 on third down and 2-of-5 in the red zone.
Those are the sort of thing that tend to even out over time, but do you know what doesn't even out? Having an awful head coach with one foot already out the door at his restaurant in Columbus. Urban Meyer continues to find new ways to look bad every week, and the Jaguars have been terrible.
Tennessee doesn't look great, but the Titans aren't going to crap the bed against a second straight winless team. Besides, they own the Jags. The Titans have won seven of eight, with four of those wins by 21 points, and Derrick Henry eats this Jags team for brunch and goes back for seconds.
THE PICK: Bet Titans -4
These are two of the NFL's most unpredictable teams, and it starts at QB since we never know what we'll get from Jameis Winston or Taylor Heinecke.
Washington was supposed to have a vaunted defense, but it hasn't happened yet. The Football Team have allowed 19 trips to the red zone to opponents, tied for most in the NFL, and the Saints have been lethal in the red zone, scoring 11 TDs on 12 trips with Taysom Hill doing the dirty work.
New Orleans isn't passing a ton right now, but the Saints are efficient when they do. They rank eighth in pass offensive DVOA and should be able to do work against a shockingly bad Washington passing defense that ranks 29th.
It's not Washington that has the elite defense; it's New Orleans. The Saints rank second in defensive DVOA and top-six in both pass and rush D. Sounds like trouble against a backup QB.
Sean Payton is 31-20 ATS after a loss, covering 60.8% of the time by 3.5 points. He'll have his game plan ready.
THE PICK: Lean Saints -1
The Vikings are going to win this game. They are much better than their 1-3 record, and this could be a get-right game for the offense after a dismal showing against the Browns.
Even better, it's a third straight home game for Minnesota.
The question is whether Jared Goff and the Lions can come through the back door against a beatable Vikings defense, and it's a fair question, but that's why we like this one at -7 before we get the hook. Detroit's pass rush has been anemic and just lost top pass rusher Romeo Okwara, so Cousins should be comfortable in the pocket and have a big game.
Mike Zimmer is 35-22-1 (61%) ATS at home and even better in that spot as a one-score favorite at 22-12 ATS (65%). The Vikes are the much better team and should win this at home, which makes this a great spot to tease Minnesota. That's why this line will likely rise by kickoff.
THE PICK: Lean Vikings -7
There's absolutely no way I'm making a pick on this game until I knew what's happening with Teddy Bridgewater. I backed Denver all preseason only under the premise that he would eventually win the job and hold down the fort. The Broncos offense has been pretty good with Bridgewater in the lineup.
But when Teddy went out hurt, the only thing Drew Lock accomplished was reminding everyone exactly why Bridgewater won the job in the first place. We know Teddy Covers, especially on the road, so I have to wait to see if he's healthy before we play this one.
THE PICK: Wait for Bridgewater news
The Texans are coming off one of the worst performances in recent history, per Football Outsiders, with an ugly 40-0 shutout loss to the Bills.
The Texans surprised everyone by winning in Week 1 and playing the Browns competitively in Week 2, but it's been another story altogether with Tyrod Taylor out and rookie Davis Mills starting. Mills has been downright putrid. He hasn't exactly had an easy go of it against Carolina and Buffalo, but New England won't be much more of a treat. The Patriots rank second in pass defense DVOA, so once the Texans get behind here, they're in big trouble.
Bill Belichick almost never loses against rookie quarterbacks. He's just too smart defensively, and Mills has looked lost against ordinary coaches. Per Stathead, the Patriots and Belichick are 28-5 against rookie quarterbacks, with all but three of those wins by at least a touchdown. We need a little more than that here, but Belichick would've covered this spread in 20 of those wins.
The books are making us pay up for the Patriots with such a high line, practically begging us to talk ourselves into the Texans. Don't do it.
THE PICK: Lean Patriots -8.5
Late Sunday Afternoon
I have been pro-Browns and pro-Chargers all season and I cannot wait for this game… but I fear it might be the exact wrong matchup for LA.
The Chargers look amazing. They went to Kansas City and took down the mighty Chiefs, then rolled up a 21-0 lead on the undefeated Raiders on Monday night before a national crowd. Justin Herbert has quickly risen in the MVP contender ranks, and everyone loves Brandon Staley's Bolts.
Be careful, though. We loved the Chargers in those last two matchups because of how Staley's defense matches up. LA's pass defense has been great at taking away the deep ball and forcing the opponent to check down and run the ball. The Chargers run defense is not good, but the Chiefs and Raiders can't run the ball so that game plan has gone just the way Staley wanted it.
Hey, do you know who can run the ball? The Cleveland Browns.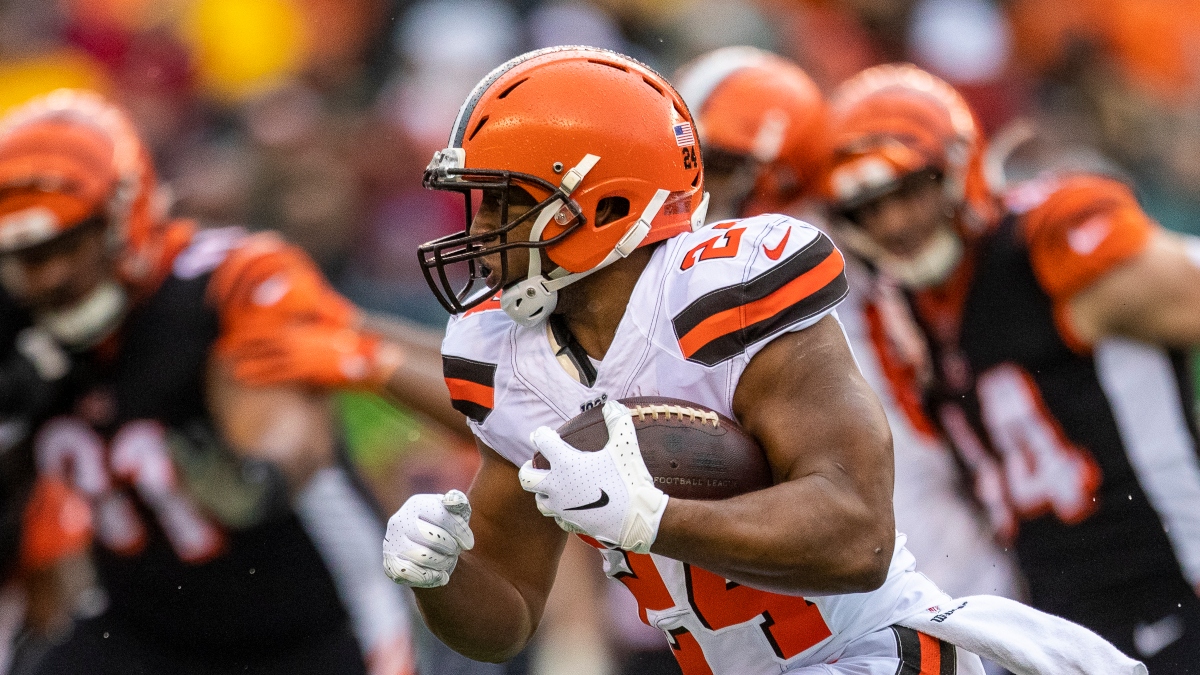 Los Angeles ranks second to last in rush defense DVOA and Cleveland is top five running the ball. Nick Chubb and Kareem Hunt remain the best running back duo in the NFL, and Cleveland's offensive line has struggled in the passing game but mauls opponents in the run. The Browns have not been passing it well but might not need to in this game.
It'll be hard for Herbert to play like an MVP if he's standing on the sidelines for 40 minutes while the opponent chews up the clock on long, grinding, run-down-your-throat drives.
I don't love the Browns' game plan overall this season. They're running far too often and not putting Baker Mayfield into a great position. But against the Chargers, that exact game plan could work to perfection. And while LA has been very aggressive attacking via pass, the Chargers aren't always successful and rely on outlier third-down conversion to keep drives alive.
Cleveland's defense is playing really well. If the Browns go on a long drive and then the Chargers go three-and-out and give it right back to Chubb and Hunt, it could be a long day.
THE PICK: Lean Browns +2
The Cowboys have been cruising lately, and it just feels like the ride might be a little too smooth right now. Dallas has the weapons to do just about anything it wants against a Giants defense that has been a major disappointment thus far, but division games are often much closer than they should be.
The Cowboys lost a Week 17 affair to the Giants last season but had won seven in a row against them before that. Here's the thing, though — nine of the last 13 games in this rivalry have been one-score games, and that includes a few really wonky finishes in there. Rivals have a knack for bringing out the weird in each other.
And don't forget, Daniel Jones is 11-4 ATS on the road, up to 73% after a cover and an upset win last week. The Cowboys defense has been better than expected, but this practically screams back door cover for Jones and Co. if need be.
Dallas is set up well for a teaser, but I'm trusting my gut, and it says America's Team can't just rollover opponents forever without a speed bump. You may want to wait to see if this line rises past the key number of seven again.
THE PICK: Lean Giants +7
This line was near a touchdown on Sunday morning but dropped a few points after Justin Fields got his first win, and I'm not sure it should have budged.
Fields made a couple nice throws down the field but completed only 11 passes all game, and his most notable play in both Bears wins has been recovering his own fumble. The Lions lost by 10 but turned the ball over four times inside the Bears' 10 somehow. If you get lucky to beat the Lions at home, you don't earn much respect.
Besides, this game shapes up much more like the ugly Cleveland game from a few weeks ago. The Bears have been miserable on the road, and the Raiders have quickly established a big home-field advantage. Remember how Chicago's offensive line was terrible with all that Cleveland noise against Myles Garrett and Jadeveon Clowney? Vegas might be louder, and Yannick Ngakoue and Maxx Crosby have been one of the league's best pass-rushing combos.
The Bears will have a hard time scoring on the road, and Derek Carr and the Raiders look like the real deal with a modern, aggressive, downfield passing attack.
THE PICK: Lean Raiders -4.5
Like with the Broncos game, there's no way we can play this one until we see the 49ers injury report.
San Francisco is practically "The Walking Dead" at this point. The 49ers were already in shambles at cornerback and running back, now Jimmy Garoppolo and stud LT Trent Williams are hurt.
We need to see who's actually playing for San Francisco before we have a lean here.
THE PICK: Wait for 49ers injury news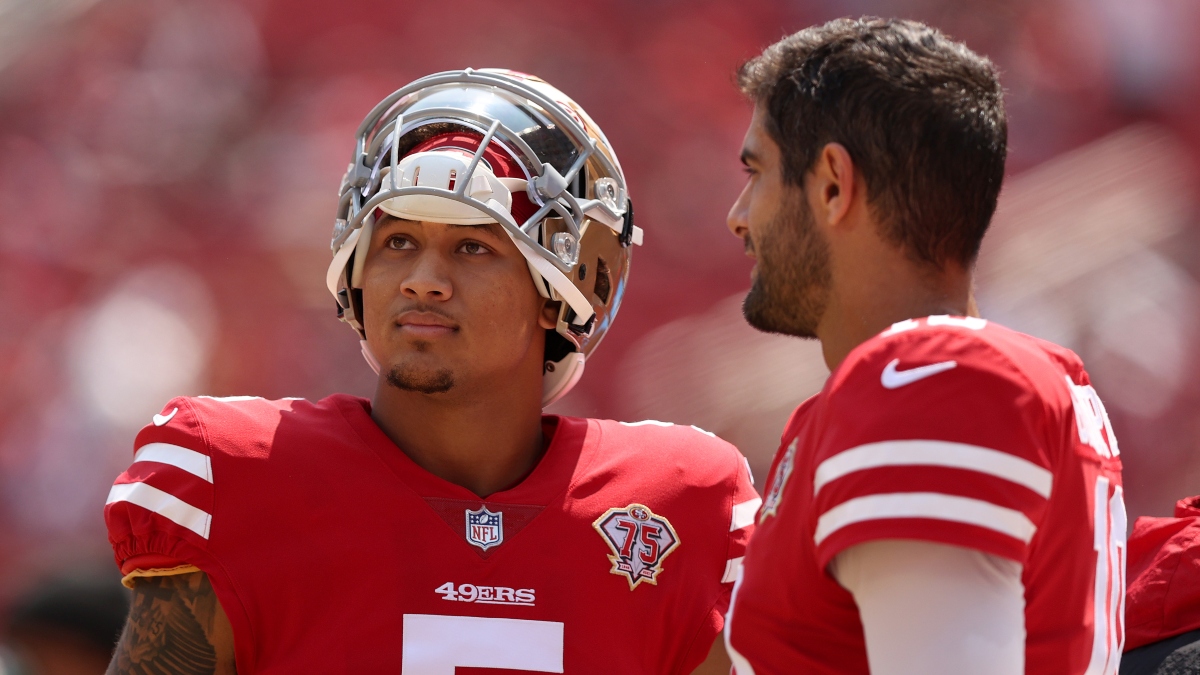 Sunday Night Football
The Chiefs offense needs no introduction.
Kansas City has the league's top DVOA offense and Patrick Mahomes might be having his best season ever. He leads the league with 14 touchdown passes with at least three in every game, putting him on pace for a record-breaking 60 over the season. He also leads the league in QBR and has thrown a touchdown once every 10 passes — and he's doing it underhanded and no-look these days, just because he can.
But this Bills defense might be up to the task.
The Bills defense leads the league in DVOA — they actually have one of the best defenses in NFL history through four games, per Football Outsiders. Buffalo's run defense ranks second in EPA per play while its pass defense ranks first. Opponents average -0.341 EPA per passing play against Buffalo, an absolutely absurd number.
The Chiefs have the No. 1 passing offense at 0.274 EPA per play. That means Kansas City gains about one "expected" point every four plays, and that makes sense. Passing is the most efficient way to move the ball, and offenses are supposed to gain points, not lose them.
But teams playing Buffalo this season are losing 0.341 EPA per pass play, meaning every three pass plays actually cost the opponent an expected point. Buffalo is 193% better than the second-best pass defense right now!
So who wins out: The Chiefs' mighty offense? Or the Bills' awesome defense?
It's a great question… but it might be the wrong one.
Kansas City will score, because Mahomes is Mahomes, but I'm making my pick based on the other side of the ball — because the Chiefs are an outlier on that side, too, and not a good one. Kansas City ranks dead-last in both rush and pass defense DVOA. The Chiefs are also dead-last in passing EPA per play on D, and they've allowed 19 trips to the red zone, tied for the most. Even in a fairly comfortable win over the Eagles last week, Philly moved the ball at will against Kansas City and lived in the red zone — the Eagles just failed to convert there.
The Bills defense is great enough to slow the Chiefs offense, at least a little. But Buffalo's offense is a better version of Philly's. The Bills have run the ball well and have a quarterback who can run, and Josh Allen and Stefon Diggs should light up this secondary. Remember Buffalo's elite pass D? Kansas City allows 0.422 EPA per pass play, an expected point every two and a half throws.
The Bills will absolutely move the ball on this team, and remember, the Chiefs tend to start out slowly and fall behind. This Buffalo defense is the real deal and not the team you want to be facing if you're trying to rally from behind.
It's easy to look at this line and just blindly play Mahomes by a field goal at home ignoring everything else, but the noise in Kansas City is getting pretty loud. Josh Allen is 11-4-1 (73%) ATS in toss-up games with a line of three or less, and he's 14-6-2 ATS (70%) as an underdog.
Mahomes is pretty good, but so is Allen. And the Chiefs are vulnerable while the Bills are playing like the best team in the league.
Sunday night should be a good one.
THE PICK: Lean Bills +3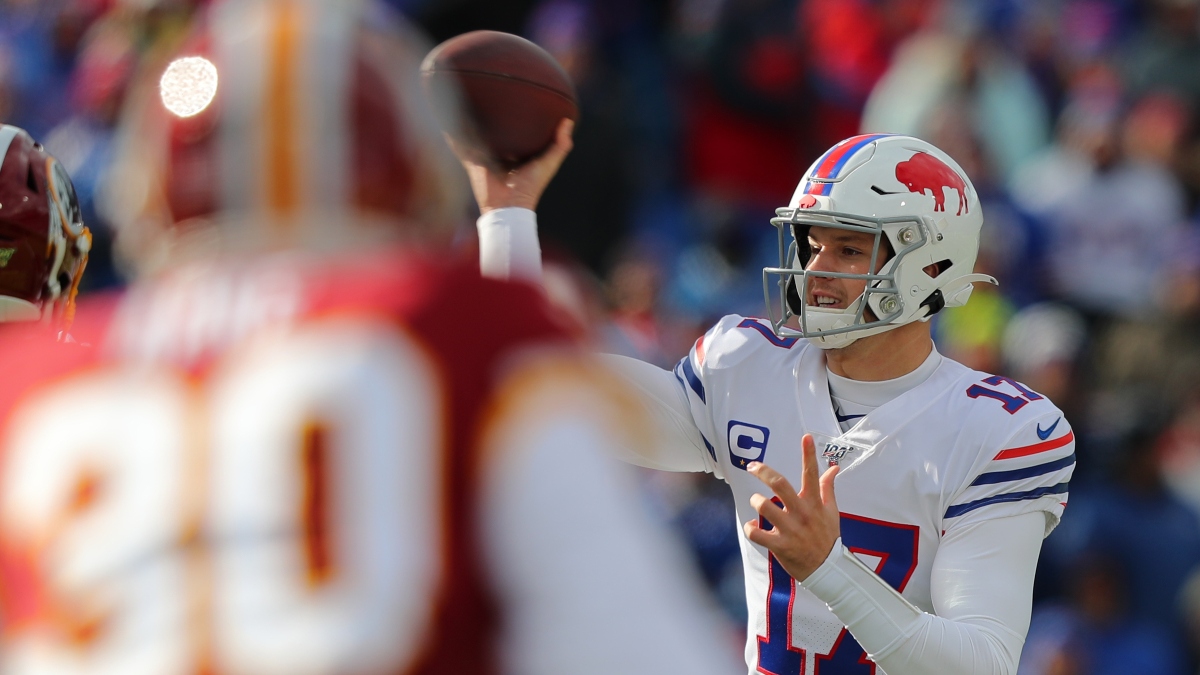 Monday Night Football
These teams do not like each other, and you probably wouldn't love it either if your favorite NFL team literally disappeared overnight and relocated to another team without warning. ESPN's "The Band That Wouldn't Die" told the story beautifully of the Baltimore band that stayed behind when the Colts left for Indianapolis, way back in the second 30 for 30 documentary.
It's the third Lamar Jackson primetime game in five weeks, and though the Ravens got that night win over the Chiefs, it's been mostly a disappointing season. The Ravens defense has been mostly fine, and the offense still can't pass the ball. Baltimore is still running it well, even with all its running backs hurt, but the Colts rank fifth in rush defense DVOA.
The way to beat Indianapolis is through the air, and Jackson still hasn't shown he can do that reliably.
These are two of the most beat-up teams in the league.
The Ravens are short at RB, corner and in both trenches. Both teams were supposed to feature dominant offensive lines, but injuries have held them back. Ronnie Stanley and Quenton Griffin are still banged up, and Carson Wentz is still nursing those sprained ankles, though he was much better in Week 4.
This doesn't shape as the prettiest game in the world — it feels lower scoring and defensive, and if that's the case, seven points is a lot. The Ravens haven't been good enough to be a touchdown favorite against decent opponents and the Colts have hung around even if they're not getting Ws.
Take the points, though you might want to wait for the hook since the Ravens should be the public team here at home on Monday night.
THE PICK: Lean Colts +7
How would you rate this article?
This site contains commercial content. We may be compensated for the links provided on this page. The content on this page is for informational purposes only. Action Network makes no representation or warranty as to the accuracy of the information given or the outcome of any game or event.