NFL Win Totals: 4 Analysts Draft An 8-Pick Portfolio For 2020
Credit:
Getty Images. Pictured: Bill Belichick, Baker Mayfield, Khalil Mack, Julio Jones
Ten. Straight. Unders.
That's how our NFL win totals draft started … then it ended with 11 more.
The team of analysts who power the model projections in our new PRO Report — Sean Koerner, Travis Reed, Chris Raybon and Stuckey — conducted a snake draft (in that order) to come up with an eight-team portfolio of win totals, applying the same type of risk and value assessment you would in fantasy football drafts.
There was just one simple rule: Teams could be selected only once.
So, without further ado, let's dive into the full results then take a closer look at each analyst's portfolio and explanations of their favorite (and least favorite) picks.
Note: All odds are as of Sept. 8 and via various legal sportsbooks.
NFL Win Totals Draft
Click on an analyst's name to jump to their portfolio.
Sean Koerner's Picks
Sean is our director of predictive analytics and has a 202-140-3 (59.1%) all-time record on NFL bets he's tracked in The Action Network app. 
| NO. | WIN TOTAL PICK | BET NOW AT |
| --- | --- | --- |
| 1 | Patriots Under 9.5 (-125) | BetMGM |
| 8 | Bills Under 9 (-105) | PointsBet |
| 9 | Rams Under 8.5 (-120) | PointsBet |
| 16 | Washington Over 5 (-120) | FanDuel |
| 17 | Cardinals Over 6.5 (-164) | BetMGM |
| 24 | Chargers Over 7.5 -(134) | BetMGM |
| 25 | Packers Under 9 (-135) | PointsBet |
| 32 | 49ers Under 10.5 (-105) | BetMGM |
My rankings for this draft were very straightforward — I just used my Win Total Value Calculator to rank teams.
[Download Sean Koerner's Win Total Value Calculator Now]
I was very pleased with my portfolio. My favorite pick was the Patriots first overall considering BetMGM is generously offering them at 9.5. I believe Bill Belichick will make the most of what he has in New England, but this may be the worst roster the Patriots have had in quite some time — and that's without even factoring in the loss of Tom Brady.
It may seem risky taking the under on both the Pats and Bills. I may need either the Dolphins or Jets to upset either team, which is dicey. However, the AFC East has a much tougher schedule this year as it has to face what I consider to be the toughest division in football, the NFC West.
Speaking of the NFC West, I think the Cardinals will make a big leap in Year 2 of the Kliff Kingsbury and Kyler Murray era, hence why I took the over 6.5 wins. They made the trade of the year by obtaining DeAndre Hopkins, and first-round round pick Isaiah Simmons fills a massive hole in their defense and should help right away.
My least favorite pick may have been Washington over 4 wins at 16th overall. There has been so much chaos within the organization it's hard to ignore, but my mathematical approach to win totals does lead me believe there's some value in getting them to clear such a low total.
Hey, if any team should regress closer to league average, it has the be the 3-13 Washington Football Team, right?

I understand why everyone wanted to pass on the Packers and 49ers, who I finally took off the board at 25th and 32nd overall — both teams overachieved last season but are still Super Bowl-caliber teams. The smart play for both teams is on the under, but it's hard to feel great about it.
Travis Reed's Picks
Travis is our Data Manager and is the brain behind the weekly Survivor Pool projections.
The only pick that I was unhappy with was the Chiefs under because they're my favorite team (personally), but I let the math make my decisions rather than whatever my brain would like to see.
My favorite pick this season is the Browns under, so I was happy to grab them with the second overall pick. They're also my favorite bet to miss the playoffs.
The Seahawks were very fortunate last season to finish with an 11-5 record. They had a point differential of +7 and were considerably lucky in one-score games. I think they regress in both areas, plus the NFC West is a very tough division, which makes it unlikely the Seahawks get to 10 wins again.
The Raiders were similarly lucky as their 7-9 record was mostly a mirage. Their expected wins was closer to five, and without many personnel changes over the offseason, I don't see them making a leap to becoming an 8-8 team this season.
---
Check out our new NFL PRO Report, where we highlight factors that provide betting edges — like large wagers, historically profitable betting systems, model projections and expert picks — that when combined with sharp money can powerfully detail the smartest bets on a given slate.
---
The 2020 Jaguars remind me a lot of the 2019 Dolphins. Yes, the Jags project to be a bad team, but many times these "horrible" teams are able to sneak away with more wins than the public expects. I actually considered taking the Jacksonville over with my second pick at seventh overall, but knew I was on an island with my opinion, so thought I could wait to take them. (That worked out.)
I'm hoping Tua Tagovailoa starts sooner than later to give the Dolphins enough upside to hit their win total. I also like Daniel Jones' upside to get the Giants to at least six wins for a push — his biggest issue was turnovers, which is common for rookie quarterbacks, so an improvement there could give New York a good shot to get to 7-9 or better.

The big question with the Titans is whether Ryan Tannehill can repeat last year's performance or if it was a fluke. Put me in the camp that thinks it's sustainable and that Tennessee can get to 9-7 for a second straight season.
Chris Raybon's Picks
Chris is a host of The Action Network podcast and has a 256-189-15 (56.6%) all-time record on NFL bets he's tracked in The Action Network app. 
Denver is probably my favorite fade of 2020.
The Broncos made moves that look great to the casual observer — A new running back! Two new wide receivers! — but even with the additions of Melvin Gordon, Jerry Jeudy and K.J. Hamler, there are more factors working against the offense than for it.
Drew Lock has to learn a new offense amid the pandemic, and all of their skill players (save for Gordon) are inexperienced. They also have to work in a rookie center with no preseason, and their tackle situation could easily render all the excitement about their new pieces moot. Unsurprisingly, they've been bumbling at camp, and I expect that to carry over into the regular season.
Along with the NFC West, the AFC West is the only other division in which every team has a win total of at least seven, so the Broncos are no lock to beat up on the likes of the Raiders or Chargers, which may be necessary since the Broncos will also have to play the Chiefs twice as well as the Steelers, Buccaneers and Saints.
The Falcons are another team that people don't always feel comfortable fading because of how good their Matt Ryan- and Julio Jones-led passing attack is, but as ESPN's Bill Barnwell highlighted recently, their passer rating allowed by the defense is always higher than it is on offense.
The Falcons had to work way too hard to get to 7-9 last year, and while their second-half coaching adjustments were a nice feel-good story for saving Dan Quinn's job, this roster didn't get markedly better, but a team in their division that gifted them their seventh win in overtime of Week 17 certainly did.
Retaining Quinn was a microcosm of a franchise stuck in its ways. The defense is still bad, Dirk Koetter is back in Year 2 of his second stint as offensive coordinator to lead the offense to heaps of empty yardage, and now we even have the ticking time bomb of Todd Gurley here to Steven Jackson it up for another subpar Falcons outfit.
The only bad thing about my Falcons under pick is that they and the Broncos square off on Nov. 8. Rooting for a tie will be fun.
The Texans have won double-digit games the past two seasons with Deshaun Watson healthy, and they've won nine or more in five of six seasons under Bill O'Brien. This number is probably where it is because books would have trouble getting action on anything higher given Houston's brutal schedule to start — at KC, vs. BAL, at PIT and vs. MIN — but the Texans have won 50% of their games outright as underdogs over the past two seasons.
The Jets are in one of their more ambiguously bad periods, as opposed to their blatantly-terrible-and-everybody-knows-it, butt-fumbling periods. Either way, they are not very good.
Just think about it: In a division in which the Pats lost Tom Brady, the Dolphins are between their tank QB and their QB of the future, and the Bills start Josh Allen, it's the Jets who have the worst quarterback in the division.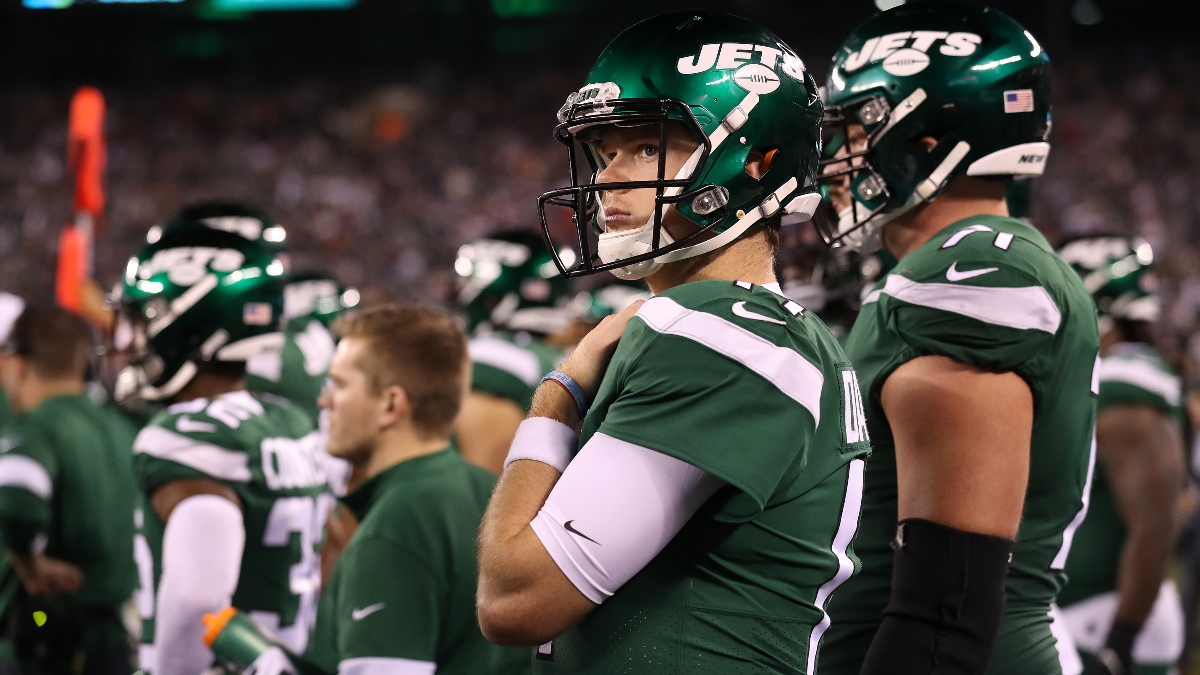 We now have a 900-plus dropback sample of Sam Darnold being below-average across all categories, which is a strong leading indicator that he is, in fact, below average. His 6-2 finish last year was a mirage that included all the typical suspects: Bottom-five Giants, Washington and Dolphins squads, a listless Raiders team traveling West to East for an early start, a Duck Hodges-quarterbacked Steelers team in a classic Mike Tomlin letdown spot, and — last but not least — Bills backups in Week 17.
The Jets finished 26th in Football Outsiders' overall DVOA last season, and their stronger unit — their 11th-ranked defense, as opposed to their 32nd-ranked offense — lost its most talented player when Jamal Adams was traded to Seattle. New York overhauled an offensive line that made Le'Veon Bell's rushing numbers look like a fullback's last year, but this is the worst possible offseason to have entirely new unit with zero continuity. But just in case the rebuilt line does pan out quickly, the Jets added Frank Gore to ensure there's still enough inefficient rushing to go around.
Before lucking into last season's tailor-made stretch of pushovers that allowed them to back into a 7-9 record, the Jets haven't won more than five games in any of the prior three seasons.
I'm high on the Texans, so it makes sense that I'm fading the Colts.
I actually have a lot of respect for the Colts when it comes to the "hidden" strengths that bettors don't always think about: Coaching and O-line play. But all things considered, this is a well-coached but still middling team with a higher-end win total that's mostly based on its soft schedule.
That's the kind of thing that looks good on paper but doesn't tend to pan out.
It's a red flag that their biggest means of improvement — signing Philip Rivers — is fully capable of single-handedly losing games at this stage of his career. In fact, at this time last year, books were taking wagers on his Chargers to go over 10 wins. They went 5-11, and now here we are.
I really like the job coordinator Darrell Bevell did with the Lions offense last year, especially when Matthew Stafford was healthy, but it's starting to get the point in the draft where I either have to take overs or bet unders for very good teams, so I'm taking a shot here on a team that has not been able to stay healthy or put it all together under Matt Patricia — the former Belichick disciple is just 9-22-1 as head coach of the Lions, including 9-14-1 with Stafford.
The Steelers are a better longshot division or conference bet than win total bet — they possess elite upside with a top-three defense and a healthy Ben Roethlisberger — but I'm going with them here because I believe 9 wins is their floor if they can get the usual 14 or so games from Big Ben instead of just two. This is a double-digit win-total caliber team with a tough schedule, featuring the Ravens twice as well as the Bills, Cowboys, Eagles, Texans and Titans, which is why we're getting a 9 instead of a 9.5 or 10 here.
I closed it out by going with an uncomfortable under in the Saints.
The under is almost always going to be the right play for double-digit win totals — a lot has to go right to get to 11, and the Saints will rely on a 41-year-old QB. Matchups against the new and improved Bucs (who admittedly are relying on a similarly-fragile aging relic of a QB), both Super Bowl teams in the Chiefs and 49ers, and the Vikings (aka the Saints' kryptonite) provides a path to six losses, but it will be tight.
This is simply a "process" play.

The only double-digit over I would bet with confidence is the Chiefs — seven years into his stint in KC, Andy Reid is still yet to go under a preseason win total.
Stuckey's Picks
Stuckey is a host of The Action Network podcast and has a 328-287-9 (53.3%) all-time record on NFL bets he's tracked in The Action Network app. 
My approach was fairly simple: I entered the draft with six win totals that I thought had enough value to bet this year — three in the AFC and three in the NFC — which I had in my proverbial queue: Unders for the Eagles, Bears, Bengals, Panthers and Jets then the Ravens over.
I did have a seventh option — the Patriots under — that I never actually bet due to the uncertainty around Cam Newton and out of respect for Belichick, who you almost have to just give a bump for at this point. But as it turned out, my colleague Sean Koerner took the Patriots under with the first overall pick — not a surprise from one of the sharpest in the business. So, I didn't have to worry about the Patriots under.
I ended up getting five of the six totals in my queue, but do regret not getting the Jets. I got too cute and thought I could have waited one more turn, but I should have known my podcast colleague Chris Raybon shares an equal amount of disdain for Adam Gase.
I knew I wouldn't love any of my final three picks, so I just went with small edges I was showing.
The Cowboys under obviously has some correlation with the Eagles under. The Buccaneers are a tad overvalued in the market after all the offseason hype. And the Vikings win total was basically a coin flip.
How would you rate this article?